Summary – The most flexible and valuable feature in a contest is the "Bonus Actions". This is a feature that can make or break the success of a campaign.
Essentially this feature gives you the opportunity to reward your contest entrants for doing ANYTHING!
Below is a list of the best Bonus Actions to use in your contest! We have examples from some huge brands that used this feature to get some huge results that outperformed any campaign they had done before!
So we know that Bonus Actions are important. They allow you to set a question/task for your entrants. This is super handy as you can use this system to game "organic" actions.
A few of our favorite Bonus Actions are below and will help you grow your business in all areas, not just your email list!
1 – Comment, like and share our Facebook post
This is a fantastic way to increase the validation of your social posts. All you are doing is rewarding a few entries into your contest for doing so instead of having to pay Facebook for an engagement campaign.
You can even separate out these into seperate bonus actions to make them more specific.
PRO TIP – chose a post that you are running ads to. This will increase the engagement on your paid post and get you a better relevancy score as well as improve your CPM which should lead to lower conversion rates and higher click-through rates.
Here are some Facebook ad results from a recent client that used this technique. This is prospecting traffic as well (does not include remarketing, past purchase or any of that other stuff that the Guru's try and trick you with)!
2 – Read a blog post and leave a comment
This was used by Foundr Magazine to drive engagement and readers to their blog. They chose a popular post and got people to read the post, comment and share it. It is now the most commented on a blog post with some of the highest shares and traffic numbers.
For the question, ask them what their main takeaway was from the blog post. Or you can ask them, "what was the blog post about".
PRO TIP – By asking for feedback on the post you can also relay this to the content team to see what people thought about the post. Incorporate that feedback into your next blog post.
Read bout Foundr's contest with VYPER here.
3 – Join our Facebook group
This was used by Scotts Cheap Flights to grow his Facebook group to huge numbers. All you are doing is sending people to your Facebook group to join then asking them a question such as, what is your Facebook username?
This is great because a group has a much better reach than a Facebook page. So any future posts in your group will reach more people.
PRO TIP – this can be used to grow any community, a slack channel, subreddit etc.
4 – Subscribe to Facebook Messenger Updates
How do you get your customers to notice you and listen to what you have to say? Connect with them on multiple channels and make sure your message gets through.
This Bonus Action is perfect for building a second "email" alternative. The open rates are over 80% and CTR's can be above $20-30%, when was the last time you saw that in an email?
So the idea here is to use a service such as ManyChat or ChatFuel to manager the messages etc. You will want to create a signup page with the service (takes 15seconds) then take that link and use it in the Bonus Actions of your contest!
PRO TIP – have an automated messenger sequence setup so that when someone signs up they receive Facebook messages about your brand's offers, products, promotions, news, interest facts, industry secrets, niche benchmarks.
Always remember to add value, the world is not about you, it is about the customer so make them feel like it!
If you can't prove value, at least entertain them with funny gifs and cute dog photos!
5 – Show us some love on Product Hunt
This contest Bonus Action can be used for any platform where you are submitting your product or service. A few of the big ones are Product Hunt, BetaList, The Awesomer, Cool Material, Incredible Things and good old Reddit.
Ideally, this Bonus Action allows you to incentivize people to upvote or like your listing which increases your ranking in these communities.
PRO TIP – use a contest in conjunction with the new launch of your product or service. It is a great way to build traffic, awareness as well as grow your email list and social accounts.
We have also had a few customers using this method to build exposure and market their initial coin offering (ICO) which has been interesting and one of the top ones resulting in over 85k entrants.
6 – Complete this quick survey
One thing that companies do not do enough is to listen or even ask customers what they want. Peoples time is valuable so in a lot of cases, you need to incentivize them to share their opinion a contest Bonus Action is perfect for this (you do not have to give discounts or cash to get feedback).
PRO TIP – Share that feedback with developers, content creators and onboarding product team. This will help them understand the
7 – Sign up for our event
This one is a little more specific for local business so the contest promotion channels need to be relevant.
Essentially this Bonus Action will incentivize people to at least look at your event and consider it. Just create the question and drop the link to your Eventbrite or Facebook event and get people to register.
PRO TIP – offer some sort of bonuses if they actually attend, this will make sure that people do not just signup and not attend. A few users of VYPER have run a contest and then said they will announce the winner at the event.
8 – Sign up for our webinar/web summit
This one is a little more scalable than a physical event and we had the company "Launch Summit" execute on this Bonus Action perfectly. They created a contest and had the Bonus Action to signup to their Launch Web Summit.
Signing up was free and they made money on upselling VIP tickets (getting access to speakers and replays).
This was the event they were promoting – take a look at the Eventbrite listing.
Here is another article how this company also used VYPER to generate $55k to fund their web summit.
PRO TIP – make sure you mention the speakers, value of the summit and more in the contest description to build the desire for somone to attend. By using a Leaderboard contest, this user was also giving away VIP tickets to whoever collected the most entries from sharing the summit!
PROEST TIP – Another growth hack for this Bonus Action was to use it to build hype around Black Friday and Cyber Monday deals. This build up awareness around the deals so that when the hour struck 00:01 am you had an army of people waiting to buy. Example Here
9 – Re-gram our Instagram photo, then tag @company-name
This works well for ecom physical products, the most famous example is the "red bathing suit" company. They get a huge amount of people to re-gram an image of the product they were giving away.
The question you would want to ask is. What is your Instagram handle or what is the URL to your re-gram?
Watch this webinar where we reverse engineer the viral swimsuit campaign.
10 – Write a blog post about our "brand"
If you're looking to improve your SEO this Bonus Action can help build some serious links. Shopify is a classic example of how to use contests to build backlinks.
They used this strategy to spread the word about their "build a bigger business" program.
What they would do is create a contest and require that entrants write a blog post and send in the link to that post. The best-written blog post would win the a prize.
This has worked extremely well for them, so why not try it for your business.
Just set up a Bonus Action in your VYPER contest, ask entrants to write a blog post, then submit the link to the blog post. You can create more guidelines like:
must be over 500 works,
include an image
include 2-3 links (1 of them being a link to your brands website)
11 – Tag a friend in this post
This will work for multiple social channels especially Facebook and Instagram
It's a much lower friction ask to share. If someone is not comfortable sharing a post about your brand to their wall or timeline, they may be more open to tagging the friends they think are relevant in a post.
This introduces your brand into a few new people and it's a personal recommendation when someone tags you in a post.
12 – Download our app
A great bonus action for developers and brands that are looking to boost their mobile app downloads. Award users with additional points for downloading your app from the App Store.
This works well for Online clothing stores that have a mobile app. You can host a giveaway to boost social media followers and email subscribers. As a bonus, you can allow your audience to download your app to earn bonus points.
13 – Follow me on Spotify
This is an ideal bonus action for music artists looking to boost their Spotify profiles and song plays. It can be difficult for artists to get the exposure they need early on in their careers. A giveaway can help them to boost their audience on social media.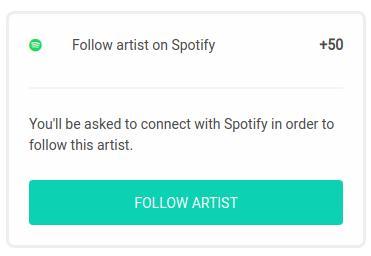 Music artists can use the same giveaway to get people to follow them on Spotify. This can potentially increase their own song plays on the platform.
14 – Retweet and Follow
It only takes a fraction of a second for someone to retweet your giveaway tweet. That tiny gesture can go a long way towards getting your tweet to go viral on the platform.
The main goal for your giveaway can still be to increase your Twitter followers. Your secondary goal can be to increase engagement on your tweets. This can be achieved by using a retweet bonus action.
15 – Share a Facebook post
Getting people to share your Facebook posts is crucial to social validation (see video below). The more shares you get on a post, the higher the chances are of that post going viral.
When you share a post on your Facebook page, only your followers will get to see that post. However, if a follower shares that post, their friends will also get to see your post. So the more shares you get, the more discoverable your post will become.
So, if you are looking to promote a specific post on Facebook, you can use your giveaway to boost that post early on. This works great if you created a video or image post that is meant to promote your brand, your latest offer, product, or even the actual giveaway.

You can easily set up a bonus action on your 'Thank You' page within VYPER to get users to share your Facebook content.
16 – Leave a review on our product
Product reviews are essential to online stores. Some customers need that extra little nudge towards making a purchase on your website.
Product reviews are also essential for gaining trust with your customers. A good review of a product from another customer can instantly persuade someone to buy the product if they have doubts or they do not trust your brand enough to make a purchase.
The 'leave a review' bonus action is perfect for user-generated contests that require users to purchase your product. You can award contestants with bonus points for leaving a review of the product they used to enter your contest.
---
So set up your VYPER contest now and start creating some of these awesome bonus actions!
---
So if you're looking to really make your next contest go viral. The number 1 piece of advice we could give you, is to leverage the Bonus Actions feature.
Share your own Bonus Actions in the comments. If you are interested in running a viral contest, checkout VYPER here.
If you want help with your contest, comment below or get involved in our Facebook Group.
Jack Paxton
Jack Paxton is the co-founder of VYPER, a marketing tool that helps brands build email lists, social followings, and revenue using viral giveaways, referral, and reward programs. After millions of dollars spent testing different marketing strategies at his marketing agency. He then also co-founded Hyax a fast, conversion & design-focused course and funnel builder for creators.