Building a community online is the most effective way to maintain a business and its brand. With a community, your customers are more than just friends.
They are a group of people driven by one common interest – Your brand and its products.
The hot topic with your community is always your brand. Your brand is the star of the show and can easily drum up excitement with new product releases and other news.
Mega brands like Apple, Starbucks, and Mcdonalds have massive online communities which they clearly are benefitting from.
So, it's now time you built a community of people that appreciate your brand and all the hard work you put into it. And we are going to show you what it's like building a community around your brand.
Let's go!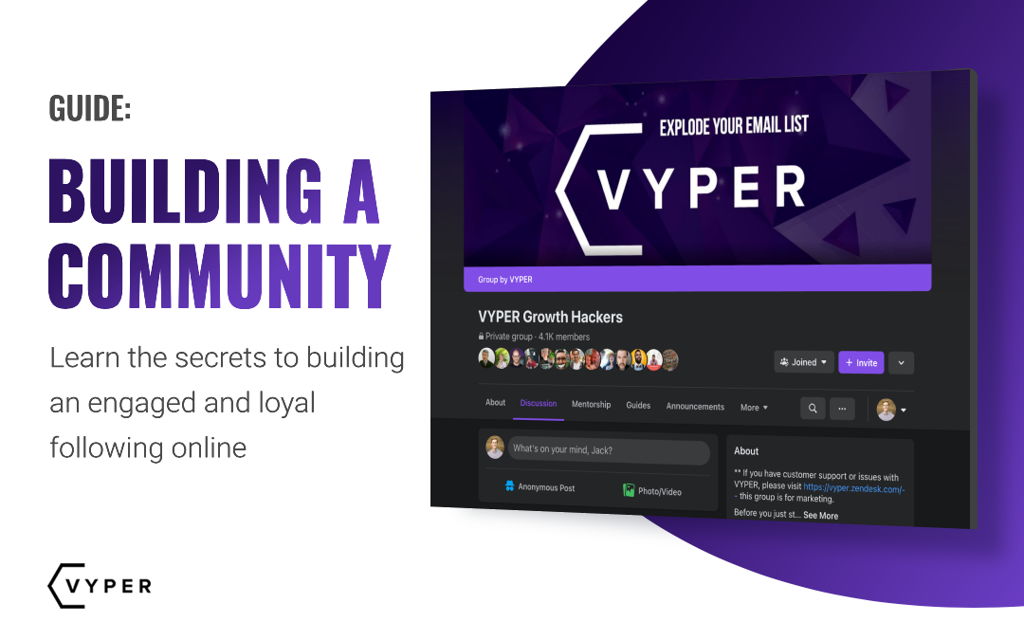 FREE DOWNLOAD: Get all Our Contest & Giveaway Marketing Guides, Checklists, and tutorials that have helped 100's of brands collect 15k+ emails in under 21 days!
Think of the products and services you use regularly.
Which brand of soap do you use?
What antivirus package do you trust for your devices?
Which car would you prefer to buy?
All brands aim to become household names that people trust and recommend to others.
If you buy a product or service, it does not mean that you have become a loyal follower of the brand or you prefer the brand over others.
Trust and loyalty have to be earned. One of the ways in which it can be done is to show people that you stand by your brand values and care for your followers.
The secret to building an engaged and loyal following is to create a brand community.
What Is a Brand Community?
A brand community is a platform that brings together the brand's most engaged followers and gives them a chance to interact with the brand and with each other.
People in a brand community follow the brand on all social media channels, engage with and share its content, and recommend it to friends and family.
A brand community consists of like-minded people who interact with each other to share experiences about your brand and related topics.
Note that brand community and brand awareness are different concepts.
Your brand community already exists on social media in the form of engaged followers. But you cannot grow a strong community if you do not give these people a platform for engagement, discussion, and collaboration.
Brands need to project their human side to be successful today. A brand community is one of the best ways to make your followers feel heard.
A good example of an online community is the excellent iPad subreddit. With close to 300K members, this community regularly converses with each other sharing praise (and dread) towards Apple.
But for the most part, the community usually spreads love towards the iPad. Users consistently offer each other tech advice/support. Eg. Advice on good note-taking apps or keyboards and accessories for iPad.
Why Should You Build a Brand Community?
A brand community is a powerful business tool. It promotes brand advocacy and encourages customer retention.
Since your brand community already exists, all you have to do is to create a strategy to give them a voice.
You can use your brand community to:
test new features of your product
collect feedback on your product/service
find out what your customers want and tweak accordingly
find an audience for your marketing content.
Thus, you can make customer-centric decisions and benefit from word-of-mouth advertising.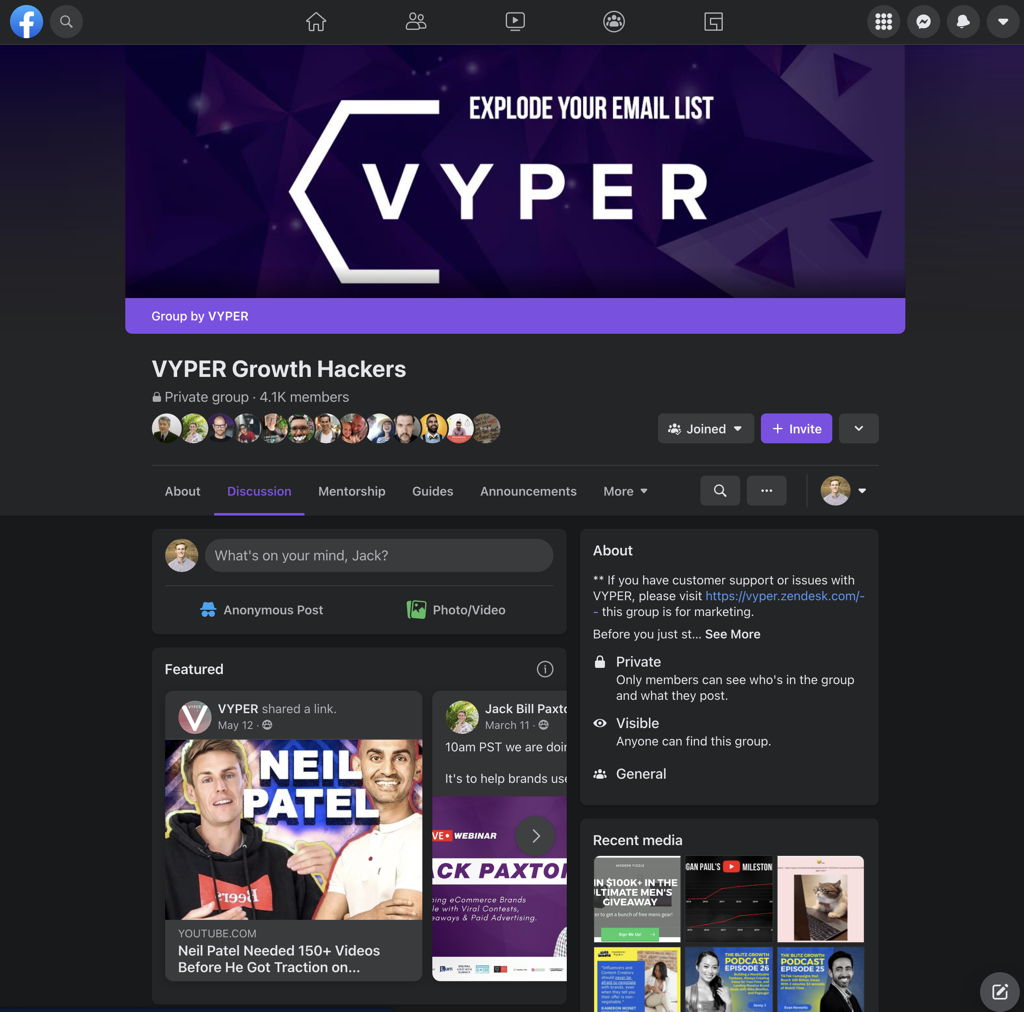 Here at VYPER, we have our very own community on Facebook in the form of a Facebook Group.
We use the group to answer support questions, review each other's campaigns (giveaways and contests), and analyze crucial feedback from people that use our service.
We definitely recommend that brands consider creating a small private group at least so they can experiment with online communities.
Tips To Start Building a Loyal Brand Community
The strategy used to build and grow a brand community will vary from brand to brand, but there are a few basic steps to follow:
Define your brand
Define your brand goal and metrics
Choose a community platform
Regularly engage with your brand community
Measure your performance
1. Define Your Brand
The first step to mobilizing loyal brand followers is to be clear and definitive about your brand.
You should be able to communicate:
Who you are
What do you do
Who do you want to help
What emotions do you want to elicit
Document your company mission and vision. Define your brand voice and personality. Communicate these elements through your product or service, customer support, content, and processes.
E.g. McDonald's is a global brand that has built a loyal following on the back of its consistency, quality, and dining experience. People will recognize the brand and its distinct logo anywhere.
Do you have a logo?
A logo is a visual representation of your brand, its values, and all that it stands for.
A strong logo communicates the ethos of your brand to new customers and evokes a visceral response in people who know you.
You can use a logo creator to make a well-designed logo that will create positive associations with your brand.
You can use a logo creator to make a well-designed logo that will create positive associations with your brand. A logo "design" is a visual representation of your brand, its values, and all that it stands for.
2. Define Your Brand Goal and Metrics
Your next step is to define what the goal(s) of your brand community strategy is and how you're going to define success. Maybe you want to reduce your SaaS churn rate or connect with your clients on a more personal level.
Ask yourself the following questions:
Why do you want to build a brand community?
How will you help your community members find answers to their queries about your product/service?
In what manner will you keep your community members engaged with your brand?
How will you measure the success of your brand community?
Which metrics (number of leads, percentage of conversions) will you track to understand growth and progress?
How will you align your company goals (marketing, sales, ROI) with your brand community goals?
When you have clear answers to these questions, you have an actionable strategy for growth.

3. Choose a Community Platform
Depending on the type of product or service you offer and where your customers are most active, you can choose to set up your "home base."
Your followers can engage with you on your company pages or your social media handles.
But, a brand community platform is where they will find a chance to connect with other loyal followers and exchange ideas.
You can choose one or more of these platforms to build your brand community:
Online Forums
Social Media
Rewards or Affiliate Programs
Online Forums
Online forums are suitable for a brand community with a large number of people who discuss topics related and unrelated to the brand.
E.g. Adobe's Behance
Behance is an immensely popular online design community platform where creative people around the world connect and display their work.
Adobe acquired Behance in 2012 to boost its presence in the creative community. Adobe sells design software like Photoshop and Acrobat and also rents it via Creative Cloud.
By being associated with a vibrant creative community, Adobe gets brand recall whenever creative pursuits are discussed including creative software.
Having an online forum also allows Adobe to initiate two-way conversations with its engaged followers.
Social Media
Most brands already have a social media presence across the most popular platforms. It is a good way to spread the word about your brand and collect user-generated content (UGC).
You can employ three ways to engage your brand community on social media:
Reach out to your followers from your brand page
Use branded hashtags and UGC
Create a separate group on FB or LinkedIn
Reach out to your followers from your brand page
The popularity of Zoom skyrocketed in 2020 due to the COVID-19 pandemic. Just like Xerox has become synonymous with photocopying, Zoom became synonymous with video conferencing — even if the software used was different!
Zoom uses its Twitter account to educate users about its features, shares content around online meetings and remote work, takes feedback on user pain points (and resolves them!), and announces networking events.
Use branded hashtags and UGC
Brands run social media campaigns wherein they ask their users to use a branded hashtag when they participate in the campaign and post on social media.
This increases the brand's reach, generates buzz around the brand's offerings, and gives the brand a lot of user-generated content to display on its feed.
E.g. Apple's #ShotoniPhone campaign began as a challenge for iPhone users to take a photo using their iPhone and post it on social media with the branded hashtag.
The response has been huge and Instagram has 22,176,847 posts currently with the hashtag.
Real users posted breathtaking photographs using the iPhone, which helped convince people that the camera quality was indeed superior to that of other smartphones.
Create a separate group on FB or LinkedIn
Some brands create a separate group on Facebook or LinkedIn to host their community members.
People can directly connect with the brand with their questions and comments in these groups and have discussions with other like-minded members.
E.g. Visme, a graphic design software, has a private Facebook group called Visme VIP Lounge to "empower the Visme user community to share and collaborate knowledge on the Visme experience."
Rewards or Affiliate Programs
Some brands like Starbucks, Amazon Prime, and Sephora offer a rewards program for their loyal customers.
They offer incentives to people to use the brand's products and services more frequently in return for perks like discounts, free samples, or early access to new features.
The Starbucks Rewards program enables customers to collect loyalty points by ordering or paying for food and drinks through a special app. After a certain threshold has been crossed, the loyalty points can be redeemed for freebies.
While customers find it convenient to order without having to wait in line, Starbucks can collect data on customer preferences and purchasing behavior to help it fine-tune its marketing efforts.
In affiliate programs, customers act as "affiliates" by referring your products and services to others and taking a commission for every sale through a personalized link.
By incentivizing loyal customers to bring in new customers, brands can grow their community.
Run giveaways and contests
Giveaways and contests are immensely popular with brand community members.
They boost engagement with your brand, spread awareness about your products and services, and increase conversions.
Instagram contests have the potential to increase your followers 70% quicker within three months.
When community members have a chance of receiving something from you, they are more likely to stay engaged with your content.
You can offer freebies, discount codes, personalized merchandise, or anything else that is valued by your customers.
E.g. e.l.f cosmetics run a giveaway on Instagram every 2-4 weeks. The latest giveaway is a collaboration with Walmart wherein one lucky winner will get gift cards from e.l.f cosmetics and Walmart.
Such giveaways boost engagement and followers for the brand. It is gradually building a loyal brand community.
Community members know that everybody cannot win, but they feel valued by e.l.f. Cosmetics and thus, keep coming back to it.
Contests are great tools for lead generation.
Case study: How an online game store used a giveaway to attract PC gamers to their platform
An online game store hosted a giveaway on Black Friday intending to boost sales and website traffic.
It offered winners a game of their choice and, in return, they were required to submit their email address through a form on the website of the store.
The giveaway helped the store attract more PC gamers to its website and collect information on new leads.
Also, when entrants discovered that only a few games were available on the giveaway list, they purchased other games on the website.
Thus, the campaign attracted the store's target audience (PC gamers) by offering games in the giveaway and increased website traffic by piggybacking on the Black Friday frenzy.
Third-party community platforms
Brands may also choose third-party community platforms like Slack, Telegram, Meetup, or Mobilize to facilitate their communities.
These platforms allow you to create different channels or topics for discussion where community members can have discussions and interact with each other.
4. Regularly Engage With Your Brand Community
Your job as a brand does not stop with setting up a brand community and offering a few incentives. You must consistently engage with your community members to encourage them to stay around.
If you are inconsistent, it will hurt the growth of your community as people may drop out due to a lack of activity.
On the other hand, people are more likely to buy from you when they see that you are active online.
However, if you show up regularly, you will boost brand recall and it will be easier to get new customers interested in your offerings.
You should have a plan to initiate, drive, and manage community engagement.
Some ways in which you can engage your community members:
Plan regular activities like discussion posts or AMAs (Ask Me Anything) with industry experts to connect your brand with your community.
Conduct giveaways and contests and offer fun rewards to your community members.
Host live interactions or interviews with prominent industry figures.
Turn the act of contributing into a game. Offer reward points for each type of interaction you desire. Give a reward in cash or kind for a certain amount of reward points.
5. Measure Your Performance
If you do not track your progress and growth through metrics, you will not understand what is working well and how you should shape future campaigns.
Regularly track the metrics for performance and success that you have previously defined. Use the numbers to tweak your engagement techniques.
You could measure the following areas:
UGC effectiveness – questions, polls, blog posts, events
Community engagement – posts per month, stickiness (how often members engage with the community)
Community growth – visitors per month, churn rate, new members added
You need to listen to what your community is telling you and act on the major pain points. When people feel heard, it gives them a reason to stick with you.
Bonus: Building a Community with Master Wong
Master Wong is an expert martial artist who specializes in tai chi. He has over 30 years of experience and presently dedicates his time to teaching others his incredible craft.
We recently spoke to Master Wong who shared his secrets to building an effective and monetizable community online. Full interview below:
Bonus: Starting Off Small with Anthony Simpkins
Anthony Simpkins is a filmmaker that is passionate about folk music. He built a YouTube channel with over 180k followers.
Anthony uses his channel as a platform to feature aspiring new music artists. His advice is to focus on your first 5 to 10 fans to find out what they like. Then you can gradually build your following afterward.
Listen to the full interview below for more advice on building a community online:
TL;DR: Building a Community Online
Building trusting relationships with people takes time, but the benefits are endless.
Brands get to vet ideas and share content with a dedicated base of loyal followers, who in turn, bring in new followers through recommendations and referrals.
In return, members of a brand community receive valuable insights and content from a brand they trust and get to interact with it on a deeper level.
How have you been building your brand community? Share your engagement techniques with us in the comments.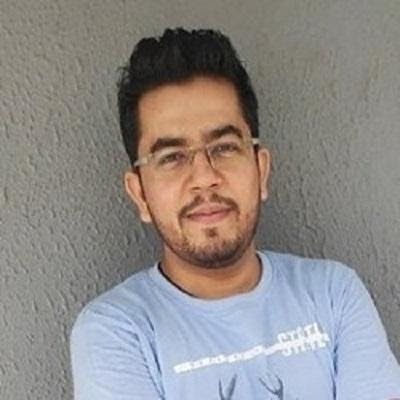 About the Author

Gaurav Belani is a senior SEO and content marketing analyst at Growfusely, a content marketing agency specializing in content and data-driven SEO. He has more than seven years of experience in digital marketing. He likes sharing his knowledge in a wide range of domains ranging from eCommerce, startups, social media marketing to human capital management, and much more. His work is featured in several authoritative tech and business publications. Get in with him on Twitter @belanigaurav
Jack Paxton
Jack Paxton is the co-founder of VYPER, a marketing tool that helps brands build email lists, social followings, and revenue using viral giveaways, referral, and reward programs. After millions of dollars spent testing different marketing strategies at his marketing agency. He then also co-founded Hyax a fast, conversion & design-focused course and funnel builder for creators.