Want your brand to stand out in an extremely competitive photography market? Hosting a camera giveaway is the fastest and most effective way to achieve this!
A camera giveaway will attract a target audience of enthusiastic photographers and filmmakers. An ideal audience for photography brands looking to boost their email signups, social media presence, and website traffic.
Hosting a camera giveaway is also the ultimate strategy for standing out in a competitive niche. Photographers that are drawn to your camera giveaway will instantly discover your brand over others.
So, are you ready to host your own camera giveaway? Let us show you how!
This guide has everything you need to know about camera giveaways. But before we get started, let's first establish who should be hosting camera giveaways.
Who Should Host Camera Giveaways
Cameras are marvelous devices that allow us to capture amazing moments in our lives. However, traditional cameras are not for everyone as they have been replaced by the excellent cameras we have on our mobile devices.
That being said, cameras are still popular today. Cameras are incredible tools for professionals and content creators to use when filming blockbuster movies or YouTube vlogs.
These video production professionals and vloggers are the kind of people your camera giveaway will be targeting. Filmmaking or photography enthusiasts and hobbyists are a great audience to target as well.
This audience will certainly jump at any opportunity to win a camera and other accessories. Cameras can cost thousands of dollars, so winning one will be a dream come true!
However, it's crucial that you select the right prize for your giveaway. Your prize will determine the audience your giveaway will attract.
So, If your brand wants to target the audience mentioned above, then hosting a camera giveaway is the right choice for you!
Examples of Brands That Host Camera Giveaways
Here are a few brands that can benefit from a camera giveaway:
Specialized camera stores
Camera brands like Sony, Canon, GoPro, or Nikon
Photography blogs
Filmmakers
Photographers
Specialized Camera Stores
Yes, traditional camera stores still exist! In the past, camera and photography stores were the hub of our filmmaking and photography needs. Now, instead of going to a store to develop pictures from your camera, we instead rely on uploading images (taken on our smartphones) to the cloud.
That being said, camera stores are still around and feature some unique and exquisite tech like drones, optics, audio accessories, and more. This is the kind of tech that filmmaking and photography enthusiasts find desirable.
A camera giveaway hosted by a camera store will definitely attract these enthusiasts. Especially if your prize consists of a drone or other photography accessories like camera bags or gimbals.
Enthusiasts will quickly submit their emails to enter to stand a chance to win this awesome gear.
Camera Brands, Photography Blogs, and Online Stores
Big-name camera brands and online stores can benefit from a camera giveaway. They can use the giveaway to boost their social media presence and grow their email lists.
By hosting a giveaway on their website, camera brands like Sony or Canon will instantly drive targeted traffic to their website. This traffic can then be redirected from the giveaway to sales and product pages.
Professional Filmmakers and Photographers
Professional filmmakers and photographers like Parker Walbeck and Peter Mckinnon rely heavily on YouTube to promote their brands. Parker Walbeck built his 7-figure film empire on the back of his 1.4 million subscribers' strong YouTube channel!
Peter Mckinnon, a professional photographer, and YouTuber with over 5 million subscribers, relies on sponsorship deals and ad revenue for income. He also sells digital products like software presets and graphics online.
A YouTube camera giveaway is an ideal campaign for these content creators. Parker can host a giveaway to grow his channel and direct traffic to his courses.
Peter can use a giveaway to promote his photography presets or partner up with a sponsor to host a giveaway to grow the sponsor's online presence.
Choosing Goals for Your Camera Giveaway
What are you looking to gain from your giveaway?
Your brand can benefit in multiple ways from a camera giveaway as they are great for:
Building email lists
Driving traffic to your website or socials
Boosting software or app downloads
Acquiring new users or accounts
And more!
So, if your goals are clear, you can structure your giveaway to efficiently achieve that goal.
For example, you can request that users submit their email addresses to enter your giveaway if you wish to build your email list.
More examples to follow below:
Examples of Goals Camera Brands Can Use
Camera store:
Visit our store to enter
Purchase a GorillaPod gimbal to enter
Take a selfie in our store to enter
The goals above are ideal for physical stores that are looking to get customers in and boost sales.
Online Camera Brands and Stores:
Submit your email to enter
Visit our website to enter
Check out our socials to enter
Create a new account to enter
Download our software/app to enter
These goals are ideal for online brands looking to build their email lists, boost website traffic, and develop a social media audience.
Brands like GoPro take a lot of pride in their free software and apps. You don't need a GoPro to use their mobile apps, which are really impressive. However, users may have to create a free account to access the app.
For example, GoPro can give away one of its excellent cameras. Users can download the free GoPro Quik app to enter. This will allow the giveaway to acquire new users for the Quik app platform automatically.
Pro photographers, filmmakers, and influencers:
Subscribe to my YouTube channel to enter
Watch this video to enter. Also, like and comment to increase your chances of winning
Visit my socials to enter
Visit my merch page or check out my Adobe Lightroom presets to enter
Sign up for my free course to enter
These are excellent goals for influencers or video and photo experts to use to build their online presence.
A well-put-together camera giveaway can help drive camera enthusiasts to these influencers' YouTube channels. This is the exact kind of traffic an influencer with a photography course will want to be associated with.
The Prize
Your prize (or prizes) should attract your target audience. We mention this all the time in our blog posts:
A prize like an iPhone might attract the most entrants to your giveaway, but the majority of that audience will only be interested in the phone and not your brand.
So if you are a brand with a target audience that's made up of photo and film enthusiasts, then your prize should ideally attract that audience.
Here are a few examples of prizes that you can use for your camera giveaway:
DSLR cameras and lenses – High-end gear will most likely attract pro users. Perfect for camera brands and stores that cater to these users.
Accessories like tripods and gimbals – GorillaPods (tripods) and DJI Osmo gimbals are popular among vloggers, both casual and pro. Pro-grade tripods or gimbals will most likely attract a crowd of series filmmakers.
Editing software – Creative editing software like Adobe Photoshop or Premiere will attract a broad audience of content creators. However, people who use software like this may not necessarily require cameras. For this reason, you should perhaps bundle the software or app with other prizes.
Camera bags – Camera bags are very specific and desired by enthusiasts and pros with plenty of gear. This makes camera bags a great item to bundle along with other accessories.
Drones – Drones are prevalent among YouTubers and video production enthusiasts. A drone giveaway can work really well if hosted on YouTube.
Courses – Photo and video editing require specialized technical skills, which is why aspiring editors are eager to purchases photo editing and filmmaking courses. Giving away a premium course is a great way to attract people looking to learn more about editing—ideal for brands that sell courses online. 
Promoting a Camera Giveaway
Promoting your giveaway at launch is probably the most crucial part of hosting a camera giveaway.
You want as much exposure as possible early on because your giveaway will most likely run for a couple of weeks.
Getting more users to discover your giveaway on launch can lead to more people sharing your giveaway (on their socials), leading to more discoveries.
You can spread the word quickly by posting/sharing your giveaway on your established marketing channels. There are examples of some of those marketing channels below:
Marketing Channels to Promote Your Giveaway
Social media
Email
Website or Blog
Podcast
Traditional Media
Social media:
Social media users love giveaways and are ever ready to jump at the opportunity to enter one. A camera giveaway post on a visual social platform can go viral when people like, share, and comment on the post.
A viral social media giveaway post means more exposure and more leads!
Email:
Camera brands, online stores, and even influencers with courses work closely with email. If you already have an active email list, you can mail that list to let subscribers know that they can enter your camera giveaway.
If you are looking to grow your email list further, you can request that current subscribers refer their friends or family to your giveaway.
Website or blog:
A blog post for your camera giveaway is an excellent idea. You can list every detail of your giveaway in a single blog post. Also, hosting a giveaway on your website can open up a world of customization options when building a giveaway landing page.
Looking to host a giveaway on your website?
Click here for advanced tips on building a giveaway landing page.
Podcast:
Podcasts are very popular, especially with influencers. So, if you are an influencer hosting a camera giveaway, you can promote the campaign on your podcast. Mention the giveaway, the entry details, and the closing dates on your podcast.
If your brand doesn't have its own podcast, then appearing as a guest on a popular podcast can be just as effective. However, it would be best if you tried to appear on a podcast that your target audience will listen to.

Tech-centric podcasts, like the ones above, are ideal for promoting camera giveaways, as part of their audiences are interested in camera tech and creative hobbies.
Need more tips on marketing your podcast?
Click here for 11 Make or Break Secrets You Must Know About Podcast Marketing.
Traditional media:
Promoting an online giveaway on traditional media like newspapers and magazines isn't unheard of. If your audience still reads print media, then it makes sense to advertise with them.
For example, a local camera store can promote its giveaway in the local newspaper. That ad will be seen by a bunch of local customers who may be eager enough to enter your camera giveaway.

Camera Giveaway Examples
We've picked out three excellent camera giveaways that we think you will love. We also broke down and analyzed each of these giveaways to find key takeaways and drawbacks.
Hopefully, these campaigns will inspire your next giveaway.
Think Media YouTube Giveaway
Entry Method – Visit their website to enter
Prize – Canon M50 Camera, tripod, mic, SD Card, and lifetime membership
Think Media is a popular YouTube channel that's all about teaching aspiring influencers to create content. Apart from their free YouTube tutorials, Think Media also hosts in-depth courses.
Think Media hosted a live stream on YouTube to announce their camera giveaway. Sean from Think Media went through all the details of the giveaway with the help of his slideshow.
The video has all the information on the giveaway and its prizes. However, they still share as much information as possible in the video's description.
The prize is a "YouTube studio" consisting of multiple products, including access to their membership platform.
People who enter this giveaway will enquire more about the membership platform, which is why this giveaway is a great idea to promote online courses and membership platforms.
Key Takeaways
There is a second-place prize.
Sean shows a picture of the team behind the Think Media brand.
It was a good idea to announce a giveaway on a YouTube live stream. You can build up anticipation for your giveaway on your socials, then reveal all the details on a live stream while also answering questions in the live stream chat.
"Visit our website to enter." Think Media is using this entry method to move traffic to their website. Once a user has entered the giveaway, they will then be redirected to other pages to buy something potentially.
Shot Kit Monthly Giveaway
Entry Method – Enter new giveaways monthly on their blog
Prize – Prizes are mostly made up of cameras, lenses, and custom accessories
Shot Kit is an excellent camera blog that features articles focused on photography, camera gear, and tutorials. Blog posts are written and submitted by a community of photography enthusiasts.
If you are an inspiring photographer, then Shot Kit will help you learn more about the kit top photographers use. Shot Kit also offers tons of gear guides, reviews, and software tutorials.
So, it's safe to say that Shot Kit's audience is made up primarily of people interested in photography. And what better way to attract this audience to your blog than with a camera giveaway.
Shot Kit's monthly "evergreen giveaway" is designed to attract their target traffic to the blog consistently. They run the same giveaway monthly, but with different prizes that will attract their target audience and get them to opt into Shot Kit's email list.
By hosting a monthly giveaway, Shot Kit can consistently grow its audience faster than most marketing methods. And because their giveaways include camera-centric prizes, Shot Kit's audience will be made up mostly of photography enthusiasts.
Key Takeaways
A camera giveaway hosted on a blog to build a target audience and create recurring traffic. An excellent strategy for getting online users to discover your blog.
An evergreen giveaway is a recurring, low-cost campaign that brings in the results consistently. In this case, a monthly giveaway that includes cameras and accessories will always draw an audience interested in photography. The same user will potentially visit the Shot Kit blog monthly to check out new giveaways.
Prizes are not exclusive to cameras and accessories. Prices also include anything linked to camera tech and gear such as hard drives, lens cleaners, courses, clothing, bags, and more.
Photography Tips & Tricks Partner Giveaway
Entry Method – Enter the giveaway on social media
Prize – Canon EOS R6 Camera and lens
Photography Tips & Tricks is a social media page that regularly uploads video tutorials for filmmakers and photographers. Their videos include basic and advanced camera techniques that appeal to a broad audience of aspiring filmmakers and photographers.
Hosting a camera giveaway on their page is an excellent way to get other social media users to discover their page. And how did they increase their chances of being discovered? By partnering up with other well-established brands.
Three brands in total are involved in this giveaway, which means 3X the audience and promotional efforts. This is an excellent strategy for getting another brand's audience to follow your brand.
By hosting the campaign on a social media platform, there will be plenty of opportunities to increase engagement on posts.
Key Takeaways
It's a camera giveaway hosted on social media to build an audience and brand presence.
This camera giveaway is a collaborative effort between 3 different brands. 1 massive giveaway that 3 brands can promote and benefit from.
The giveaway post can easily boost engagement and get users to share the post. This will increase the chances of new users discovering the brands associated with the giveaway.
Camera Giveaway Ideas with VYPER
We come across fantastic giveaways within our community all the time, which is why it's safe to say that we have tons of ideas for new giveaways.
So, we put together a few camera giveaway concepts that will hopefully inspire your next giveaway idea.
NB. The giveaways below are all demo campaigns created using our service. You can signup for free here and create your own designs using VYPER – https://vyper.io/user/register?redirect=freeaccount
Photography Software Giveaway
Entry Method – Sign up for our 30-day trial to enter
Prize – Photographer Bundle that includes a drone, camera backpack, and photo editing software
Goal – To increase signups and online presence while also producing user-generated content
Popular AI photo editing software firm, Topaz Labs, is known for hosting regular giveaways on social media. We took inspiration from one of their past giveaways to design a new demo giveaway below: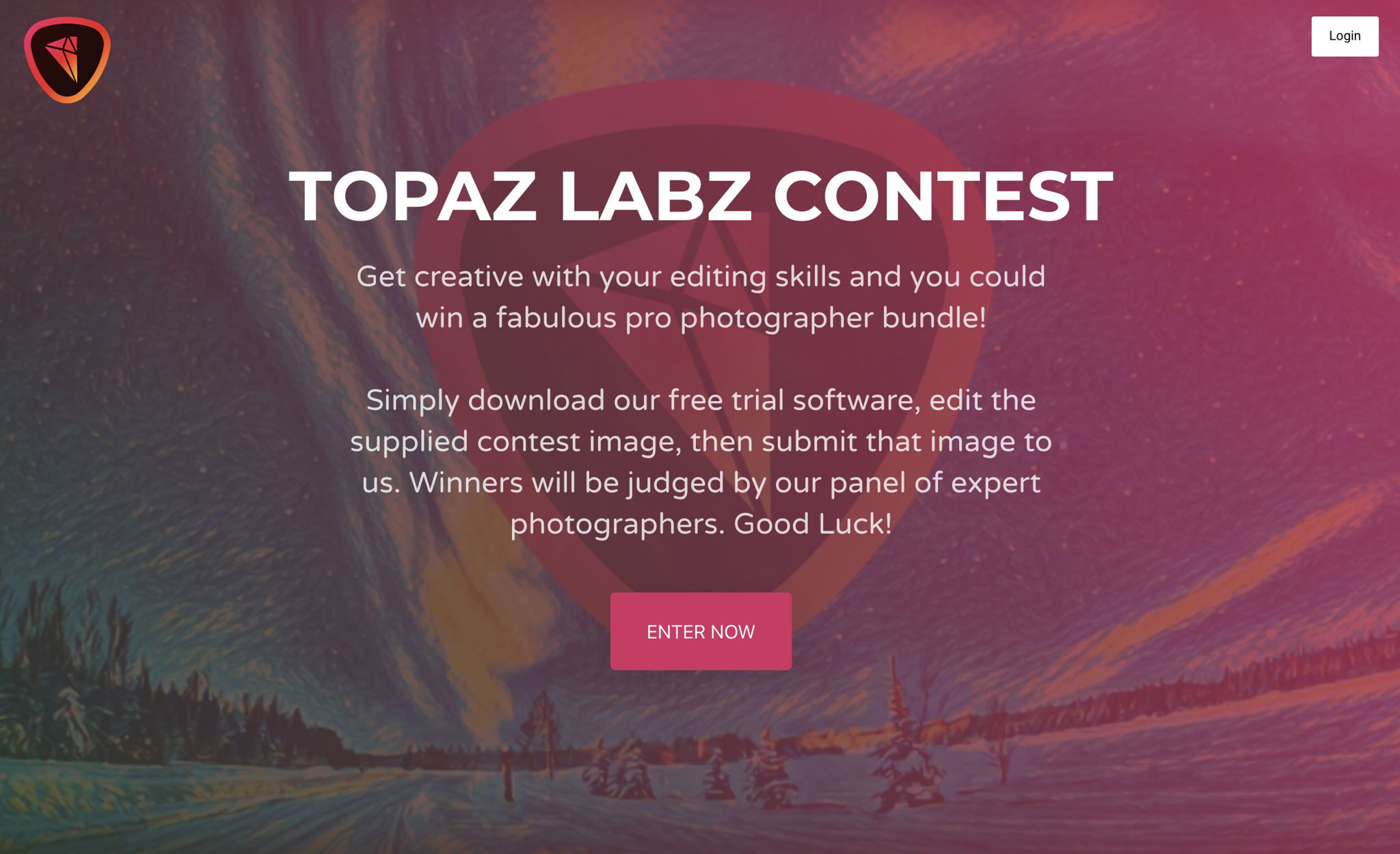 For this giveaway, users will sign up to download a trial version of the Topaz Labs software. They can then use the software to edit a supplied image which they will then submit to enter the giveaway.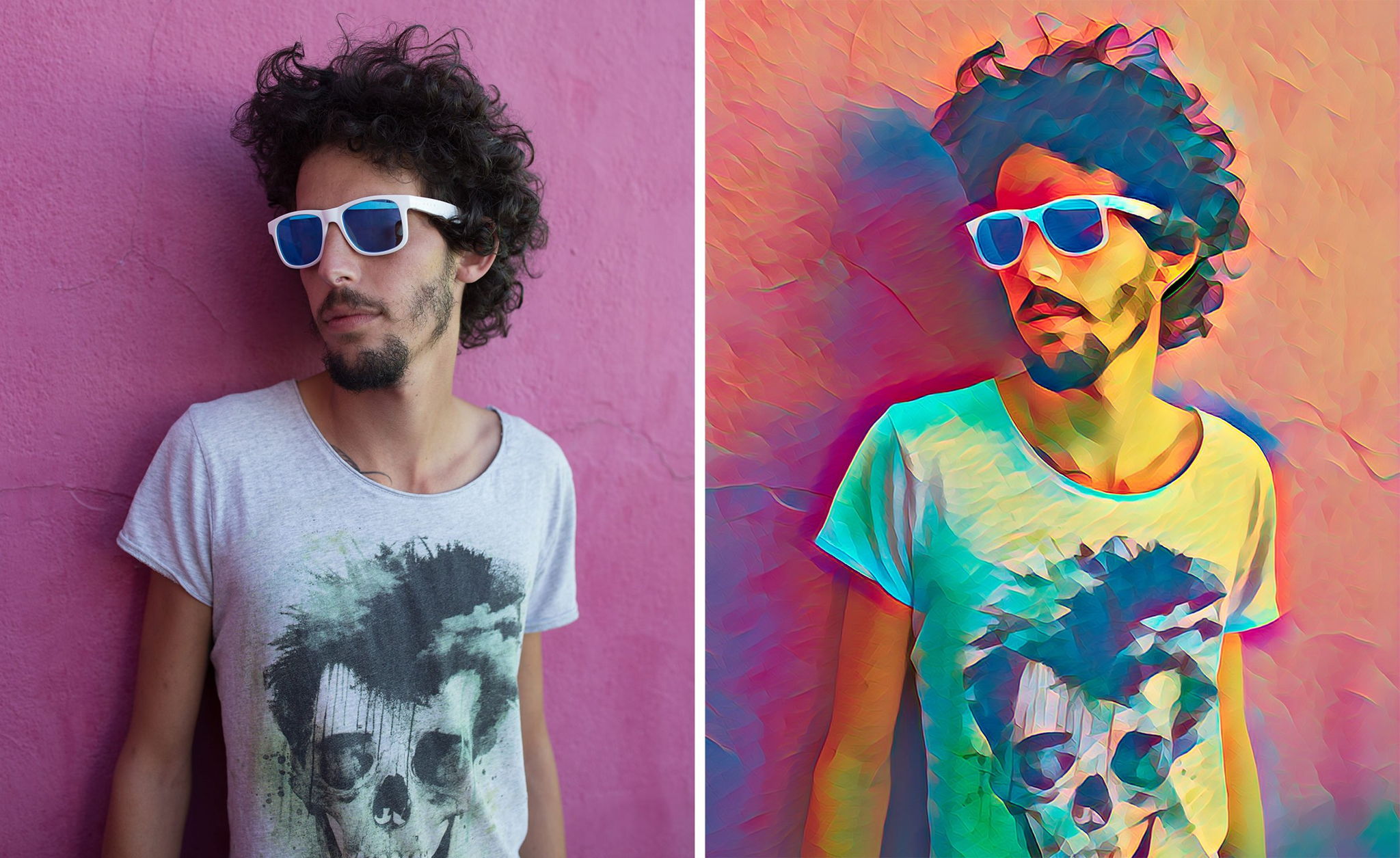 Instead of just giving away free software, creating a larger prize bundle that includes more products like drones and backpacks will make the giveaway more enticing. This can lead to more exposure and entries.
Benefits of this campaign:
The entry method will help create tons of user-generated content (UGC) submitted by people who use editing software (Topaz Labs target audience).
Entrants will be required to sign up and download trial versions of Topaz Labs' software. This means that this giveaway will generate new signups and users to the Topaz Labs platform.
Hosting this giveaway on the Topaz Labs website will help increase traffic for the duration of the campaign. If you promote the giveaway on other platforms like email or social media, users from those platforms will potentially come over to the website.
Influencer Camera Giveaway
Entry Method – Sign up for my free course to enter
Prize – Prize bundle that includes access to the Full-Time Filmmaker Course, 1 Year Adobe Creative Cloud membership, pro camera gear
Goal – To build a mailing list and acquire new users to the Fulltime Filmmaker platform
Parker Walbeck makes a living on YouTube creating excellent filmmaking tutorials. It doesn't end there because Parker has in-depth courses that cover every aspect of filmmaking.
A camera giveaway can help Parker to acquire new users for his paid courses.
Parker can give away one of his premium courses along with the editing software used in that course. Adding camera hardware to the prize will complete the bundle. Users can learn and practice filming and editing with this prize bundle.
Benefits of this campaign:
The entry method will help create tons of user-generated content (UGC) submitted by people who use editing software (Topaz Labs target audience).
Entrants will be required to sign up and download trial versions of Topaz Labs' software. This means that this giveaway will generate new signups and users to the Topaz Labs platform.
Hosting this giveaway on the Topaz Labs website will help increase traffic for the duration of the campaign. If you promote the giveaway on other platforms like email or social media, users from those platforms will potentially come over to the website.
TL:DR
And there you have it. Everything you need to know about Camera Giveaways!
Camera giveaways are excellent campaigns that help brands achieve multiple goals like boosting website traffic and building an online presence. However, only brands associated with camera gear, photography, and the film will genuinely benefit from a camera giveaway.
The prize for your camera giveaway doesn't necessarily have to be an expensive pro-grade camera. You can still create an equally valuable prize by bundling multiple products together.
We hope you enjoyed this guide. Let us know what you think about camera giveaways. Is camera giveaways an effective marketing tool? Let us know in the comments below.