What is a digital marketing plan, and why do businesses need a digital marketing plan? What are the sections of a digital marketing plan? What's included in a digital marketing plan? What are the steps in creating a digital marketing plan?
The questions could go on and on when it comes to creating a digital marketing plan.
In this article, we are going to share with you 7 unspoken or unwritten things about digital marketing plans you should know. We will also talk about why eCommerce businesses need a marketing plan and how to create a comprehensive marketing one for your business.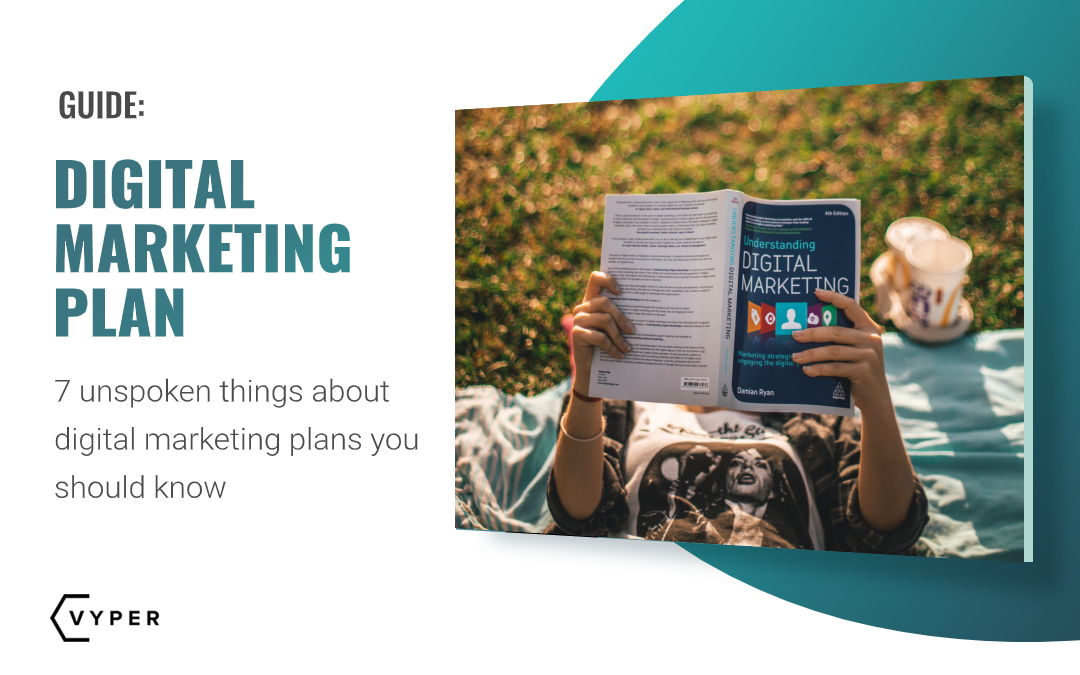 FREE DOWNLOAD 👉 The Facebook Ads Asset Library! All the checklists and guides used to profitably spend $150M+ on Facebook & Google ads.
What Is the Role of a Digital Marketing Plan?
According to Johnathan Goodrich, an expert online marketer who is also the author of the article "online essay writer," every business needs a marketing plan to succeed in this competitive business world. Unfortunately, most small business owners don't prioritize the creation of a comprehensive marketing plan. They experiment with different marketing techniques that result in moderate success.
There are millions of online marketing tools businesses can take advantage of to stay ahead of the competition. Brands use VYPER as a viral marketing tool to easily build giveaways, referrals, and reward programs.
However, no business should do without a well-developed marketing plan.
The major role of a marketing plan is to identify marketing purposes and shows how marketing tactics will help companies attain their overall goals and objectives.
For instance, a new business wanting to grow would create a marketing plan that highlights the strategies that can increase its customer base.
More Business has done a good example of a well-mapped marketing plan.
What Is a Marketing Plan?
A marketing plan is a report that outlines a company or organization's strategy for a month, one year, and more.
A business could create a marketing plan that outlines the strategies it plans to use to attract new customers, engage with existing ones, or promote their brand.
Usually, a marketing plan helps businesses to align all their marketing initiative with the main strategy, to achieve maximum ROI, make use of time and resources appropriately.
Given that a marketing plan is a driving force for all the companies marketing undertaking, it should touch on every component of a company's marketing mix.
A comprehensive marketing plan would touch on the following elements:
Executive summary- This section explains the aim of your marketing plan.
Mission statement- This section describes the company.
Trackable goals- This section shows how the company will track success, including the key performance indicators a company is focusing on.
Situation analysis- This section will examine the industry in the next five to ten years and how the company is adapting.
Target market- This section defines the company's existing and potential target market.
SWOT analysis- Your company's strengths, weaknesses, opportunities, and threats in the industry and comparison to its business rivalries.
Buyer personas- What do customers like? What makes them buy your products, etc.
Promotion strategy- Havingknown who your target customers are; this section outlines the strategies a company will take to convert them into buyers.
Why Your Online Business Needs a Comprehensive Marketing Plan
Regardless of the type of online business you operate, without a marketing plan, the odds of failing are high. Well, there are thousands of reasons your business needs a marketing plan, but here are the three key reasons.
1. Marketing Attracts Sales
Customers buy products of a company or business they know. They don't buy from strangers. If they don't know who you are, what you sell, and why they should buy from you, and not the next business, don't expect any sales.
That's where a marketing plan becomes helpful. It will help you determine what your customers need and how you can provide them with exactly that.
A marketing plan outlines how to engage with your existing customers before acquiring new ones.
2. A Marketing Plan Gives You Forethoughts
In addition to helping your business make sales, a marketing plan will give you greater ideas of where your business stands in the industry and how it should adapt to the existing and future trends.
3. A Marketing Plan Is the Driver of All Your Marketing Strategies
A marketing plan will guide all your business efforts. It will assist you in promoting your company's products or services to a targeted audience determined by the marketing plan.
Other crucial marketing aspects such as your social media marketing strategy will also play a role in achieving the goals set out by your marketing plan.
Remarketing also forms part of a marketing plan that is focused on brand building. Targeting people with an interest in your brand will help you to get these people to learn more about your brand.
Should Your Marketing Plan Be Specific or Generalized?
Now that you've known the importance of having a marketing plan for your online business, should it touch on specific aspects of your marketing strategy or generalize the aspects?
Generally, whether specific or generalized a marketing plan should be, depends on your business and the whole strategy.
Some businesses would need a more generalized marketing plan, while others would need a more focused and comprehensive one. None of these can be wrong or right, regardless, each (generalized and specific) has its good sides and bad sides.
Let's take a look at each approach.
A Generalized Approach
When you decide to take a generalized or broad approach, it means you are going to improve everything on your marketing and advertising strategies.
Although this would be a good approach, especially if you have a new marketing plan and you've never improved in these areas. Still, you won't have the fine details necessary for creating a comprehensive marketing plan.
The Good Sides of This Approach
It aims at improving everything instead of specific areas.
It would be suitable for new online marketers who don't have an e-commerce marketing plan but need to get guidance so they can get the hand of the online market.
It emphasizes on implementing a strategy that achieves the company's goals and determines out which techniques are required to attain those goals.
Why This Approach Falls Short
It's not easy to measure success.
It does not focus on specific marketing channels.
You might end up covering nothing.
The Specific Approach
When you use a specific approach, for instance, focus on specific channels of marketing such as search engine optimization, paid media, etc. you will be able to measure success and know how effective each channel is. This approach is suitable, especially if a channel isn't helping your business achieve its goals.
The Good Sides of This Approach
It's easier to measure success.
You become an expert on the channel you focus on.
It makes the plan easy to work with.
Why This Approach Falls Short
You could focus on the wrong marketing area
It's not suitable for beginners
Might face a lack of resources to improve on certain areas.
With that being said, let's take a look at each section of a creative marketing plan before we find out the unspoken things about it that you need to know.
What are the key elements of a marketing plan?
The decision to create a marketing plan for your online business is an important one.
Ideally, your marketing plan should touch on the following sections.
a) Executive Summary
This is the first section of your marketing plan. Sometimes it's recommended to write it last.
Here, your marketing plan should answer the following questions.
What's the existing state of your business?
What are you trying to achieve?
What section of your marketing strategy needs to be improved or changed?
What tactics should you use to achieve that?
b) Mission Statement
Who is your target audience? What are you selling? Why are you in business? What are your target customers' problems that you intend to solve?
c) Trackable Goals
Which KPIs are you focusing on from each marketing channel?
For instance:
Email marketing – Your KPIs would be open rate and click-through rate.
Content marketing – Your KPIs would be page visits, organic traffic, "time on site," conversions, and bounce rate.
Referral marketing – Your KPIs would be the referral you converted into buyers.
Social media marketing – Your KPIs would be the percentage of traffic from social media channels, lead generation conversions generated, etc.
d) Situation Analysis
What's the existing state of your business? What's the future of your business? Where does your business get the most revenue from?
e) Target Customers, Market, Audience, Prospects
Who are you planning to sell to?
This section outlines your target market including their job, demographics and many other aspects.
Note that you can't sell to everyone. For this reason, it's vital to define your ideal customers, what problems they are facing that make them buy from you and not your competitor.
f) SWOT Analysis
Generally, SWOT analysis is Strengths, Weaknesses, Opportunities, and Threats. This is where you find out how you intend to beat your competitors.
Your marketing plan should answer the following questions:
What products do your customers want to buy in some years to come, perhaps 5 years from now?
What's your business setting at the moment?
Which areas are you good at and where should you improve?
What aspects of your competitors can you implement in your marketing plan?
g) Buyer Personas
Your marketing plan tries to get a sneak pick of who your anticipated customers look like, their characteristics, their likes and dislikes, etc.
h) Promotion Strategy
The marketing plan should outline the channels you intend to use, the frequency in which you intend to publish content and the type of content.
This section should touch on both the digital and traditional marketing efforts.
Design Tips to Help You Create a Comprehensive Marketing Plan
Well, even though your marketing plan shouldn't be pretty, you need to strive to have a design that attracts and convinces your prospective customers.
Here, you can use a marketing plan template, especially if you are doing it yourself and not a designer.
Follow these design tips to nail your marketing plan.
1. Know Your Target Customers
As a rule, you and your team should know who you are targeting before you make any marketing decisions. That means, before you write a marketing plan for your business, you must have defined who you want to target.
2. Highlight Essential Metrics, Statistics, and Numbers in Your Marketing Plan
You need to make your plan as simple and straightforward as possible yet convincing. For this reason, coming up with a hierarchy of information in your page design would help you.
To visualize essential metrics, charts and pictograms would do it better. You could change the color of your important statistics and numbers as well so that you can see them from a distance.
3. Your Design Should Be Driven by Your Main Marketing Goal
The major aim of your marketing plan is to identify your main marketing goal. This should inform your marketing plan design.
4. Envisage Your Top Channels Using Charts and Pictograms
You must have channels that are performing better than others and your marketing team should know them. This would help you to know where to put in more resources. Is your referral traffic giving you greater returns than paid ads, are you getting more organic traffic?
With that in mind, let's take a look at the unspoken or unwritten things about marketing plan you should now
Unspoken Things about Online Marketing You Should Know
Online marketing is a vital tool for the success of every online business. If you are just getting started with online marketing, you can find the game challenging.
Follow these unspoken things to have a successful online marketing strategy.
1. Listen
To be successful with your online marketing strategy, open your ears more and limit your mouth.
Join the conversation when your target audience posts content, get to know their likes and dislikes.
Spy on important influencers in your industry and understand what they are talking about via their social media channels. This way, it would be easier to reach out to them.
2. Stay Active
If you've observed the most successful online business for a while you must have seen how they share a lot via their social media channels. Although quality content is crucial, how often you share it with your target audience matters a lot.
If more people get to know about your existence and your products, it shows that your marketing strategy is effective. But this can only be achieved when you share more content and at the time when your prospective customers are active.
3. Create Mouthwatering Content
Mouthwatering content or quality content is one that people want to read and not one that you want people to read. Expert online marketers will tell you to focus on quality than quantity.
It is, therefore, better to have 1000 readers who engage with your content than tens of thousands who connect with you and disappear forever.
That's where a content marketing plan becomes helpful. You should research your target audience, understand their pain points, the information they are looking for and give them right that.
Here, you can mix visual content with word-based content. A good rule of thumb is to share quality content less frequently than to share subpar content more frequently.
4. Consistency is Everything
Be a reliable source of information and be consistent. Some online marketers would just publish content and leave it there. Publish content and be there for your target audience. If they need help, they should get it from you immediately.
The reason why many companies lose followers on their social media channels is that they share a bunch of posts and then they don't respond to comments.
5. Think Before You Post
This sounds a no brainer but you will be shocked by the many businesses that make the mistakes of posting without considering what impacts their posts could have.
Some companies would post bad about their competitors or share demeaning tweets. You need to avoid all these if you want to be successful with your online marketing efforts.
Before you hit the post or publish button, ask yourself "is this post representing my company with the right message?" "is this post going to hurt anyone?".
6. Don't Ignore Anyone
You wouldn't disregard someone who connects with you in person, right? Also, don't ignore those who connect with you on the internet.
Remember that online marketing is all about building healthy relationships with your target customers. For this reason, don't leave anyone who reaches out to you to go unacknowledged. After all, someone may be reaching out to you in need of help and if you can help, then you will have created a good name for your online business.
Share other peoples' content to increase the odds of them sharing yours too.
7. Cross-Pollinate
When you share quality content across your social media channels you will attract quality followers. This way, they will also share your content on their social channels and that means your reach would be amplified.
The more your content is shared across social media channels, the more search engines get to know about it since searchers will be using keywords you target in your content.
Bonus: Neil Patel Exclusive Tips on Digital Marketing
We had the pleasure of speaking to one of the best online marketers in the world, Neil Patel. He shared his expert advice on brand building, content marketing, SEO, and more.
Listen to Neil's exclusive advice here:
Final Words
So there you have it: Having a marketing plan is beneficial to your online business in many ways. A marketing plan will help you drive sales and will also help you improve your marketing strategy to boost brand awareness.
If you read this article carefully and implement the information we have shared here, you will give your online business a new light.
We proceeded by showing you why you need a marketing plan since not all business owners know the importance of having one.
Have we left anything you think could be added? Let us hear that in the comment section.
Jack Paxton
Jack Paxton is the co-founder of VYPER, a marketing tool that helps brands build email lists, social followings, and revenue using viral giveaways, referral, and reward programs. After millions of dollars spent testing different marketing strategies at his marketing agency. He then also co-founded Hyax a fast, conversion & design-focused course and funnel builder for creators.