Cold outreach is often a difficult and somewhat challenging task. You never know if it's going to pay off, therefore directing your resources a little blindly.
That's why even a small detail can mean a lot. As if you improve your cold outreach by 1%, sending it to 100,000 users means getting 1,000 more leads.
We all know about the effectiveness of drafting engaging and original emails during cold outreach campaigns. But, have we ever looked into the importance of email signature?
Your email signature can be considered as another form of marketing that can perfectly represent your brand and your credibility.
I might exchange simple emails (having minimal info) with someone, but your email signature can still say a lot more in those emails.
Email signature marketing is quickly becoming a major factor in email marketing.
Let's find out how you can promote your brand and content with email signatures.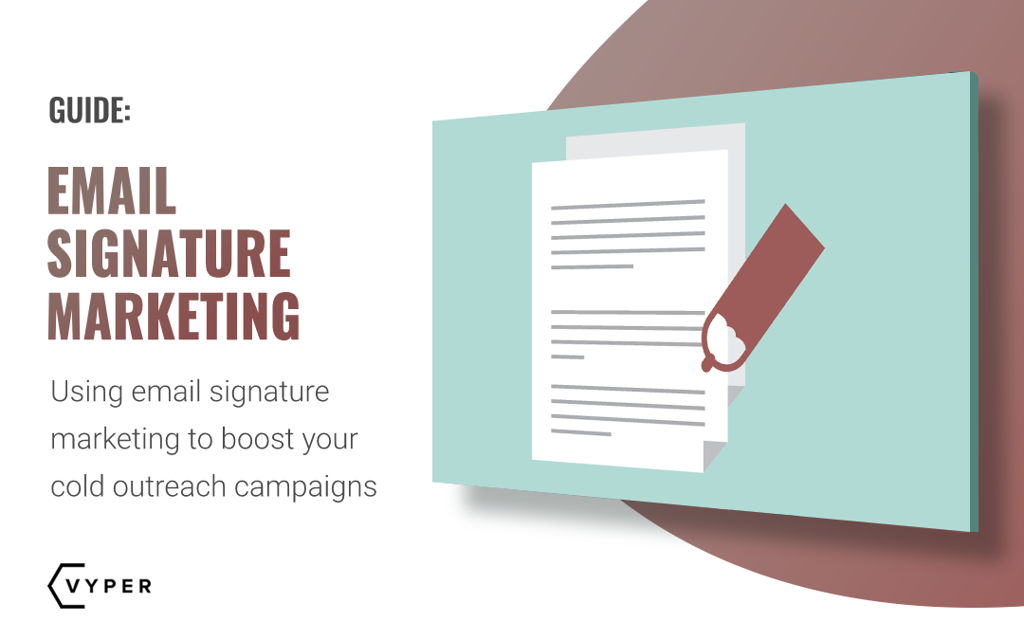 My Cold Outreach Campaigns Don't Convert, Help!
No matter how long you've been gathering those cold leads, sending a lousy outreach may result in most of them freezing forever.
Even though a quarter of cold emails is usually opened, the conversion rate may drastically decrease after recipients go through your email.
Make Simple and Engaging Emails
The open rate is only affected by the subject line and preview text of your emails. And probably by the email address itself. As for further engagement, it is the email body that plays a crucial role.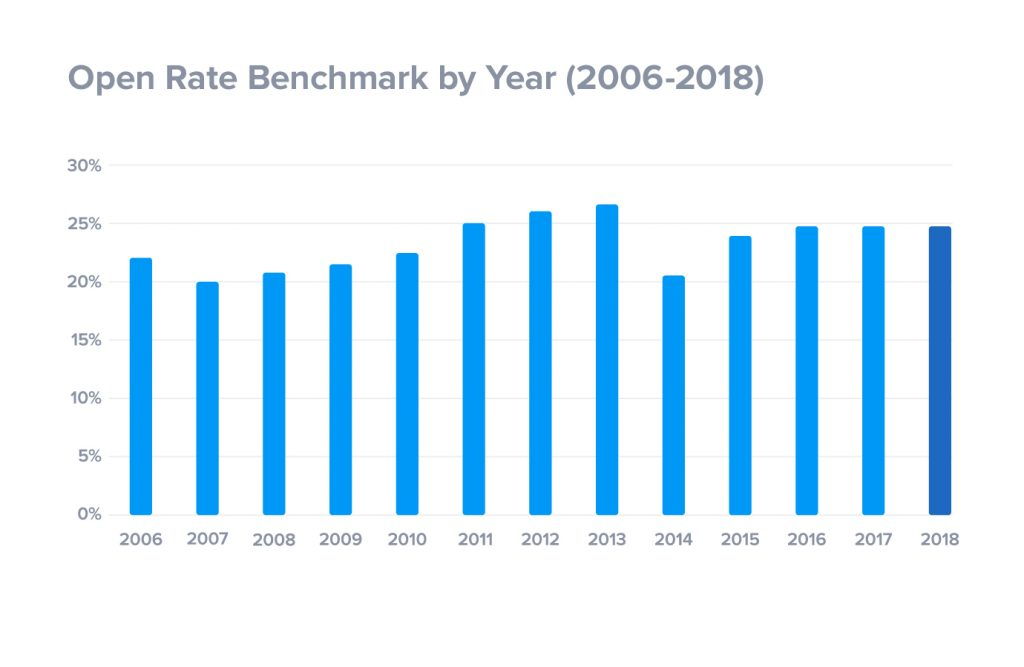 People are so used to fancy emails selling something that they don't pay much attention to beautiful templates anymore.
At least not if it is a message from someone they don't know. Simplicity is key in cold outreach.
If you feel like your cold emails are ignored, try to avoid any visual templates and use plain text. Anyone will appreciate it more.
Also, add a friendly joke or a GIF at the beginning.
But wait.
If you avoid using visuals in emails, how do you promote your company and create brand awareness? It is equally as important as being friendly and to-the-point, isn't it?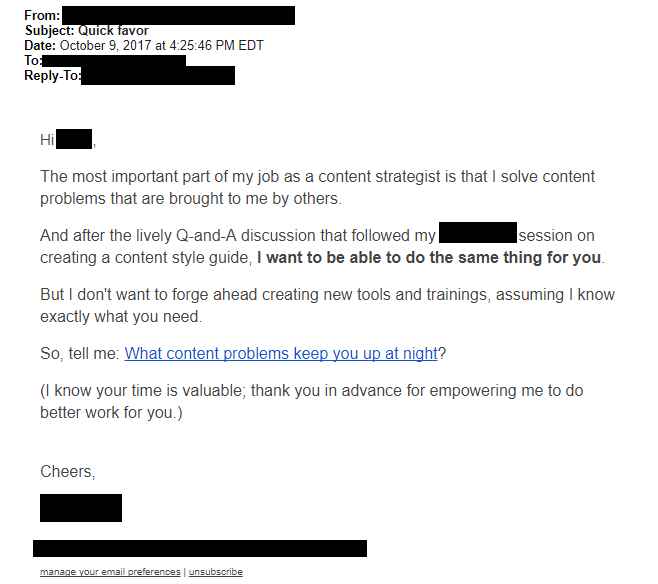 That's where email signatures come to the rescue!
Using Email Signature Marketing to Create Friendly yet Promotional Emails
You can write your email body as plain text and skip all the sophisticated details as long as you have a professional email signature installed.
This small addition to an email is the maximum people will accept as not too baiting.
So, how do email signatures promote your brand and remain simple?
Branding in Email Signature Marketing
The reason you use email templates is to make your messages look according to a brand book. With all the corporate colors and logos, any email turns into a promotional message. And if you send a plain text, the signature is a brand book element instead.
You can add a company logo to your email signature. However, use a professional photo of the sender if you want cold emails to look more human and friendly.
A smiling face adds much more positivity and credibility to your emails, even the cold ones.
Also, make the signature template look as close to the logo as possible. This implies using corporate colors and geometrical elements similar to a logo.
Another important thing is the font you use. Apart from being web-safe, it shouldn't differ a lot from the text on your logo (if there is some).
It's a small feature, but the devil is in the detail.
I Contact You, You Contact Me
An email signature is often compared to a business card. The primary purpose of the latter is to provide contact information. So, don't forget about it in a signature as well.
The latest trends suggest adding up to four lines of contact details to an email signature. What could these lines be?
Email. Adding your email address to a signature might seem excessive at first glance. On the other hand, if your email requires an immediate response, why not help the recipients send one ASAP.
Phone numbers. What if people want to call you right away? Add a phone number with a link to call you in any convenient app.
Physical address. If you have one, do list it in the signature. It adds up to a corporate view of your company and lets recipients check out if it exists.
Don't forget about your company name and position too. If your cold outreach is sent from a "marketing manager Jeff Black" and not just "[email protected]," people will take it more personally and seriously.

While the contact details are the essentials of an email signature, you can put a more considerable emphasis on a way of contacting you, for example, in a live chat.
The email signature design tactics allow you to do so.
Let's Get in Touch. Everywhere
Imagine receiving a cold email yourself. Wouldn't you want to check who the sender is and what is the company reaching out?
Adding icons of your social media accounts to an email signature is extremely important. Not only do they help you get more followers. They also make it easier for recipients to find social proof of your professionalism.
Promoting social media accounts is a whole difficult marketing direction. Why not help it with email signatures?
Do not use more than five icons and link them to corporate accounts only. Also, make sure these accounts are active. What's the point of promoting them otherwise?
Dragging the Attention with Calls-to-action
Now that the essentials are mentioned, let's talk about what makes email signature marketing so well-performing.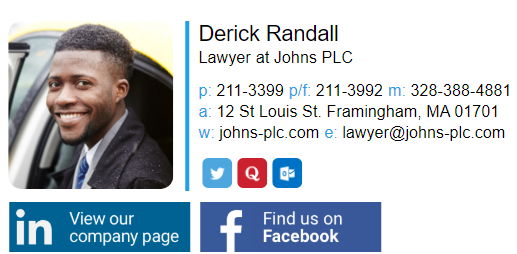 First of all, calls-to-action (CTA). It can be a simple linked text or a button. The purpose of a CTA is dragging the attention by showing the words people expect to see like actions.
Even a simple CTA can bring a considerable click-through-rate. Make it a clickable button, and your recipients will subconsciously want to follow the call-to-action.
Eye-tracking analysis showed that people look at email signature block (and CTA buttons in particular) the longest. They are literally eye-catching, or glance-catching.
Thus, implying you have the right message, you get many more clicks with CTAs, which is the essential purpose of cold outreach.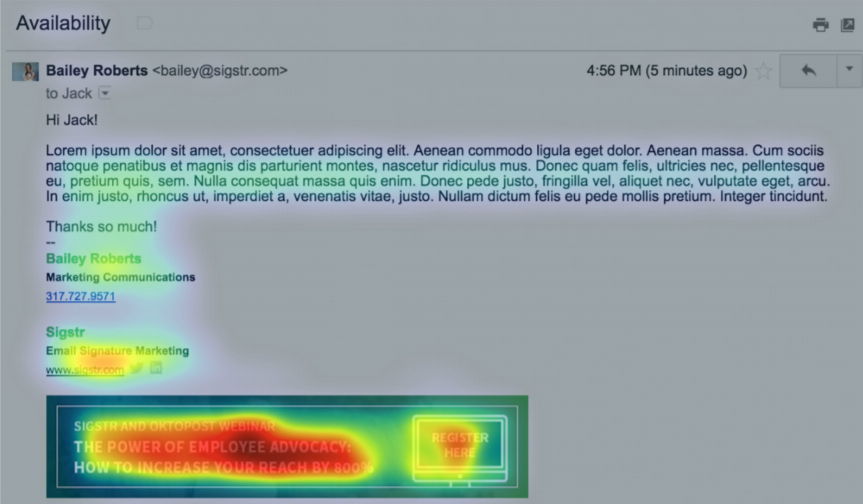 You can go further and create a whole promo banner in this regard. But what content do you link to it?
Promoting Your Content with Email Signature Banners
A banner usually takes up to half the space of an email signature. When used correctly, it serves as an ad right in your email. And your recipients won't get annoyed by it, as it goes in the footer.
There are many things you can advertise with a banner. The best click-through-rate is usually found with content like:
Calendar schedules for meetings
Promo and sale offers
Ebook or landing page links
Demo request CTAs
Events invitations.
Whichever you choose, it is vital to make your banner look eye-catching and not too pushy. You do want to drag recipients' attention but not in a wrong way.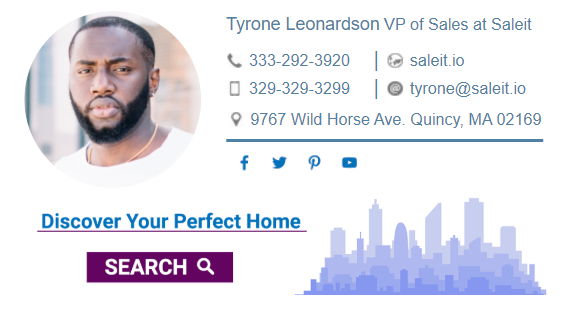 It is still a good idea to follow the brand book and use corporate colors. However, add a CTA to your banner and make it's color a bit brighter than everything else. Also, do choose the right words.
Use Banner Campaigns
Real magic begins when you apply some automation. Banner campaigns can be used in follow-up or reply emails to change the look of your signature. Or if you want to greet your customers with some holiday that won't be relevant in a week.
You set up the campaign to schedule the banner for the specific time or change automatically when something happens or the time of usage expires.
As for cold emails, you can create a separate banner campaign that will be used in the outreach. For instance, using a banner that supports your email body and will help to move your prospect further in the funnel. So, you'll have a signature that looks exactly like your general one but with a different banner.
Using Online Email Signature Generators for Cold Outreach Campaigns
All of the things mentioned sound nice in theory. As for the implementation, is it that easy? Common sense implies that any email signature should be made in HTML.
If you make your signature a single picture, it might be hidden by the recipient's email client or even flagged as spam. Especially if you send cold emails to people who've never heard of you before.
As for HTML, even if you know how to make an email signature with it, you still have a problem with images.
If not stored on a separate server (as they are in email signature generators), different email software on the receiving end might not display images. Or once again, spam-flag an email. And also, it takes some time to make a signature in HTML.
In any case, using a signature creator online is the best solution.
If you want to use multiple signatures and store them in your dashboard, use Newoldstamp's email signature generator. It has a department feature that allows organizing all your sigs. Also, you can choose a ready banner from a gallery.
All of these features are particularly useful for cold outreach email campaigns. You can create a special signature for it or use banner campaigns that will be automatically turned on when sending cold emails.
Also, a simple analytics tool shows impressions and CTR of your signatures.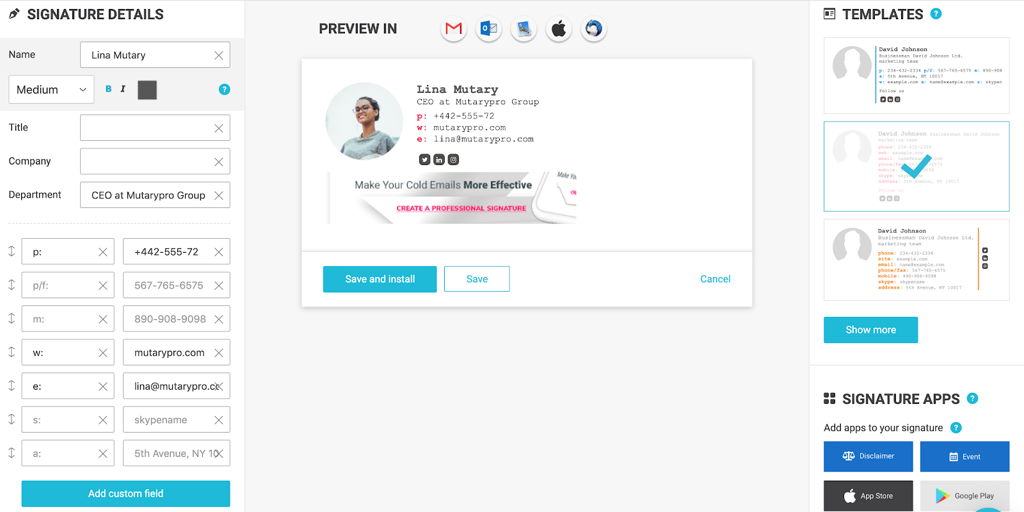 If you need a simpler email signature generator, use MySignature. It has all the dashboard and banners upload features. However, it is aimed at helping single users or small teams.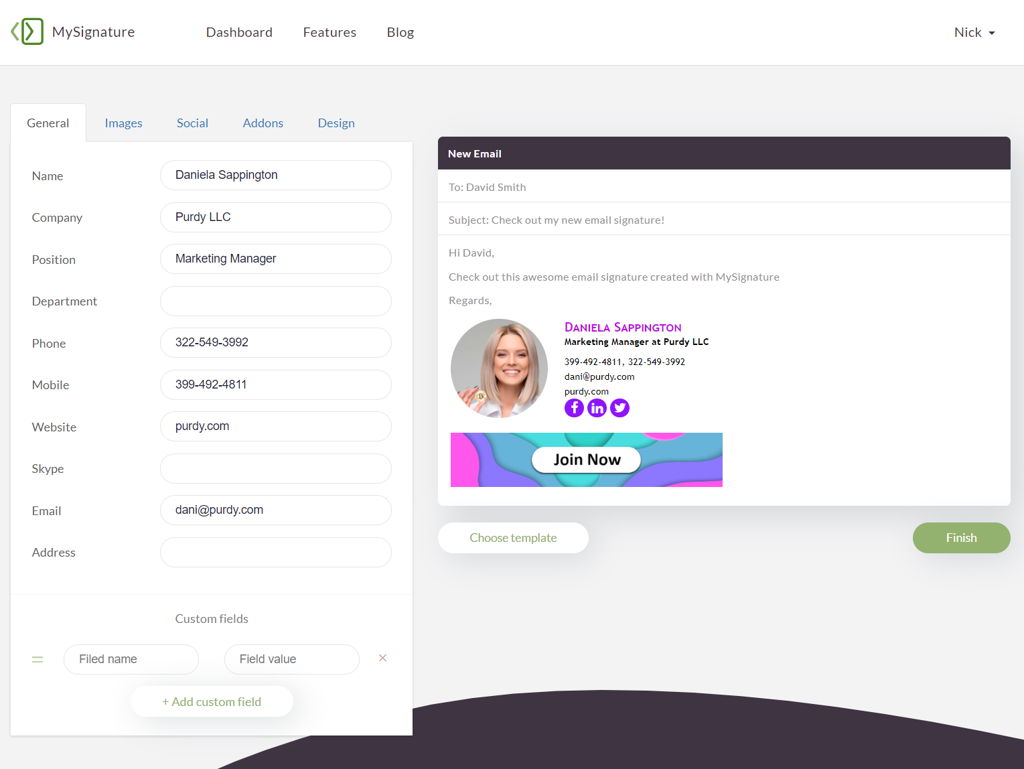 Conclusion
A proper cold outreach campaign has the main goal of generating as many leads as possible. However, marketers often get too excited about their product and start promoting it way too much. As a result, outreach doesn't bring an adequate amount of conversions.
If you want your cold email campaign to perform well, make your emails friendly and straightforward. Avoid sophisticated templates. Use email signatures to promote your brand and content instead. Do so by:
Using corporate colors in a signature template
Listing all the important contact data
Implementing social media icons
Adding CTA links and buttons
Using promo banners
Applying email signature management tools for further usage.
Email signatures are gaining massive popularity as a marketing channel. The complex email templates are no longer impressing people. But an email footer allows being both friendly and engaging.
You can't make your cold outreach email campaign any better than with a professional email signature.
Do you focus on the quality of your email signature? Have you ever received any feedback from clients yet? Let us know in the comments below.
Author

Nick is a content marketing manager at Newoldstamp. He has been working in the marketing field for more than 5 years creating top-notch digital content and promoting it with social networks, SEO techniques, and pure creativity.
https://www.linkedin.com/in/nick-hladush-423ba2172/
https://twitter.com/newoldstamp