Father's Day is an excellent opportunity for brands to market their products and summer promos. However, it can be challenging to find success this time of year because everyone is competing to promote their Father's Day deals.
No need to panic! There is a way for your brand to stand out this June for Father's Day. You can do so with a viral Father's Day giveaway.
A giveaway is an excellent campaign for boosting Father's Day promos.
Not yet sure about hosting a Father's Day giveaway? Or are you short on giveaway ideas?
This guide has plenty of Father's Day giveaway examples, ideas, and case studies. We even have exclusive VYPER giveaway designs and ideas that you are welcome to copy.
But first, let's take a closer look at how vital Father's Day giveaways are for your brand.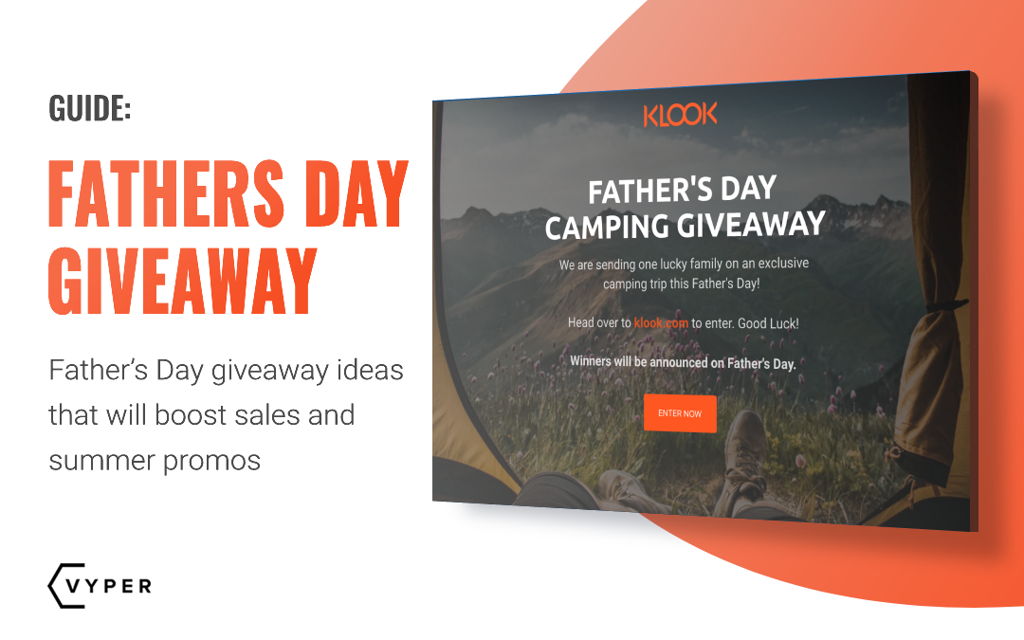 FREE DOWNLOAD: Get all Our Contest & Giveaway Marketing Guides, Checklists, and tutorials that have helped 100's of brands collect 15k+ emails in under 21 days!
Father's Day Trends to Watch in 2023
Father's Day is yet another gifting season that quickly catches the attention of consumers. These consumers are looking to make Dad happy on a day dedicated just to him.
So what makes for a good Father's Day gift this year? What will make for an excellent Father's Day giveaway prize?
Here are some 2023 Father's Day gift trends to look out for:
Experience-Based Gifts:
With the world increasingly moving towards 'doing' rather than 'having', many are opting to gift experiences, such as concert tickets, cooking classes, outdoor adventures, or subscriptions to online platforms for e-books or streaming services.
E-commerce:
With the continued increase in online shopping, businesses should invest in their e-commerce platforms to offer a seamless, user-friendly experience. Offering special Father's Day promotions or discounts could help drive online sales.
Health & Fitness:
With the emphasis on health and wellness in recent years, fitness gear, smartwatches, and health-oriented gifts like subscriptions to fitness apps or health food hampers are trending.
Tech Gadgets:
Tech gifts like the latest smartphones, gaming consoles, or smart home gadgets are always a hit. This category can also include high-tech grilling or brewing equipment.
DIY and Home Improvement:
Many dads have picked up DIY projects or home improvement hobbies, especially in the wake of the COVID-19 pandemic. Tools, equipment, or DIY project kits would cater to this interest.
How Your Brand Can Benefit from a Father's Day Giveaway
Father's Day may not be the most popular (or profitable) day of the year compared to other major holidays. However, brands still manage to make a considerable amount of sales over Father's Day.
That boost in sales is probably the reason for all those Father's Day promo emails that are sitting in your inbox during June!
While marketing your brand with email over Father's Day is still effective, it's still a challenging endeavor. There are just too many brands attaching themselves to Father's Day with their custom Father's Day promos and deals.
You need to get a bit more creative with your Father's Day promotions if you want your brand to stand out from the rest.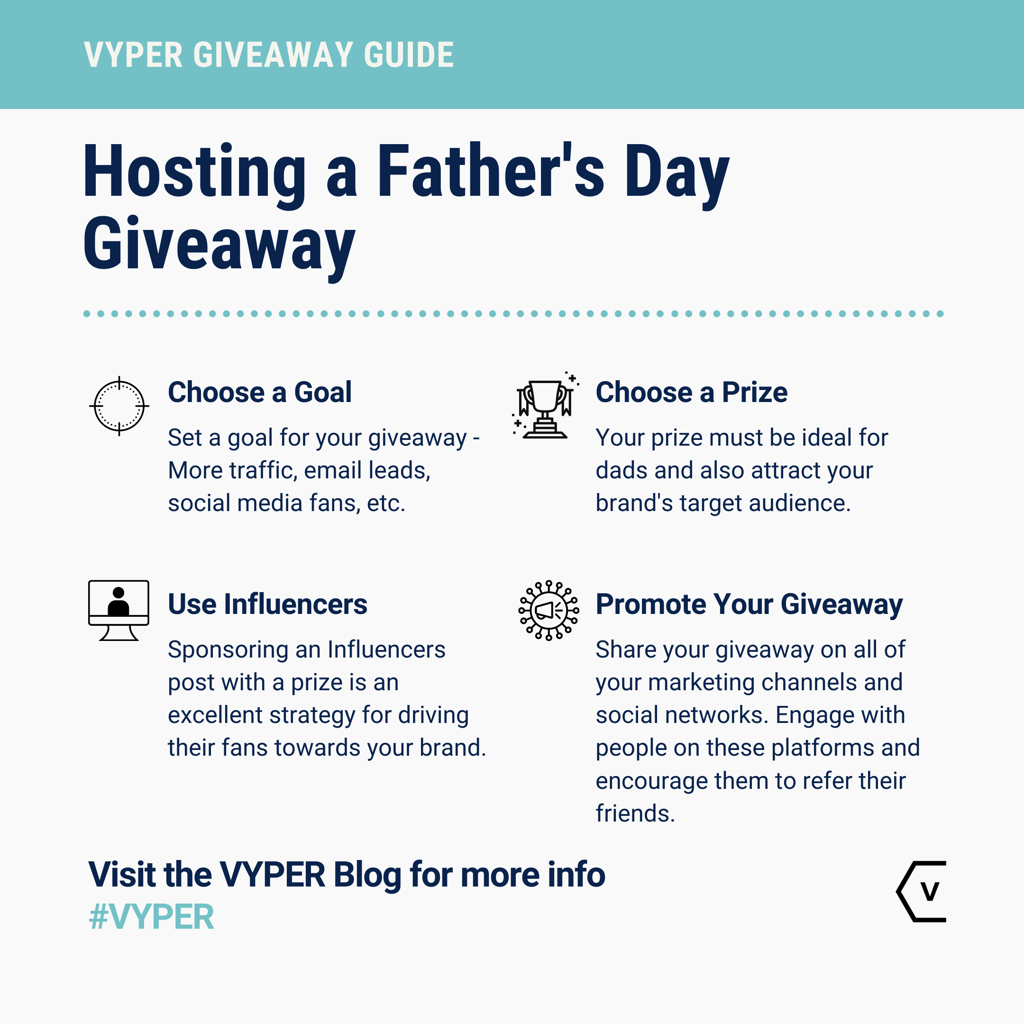 A Viral Father's Day Giveaway
One surefire way for brands to stand out in a competitive market or during busy holiday promotional periods is with a viral giveaway.
A viral giveaway can give your brand that additional boost needed to effectively promote your Father's Day campaign at a time when everyone else is also pushing Father's Day promos.
Here are some of the benefits of hosting a Father's Day giveaway:
Efficiently attracts leads, social media users, and website visitors.
Giveaways are viral on any platform, especially if you encourage users to engage with and share your giveaway. More shares and engagement will make the giveaway and your brand even more discoverable.
Giveaways can help to generate a ton of hype for your brand, which is why hosting a promo alongside a giveaway is a great way to direct that hype towards both your brand and your current promo.
Get massive results fast! Giveaways run for just a few weeks only, so people will be quick to interact with your giveaway during this period in fear of missing out.
So, a viral giveaway generates a ton of hype, leads, and traffic that can be directed to your current promotions. It's precisely what you need to promote your Father's Day campaigns effectively.
Want to see what Father's Day giveaways look like? Read on to find excellent examples of Father's Day giveaways hosted online by popular brands.
Father's Day Giveaway Examples and Case Studies
We've handpicked some of our favorite Father's Day giveaways from around the web, analyzed them, and put together some helpful feedback just for you.
The common theme that we found is brands that host Father's Day giveaways are in some way able to connect their brands with a Father's Day theme.
This might be hard for female or kids brands to achieve, but the brands featured below are very creative in their methods. So let's take a closer look to see what works best for these brands when hosting a Father's Day giveaway.
---
Lusso Auto Spa Father's Day Giveaway
Entry Method: Follow on Instagram, tag 3 friends, share the post
Prize: Exclusive car wash
Lusso Auto Spa and Designs is an aftermarket car care and styling shop. They specialize in intense car washes, custom body parts, and wraps.
A car wash at an exclusive auto detailing shop like Lusso is undoubtedly an excellent Father's Day gift. Instagram users will instantly take this opportunity to try and win a deluxe car wash for their dad's car.
The prize is also an in-house service. So, the expenses are well regulated here and will only come at a minimal cost to the brand (It won't cost the total amount of a car wash. The expenses will only be made up of labor and water, soap, and consumables usage).
Lusso did an excellent job of structuring the entry method of this giveaway. Users must engage with the post by tagging 3 friends and sharing the post. This strategy encourages users to share your post among people who do not follow you, instantly increasing the post's reach.
Also, the contest is only open to people who follow Lusso. So, the more people that enter the contest, the larger Lusso's social media audience will grow.
Key Takeaways:
Social media giveaway aimed at increasing fans and engagement.
Users are encouraged to tag 3 friends. This strategy will get users to refer more people to the giveaway.
The prize is an exclusive car wash, which is a service/product offered by Lusso. This means that the expenses related to the prize will be at a minimum.
---
Jeff Ostroff Father's Day Live Stream Giveaway
Entry Method: Visit the website to enter – Subscribe to the channel and refer friends for more entries
Prize: A variety of tools
Live stream giveaways on YouTube are becoming increasingly popular. The live stream format has seen an epic rise since 2020 and is the ideal format to discuss the giveaway and the prizes with an audience.
You can answer questions about the giveaway and prizes live in the live stream chat. Jeff does precisely this while showcasing all of the prizes featured in his giveaway.
Another intriguing part of this campaign is the way it is set up. Jeff has created individual giveaways for each prize. There are 20 different giveaways for the 20 prizes that he has on offer.
This is an excellent strategy for a few reasons:
Users can choose which prize(s) they would like to win then enter that giveaway.
Jeff can create posts for each giveaway. This will help him to produce more content for his channel.
A user has a better chance of winning now that they can enter more than one giveaway.
Key Takeaways:
Live stream giveaways are popular now. Jeff uses this format to display the prizes and explain their uses in detail. He also answers questions in the live stream chat in real-time.
A YouTube giveaway that drives traffic from the platform to a website. Jeff has a form on his website to collect emails. He also encourages users to subscribe to his channel and refer friends to his giveaway.
Multiple giveaways in one post. Jeff actually has set up individual giveaways for each prize.
---
This Crazy Life Father's Day Gift Ideas and Giveaway
Entry Method: Visit the website and submit an email to enter (follow on socials too)
Prize: $139 Watch voucher
This Crazy Life Vlog is a YouTube channel that focuses on the stay-at-home mom lifestyle and offers tips on motherhood, cleaning, organizing, and more. It's also the perfect channel to provide its viewers (consisting primarily of moms) gift ideas for Father's Day.
The host, Amanda, uploaded a vlog of her showcasing some great gift ideas for Father's day. She even managed to get one of the brands featured in the video to sponsor a prize for one of her lucky viewers.
Her followers will have to visit the sponsor's website to enter. This is a good example of directing traffic from a social platform to a website. The sponsor can then direct users to other pages on their website after they have entered the giveaway.
This giveaway is a perfect example of how brands can use giveaways and influencers to:
Create brand awareness.
Build email lists.
Increase website traffic.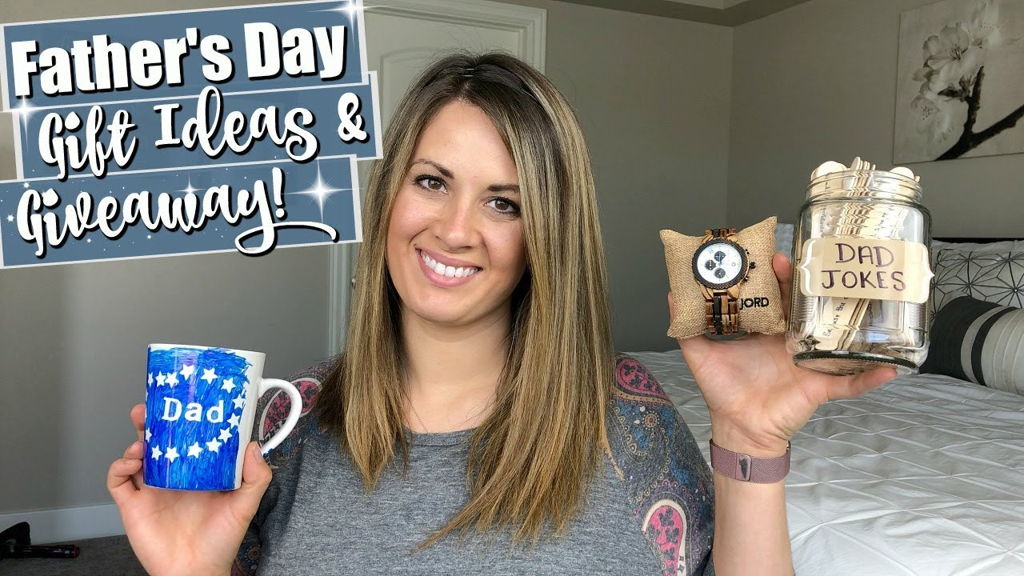 Key Takeaways:
A YouTube video that offers Father's Day gift ideas and a giveaway.
Sponsored giveaway. The YouTuber hosting the giveaway got Jord watches to sponsor the prize. Users will have to visit Jord's website to enter.
An excellent example of how a brand can use an Influencer to host an Influencer Giveaway.
---
K&F Concept Father's Day Giveaway – @kfconept (Instagram)
Entry Method: Like, Follow, and Tag Dad to enter
Prize: High-end camera gear and accessories
Ideal for: Camera brands, camera accessory brands, or image editing software brands
K&F Concept is a camera accessory brand that specializes in tripods, lenses, backpacks, and more.
Hosting a Father's Day giveaway is an excellent way for K&F Concept to attract its target audience. Dad's love capturing family moments on their cameras. So, winning one of the prizes in this giveaway will be awesome!
K&F Concept gave away just their own products which included a camera bag, tripod, and lenses. These prizes are not for everyone and will only attract people interested in photography. This is perfect as K&F Concept is looking for leads that are interested in photography.
Key Takeaways:
The giveaway prize is made up of camera accessories and will attract photographers, which is the host brand's target audience.
K&F Concept simply gave away their own products, keeping the cost of the prize low.
The giveaway prize could have been bigger with a collaboration. E.g. K&F Concept could have included image editing software by collaborating with a brand like Topaz Labs.
Fathers Day Giveaway Ideas with VYPER
The team at VYPER is never short of excellent giveaway ideas. Even ideas for Father's Day!
We took some of those ideas and created concept giveaways that will inspire your next campaign. Of course, you are free to use any of these ideas as you please.
NB. The giveaways below are all demo campaigns created using our service. You can signup for free here and create your own designs using VYPER – https://vyper.io/user/register?redirect=freeaccount
---
Father's Day Selfie Contest
Entry Method – Take a selfie and submit in-store (or submit to Facebook page).
Prize – Prize bundle or store voucher.
Goal – To get people to physically visit the stores. Also to produce user-generated content and online traffic to website or socials.
Klook is a popular online travel agency that specializes in offering adventures and bookings at exotic locations globally.
They have hosted successful giveaways in the past, giving away exclusive travel getaways to lucky entrants.
Kloof can replicate this success with a similar giveaway that has a fathers day theme to it. We took the liberty of designing such giveaway below: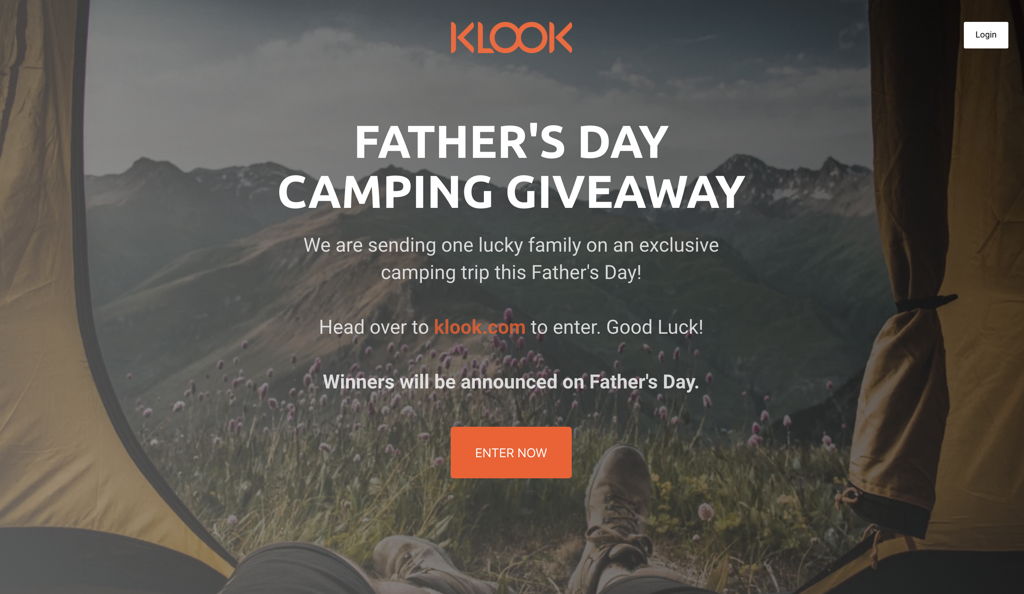 Almost everyone's dad loves taking trips in nature. So just imagine how pleased dad will be when he finds out he won a camping trip!
A camping giveaway can be used to promote a multitude of things like summer camping trips or 4th of July camping trips. Attaching fathers day to a Klook camping trip still feels organic.
It's crucial not to push things too far when creating Father's Day-themed giveaways. Ask friends or family for their opinions when planning your giveaway.
You can also contact us here at VYPER, and we will be glad to help out.
Benefits of this campaign:
It has an unusual prize that can attract a decent audience. This will create plenty of exposure for the brand.
Users will have to visit Klook's website. This giveaway will instantly boost traffic and sales during the campaign.
Announcing the winners on Father's Day will be a great opportunity to do so on a live stream. This can be done on platforms like YouTube or Facebook. If your brand is well established on Instagram (just like Klook), you can do a live Instagram video and post to reveal the winners of your giveaway.
---
Father's Day Selfie Contest
Entry Method – Take a selfie and submit in-store (or submit to Facebook page).
Prize – Prize bundle or store voucher.
Goal – To get people to visit the stores physically. Also, to produce user-generated content and online traffic to websites or socials.
Nordstrom is an excellent brand that has physical department stores and online stores. They carry plenty of clothing, tech, and accessories for dads.
Nordstrom's Father's Day promotions include curated gift sections on their website. This is very convenient for those looking to get a gift that will perfectly suit Dad's personality.
Just imagine for a moment how well Nordstrom can promote the above campaign if they ran a giveaway alongside it.
Here's what we think a Nordstrom Father's Day contest will look like: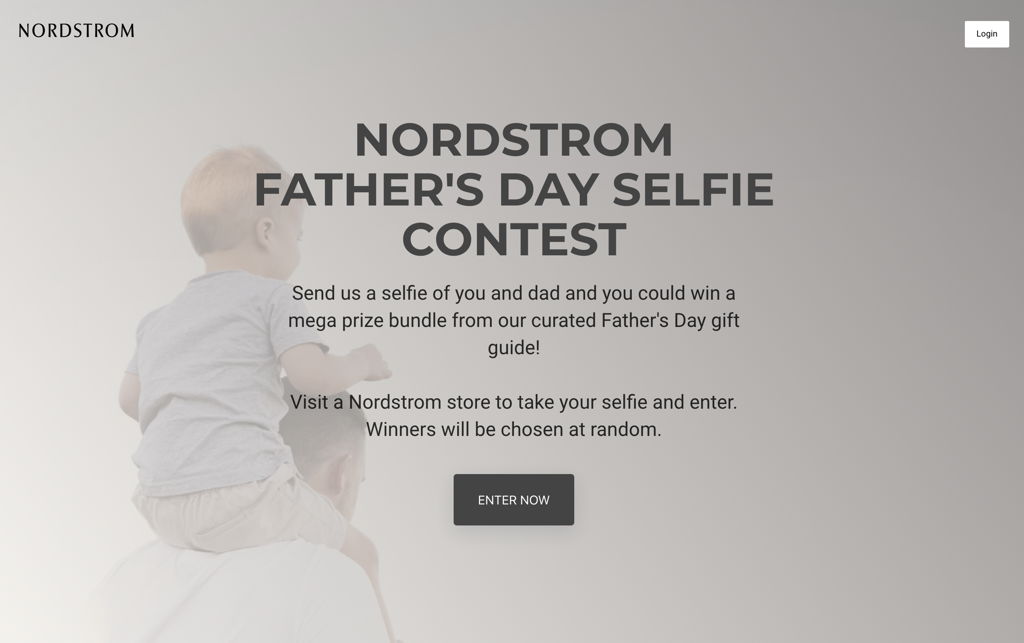 We chose to make the entry method for this giveaway a little more exciting. Seeing that Nordstrom has physical stores, users can visit the stores to enter.
This will help increase traffic to their physical stores. Another part of the entry method is to take a selfie with dad. This strategy will allow the campaign to produce tons of UGC.
The prize can be a gift card that can be used on any item in the Father's Day curation lists. This will get people to pay attention to those curation lists and the Father's Day promos in those lists.
Benefits of this campaign:
The entry method (Father's day contest – a selfie with dad) will create tons of user-generated content. If users take their pics in-store, then all content can feature Nordstrom branding.
This giveaway can be run alongside other Father's Day store promos.
They can create more hype online by getting users to submit their entries on social media or the Nordstrom website.
The prize can be a store gift card, minimizing costs for the brand.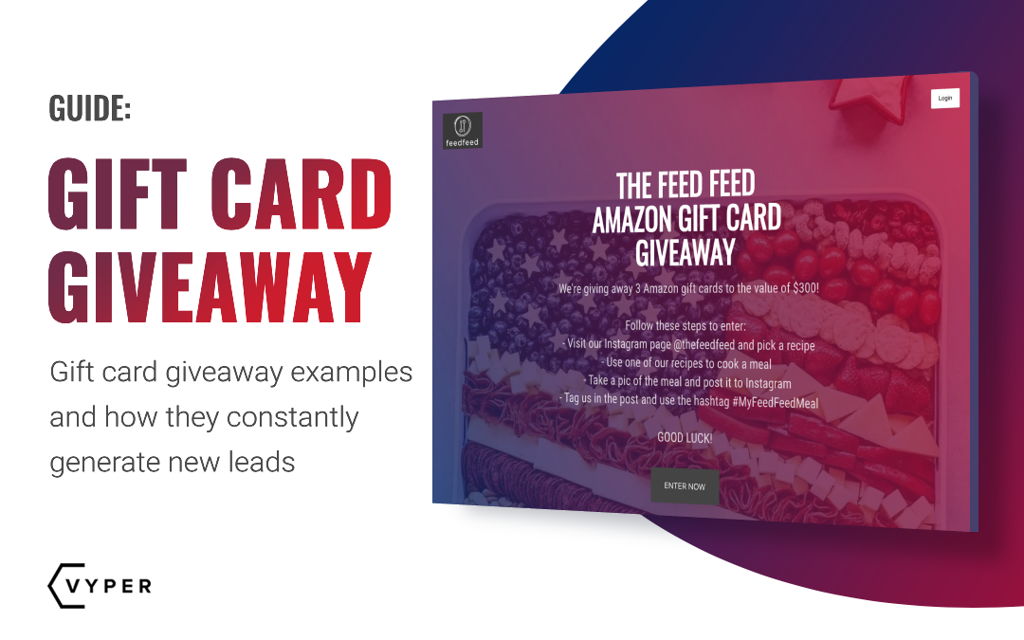 Gift card giveaways are affordable, easy, and effective campaigns that can drastically grow your brand's social following, email list, and brand presence. Gift card giveaways are a must for online stores and brands.
Find out more here – Gift Card Giveaway Guide and Examples

Q&A Father's Day Giveaway
❓ For how long should I run a Father's Day giveaway?
Hosting a giveaway for 2 weeks is the most common time frame. The maximum time frame for a giveaway that we find acceptable is 3 weeks. People will lose interest in your giveaway if it runs over 3 weeks.
❓ What is the difference between a giveaway and a contest?
Giveaways – A brand sponsors a prize. Users enter the giveaway to win the prize. Winners are chosen at random. 

Contest – A brand sponsors a prize and determines an entry method for the contest. Users have to create and submit entries to compete with each other for the prize. The winner is the user that comes out first on the leaderboard. You can also choose a winner at random for contests. For example, choosing a random winner in a selfie contest.
❓ How important is the prize for a Father's Day giveaway?
Extremely important! The giveaway prize can attract your brand's target audience. You will have to select a prize that your target audience finds desirable. If your choice is poor, then your giveaway will attract the wrong audience. 

For a Father's Day giveaway, your prizes must be in line with items that dads can use. Your prize must also grab your core audience's attention.
❓ Where should I host my giveaway?
Platforms like YouTube and Instagram are excellent for giveaways. Brands that are established on platforms like Facebook and Twitter do prefer to host their giveaways there. Hosting a giveaway on your website is a good strategy for boosting traffic to your website. 
TL;DR
Father's Day is still a lucrative promotion period for many brands. Brands that drive successful Father's Day campaigns can build on this momentum when promoting their summer offers.
Almost any kind of brand can host a Father's Day giveaway. First, however, the brand has to find a way to relate itself to Father's Day or risk being called out.
Father's Day giveaways can be hosted on platforms like social networks and websites. It's an excellent idea to host a Father's Day giveaway in conjunction with your regular Father's Day promos. The giveaway will bring in added exposure to the promos.
Have you come across any Father's Day giveaways in the past? Let us know in the comments below.
Jack Paxton
Jack Paxton is the co-founder of VYPER, a marketing tool that helps brands build email lists, social followings, and revenue using viral giveaways, referral, and reward programs. After millions of dollars spent testing different marketing strategies at his marketing agency. He then also co-founded Hyax a fast, conversion & design-focused course and funnel builder for creators.