Giveaways and sweepstakes are an excellent growth hacking technique that is used by some of the biggest brands out there to engage and grow a target audience.
They are mostly used to build huge email lists, social followings, and referrals.
These big brands have been hosting giveaways for decades, at their stores, in magazines and newspapers, and on TV.
Nowadays, massive brands like Lego and Coke effectively host giveaways on their websites and social media.
Big brands can generate a ton of buzz around their campaigns while achieving crucial marketing goals.
We listed some of the most memorable giveaway and sweepstakes examples. These campaigns were hosted by some of the biggest brands in the world.
Join us as we dissect these giveaway and sweepstake examples to find out why they were so successful.
By doing this, we can hopefully discover a winning formula for hosting giveaways.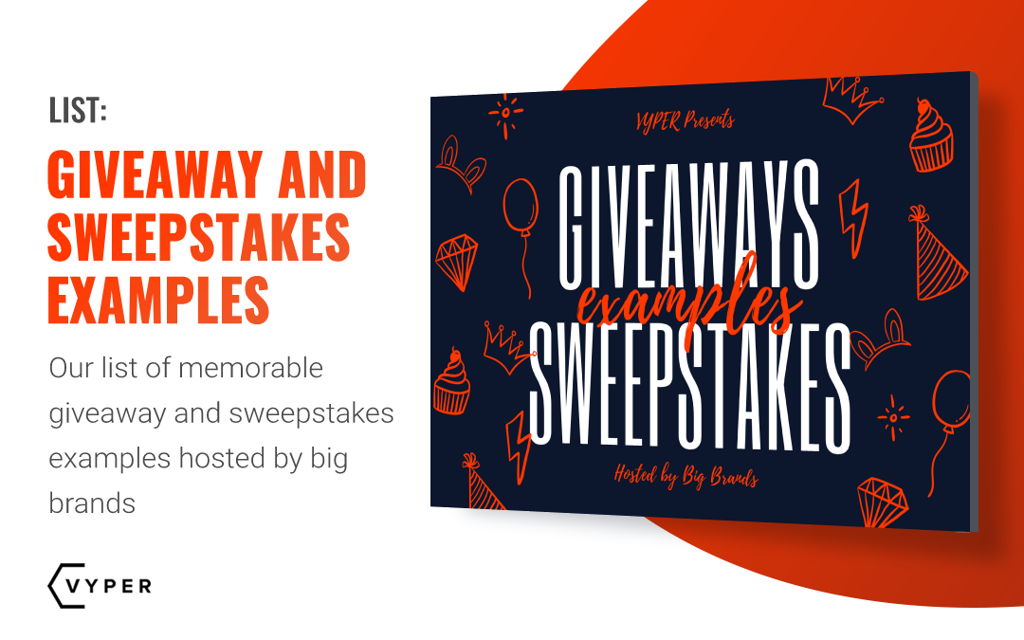 Brands That Host Giveaways
We scoured the net for big brand giveaway and sweepstake examples. There are plenty of giveaway campaigns that were hosted by big-name brands.
We can't help but think, why do so many big brands love hosting giveaways?
The answer is simple. Giveaways are excellent growth hacking and marketing tools.
So, if massive companies like Lego, Dove, and DC Comics like to host giveaways regularly, your company should, too, if you want to enjoy the same benefits and success as them.
Here are the big brand giveaway and sweepstakes examples that we will analyze in this post.
Men's Health
Lego
Dove
Domino's Pizza
DC Comics
Lays
Shift
Big Brand Giveaways and Sweepstakes Examples
Giveaways are incredibly beneficial to the brands that host them. These brands successfully increase their social media following, email lists, and website traffic.
They also manage to successfully produce massive amounts of user-generated content (UGC) from their giveaways.
So how do they achieve this? What are their strategies?
These questions and more are answered in our in-depth analysis of each giveaway below.
1. Men's Health – Sticking to Your Niche
Fitness and lifestyle magazine, Men's Health, hosted a home gym giveaway on their website. Ten home gym sets, plus USN nutrition bundles, were up for grabs.
Entry Method
Users were required to visit the Men's Health website to submit their entry. This was an excellent strategy on their part as more giveaway entries mean more website traffic for them.
Men's Health is best known for its hard copy magazines. However, they also sell digital subscriptions and have other monetization options on their website.
So the boost in website traffic from their giveaway will be more than welcome. The increase in traffic can result in new subscriptions and a boost in ad revenue.
Prizes
Prizes included a home gym set made up of:
Cable crossover machine
A set of dumbbells and barbells
Multifunction bench
USN Pre-workout, whey protein, and water bottle and shaker
These prizes are most appealing to an audience that has a passion for health and fitness.
This giveaway will still be enticing for those who only workout at a gym because of the supplements that are on offer.
Key Takeaways
The prize is in line with Men's Health's target audience, which are people that are into health and fitness.
The prizes on offer can be equally enticing for women as well. The good news is that Men's Health is part of the Hearstmags group that also publishes Women's Health and Runner's World magazines. So a newly acquired audience that is made up of women will still work for this giveaway. Men's Health can guide that audience to other 'woman-friendly' magazines. Or they can offer their subscriptions to women who will purchase them for their husbands, dads, sons, or friends.
People will most likely avoid a giveaway prize with no interest in health and fitness. This is fine because Men's Health isn't really trying to convert or change anyone. If, however, Men's Health gave away a Smart TV and a few Game Consoles, they would have received more entries and leads. Unfortunately, a vast majority of those leads will have no interest in subscribing to Men's Health magazine.
Suggested Improvements
Men's Health could have heavily promoted their giveaway on social media. It was also a missed opportunity to use the giveaway to boost social media followers.
Allowing entrants to complete bonus actions to receive points is another critical aspect that this giveaway could have included.
Bonus actions will give anyone a chance of winning something, like a 3-month subscription to their magazine. Giveaway entrants can refer friends to the giveaway or follow Men's Health on social media to complete bonus actions.

Want to see a live demo of a Gym Giveaway made with VYPER?
View the Gold's Gym Giveaway here.
2. Lego – A Contest for Experts
Lego hosted a contest that required people to create and submit a custom Lego build.
Contest winners will receive exclusive Lego sets, and their winning Lego build will be displayed at the famous Lego House in Denmark.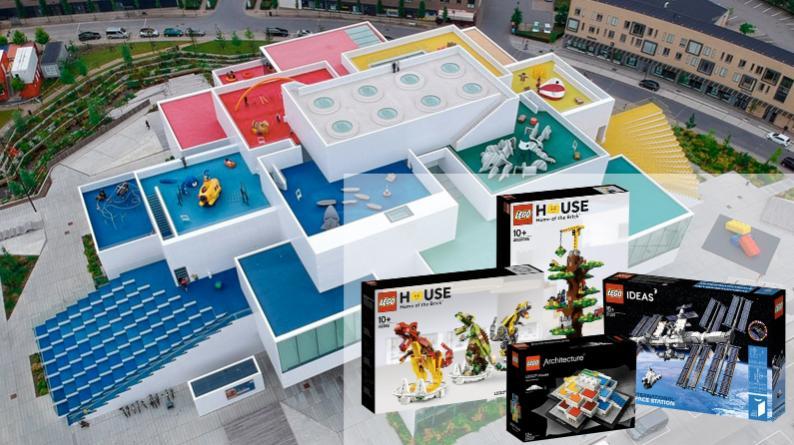 Entry Method
This contest requires people to create their own creative Lego build. Contestants will have to either purchase new Lego pieces or use the ones they already own.
When a contestant has finished their build, they will have to submit their entry for review. The next phase will be the crowd voting phase, after which winners will be announced.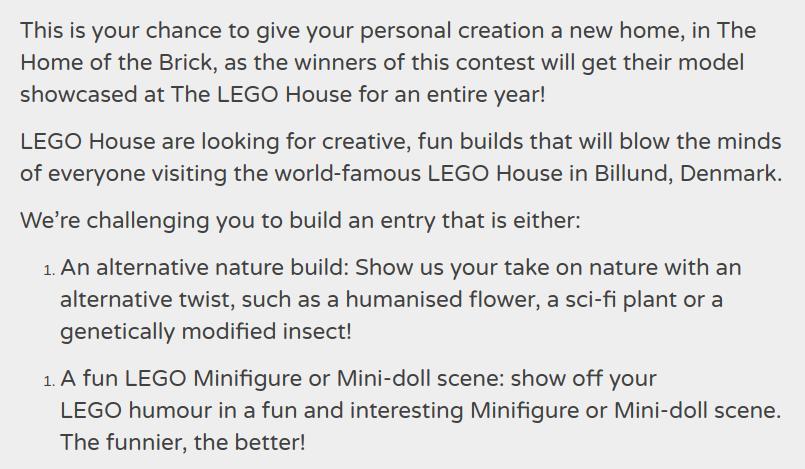 Prizes
The prizes included four exclusive Lego packs (as pictured above). Winning entries will also be on display at the Lego House, preserving the contestants' work of art for everything to view and admire.
The prizes are somewhat unique, yet desired by a broad audience. This means that this campaign can potentially generate low-quality leads.
However, some of the prizes are advanced Lego sets that hardcore Lego enthusiasts will appreciate
Lego could have just given away a Lego Death Star or Harry Potter set. But they were careful in choosing something that experienced users will love.
Key Takeaways
The prize is appealing to both novice and hardcore lego enthusiasts. Anyone with a child can potentially enter the contest. That includes people who have little to no interest in Lego.
However, Lego was smart in turning their campaign into a contest. This means that the method of entry will require additional skills and resources from every contestant.
The Lego contest entry method will help to filter out poor-quality leads, leaving just hardcore Lego fans.
Suggested Improvements
The contest is hosted on a dedicated website that has no useful links that direct visitors to an online store or any other Lego owned franchise.
Lego can use their contest as an opportunity to bring awareness to their properties (movies, games, and toys).
However, it's a great contest that also rewards 25 other contestants for participating. The Lego contest is an excellent lesson in using an online contest for brand building.
3. Dove – Gorgeous Selfie Contest
Dove held a selfie contest with the grand prize being a spa experience for two people.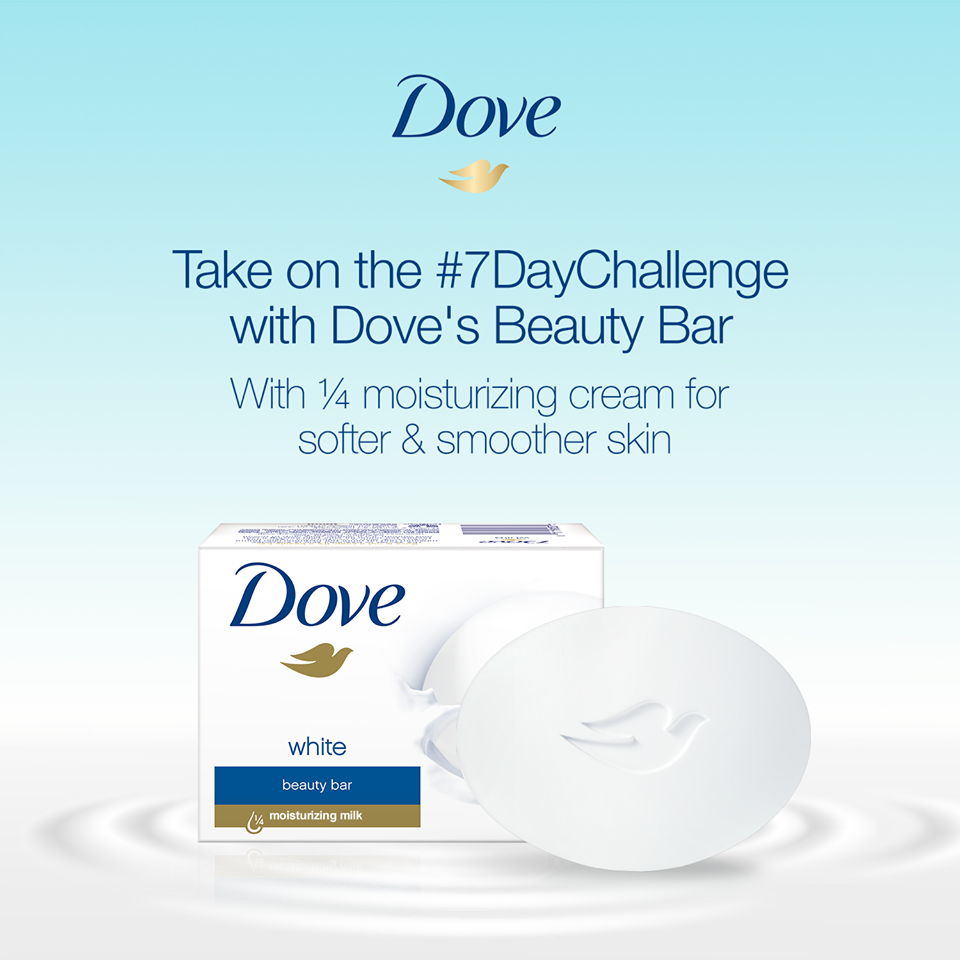 Entry Method
Facebook Users were required to take a picture of themselves holding a Dove Beauty Bar. Then submit that picture into the comments section of the giveaway post.
Facebook users were also required to 'Nominate a Friend' to enter the giveaway.

VYPER allows you to create bonus actions for your giveaways. If your goal is to gain Instagram followers, you can choose to set up an Instagram action (as pictured above).
You can select the 'Follow us on Instagram' action and define the number of bonus points a user will receive for completing the action.
There are also other Instagram bonus actions options available, such as:
Like this photo on Instagram
Post a photo on Instagram
Repost on Instagram
You can use the 'Post a photo on Instagram' action to product UGC from your giveaway.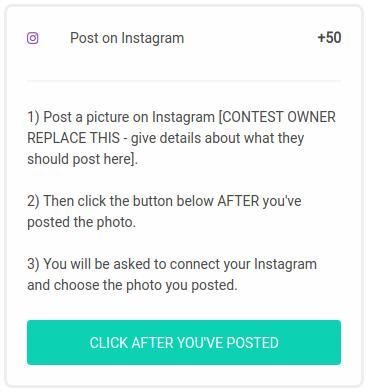 Prizes
A spa experience for two people. This prize is in line with Dove's target audience. An audience that has an interest in beauty and wellness.
Key Takeaways
The Dove 7 Day Challenge is an excellent example of a social media UGC (user-generated giveaway).
This social media giveaway is simple yet effective. It's simple because everything takes place within a single post on Facebook. The giveaway is effective because of the tons of entries it received.
Seeing that everything took place within a Facebook post, all entries were comments in that giveaway post. The surge in comments (along with shares and likes) would have organically boosted the post on Facebook.
The massive amount of shares on the post tells us that this post would have been far more discoverable than any other post from Dove.
Dove would likely have allocated some of their Facebook Ad spend on this giveaway post to gain traction early on.
Another excellent result from this giveaway is the amount of UGC it produced (which includes Dove's product). The entry method also encouraged users to refer people to the brand.
Brand awareness was also massive with this giveaway. Dove claims that using their product for 7 days will lead to better and clearer skin. Hence, the hashtag #My7DayChallenge.
Suggested Improvements
The purpose of this giveaway is to boost engagement on Dove's Facebook post and produce UGC. Apart from that, the only other goal Dove achieves is brand awareness.
Dove could have used this giveaway to achieve other goals, such as:
Increasing their Facebook followers
Building their email lists
Boosting website traffic
The giveaway took place within a single Facebook post, which is great. However, Dove could have used a service like VYPER to manage their giveaway (instead of manually going through entries).
This way, Dove could have used VYPER's giveaway bonus actions to achieve the additional goals listed above.
4. Domino's Pizza – Pizza Time for a Year!
Who wouldn't want FREE Pizza for an entire year? Facebook users were delighted upon hearing the news of Domino's Pizza's giveaway.
Winners of the giveaway had the pleasure of dining for free for a year!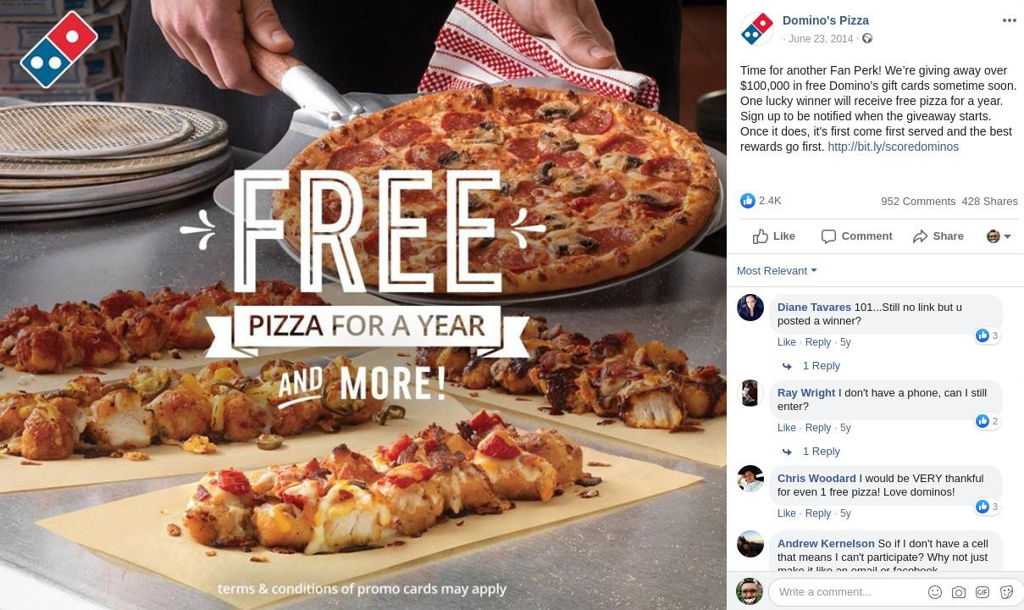 Entry Method
Facebook users were required to sign up to receive notifications when the giveaway started. The sign-up process required a user's email and phone number.
Once the giveaway was live, users were notified and were requested to head over to Domino's Pizza's website to claim their prize.
Prizes
Free Pizza for a year is as good as it gets! Domino's Pizza would have received tons of entries for their giveaway.
This means tons of new email and phone leads that they can market their business to in the months to come.
However, the prize is a bit too general and would have attracted a broad audience. Domino's Pizza would have had to spend a lot of time qualifying their new leads.
In other words, they had to deal with plenty of new leads wanting to opt-out of their email and SMS marketing campaigns.
Key Takeaways
The Domino's Pizza giveaway may have been hosted online on a website, but they announced the giveaway on Facebook.
The giveaway announcement helped to increase engagement on their Facebook post.
Domino's Pizza was able to successfully drive traffic from Facebook to their website, before, during, and after the giveaway.
This giveaway is an excellent example of using a giveaway to generate email and phone leads while boosting website traffic.
Suggested Improvements
The giveaway prize might be the only issue here. Of course, it is a wonderful prize. However, free pizza for a year won't necessarily attract a targeted audience.
People with little to no interest in pizza (yes, these people exist!) may still enter to win the prize so they can offer it to someone else.
They could submit their email address to enter and then opt-out of future marketing emails.
Instead of a giveaway, Domino's Pizza could have hosted a contest that required users to use their skill to submit a contest entry. This way, the entry method would filter out some poor-quality leads (Similar to the Lego Contest).
Domino's Pizza Contest ideas:
Design Our Next New Pizza – Contestants can design a new pizza recipe from a list of ingredients that Domino's Pizza supplies.
Domino Tournament – Host an online tournament so players can battle it out in a game of dominos. The finals of the tournament can be broadcast live from a physical venue.
Pizza Bake Off – Try to bake original Domino's Pizzas within a time limit. This can be another event that can be broadcast live from a physical venue.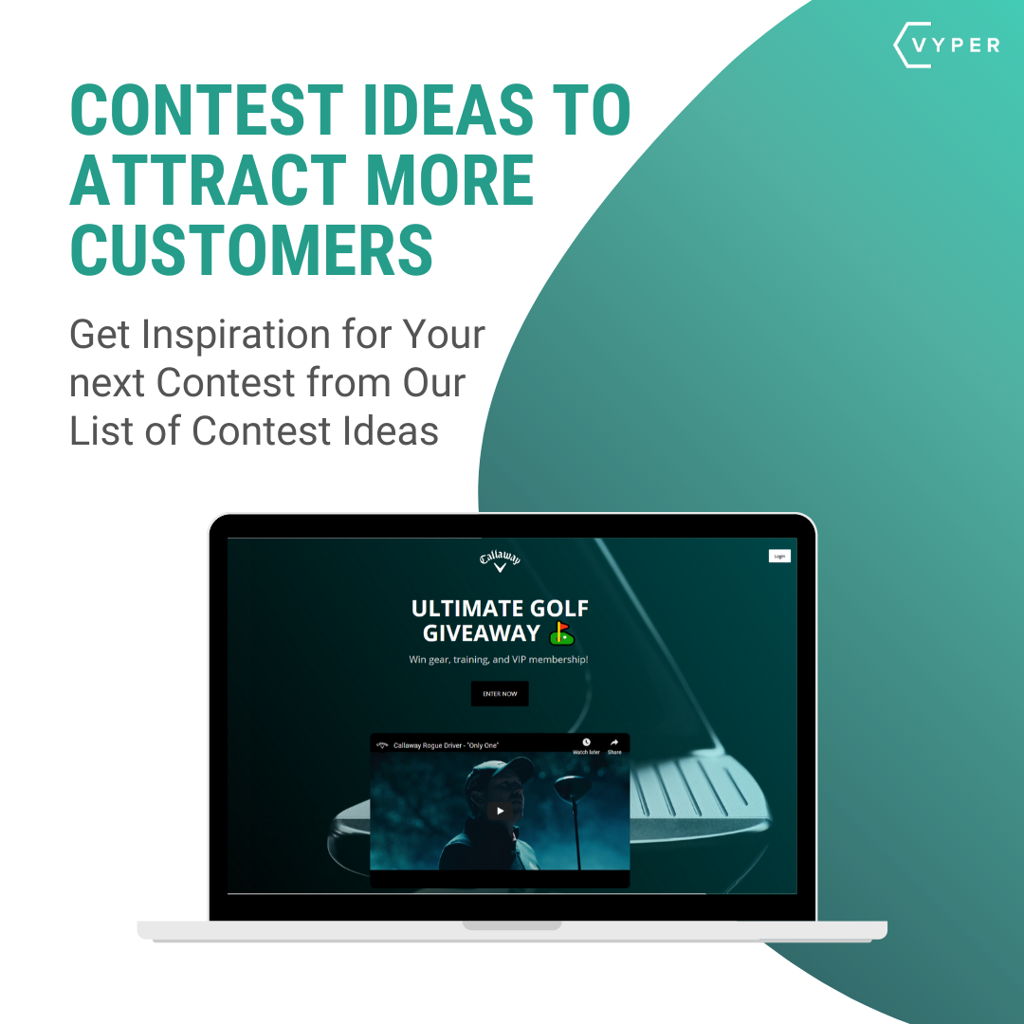 Looking for more Contest Ideas? We compiled tons of contest ideas into a single blog post.
5. DC Comics – This One's for the Fans
DC Comics hosted a giveaway to promote the release of The Suicide Squad Blu-ray. The giveaway was hosted on their YouTube channel and promoted on the DC Comics website.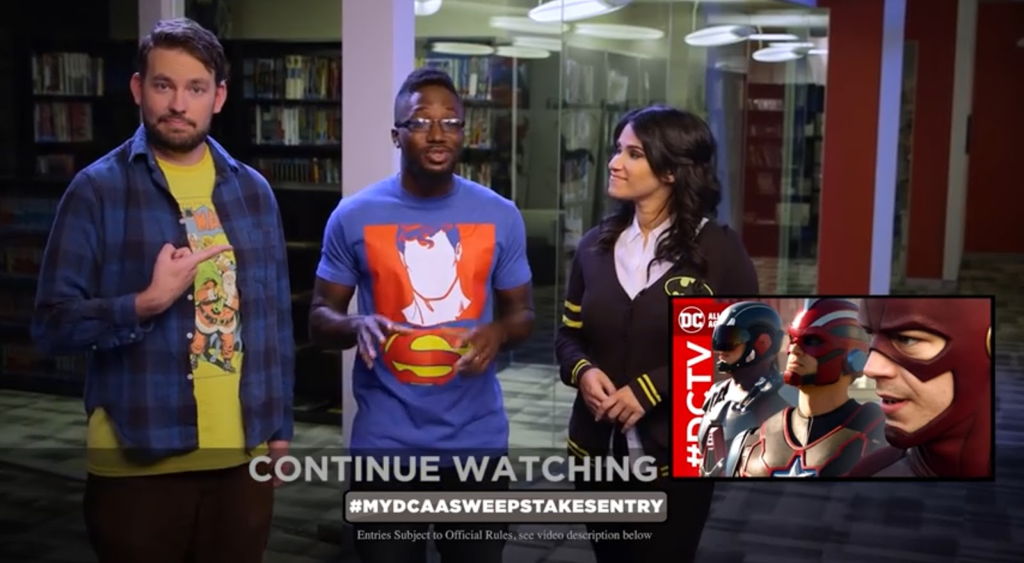 Entry Method
Comic Book enthusiasts were requested to visit the giveaway entry video on the DC Comics YouTube channel to submit their entries.
YouTube users were required to complete their submission by leaving a comment on the video.
Comments had to include the hashtag #MYDCAASWEEPSTAKESENTRY and the entrants' favorite moment from last week's issue of a DC comic book.
Prizes
The grand prize includes:
Suicide Squad Extended Cut Blu-ray
Concept art lithograph of the Suicide Squad signed by David Ayer
Suicide Squad poster signed by the cast of the film
Suicide Squad Harley Quinn and Deadshot statue
The prizes on offer are exclusive products and items that will draw a specific audience. The audience being hardcore DC Comics fans and comic book collectors.
DC could have mixed things up here by adding Batman and Superman products to draw a larger audience.
However, they took a more focused approach to promote their new Blu-ray release by sticking to a Suicide Squad themed giveaway.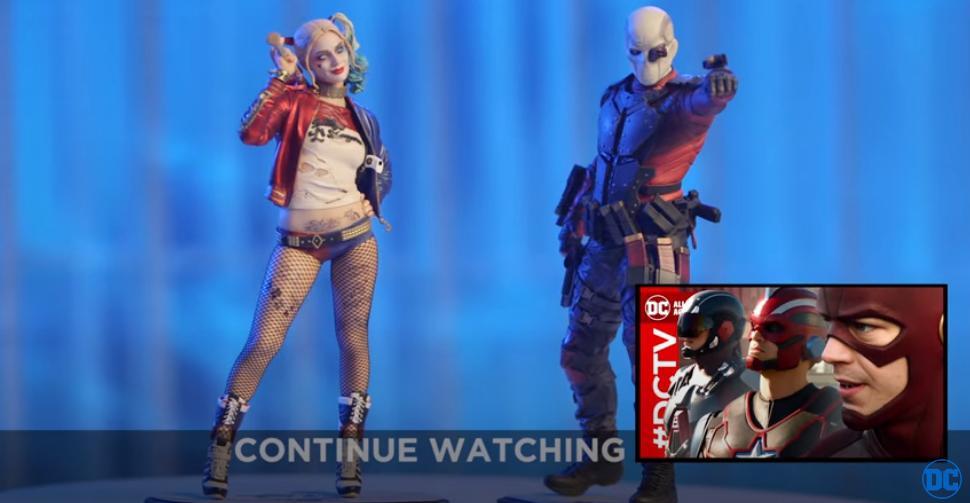 If you are a die-hard Superman fan and don't care for Suicide Squad, then you will probably skip this giveaway. This suits DC just fine as they are mainly trying to attract Suicide Squad fans to the giveaway.
Its the Suicide Squad fans that will most likely want to own the blu-ray. They will probably buy the Blu-ray afterward if they were not successful in the giveaway.
Key Takeaways
This is a simple giveaway that takes place in the comments section of a YouTube video. The purpose of this giveaway is to promote (and bring awareness to) the release of a new product.
The entry method is a bit specific as it asks a question that only regular DC comic book readers can answer. This makes the giveaway almost exclusive to the community of DC comic enthusiasts.
In other words, DC used this giveaway to dive into their community of readers and find Suicide Squad fans and show them their new product.
Suggested Improvements
The concept of this giveaway is indeed excellent. However, it seems like this giveaway is reserved only to DC comic book readers.
There are tons of Suicide Squad fans out there that do not necessarily read the comics. Why not leave this giveaway open to them as well?
Also, DC could have used this giveaway to build their email list and social media followers. The prize is big enough (worth $845.99) and could have been leveraged to achieve additional goals.
DC has an online comic book service which could have also been promoted. They could have used this giveaway to direct entrants to their service.
We all know how passionate comic book enthusiasts can be. You can only imagine the disappointment in those that did not win this awesome prize.
DC could have given a gift to everyone that entered. This can be a coupon for their store or a free digital comic of their choosing.
6. Lay's – Brand Awareness at its Best
Lay's hosted a giveaway to commemorate its first global packaging update in 12 years. Users had to take a picture of themselves holding the newly designed Lay's bag.
The winners received a year's worth of free chips!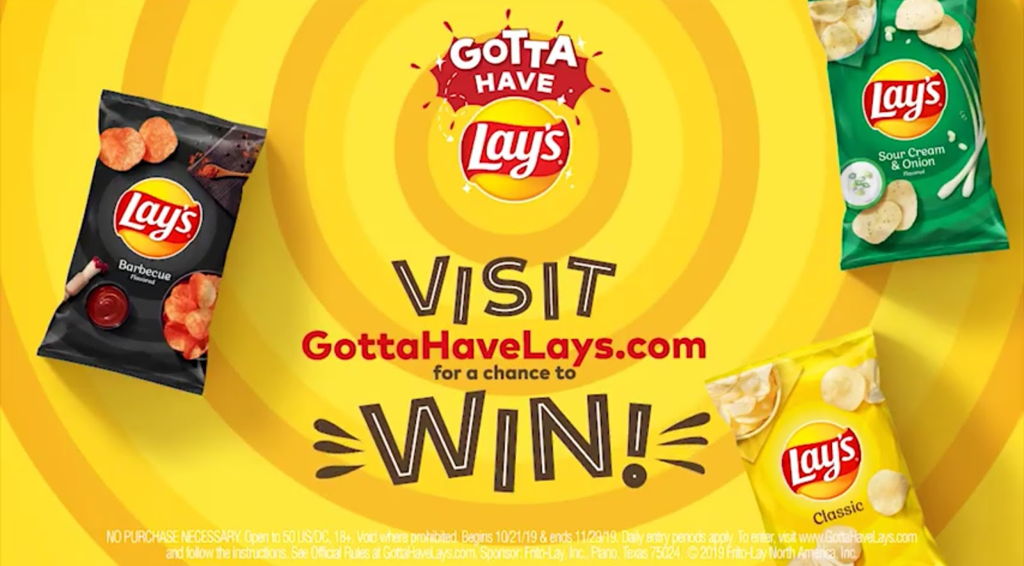 Entry Method
Lay's redesigned their packaging on all of their products. People were required to take a selfie that included one of the newly designed Lay's bags.
They then had to upload the image to a website to complete their entry. Five winners were selected daily, adding to a total of 200 winners.
This entry method was a great way to get people to go out and purchase a new bag or Lay's to use for the giveaway.
It's not just about making sales here, it's also about encouraging people to learn more about Lay's new choice of branding.
Prizes
200 winners with a total 10,000 bags of Lay's potato chips. This works out to 50 bags of chips per winner.
Like the Domino's Pizza giveaway, the prize for the Lay's giveaway will most likely attract a broad audience.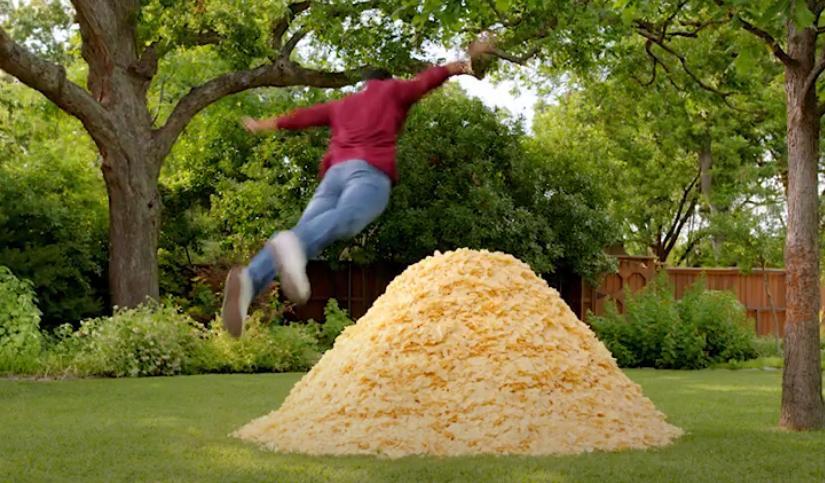 This prize can potentially attract a lot of low-quality leads. However, the giveaway still makes for a great PR stunt that creates brand awareness.
Key Takeaways
This online giveaway is well marketed. Lay's even went out of their way to create a small, yet professional and quirky video to promote the giveaway. Videos are great marketing tools that can be used to deliver your message effectively. It is always recommended to place a short video clip on your giveaway landing page.
You can have text on your giveaway landing page that can explain everything about your campaign in detail. Yet, people would rather watch a short video clip to understand your message better. This giveaway utilized video well.
Lay's hosted this giveaway to commemorate their new bag design. New product design is not a big deal, right? However, Lay's used this giveaway as an opportunity to bring awareness to their brand. It's also an opportunity to inform people of their product redesign.
They also used this giveaway to generate tons of user-generated content. The UGC produced from this contest includes images of customers and fans holding Lay's branded products.
Requesting users to submit a selfie as an entry method was also a great way of narrowing down the entrants to higher quality leads.
Suggested Improvements
This giveaway is an excellent example of using a giveaway to build brand awareness while generating tons of UGC.
However, Lay's could have used this opportunity to increase their social media followers with bonus actions.
Lay's already has excellent active social media accounts, but they could have still built a more substantial following on top of what they have now.
Lays could have also used bonus actions to get social media users to share the giveaway and refer friends.
These actions will generate more exposure for the giveaway, and it will increase the number of people who enter.
7. Shift – Turbo Boosting Lead Generation
Shift.com hosted a giveaway that had one lucky winner walk away with a new car!
The giveaway was hosted on VYPER and was used to generate a ton of new email leads and followers.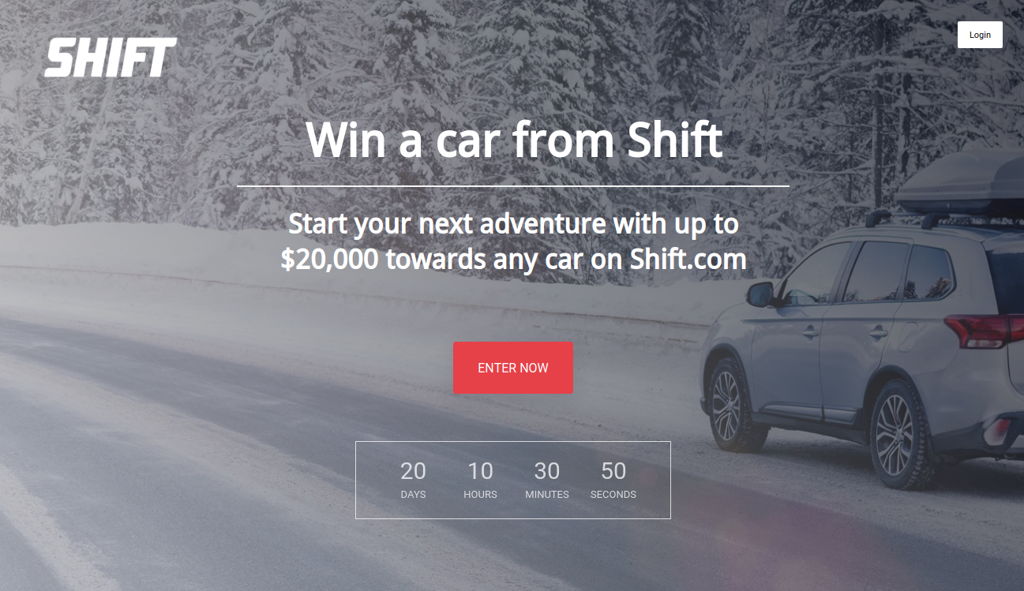 Entry Method
People were requested to register with their email address to enter. Giveaway entrants were allowed to complete bonus actions to earn additional entries into the giveaway.
Bonus actions included:
Refer a friend (Increased the giveaway entries through referrals)
Share this giveaway on Facebook (The giveaway gained more exposure on other Facebook users' profiles)
Follow us on Instagram, Twitter, and Facebook
Prize
A massive prize in the form of a new (or used) car from the Shift platform. The prize may have been capped at $20k, but there are plenty of amazing cars on Shift.com that are below that price.
Shift was also kind to allow the winner to take a car that costs more. As long as the winner pays in the difference.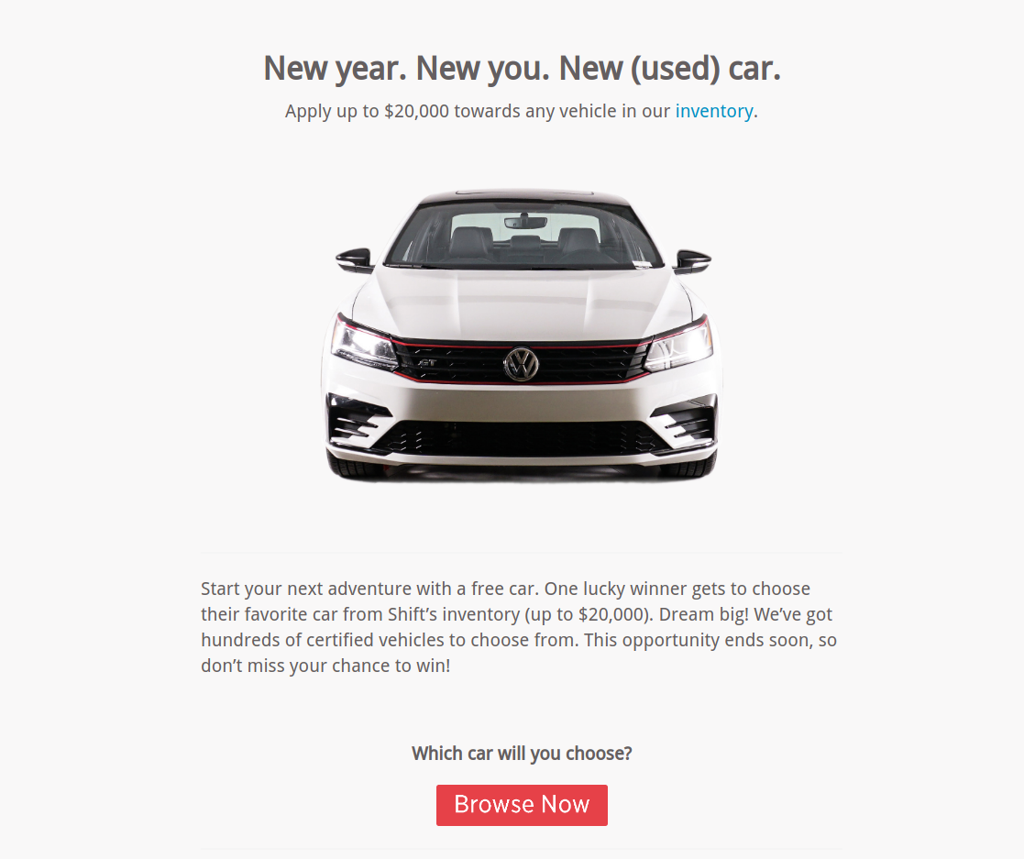 The prize is fantastic! But then again, it is a prize that can potentially attract too many poor quality leads.
Assuming that the best leads for Shift are people who need a car and can afford one. This giveaway can potentially attract tons of people who cannot afford a car (and perhaps don't need one).
Key Takeaways
By allowing entrants to earn bonus action points (by following Shift on social media), Shift was able to boost social media followers with their giveaway.
Winning a car is an enormous prize that Shift was able to use as leverage for this giveaway. Such a prize would have surely landed Shift a ton of new leads.
The downside to this is that they may have acquired a lot of poor quality leads (as explained in an earlier section).
The good news is that even if a small percentage of the newly acquired leads are converted into customers, Shift will be able to cover the expenses of this giveaway.
In other words, if only 1% of the new leads purchase cars from Shift, the profit from those sales will cover the giveaway prize of $20k.
So, when you are working on a budget for your prize, take into consideration the number of leads you will need to recover the investment you make on the prize.
Suggested Improvements
The format of this giveaway is superb. Shift made full use of VYPER's giveaway platform by creating a great landing page for the giveaway and by utilizing bonus actions.
However, Shift did not put in enough effort into promoting the giveaway.
They could have potentially acquired more (or doubled) leads from this giveaway if they were more persistent in their marketing efforts.
Shift could have aggressively promoted the giveaway on social media, email, and on their website. They could have also invested in paid ads on social media and Google.
The reason why they may not have invested further in marketing this giveaway is that they already put a lot of cash into the prize.
Sure, an awesome prize will bring in more leads. However, if you invest just a bit more in marketing, your giveaway can get much more exposure.
More exposure can lead to more referrals and social media shares. This means more leads and social media followers.
Common Growth Hacks Used
All the giveaways above giveaways might seem very different from each other. However, they do share some similarities.
Let's take a look at a few growth hacks that popped up in these giveaways. These growth hacks can potentially be the recipe for hosting a successful giveaway.
1. Giveaways are hosted on dedicated landing pages
While there were some giveaways that were hosted exclusively on social media, most of the giveaways above had their own dedicated landing page.
Your giveaway landing page can serve as an online representative for your brand.
You can also optimize the landing page to produce better results (more leads and referrals).

Some elements to include in a giveaway landing page:

Information on the giveaway (prize, end date, etc.)
A picture of the prize (also include logos of your brand and other brands that use your product)
A short video explaining the giveaway (or a video related to your brand)
A clear call-to-action (ENTER NOW) followed by an entry form
2. UGC is a Valuable Commodity
Brands like Lego and Lay's use a similar entry method. Their entry method requires participants to submit some form of media.
People had to create their own Lego build to enter the Lego Contest. As for Lay's, people were required to send in a selfie.
Apart from getting other people to produce tons of branded UGC for them, these brands used their giveaways to create a buzz around their brand.
Imagine a bunch of friends getting together to create the ultimate Lego build. The Lego brand name will be deeply rooted in the minds of those people for the hours it takes to create their build.
3. The Prizes are Relevant
This is a big one. The prize will determine the sort of audience your giveaway will attract.
In the giveaway and sweepstakes examples above, the prizes were carefully selected to match the expectations of the brand.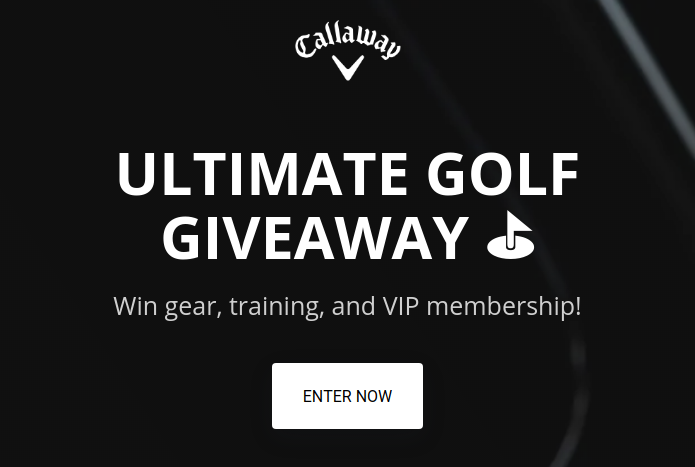 You can see that the goal of every brand was to attract the most significant amount of high-quality leads with their prize.
Here Are More Tips on Choosing the Right Giveaway Prize:
Relevance to Your Audience

Choose a prize that resonates with your specific target audience.

Perceived Value

Opt for a highly perceived value prize to make participation more appealing.

Exclusivity

Consider offering something unique or exclusive that can't be easily obtained elsewhere.

Brand Alignment

Ensure the prize aligns with your brand's identity and message.

Practicality

A practical prize that can be used in daily life often garners genuine, long-term interest.

Budget

Balance the value of the prize with your available budget to avoid financial strain.

Legal Requirements

Be aware of any legal restrictions or requirements related to your chosen prize.

Shipping and Handling

Factor in the ease and cost of shipping when choosing a physical prize.

Collaboration

Partner with other brands to increase the prize's appeal and share the costs.

Seasonality

Consider the time of year when choosing your prize, as seasonal items may generate more interest.
How to Setup a Giveaway
Here's a simple 5 step process to hosting a giveaway.
Choose a goal for your giveaway

Determine the main goal of your giveaway. Then structure your giveaway to achieve that goal.

Choose a prize for your giveaway

Your prize must be able to attract your target audience.

Set the rules

Create an entry method that best suits your brand's needs and the goal you wish to achieve.

Launch and promote

Use all of your marketing channels to get the word out. Let everyone know that your giveaway is live.

Announce the winner

Announce the winner of your giveaway by email, social media, website, etc.
1. Choose a Goal for Your Giveaway
Determine a goal for your giveaway. This can be anything from increasing social media followers, website traffic, or email lists.
You can also host a giveaway to direct people towards completing specific tasks. For example, using a giveaway to get more views on a YouTube video or more app downloads.
A giveaway that encourages participants to refer new leads is an excellent way of growing your current customer base. If your goal is to acquire more customers, then this might be the way to go for you.
You can also treat giveaways as a PR marketing campaign. The goal here would be to use your giveaway to promote your brand. People can discover your brand through the giveaways, you host.
2. Choose a Prize for Your Giveaway
Your prize is probably the most crucial factor in your giveaway. Selecting a relevant prize will ensure that your giveaway attracts your target audience.
Choose a prize that your target audience finds desirable. From the examples above, the DC Comics giveaway had one of the best giveaway prizes.
They offered a prize that would be most desired by Suicide Squad fans (the target audience. Now that DC has the attention of their target audience, they can then effectively market their product (which was the latest Suicide Squad Blu-ray).
Try to follow the example above if your goal is to attract a more targeted audience.
Selecting a generally used product as your prize can potentially draw a larger audience to your giveaway. The numbers might seem exciting, but you run the risk of attracting too many poor-quality leads.
3. Set the Rules
Create rules for your giveaway that are reasonable, attainable, and compliant with the law.
List the start and end dates of your giveaway, along with instructions on how to enter. You must also list the date the winner will be announced and the method in which the prize will be delivered.
Read this post to learn more about the laws around giveaways and how to create rules for your giveaway.
4. Launch and Promote
Launch your giveaway by creating a post on social media or your website. Let your current audience know that you are running a giveaway and ask them to refer their friends to enter.
A couple of social media and website posts might not be enough to promote your giveaway. You must use all of your established marketing channels (like email or traditional media) to inform your audience about your giveaway.
It is recommended that you send out emails (or create social media posts) before (launch), during (engagement and reminders), and after your giveaway (winner announcement).
5. Announce the Winner
Announce the winner of your giveaway on the platform you would have stated in your rules. For example, send out an email to all entrants or create a social media post (or both).
When announcing the winner, you must always remember to thank everyone for taking part. It is recommended that you offer all participants a gift for taking the time to enter.
An ideal gift can be a discount (or free delivery) on their next purchase from your store.
TL;DR
So there you have it. A full analysis of some of the best giveaway and sweepstakes examples from around the web.
We hope you found our analysis intuitive. Our goal is to help you pick up on a few great ideas that you can use in your next giveaway.
Hopefully, you, too, can replicate the same sort of success that other brands have had when hosting a giveaway.
We understand that this was a long post, and we are delighted that you have made it to the end.
As a token of our appreciation, we would like to share with you our Giveaway Partner Database!
You don't have to host your giveaways alone. You can team up with other brands to host a larger giveaway.
Simply click on the block above to gain access to our database that's filled with more than 45k giveaway partners.
Jack Paxton
Jack Paxton is the co-founder of VYPER, a marketing tool that helps brands build email lists, social followings, and revenue using viral giveaways, referral, and reward programs. After millions of dollars spent testing different marketing strategies at his marketing agency. He then also co-founded Hyax a fast, conversion & design-focused course and funnel builder for creators.