This guide will go over the emails you need to be sending before, during and after you giveaway or contest. Copy these giveaway email templates for huge open rates and campaign success.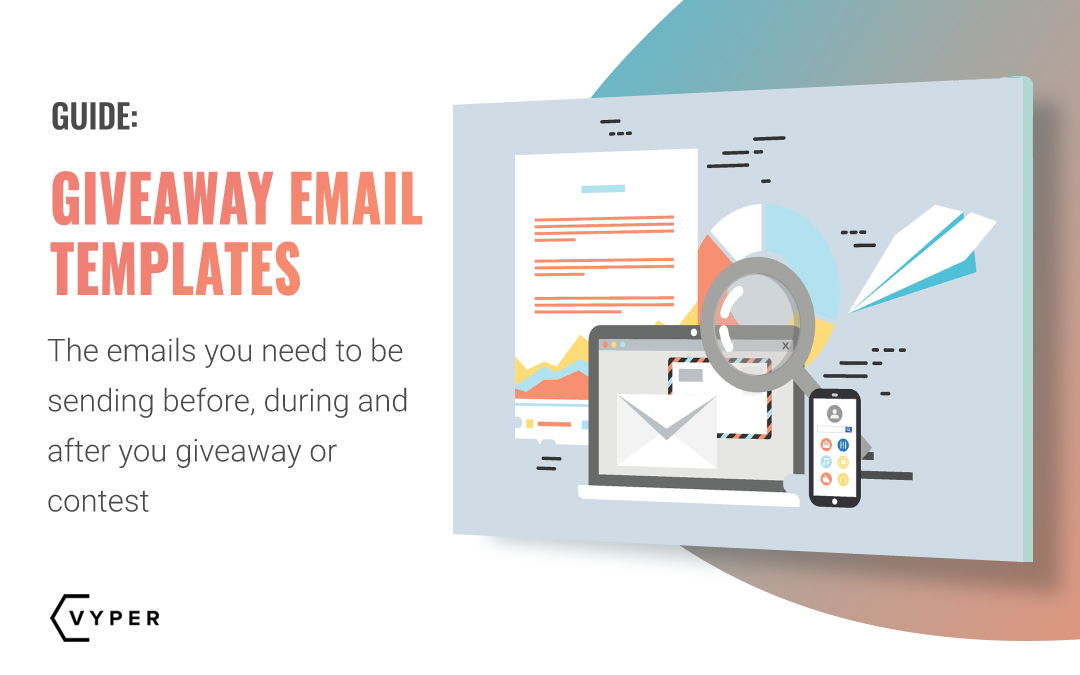 Giveaway Email Templates – Before
It's important to hype up your audience and get them excited about your campaign.
That's why you should be sending some emails before your campaign even starts. This does require a little more organization and planning but the increased open and click rates will be worth it.
You can also add scarcity by using a sign-up bonus. It's a good idea to limit the time or amount to get a better open and click-through rate on your emails.
For example, this could be the first 50 people get 500 bonus points. Or first 50 people get a free product, great discount or
1 Week before
Subject line: HUGE announcement planned, want early access?
Hi XXX,

We have a huge surprise planned for all our awesome followers and fans next week. But only a select few are going to be notified early.

So keep an eye out in your inbox for an email next <<Tuesday>>.

The surprise will only be available for the first 50 people, so you'll have to be quick!

Cheers,
Jack
Giveaway Email Templates – During
It's important to not only start your campaign off strong but also keep people engaged throughout. The easiest way to do this is by using email, messenger/bots or social media posts.
Ideally the more channels you communicate on, the better.
This post is going to focus on email as it is still one of the most effective ways to get in touch with people. People on average spend between 2-5 hours a day checking personal or work emails. More than 90% of people who use the internet check their email daily.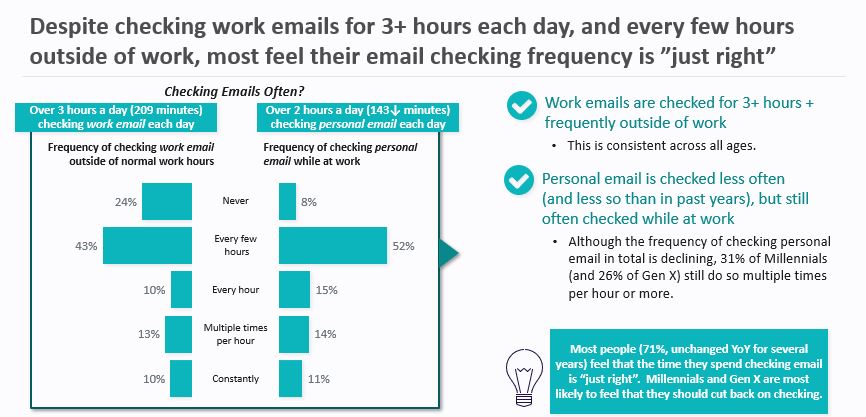 TIP – it might be a good idea to ask for people's "work" emails!
Launch Giveaway Email Examples
Copy the template below to get your current list involved and referring their friends, family, and co-workers to your campaign. The reason you want to notify your current subscriber's os that they probably know and hang out with people very similar to themselves.
You will want to attract other people just like your current customer and email list. So even though you already gave these people's emails, the point of these emails is to get them to refer others and complete the bonus actions.
See what bonus actions are here, also what they look like in action here.
Kickoff email to your list
Subject Line: How does a new XXXX sound?
Hi XXX,

We're excited to launch our <<summer giveaway promotion>>! It's a promotion we are running to reward all the amazing people who help share our <<brands>> story!

Enter to unlock some awesome prizes, here's a few;
– <<Prize 1>>
– <<Prize 2>>

Enter → HERE

Here's how it works. Enter above, share with friends, complete actions, then get rewards. Click above to find our what all the rewards are and how to unlock them.

Good luck,
Jack
Kickoff email to someone else list
Subject Line: We partnered up with XXX. See why that's great for you!
Hi XXX,

We partnered up with XXX, they are an awesome brand that does XXX.

To celebrate the partnership we are hosting a crazy giveaway full of amazing rewards.

A few things you can unlock or win:
– <<Prize 1>>
– <<Prize 2>>

Enter here to get started

Let us know if you have any questions,
Jack
Engagement Giveaway Email Examples
Engagement is everything is a saturated world full of fake profiles, bots and distracted consumers.
Not only do you need to capture the attention of people in an overcrowded social feed, but you also have to keep them engaged and active with your brand. It's very easy to forget a brand when the average person sees around 1,700 banner ads per week. That does not even include social ads, promotional emails, and video ads.
Let's take a look at some great ways to engage the participants in your giveaway or contest.
New bonus action added
Subject Line: New ways to earn points & win
Hey XXX,

I wanted to share a quick tip, you are close to unlocking your next reward and I wanted to let you know that we just added a NEW bonus action!

The action is <<"Share this Facebook post" for an extra 100 points>>.

Log in to your dashboard to complete the action HERE

Good luck,
Jack
New reward added
Subject Line: New reward added, unlock it now
I have some great news!

A new reward has been added to the <<giveaway>>!

Take a look to see the new prizes you could win.

Keep referring others and completing bonus actions to earn points. It will help you unlock rewards and win prizes.

Cheers,
Jack
Reminder for participants to share
Subject Line: More points = more rewards. Here's how!
Hi XXX,

Just a quick reminder that you are very close to unlocking a reward in our giveaway.

To collect points to unlock rewards you can do two things.
1 – Refer friends using your referral link
2 – Complete bonus actions

Get started here to unlock more!

Cheers,
Jack
Reminder to complete bonus actions for points
Subject Line: Complete these actions to unlock more points
Hey XXX,

Just wanted to send you a quick reminder on how our giveaway works so you can earn and unlock all the prizes.

Enter → Refer others → Complete bonus actions → Unlock prizes

Some of the bonus actions you can complete to earn points are
– <<Bonus action 01 = XXX Points>>
– <<Bonus action 02 = XXX Points>>
– <<Bonus action 03 = XXX Points>>

Let me know if you have any questions about the giveaway.

Cheers,
Jack
So there are many ways to engage your giveaway or contest participants. As long as you keep them excited and the emails actionable, you should see above-average open and click-through rates.
This is of huge benefit to the deliverability of your lists and emails, the more people engage (open and click) the higher the chance of your giveaway emails staying in the main inbox instead of spam. Not just giveaway emails either, all emails in the future as well.
Since consumers are now taking 8-12 touch points on average before being comfortable making a purchase from a brand. Our bet is that you will be sending more than just giveaway emails to all these new leads in the future.
Scarcity Giveaway Email Examples
Motivation is an important factor when it comes to most things in life. Motivation is also hard to create in a lot of situations. We have found that scarcity does a pretty good job though.
By limiting something, it increases the desire for people to have it. Look at supreme, one of the highest in-demand brands ever who's product is extremely easy to replicate. The difference is branding and scarcity.
So these emails are going to help increase the scarcity in your giveaway emails
Halfway through the campaign
Subject Line: We're halfway, have you claimed a prize yet?
We are halfway through our giveaway. This is good and bad news for you!

The good news is that we are much close to drawing a winner that could be you.

The bad news is that you don't have much time left to collect points to unlock rewards and increase your chance of winning the grand prize.

Access your giveaway dashboard to collect more points to unlock rewards.

Access Now

Cheers,
Jack
Only X days left
Subject Line: Time is running out, only X days left!
1 lucky winner will be awarding <<Prize>> in X days, it could be you!

Unfortunately time is running out though to unlock the milestone prizes in our awesome giveaway.

Don't miss out, keep collecting points by referring others and completing bonus actions.

Get Started

Good Luck,
Jack
Last day of the campaign
Subject Line: Everybody Panic, It's the Last Day of the XXX Giveaway
It's been a wild ride but we are down to the final 24 hours of the <<XXX>> giveaway and a winner will be drawn.

To increase your chance of winning, make sure you refer as many friends as possible and complete all the bonus actions.

The spoils always go to the one that puts in just that extra 1% effort. So let's make that you!

Good luck, talk tomorrow,
Jack
There you go, that's all the email you will need to send to keep all your participants engaged in your giveaway or contest.
Remember that you do not have to send all these at all. You can simply pick and choose which ones are relevant to your campaign and business.
FREE DOWNLOAD: Get all Our Contest & Giveaway Marketing Guides, Checklists, and tutorials that have helped 100's of brands collect 15k+ emails in under 21 days!
Giveaway Email Templates – After
Now that you have all these leads and your email list is 10x the size, it's time to monetize it. Well to be more accurate, provide value, then monetize.
One mistake we see many brands make is trying to force a sale, they then wreck the relationship they have built with the lead and lose the opportunity to monetize.
Our suggestion is to have some great ending emails, with some soft sells.
Contest over
Subject Line: The XXX giveaway has ended, what next?
Hi XXX,

I just wanted to let you know that the giveaway has ended and we will be selecting a winner this week!

Hope it's you, keep your eyes out for an email from us!

In the meantime, check out our free XXX.

Talk soon,
Jack
Announce winner
Subject Line: Winner of the XXX giveaway!
Body example below:
It's really important to add value and engage with your new leads, there are some example follow up emails you could send.
Positive customer stories & use cases.
Free PDF's or content (Offer something of value).
Free plus shipping offer.
Testimonials, publicity & social validation.
Buy 1 get 1 free.
Discount on refillable products.
$ or % discount (limited time).
Announce your brand's referral program and give them a bonus for signing up.
Trust builder with screenshots of awesome social posts.
Content (tips, funny, curated content they will like).
Offers (sales, product announcement, bundle sells, open the box, pre-orders).
Your top blog posts.
Link roundups from the experts in your niche.
Fun facts, stats, and knowledge about your niche.
Answer FAQ's from your customers and leads.
Debunk risk or objections.
Check out our blog, courses (make sure you have a VYPER account before clicking link) and join our Facebook group to get other marketing ideas for emails, campaigns, optimizations, and growth hacks.
Work on Your Email Copy
Always consider the reader when drafting out a copy for your email. Ensure that the subject line and content are valuable to the reader. They should be intrigued enough to want to click on the email and read further.
Select a well-spaced and clean format for your emails. Stay away from fancy fonts or fonts that are difficult to read.
Keep your words, phrases, and overall message easy to read and understand. The main objective is to deliver a message to your subscribers so they can act upon it.
It's also crucial that you have your brand's target audience in mind when drafting your email. Create an email that aligns with your brand and its target audience's preferences.
Summary
So by now, you should have a good list of ideas on what you will be sent before, during and after your giveaway or contest campaign. By communicating with your audience you can easily 2-3x the amount of engagement and results.
Getting participants to simply sign up is one thing, you will get their email but there's a lot of missed opportunity.
If you can get someone to sign up then engage in your campaign, you will still collect their email but also a new follower on multiple channels, referral shares, leads, and customers. So you can see how having engaged participants are much more valuable.
Jack Paxton
Jack Paxton is the co-founder of VYPER, a marketing tool that helps brands build email lists, social followings, and revenue using viral giveaways, referral, and reward programs. After millions of dollars spent testing different marketing strategies at his marketing agency. He then also co-founded Hyax a fast, conversion & design-focused course and funnel builder for creators.