Building an email list is always a top priority when it comes to building an audience/business online. Whether your selling physical products (eCommerce) or digital products like digital magazines and courses, the email list is usually the lifeblood of the business!
This case study is going to dive into Foundr Magazine's Contest which generated over 13k emails in 10 days.
Foundr Magazine is a publication but really a digital thought leader in digital marketing and entrepreneurship. They've interviewed entrepreneurs like Richard Branson, Gary V, Seth Godin and a few other greats!

You must be thinking, so why did they use VYPER? Well, they needed to grow their email list! So we worked with them on setting up a viral contest that tied in with the launch of their eCommerce course Grow & Scale.
See behind the scenes of this hugely successful giveaway, stats and all! We kept it short, sweet and direct, should only take you 2 min to read 😉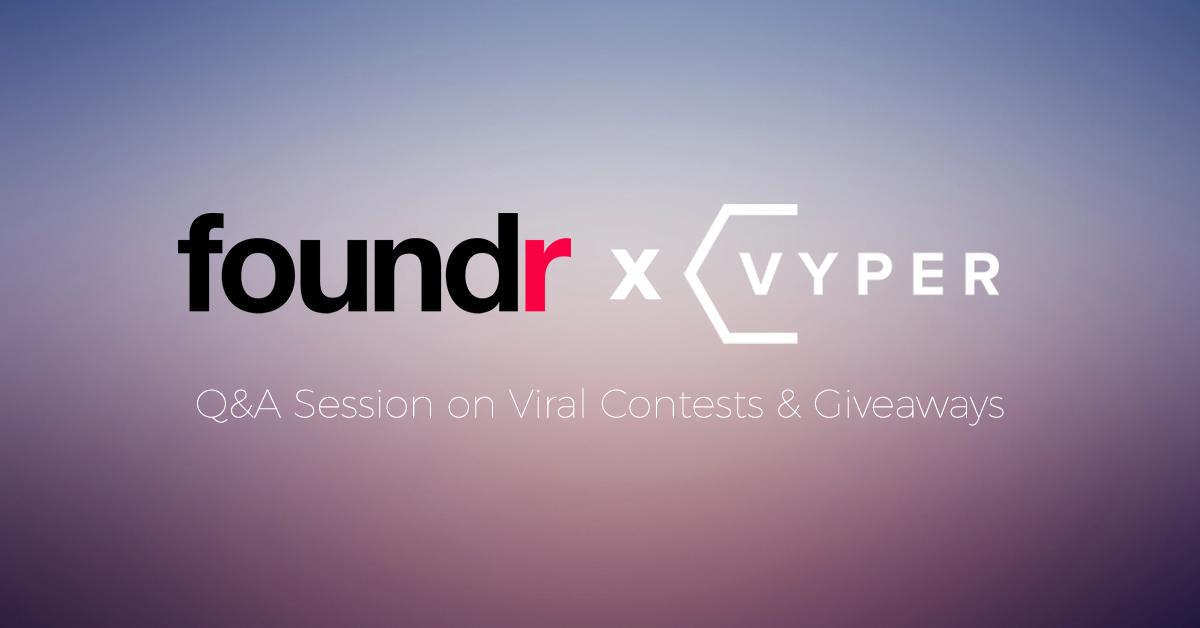 1.Why did you decide to run a contest?
We were launching a new training product and wanted to run a competition to build some excitement, anticipation, and ideally a great list of people who would be interested in the new course.
That's where the idea for the Foundr Magazine Contest came into play, it was a way we could leverage our current brand to promote and launch this new product.
We wanted to build some hype outside of our e-mail list. People can get overwhelmed with email marketing. I loved the idea that a competition allowed people to buy-in to the idea. They want to get involved and so I was hoping to get people highly engaged in a competition instead. It was much more fun for the users.
Wanted to get at least another 5,000 emails onto our list that were interested in the new training.
2. What expectations, KPI's and goals did you have/set for your contest?
It was hard to guess. In my head, I wanted to get at least 5,000 emails, ideally 10,000.
We didn't even realize that VYPER was going to increase other areas of our business like social followers/engagement and website traffic/engagement.
3. What was your proudest achievement from the campaign?
For us, it would have been the engagement on a blog post. It received over 500 comments and remains one of the most popular we have ever published.
This helped to build exposure on the post, traffic to the website and social validation through mass engagement stats! Looks great when people now naturally find the blog post.
4. What alternative marketing campaigns have you tried that didn't work?
Tried other competition software that didn't have the same "custom" elements as VYPER.
In fact, overall they weren't as customizable and we just couldn't create such a strong result, so far I think it's the best one we have used.
5. Contest results:
Emails – 13,602+
Social followers – Slightly hard to track because our following was relatively high across most channels (VYPER added social following tracking after our contest).
Traffic increase – Not sure (should have placed the Google Analytics code in the custom code area within the dashboard, would do that next time).
Customers/sales/rev – Was hard to track. We had retargeting plus some people were already on our list.
Any other areas you saw growth in – 507 comments on a paid Facebook ad an increase of about 1,000 subscribers on Youtube 19k Facebook views and 232 shares of our promotional video.
6. What are the top 5 things you learned from running a contest?
They are super powerful. We need to do them more often.
It's great to have different levels that people can unlock and trigger some rewards to keep them motivated.
It's most useful, practical and powerful when designed around your goals. For example, as you taught me, having people engage on specific content. Like a Facebook dark post, or a blog post, or building up social media channels.
They take effort, and you need to be excited yourself for your audience to care and get excited.
Make the prize as insanely awesome as you can.
7. What feature of VYPER did you like the most?
THE CUSTOM reward/feature/action thing.
Easy to use WYSIWYG editor.
Ease of setting up a contest
The reward tiers (random winner, entry milestones, ranked winner)
Custom code box to add tracking, custom CSS, and any other tags
8. What would you do next time you ran a contest?
Probably same again, and make some better social media assets to promote the competition.
The image used to share your contest is very important. Thousands of people are going to be sharing it across their social channels so it needs to look good!
9. How did you promote your contest and what worked the best for you?
Through our email list primarily as the seed audience and then announced on our social channels. Once we had the seed audience the contest leveraged the VYPER viral sharing system to do the rest.
Have a business of your own?
Foundr Magazine is a great source of information for entrepreneurs and you can find out more at Foundr.com or if you have any questions, get in touch with David, he's the man! Linkedin.com/in/davidmhobson.
David also published a write up on his experience using VYPER on Foundr as well, take a look.
Jack Paxton
Jack Paxton is the co-founder of VYPER, a marketing tool that helps brands build email lists, social followings, and revenue using viral giveaways, referral, and reward programs. After millions of dollars spent testing different marketing strategies at his marketing agency. He then also co-founded Hyax a fast, conversion & design-focused course and funnel builder for creators.