Email marketing is still the golden standard of marketing for online stores. Brands use email to retarget, engage, and notify existing clients.
Some massive brands have built empires with effective email marketing campaigns.
But what good is it to have a great email marketing strategy if you have a tiny email list?
Our guide on how to collect emails for your online store is here to help you boost your email leads and further develop your online business.
After reading this article, you will be able to fast track your business to success just by implementing some simple strategies.
How to Collect Emails
Isn't it a great feeling when your store finally goes live? All the hard work of researching, planning, and executing, finally comes to life. You probably have promotions planned and hope to get your sales engine revving.
Now there is a problem that most new and established eCommerce stores face alike: Engaging and nurturing first-time visitors. Sure, it's nice to have repeat customers, but you can't depend solely on them to support your store. You must have a strategy in place to bring first-time visitors into your sales funnel.
The solution lies in building a robust email marketing list for your eCommerce store. With an email list, you have direct access to, and information on consumers that you can use to build relationships with them and convert them into customers.
Collect emails with the suggested steps, track the sent emails' status with a DMARC report analyzer, and get your email campaigns going.
1. Use Pop-ups on Your Website
Pop-ups carry a bad rep because, in the Wild West days of the internet, they'd disrupt the user by opening new windows and ensured an awful experience for the user.
Since then, they've come a long way. They have evolved into a user-friendly way to capture visitor's attention. Pop-ups now open in a lightbox directly on top of the page.
They look like an essential part of your website. And the simple reason why eCommerce stores still use them is that they generate the best conversion rates amongst all opt-in forms.
Pop-ups come in real handy when building an email list. Today, pop-ups are advanced, and you can trigger them when visitors take specific actions.
For example, when a visitor hovers over the exit button, you can trigger a pop-up that catches their attention and tells them they can 'score a discount' if they sign-up for your mailing list.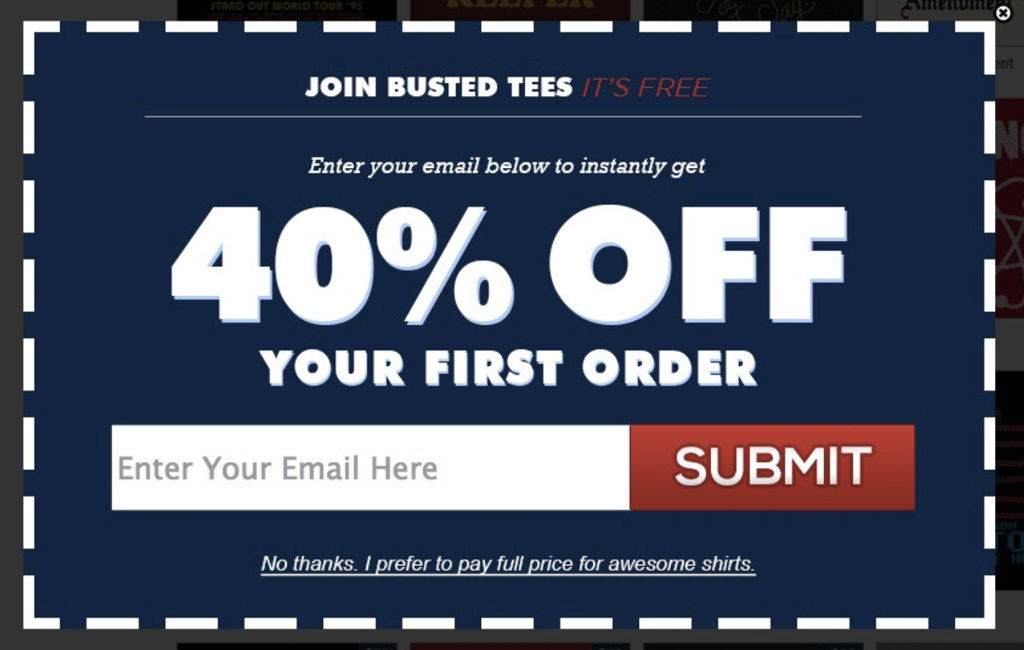 Another way to get a first time visitor to sign-up for your eCommerce mailing list is by displaying a pop-up on your blog.
A smart way to do this, that ensures a high conversion rate is to display a pop-up when you're certain the visitor is interested in your content.
For example, if a visitor has been on a page for 60% of the average reading time, it is safe to assume they're interested in the content. If the average time spent on page is 300 seconds, 60% will be 180 seconds.
You can then program your pop-up form to display after 180 seconds and display an offer relevant to the page the visitor is on.
If the content is about Instagram page growth, you could ask them to sign-up for your email list to receive weekly tips on just how to do that.
2. Direct Ad Traffic to Landing Pages
As an eCommerce store, you're often going to be running promotions in the form of ads. Ads help with building awareness and creating sales, but you can also use them to build a solid email list.
To achieve this, you can start by building a landing page for your promotion. Then set up your ad to direct users to this landing page.
The advantages of directing a visitor to a landing page rather than your actual website are:
Landing pages are built to encourage users to complete a specific task. In contrast, your website may have a lot of navigation options and could make a visitor lose track of why they actually clicked on your ad.
Landing pages, on average, have higher conversion rates than homepages.
Let's say you run an ad for free shipping plus 10% off on all store items. You'll run ads on Facebook or Instagram, and the people who click will be guided to a landing page.
The landing page will be very specific. It'll use minimal text to highlight your offer and straight away ask for an email address to avail the offer.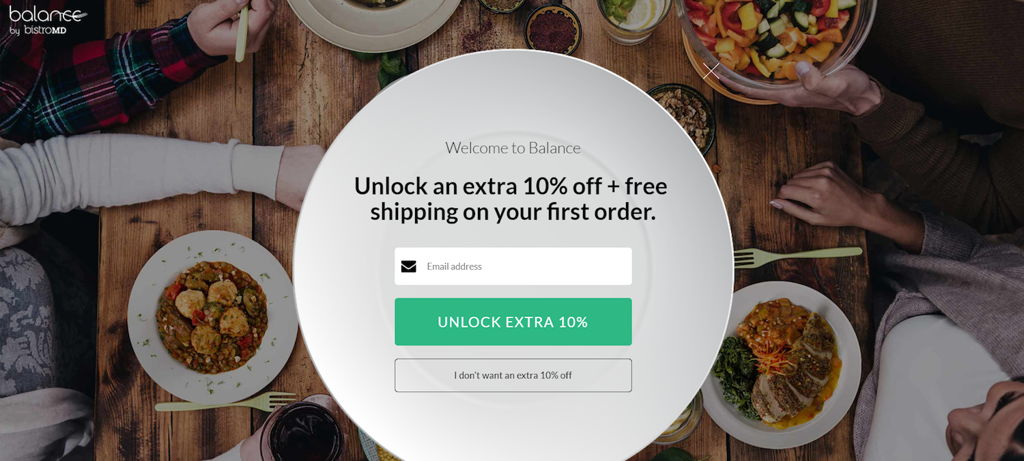 When they sign-up, they'll receive an email with a coupon to avail free shipping and 10% off.
The advantage of using a landing page is even if the visitor doesn't purchase from your store, you'll have their email address and can keep in communication with them and nurture them as a lead.
Using a tool like Adplexity is an excellent way of researching and finding the ideal banners and landing pages for your next ad campaign.
3. Use Sign-up Buttons on Your Social Accounts
People follow brands on social media to stay up to date with relevant offers and new product updates. If you're already working on your social channels, add sign-up buttons where possible as well.
On Instagram, you can add a landing page link to your bio to direct people to a sign-up page. You can share landing page links on twitter, or add a call-to-action button on your Facebook page.
Make sure to add these subscribers in a different segment so you can track the effectiveness of adding sign-up buttons on your social accounts.
4. Create Giveaways on Social Media
Brands host giveaways all the time at their stores or online on their websites and social media accounts. A giveaway is a marketing campaign that companies use to promote their brand and generate hype.
They are straightforward. To participate, people have to enter their email addresses.
A popular medium to host giveaways is Instagram. Instagram is extremely popular right now, and hosting a giveaway on Instagram will allow you to collect tons of new email addresses within a short space of time.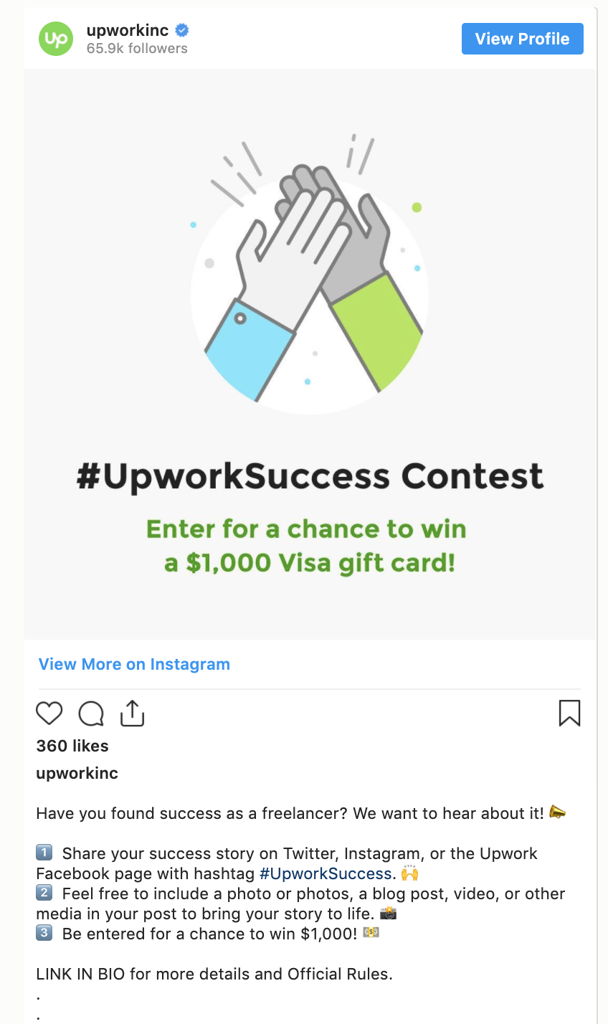 To create a giveaway on Instagram, first, you have to choose a prize to giveaway. It's best to offer something that will be relevant to the people you want to attract on your website.
Then you'll promote your post through influencers or by running ads to get your giveaway noticed. People who wish to enter will share their email addresses for a chance to win your prize.
This is an easy way to collect emails and, even if the people who sign-up don't win anything, you can keep them interested by sending them discount emails or content they'd like to engage with.
You can learn how to create an Instagram giveaway in detail here.
The same strategy also applies to other social media channels. You'll sponsor a prize, run a promotion, and ask people to enter their email addresses for a chance to win.
5. Use Chatbots to Get Extra Leads
You can install a Chatbot on your website and program it to assist visitors when live support isn't available. There are a lot of advantages to using chatbots on your website.
They can calm impatient visitors. They can guide them to relevant sections of your website, give automated answers to FAQs, and help generate leads and increase conversions.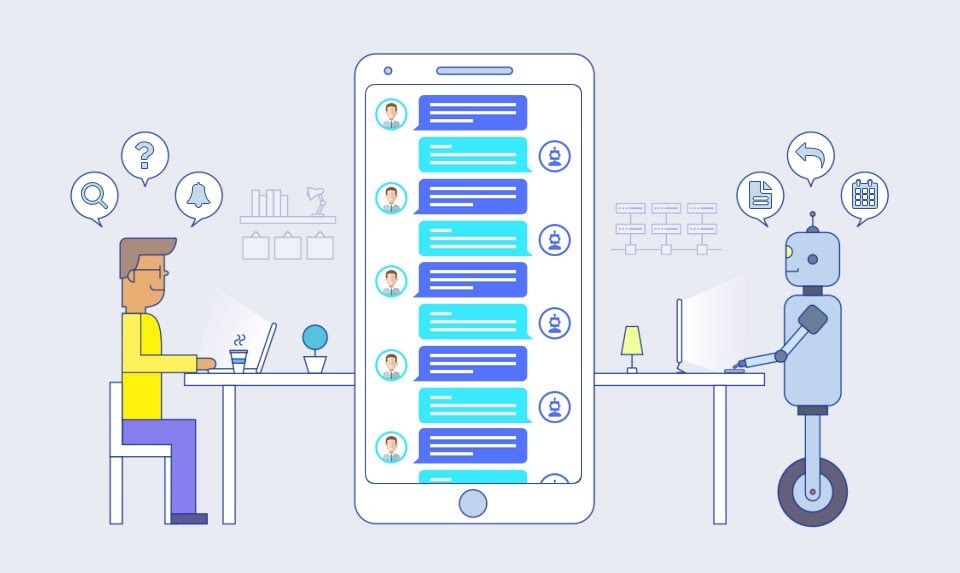 To collect leads with chatbots, install them on your eCommerce website. Then you can:
Generate pre-chat surveys: to qualify visitors and collect their emails to give them support
Engage visitors who don't complete forms or checkout process: by asking exactly why they stopped and nudge them towards completion. This can increase your chances of obtaining a signup or a successful sale
Engage visitors on high-level pages: if a visitor lands on your pricing page, you can use your chatbot to guide them through their concerns and make them more comfortable, and collect their emails in the process to nurture them further
Chatbots are multi-purpose tools that can assist your sales and customer reps to not only help existing customers but also qualify new visitors and build your email list.
6. Take Advantage of Real-life Events
Attending seminars, conferences, tradeshows, or hosting pop-up events are great opportunities for companies to build brand awareness and get feedback from customers and industry peers.
You can use these opportunities to network with people and acquire email addresses. Make sure to carry an electronic device with you where you can log all these addresses. You can also make use of task management software to keep track of all the people you meet along with your collaborations with them.
You can encourage customers to sign-up for your email list with special offers. You can give them 20% off on their first purchase if they sign-up, or give them an extended trial of your product.
This way, they'll have more incentive to share their email address.
How to Collect Emails Q&A
❓️ Are website pop-ups illegal?
Most pop-ups are not in violation of any laws and are not considered illegal. Especially if you are hosting a simple pop-up form for your own website. However, pop-up ads that violate FTC standards may be considered illegal.
❓️ Do I have to build a landing page for my ads if my goal is to generate email leads?
If your website is optimized with pop-ups and forms, then there is no need for a landing page. However, a dedicated landing page can still be more effective at generating leads.
TL;DR
There are many ways to keep your eCommerce store thriving. One of the most reliable and time-tested methods is to build a solid email list.
An email list allows you a direct channel of communication with consumers and gives you a host of options to nurture leads and upsell customers.
To build a healthy email list for your eCommerce store, you can:
Install pop-ups to collect leads
Direct your ad traffic to landing pages: this way you increase chances of both a sale and a new lead
Deploy sign-up buttons on your social media accounts to collect leads from there
Create giveaways on social media and ask for email addresses in return
Use chatbots on your website to assist with lead generation
Ask for emails at pop-ups and industry events
If you start employing these tactics to collect email addresses, you'll have a good mailing list in no time, which you can use to announce new arrivals, give discounts, run promotions and get feedback on your service.
What is your favorite strategy for collecting emails? let us know in the comments below.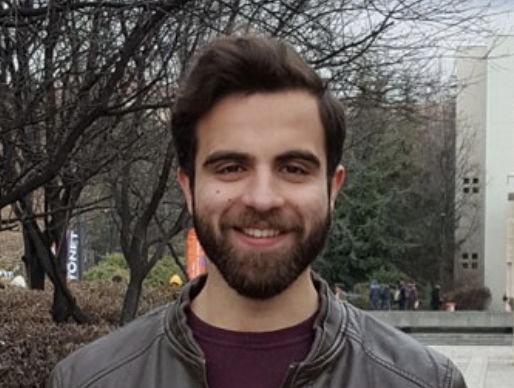 Author

Rukham Khan is the Content Lead at MailMunch. He has a passion for creative marketing and driving traffic through content. In his free time, you can find him Djing or video editing.
Jack Paxton
Jack Paxton is the co-founder of VYPER, a marketing tool that helps brands build email lists, social followings, and revenue using viral giveaways, referral, and reward programs. After millions of dollars spent testing different marketing strategies at his marketing agency. He then also co-founded Hyax a fast, conversion & design-focused course and funnel builder for creators.