Time is growing short for putting together a Vision 2020 plan for your small business. The new decade brings with it ample opportunity for growth and modern marketing focal points, which is why it is crucial to be up to date with inbound marketing trends.
As a small business, trying to compete can feel overwhelming. Limited resources create barriers to marketing efforts. Conversely, enhanced inbound marketing efforts will generate more resources. Fortunately, many of the up-and-coming inbound marketing trends are scalable.
Here are ten of the top 2020 inbound marketing trends you can use for your small business.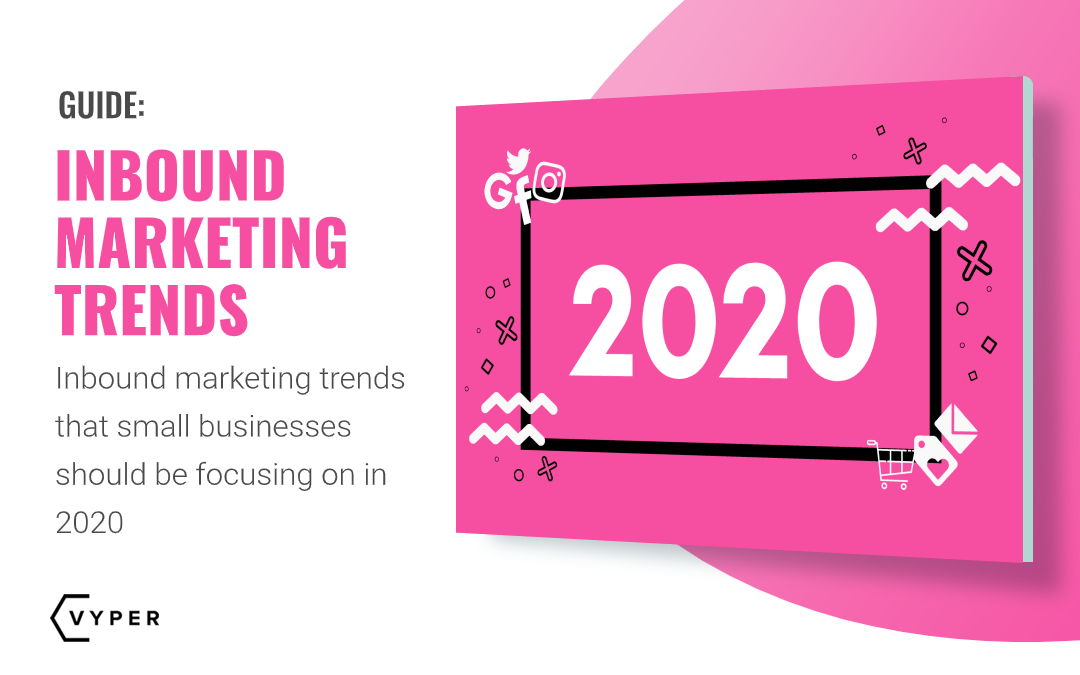 FREE DOWNLOAD 👉 The Facebook Ads Asset Library! All the checklists and guides used to profitably spend $150M+ on Facebook & Google ads.
Using Blogger Outreach Services
You may have heard the term "content is king" when it comes to digital marketing. Content will continue to reign supreme in upcoming years. Like planting a tree, the best time to start a content marketing strategy was years ago; the second-best time is right now.
One of the most effective ways to boost SEO and dominate in digital marketing is to generate content that fuels linkbacks. This can be accomplished through outreach and guest posting. Unfortunately, for small businesses, this approach can be a full-time job.
Many small businesses are getting around this obstacle by using blogger outreach and guest posting services. These services leave the outreach efforts to the experts and allow you to create a cohesive content marketing strategy that yields results.
As time goes by, small business owners are getting more comfortable with the idea of opportunity cost and outsourcing as a result.
Exploring New Social Media Platforms
Over the past five years, there has been a lot of focus on the tried and true social media platforms. Facebook remains a valid contender in social media marketing. Instagram and Pinterest have seen tremendous growth. Newcomers, like Snapchat, have made their mark.
In 2020 and beyond, it's time to start looking at new social media platforms before everyone else gets there. By doing so, you allow your small business to build a fanbase and cut through the noise.
TikTok is one of the biggest upcoming social media platforms that businesses can't afford to ignore. While paid sponsorship and advertising opportunities are virtually non-existent at this point, it creates the opportunity for organic growth and engagement.
TikTok is also the key to Gen Z marketing. While Gen Z doesn't have much purchasing power yet, it's estimated that they will dominate the market by 2026, with 82 million active consumers.
Before the next decade, Gen Z will surpass the Millennial generation. By starting to lay the groundwork now, you'll be ahead of the competition when Gen Z comes into power.
Live Video Marketing for Increased Reach
One of the reasons TikTok is becoming so successful in the modern marketing sphere is that it's centered around videos. Video marketing is becoming increasingly effective. Consumers appreciate having information conveyed to them quickly and passively, rather than having to dedicate time and effort to read an article.
As a small business, you can capitalize on this inbound marketing trend with minimal investment. Pre-recorded, professionally edited videos are no longer ideal. Live videos through social media or streaming tend to keep attention for up to three times longer than videos on demand.
This 2020 marketing trend overlaps with many other trends as well, including interactive content and authenticity, which will be discussed later.
Prioritizing Personalization
Purchasing decisions are heavily rooted in subconscious emotions. Gerald Zaltman, a proclaimed Harvard professor, surmises that up to 95% of a purchasing decision is made subconsciously. While logical decision-making often plays a role for larger purchases, encouraging your customer to choose you over the competition will ultimately come down to your connection.
Personalization will be paramount in 2020 and beyond. Consumers are no longer interested in generic advertisements; they want something that speaks to them. In 2017, branding experts at Epsilon conducted a survey that showed 80% of respondents would be more likely to make a purchase if they experienced personalization from a brand.
How can a small business create personalization? First, identify your overall target market. From there, segment them down into different categories. Create customer avatars based on your demographic.
What jobs do they work at? Where do they live? What other interests do they have? Pull analytics from social media and Google Analytics to get deeper insights. From there, think about how you can talk to those groups.
The above video has some useful tips on how you can get starting with obtaining essential reports for your business.
It is crucial for all online businesses to have some form of tracking system set up on their website. Systems like Google and Facebook Analytics can build exceptional reports that will help guide your business forward.
Email personalization is crucial when a business is focused on driving sales from their email marketing strategy.
Working with Micro-Influencers
Social media influencers will continue to dominate in 2020. Many small businesses overlook this marketing opportunity. Working with influencers is front-loaded, with the majority of efforts going into setting up policies and procedures, and sourcing influencers that fit the target market.
In 2020, more brands (big and small) will start working with micro-influencers. The definition of a micro-influencer is somewhat arbitrary and could be someone with 1000 followers of 250,000 followers. The idea is that they have a smaller, more engaged audience than someone with millions of followers.
Micro-influencers also tend to generate more trust with their audience, as they come off as more human and authentic. Consumers want to see products and services used by someone within reach that they can see themselves in, rather than the celebrity testimonials that dominated advertising in the past.
Transparency and Authenticity
Transparency and authenticity is an overarching marketing trend that encompasses many other trends of 2020. The modern consumers of the millennial generation are no stranger to digital marketing tactics.
As with personalization and live videos, consumers want to feel the human connection through cyberspace. You see this with many brands that respond to posts on social media with GIFs and conversational tones, as well as unpolished posts that feel inviting and personal.
The millennial generation is also very politically charged and cares about what steps a business is taking to make their local and global community a better place. As a small business, you can capitalize on this trend by showcasing the people behind the scenes and talking about what your brand does when it isn't selling products or services.
Show your employees volunteering on a weekend. Snap a photo of those late nights spent working hard during the holidays. Add a personal touch to your brand that creates a sense of transparency and authenticity.
Optimizing for Position Zero
In recent years, there was no better accomplishment in SEO and content marketing than reaching a number one position on a SERP. In 2020, number one is number two, and position zero is the holy grail.
Position zero is the snippet shown at the top of the SERP that pulls information from the page to highlight in a quick, easy-to-absorb manner. It's also an opportunity for small businesses to surpass those that dominate the top spots with a few changes to their content.
To optimize for position zero, base your content creation around a question. Use this question as to the basis for your keyword research and answer the question with optimized, well-formatted content.
For example, say you want to rank for your article on the stages of a marketing sales funnel. The question you'd want to answer is, "what are the stages of a marketing sales funnel?" Answer that question throughout your post using H2 and H3 headers that clearly and concisely provide the information. Enhance your effectiveness by using numbered and bulleted lists within your content.
Not only does framing your content around a question help rank for position zero, but it also gets you set up for voice search optimization, which is one of the most predominate SEO trends of 2020.
Using Shoppable Posts
Social media is undeniably one of the best ways for small and large businesses to reach their target audience and drive sales. One of the up-and-coming trends within social media is using shoppable posts. Rather than showcasing a product and having an ambiguous link to your website, shoppable posts allow consumers to click through on a specific product that has caught their eye.
Shoppable posts are effective because they reduce purchasing friction, making it easier for consumers to complete a sale. When combined with sponsored posts, shoppable content can expedite the sales funnel and streamline conversions.
Here are the steps to creating a shoppable post on Instagram:
Using your Facebook Business Manager, create a Facebook Catalogue.
Integrate your online shopping platform (Shopify or WooCommerce, for example) into your Facebook account.
Connect your online shop through to your Instagram business account, which should be connected to your Facebook.
Upload the product photos you plan on selling through shoppable posts.
Under "post settings," click "Tag Products."
Create your post using captivating captions and relevant hashtags.
Activate the shop tab on your Instagram Business profile page.
While experimenting with shoppable Facebook and Instagram posts is excellent, your approach should always be a part of an overall marketing strategy. This is another trend that can be used in conjunction with other ideas on this list, such as micro-influencer marketing.
Using Email Lifecycle Marketing
Email Lifecycle Marketing is an offshoot of personalization that pertains to email CRM specifically. Traditional email marketing still has a lot of merit as a way to reach customers. With ELM, however, you can drill down and create specific campaigns and segmentations that address where a customer is within a particular stage of the sales funnel.
For example, you might have two potential customers showing curiosity in your product within the interest stage of the sales funnel. However, one lead leaves the site without adding anything to their cart, and one adds to their cart but doesn't complete the transaction. These prospects have engaged in browse abandonment and cart abandonment, respectively.
With ELM, each potential customer would receive a separate email series based on their actions (or inaction). The browse abandonment may trigger a series of emails reminding a lead of the products they were viewing. A cart abandonment series might suggest the person come back and finish the transaction. Either could offer an incentive to reduce friction.
As a small business, you can use ELM by integrating an AI-enabled email marketing platform with your website and introducing segmented emails. Not only will this add to your personalization strategy, but it will also increase conversions in online sales.
Promoting Interactive Content
One of the benefits of live video streams and webinar platform events is that they are interactive. Rather than sitting and being spoken at, a potential customer can actively engage in a conversation. This is more engaging and interesting than reading a blog article or listening to someone talk.
Many forms of interactive content can either be used to increase awareness and engagement or to capture leads. One of the most common types of interactive content for 2020 is quizzes. Quizzes are highly shareable. They keep people on your page longer and provide a reward that initiates a positive emotional response.
Interactive content could include:
An interactive ebook with videos and links
A quiz
A product finder
An evaluation or assessment
A choose your own adventure Instagram Story
Pop-up infographics
Mini-courses
Contests
Calculators
Get creative when thinking about how you can leverage interactive content to market your business. Use a quiz as a product finder to help your potential customers find a product that fits their personal needs. Create a game, such as a bingo card, that offers a reward for accomplishing tasks relevant to your industry.
Infographics allow you to easily display complex information within a single image. You can potentially summarise an entire blog post with an infographic. This makes the process of consuming information quick and easy, which is why infographics are considered as valuable content. You can simply create an infographic for free with a service like Visme.
Inbound Marketing Implementation Tips for Small Businesses
Many times, an influx of ideas for marketing efforts can cause decision fatigue and overwhelm, which results in inaction. Here are some helpful tips for implementing these 2020 inbound marketing trends:
Use a Cost-Time Matrix
A cost-time matrix operates similarly to an Eisenhower decision matrix. Create four quadrants, titled:
Low cost, low time
Low cost, high time
High cost, low time
High cost, high time
List your ideas within each quadrant to help you identify the affordability and time investment of implementing these trends. Choose a few low-hanging fruits to get started and create a long-term strategy for some of the higher-investment opportunities.
Do One Thing Well
As a business, it's better to do one thing well rather than many things mediocrely. Choose one thing to create a strategy around, and focus on implementing it to the best of your abilities. Once that has been successfully implemented, move onto the next best thing.
Outsource
The top trend on this list pertains to outsourcing for a reason. Rather than trying to manage everything in house, outsource tasks to virtual assistants, inbound marketing strategists, and outreach experts.
Final Thoughts
Inbound marketing is rapidly evolving. In a highly competitive world, the difference between success and failure is being in alignment with the trends and ahead of the competition. By getting ahead of these marketing trends, you'll set your small business up for long-term success.
What 2020 inbound marketing trends will your small business be focusing on? Share in the comments below.
About the Author
Wendy Dessler is a super-connector who helps businesses find their audience online through outreach, partnerships, and networking. She frequently writes about the latest advancements in digital marketing. Wendy focuses her efforts on developing customized blogger outreach plans depending on the industry and competition.
Jack Paxton
Jack Paxton is the co-founder of VYPER, a marketing tool that helps brands build email lists, social followings, and revenue using viral giveaways, referral, and reward programs. After millions of dollars spent testing different marketing strategies at his marketing agency. He then also co-founded Hyax a fast, conversion & design-focused course and funnel builder for creators.