Once a simple photo-sharing app, Instagram has completely transformed into a powerhouse of personal branding, business promotion, and social influence.
With over a billion active users scrolling through their feeds daily, individuals and businesses alike can't help but vie for attention on this visually captivating platform.
Now that the platform has become a battlefield for attention, one question emerges: how can you measure your impact in this vast sea of images and stories?
That's where Instagram analytics come into play.
This built-in feature is a total game-changer if you want to up your Instagram marketing game. It's about getting to know your audience, seeing how they vibe with your content, and cranking up that engagement.
In this quick guide, we'll jump headfirst into the world of Instagram analytics and break down those numbers that can make or break your overall social media game.
FREE DOWNLOAD: Get all Our Contest & Giveaway Marketing Guides, Checklists, and tutorials that have helped 100's of brands collect 15k+ emails in under 21 days!
What Exactly Is Instagram Analytics?
While you can leverage Instagram DMs to increase sales, you can also boost your overall Instagram marketing campaign using Instagram Analytics. But first thing first, let's ensure we're on the same page about what Instagram Analytics is all about.
Instagram Analytics is the common term for Instagram Insights, the built-in analytics feature the platform provides its users. It's like your personal Instagram report card.
You need to utilize or check out this place when you want to check out how well you're doing on Instagram and the impact you're creating.
With this insightful feature, it's like having Instagram's toolkit. It hands you all the data you need to level up your Instagram marketing. That's how you can easily keep tabs on your account, posts, and how your audience reacts to your content.
Why Does Instagram Analytics Matter?
Your Instagram marketing strategy should be more than generating content ideas, creating the content, and hitting the "Post" button. It should be a well-informed journey, guided by insights that help you understand what's working and what needs to be doubled down.
Here are some reasons why Instagram Analytics can be your blueprint for overall social media marketing strategy:
Data-Driven Decision Making
Instagram analytics provide businesses with valuable data and insights about their audience, content performance, and overall Instagram strategy. This data helps make informed decisions– which can be much more accurate than relying on guesswork.
Audience Understanding
A successful marketing campaign always starts with a message that resonates with the audience. That means clearly understanding your audience is vital in Instagram marketing.
Through Instagram Analytics, you can understand your audience's demographics, behaviors, and preferences. It makes it much easier for you to tailor your content and marketing efforts to meet your needs effectively.
Content Optimization
Analytics reveal which types of content (e.g., photos, videos, stories, carousels) perform best. This information allows you to focus on creating content that your audience actually wants to see and consume.
Competitor Analysis
Being on Instagram means that you're fighting for audience engagement with your competitors. Using the data from the Analytics, it's easy to benchmark your overall Instagram performance against competitors.
You get insights into how their posts are performing, whether their short social media promotional videos are working, etc.
The data help you identify gaps and opportunities in your own strategy. This can lead to more compelling content and a competitive edge.
Efficient Resource Allocation
By understanding which strategies and content types yield the best results, businesses can allocate their resources (time, budget, creative effort) more efficiently. No more unnecessary plans that can cost you big bucks.
Where Can You Find the Instagram Analytics?
You can access Instagram Analytics only when you have a Business account. To do this, go to your profile, tap the three horizontal lines in the top right corner, then tap "Settings and privacy" > scroll down to "Account type and tools" > "Switch to professional account." Follow the prompts to set up your business profile.
Once you've switched to a Business Account, you can access Insights by going to your profile and tapping the three horizontal lines in the top right corner. From the menu, select "Insights."
Instagram Insights allows you to customize the date range for your analytics. You can view data for the last 7 days, the last 30 days, or even the last 90 days. Just choose a specific date range.
You can also export your Insights data for further analysis by tapping the arrow icon at the top right corner of each Insights section. This way, you can delve deeper into the numbers and create custom reports with your team.
What Does Instagram Analytics Provide?
Instagram Analytics provides various sections with different types of data. Each section offers valuable insights into the performance and engagement of your Instagram account. These sections include:
Overview
This Overview section provides a comprehensive snapshot of your account's performance over a specific period. Consider it a summary of your Instagram account's health and performance.
It provides a high-level view of key metrics that give you a sense of how your content resonates with your audience. All the numbers in the section inform you about your account's performance– including reach, engagement, and follower demographics.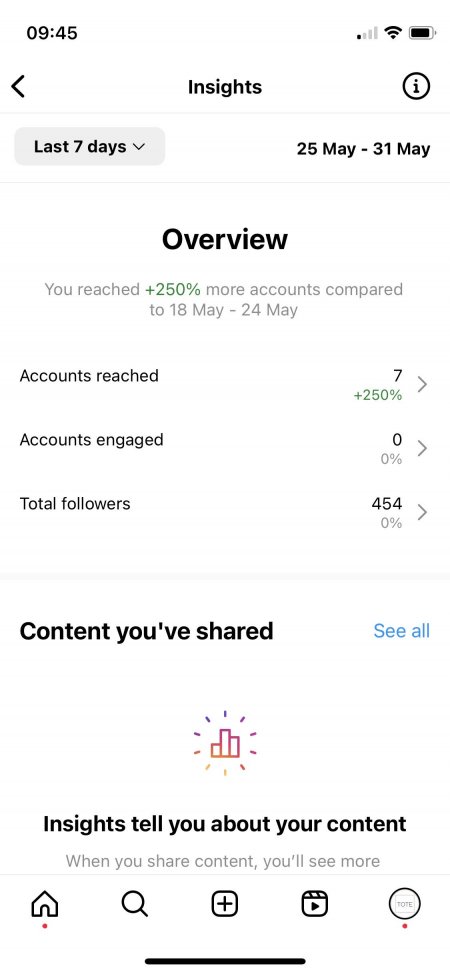 Source: NapoleonCat.com
Content
You can see metrics for your posts, Stories, and Reels here. It's a goldmine for content creators and businesses on Instagram.
You can get solid insights into the performance of your individual posts, stories, and videos. With this information, you understand what content your audience engages with the most and which ones get the least engagement.
Audience
Understanding your audience is essential for tailoring your content and marketing efforts to meet their preferences and needs. And in the Audience section, you can get more in-depth information about your followers, such as age, gender, location, and when they're most active.
Even better, though, you can often discover when your followers are most active on Instagram. So you know when to schedule your posts for optimal reach and engagement. Some versions of Instagram Insights show when your followers are most active during the day, which can help you determine the best times to post.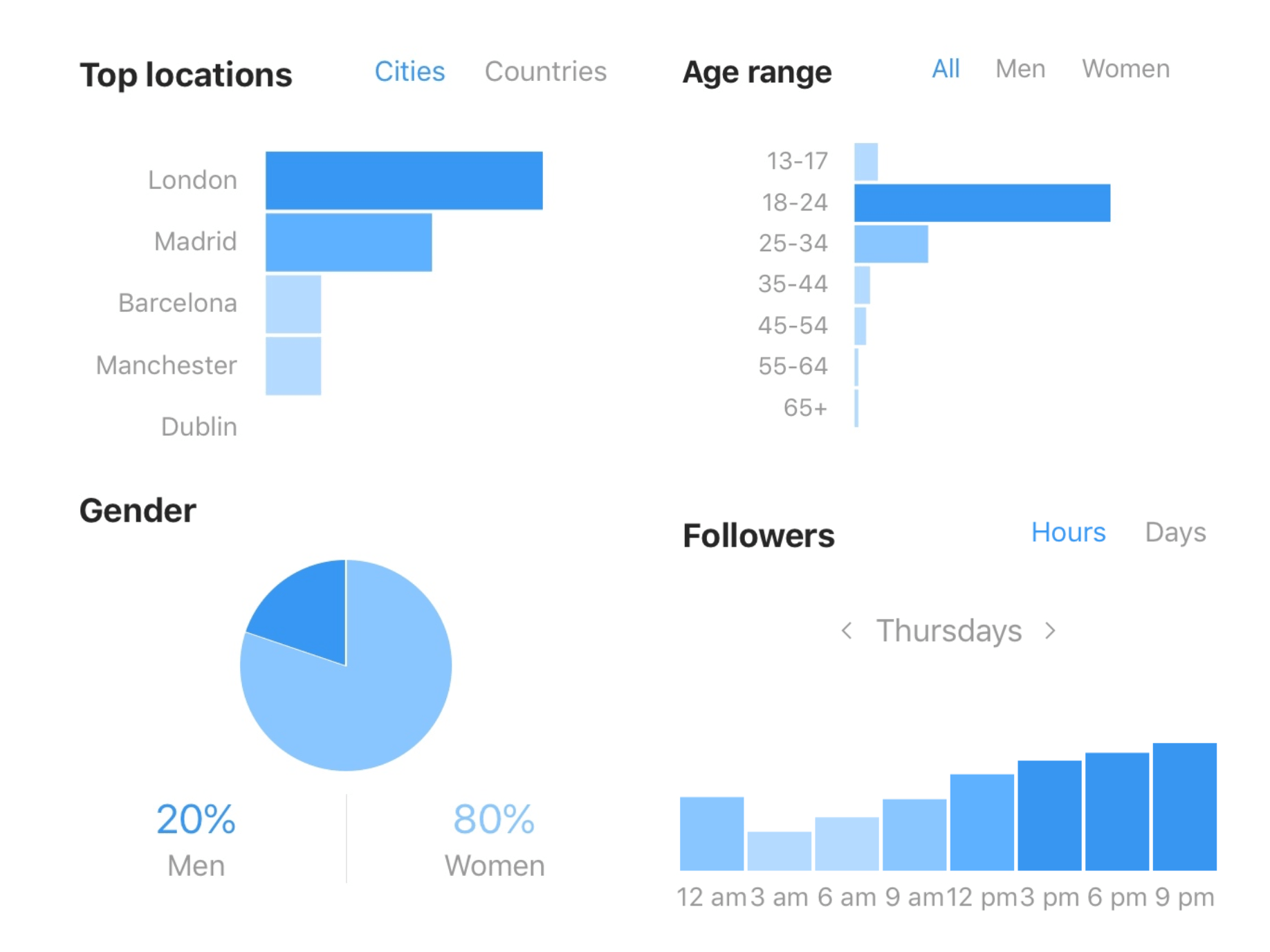 Source: SearchEngineJournal.com
Activity
You can see how users engage with your content and your account, including actions taken after viewing your content. It displays your top-performing posts based on the number of interactions– the sum of likes, comments, shares, and saves on your posts.
If you have added contact options like email or phone number to your profile, Instagram Insights shows the number of times users clicked on these contact options. Now you know who's actually interested in your businesses.
Source: ResearchGate.net
Key Instagram Metrics to Track
There's tons of data to explore in the world of Instagram analytics, but not all metrics are created equal when it comes to gauging the success of your Instagram strategy.
To navigate this vast sea of numbers effectively, focusing on the key metrics that truly matter is essential.
Follower Count: Sure, you can now buy followers. But we're talking about the organic follower count here. It reflects the size of your audience. A growing follower count suggests that your content is attracting interest.
Engagement Rate: Interactions like likes, comments, and shares indicate how engaging your content is and the level of audience involvement.
Reach and Impressions: Reach is the number of unique users who see your content, while impressions measure the total number of views. Tracking these two metrics helps you evaluate content visibility and adjust posting times for maximum impact.
Profile Visits: Profile visits show how often users explore your profile after seeing your content. It can be a signal who's actually interested in getting to know you or your brand further.
Website Clicks (Traffic): Tracking website clicks helps determine how many users visit your external website or landing page. This comes in handy when you want to assess the effectiveness of your Instagram marketing in driving traffic to your online presence.
Instagram Stories Views: This metric encompasses a range of individual metrics for each story slide you post on the platform– such as replies, impressions, and navigations. By analyzing these metrics for each story slide, you can gain insights into what captivates your audience, what prompts them to interact, and what might lead them to move on from your content.
Watch-through Rate: You can track this one to know how engaging and compelling your video content is. A high WTR suggests that viewers are captivated and watch the entire video, while a low WTR may indicate that viewers lose interest and stop watching prematurely.
Audience Growth: Audience or follower growth indicates the rate at which your audience expands. When you choose to track this metric, you can see exactly how many followers you gain and lose each day.
Wrap-Up: Boost Your Instagram Marketing with Instagram Analytics Today
With Instagram Analytics, we know that the power of data-driven decisions lies at your fingertips. Instagram isn't just about sharing stunning visuals; it's about creating meaningful connections, fostering engagement, and achieving your goals, be they personal or business-oriented.
After breaking down all the essential points above, you're now well-equipped to confidently navigate the Instagram landscape.
One thing to remember here is that all those numbers mean nothing if you simply see them without acting upon them. Instagram analytics are your guiding light, but their true power lies in your decisions based on the insights they provide.
Whether it's refining your content strategy, engaging with your audience, or optimizing your posting schedule, your actions will transform those numbers into real, tangible results.
Author Bio

Andre Oentoro is the founder of Breadnbeyond, an award-winning explainer video company. He helps businesses increase conversion rates, close more sales, and get positive ROI from explainer videos (in that order).
Jack Paxton
Jack Paxton is the co-founder of VYPER, a marketing tool that helps brands build email lists, social followings, and revenue using viral giveaways, referral, and reward programs. After millions of dollars spent testing different marketing strategies at his marketing agency. He then also co-founded Hyax a fast, conversion & design-focused course and funnel builder for creators.