Instagram has become so much more than a photo-sharing app. Now, it's a high-profiting platform for influencers, marketers, entrepreneurs – basically for everyone.
From Instagram Stories to shoppable posts, this platform is constantly rolling out new features designed to help businesses level up their marketing game.
But, there is one feature that is being overlooked and under-utilized by many businesses: Direct Messages (DMs).
Instagram DMs might seem like a feature that we use to make ongoing private conversations with our friends. In fact, businesses can leverage it for networking, allowing owners to connect directly with their potential customers in a more personal way.
Not convinced yet? We've listed five essential reasons to use Instagram DMs for business, so you won't be losing any opportunities by discounting them.
Let's dive in!
Why Should You Care About Instagram DMs for Business?
Before we get into the nitty-gritty details, it's important to have a solid understanding of why your business should pay more attention to Instagram DMs.
Instagram is only getting noisier and filled with brands and businesses bombarding user's accounts with ads that seem very impersonal and so far away.
Most often than not, many businesses forget to ask their potential customers a meaningful question, like, 'how can I help you?.' In this case, Instagram DMs offer you a less crowded, more personalized way of asking that kind of question.
So, in this digital era, where private communication has become more meaningful than ever, Instagram DMs offer an ideal platform to help businesses connect with their customers and build more meaningful relationships.
By joining your customers in the Instagram DMs, you're stepping out of a stiff business-to-customer dynamic and create a more casual interaction that's closer to the kind of daily chats they're having with friends and family.
At the end of the day, running a business is not all about selling your products or services and talking to your customers but also with them, is it?
Not to mention that Instagram DMs are free and easy to use, making the feature even more enticing for business owners who are on a tight budget.
What Can You Send as a DM?
You can use Instagram DMs to send a variety of messages to your customers – whether they follow you or not. Yup. There's a lot that can happen inside that speech bubble icon in the top right corner of your Instagram app.
Let's unwrap those six types of messages you can send through Instagram DMs, shall we?
Text
This is the most basic form of a direct message: simple text. You can send simple, plain text to chat directly with your customers, answer their simple questions regarding your products or brand, or respond to the people responding to your Stories.
It's always better to use a casual, friendly tone and language when you chat with your customers – just like you chat with your friends on a daily basis. Well, because they are. It helps the customer to feel comfortable to continue chatting with you via DMs.
You can also add some emojis to get the toning of your message right and leave no room for misinterpretation.
Images
Businesses aren't limited to just using text in Instagram DMs. You can also send pictures to your customers. It can be your product pictures, event banners, covers of e-books, or special offering posters.
Pictures are easy to save. Your customers can long-press the picture you send them to save it to their devices. This way, they'll be more likely to remember your products or offers.
Videos
If a picture is worth a thousand words, a video might be worth a million. If you have a lot to say to your customers through Instagram DMs, you can send them a video instead of clunky text.
A short, straightforward type of video like explainer videos, how-to videos, or even personalized thank you message is ideal for this. It shows that your brand cares about your customers and wants to retain them more personally through direct messaging.
Audio
Instagram DMs also allows you to send audio messages. It allows you to record and send the voice note for up to one minute in a private chat or group chat.
All you have to do is to press the mic button and release it to send it. You might never type out another message again. It offers a convenient, time-saving way if you need to explain more complex topics.
However, this audio messaging feature might not be a good option for some businesses to talk with their customers (especially if you target older generations as your customers) since it seems way too forward and personal.
Video Calls
Instagram also allows you to make a direct video call with your customer to answer their questions more clearly or simply just want to catch up with them. You can use this video call feature to chat with a person or a group of people.
Of course, this feature is not the simplest option at the moment for your business when you have FaceTime or Skype, but eventually it could be.
Video calls could come in handy if you're planning to pitch a new product idea. You can use it to curate a group of people who are highly interested in your concept.
Those who are willing to join your group chat will be the perfect customers to give you feedback on your ideas. And when you actually launch the product, they are the most primed to promote the product because they helped you to create it.
Group Chat
With Instagram DMs, you can also create a group chat of up to 32 people (including yourself), including both followers and non-followers.
You can use group chats to provide special incentives, bonuses, discounts, flash sales, or even exclusive resources just to your top customers that are on Instagram.
So, if you want to offer a really high-value bonus and want to reward it to a handful of people, Instagram group chat can help you achieve that.
5 Reasons for Using Instagram DMs for Business
There are so many benefits you can reap from Instagram DMs. You can also say that this Instagram often-overlooked feature is business growth and customer satisfaction multiplier hiding in plain sight.
Here are some crucial reasons why you shouldn't ignore Instagram DMs:
Create 1:1 Connection
Quick Retention and Engagement
Skyrocket Sales
Increase Brand Loyalty for More Long-Term Followers
Build More Industry Connections
#1. Create 1:1 Connection
Instagram DMs provide you a direct and uncomplicated avenue for communication. It allows you to easily build a meaningful connection with your customers through 1:1 interaction. And people buy only from brands they feel connected with.
Personal connection makes your customer feel valued and more respected. They receive a direct message that is only written for them to help them answer their questions or let them know of your exclusive news or offers.
Also, through one-on-one interaction on DMs, you can seamlessly tailor your business behavior to each customer to reflect their specific value and needs. That's how you make them stick around your brand for quite some time.
#2. Quick Retention and Engagement
Building community and supporting customers is crucial for attracting and retaining customers through Instagram – or any social media platforms in general.
When you slide into your followers' DMs, you unlock a whole new level of engagement that can skyrocket your business' success on the platform.
You can send them private thank you messages for interacting with your posts, send how-to videos to customers that have just purchased your product to guide them, or simply answer their queries.
#3. Skyrocket Sales
You can sell your products directly to your customers that actually care about your brand through Instagram DMs. You can look up to users that have an interest in your industry through their feeds and jump into their DMs to offer your brand.
That being said, you need to be careful. No one ever really wants to be sold to. No Instagram users open their DMs and think, "I'd love to hear from a brand that sells their product directly to me."
So, make sure you highlight your product's benefits and values so that the customer understands why they need it.
Always avoid hard-selling and pushing them to purchase from your brand. Not only will it make your brand sound too unprofessional, but also it will higher your risk of getting the message flagged or even being blocked by them.
Here's an example of how Nokia assisted an Instagram lead who eventually purchased a phone from them.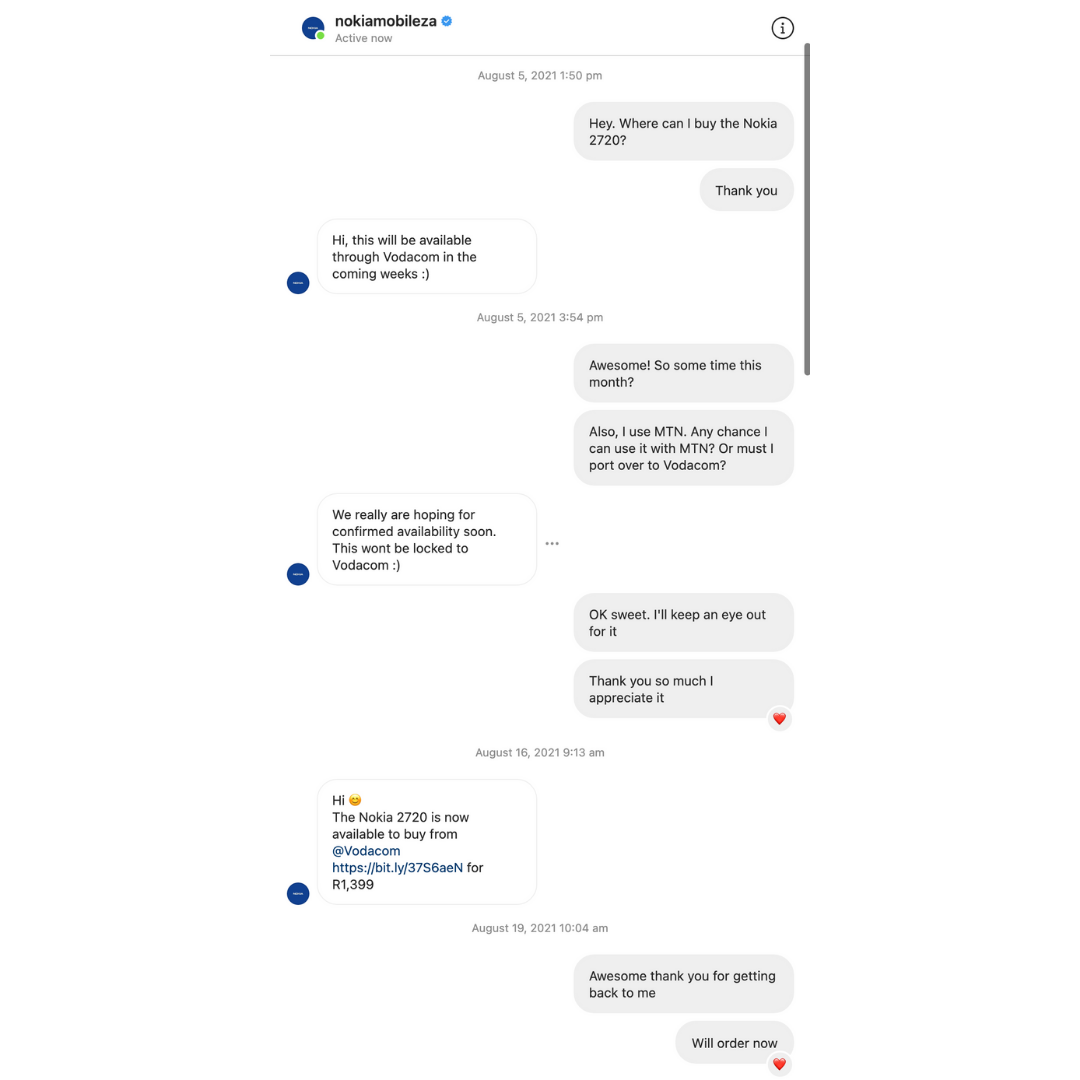 The user discovered the phone on Nokia's Instagram Post feed. That user messaged Nokia who confirmed that the phone will be available soon to multiple carriers.
Nokia followed up with the user at a later stage to inform them that the phone is available to purchase.
#4. Increase Brand Loyalty for More Long-Term Followers
Responding quickly and interacting more personally through Instagram DMs bodes well for brands' customer loyalty. It makes your customers feel like their needs are your priority.
In other words, Instagram DMs make it much easier for you to quick and personal customer service to your customers. You can also send exclusive offers, discounts, or sneak peeks to delight them and makes them feel extra special.
And do you know what comes next after you make your customers feel special? A boosted customer loyalty!
#5. Build More Industry Connections
To be a successful business owner, you need to make industry connections. It will help you improve your marketing skills set, stay on top of the latest trends in your industry, and keep a pulse on the marketplace. Instagram DMs can help you achieve that.
You can send a direct message to other like-minded people in your industry. In this case, it'd be much easier for you to share knowledge and marketing tips with other marketing professionals.
Also, if you've been on social media for a while, you must know that Instagram is a mecca for influencer marketing. You can use DMs to reach out to influencers you want to collaborate with.
TL;DR: Instagram DMs for Business
Instagram is a platform that's grown immensely in importance for every marketer. It is slowly adding one feature after another to make it a one-stop platform for business owners.
Whether people are looking for direct and more personalized customer service, satisfy their curiosity, or simply just to interact with your content more personal, it goes down via messaging. So, if your business is on Instagram, but you're not using DMs, you're missing out on big opportunities.
However, no matter how you want to connect with a potential customer on Instagram DMs, you have to bring them value first. Otherwise, you will be more bothersome than helpful.
Also, it's important to read Instagram's community guidelines to make sure that you send appropriate messages according to the rules.
Author

Andre Oentoro is the founder of Breadnbeyond, an award-winning explainer video company. He helps businesses increase conversion rates, close more sales, and get positive ROI from explainer videos (in that order).

Twitter: @breadnbeyond
Email: [email protected]
LinkedIn: Andre Oentoro