Labor Day is a time to celebrate the achievements of labor unions and workers worldwide. It's also an excellent opportunity for your brand to host a Labor Day giveaway or contest. Such campaigns generate tons of email, phone, and website leads.
Giveaways are a great way to give back to your community of followers and customers. Hosting a giveaway is an excellent way to end the summer with a bang!
In this blog post, we go over how you can host your own giveaway. Giveaway strategies are crucial, so we reviewed past Labor Day giveaways to find strategies that worked (and didn't).
Oh, and we also included original Labour Day giveaway Ideas that are free for you to use in your campaign. Please feel free also to scan the Labor Day giveaway FAQ section below.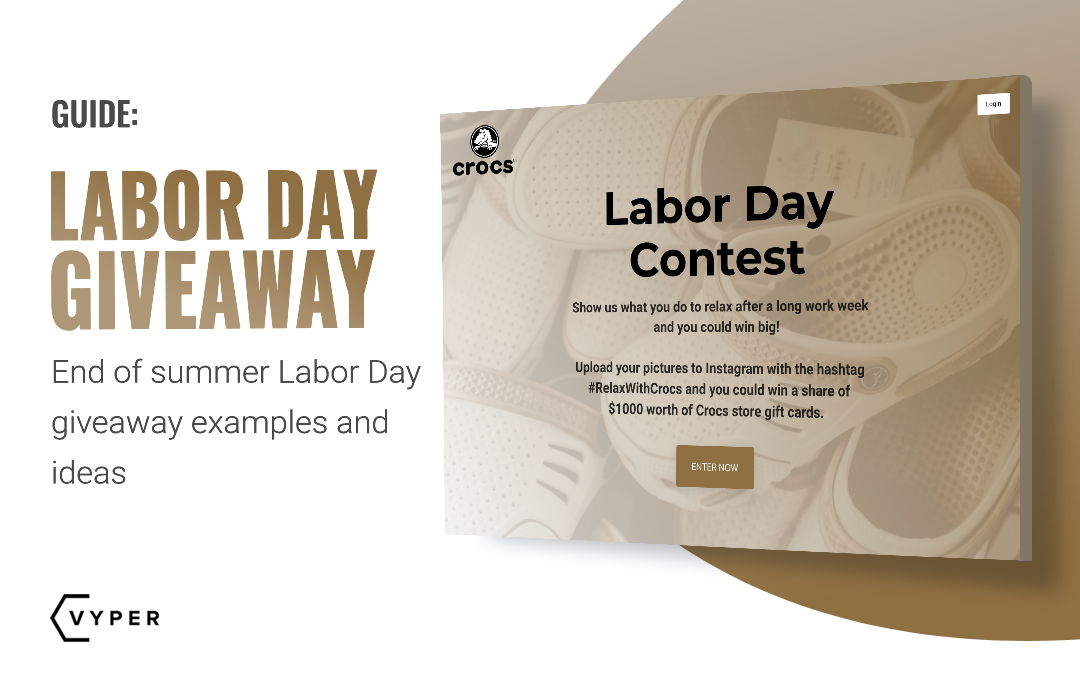 FREE DOWNLOAD: Get all Our Contest & Giveaway Marketing Guides, Checklists, and tutorials that have helped 100's of brands collect 15k+ emails in under 21 days!
Why Host a Labor Day Giveaway?
As summer comes to an end and labor day weekend approaches, many people are looking for ways to celebrate.
People get together to celebrate with food, parties, and sometimes, Labor Day Bingo!
One great way to celebrate is by hosting a labor day giveaway. A labor day giveaway is a great way to show appreciation for your employees or customers, and it can also be a lot of fun.
Here are a few tips on how to host a successful labor day giveaway:
1. Choose a prize that will be popular with your employees or customers.
Labor day is all about celebrating employees' hard work, so it's essential to choose a prize they want. Some popular labor day giveaways include gift cards, paid time off, and bonus pay.
Revive Design chose a bath tray as their prize. It's relevant to Labor Day, a day dedicated to workers having time off to relax. 
2. Promote your labor day giveaway in advance. 
This will help ensure that you get as many people as possible participating in the giveaway. In addition, you can promote your giveaway on social media, in email newsletters, or even on flyers or posters around the office or store.
3. Make sure you have enough labor day merchandise to go around. 
You don't want to run out of prizes midway through the labor day weekend! Ensure that you order enough labor day-themed items, such as t-shirts, buttons, or hats, for everyone who wants one.
4. Have fun with it! A labor day giveaway should be a fun event for everyone involved. 
Be sure to include plenty of food and drink, and make sure there's plenty of music and entertainment so that everyone has a good time.
By following these tips, you can be sure that your labor day weekend will be a success!

Labor Day Giveaway Examples
We scanned the internet for Labor Day giveaways and found three great online giveaways. Each is from a different platform and serves a slightly different purpose.
We analyzed these giveaways to find strategies and ideas to help you host your next big giveaway!
On The Hook Crochet Giveaway (YouTube)
Entry Method: Leave a comment on the video
Prize: Scarf yarns
Ideal for: Small home businesses, Etsy stores, or micro-influencers
On The Hook Crochet is a YouTube channel dedicated to helping beginner crocheters. Jeanne hosts regular giveaways on the channel as a way of giving something back to her fans.
This giveaway is hosted around Labor Day Weekend. It is a small and straightforward giveaway that is still effective.
It goes to show that you do not require a massive prize and giveaway to drum up some excitement on your YouTube channel. 
Key Takeaways:
The giveaway was announced on Labor Day (2 Sept). The winner was announced a few days later (6 Sept). Because it is a small giveaway, then the short timeframe for the giveaway works. People only need to wait a few days to determine if they won. 
We are fans of small giveaways. Especially if you plan on hosting them regularly. We recommended The Evergreen Contest Funnel. A low-cost strategy that consistently generates leads for your business. 
This is a great example of hosting a giveaway within a YouTube video. Every detail of the giveaway (entry method, rules, etc.) is included in the description of the giveaway video.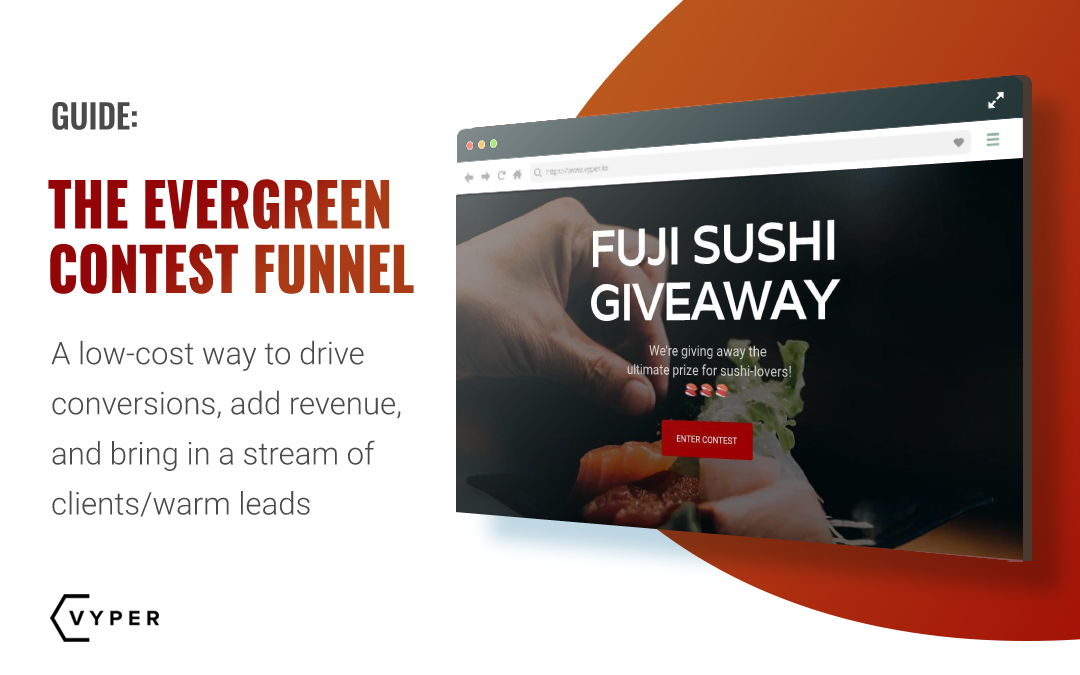 Learn more about Evergreen Contest Funnels from our Guide Here.
Sherpa Labor Day Giveaway (Instagram)
Entry Method: Follow Sherpa, Comment, and Tag friends to enter
Prize: UltraLift TikTok Leggings
Ideal for: Online Stores, Brands, or Influencers with Merch
Sherpa is a women's leggings brand that regularly promotes itself on Instagram. In addition, they are known for hosting giveaways on Instagram to boost engagement and grow their fanbase on the platform.
Sherpa took advantage of the Labor Day Weekend by hosting a giveaway on their Instagram account. Users were required to follow and engage with Sherpa.
This strategy allowed Sherpa to drum up some attention around their brand during a fun weekend. A weekend when people are focusing on other activities like sports games, parties, and parades.
Key Takeaways:
Another small giveaway that is relatively inexpensive, yet still effective in achieving the brand's goals. 
Sherpa gave away its own product. It can be challenging to find a suitable prize that will attract your target audience. Giving away your own product makes choosing a prize simple. 
We always recommend that online stores host a gift card giveaway. This will allow the winner (and participants) to take the time to browse your store.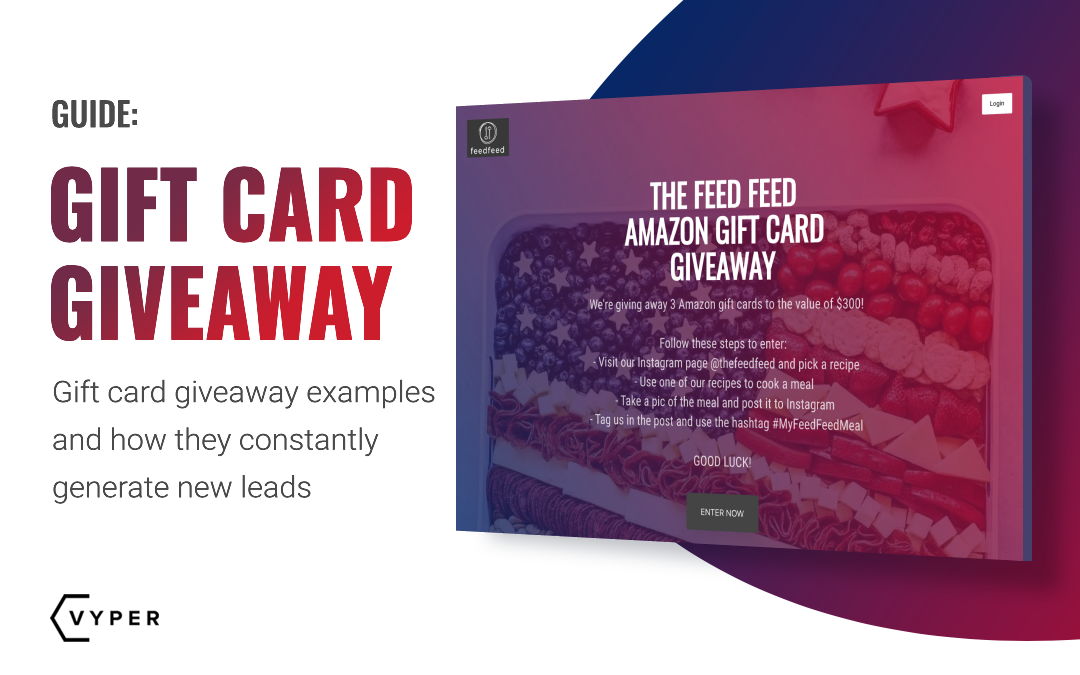 Learn how you can maximise your campaign results with our Gift Card Giveaway Guide.
BoxDrop Mattress of Hot Springs labor Day Giveaway (Facebook)
Entry Method: Nominate a person you think is deserving of the prize in the comments section of the giveaway prize
Prize: A queen mattress
Ideal for: Physical Stores with a Facebook Page
BoxDrop is a mattress store situated out in Hot Springs. They sell branded mattresses while promoting the brand with a Facebook Page.
Traditional brick-and-mortar stores can have trouble transitioning over to social media marketing. Giveaways are always a great way to stir up some excitement among local Facebook fans. Giveaways also help to grow the Facebook page.
BoxDrop gave away a Queen Mattress on their page and requested users to nominate someone in the comments of the giveaway post. This allowed giveaway entrants to type in heartwarming messages to nominate their friends and loved ones.
Key Takeaways:
This giveaway is a great example of how physical stores can market themselves on social media with a giveaway (or how they can host a giveaway online). 
The unique entry method makes for great user-generated content (UGC). Entrants have the opportunity to create a unique message to grab the attention of the giveaway host. 
The prize is substantial and will draw a large audience. However, a contest that requires something unique from BoxDrop's core audience.
Labor Day Giveaway Ideas with VYPER
The giveaway examples we found are great. However, we have some ideas of our own and more ways of improving your giveaway.
Here are a couple of giveaway ideas that you are free to use for your very own giveaway:
Weber Labor Day Weekend Barbecue Giveaway
Entry Method – Visit Weber Dot Com to enter
Prize – Weber Grills, accessories, or gift cards
Goal – Drive traffic to the Weber website
Weber is a brand that has been associated with barbeques for generations. Their lineup of grills is legendary and is regularly featured in many homes. 
Weber grills are also at the center of backyard parties and family grills. A common activity on labor Day Weekend.
Weber can host a giveaway before Labor Day Weekend. This is during a time when people will be planning their party and grilling activities. 
So, people will be conscious about grilling and will be even more enticed to enter such a giveaway. Weber can host the giveaway on their website to increase traffic during that period.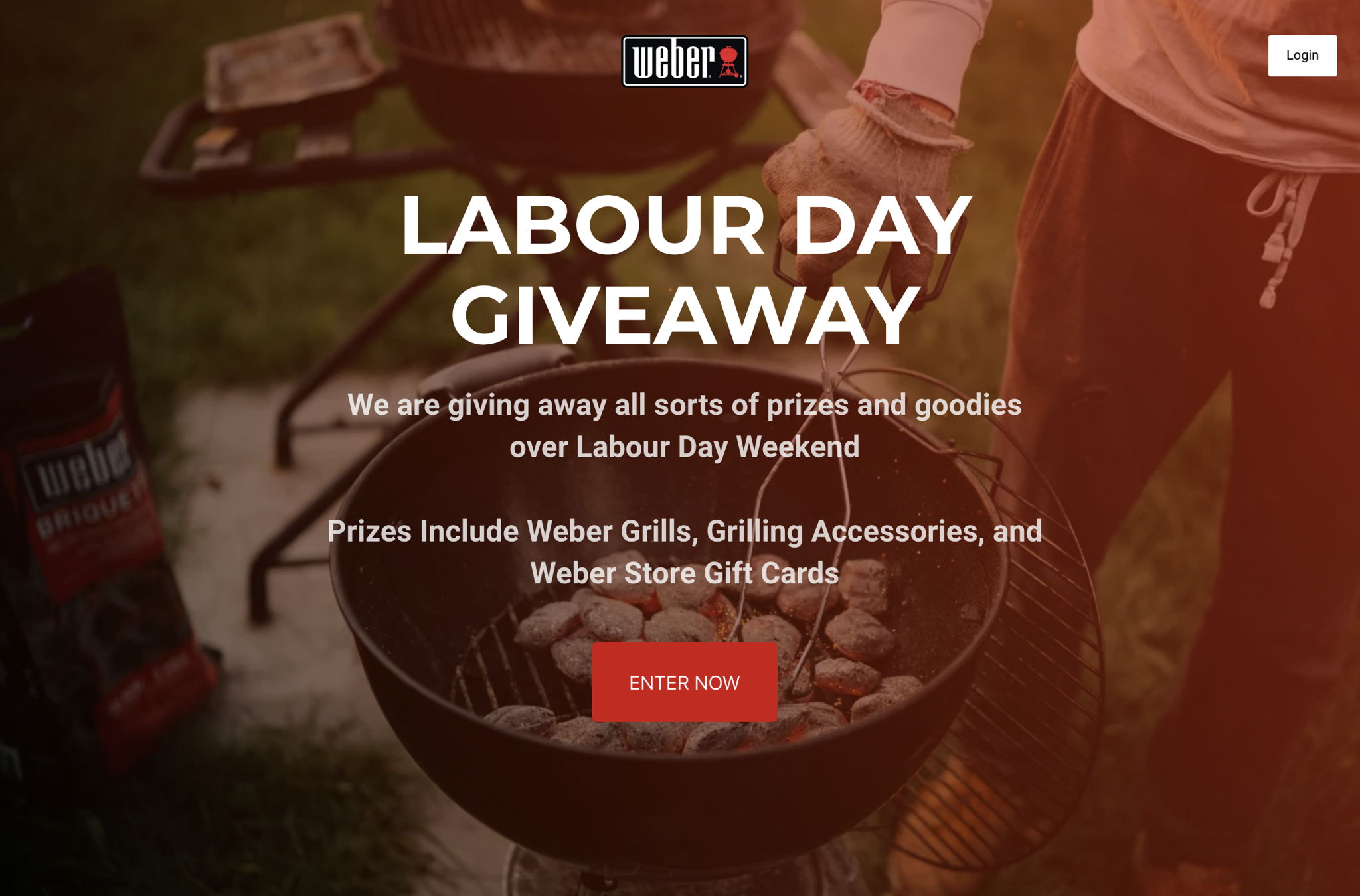 Benefits of this campaign:
This giveaway is relevant to labor Day, which helps to make the campaign more effective and appealing. Timing is always crucial when hosting a giveaway. 
When hosting a giveaway on your website, people will need to visit your site to enter. This means that the giveaway will cause a surge of traffic to your website. 
VYPER allows giveaway entrants to perform 'bonus actions' to gain points. You can reward users with the most points with prizes. Bonus actions can be anything from following you on social media to downloading your app.
Crocs labor Day Giveaway – Show Us How You Relax
Entry Method – Submit your picture to enter
Prize – Crocs online store gift cards
Goal – Increase website traffic, social media engagement, and user-generated content
You will either love or hate Crocs. Those who have owned a pair of crocs will tell you how they hate removing them! They are simply the best. 
Crocs are popular among the people that love them. However, the brand seems to be under the radar most of the time. A UGC Contest before labor Day can help stir up some excitement for the brand.
Crocs can ask users to submit pictures of themselves performing activities that help them to relax after work. The winner can be selected at random or social media users can vote for their favorite picture.
This can be a great opportunity to produce user-generated content, especially if you ask entrants to wear Crocs in their pictures.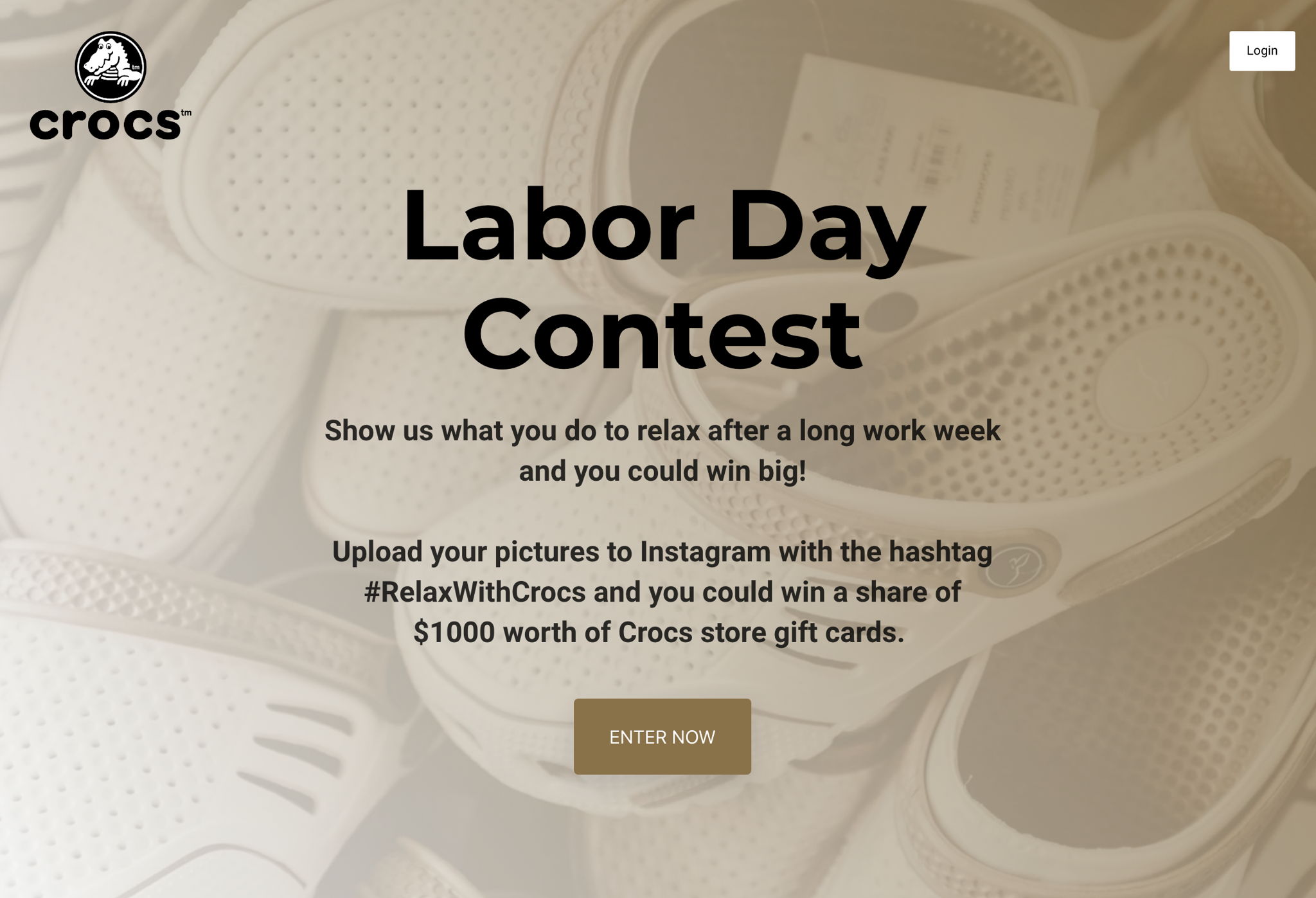 Benefits of this campaign:
Relevancy is crucial (as mentioned in the previous example), especially if you plan to tie your brand with a holiday. labor Day is a holiday to show appreciation to workers and to allow them time to relax. This contest works along a similar theme, asking people to share pictures of themselves relaxing.
Crocs can host this campaign on social media to boost their fans and engagement. Creating a hashtag and producing user-generated content is a nice bonus.
Giving away gift cards is an awesome hack for getting people to visit your store. Entrants to this contest will scan the Crocs store to find items that they can buy if they win a gift card.
The entry method of people taking pictures of themselves wearing Crocs is a great way to attract only die-hard Crocs fans.
Labor Day Giveaway Q&A
❓ When should I host a Labor Day Giveaway?
We recommend hosting a giveaway for at least 2 weeks. This gives you enough time to promote the campaign, especially through referrals. 

One option would be to host the giveaway two weeks before and announce the winner on Labor Day. The second option would be to announce the giveaway on Labor Day and announce the winner two weeks later.
❓ Should my giveaway follow a specific theme?
Labor Day is associated with the end of Summer. So an 'End of Summer Party' theme will work. Labor Day is also meant to honor the works of laborers. A giveaway that says thank you to all the hard-working people out there will be perfect!
❓ What prize should I choose to give away?
We recommend gift cards if your brand has an online store. Low-cost prizes, like clothing, mugs, etc. are good if you plan on hosting more giveaways. If your brand had a successful summer, then it would be great to host a big giveaway with a huge prize.

It's also a great idea to create a large prize bundle that is made up of a few small prizes.
TL;DR
Labor Day is a popular holiday weekend that usually coincides with the end of Summer. It is also a time dedicated to the hard-working people in the US and around the world. 
Many businesses see Labor Day as the perfect time to host end-of-summer promos, giveaways, and events. A Labor Day giveaway is also a nice gesture for brands looking to give something back to their fans.
Let us know what you will be doing on Labour Day in the comments below. 
Jack Paxton
Jack Paxton is the co-founder of VYPER, a marketing tool that helps brands build email lists, social followings, and revenue using viral giveaways, referral, and reward programs. After millions of dollars spent testing different marketing strategies at his marketing agency. He then also co-founded Hyax a fast, conversion & design-focused course and funnel builder for creators.