Selling candles online is a profitable business. This is because startup costs are low, manufacturing candles are relatively easy, and for the most part, you can market your candles for free.
Instagram is an excellent platform to promote and sell your candles. However, selling candles has never been this competitive, making it even more challenging to enter the market. 
But hold on, don't pack away your wax and wick just yet! This Instagram marketing guide holds the secrets to launching your brand ahead of the competition. 
We compiled a list of 9 ways to promote your candle business on Instagram. There are also candle-specific examples that will undoubtedly inspire you to take action. 
So what are you waiting for? Let's get started with the first strategy – Hosting a Candle Giveaway.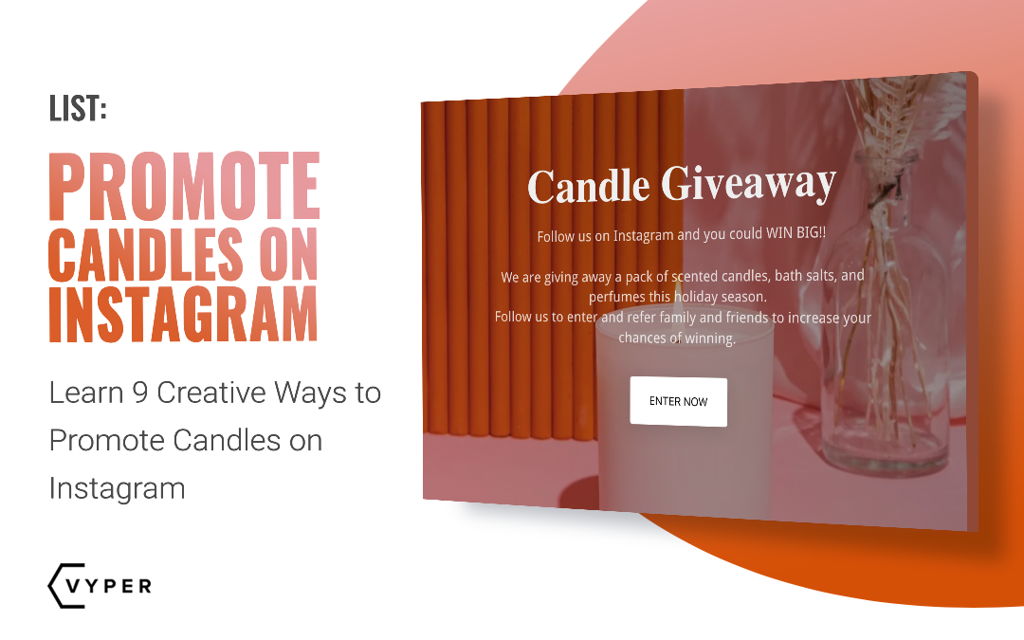 FREE DOWNLOAD: Get all Our Contest & Giveaway Marketing Guides, Checklists, and tutorials that have helped 100's of brands collect 15k+ emails in under 21 days!
1. Host a Giveaway or Contest
Are you looking for a surefire way to promote your candle business on Instagram? Why not host an Instagram giveaway or contest? 
It is an incredibly effective tactic for candle business owners to engage their followers, boost visibility and generate leads. 
Some tips for hosting a candle giveaway:
Whether you host a contest or giveaway, create enticing visuals and provide precise details. 
Include prize information, rules, and regulations. Your prize should be relevant to your audience. In this case, a set of candles bundled with other scented products is perfect. 
Keep tabs on your giveaways/contests progress by tracking the engagement as it unfolds. 
At the end of the contest, be sure to announce the winner and thank everyone for participating. 
Offering incentives such as giveaways and contests can substantially impact success in growing your business on social media. If done correctly, you can direct traffic to your candle store.
Want to host your very own Instagram Giveaway or Contest? We have an in-depth Instagram Giveaway and Contest guide to help you plan and execute a successful campaign.
Click here to learn more about Instagram Giveaways and Contests.
2. Use Influencers
If you want to promote your candle-making business on Instagram, using influencers is a great way to grow your reach and build a strong, engaged community. 
Influencers have an audience of potential customers who trust their recommendations and want to buy what they endorse.
Tips on working with influencers:
To find the right influencers for your brand, start by using relevant hashtags to search profiles and track conversations. 
Look into their content's quality and ensure they align with your brand values.
Create campaigns that feature your candles in their posts. 
You can get your influencer to host a giveaway for you. This way, the campaign will reach a larger audience. 
Reaching out to the right influencers and offering creative collaborations will help bring more attention to your business, allowing you to build a loyal fanbase that's passionate about using your candles.
3. Repost Photos From Your Followers That Show How They Enjoy Your Candles
If you're looking for a creative way to show off your candles on Instagram and engage with your consumer base, look no further than user-generated content! 
Reposting photos taken by Instagram users who buy and enjoy your store products are an effective marketing tool. 
UGC has excellent benefits:
Your fans create content for you. 
An increase in brand exposure as your products and branding is displayed in customer posts. This increases the chances of more users (that don't follow you) discovering your brand. 
More creative minds behind creating your content mean you can potentially discover some fantastic and unique Instagram posts. 
UGC is a great way to share your followers' enjoyment of your scented candles while showing potential customers how satisfied existing ones are. Plus, the fact that it came from them is a powerful endorsement of your products. 
Pro Tip: Host a UGC Contest that will help you produce a ton of UGC in a short space of time.
For a deeper explanation on UGC Contests, take a look at the excerpt (from Neil Patel's blog) below:

4. Post a Picture of Your Candles in an Interesting Setting
Posting images of your candles in interesting settings on Instagram is a great way to promote your candle store. 
This is how you can showcase your products in a real-world setting. Customers will get a good feel for how they would use your products.
Here are a few tips on taking candle pictures for Instagram: 
Set up the perfect lighting and ensure the products' colors stand out against your chosen backdrop. 
Use witty captions to tell a story with each post, which will help engage your followers. 
Incorporate some visuals of your candle store so that customers know exactly where to find them, and include relevant hashtags to get more views. 
After posting, remember to check in on the results by gathering insights into how many people engage with your content. It may be the best way to realize how much progress you're making toward reaching your goals!
5. Post Candle-Making Tips or Recipes
Crafting candle-making posts for Instagram isn't rocket science, but it does require a clever and creative mind. 
Think outside the box to captivate a target audience when creating candle-making posts – why not turn candle-making tips and recipes into a fun game or challenge?
There are so many candle-making methods and tricks out there yet to be discovered by candle makers around the globe. So why not share your knowledge with them? 
Think of creative ways to pair candle scents and colors
Document your candle-making journey while making something truly unique
Offer advice to help others create beautiful candles
Highlight questions from candle enthusiasts in your caption
Instagram is all about connecting with people, and what better way than providing helpful candle-making tips?
6. Share Pictures of Candle-Related Events or Celebrations
Sharing pictures of candle-related events or celebrations on Instagram is not just a way to light up your social media feed – it's also an opportunity to light up the faces of all those fellow candle lovers out there, sharing these special occasions with you! 
Whether you're sharing snaps of handmade scented candles, lighting a 6th birthday candles in honor of someone special, or sharing photos of a romantic evening with moody tea lights, make sure your photos are as bright and vibrant as their flame.
Pro Tip: Sponsor an event planner with candles. They can set up your candles at a fancy romantic occasion and take pictures. You can then share those images in a post. 
Here are more candle event post tips:
Use Instagram's many caption options to set the scene for viewers; experiment with creative captions and hashtags for maximum impact! 
Experiment with different filters and editing tools to enhance the mood of your pictures. For example, you can use a warm filter to add a cozy feel to your photos or use a vignette effect to draw the viewer's attention to the candles.
Take high-quality pictures that showcase the candles in a visually appealing way. This can mean using natural light to create a warm, cozy atmosphere or using creative compositions to highlight the candles.
You can use hashtags related to the event or celebration, such as #candlelitdinner or #candlemas.
And who knows, maybe the glow from those flame emoji comments will help keep things burning a little longer.
7. Create a Story Around Your Candles
As a small candle business owner, creating an Instagram story about the scented candles you sell can effectively reach potential customers and promote your products. 
Whether inviting customers to smell the heavenly scents of your newest fragrances or showcasing the craftsmanship of your designs, creating an enjoyable experience for viewers will increase your chances of engaging with them.
Tips for creating candle-related Instagram Stories:
Utilizing checklists, GIFs, and polls, in addition to beautiful images and videos, can help bring your Instagram stories to life. 
Show the process of making or using candles in your stories. This can include videos of candles being poured, lit, or used in different settings. This can give your followers a behind-the-scenes look at your candle-making process and add an element of authenticity to your stories.
If you're stuck on ideas, consider asking fellow candle-loving friends for advice! 
Whether you film in portrait or landscape mode, don't forget the most crucial part: share why customers should be excited about your handcrafted candles!
8. Collaborate With Other Brands 
Instagram collaborations offer significant potential for brands to reach new and interested audiences with creative content that hasn't been seen before. 
Working together on Instagram allows two brands to join forces, combining their resources and knowledge to create fantastic content for their followers. 
If you've ever wondered how two brands can collaborate on a post without wasting time and resources, the answer is simple: research, brainstorm, strategize, and take the plunge. 
The Candles Place, a community of candle lovers, collaborated with a candle maker brand by featuring their work in an Instagram post. This collab helped the candle maker gain exposure to The Candles Place followers and made for good content. 
Tips for collaborating with brands on Instagram:
Search Instagram for accounts similar to yours with a dedicated following of engaged users and an audience that could benefit from your brand's offering. 
Follow up with them and propose an idea or suggest something they'd like your brand to collab on. 
Don't forget to banter around ideas with great creative visuals, as Instagram posts often require well-executed images or videos. 
The proper Instagram collaboration can boost both brands' presence on Instagram, so find the perfect partner and start creating!
9. Use Creative Hashtags To Attract People Interested in Candles
When using hashtags to reach a broader audience on Instagram, it's essential to get creative! 
Hashtags such as #candlefessions and #candlescience make for witty and informative search terms for potential candle enthusiasts. 
To promote your candles on Instagram, use hashtags that are:
Specific to candles, such as #candleaddict, #candleobsessed, or #candlelover.
Related to the mood or atmosphere that your candles create, such as #candlelitdinner, #candlelightdinner, or #candlelightmoments.
Unique to the events or occasions for which your candles are suitable, such as #candlelitwedding, #candlelitbirthday, or #candlelitchristmas.
Representative of the ingredients or scents of your candles, such as #soycandle, #beeswaxcandle, or #vanillacandle.
Let your followers share their sensational stories using #smellingthefuture, or spread the spark using #lighttheway. These creative and unique hashtags will help position your brand as an influencer in the candle community!
TL;DR: Promote Candles on Instagram
Selling candles online is a lucrative business. Startup costs are low, and you can promote your candles effectively on a platform like Instagram. Instagram is one of the best social media platforms to sell homemade candles.
Instagram is a visual platform that allows you to tell your story through Pictures, Videos, Reels, and Stories. Brands use these tools all the time to promote and sell candles. The best part is that you can achieve a lot for free!
We covered 9 ways for your brand to promote your candle business on Instagram. Now go ahead and try these strategies out for yourself! Remember, give your marketing efforts some time before they begin to materialize.
Let us know how it goes, and please share your own tips in the comments below.
Jack Paxton
Jack Paxton is the co-founder of VYPER, a marketing tool that helps brands build email lists, social followings, and revenue using viral giveaways, referral, and reward programs. After millions of dollars spent testing different marketing strategies at his marketing agency. He then also co-founded Hyax a fast, conversion & design-focused course and funnel builder for creators.