Reddit is a magical place. It's a place where you can get a lot of traffic for nothing except your time. Reddit gets 150 MILLION page views per month, so needless to say you can get TONS of free traffic.
At the same time, Reddit is one of those places where self-promotion is very frowned upon. Any kind of marketing is frowned upon unless you put a VERY detailed and delicate touch to your posts. If you learn how to do that, you can promote your stuff without getting your posts deleted and without getting banned.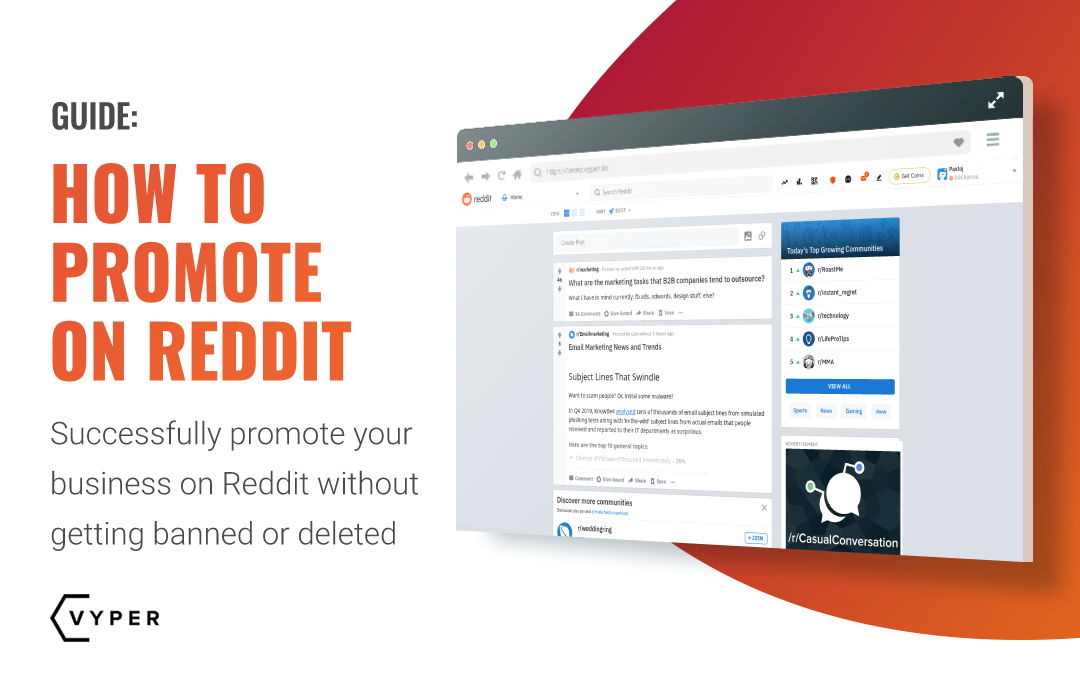 After you finish reading this, check out our follow-up on Reddit strategies.
FREE DOWNLOAD: Get all Our Contest & Giveaway Marketing Guides, Checklists, and tutorials that have helped 100's of brands collect 15k+ emails in under 21 days!
I've gotten my stuff deleted many times in the past. I can't even tell you how many times I've gotten messages like the one below.
If you're new to Reddit, you need to first familiarize yourself with Reddit's rules and the platform. This is probably one of the harder parts of promoting with this channel because it's like its own society with its own rules and markup language and lingo.
This blog post by Mashable gives a great overview, so please take a read and learn the ins and outs of the platform before you try to utilize it or promote landing pages from your own site.
And note that Reddit is a LONG TERM channel. It's not something you can just do quickly. So don't expect to master Reddit marketing overnight just like you can't master Facebook ads overnight. Any channel that is worth it will be a channel that requires hard work, dedication, and a lot of trial and error.
But once you've become an adopted member of its society, you can really leverage it for tons of traffic. Here's a quick step-by-step rundown of how to make it work. Download: The Quick Guide to Reddit Promotion: Get all the content from this blog post as well as extra bonuses in this awesome PDF guide. FREE!
1. Spend a whole month just posting on subreddits related to your niche, and get 50+ karma.
There's a subreddit for every topic. A lot of times there are multiple subreddits. Find the ones related to your brand and start getting as active as possible. Look for subreddits with over 50,000 members, as these will get you the most bang for your buck. If your niche doesn't have any of these subreddits, then just look for the ones that are as active as possible.
You need to get some karma so Reddit knows you're not just on there to plug your thing and leave. Karma happens when you contribute meaningfully to discussions on the platform and it's a very organic thing. So don't just go on there and post one-word answers. You need to provide as much value as possible. What I like to do is to go into subreddits where I know a lot about the topic (like /r/entrepreneur) and just answer all the questions with deep meaningful answers.
I've read a lot of posts on the web that karma doesn't matter. Actually, it does. The more karma you have the more legitimate your account seems and it'll prevent users from posting stuff saying you just came in here to spam your link and then leave.
So DO try to get some karma, however, you don't need thousands of karma to make it work. Once you've got some karma, maybe like 30-50ish karma, you're ready to actually promote your stuff.
Also, note that during this time there should not be a HINT of marketing at all in your posts. Just contribute as much as possible to the community and really learn the ins and outs of every subreddit. Note the patterns of what gets upvoted to the top, what gets downvotes, what elicits a negative reaction, and what elicits a positive reaction.
2. Befriend mods/admins with an incentive, then ask them to post for you.
Go to the mod list which appears in every subreddit (usually appears in the bottom right corner of every subreddit). Direct message some of the guys on there and tell them that you've been an active member and ask VERY NICELY if you can promote.
Remember, it's all about positioning. Something like the following should do the trick.
Hey ___,

I've been active on the subreddit for a while now, and it's been a blast. The community here really supports each other, which is rad.

Before I just post something that's a little bit promotional, I wanted to ask you if it's okay. It's a giveaway of my brand <XXX> and it's super relevant to the <XXX> subreddit. If it's okay with you, would you mind if I posted it? Wanted to get the okay from you first because I hate blatant spam myself.

Anyways, it's been a blast contributing to this subreddit and I look forward to more awesome discussions.
For an old e-commerce company I founded and sold, Winter Lotus, our team became friends with the moderator of /r/streetwear and even became a customer at his store in order to solidify our relationship. Best $50 ever sent. He posted our site on the sidebar and that generated tons of traffic for us.
Getting mods to post FOR YOU works really well because the subreddit trusts them and their post is worth 10x of your own post. After the first email, you should ask them to post your contest for you and say that you're willing to give the mod a prize in return for this. Here's a sample message you could send:
Awesome! You rock. Before I post it though, I was wondering if you were open to posting it for me in exchange for a copy of the prize yourself? The community trusts your word so much more, so I'd be happy to give you a lifetime pro version of VYPER in exchange for that endorsement from you. Our contest can be found here: http://vyper.io/c/6
3. If you can't get mods to post for you, then you'll have to do it yourself.
There's always a chance you're going to get deleted, so make sure what you're posting isn't violating subreddit rules. Some subreddits (like /r/startups) are super strict about self-promotion so I try to do as little of it as possible in those groups. Instead, find groups that are more lenient with their policy.
Here's an example of what you could post:
This worked because for a couple of months, Winter Lotus had been extremely active on the Reddit subreddit and the community was very aware of them.
Giveaways are great because you're giving away something for free. Instead of just telling people to buy your product, giveaways give them an incentive to engage with your brand without being too salesy.
BeardBrand regularly hosts giveaways online. They promote their giveaways on all of their social channels and on Reddit. When it comes to Reddit, BeardBrand posts the giveaway image on Imgur and then shares that image on various Subreddits like r/giveaways.
4. Get upvotes from friends, but don't overdo it.
Make sure you have a group of friends that will upvote your post right after you post it. Without an initial bump right after posting, it becomes hard for your post to make the front page. Upvoting rings are discouraged on reddit, so don't do it on a mass scale, but it's pretty common practice to get a few of your friends to upvote your post right after you've made it.

Reddit Giveaway Ideas
Its not always common to host giveaways or contests on Reddit. Brands prefer to host campaigns on socials because of the feedback they receive on those platforms.
That being said, there isnt anything stopping you from hosting a giveaway on Reddit. If done correctly, your campaign will attract a targeted audience from the subreddit you choose to host your campaign on.
Here are a few ideas that you can use to host a Reddit giveaway:
r/Funny Contest
Reddit's largest humor depository is home to 40 million Redditors. Users post funny images, memes, comic strips, and more.
Hosting a Contest in r/Funny is an excellent idea. Users can submit content to the subreddit to enter. The user with the funniest post wins!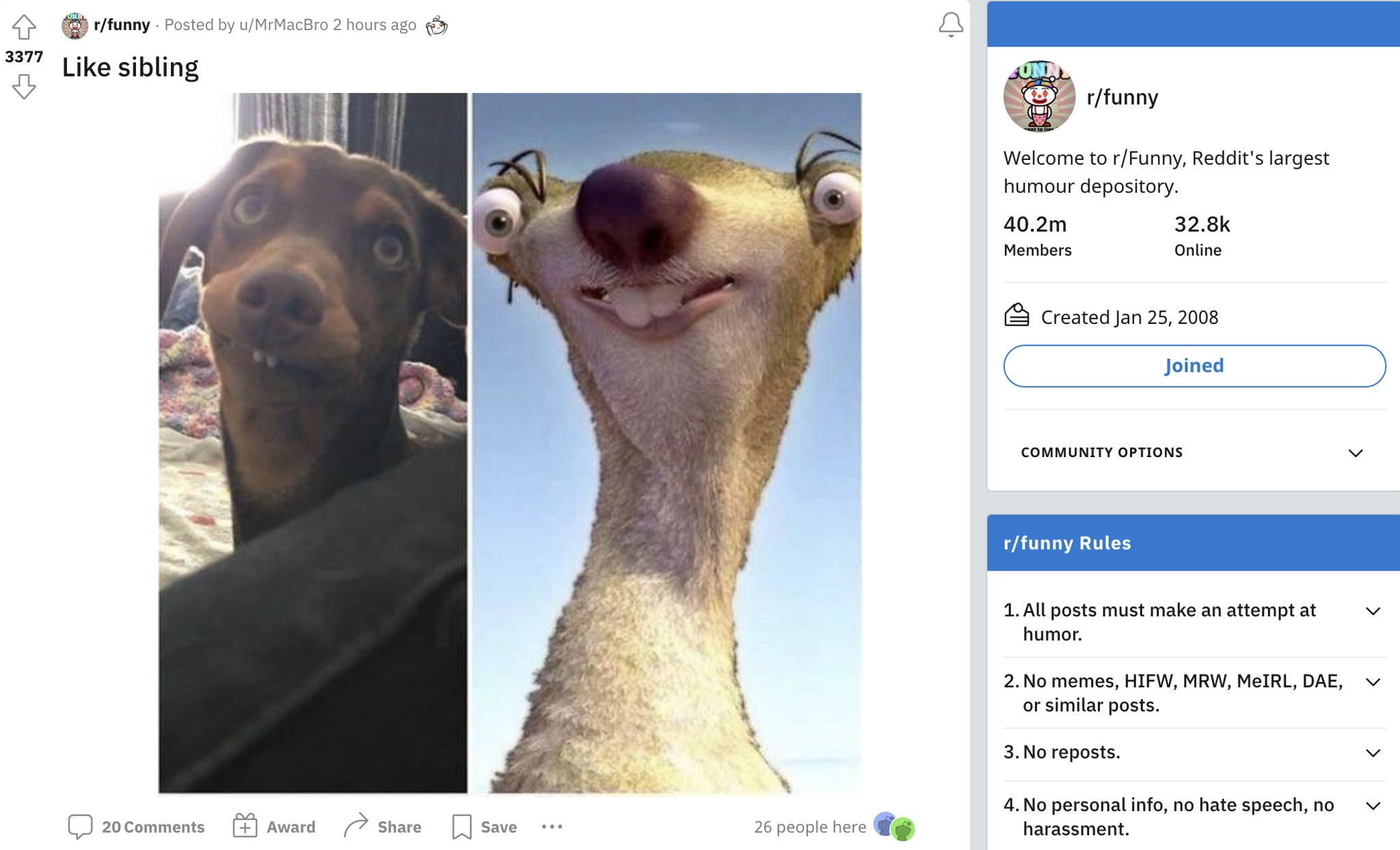 Show Me The Funny Reddit Contest
Prize: Reddit Coins, entertainment media like Blu Ray's, or Streaming service subscriptions
Ideal for: Influencers, online stores, or entertainment brands
Target audience: Reddit users in r/Funny (or the subreddit that hosts the contest)
Entry method: Submit a funny post
For example, a comic book store can host this contest on r/Funny. The winner gets a 6-month membership to Disney+.
Users will be required to submit funny comic strips to enter. This will keep things within the comic-book niche. To spice things up more, you could ask users to draw their own comics.
NB. Such a campaign can be hosted on other subreddits, as it's not exclusive to r/Funny. You can also choose to promote/host the campaign over socials and then post it to the relevant subreddit community feeds.
Just make sure you have permission from the moderators to host your campaigns on their subreddit.
r/Fashion Giveaway
r/Fashion is a subreddit that is focused on fashion news, design, and clothing. It has over 300K members and is the ideal community for fashion-conscious Redditors that want to stay up to date with the latest fashion news.
A fashion giveaway hosted by a brand or online store on r/Fashion is a fantastic idea. Users can simply submit their email addresses to enter.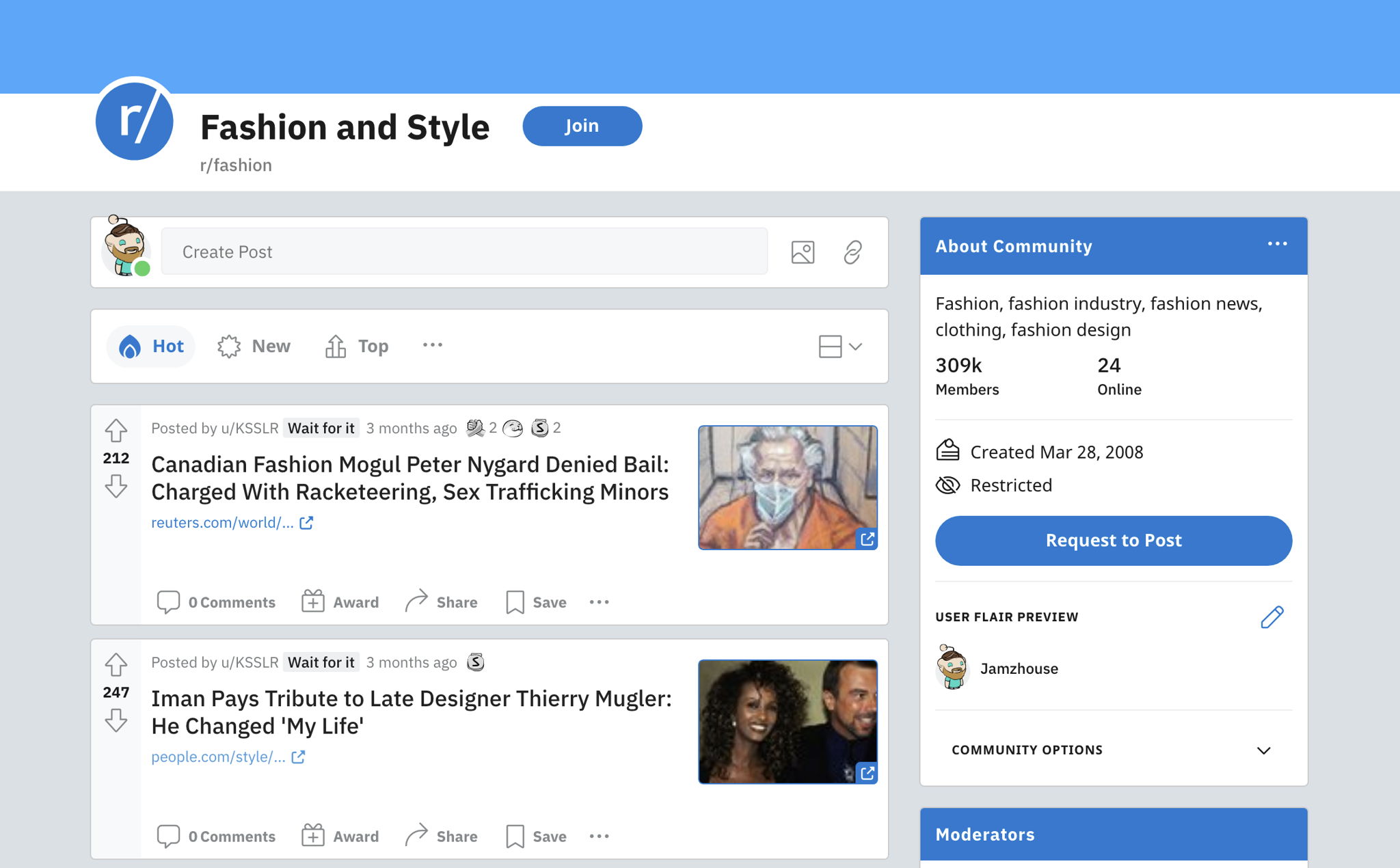 New Outfit New You Giveaway
Prize: Store Gift Voucher, Outfit, or selected clothing
Ideal for: Influencers, online stores, or clothing brands
Target audience: Reddit users interested in fashion
Entry method: Submit your email address to enter
Online stores and fashion brands have plenty to gain from giveaways. They can build their email list, drive traffic to their stores, and more. They can achieve this with a giveaway on Reddit.
Online stores can simply host a gift card giveaway. This will help people to discover the brand and its store.
Promote on Reddit Q&A
❓Can I share my giveaway on any Subreddit?
Subreddits are communities of Reddit users that take years to build. These communities are highly focused on specific topics and don't take kindly to users that post content that deters from the topic or is self-promotional.

It's best to contact a moderator to ask for permission to promote your giveaway on their subreddit first before you do so. You will have to prove that your giveaway is relevant or valuable to the community.
❓Does Reddit allow you to host giveaways?
If your brand is a part of a specific Reddit community (subreddit), then you will have few issues with hosting your giveaway on Reddit. 

If you find that Reddit doesn't offer the right tools to host your giveaway, then you can use VYPER to host your giveaway. Then simply promote on Reddit by asking users to follow the link to your giveaway landing page (created with VYPER).
❓Can I promo my giveaway on multiple subreddits?
YES. However, you should not just post links to your giveaway in any random community. This can constitute spam to moderators who will ban you. 

It's best to follow our guidelines to promote on Reddit before you post to multiple subreddits. For example, build your Karma, become a voice in a subreddit, get permission if possible from moderators, etc. Then try creating a giveaway post. 

You could also try posting a link on some subreddits asking users to review your giveaway or advice on promotion. However, this can also quickly be seen as spam by the community.
Other Tips To Promote on Reddit
Each subreddit responds to different things. I noticed /r/entrepreneur really likes long case studies. I noticed /r/startups doesn't like blog spam, so if I ever post there I always post the entire contents of my blog with links out to other content. Some subreddits only like images through Imgur. The list goes on.
If you get no traction on your posts, STUDY the top posts in your subreddit. See exactly what they're doing and try to replicate it. This is why I know that case studies work for /r/entrepreneur
Use Reddit Converter to turn your blog posts into Reddit formatting
Make sure you're keeping track of time vs reward. This is why I advise you to focus on the bigger subreddits to really gain traction within their community and befriend the community heads. On the other hand, you can do more of a "spray and pray" approach to smaller subreddits because it then becomes a quantity over quality approach. Expect to get some posts deleted, but continue being as genuine as possible and you'll get a few posts to stick (especially in less strict subreddits).
Giveaway something! We recommend using our service VYPER to get more from your giveaways.
Go on social media listening to join real-time online conversations and interact with Redditors. It really helps when you're in a crowd marketing or promoting your brand regularly.
We always recommend using email marketing to promote your giveaways. If your giveaway is gaining traction on Reddit, then you can send an email out asking people to visit your giveaway post on Reddit.