See how this photography software company generated 44,853 new emails, 14,206 new followers on YouTube, Facebook & Instagram, 13,105 social shares, plus 3,973 new trial accounts from a single social media contest.
Replicate this campaign and similar results for your business!
Topaz Labs is a photographer's toolkit that allows AI-powered image editing. They generated 44k new emails, 1k user-generated stories, and many more. Keep reading to find out how they did it!
The email list is one of the most important assets an online business can own, but in today's landscape, you also need a strong following on social media. Together, you create an amazing combo of warm leads to convert to paying customers.
Social proof not only creates an audience that you can sell to, but it also proves legitimacy, makes your company approachable and helps your customers decide whether or not to buy from you.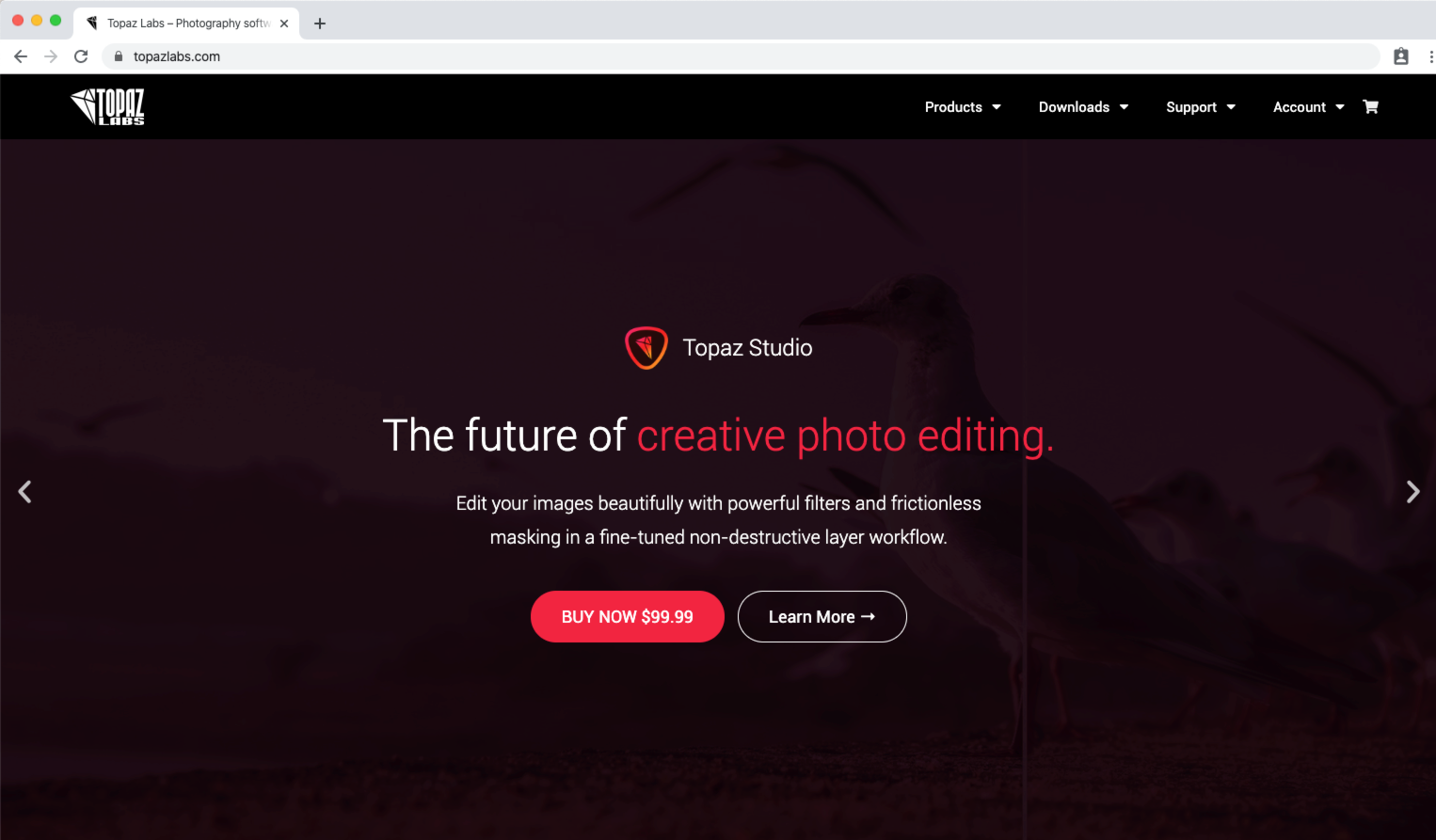 The goal was to build the email list and use a social media contest to boost account following, increase social engagement, and lower CPMs on ads!
The photography niche is a tough one. Popularity, authority, and quality are all very important if you are planning to capture the attention of shutterbugs.
Getting thousands of likes, shares, comments, and tagged friends help to boost your popularity. These were the main metrics that we planned to "gamify" in the Topaz Labs' social media contest.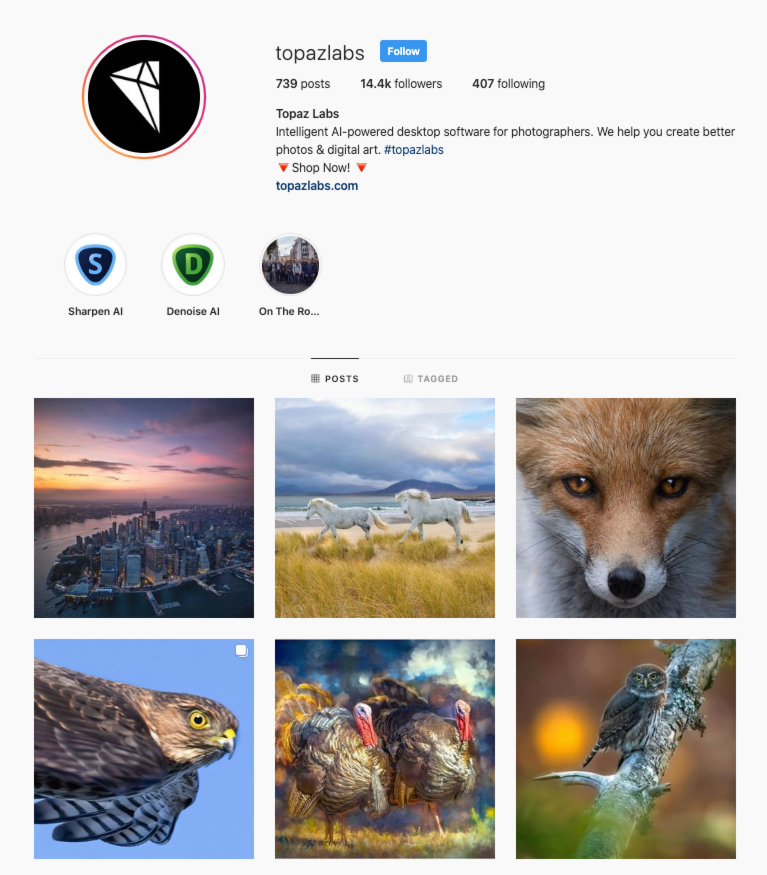 Topaz Labs was founded in 2005 and has spent years building and perfecting AI image editing. Their suite of software helps photographers and illustrators produce high-quality images.
They strive to make the finest photo editing experience you can find. It's a marriage of technology, usability, and overall experience that allows Topaz Labs to work so well.
To achieve these amazing image editing results, they continuously improve every aspect of their business, from our customer support to website design, to product and technology improvements.
They firmly believe that the only way to create great products is to learn and constantly improve upon them, so they release constant updates that enhance the functionality and usability of the software.
Topaz Labs target audience
The brand's target customer is pretty obvious, the photographer. Now, this can be broken down into many segments. Professionals who need next-level editing, but also the hobbyist who are taking wildlife, landscapes, or portrait photos and just needs a 1-click enhance option.
Marketing tactics they employ
Leverage social media sharing.
Focus on the share and tagging features on Facebook & Instagram.
Use great images to show the quality of the product (before & afters).

Run a social media contest while still generating emails for remarketing afterwards.

Use the contest to boost Facebook ad engagement.
TOPAZ LABS FACT SHEET
Type → eCommerce Software
CMS → Custom Build
Founded → 2005
Industry → Photography
Campaign Type → Social Media Contest
Website → TopazLabs.com
First contest with VYPER but plan to run 1 a quarter for events, sales, and promotions.
A few standout facts that make this bran  successful (you can take some of these points and apply them to your store):
Constantly improving their product.
Showing how their product works and amazing results.
Keeping up with their niche and building products that meet its demands.
Built a huge amount of customer reviews on Trustpilot.
HOW TO RUN A SOCIAL MEDIA CONTEST
The strategy of using a contest to build an email list is nothing new. Large brands have been using this tactic for years. Where Topaz Labs really excelled was how they were leveraging their contest with social media ads.
A number of things had to take place for this brand to generate over 13,105 social shares and engagements. Setting up the contest, running, and marketing the campaign was another thing.
We will be diving deep into how Facebook and Instagram ads were used heavily in this campaign to generate all new email leads. Less than 400 of the emails collected from the 44,853 were already on the Topaz Labs emails list. Yes, not promoting this to the brands existing audience was a huge missed opportunity, but more on that later.
Here's a quick overview of what you're going to need to generate tens of thousands of emails, followers, shares, and $$$$$ using a social media contest.
🚦 THE CHANNEL
A few things are super important when running a social media contest. Choose 1 or 2 of your main social channels to focus on. Usually, Facebook, Instagram, Twitter, LinkedIn, etc.
When you use VYPER to create your contest you can make "bonus actions" around those channels. Keep reading to learn more about this.
🎁 THE PRIZE
Understanding the consumer in this contest was crucial. Choosing to give away a drone, a photographer's backpack, and their image editing software made sure that we were only attracting the right people.
The prize value also has to be aligned with the commitment you are asking participants to make. If you are asking for their email, to follow you on social, refer you to their friends, they will only do that if the prize is worth it.
😍 INCENTIVE
People don't do things for free, so you are going to have to motivate them. One way that you can do this is by using a points system. This was crucial in the success of this contest as it motivated people to complete actions like (referral, shares, followers, etc.) to collect points.
⚡️ SHARE & TAGS
One of the most important metrics, but underrated is the share and the tag. As a brand, you will want to have others recommend and introduce your brand to new people. Forcing your brand on people with ads and your own posts/emails are not as powerful as a recommendation or referral from a friend or coworker.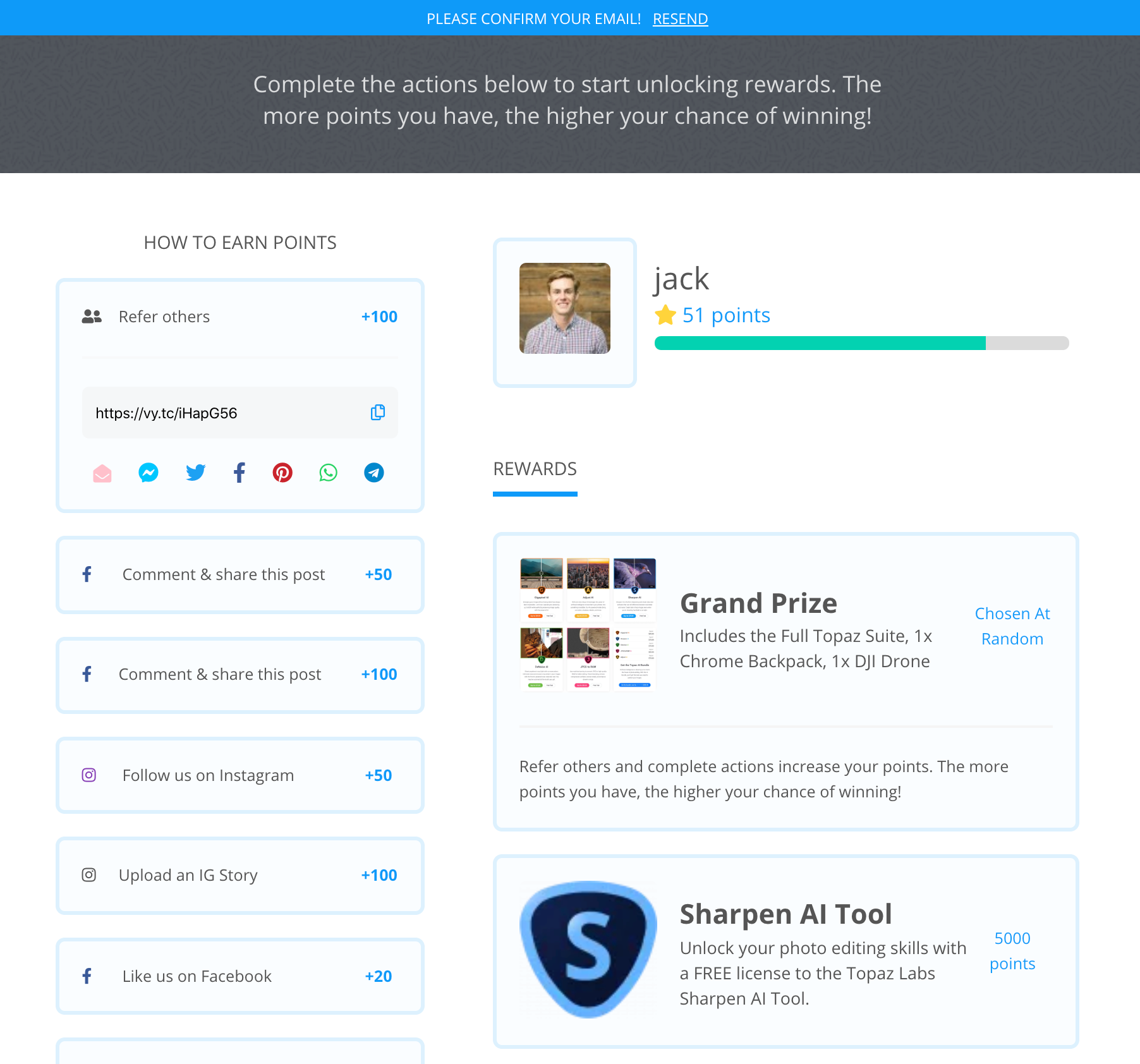 Above is an example of how to use gamification and incentivization with a points system, this is one of the main points of differentiation when you run a social media contest on the platform or with a 3rd party tool like VYPER.
By using this thank you page, we were able to turn that 1 sign up engagement into a follower, ambassador, engager, and email lead.
With giveaways and contests run on the social platform, there is only the option to tag, like, comment or share once. This limits the opportunity of how "viral" you can make your campaign.
Below is an example of the contest post that we incentivized people to engage to attract others.
This introduced the contest to a much larger audience more naturally instead of paying for ads.
⚡️
WANT TO CREATE A SIMILAR CAMPAIGN FOR YOUR BUSINESS?
Check out VYPER for free or sign up to a live webinar to see how the tool works and all ways you can use it to build contests, giveaways, sweepstakes, leaderboards, and reward programs.
Build your email list & website traffic
Increase social followers & engagements
Improve your paid ads social proof
Incentivize sharing + referrals
Collect user generated content
Have multiple reward types (milestone, placement, and random selection)
Generate reviews & feedback
BUILDING A SOCIAL MEDIA CONTEST!
It's important to make your contest easy and seamless to enter. Load times, ease of entry, landing pages, widgets, etc. can all make a huge difference in results.
Topaz Labs used the VYPER landing page to keep it easy, fast, and to the point. It does not take a huge amount of design skill or experience to make something that is easy for the consumer to understand.
Take a look at the live example here. You will notice a few things that really helped improve the conversion rate which we will go into below.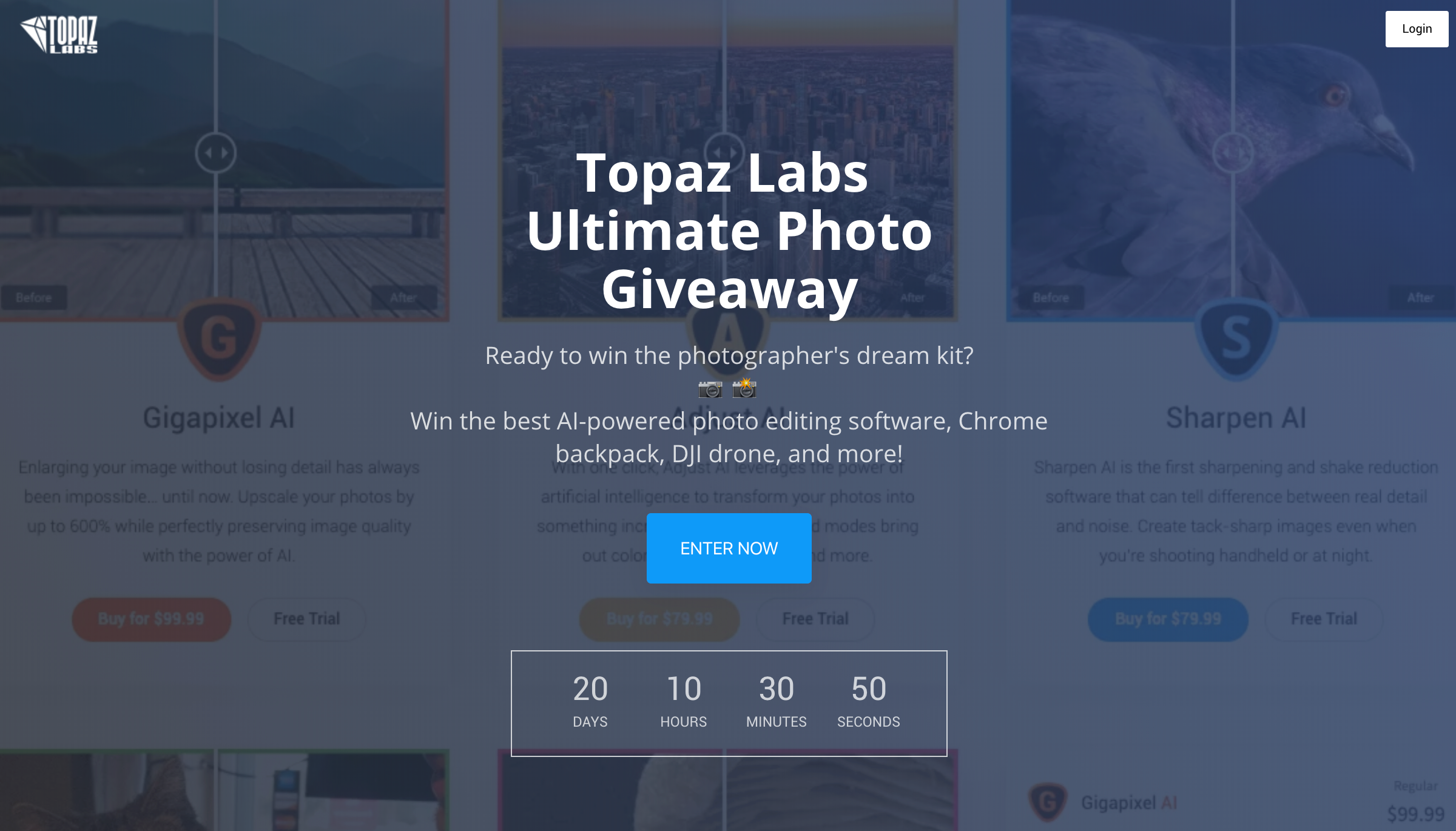 Some of the most important factors on a landing page, not just for social media contests, but in general are:
A countdown timer to create urgency
A clear CTA button (make it the only action)
Consistency in spacing, colors, fonts, etc.
Show or list rewards on the landing page (this gets people excited)
Attention-grabbing header image (use overlay for readable text)
To see more information on choosing what type of giveaway or contest you can run for your brand or business, check out this guide. If you know Facebook is your top channel, here's how to run a Facebook specific giveaway.
You can see from the video and demo page that they kept the value proposition basic. They had a great prize that spoke to their target market and attracted the right people.
What do your ideal customers like doing while using your product? Is there a complimenting product they like? Is there a specific place they use your product?
Create a clear prize with a high perceived value and paired it with clear instructions on how to win it. Simplicity goes a long way.
Below are 5 key conversion aspects of the contest building process you need to focus on to get the best possible results from your hosted partner giveaway.
🎁
PICK THE PRIZE
Brands that run giveaways and contests with prizes that are aligned with their target customers usually do a lot better. The reason being is that you want to attract people who could eventually buy.
Some brands make the mistake of offering irrelevant prizes and attracting freebie seekers. So make sure you choose a relevant prize!
🎥
LEVERAGE VIDEO
A picture or video will do a much better job of explaining the value of your product and prize. Make sure you have some nice images and videos that show off your product, it's value, and encourages people to participate.
📱
OPTIMIZE FOR MOBILE
Most people will be entering your campaign on mobile, so here are a few things that are crucial. Does your landing page look good on mobile? Do links open up in apps natively? Does the page load FAST? Choose a platform like VYPER that does all that.
∞
MAKE THE LOOP
Making a referral system loop is the golden goose. Getting entrants who refer 10 people, then those 10 refer another 10, and so on and so forth is the dream.
That's why you want to use a 3rd party platform like VYPER. Each entrant gets their own unique referral URL and their own dashboard, which gamifies the process of referrals.
Once you have created the contest page or widget, make sure to share it with a few co-workers and friends to see if they understand the campaign and see the value of participating.
Once they understand the value you are offering, it is much easier to ask them to enter your contest, share your brand's content, engage with your social content, and refer their friends.
Before you launch, think: Does the effort = the value of the reward?
For example, people will not spend 2 hours trying to win a $5 gift card!
MARKETING A SOCIAL MEDIA CONTEST
Marketing is a key success factor in most viral campaigns. Below are some execution strategies that you can copy to improve your results.
As with most things in life, you get out what you put in. Yes, the type of contest campaign we are using has automation and viral factors built-in, but you still need to jumpstart the motor.
Understanding that a seed audience is required to get the ball rolling is important. If you do not have a current audience to promote to–don't worry, there are still a few options.
Some of the more common marketing options are Facebook and Instagram ads, partnership giveaways (with other brands or influencers), leveraging groups or communities, and the old school hustle.
Don't forget to announce the giveaway, contest, or referral program to your immediate audience! This includes your email list, social following, website visitors etc!
In this case study, Topaz Labs leaned heavily on Facebook ads to scale the results of their contest and reach a new audience.
The main tactic used to get so much reach and $0.29 emails leads was creating a few Facebook posts, but using them in many ad sets to target and test different types of interests and demographics.
The first step was to create a Facebook post about the contest, then take that post and turn it into an ad using the "existing post" option. Once the ad and ad set were set up, it was duplicated out to many audiences for testing.
The key success factor was that all those separate ad sets with different targeting all sent traffic to the same post, which built up the social validation. See the social validation we built up over 5 ads: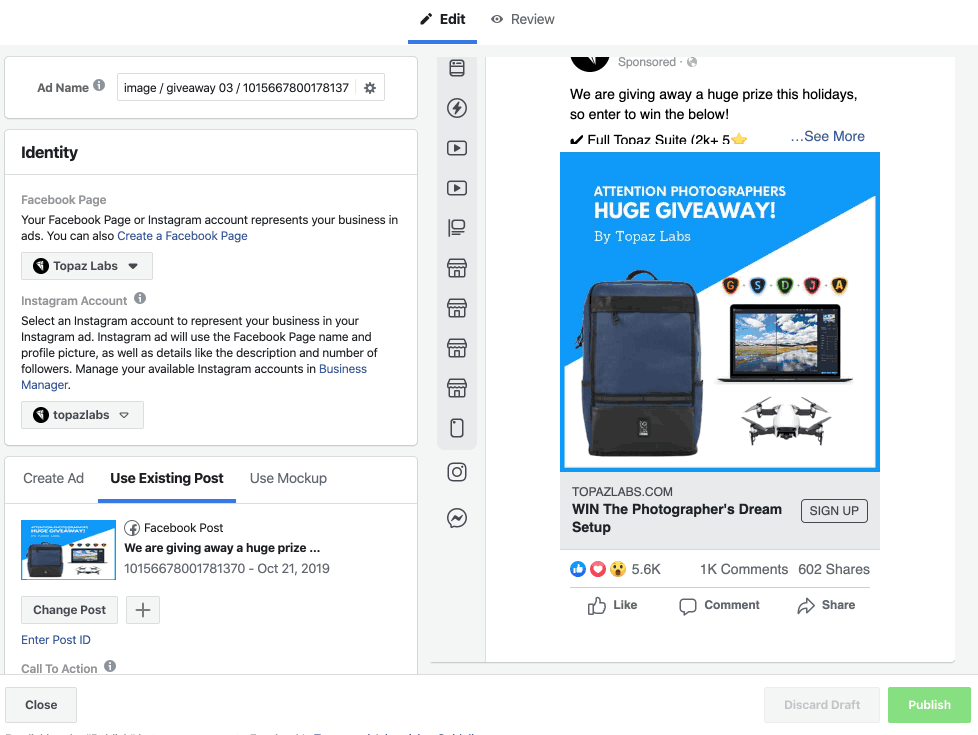 In the below windows, you can see the structure of our campaigns. The trick is to use those same 5 ads shown above across all these audiences to pool that social validation.
But using existing posts will not get you all that social engagement, and you still have to pay for it. The reason we got thousands of likes, shares, comments, and earned impressions is because we added "bonus actions" in the VYPER contest to incentivize people to like, share, tag, and comment on our ad posts.
This strategy can be used on any channel. This example is just for Facebook as that was Topaz Lab's top channel.

⬆️ Above, you can see the metrics for the top of the funnel contest campaign. This campaign is optimized to the "lead" pixel event to optimize signups to the contest.
We tested multiple audiences to try and find the cheapest cost per lead (CPL). The campaign averaged $0.21 per email sign up.
The beautiful thing about a VYPER contest is that 1 email lead turns into a referral advocate, social follower, engager, and possibly customer.
⬇️ Below are the secondary metrics that make running ads to a contest very effective. This section is going to get a little geeky.
The cost per click (CPC) is by far the lowest ever run in this Facebook ad account, the click-through rate (CTR) is the highest and cost per 1000 impressions (CPM) very low for an account that averages $15-20 CPM.
All of these factors lead to Topaz Labs being able to acquire leads at $0.21. 
Even better is that Facebook sees these amazing metrics and rewards us. Ads that show high engagement and goal/conversion competitions get rewarded with lower CPM's.
This makes our cost of traffic much cheaper, which allows us to acquire more for less. 

⬇️ Below are the overall Facebook ad account stats from the VYPER managed services with Topaz Labs. It shows the total spend and revenue, as well as how we generated all these amazing case study results using giveaways and remarketing.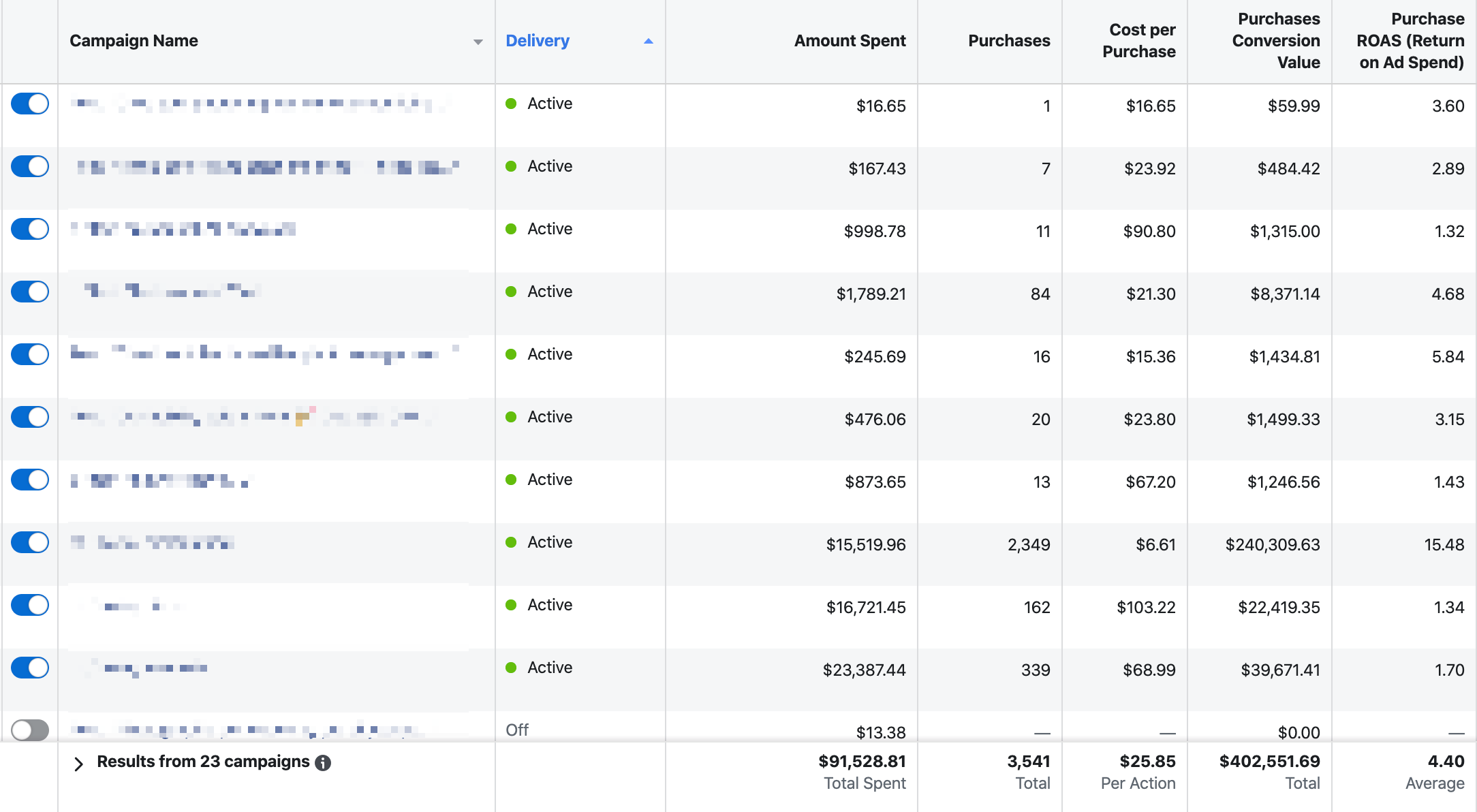 You can see the importance of building social validation and using contests for top of the funnel awareness, traffic, and leads.
All of these new potential customers will be nurtured and converted over the following 6 months. It's a huge mistake a lot of marketers make when looking at the short term and not the full funnel. By looking at the big picture, you can scale your brand a lot faster.
Here are a few other marketing strategies that contributed to the success of this social media contest below.
GROWTH ACTION #1
Leverage your existing audience
The current people who are connected to your brand are much more likely to engage, share, and connect with your contest/campaign, so make the most of it.
A lot of people worry about overlap and giving prizes to existing customers and not new ones, but that's the wrong attitude. Your current followers all hang out with friends, family members, or co-workers who are all similar to themselves, so you want them to introduce your brand to those people.
Share your contest to your social channels, email list, groups, and communities.
GROWTH ACTION #2
Using groups and communities
The internet is full of communities that have passions. They drill down to Facebook groups, subreddits, forums, group chats, etc. 
These are a fantastic place to promote your contest, but there are a few things to do first:
Join the community 1-2 weeks prior to your campaign going live. Add value and engage with the community, become known, and create some discussions. Then connect with the moderators or admins. Once your campaign is live, pitch to share the giveaway or contest in the group to the admin. 
If they are not willing to do it for free, there is always the option to pay with $$ or a favor. 
GROWTH ACTION #3
Conversions from the comments
Conversational marketing is here to stay, like it or not. Brands are having to become more responsive online and engage with leads and customers.
You can turn this into an advantage, though. Answer questions, create conversations, link to your website for answers.
Not to mention, this is a great place to ask for feedback and learn what your followers like and dislike.
GROWTH ACTION #4
Leverage video and stories
Posting to your social media accounts is great, but you can't post the same thing every day. It starts to get a little old and annoying. Try and post the contest to your wall/feed every 2-4 days (this will also depend on the social channel/platform).
Topaz Labs used video extremely well in their ad campaigns that you saw earlier in this post. Making the content more interesting, eye-catching, and value-driven will get you more conversions. Take a look at some of these ad examples.
GROWTH ACTION #5
Maximize the opportunity to share
It's important to get as many shares and referrals as possible. This is by far the most effective way to scale your contest. A few ways to do this are:
Have steps on your landing page on how the contest works
Add messaging on the thank you page to remind people to share
Add a reminder to share in all emails
Run remarketing campaigns on Facebook etc. to get people to login and share
Send update and engagement emails every 3-4 days
There is a lot we can learn from the marketing tactics and results that Topaz Labs generated from their VYPER contest. It's a good idea to compare the time and effort put into generating 44k emails, 14k followers, and 4k trial accounts from a contest, compared to using organic methods or lead ads.
Another point to make is that from all of these results, brands do need to nurture and convert over time. Not all Topaz Labs 44,853 leads are going to convert the first email they send.
Below are all the statistics & results from the contest campaign so you can see exactly what made an impact in their contest and how much it benefited their business.
"Looks like a nice result from BFCM weekend! Our sales broke all our records too."
This was one of the first times Topaz Labs had used a contest to build awareness and buzz around a sale or product release. We are sure it won't be the last either with those results.
Huge learning from this experience is that during large holidays, the cost of paid traffic increases, so the size or your remarketing audience is very important. By using the contest to generate a huge audience. When Black Friday and Cyber Monday (BFCM) came around, they already had hundreds of thousands of people to market to.
Using this method and being organized allowed them to 2-3x their previous year's BFCM efforts.
Social validation is key
From the results of this contest, it was important to get people sharing, tagging, and commenting on social posts.
Most of the participants and emails came from prospects as only 440 of the emails collected were duplicates in the current Topaz Labs MailChimp account.
If they had also notified their existing audience about this contest. I'm sure the results would have been even better as those people have a much higher chance of sharing as they already trust the brand.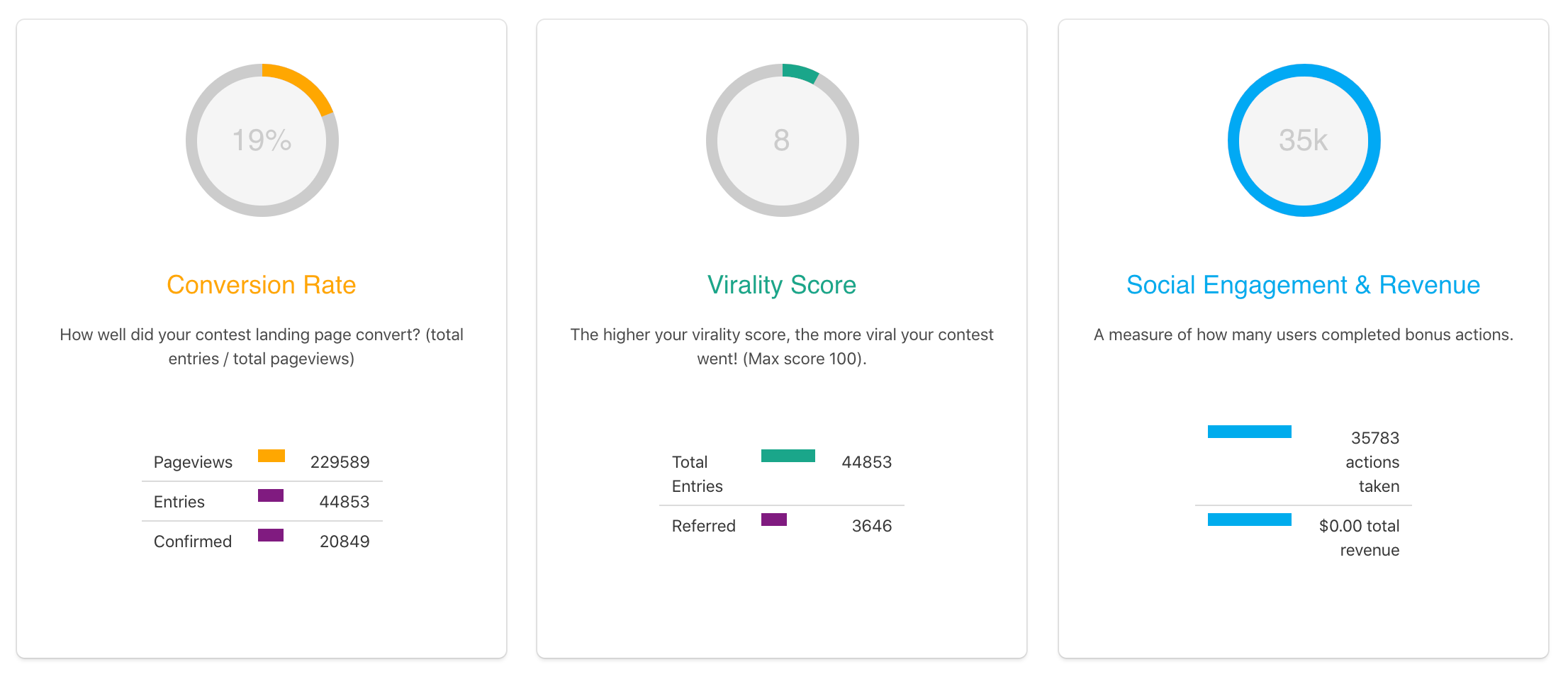 Align your prize
You can see from the results that this campaign collected a lot of emails, but another important aspect is to take note of the bonus actions.
Almost every single entrant in the campaign completed 1 bonus action on average.
The reason that this is import is that the more bonus actions people complete, the better aligned the value of your prizes is with the effort required by participants to engage. 
By having a really good prize (high perceived value), you will be able to get more people referring others, completing bonus actions, and sharing your brand.
If your prize is not worth the participant's time, you will low a low conversion rate and a low number of actions completed. 
The bonus actions can make up a range of things, take a look at the ones Topaz Labs used below. We will cover more on the bonus actions later in this social media contest case study.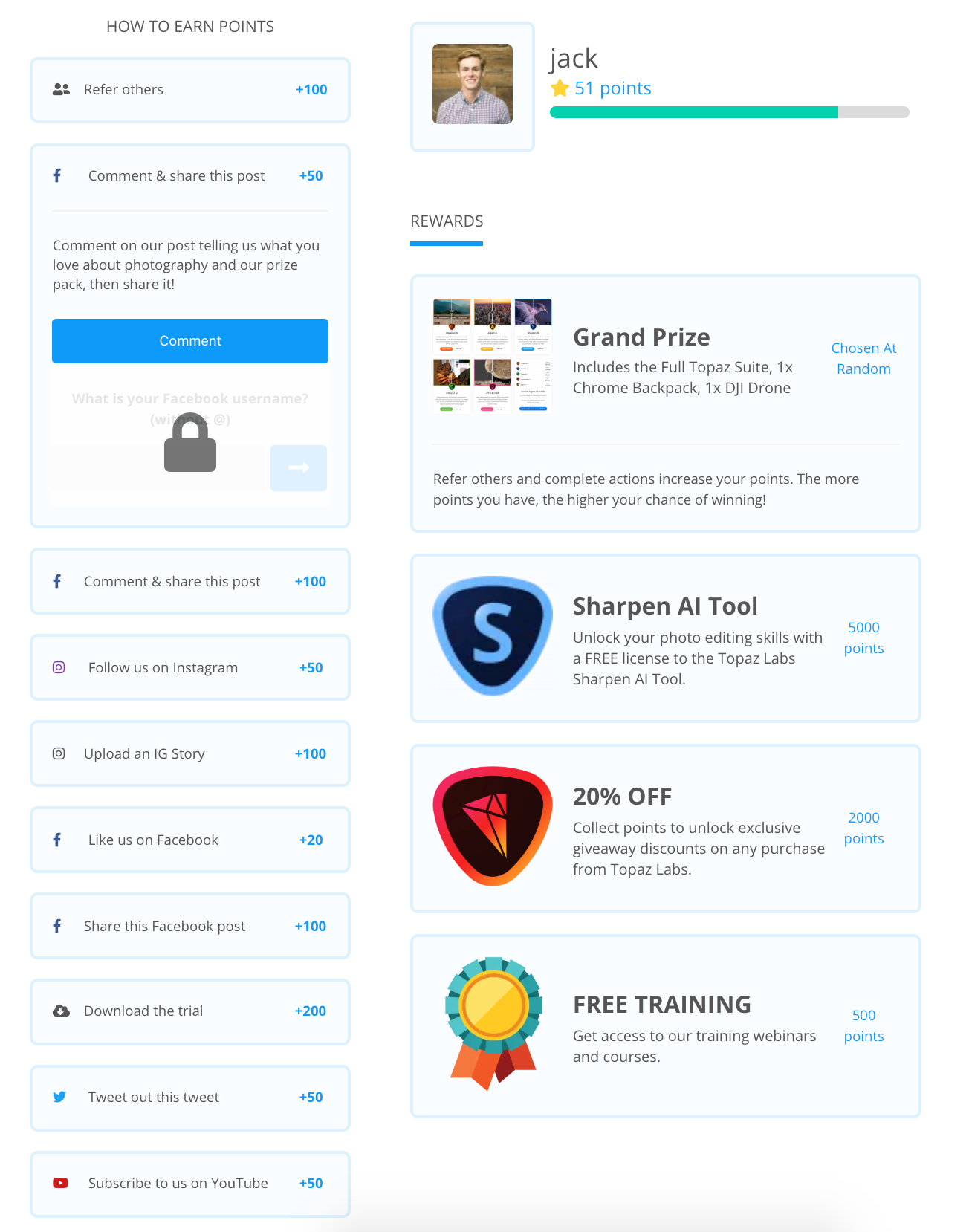 Momentum
When you first launch your contest, it should start with a BANG to get the referral train rolling. This usually includes posting to social media, an email blast to a list (yours or someone else's), and can even be an announcement by an influencer or in a group/community.
This was not the case for Topaz Labs. Since the brand did not use any of its current channels to promote this campaign and only ads, the leads were consistent and low a $0.30 per email lead. As the ads optimized and the referrals and organic sharing plus tagging kicked in, the ad budget dropped as the other methods took over.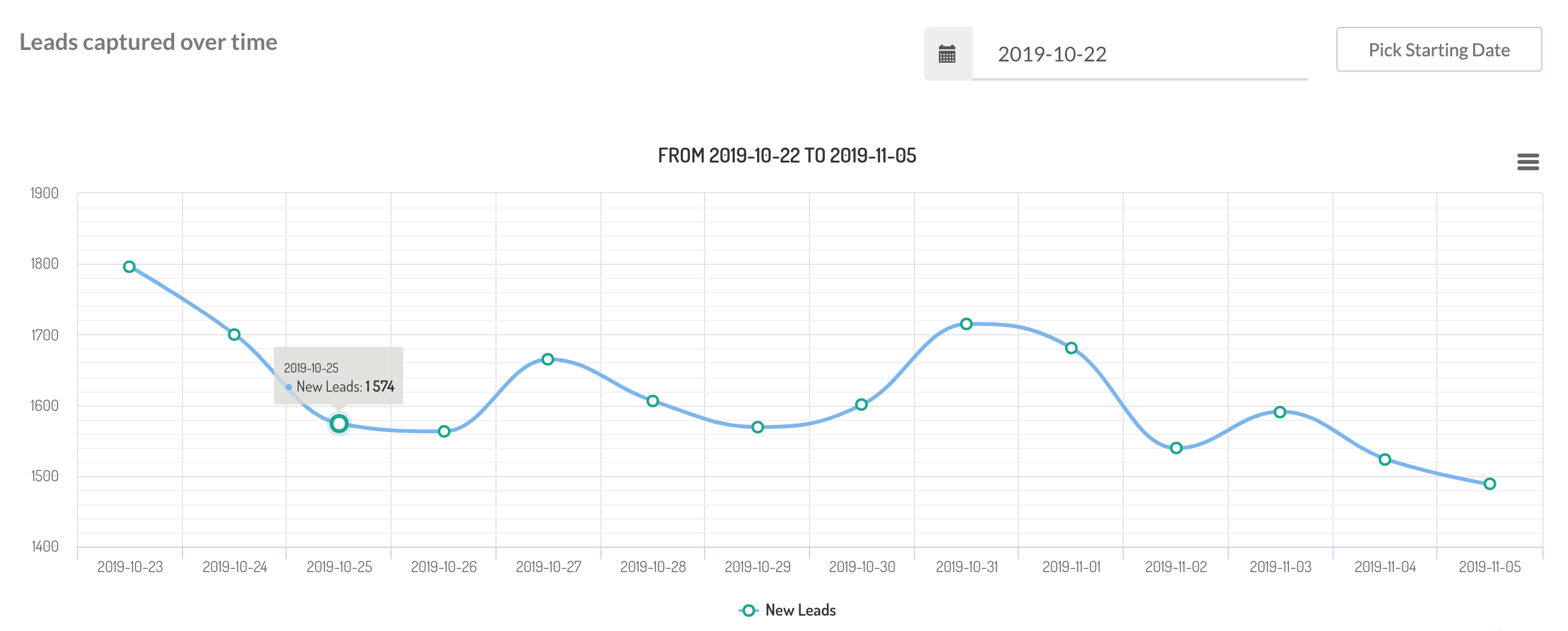 The bonus actions
The shining start of this marketing campaign was the bonus actions that drove most of the organic sign-ups, traffic, and engagements. Some of the benefits of including bonus actions in a social media contest are:
New followers & subscribers on social profiles
Social traffic & earned impressions from shares
New awareness from tagging friends on Instagram
User-generated content from people uploading images and video (this campaign had over 1,000 IG or FB story uploads in response to a bonus action in the contest) 
New customers as the posts that were asked to share were promotional posts to purchase
So not only were the bonus actions being used to generate shares and awareness about the contest, but they were also being used to promote an offer that they had running at the same time. This can also be used to increase engagement on the brand's ads.
You can see below that "BONUS" in the bonus action title. These were added at a later date to keep people engaged with the contest and coming back.
Once every 3-5 days, introduce a new bonus action for people to complete. Then email everyone in the contest that there is a new bonus action. This gets people excited and re-engages them after they have already signed up.

You can see that the most successful contest bonus action was the "follow us on Instagram."
Topaz Labs also used this contest to generate trial downloads, user-generated content UGC, and shares on other social channels. 
Once you have collected all these new followers and email leads, the next step is to nurture and monetize them. Topaz Labs had a fantastic setup because they already offered a 30-day free trial, which was an easy progression in the new leads buyer's journey.
They not only set up educational and value-based email drips to engage their new leads and share their story, but they also used the 30-day free trial to give leads a taste of their product.
If you are looking for more direct conversions, it's definitely possible.
A few options are:
 Add a signup discount (Get $5 OFF when you sign up to the contest). You can ad this to the thank you message or confirmation email.
Give a discount or bonus in the confirmation email as a surprise.
Have a milestone reward that unlocks $20 off when they collect 500 points.
Have a discount or a "runner up" prize in the winner announcement email
Make offers and discounts exclusive to giveaway and contest participants or limited by time (48 hours only)
Offer a bundle pack to contest participants only.
Add a bonus – free t-shirt for anyone that refers 10+ friends.
You do not have to wait until the campaign ends to start generating revenue from your contest. The best strategy is to do both.
Monetize the giveaway while it is running and nurture those leads after to maximize the profits you can make from the leads and campaign.
Here are a few more tips to improve your email marketing campaigns
Create a compelling title for the winner announcement email
Writing something like, "The Winner of Our contest….". This will get better open and click through rates!
Leads will not convert right away, be patient
Make your email drips 2-3 months long. Clean your list from non-openers every 4-8 months (depends on list size).
Keep entrants engaged the entire time during the contest
Send emails to your list during and after the contest. Get people used to opening your emails.
Types of Emails to Send
Your lead nurture email drip would look and include emails like the ones below. It's important to have a variety of emails to keep people engaged and wanting to open your next email.
Sending emails 2-4 days apart is a good rule of thumb for the first few weeks. Then after that, once every 1-2 weeks is good.
Remember that the email has to benefit the reader, not you. Too many people try and sell too hard and turn people off their brand. Add value, soft pitches, then when the time is right, hard pitches.
No one want's to know about your 20% off sale every 2nd days. They will only read your email so many times before they unsubscribe. Make your content varied. 
Think about the brand you like getting emails from, what do they send you?
Contest Follow-up Email
It's important to provide value to your leads, then pitch for the sale after the lead feels like you have given them something and they know you a little better.
We usually suggest you include a sales pitch email ever 2-3 emails you send out.
The winner announcement email is also a good time to pitch a sale as you have got such a high open-rate. You can see this in the example email we sent for one of our contests.
This action-packed email should include a number of things.
The winner's
A free prize (content, access to something, discount)
A reminder of what your brand does and its mission
Preparation that they will be getting more awesome emails from you
An easy opt-out if they don't want emails from you
A request to whitelist your email (move to primary folder)
Follow Up Email Ideas
Announcement of winner & runner up (them).
Positive customer stories and use cases of your product.
Answer FAQ's about your product or service.
Send exclusive offers for people who entered the contest only (sales, product announcement, bundle sells, open the box, pre-orders).
"Trust builder" emails such as screenshots of social proof (Facebook posts, reviews etc).
Share you top blog posts.
Offer something of value. A free content such as checklists, guides, or downloads.
Offer them free shipping.
Fun facts, stats, and knowledge about your product or industry.
Send them more content from your blog (tips, funny, curated content they will like).
Testimonials, publicity & social validation.
Send buy 1 get 1 free offer.
Debunk risks or objections that customer might have. For example, answer the question that usually stops people from buying.
Link roundups from the top blogs or writers in your niche.
Send discounts or give the product away for free if it has a refillable aspect to the product (For example, Waiakea gives anyone who refers 2 people a free case of water as they know they will need to buy more if they like it).
If they have not converted by now you can start giving $ or % discounts.
Announce that you also have a referral program.
We help brands build viral contests, giveaways, and reward programs. Create a FREE account (no credit card required) today to test out some of our amazing campaigns and features!
Use the short code to dynamically populate someone's name as the "runner up" or "random winner" this makes everyone feel like a winner.
Offer those winners a $20 gift card, but have conditions that they must spend over $50 to use it.
To help you run a successful contest campaign, we have outlined the top takeaways and learnings in a question and answer style for the Topaz Labs social media contest campaign.
If you have any additional questions you would like answered about this case study or running a contest like this yourself, just add them in the comments at the bottom of this page, and we will add them to this section.
Q&A
What was the benefit of running a contest?
It was a way to engage with current and potential customers on a deeper level. Not just collecting their contact email, but getting them to engage with our socials and brand.
Q&A
What has been a top converting marketing channel for Topaz Labs?
Photography is very visual, so Instagram has played a large part, but also influencers. Influencers meaning professional photographers using our tool and sharing the results with their following. 
Q&A
What prize did you offer and why?
The contest needed to attract a bunch of people who had a specific need and hobby/profession. So we chose to use our own product, plus a photographer's backpack and DJI drone. 
This was a prize pack aimed to attract our target customer: the photographer.
Q&A
What were the most important metrics for Topaz Tabs? (Traffic, emails, followers, Youtube views, etc.)
The email list is very important as it's the one asset a business can own online. In addition, the point of the contest was to generate a lot of traffic, engagement, followers, and emails to announce our Black Friday Cyber Monday deal too.
Q&A
How did you display/implement your contest and why (landing page, embed, widget)?
The VYPER landing page was the easiest option. It was simple to design and build and we could drive all our Facebook and Instagram traffic to it.
In future contests or giveaways, we will potentially look at using the widget to place on our website. It would also work if we were to use VYPER for our referral/rewards program.
Q&A
What contest bonus actions were the most successful?
We really used the bonus actions to increase our "earned impressions". This means the impressions we got from people tagging friends and sharing our posts. 
This helped get maximum exposure on the contest as well as build awareness for our BFCM promotion.
Q&A
How did you promote your contest and what worked the best for you?
Most of the promotion was done on social media and through referral marketing. By running Facebook and Instagram ads we were able to get a really low cost per leads (CPL) to scale this campaigns. 
Once we had the lower CPL and a few thousand people in the contest, the referrals kicked in as well as the bonus actions to generate the "earned impressions".
Q&A
What results did you get from the contest?
44,853+ email sign-ups, 37,703+ new Instagram/Facebook/YouTube followers, 13,105+ social shares, 229,700+ unique visits to the contest landing page.
These also snowballed into the largest ROI and revenue month on record for Topaz Labs. November (BFCM) was 30% higher than the previous year and December is on track to be 400% higher as the leads convert and traffic maintains as we are using the VYPER managed services.
Q&A
What are 3 things that made your campaign successful?
First was the VYPER managed services running our campaign and ads, even though it's expensive it was well worth the investment. Second, was the use of the bonus actions to share and tag friends. Third, how niche we could get our prize.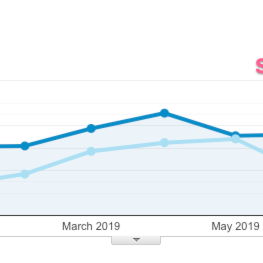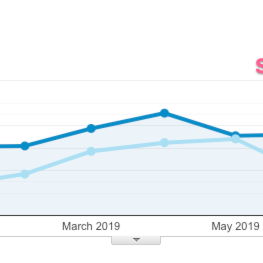 Q&A
3 things you would avoid for your next contest?
Next time we will get our own community more involved. Emailing our list and posting to social more instead of relying on ads. Second, use more bonus actions. Third, spend more time on the creative for our Facebook ads.
Q&A
How did you convert these leads after the contest?
There were a number of emails that went out in a drip. Topaz Labs also followed up with another holiday sale that helped convert a lot of the leads waiting to see if they won so didn't convert during the campaign.
Q&A
What are the top tools your business couldn't run without?
Our own product (Topaz Labs), email (MailChimp) is huge for Topaz Labs, Instagram (@topazlabs) for traffic, partnerships, and affiliates as well as Facebook Ads for paid traffic (only recently).
When you run a contest, it's important to set goals and leverage your strongest channels. In this case, Topaz Labs set out to collect awareness and distribution for their upcoming sale. This was mostly through websites traffic, social media, and emails.
So next time you are looking to run a promotion or want to generate a huge amount of buzz, think about your distribution. Do I have an audience? Are they engaged? Will they like, share, and buy?
If the answer is no, it's a good idea to copy Topaz Labs and build an audience to distribute your promotion through.
As you can see from the results from this campaign, which ran from October 21st to November 30th, a 30% increase in November's revenue (YoY) and a 400% increase in December's (YoY) was a pretty nice end of year bonus!
NEED VYPER'S MANAGED SERVICES?

VYPER works with eCommerce brands that are doing at least $50k/m in revenue and helps them get to $500k/m using referral marketing and paid ads. We help 3-10x revenue within 6 months. Get in touch HERE if that's you!
Not ready for that, but still want the results? Create a free VYPER account below.
Jack Paxton
Jack Paxton is the co-founder of VYPER, a marketing tool that helps brands build email lists, social followings, and revenue using viral giveaways, referral, and reward programs. After millions of dollars spent testing different marketing strategies at his marketing agency. He then also co-founded Hyax a fast, conversion & design-focused course and funnel builder for creators.