A Star Wars Giveaway is the perfect campaign to host before the 4th of May, also known as Star Wars Day.
Star Wars day appeals to a global audience interested in a massive space franchise. It's a time of year when fans' interest in the franchise spikes and consumer spending on anything Star Wars-related is on a high.
It can certainly be worthwhile for your brand to join in on the celebrations. You can be a part of Star Wars day by hosting your very own giveaway.
This guide has handpicked giveaway examples and ideas that will impress any Star Wars fan.
So, if you are looking to keep the momentum going after Easter, a Star Wars giveaway can be the answer for you!
Read on to learn more about how your brand can craft the perfect giveaway.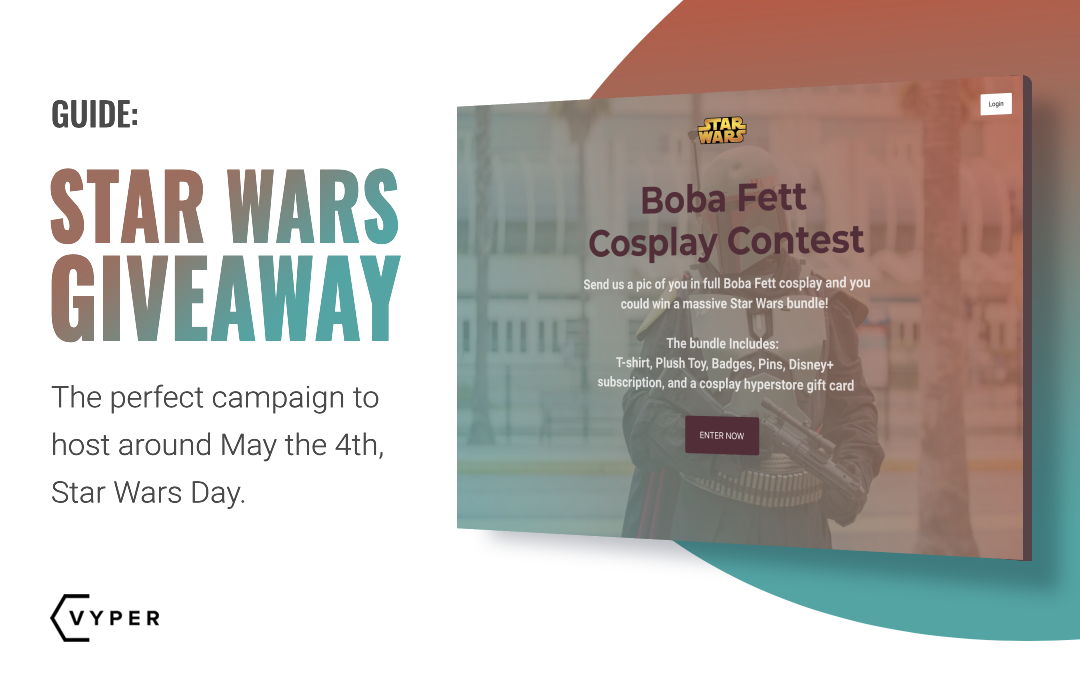 FREE DOWNLOAD: Get all Our Contest & Giveaway Marketing Guides, Checklists, and tutorials that have helped 100's of brands collect 15k+ emails in under 21 days!
Why Host a Star Wars Giveaway?
In Star Wars, a common greeting among Jedi, generals, queens, and other rebel alliance members is, "may the force be with you." This phrase sounds really similar to May the 4th (fourth).
Hence the phrase, "May the 4th be with you."
Significance of May The 4th
In recent times, the date "4 May" has become synonymous with Star Wars lore. What started as a "cool greeting" has now turned into a full-on celebration.
Fans around the globe rejoice together on this day and take part in events that celebrate the Star Wars fandom.
Some events on the 4th of May Include:
Online conventions
Marathon movie screenings (includes all Star Wars Movies)
New behind the scenes content releases
Cosplay contests
Star Wars giveaways and contests
Special charity events hosted by Mark Hamill
May the 4th is certainly a busy day for Star Wars fans. It can also be a busy day for your brand if you choose to get in on the celebrations.
One way to be a part of the Star Wars celebrations is to host a Star Wars Giveaway.
Star Wars giveaways will attract fans of the movies and TV shows. If these fans are a part of your target audience, then it is certainly worth your time to host a giveaway that will draw these fans to your brand.
You can host a Star Wars giveaway at any time of the year. However, consumer and fan interest are at their highest around May 4th.
In the sections below, we will cover past Star Wars giveaways and a few giveaway ideas from the team at VYPER.

Star Wars Giveaway Examples
We selected a few Star Wars-themed giveaways from the web and analyzed them to find expert strategies that your brand can use.
These strategies are what made these giveaways a success. You can try similar strategies in your campaigns to achieve the best results.
Hyperspace Pins Baby Yoda Giveaway – @hyperspacepins (Instagram)
Entry Method: Visit @anakinandhisangel to enter
Prize: A Baby Yoda prize bundle
Ideal for: Comic book stores, toy brands, small online brands or stores
Hyperspace Pins is a hard enamel pin company that specializes in Star Wars pins. The brand is present on all of the most popular social media platforms but mostly focuses on its Instagram audience.
Hyperspace Pins hosted a successful giveaway on Instagram. They partnered with a Star Wars influencer, Jenmarie (@anakinandhisangel) for their campaign.
For this giveaway, Hyperspace Pins sponsored a Baby Yoda Star Wars bundle. The bundle included their very own custom pin of The Child, as well as plush and pop toys and more.
Hyperspace Pins then used an influencer to effectively market the giveaway to her fans on Instagram. This strategy allows the host to find more leads because the influencer with more followers will gain more exposure for the campaign.
Key Takeaways:
A Baby Yoda-themed giveaway – A theme (Baby Yoda) within a theme (Star Wars) giveaway or a Star Wars character giveaway.
The host gave away their own product, a Baby Yoda pin. While this item alone is great, it might not be substantial enough to build a massive giveaway. So they added more items to the bundle while focusing on promoting their product.
Hiring an influencer is the best thing Hyperspace Pins did. They got a Star Wars influencer, with an audience that matches their target audience, to promote the giveaway on Instagram. The results will be far better than if Hyperspace Pins marketed the campaign by themselves.
Star Wars Inspired Hair and Laptop Giveaway – Sylvia Jade (YouTube)
Entry Method: Create a Star Wars Rey Hairstyle and upload pics or videos to enter
Prize: A New HP Laptop
Ideal for: Makeup brands or influencers, hair product brands, or cosplay influencers
Sylvia Jade is a beauty and fashion vlogger that regularly uploads hair and makeup tutorials to YouTube. She hosted a simple giveaway a while back to mark the release of Star Wars: The Force Awakens.
Users were required to create a Rey-inspired hairdo, take a pic or video, then submit their content to enter. This strategy is ideal for brands looking to produce user-generated content (UGC) from their giveaway.
Sylvia partnered with HP to giveaway a laptop. Users were required to go to HP's website to submit their entries and stand a chance to win.
Key Takeaways:
While Sylvia and her brand may not be associated with Star Wars, she still managed to create an effective Star Wars-themed giveaway. She focused on a single character (Rey) and centered her giveaway around that character.
An HP Laptop is an excellent prize, but not the most effective when targeting Sylvia's audience. However, the entry method (create a Rey-inspired hairdo) will most likely limit the type of people who enter.
The HP Laptop brand used a beauty influencer to host a giveaway that produced UGC. HP just has to supply the prize and the influencer will do the rest, which is to drive intrants (leads) to HP's website. Its minimal effort from HP gets them useful traffic, leads, and UGC from a single campaign.
Lego Star Wars Giveaway – Lamarr Wilson (YouTube)
Entry Method: Leave a comment about Lego, Star Wars, and Lamarr, like the video
Prize: Lego Star Wars Snowspeeder
Ideal for: Influencers, toy stores, or small to medium brands that work with influencers
Lamarr Wilson is a tech YouTuber that's focused on unboxing and reviewing toys, gadgets, and games. He hosted a Lego Star Wars giveaway on May the 4th.
Lamarr received a package from Lego, a Star Wars Snowspeeder. Unfortunately, Lamarr was unable to build the Snowspeeder on time for May the 4th. However, he decided to get another Snowspeeder and give that away.
Users had to simply comment and like the giveaway video to stand a chance of winning. Lamarr promised to build the Snowspeeder at a later date. The winner of the additional Snowspeeder can build their set along with Lamarr.
Key Takeaways:
Lego Star Wars is a massive franchise and brand on its own. It's a premium product and makes for an impressive giveaway prize.
Lamarr uploaded his giveaway video on May the 4th. So, his giveaway was announced on the 4th and the winner was announced two days later. A good strategy to catch your audience by surprise and instantly boost engagement numbers on the video.
Lamarr isn't necessarily associated with Star Wars. However, he still managed to upload a Star Wars-themed giveaway video on Star Wars Day. This ensured that his brand was able to make the most of May the 4th.
Star Wars Giveaway Ideas from VYPER
We have a few giveaway ideas that you are welcome to use as your own. From contests to giveaways, our ideas and strategies come from years of helping other brands host successful giveaways.
Cosplay Contest
Star Wars characters make for excellent cosplay, the art of wearing costumes that represent specific characters.
Hosting a cosplay contest is an excellent idea. Get fans to dress up as their favorite Star Wars characters, take pictures, and then submit those pics to enter.
Boba Fett Cosplay Contest
Prize: A Mega Boba Fett bundle made up of collectibles, souvenirs, and a Disney+ Voucher (can also include cosplay gear)
Ideal for: Toy brands, influencers, or online stores (that deal in Star Wars merch)
Target audience: Star Wars superfans, cosplay artists, or dressmakers
Entry method: Submit a picture of yourself wearing your best Boba Fett outfit to enter
A cosplay contest that requires users to submit pics of themselves in Boba Fett gear will produce a ton of user-generated content. That content can be repurposed later by your brand.
If you really want to draw in a crowd of cosplayers, then put up a prize that will get them interested. Like a gift voucher to a cosplay store.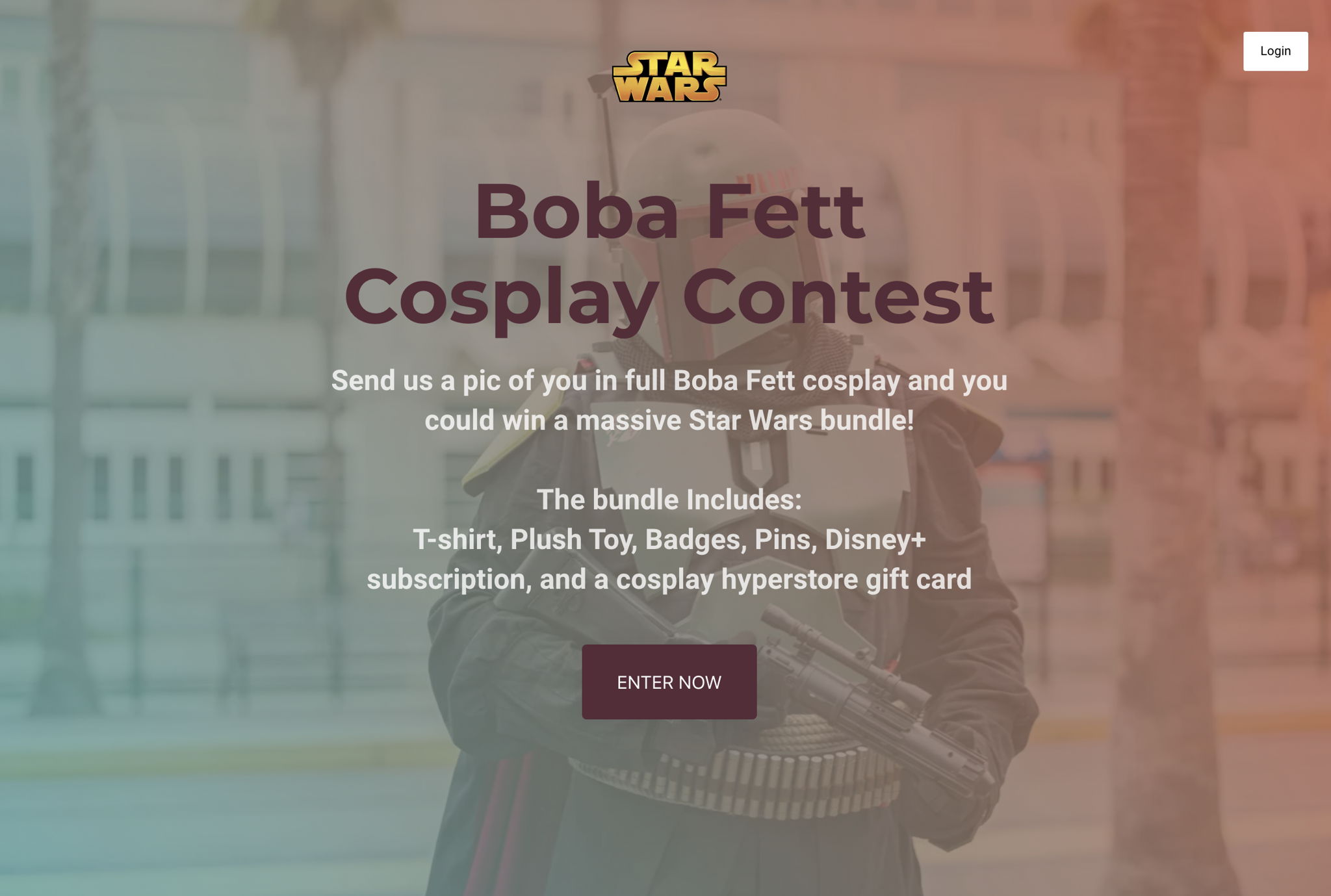 Pro Tip: You can host a gift card giveaway for cosplayers by giving away gift cards to pro online costume stores.
May the 4th Giveaway
The 4th of May is Star Wars Day. A day when interest in the franchise is at an all-time high. The right time for your brand to host a Star Wars giveaway.
Hosting a May the 4th giveaway is a fantastic idea. It's an ideal time right after Easter to keep the momentum going.
May the 4th Giveaway
Prize: Star Wars-themed prizes, a Disney + subscription, movie box sets, or Lego Star Wars toys
Ideal for: Small brands, influencers, or content creators looking to take part in Star Wars celebrations
Target audience: Fans, toy collectors, or people just interested in Disney or Lego
Entry method: Follow us to enter, visit our website to enter, or download our app to enter
It's best to give away prizes that have a Star Wars theme. This way, your campaign will attract the right audience.
Setting up "bonus actions" will ensure maximum results from your campaign. Bonus actions allow entrants to complete tasks defined by you to earn additional points. The user with the most points wins a bonus prize!
In the giveaway "thank you" page below, entrants are encouraged to subscribe to the JRE podcast on iTunes and YouTube to earn points. More points are awarded by engaging with the brand on social media.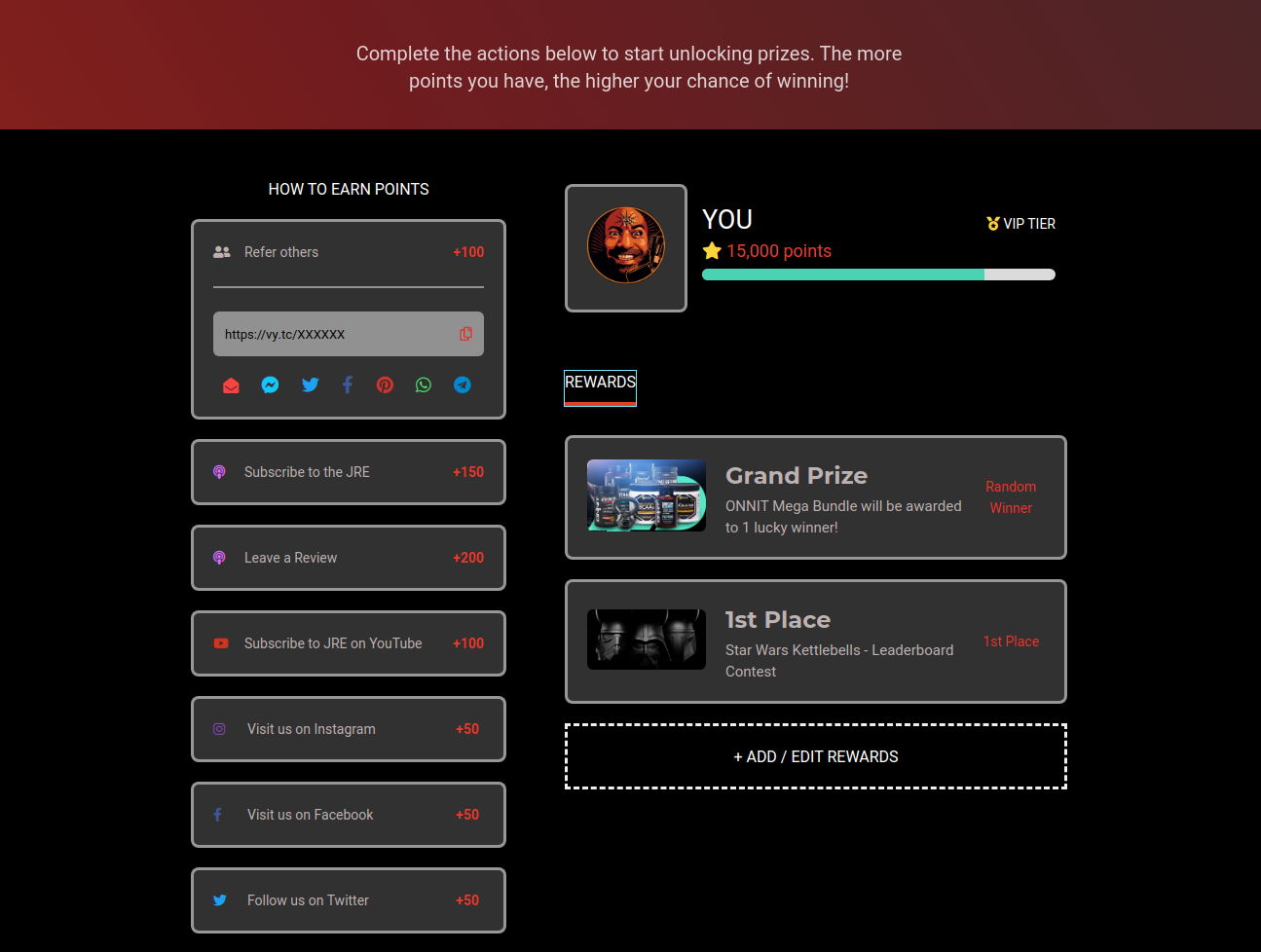 Apart from the main prize, the user with the most points will win a set of Star Wars Kettlebells. This is the perfect strategy for getting your entrants to compete with each other by achieving your marketing goals (more subscribers, followers, engagement, etc.).

Star Wars Giveaway Q&A
❓When should I host Star Wars giveaways?
Star Wars giveaways can work at any time of the year. However, they are most effective around the 4th of May (Star Wars day). This is when interest in the brand is at its highest. 

It's also worth hosting a giveaway around the release of a new Star Wars movie or TV Show. For example, a Baby Yoda giveaway around the time of season 3 of the Mandalorian premieres.
❓What are suitable prizes for Star Wars giveaways?
Star Wars merch range from cheap figurines and plush toys to very expensive Lego Builds and collectible statues. Choose a Star Wars-themed product that best suits your budget. The more expensive the item, the higher your chances are of attracting a larger crowd. 

If you don't wish to invest too much in one large prize, then you can consider building a Star Wars bundle made up of multiple small toys and movie box sets. 

You can also giveaway-themed prizes like a Star Wars cake or a professional photo shoot.
❓Could I just use any prize in my Star Wars giveaway?
Yes. However, a laptop or a smartphone may draw a large audience that will not necessarily be interested in your brand. It's best to choose a prize that your target audience will find useful. This will entice that audience to enter your giveaway. 

For example, in a Star Wars makeup giveaway, you can giveaway props and other useful cosplay gear or makeup. Giving away a smartphone here might seem like a good idea. However, this prize might attract people only interested in the phone and not in makeup or cosplay.
TL;DR: Star Wars Giveaways
May the 4th is Star Wars Day. A day when fans of the franchise get together to celebrate everything Star Wars-related. It is the most popular time of the year for Star Wars and its fans, which is why brands can gain something by being a part of the celebrations.
We recommend hosting a Star Wars Themed Giveaway during this time so your brand can attract the maximum amount of fans. You can also choose to host a Star Wars giveaway around the launch of new Star Wars content like TV shows and movies.
Your brand doesn't necessarily have to be associated with Star Wars. You can still hold Star Wars-themed giveaways that feature toys, movies, collectibles, and more.
What is your take on Star Wars giveaways? Would you consider hosting your own giveaway on May the 4th? Let us know in the comments below.
Jack Paxton
Jack Paxton is the co-founder of VYPER, a marketing tool that helps brands build email lists, social followings, and revenue using viral giveaways, referral, and reward programs. After millions of dollars spent testing different marketing strategies at his marketing agency. He then also co-founded Hyax a fast, conversion & design-focused course and funnel builder for creators.