Despite Tik Tok being the "hot new thing," Facebook still has a massive audience, especially if you're targeting the over-25 crowd.
Years ago, Facebook giveaways where you "tag 3 friends" on a post were huge and went super viral, but nowadays that method has been banned.
So how do you run a Facebook giveaway nowadays?
The only way to leverage Facebook traffic now is to run the giveaway offsite, using a tool like VYPER.
We are going to go through some of the best Facebook giveaway examples so that you can copy them word for word to replicate the success of these giveaways.
Before we go through these giveaway's a few things that you need to do before setting up your giveaways are
What's the goal of this giveaway? Build followers, incentivize social engagements or grow your email list?
Do you know exactly who you want to attract with your Facebook giveaway?
Choose a prize that has a high perceived value to the people you want to attract. E.g. something unique and it can be a product, service or experience.
Article Summary – Facebook Giveaway Examples You Can Copy
Jump to the section you are most interested in, we suggest that you read the whole article though, you will get much more out of it. Don't forget to leave a comment at the bottom if you have questions.
---
Why contests and giveaways work so well on Facebook and Instagram.
There are two options when it comes to using contests on social media. You need to decide which one you would rather use.
Both contest options will grow your business faster than most marketing strategies. Each has pros and cons that you will need to consider.
Contests and giveaways are a popular marketing strategy on Facebook and Instagram because they can help businesses achieve a variety of goals, such as:
Increasing brand awareness: When people enter a contest or giveaway, they must learn about the brand to participate. This can help to increase brand awareness among a new audience.
Driving traffic to their website or social media pages: Businesses often require participants to visit them to enter a contest or giveaway. This can help to drive traffic to their online properties, where they can learn more about the brand and its products or services.
Generating leads and sales: Businesses can also use contests and giveaways to generate leads and sales. For example, they may require participants to sign up for their email list or purchase to enter.
Increasing engagement with their existing audience: Contests and giveaways can be a great way to engage with existing customers and followers. By participating in a contest or giveaway, people show interest in the brand and its products or services.
Contests and giveaways are so effective on Facebook and Instagram because they are:
Highly shareable: Contests and giveaways are often very shareable, which can help to reach a wider audience. People are more likely to share a post about a contest or giveaway with their friends and followers if they think they can win.
Visually appealing: Facebook and Instagram are visual platforms, so contests and giveaways that feature high-quality images and videos are more likely to catch people's attention.
Easy to enter: Most contests and giveaways on Facebook and Instagram are very easy to enter. People often just need to like a post, comment on a post, or tag a friend to participate. This makes it easy for people to participate, even if they are short on time.
FREE DOWNLOAD: Get all Our Contest & Giveaway Marketing Guides, Checklists, and tutorials that have helped 100's of brands collect 15k+ emails in under 21 days!
Native Contest Facebook Giveaway Example
This is a simple Facebook giveaway idea that you can do quickly, but it is very limiting, and you can not collect much information on the people engaging.
Pros
Easy to setup
The post gets a lot of engagement
Good for getting impressions on social
Low friction to tag others.
Cons
Facebook is cracking down on posts that force people to tag or comment
Limited contact info collected
Only lives on Instagram or Facebook (where you post it)
Can only incentivize 1 action "tag"
No features or setting adjustment options
---
Contesting Tool Facebook Giveaway Example
Much more functionality and scalability. You can collect way more data, get way more out of your contestants, and have more advanced features to manage your contest.
The Facebook giveaway example below is the page that links in posts, ads, emails, etc. redirect to. You can see when they sign up, you collect the email, then give them the option to refer friends and complete actions (follow, share, etc).
Pros
Collect a lot more data
Get entrants to follow you, share content and refer others
Create much more engaging and complex campaigns
Follow up with emails
Cons
Takes longer to set up
Software costs money (but you have to invest to get the return you want)
When using a contest tool (like VYPER), you can get much more than just the email address. Use things like bonus actions to build your following, get people to share your content, opt into messenger lists, and more.
Plus, if you use an email marketing tool like Moosend in tandem to share your content, you can engage your customers, send them interactive content, and keep them informed on any future giveaways or contests.
The bonus actions really give you the leverage to incentivize any actions. One of our favorites is getting people to create user-generated content.
How to create a good contest or giveaway post
It's important to make your post wither it be organic or an ad, super engaging and scroll-stopping.
We will go into more of these tactics later, but for now, check out the tips below on how to create awesome posts for your Facebook giveaways.
Make sure you call out exactly what you are giving away.
Test multiple creative styles. For example, images of the grand prize, videos of the grand prizes, slideshows or carousel posts of the prizes or even a video of you or your brand spokesman announcing the contest and prizes.
use emojis
Give an incentive on signup (free XX or $XX OFF etc)
Include a short section of how the contest works "enter → collect points → unlock rewards"
Promote your giveaway on social. Use a service like Placeit to create Facebook covers or banners for the campaign.
How to set up Facebook giveaway & contest ads
Setting up a good Facebook contest and choosing a great prize that's going to get people excited is one thing. The next is marketing, social media management, and scaling it so thousands of people see it!
One of the easiest ways to do this is through paid media. You can also do it organically, which we cover in a number of guides here.
So below is a video on how to set up your Facebook ad campaign with contests and giveaway.
Good Facebook contest ad examples
Here are a few Facebook giveaway examples for posts and ads that you can copy when marketing your contest or giveaway. Notice there are some common themes, one of them being a good video or image of the product.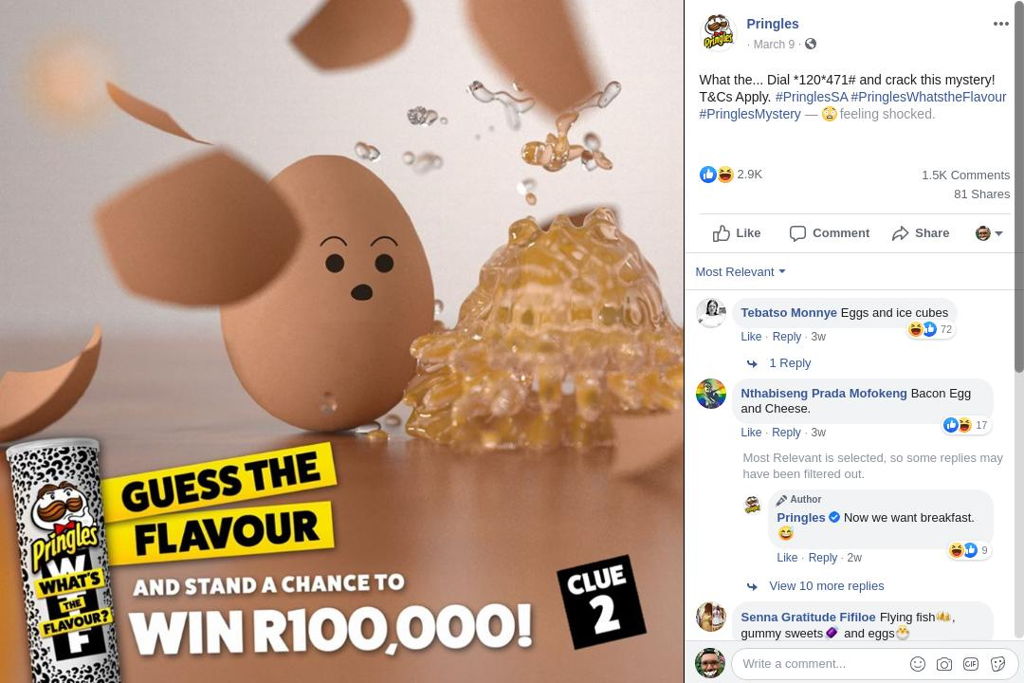 Use emojis to break up the text
Using an evergreen contest so you can continue to run the contest for a longer period of time
Shows the product in the holding image
Used the giveaway to incentivize social engagements (shares, views, and comments)
Tell people exactly what they can win first-up
Working with influencers building awareness and preparing people for the actual giveaway
Looks like this was originally an Instagram post, make sure to post your giveaway natively to all the social platforms you are using.
Using the #giveaway hashtag is a little broad, better of going with brand or niche-specific hashtags.
Great image but would need to keep under 20% for ads
The vape, cannabis, CBD, guns, crypto and adult industry all rely heavily on giveaways and contests to build audiences as they are restricted by ad networks.
Partnered up with another company
Keeping people engaged even after the contest
Using hashtags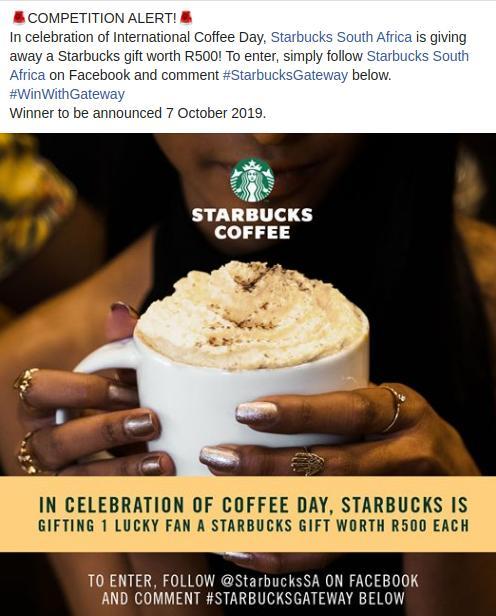 The Facebook giveaway post is engaging
Great copy outlining the prizes
The creative shows what the prize is quickly
Shares the dollar value
Could have made a video showing the sous-vide machine in use and all its features and applications.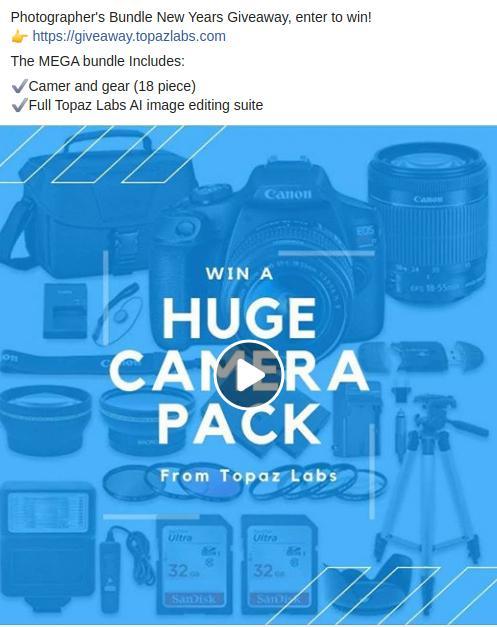 This Facebook giveaway example shows all the prizes in the image.
Using a square image to take up the most room on Facebook and Instagram. Both platforms accept square so you can use the same image for both.
Calls out the giveaway in the image and the text.
Calls out who they are trying to attract in the copy.
They could have added more information about the prizes or the value in the copy, but short and sweet is sometimes better. It's worth split-testing the two separate giveaway posts to see which one does better. Scale the one that has a better cost per sign-up or click-through rate.
Tips for running a Facebook giveaway or contest
If you are considering running a contest or giveaway on Facebook or Instagram, here are a few tips:
Choose a prize that your target audience will be interested in: The prize is the main incentive for people to enter your contest or giveaway, so it is important to choose a prize that your target audience will be interested in.
Promote your contest or giveaway: Once you have created your contest or giveaway, be sure to promote it on your social media pages and website. You can also use paid advertising to promote your contest or giveaway to a wider audience.
Make it easy to enter: Your contest or giveaway should be easy to enter. This means minimizing the number of steps required to participate.
Follow the rules: Facebook and Instagram have specific rules for running contests and giveaways. Be sure to follow these rules to avoid having your contest or giveaway shut down.
Contests and giveaways can be a great way to achieve your marketing goals on Facebook and Instagram. By following these tips, you can create a successful contest or giveaway that will help you to reach your target audience and achieve your marketing goals.
Bad contest ad examples
Some Facebook giveaway examples you should try and avoid when running your contest or giveaway. One of the main things to remember is to try and be different. Try and stand out, try something new, engage with people!
So, take a look at these below so you know what NOT to do.
Image is not optimized for social (use square or landscape depending on the network)
The copy is cut off in the title and description
Notes
The prize is pretty general and also low value, the amount of sharing was more than likely low on this campaign as people are not too interested in sharing a comforter.
Good to use hashtags however spammers do sometimes abuse this by automating entry based on the #giveaway and #contest hashtags. Using more industry-specific hashtags is usually better.
---
A Few FAQ's From Our Facebook Group About Contests and Giveaways
Can you run Facebook ads to giveaways?
Yes, you can. Social platforms are trying to reduce the amount of gamification on their platforms so native posts with tagging friends or enter or liking pages to enter are being removed. However, if you host your campaign on another tool you can still collect the emails and run a contest or giveaway.
What Facebook ad campaign should I use for my contest?
It's best to place the Facebook tracking pixel on your contest page. VYPER does this for you if you just enter your Facebook Pixel idea. It will then place the PageView and Lead events. You will want to run a conversion campaign that is optimized to the Lead event.
How long should I run a giveaway for?
The most common time frame we see is 3-4 weeks. This gives you enough time to built up enough momentum from referrals and your marketing efforts.
How should I promote my Facebook contest?
Stick to 2-3 channels and master them. If your brand is good on Facebook, post there, engage, get influencers on that platform. The main ways to promote a contest is email lists, website traffic, influencers, organic traffic, referrals and a few other ways (keep reading our blog 🤗)
Should I use a video or image for my Facebook contest ad?
It's best to use both so that you can get all the ad placements. Video will work better in some placements and images will work better in others.
How to find more Faceboook Giveaway Examples?
Take a look at the VYPER YouTube channel where we review contests and giveaways. We also have a Facebook group that has people constantly posting their campaigns in.
What are the most important Facebook contest rules?
The most important rule is to not force or require anyone to like your page, tag someone or make a purchase. These need to be optional in your campaign. E.g. asking someone to like you page to enter is not allowed. You can require them to sign up with their name and email, then ask if they want to follow your page for extra points.
How do I create a Facebook Contest?
It's best to use a tool like vyper.io to facilitate the contest, this will help you build your contest so you can collect emails and stay compliant with Facebook. Once you have your contest built you will get a link you can post to your Facebook page. Also, give the contest link to all your partners and influencers to share.
I'm sure you now have a few ideas on how to create the perfect giveaway or contest Facebook post now.
You can also take a look at some of our other posts on marketing your contest or giveaway here.
Add a link to your giveaway or contest post in the comments and we will review and give you some suggestions.
Jack Paxton
Jack Paxton is the co-founder of VYPER, a marketing tool that helps brands build email lists, social followings, and revenue using viral giveaways, referral, and reward programs. After millions of dollars spent testing different marketing strategies at his marketing agency. He then also co-founded Hyax a fast, conversion & design-focused course and funnel builder for creators.