When browsing social media, you see that some posts are overstuffed with hashtags, and some posts do not contain any hashtags at all. And that may make you wonder whether you should use social media hashtags to boost your marketing efforts.
In this article, we will explain to you why it's important to add hashtags to every caption you write. Also, we will provide you with six tips on how to get the most out of hashtags to achieve the results you want.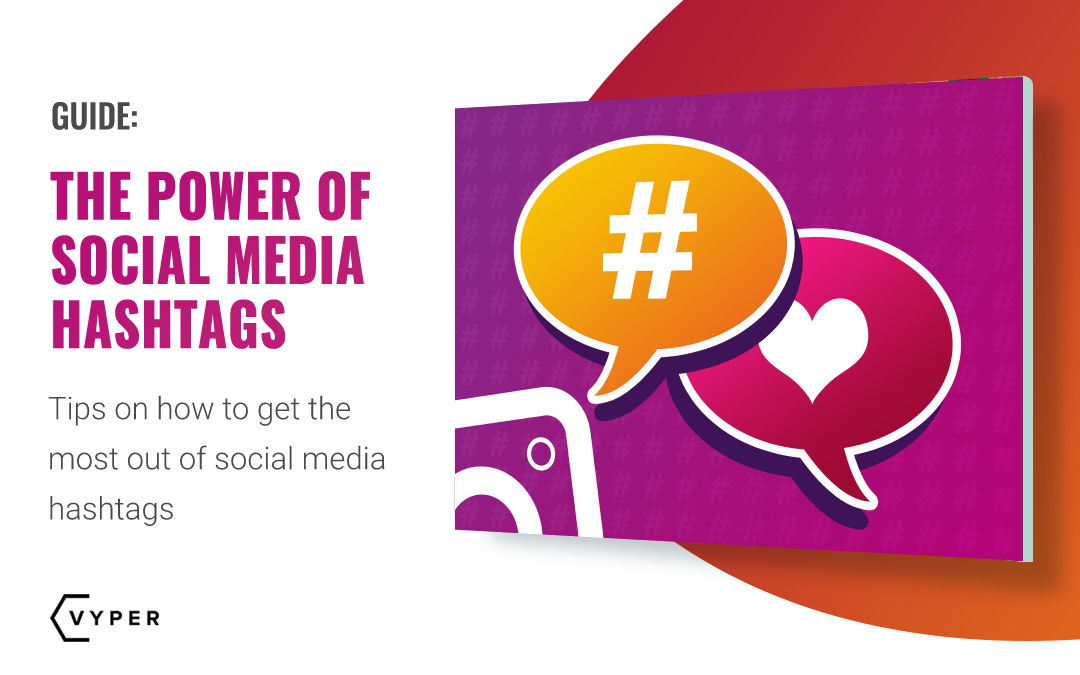 FREE DOWNLOAD 👉 The Facebook Ads Asset Library! All the checklists and guides used to profitably spend $150M+ on Facebook & Google ads.
4 Reasons to Start Using Social Media Hashtags Right Now
Foremost, let's figure out how the usage of hashtags may benefit your business. Here are the top four reasons to run a hashtag campaign.
1. Make Your Social Media Posts Discoverable
Hashtags are important because they help to reach a wide audience. If you do not use hashtags, your post can be seen by your current followers and a few random profile visitors only.
But what if you use hashtags and do it wisely? Then your post can be discovered by dozens of users from all over the web that search for the products similar to yours by using social media hashtags.
Do you need an example to understand how hashtags influence content discoverability? Take a look at the following post.
If Hyatt Ziva Cap Cana didn't use hashtags, this post would reach 1,800 users maximum – that's the number of Instagram followers that Hyatt Ziva Cap Cana currently has.
Hyatt Ziva's marketers understand the importance of hashtags. So they added such tags as #BeachFrontHotel, #CarribeanVacation, and #AllInclusiveResort. As a result, this post became discoverable for dozens of social media users who are looking for a fancy hotel to spend the next vacation.
2. Raise Brand Awareness
Do you struggle to raise brand awareness? If you start using branded hashtags on social media, and you will easily get your brand noticed. The more customers will use your hashtags and share your posts on social apps, the more people will discover your brand and learn more about your products.
You can use one or a few branded hashtags to promote your company on social media. Just make sure that all the hashtags you choose are 100% unique and catchy, so your customers will memorize them quickly.
It's worth mentioning that hashtag should be associated with your brand, but shouldn't necessarily match your brand name. For instance, American Airlines use branded hashtag #AATeam instead of #AmericanAirlines, because this tag is shorter, simpler, and easy-to-remember.
3. Use Hashtags to Convey Your Message
Most brands tend to use hashtags at the end of the caption. But in fact, hashtags shouldn't necessarily stand after the main text. In some cases, it's better to include one or a few hashtags within the caption text to enhance the message.
Here is a good example that explains how it works. Delta Air Lines used airport codes as hashtags to strengthen its message – to get Facebook users interested in exploring new travel destinations. This simple trick helped the company to increase reach and engage the audience.
4. Collect More User-generated Content
If you run a social media giveaway or contest, hashtags are a must. Hashtags help to collect user-generated posts from all over the web and to do it pretty fast and easily.
If you are about to launch giveaway, make sure that your chosen hashtag complies with the following requirements:
It must be unique – you should check that no one ever used the same hashtag on social media before
It must be short, catchy, and readable – your hashtag may consist of up to four words
The hashtag should be associated with your brand and describe your giveaway or contest
9 Tips on How to Get the Most Out of Social Media Hashtags
Now you know that social media hashtags can benefit your brand a lot. So let's consider ten simple tips on how to use hashtags to lead your company to success.
1. Research Hashtags Using Online Tools
Let's make it clear. You can't just use any random hashtags that come first to your mind. You should research hashtags and find out what hashtags will work for your specific niche and your company.
Your primary goal is to create a list of the top 100 hashtags, so it will be easier for you to choose relevant tags for every new post you create. Fortunately, today, it's not that difficult to conduct hashtag research since lots of tools are available online. For instance, you may use such tools as Hashtagify, Ritetag, and Instavast Hashtag Generator.
2. Be Specific
When you are researching hashtags, you should focus not on general hashtags, but the specific ones. For instance, if you work in a travel niche, you should use specific hashtag #TravelGuatemala instead of general tag #travel. Or, if you work in the food industry, you should choose specific hashtag #CheeseFries instead of general hashtag #InstaFood.
Why it's so important? Because by choosing less widely used hashtags, you increase the chances of your post to beat the competition and get noticed. Here is an example that illustrates the problem related to the usage of the most popular social media hashtags.
As of November 2019, there are more than 459 million posts with the tag #travel on Instagram. And every second, at least one new post with this hashtag is published on the app.
So if you use tag #travel, newly published posts will push your post down the feed really fast. Your Instagram post will be visible on the explore tab for a few minutes only, and then it will fade away in a flow of the new posts.
However, if you use less popular, but more specific tag #TravelGuatemala, your post will be visible for a few hours or even for a few days. And most importantly, this hashtag will help you to reach a very specific audience – travelers who are interested in visiting a particular country, not just any random place.
3. Make Sure That You Use Relevant Hashtags
There is no sense to use irrelevant hashtags for two reasons: irrelevant hashtags do not help to reach the target audience, and also they make posts look spammy.
Let's take a glimpse at the following Instagram post to understand why irrelevant hashtags bring more harm than good.
In this post, the HotelGreen16 used such hashtags as #beautifuldestinations, #vacation, and #hotelcancun, and that was a wise decision. Thanks to these hashtags, the post was discovered by the target audience – the travelers who use social media to find new beautiful places to visit.
But the problem is that the HotelGreen16 also used such hashtags as #love, #friendship, and #picoftheday, and it was a wrong decision. Firstly, these hashtags are irrelevant to the post, and it means that the post was discovered by the wrong audience. Secondly, these hashtags are one of the most popular hashtags on the web, and it means that they do not work effectively for brand promotion.
Here is how you can choose relevant hashtags:
Focus on the words that describe your post or image (e.g., #hotelcancun)
Choose the words that your target audience associates with the post (e.g., #paradise)
Pick one or two words that are relevant to your niche (e.g., #travelgram)
Feel free to use your branded hashtag (e.g., #ThinkinGreen16)
4. Don't Overuse Hashtags
Hashtags are a good thing, that's true. But it doesn't mean that you should try to add to your post as many hashtags as possible. Depending on a social media platform, it's necessary to use different numbers of hashtags:
On Twitter, hashtags stand out as links. So if you overuse them, it may disrupt readability. For this reason, it's better to use one or two hashtags only.
Instagram allows using up to 30 hashtags, but you should use all 30. In most cases, it's enough to use from three to twelve hashtags.
What about Facebook and LinkedIn, experts recommend using not more than three hashtags.
5. Use Different Hashtags for Different Social Media Platforms
It's highly likely that on the different social media platform, your company target slightly different groups of buyers. So it's a bad idea to use the same hashtags across all the platforms.
Let's consider a simple example to make it clear. Imagine that your company offers hotel booking services.
Your target audience on Instagram consists mostly of Millennials and Generation Z, who love to travel alone, or with friends. This group of customers prefers to stay at hostels and inexpensive hotels. So you should use such hashtags as #HostelLife and #SoloTravelers for Instagram posts.
Your target audience on Facebook is a little bit older than your audience on Instagram, and it mostly consists of married couples and families with kids. This group of customers tends to choose comfy four-star hotels and fancy resorts. To engage this audience, you should use such hashtags as #ResortLife and #AllInclusive.
What about your target audience on LinkedIn, it mostly consists of business people. To promote your hotel booking service on LinkedIn, you should use such hashtags as #BusinessTraveller and #WorkTrip.
6. Don't Use the Same Hashtags for Each and Every Post
If you find your "perfect hashtag set", it might be tempting to apply it to each and every post you create. But please, don't do it.
Nothing is perfect. And even if some hashtags work well today, it doesn't necessarily mean that it will work well tomorrow.
As it was mentioned above, you should create a list of approximately 100 hashtags and use them for new posts. You should test different hashtags combinations and find what hashtags engage your audience the most when you cover the specific topic.
7. Translate and Localize Your Hashtags
If you target the audience that speaks languages other than English, you should translate the hashtags you use. It will allow you to reach more local buyers and build trust.
For instance, in China, Starbucks translates some hashtags to Chinese. It helps the famous coffee brand to stay connected with the local audience and keep engagement high. So should follow the example – translate and localize your hashtags to enter overseas markets.
Max Ashton, a content localization expert at The Word Point, has this to say about hashtags campaigns: "When it comes to social media, it's crucially important to communicate with the target audience in its native language. And it's necessary to translate not only the caption text but also hashtags."
8. Know What's Trending
Another reason why you shouldn't use the same hashtags, again and again, is that trends change rapidly. And if you want to achieve the best results possible, you should use the hashtags that are trending on social media right at the moment.
You can find trending hashtags using online marketing tools, or you can research social media manually. For instance, you can analyze The Explore tab on Twitter or follow a few hashtags on Instagram.
9. Use Hashtags in Stories
Hashtags work well not only for the feed posts but also for Stories. So when you run a hashtag campaign, don't forget to add hashtags to your Instagram and Facebook Stories.
Since more than 500 million users view Instagram Stories daily, it's a wise decision to use hashtags in Stories. It's a simple way to reach more users and draw attention to your brand.
Wrapping up
If you want to maximize your marketing efforts, you should use social media hashtags on a regular basis.
Fortunately, you don't have to be a digital marketer with ten years of experience to understand how it hashtags work. If you use this article as a guide, you will be able to achieve great results without spending extra bucks on marketing.
Do you currently run a hashtag campaign on social media? Are you satisfied with the results you get? Share your experience in the comments below.
Author:

Erica Sunarjo is a communications professional with more than five years of experience. Erica runs her own blog BestWritersOnline and is proud of her an uncanny ability to explain the most complex subject in simple terms.
Jack Paxton
Jack Paxton is the co-founder of VYPER, a marketing tool that helps brands build email lists, social followings, and revenue using viral giveaways, referral, and reward programs. After millions of dollars spent testing different marketing strategies at his marketing agency. He then also co-founded Hyax a fast, conversion & design-focused course and funnel builder for creators.