A better way to grow your brand fast.
Discover how brands use VYPER to rapidly grow their email list, awareness, audience, loyal fans, engagement & revenue.
Growing a brand is a lot of hard work and it takes time. A lot of time. You're constantly posting, liking, commenting, following, until you reach a sizeable audience. 
There's a smarter way to grow and that's with word of mouth & referral marketing. VYPER helps you do this with engaging giveaways, contests and reward campaigns.
.
Referrals. Giveaways. Reward programs.
Quickly create beautiful contests, giveaways, referral and reward programs for your brand. Whichever campaign you need, VYPER comes with premade templates and bonus actions to help you capture leads and leverage referral marketing.
VYPER Allows you to run a range of campaign types. So if you are trying to increase your social engagement, grow your email list or increase your revenue and referral sales, we have you covered!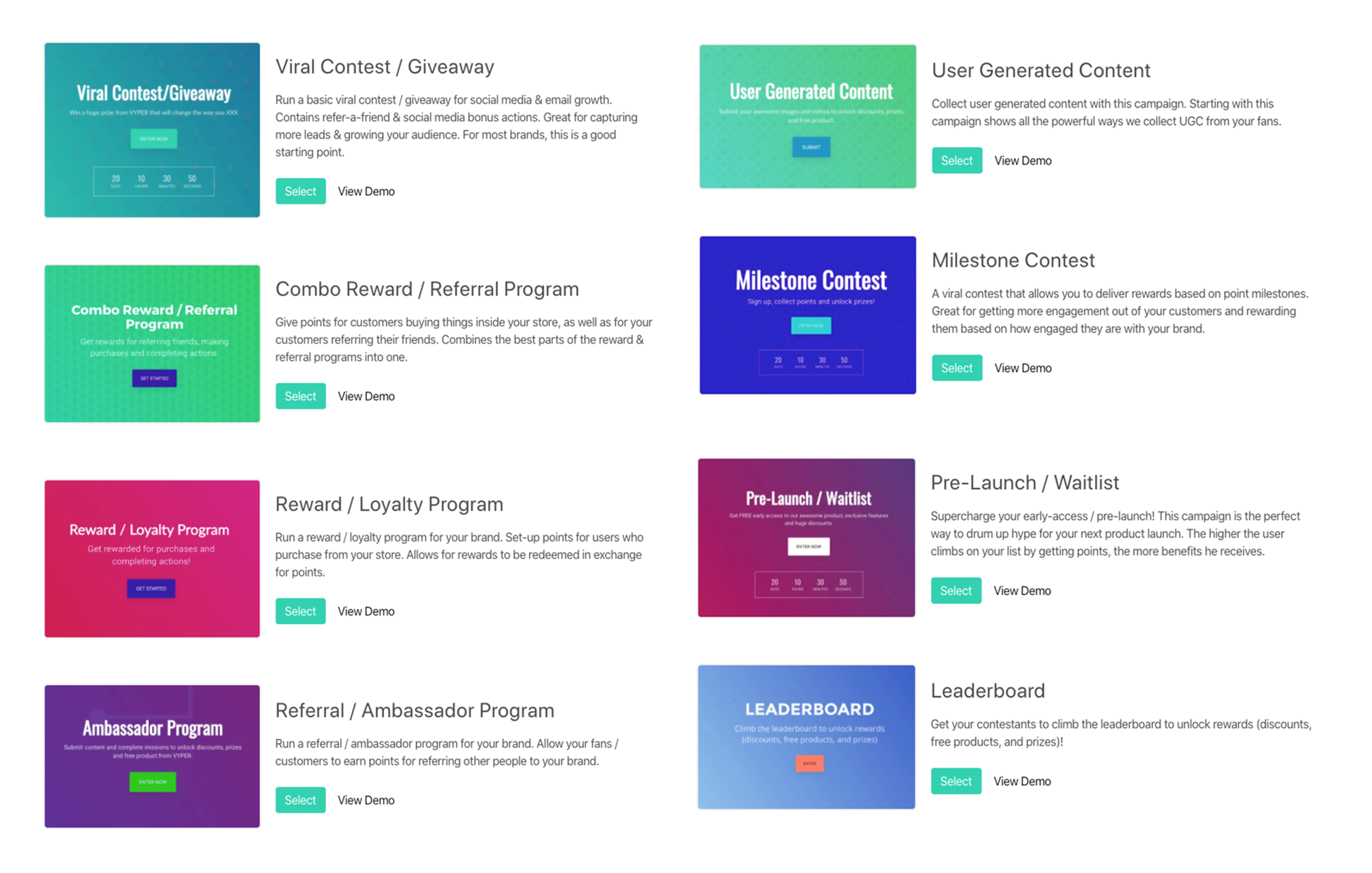 Most brands are looking for growth, VYPER helps in a range of ways for each type of business because our campaigns are run on a points system. This system allows you to reward actions online to help grow your brand.
ECOMMERCE BONUS ACTIONS
Refer a friend, family or co-worker.
Track & reward lead as well as sales.
Customers upload image/video using your product (UCG).
Reward purchases with points per $ spent.
Share posts on all social channels.
Tag friends in social posts.
Join messenger, Whatsapp and other groups.
BRANDS BONUS ACTIONS
Sign up for newsletter.
Follow us on Instagram, Facebook etc.
Sign up for our membership program.
Share content on social.
Join Facebook Group.
AGENCIES BONUS ACTIONS
Follow User1, User2, User3 on Twitter, Instagram etc.
Subscribe to mailing lists.
Retweet this on Twitter.
Share this case study.
Review us on Yelp.
Like and comment on this post.
STARTUPS BONUS ACTIONS
Comment on our Product Hunt.
Sign up for Beta testing.
Complete this User Testing.
Follow us on Instagram.
Tag 3 friends who would love this product.
INFLUENCERS BONUS ACTIONS
Comment and Like this Instagram Post.
Follow me on Instagram, SnapChat, YouTube etc.
Share my latest post.
Tag 3 friends in this post.
Comment on my latest video.
CREATORS BONUS ACTIONS
Upload a video of you replying to this post.
Subscribe to our YouTube channel.
Like and Comment on this Video.
Sign up to our newsletter.
Upload a video about [topic].
EVENTS BONUS ACTIONS
Check-in on Facebook.
Tag 3 friends you'll take to this event.
Share a photo of you at the event.
Join our mailing list.
Like our Facebook page.
Download our event app.
Upload a video recap of the event to social.
MOBILE APP BONUS ACTIONS
Download our app.
Leave a review for our app.
Share our app on Twitter, Facebook etc..
Share the app with a friend.
Tag 3 friends who would love our app.
Rate our app in the app store.
Complete an action within our app.
GAMERS BONUS ACTIONS
Watch me on Twitch.
Subscribe to my Youtube, Twitch, etc. Channel.
Share this stream.
Leave a comment on this video.
Answer this question.
Retweet this.
A few of the features that help our users grow their brands at an exponential rate include.
Easy to Use Designer
The new visual designer allows you to create your campaigns fast with a simple, elegant, designer.
Modern Designs
Collection of premade templates for different types of campaigns. All designed for growth and conversions.
Bonus Actions
Use VYPER's template bonus actions or make your own. Allow participants to perform and collect points.
Brand Personalization
VYPER campaigns are fully customizable to perfectly match your brand. You can edit colors, images, video, fonts, and more!
Cheating Detection
VYPER's cheating detection will help you identify and remove cheaters, allow for better quality leads for your campaigns.
Mobile Friendly
All designs are mobile friendly. You can easily switch between desktop and mobile with a quick preview button and auto sizing.
Referral Analytics
Get a clear understanding of how your campaign is performing. Who referred who and the quality of those leads and sales. 
Flexible Display Modes
VYPER campaigns can be shown as a landing page, embedded form, or a widget on your site. Increase success by using all 3 modes at once!
Reward & Loyalty Programs
Start loyalty programs with points, redemptions & VIP tiers. Easily transform customers into advocates.
Check out some of the brands that have collected thousands of email leads, social followers, engagements, shares and revenue using VYPER.
Want to see what VYPER can do? Click a contest below to see a live demo. Be sure to sign up to see the Thank You / Rewards page.
* These are only examples.
Create a viral campaign in minutes
Join thousands of eCommerce brands and grow your brand today.
👇