Want to start a new digital product business, but not sure you're ready to spend that money on Kajabi? In this article we'll go over some great alternatives that are way better than Kajabi.
If you have a digital product and you haven't set up a membership website or store you're leaving a ton of money on the table!
The entrepreneurial tides are shifting in the direction of content creators, and for that reason, you can see the surge of online tools such as Kajabi. They all aim to help you create, manage, and sell your digital product. (Take a look at these 50 course examples.)
But what if Kajabi is just not tailored to your needs? Is too expensive, or you'd prefer some features that Kajabi is missing?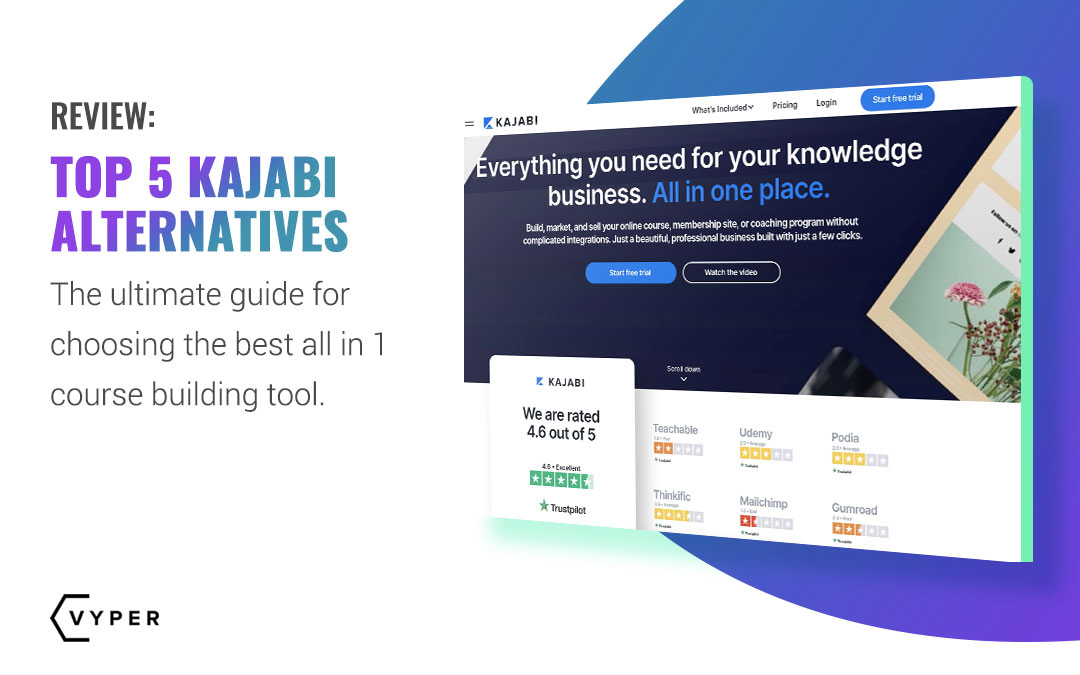 Well, buckle up, because we'll guide you through some of the best Kajabi alternatives currently available.
Kajabi is one of the top membership and business building apps on the market since its release a decade ago.
Since that time, it went through a lot of adjustments and feature upgrades aimed to improve the user experience. Today, they have hundreds of users using the platform.
With Kajabi, you know that you're getting one of the best digital business builders currently online. However, it's not ideal – especially for those who are just starting out their online venture and for those who need a store, not just a landing page or membership site.
Pros and Cons of Kajabi
What We Like
All-in-one tool, meaning you have landing pages, courses, pages, communities, etc
No extra tacked on transaction fees
It's packed with features
What Could Be Better
At a $149/month beginner plan, this is one of the more expensive options
The price goes up pretty steeply depending on the amount of users you have
Limited design options – the designs are somewhat old now and haven't been updated to reflect modern designs
Email marketing features are either too basic or confusing
Can get pretty complex quickly
If you use any of the tools on this list and have more to add to the Pro & Cons list please let us know in the comments.
Top 5 Kajabi Alternatives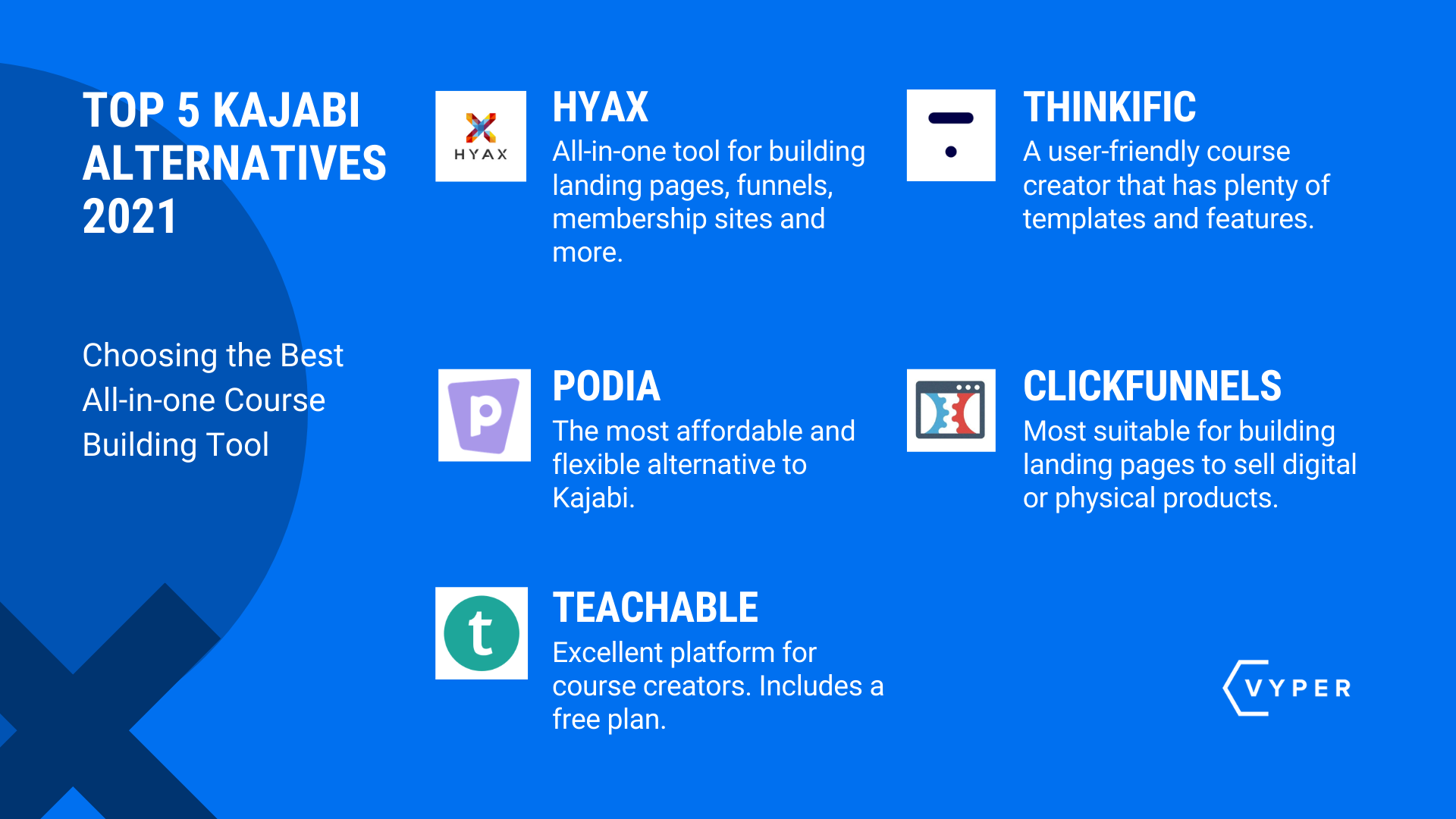 Like Kajabi, Hyax focuses on being an all-in-one tool. Meaning you're gonna get funnels, landing pages, membership site, and courses into one tool. You'll also get the same ability to do recurring payments, add payment plans, sell digital/physical products, and deliver secure files right in the platform.
In addition, Hyax also has a fully-featured store function, which allows you to create and design a store similar to Shopify. This is perfect for users who are planning to sell multiple products – think the person who has more than 1 tutorial or more than 1 digital product.
Whereas Kajabi does have a "pipelines" feature (which is basically marketing automation) and a community feature (basically a lite version of Facebook groups) that Hyax does not have.
One of the coolest features of Hyax is the ability to add upsells / order bumps / offers straight into your store. So for example, it's quite easy to deliver a discount when the customer cart goes above $50, or entice a user to add an extra product to their cart right before checkout.
Inside Hyax you'll encounter an intuitive user interface tailored to the modern entrepreneur. The learning curve to build your store, funnel, course or membership site is pretty small. Even if you've never dipped into coding, design, or marketing you'll be able to have it all set up in no time with the pre-built templates.
The design aspect is also pretty streamlined. A smooth editor allows you to make a stunning web page in just a few clicks with maximum customizability.
Each project is connected to a single domain (3/6/9+ depending on the plan) so you can manage multiple brands from the same account. This also makes spinning up new pages, funnels & courses extremely organized and easy.
Similar to Kajabi, Hyax offers you to segment your audience, split test your digital product pages, offer upsells on top of free content, and choose your own membership structure. This allows you to push different content depending on the members' status.
One of the newer features inside Hyax is the affiliate / partner program, which lets you pay a percentage of sales to affiliates OR reward them with points and other goodies.
Currently Hyax only has two payment gateways (Stripe and Paypal) and just like Kajabi, there isn't a free plan. But it's still one of the most complete platforms for digital entrepreneurs out there.
Pros:
Upsells, order bumps, and discounts built-in
Multiple websites (projects) included (Kajabi gives you only 1 until the highest plan)
Recurring payments, payment plans right out of the box
High-level of customizations available
Set-up a paid newsletter / blog, or a free blog for content marketing right out of the box
Ultra-fast blogging with built in AMP accelerated mobile pages (SEO-optimized)
Built-in affiliate and referral program
Beautiful and user-friendly design tool, with professional templates
Flexible selling (sell products & courses and on any pages you build)
Countless possibilities for content & product selling/delivery
Free Vimeo video hosting or YouTube embed options
Many features are built-in (no need for third-party apps)
Cons:
No free plan (but there's a free trial)
No API yet (coming soon)
Only two payment gateways (Stripe & PayPal)
No email marketing built-in
2. Podia
Podia emerged as one of the top Kajabi competitors mostly due to affordability and flexibility.
When you compare the two, however, Podia comes out on top for ease of use, while Kajabi definitely has more power.
This is quite obvious when you start setting up your digital business. If you don't have time or don't like to customize much, you can choose one of the ready-made templates and quickly adjust it to suit your digital enterprise.
Afterward, you can upload your content and pick a payment gateway, and you're all set. The entire process doesn't take more than 5 minutes.
One of the stand-out features is the lack of any limitations. Compared to Kajabi, Podia offers unlimited products, students, and emails per account. This does come with the drawback that Podia doesn't offer much customization, and you end up with very cookie cutter templates and pages.
Like Kajabi, Podia also has memberships, pages, upsells, an affiliate program, and courses.
Pros:
The most expensive annual plan is almost $4000 cheaper than Kajabi's
24/7 live support
Unlimited emails, students, and products
Intuitive, easy to use membership & website builder
Cons:
Simple also means limited.
Would like to see way more templates and design options
The designs are very "feminine" looking, which may not appeal to all brands
No in-depth analytics.
Managing members on the back-end can be tough.
3. Teachable
If you're looking to create courses you shouldn't ignore Teachable.
To get things straight – Teachable is not an all-in-one platform. It's not meant to sell any other digital product besides courses. However, if you're looking for a simple course builder, then you're at the right place.
Teachable offers features like course completion certificates, coupons, student segmentation, and feedback, as well as its own developed affiliate program.
Moreover, the platform has a 1-click upsell feature, allowing you to upsell your other courses/templates/checklists and make more revenue.
To top it off, there's a free basic plan so you can try it out and start building your course right now!
On the downside, this plan will charge you a pretty hefty transaction fee (10% each time) to cover their video and web hosting costs.
Pros:
Great platform for course creators
Free plan
Create upsells and sales funnels
Provides some good marketing and course promotion tools.
Cons:
Can only sell courses, no other products.
Limited design options (all courses look the same)
Lack of advanced integrations
Can't avoid Teachable advertisement (login pages are on Teachable.com)
4. Thinkific
Similar to Teachable, Thinkific is mainly a course creator. It provides a bit more creative freedom than its counterpart, but similarly, you can't use it as an all-in-one website builder.
However, when it comes to course customization there are hardly any downsides. It provides utmost flexibility in course design and development and a great platform to market that course to your potential audience.
But that doesn't mean it's difficult to handle. There's a ton of templates that you can use to make your starting point easier. Then you can adjust your content and/or landing pages on the go depending on your talent and wishes.
To top it off, Thinkific also provides a free plan without charging a transaction fee.
Of course, some of the downsides are a lack of features for other digital content creators, as well as a bit of an old-timey user interface that ruins the overall experience.
But if you're an aspiring influencer that's just looking to sell his course online, Thinkific might be the right choice.
Pros:
User-friendly course creation.
Plenty of templates and features.
Free plan with no transaction fees.
Optimized for email marketing as well.
Cons:
Only for course creators.
You need integrations to other cloud and hosting services.
Dated UX.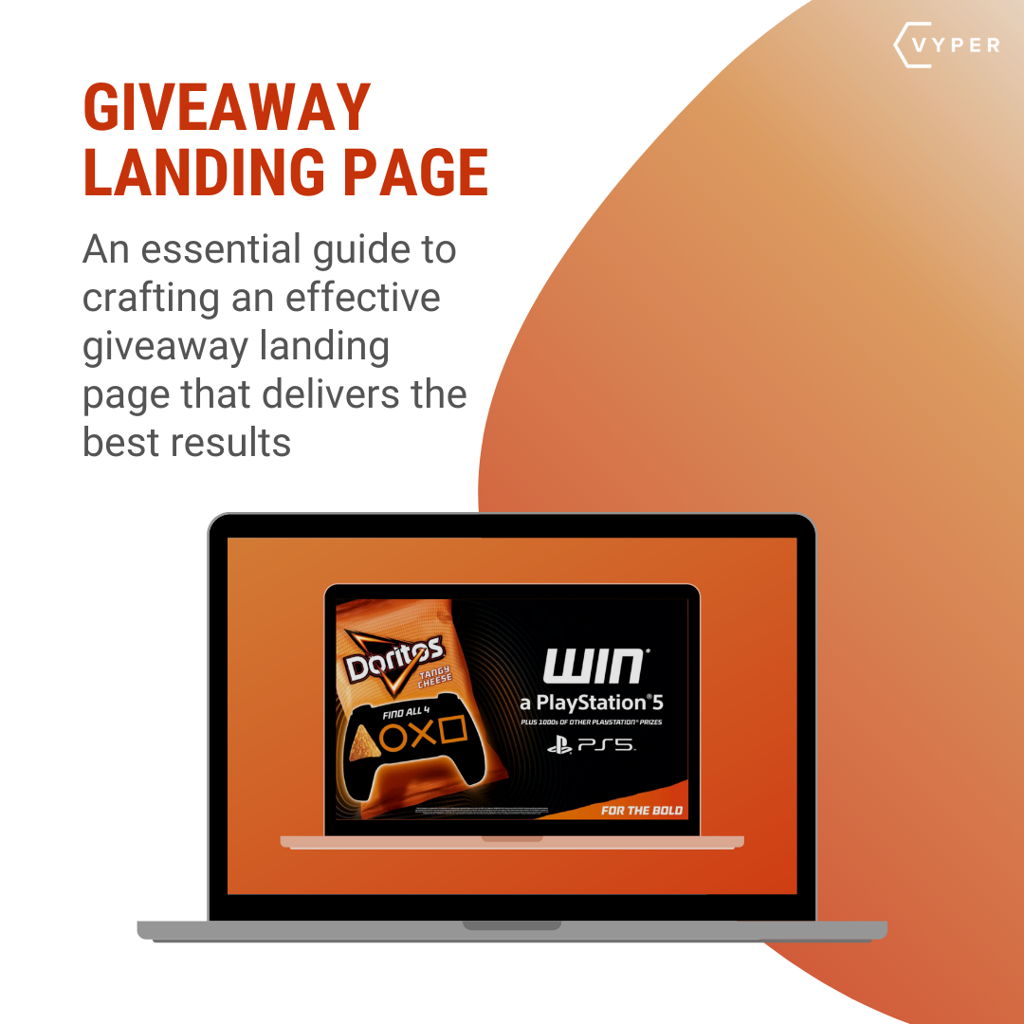 Looking for more tips on creating stunning landing pages?
Click here to find out more about crafting excellent giveaway landing pages.
5. ClickFunnels
ClickFunnels is often put head-to-head with Kajabi as an omnipotent builder for digital entrepreneurs. And while being a powerful tool, ClickFunnels is aimed at a completely different group of people.
Kajabi, Hyax, Podia, and similar tools are meant for digital entrepreneurs that mostly focus on selling digital products. So, anything that you produce by using digital tools (podcast, ebook, blog post, course, video) you can place, market, and sell with these tools.
On the other hand, ClickFunnels is a powerful funnel builder tool first and foremost. While they do have a membership / course feature, these aren't very intuitive and seem more like tacked-on features rather than their core functionality. Believe it or not, more people use it to sell their physical products.
However, ClickFunnels doesn't provide very up-to-date templates (visitors can tell it's a clickfunnels site quickly), content creation tools, membership features, and other stuff that digital product platforms provide in the back-end.
So if you're a digital entrepreneur ready to delve into the world of content creation (and monetizing it), you may be better off with a different Kajabi alternative. If you already have your digital products elsewhere (let's say Teachable) and just need a funnel to sell them, you can opt into using ClickFunnels as well.
ClickFunnels integrates with selling platforms for digital products such as Kajabi. Thus, you'll often see digital entrepreneurs building their front-end funnel with ClickFunnels and managing their memberships and content with Kajabi. To us this isn't a great process, though, as you can simply use Kajabi or another all-in-one tool instead of relying on multiple tools together.
Pros:
Suitable for digital and physical products.
Best platform to understand digital marketing (Russell Brunson content).
In-depth analytics.
Built-in emails and a wide range of funnel types.
Cons:
Not for digital entrepreneurs focused on content creation (not a good course builder)
Lack of good looking templates and a somewhat steep learning curve.
Dated UX / designs

The Verdict
If you're looking for powerful Kajabi alternatives then we recommend checking out Hyax. It's the most powerful alternative that has all the features you need to run your business.
Since Hyax is an all-in-one, the seamless integration between funnels, memberships, affiliates, and the store helps you keep the experience amazing for your customers.
But don't let the simplicity fool you. It also has powerful, advanced customizations you can do – perfect for those who want something very specific. It's a treat for the more advanced designers and marketers.
Furthermore, you can try Hyax for free, and then upgrade to a paid plan when you are ready to launch your project.
Let us know if you have any other tools to add to this Kajabi alternatives list, we will be keeping it updated throughout the years as new products come to market.
Jack Paxton
Jack Paxton is the co-founder of VYPER, a marketing tool that helps brands build email lists, social followings, and revenue using viral giveaways, referral, and reward programs. After millions of dollars spent testing different marketing strategies at his marketing agency. He then also co-founded Hyax a fast, conversion & design-focused course and funnel builder for creators.