No two link in bio tools is created equal! Every service offers something different or extraordinary that may appeal to a certain group or creators, or brands. We made a list of the best link in bio tools to help your brand make the right choice!
Content creators and brands are absolutely crushing it on Instagram and TikTok. These brands spend countless hours perfecting their craft while building a custom audience for themselves. Only to be restricted by Instagram because of the inability to insert links into posts.
Failing to move Instagram or TikTok users to important links is now a thing of the past. Link-sharing services like Hypage and Linktree offer brands plenty of options to share links, products, videos, and more, just from that single link in their bio.
Many link-sharing services also offer a deep set of monetization options. This means that Instagram users can directly earn an income from their audience using their link in bio.
As mentioned earlier, link-sharing tools differ in features with some offering tools designed specifically for influencers or online stores. This guide compares 11 of the best link in bio tools to help you find the perfect link-sharing tool to suit your needs.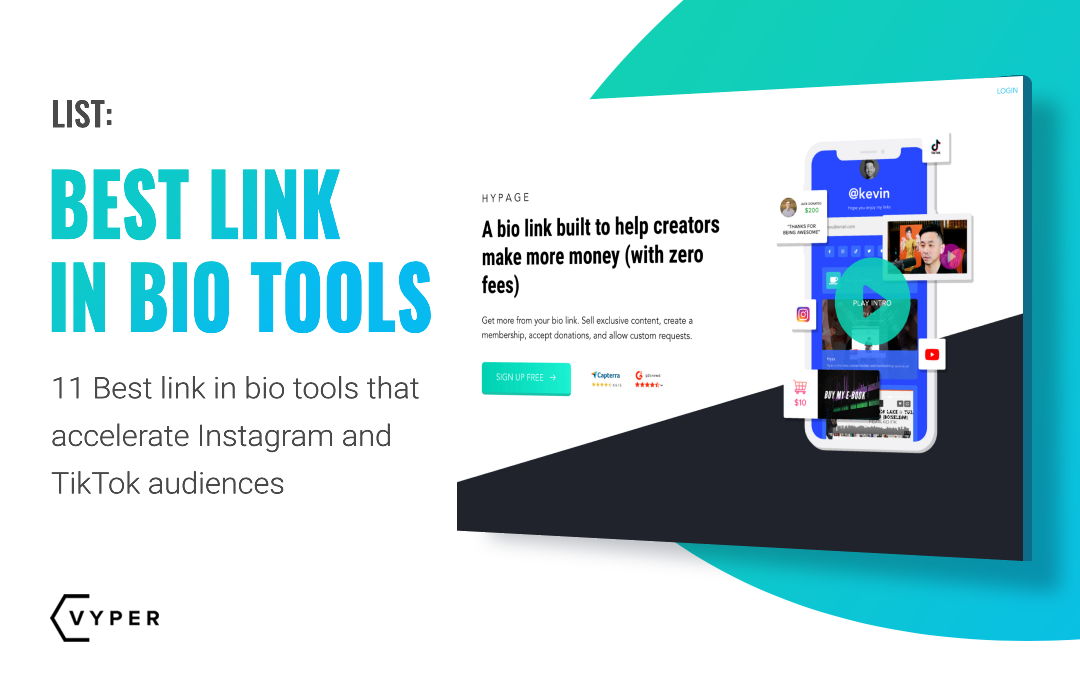 FREE DOWNLOAD: Get all Our Contest & Giveaway Marketing Guides, Checklists, and tutorials that have helped 100's of brands collect 15k+ emails in under 21 days!
1. Hypage
Hypage is a newly launched link-sharing tool that is quickly gaining popularity among content creators and brands. It's quick and easy to set up and offers a free plan with substantial features.
There are tons of customization options available on Hypage. You can truly create fantastic link-sharing landing pages that are in line with your brand image. All within a UI that's clean and easy to use.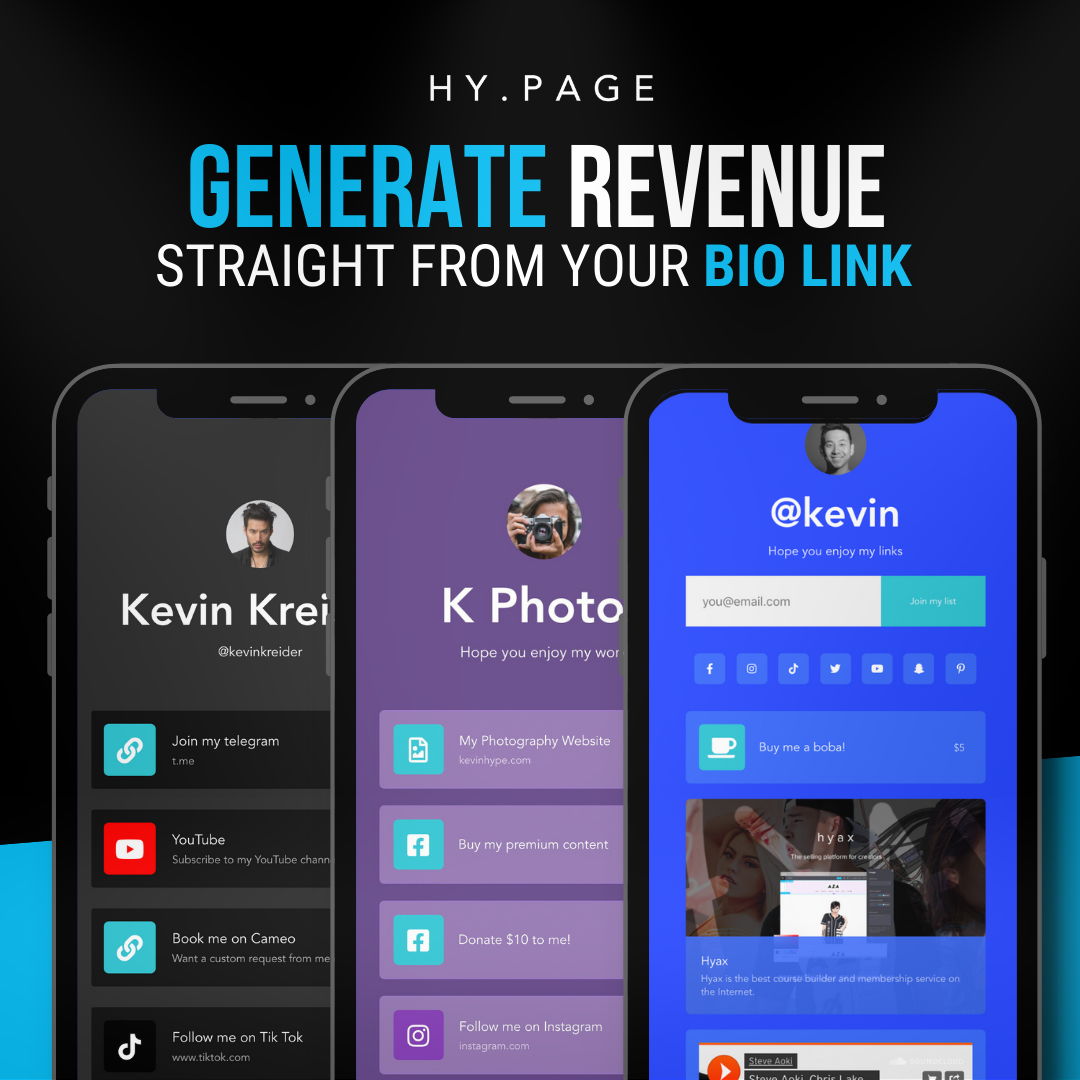 The ability to embed media (YouTube Videos, Soundcloud Music, etc.) allows users to create unique link pages that stand out. People that visit these pages can simply click play on embedded content to watch a video or listen to a podcast.
The thing that stands out the most about Hypage is its impressive list of features. Namely, the monetization features available. You can sell products, accept donations, and take requests. These features allow users to earn an income directly from their link in bio.
You can sign up to Hypage for free and take advantage of the limited, yet useful free features available. A Pro Plan ($19 a month) is needed to unlock more features and monetization options.
Clothing example Nastee using their bio link – hy.page/nastee
Podcast example Blitz Growth using the bio link hy.page/blitzgrowth
Digital product example hy.page/jack
Content creator example hy.page/changnation
Pros:
Build a membership platform and accept recurring payments
Deep levels of customization options
Sell digital products within your link pages
Accept tips, requests, and donations
Earn additional income from premium posts
Ideal for content creators and people who sell courses
Free plan available
Cons:
Pro and Enterprise plans are pricey
Fairly new on the market
2. Lnk.Bio
Lnk.Bio is a simple and straightforward Instagram link-sharing tool. It is probably the most "no-fuss no-frills" service on this list.
With Lnk.Bio, you can build simple link pages that include website and social links. You can even embed YouTube content onto your pages.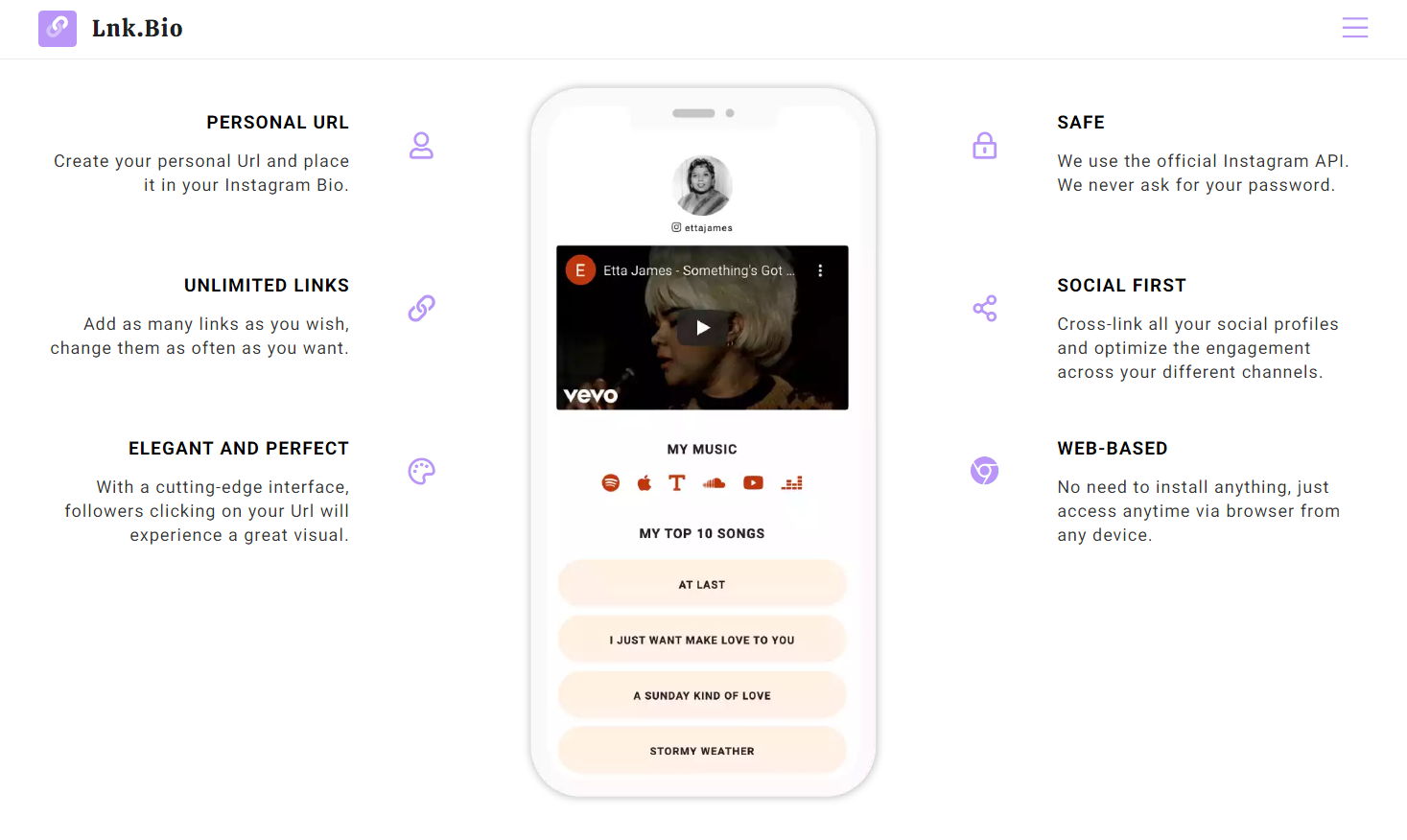 We like the ability to create link landing pages made-up of picture cards. Users can click on the picture to explore the link. This design is perfectly suited for bloggers as they can design an image-driven link page with every image linking back to a corresponding blog post. Therefore, bloggers can potentially have their Blog, Instagram, and link page all in sync.
For example, a user discovers your Instagram post on their feed. It's a picture taken from your latest blog post. That user can then click on your Instagram link in bio, then on the corresponding image in the link page to be taken to the actual blog post. A seamless method of using Instagram to promote your blog.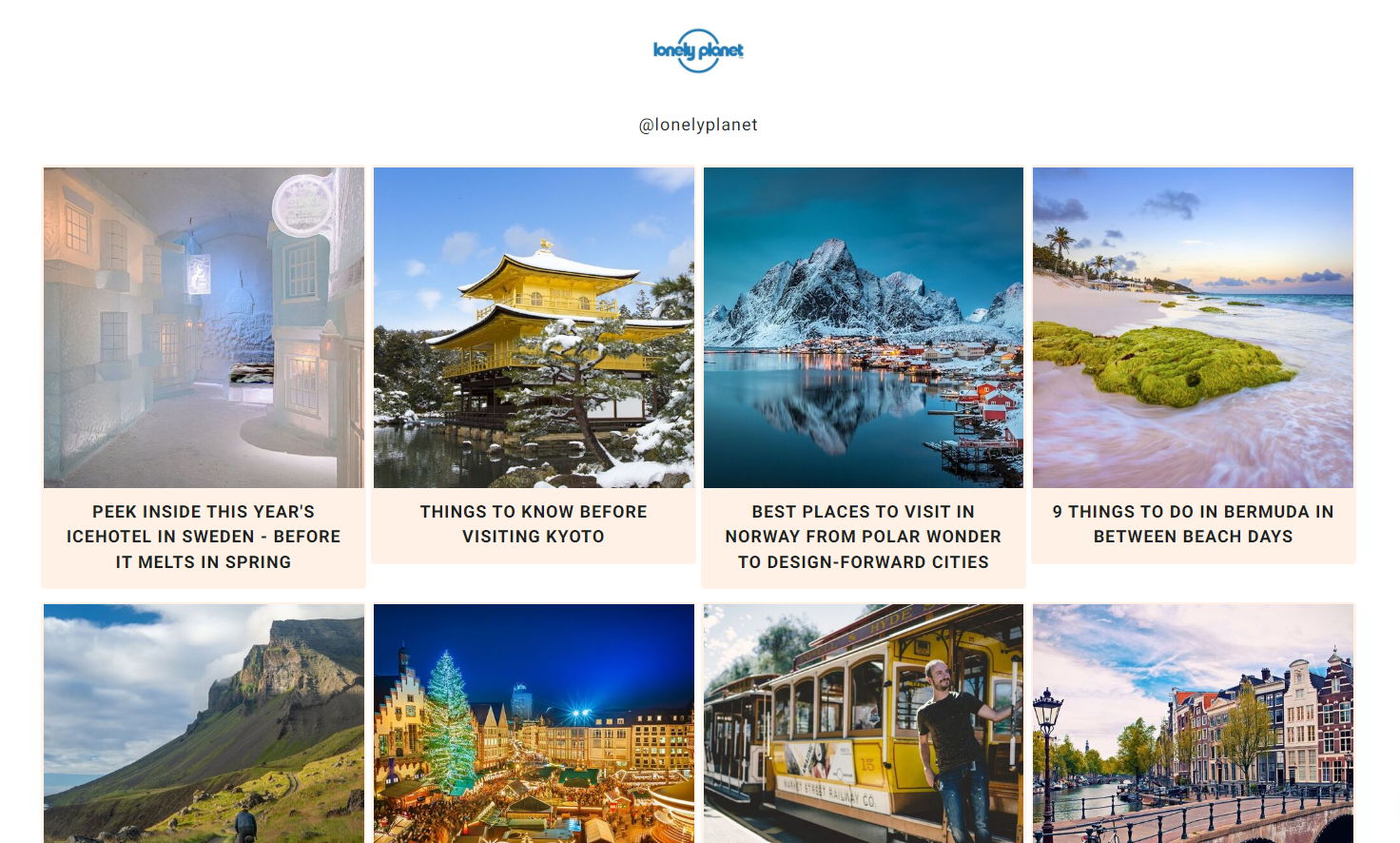 Lnk.Bio is one of the most affordable tools on this list, costing a mere 99c per month. There are options to unlock additional features for $9.99 (once-off) and more customization options for $24.99 (once-off).
Pros:
You can unlock all features for a once-off fee (or pay a low monthly subscription)
UI is somewhat similar to Instagram
Tons of social icons
Unlimited links
Ideal for Bloggers looking to build an audience on Instagram
Free plan available
Cons:
A basic list of features
Design options are limited
3. Linktree
Linktree is a popular link-sharing tool that is frequently used by famous influencers, musicians, and brands.
Customizing your link pages are fun and exciting with Linktree's vast selection of backgrounds, colors, and fonts. You can certainly come up with a few crazy and creative designs when playing around with Linktree's editor.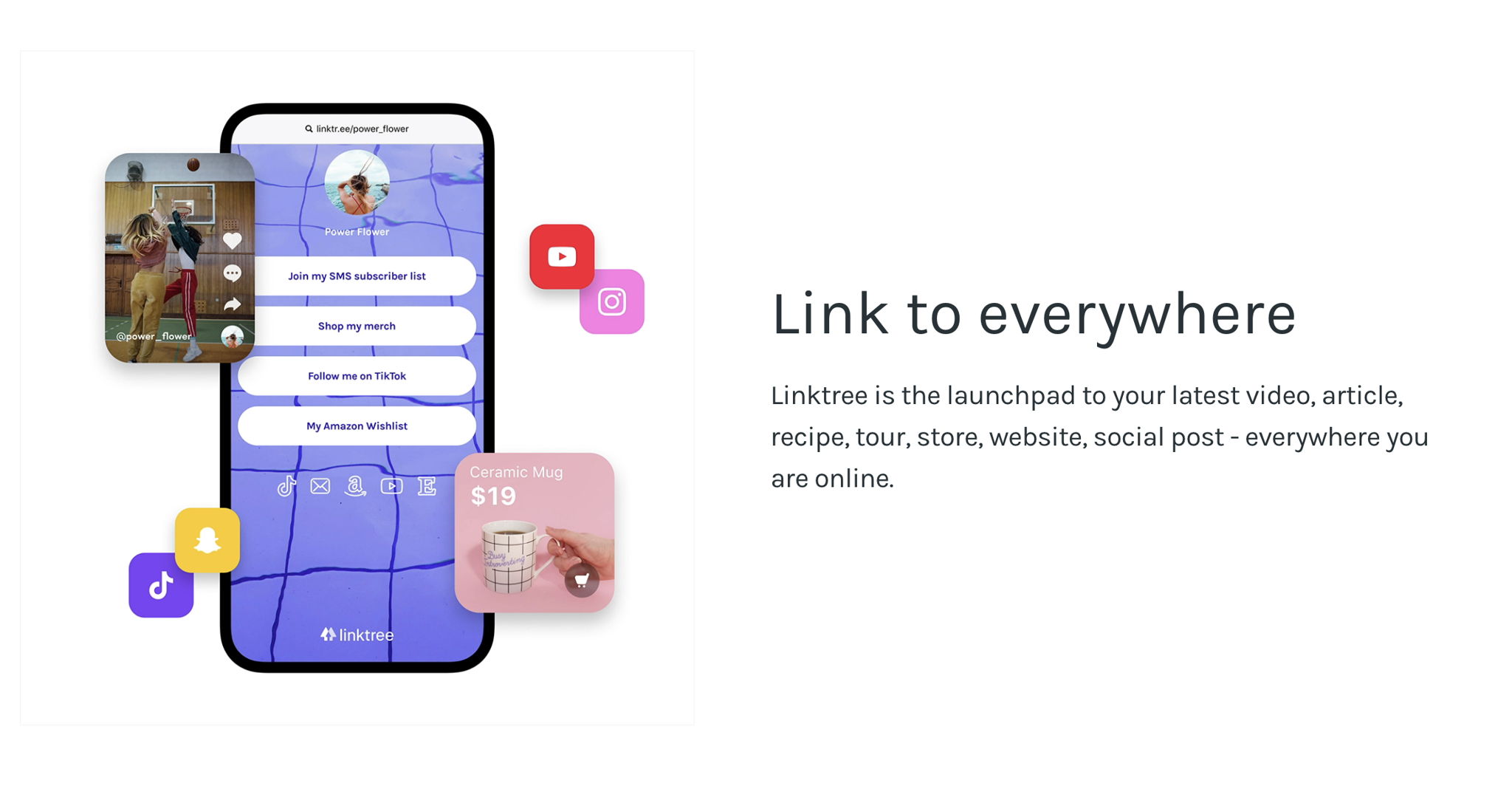 Celebrities like Selena Gomez and Gary Vee use Linktree mainly to share a bunch of their important links. However, it does not end there. You can accept payments such as tips and donations on the platform.
E-commerce brands that use Shopify can now also integrate their stores directly into the Linktree platform. This is courtesy of a new partnership between Linktree and Shopify.
Linktree's base Starter plan is $5 per month. $9 per month gets you the Pro plan which unlocks additional customization options and a slew of marketing tools.
Pros:
Excellent design options
Sell products
Accept tips and donations
Shopify integration
Unlimited links
Free plan available
Cons:
Design options are limited even with all the color and text choices
Not many additional options are available when you take a Pro plan

4. Tap.Bio
Tap.bio is an interesting and unique link-sharing tool. When an Instagram user taps on your link in bio, they will be taken to a page that resembles an Instagram story.
The Instagram stories on the link pages are actually cards chosen and designed by you. You can choose card templates (about us, contact us, etc) and fill in the desired info and links.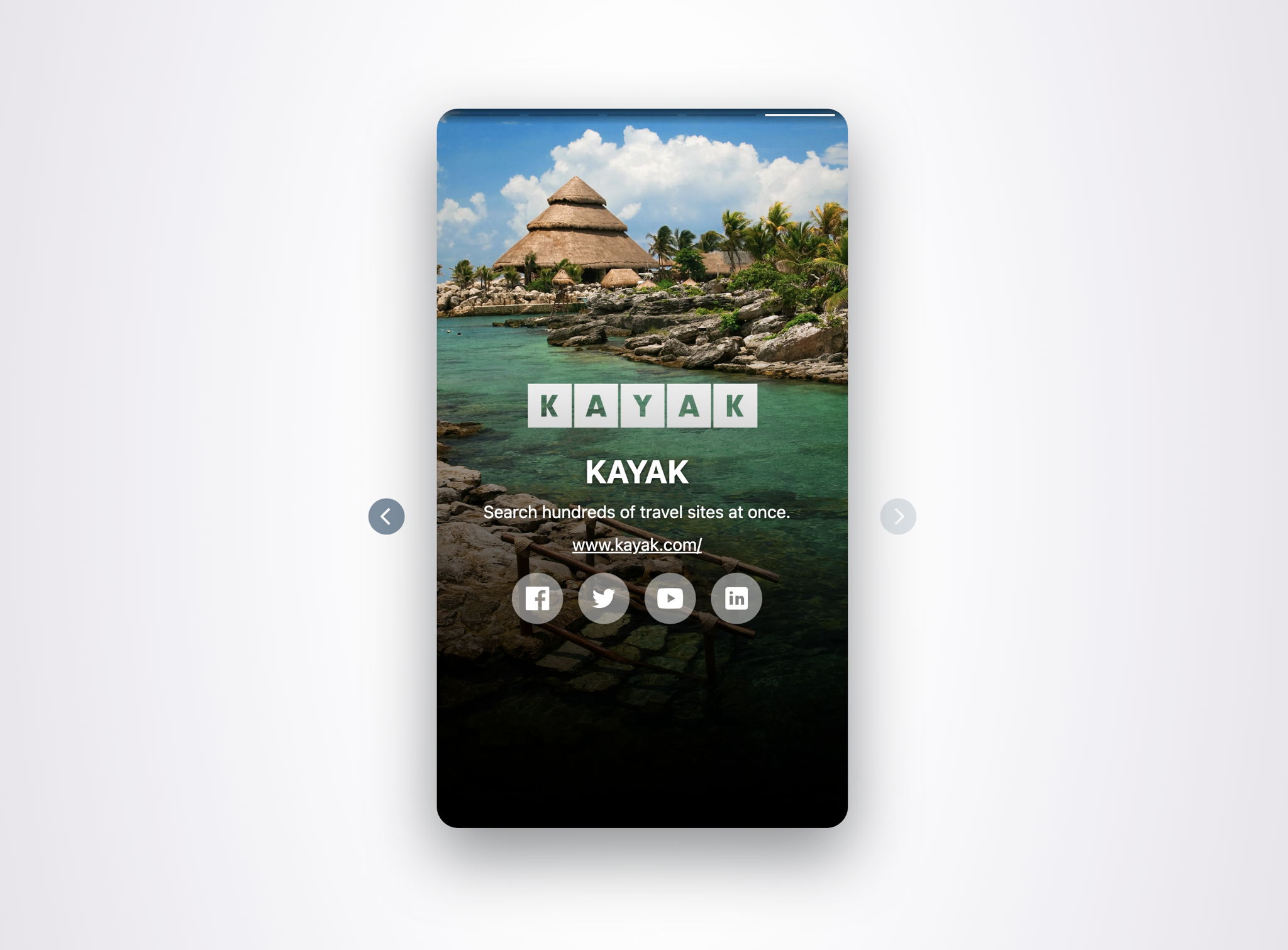 Tap.bio is a great example of displaying multiple stories like link cards. Your brand can create a different card for every new campaign.
For example, you can create these cards:
Link card to all your blog posts
YouTube card with all your videos
Giveaway card
Promotions card
Contact us page
Email signup page
Users that visit your link page can simply swipe a card to view the next card. This concept is amazing because it feels like you are swiping through someone's Instagram stories.
You can try Tap.bio for free. However, it will cost you $5 per month if you want to add additional cards.
Pros:
Excellent layout similar to Instagram Stories
Multiple cards allow you to display individual campaigns on separate cards
Great card templates (collect email, image layout, YouTube videos, and more)
Ideal for YouTubers and Podcasters
Free plan available
Cons:
Design options are limited
Not many monetization options are available
Looks best only on mobile devices
5. Shorby
Shorby is a sleek link in bio builder that allows you to create unique link pages. With a little bit of creativity, you will be quickly on your way to creating stunning link pages.
You can add multiple links to your store, socials, blog, affiliate links, and more. We love the in-depth customization options that include animated avatars, icons, backgrounds, and more.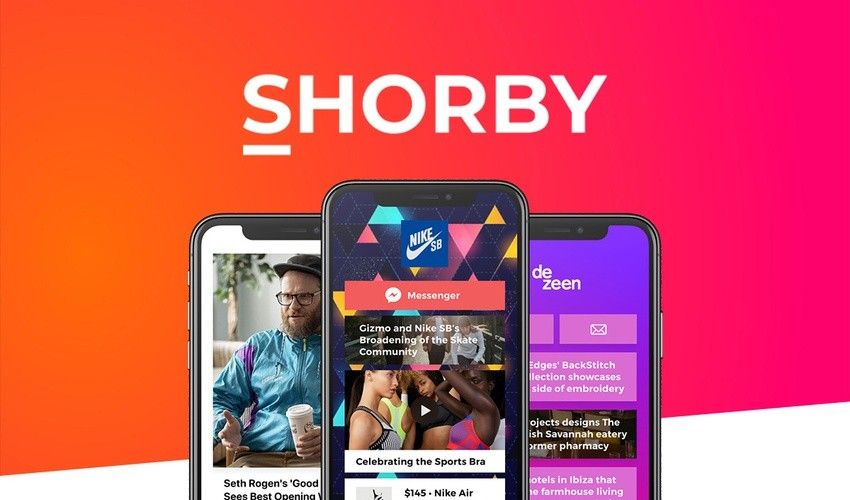 Shorby has a lot to offer with plans starting at $9 per month. You will have to spend $99 per month to unlock all of Shorby's in-depth list of features.
Pros:
Interesting layout
Strong list of features
In-depth level of customization options
Excellent set of analytics
You can retarget audiences on Clickbank and Amazon (3rd party websites)
Cons:
No free plan. 5-day trial only
Top tier plan is expensive
6. Feedlink
Feedlink is a link-sharing tool that's well optimized for mobile and features a layout similar to an Instagram feed. This product is part of Embed Socials' powerful catalog of social media and UGC products.
We are fans of picture card layouts that resemble an Instagram feed. This allows users to create a corresponding link picture card for each of their Instagram posts. An excellent method to keep your Instagram posts and links in sync.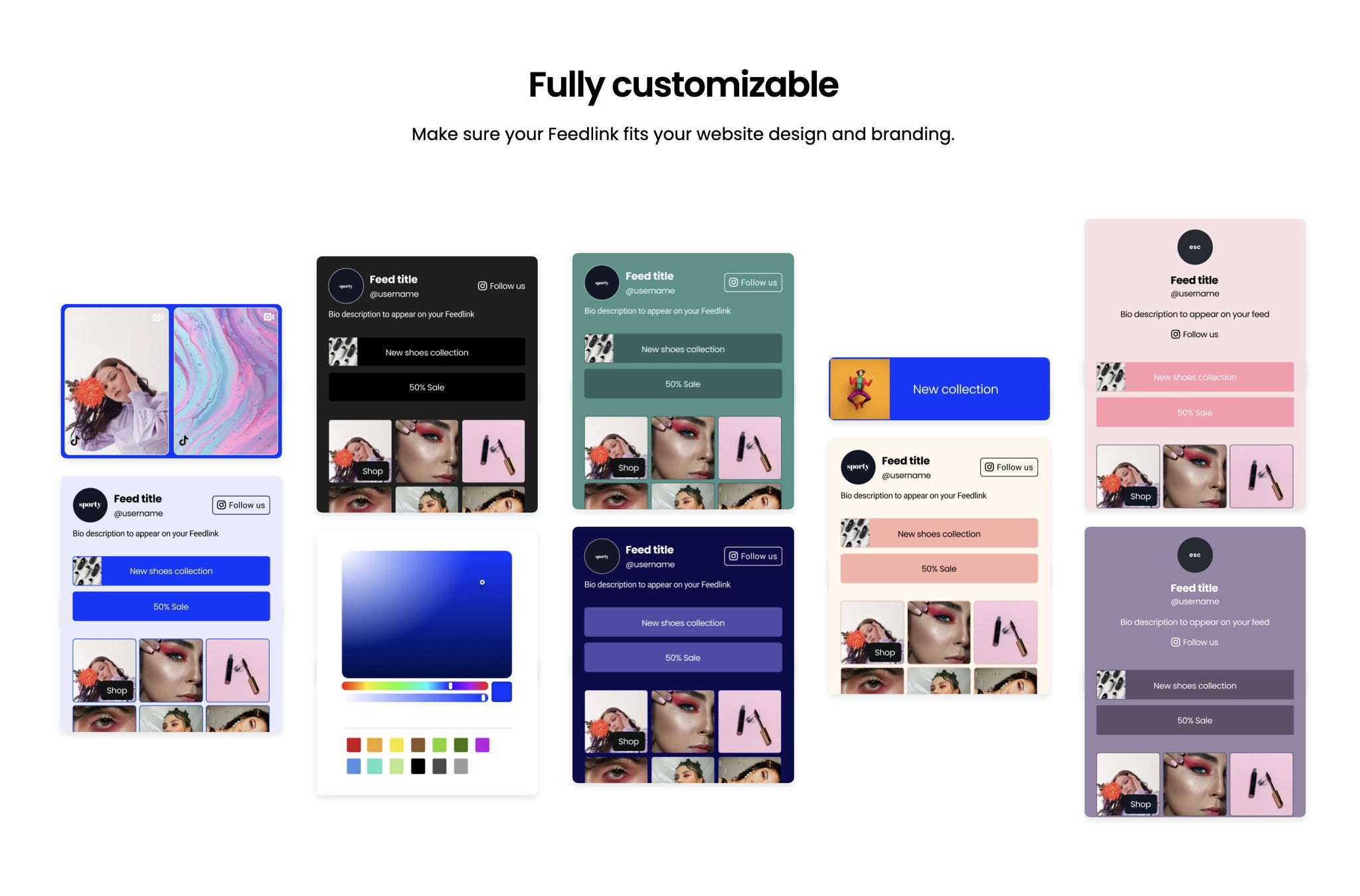 Feedlink is free to use. However, it costs $3 to remove their branding from your link pages. Managing more pages and sources from a single account will cost $9 per month.
Pros:
A familiar layout similar to your Instagram feed
Fast page speeds because of the AMP format
Color-coded themes
Unlimited links
Free plan available
Cons:
Big price jump just to manage more pages
A very basic list of features
7. Link in Profile
Link in Profile is a dedicated Instagram bio link tool. While most of the services in this list are meant for any social platform like Instagram or TikTok, Link in Profile is built for Instagram.
The reason is, Link in Profile connects with your Instagram profile to automatically maintain your link page. New Instagram posts in your feed can be added to your link page via the Link in Profile Dashboard or by inserting a URL into the Instagram Post's caption.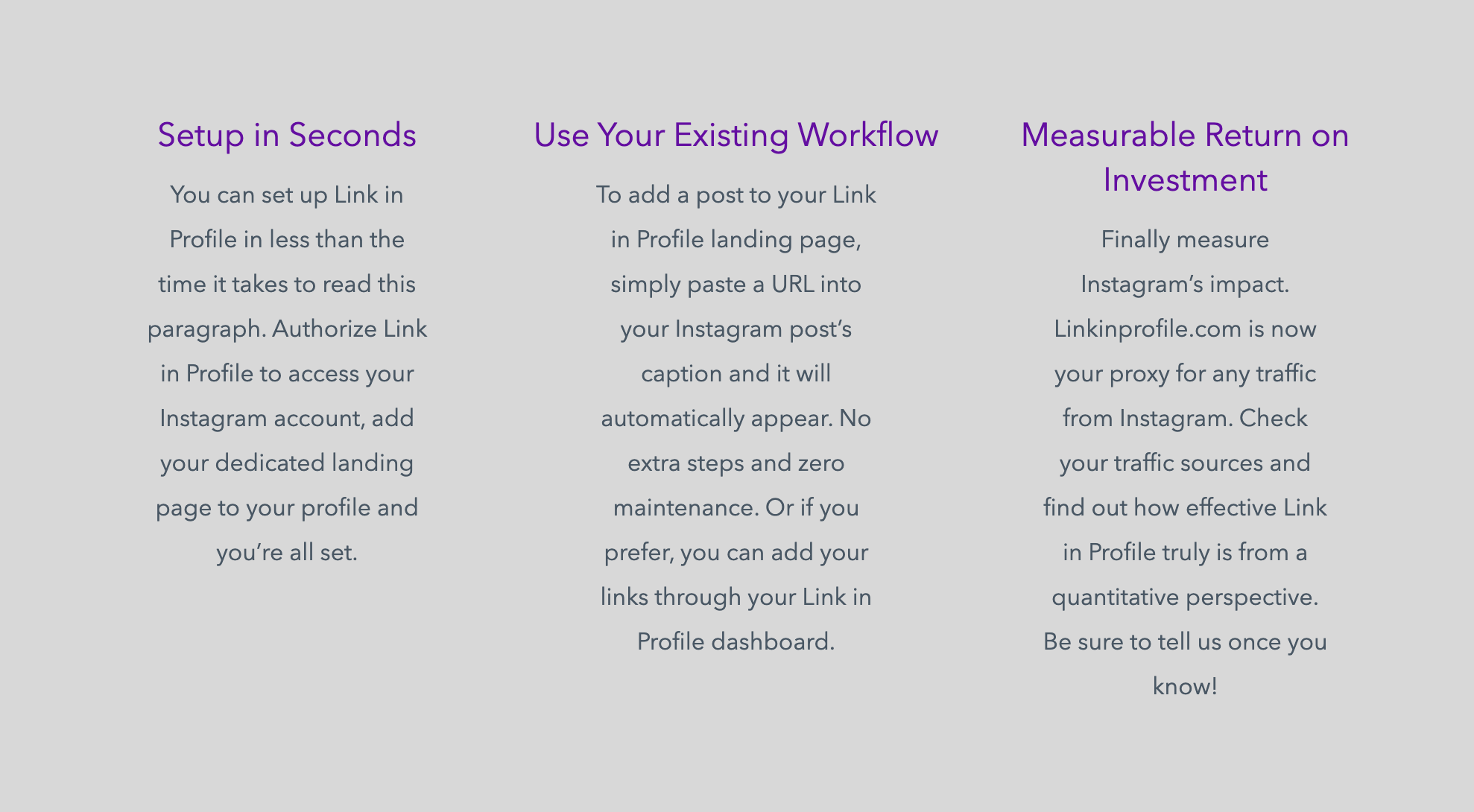 Link in Profile is an efficient service that is ideal for influencers and brands that heavily market themselves on Instagram. You can try out Link in Profile free for 30 days. Then it's $9 per month afterward.
Pros:
Link-sharing tools on autopilot
Impressive tracking and analytics
Low maintenance
Quick setup
Cons:
A competitive price plan is still expensive given the lack of features
Needs more customization options
8. Milkshake App
Milkshake is a beautiful link-sharing tool that lets you create fantastic link pages. The templates and designs a unique and chic, which work best with fashion-forward brands.
You will need to download the Milkshake App to your smartphone to begin. This will allow you to do everything from your phone. Ideal for influencers and brands that are on the move and don't always have access to a computer.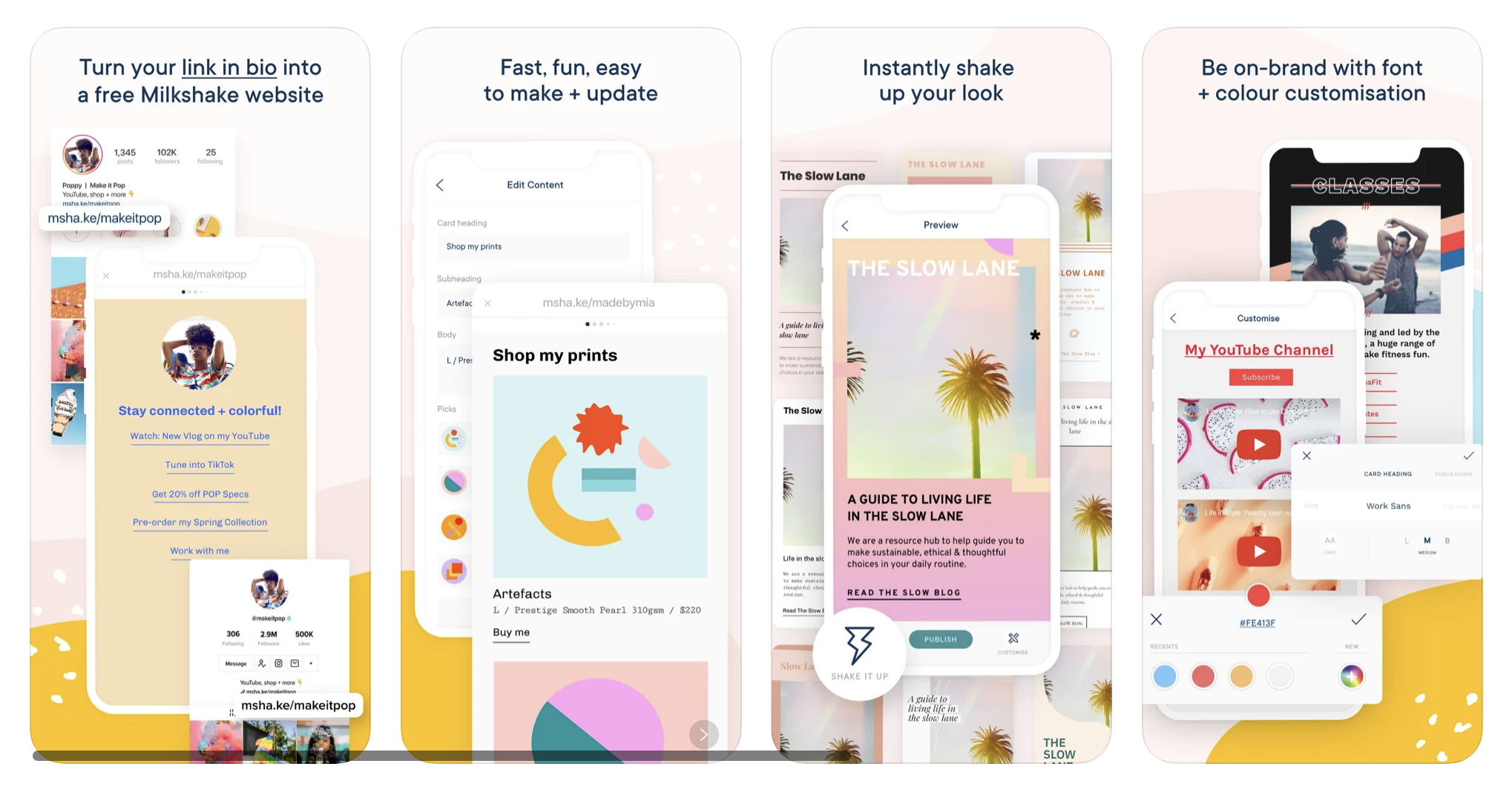 You can also use the app to build your Milkshake website, view analytics, share your link page to your Instagram Stories, customize cards and themes, and more.
There isn't much in terms of monetization. However, you can add a "Buy" button to your Milkshake website that leads visitors to your PayPal purchase page.
The Milkshake App is free to download and use. However, you will need to upgrade to a Lite plan for $2.99 to use additional features.
Pros:
Fashion centric and minimalistic designs
Everything can be managed from a smartphone using the Milkshake App
Decent set of analytics and insights available
Get followers to message or call you
Cons:
Lack of built-in monetization features
No desktop version available

9. Snipfeed
Snipfeed is another great link in bio tool with excellent monetization options. Accept tips, donations, and even sell digital content like ebooks.
Snipfeed has these really cool features that allow you to host your livestream or Q&A sessions within the platform. For example, you can sell online consultations. Users can book you through Snipfeed and you can then complete the consultation through Zoom.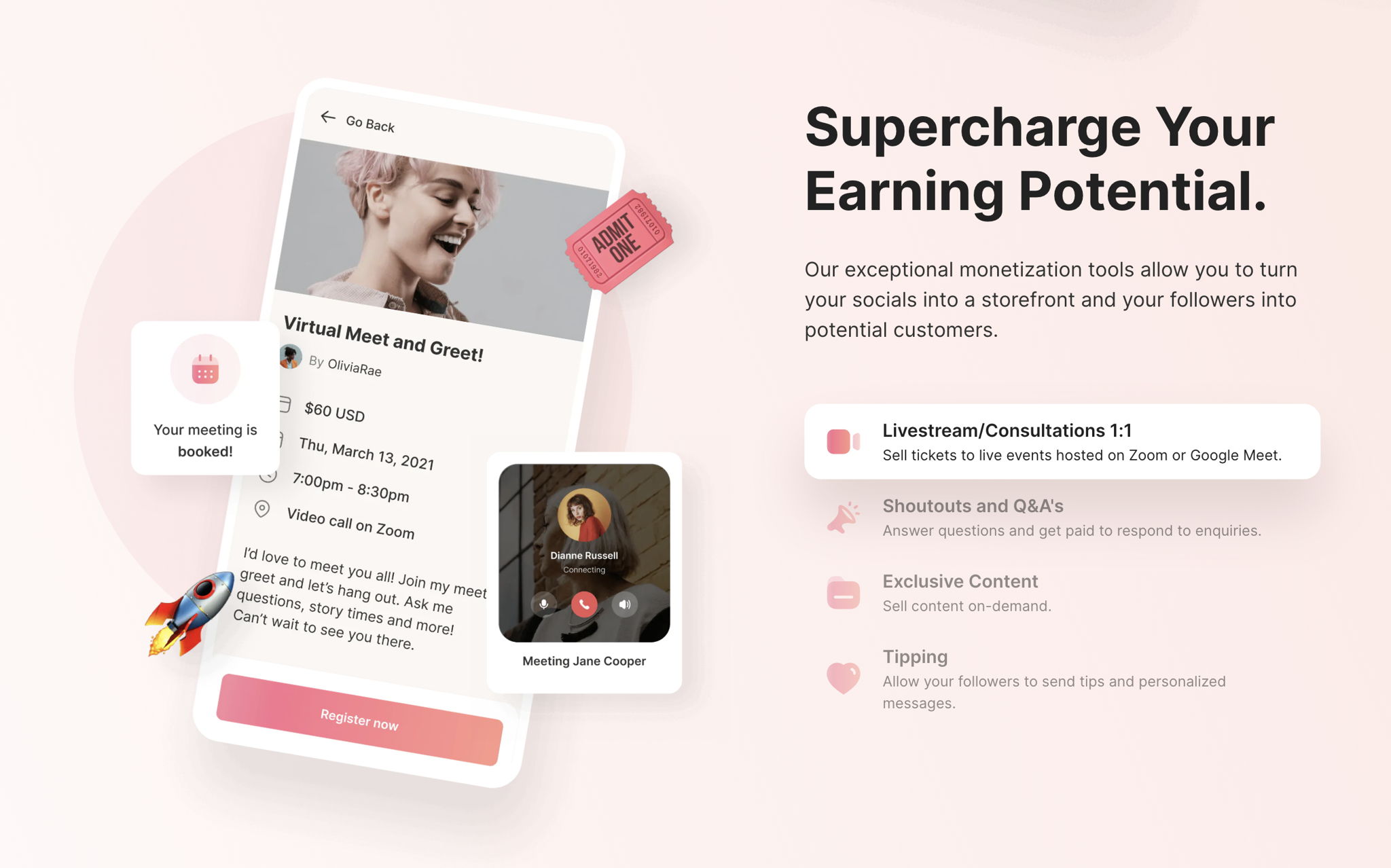 You can also get paid for answering questions on Snipfeed. If you are an expert in your field, eg. a content creator, then you can advise people on the best content creation platform to use, and get paid for it.
Snipfeed's customization options are straightforward. Their platform is geared more towards monetization and allowing its users to earn an income from their audience. This makes the platform popular among TikTok users.
Pros:
Impressive list of monetization features
Earn an income from online consulting and answering questions
Livestreaming, shoutouts, and tipping is available
Free to use. Only payout a commission of 15% to Snipfeed from revenue generated
Perfect for TikTok users and experts that offer online consultations and advice
Cons:
Customization features are limited
Not ideal for people that are not interested in monetizing their audience
10. ContactInBio
ContactInBio is an all-in-one link-sharing tool that lets you share links, videos, music, and payment links. It's a great Instagram bio link tool.
Music Artists will love the music link page template that allows you to include your Spotify, SoundCloud, and iTunes music links. You can also include the details of your next gig here and share links to purchase tickets.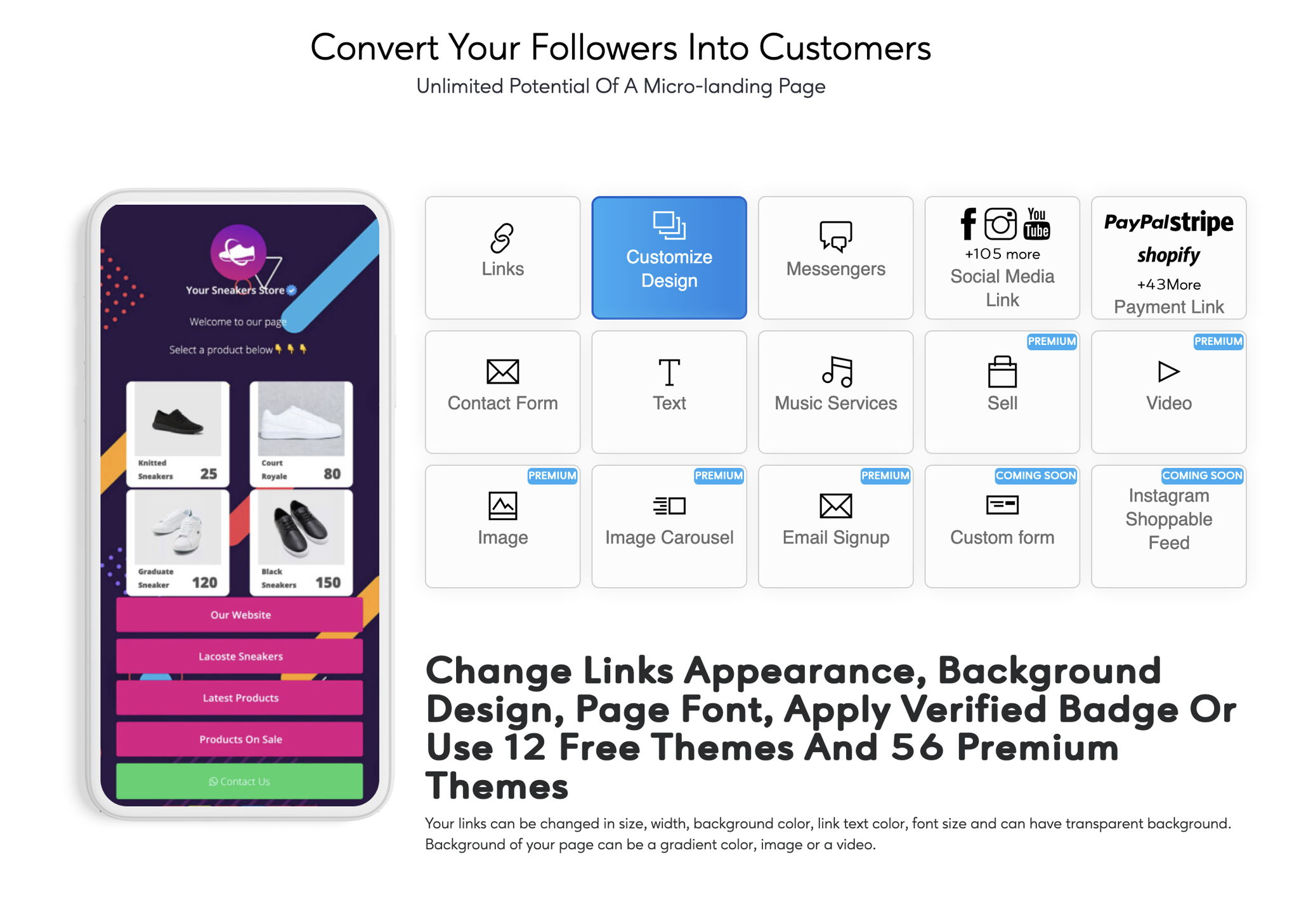 ContactInBio allows you to embed payment links from PayPal, Stripe, and more. Premium members can directly sell products on their link pages and embed playable videos.
ContactInBio is free to use. You will, however, have to pay $4.55 per month to enjoy their useful premium features.
Pros:
An impressive list of features
Embed payment links
Music Services template is a winner
Plenty of templates (contact form, messenger)
Competitive price plans
Free plan available
Cons:
Design options can be lackluster
11. LinkFolio
LinkFolio is a link-sharing tool made for influencers and brands. This service was developed by Famepick, a popular influencer platform.
With LinkFolio, you have unlimited links, customizable UI, an excellent analytics tool called Folio-lytics, social media cross-linking, and more. We also like how professional your brand link pages look with LinkFolio.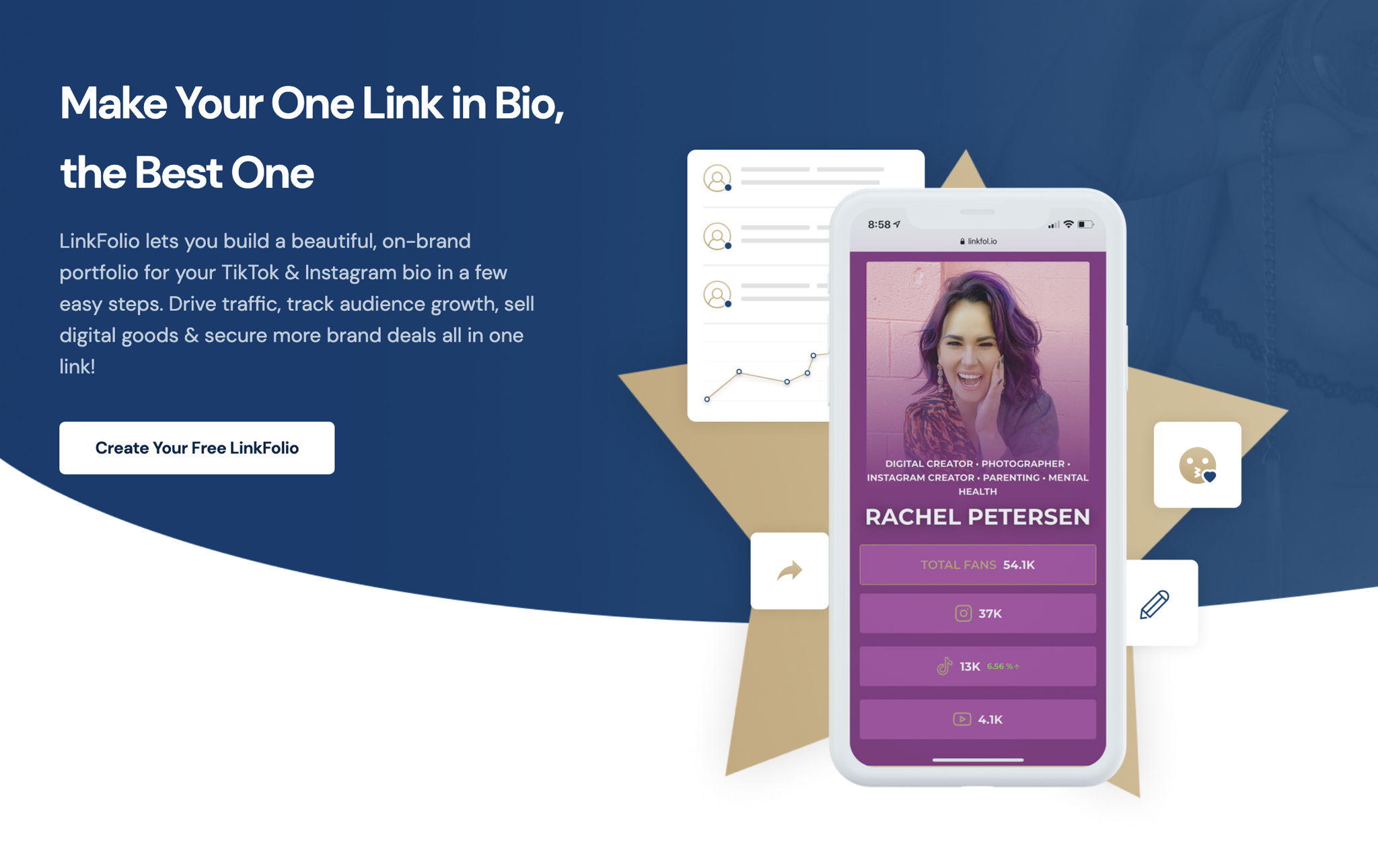 LinkFolio's designs options are sleek, yet limited. The idea is that you, the influencer, must create a portfolio page to display your links and other social networks. However, its a bit different from the other link page designs in this list. However, you can still sell digital goods.
The big sell here is LinkFolio's deep audience insight offering. Perfect for influencers to use when providing feedback to sponsors and brands. You can use LinkFolio's absolute basic features for free, then unlock more themes and their full analytics suite for $10 per month.
Pros:
Professional portfolio layout
Cross promote your socials
Excellent audience insights that include age, demographics, etc.
Built-in contact form
Professional media kit
Ideal for influencers
Free plan available
Cons:
Basic design options more inclined for creating a mini portfolio
Lack of crucial features that most competitors already have
TL;DR: Best Link in Bio Tools
And there you have it! 11 of our best link in bio tools to help you find the right platform for your brand. We hope you find what you are looking for. If not, please do contact us and we will be more than happy to help.
What is your opinion on link-sharing tools? Let us know in the comments below.
Jack Paxton
Jack Paxton is the co-founder of VYPER, a marketing tool that helps brands build email lists, social followings, and revenue using viral giveaways, referral, and reward programs. After millions of dollars spent testing different marketing strategies at his marketing agency. He then also co-founded Hyax a fast, conversion & design-focused course and funnel builder for creators.