Black Friday & Cyber Monday is mostly associated with massive savings on electronics, clothing, and other desirable goods that you may have had your eye on the entire year.
You can pick up some excellent deals that will save you thousands throughout the year on your favorite software providers.
We made things easy for you this year by compiling a list of our favorite and best Black Friday and Cyber Monday SaaS deals.
These are not affiliate links; they are deals we like and recommend, so it's unbiased.

This list has been updated to include the latest Black Friday & Cyber Monday SaaS Deals 2023
VYPER
Build giveaways, contests, referral, and loyalty programs with VYPER, and watch your business grow! VYPER uses gamification and incentivization to get people to engage with your brand.
With VYPER, you can create campaigns that generate email leads, social followers, and website traffic.
VYPER Key Features:
Host giveaways or contests on multiple platforms
Host Referral, reward, loyalty, or ambassador programs
Design landing pages and forms for your contest
Manage contest entries, pick out winners, and generate your own Ts & Cs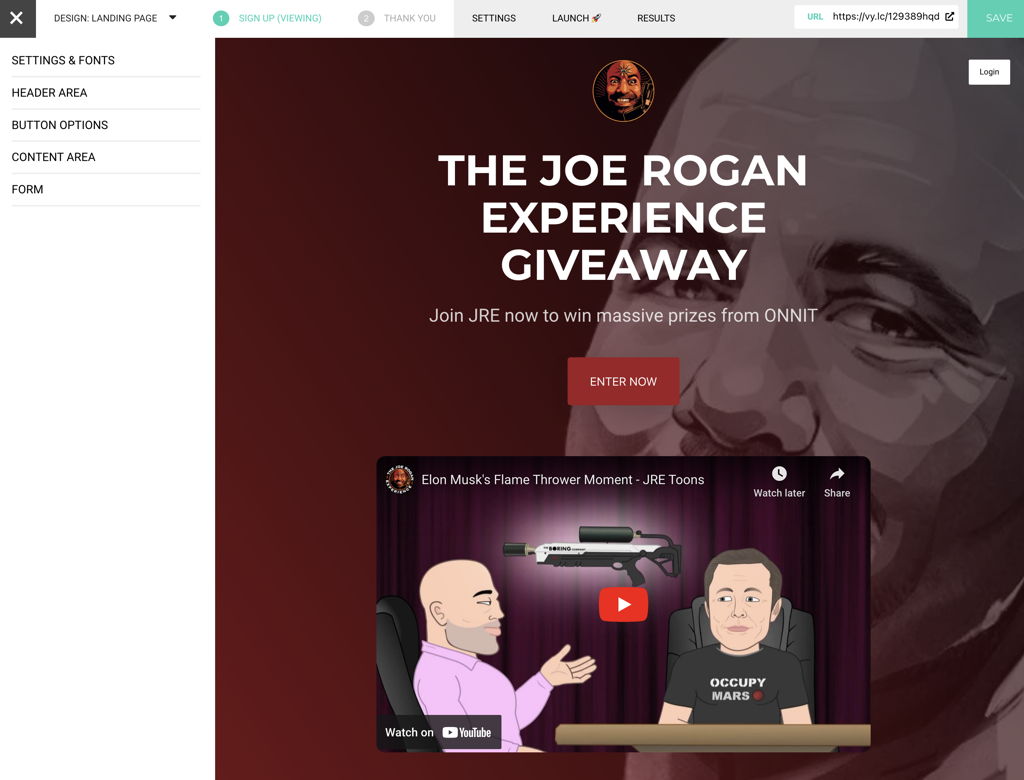 VYPER Black Friday and Cyber Monday Offer
50% OFF VYPER this Black Friday & Cyber Monday
Offer Valid from 01 – 31 November 2023
Link to deal – https://vyper.ai/bfcm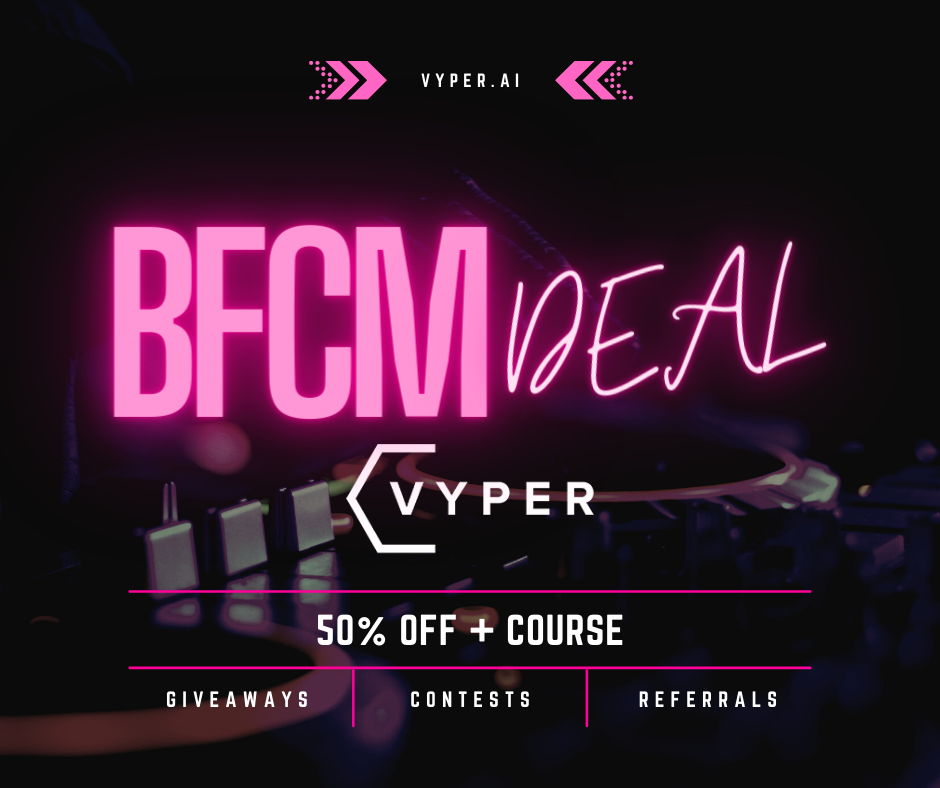 One of the most effective ways to promote your brand and stand out from competitors during Black Friday is with a giveaway.
We put together a guide to hosting a Black Friday Giveaway that's filled with giveaway examples, case studies, and ideas.
Click here to learn more about Black Friday Giveaways.
Pixpa
Pixpa is an all-in-one, no-code website builder for creatives and small businesses. Create beautiful, professional websites with an in-built online store, a dynamic blog, client galleries, e-commerce galleries, a photo gallery app, and marketing tools.
Pixpa's versatile platform has everything you need to showcase your work, share ideas, and sell your work online without any coding knowledge.
Key Features Include:
Portfolio Website Builder
Customizable Templates
E-commerce Integration
Client Galleries
Blogging Platform
SEO Tools
24/7 Support
Pixpa Black Friday and Cyber Monday Deals
BoldDesk
BoldDesk is an efficient customer service software that offers outstanding customer support. There's also a knowledge base solution through a user-friendly interface, automation tools, and extensive reporting, making it perfect for enhancing customer service operations.
BoldDesk Key Features:
Ticketing software
Knowledge base software
Task management
Customer Portal
Automation
Hypage Black Friday and Cyber Monday Offer
Luzmo
Luzmo is an embedded analytics platform, purpose-built for SaaS companies. It brings complex data to life with beautiful, easy-to-use dashboards, embedded seamlessly in any SaaS or web platform.
With Luzmo, product teams can add impactful insights to their SaaS product in days, not months. And take their product users from data to decisions, extremely fast.
Luzmo Black Friday and Cyber Monday Offer
Consolto
Consolto redefines the conferencing experience for customer meetings, merging the power of live chat, appointment scheduling, and video chat into one unified platform.
Tailored exclusively for enriched customer interactions, imagine the best of Zoom, Calendly, and Intercom seamlessly. integrated into one transformative tool
Consolto Key Features:
Live video chat with customers
Live chat
Video conferencing
Screen sharing
Consolto Black Friday and Cyber Monday Offer
90% Off for the first 3 months
50% Off yearly subscriptions for the 1st year
Coupon Code – BFCM2023YEAR / BFCM2023M
Offer Valid from 15 – 28 November 2023
Link to Deal – https://www.consolto.com
Brand24
Brand24 is an AI-powered social media monitoring tool that helps businesses of all sizes stay updated on online conversations about their brands, products, and competitors. With Brand24, users can gain customer insights, engage with communities, find sales leads, and connect with influencers.
This affordable tool is perfect for managing online reputation and tracking marketing campaigns.
Key Features Include:
Understand who is talking about your brand online
Find the best influencers for your brand
Understand customer attitudes and identify problem areas
Brand24 Black Friday and Cyber Monday Deals
50% off for any plan for 3 months
No promo code is needed. The discount will be applied automatically.
Offer Valid from 20 – 27 November 2023
Link to Offer – Brand24.com
Planly
Planly is an all-in-one social media management tool. You can use Planly to manage your social media profiles across 7 platforms easily:
Instagram
TikTok
LinkedIn
Facebook
Pinterest
Twitter
Mastodon
Thereby, Planly simplifies social media management, enhances engagement, and offers convenient content creation and distribution.
Planly offers the following innovative features:
Scheduling posts via multiple platforms
AI-generated captions
Hashtag suggestions
Optimal posting times
Comprehensive analytics
A unified digital portfolio feature called Addto.bio
Seamless integrations with Unsplash, Dropbox, and Google Drive.
Planly Black Friday and Cyber Monday Deals
50% OFF for the first-month subscription
30% OFF for annual subscription
Offer valid from 20 – 30 November 2023
Deal URL: https://planly.com/pricing/
FS Poster
FS Poster is your all-in-one tool for streamlined and effective WordPress social media management, designed to make your online presence truly shine.
With this innovative WordPress plugin, you can effortlessly publish a variety of content, including posts, images, videos, and more, on a whopping 21 of the most popular social networks and services, all directly from the comfort of your WordPress dashboard.
FS Poster Black Friday and Cyber Monday Deals
Retable
Retable is a cloud-based all-in-one data management platform that combines the simplicity of a spreadsheet with the complexity of a database, allowing users to create, customize, and collaborate on databases for a wide range of applications.
Retable Key Features:
Multiple views like grid, calendar, card, map, form, list, and Kanban
Intergration Options
Complete management system
Retable offers a versatile and user-friendly solution for managing projects, tasks, data, and content, making it a popular choice for both individuals and businesses looking for a flexible and collaborative database management tool.
Retable Black Friday and Cyber Monday Deals
50% discount on annual and monthly plans
Offer valid from 15 October to 31 December 2023
Promo Code – RTBLBF50
Link to Deal – retable.io/black-friday
ControlHippo
Businesses can easily monitor and manage client communications on various platforms like Facebook Messenger, Instagram, Telegram, WhatsApp, and more with ControlHippo's help, all in a single Dashboard.
This ensures a consistent, excellent standard of customer service and communication across various channels and promotes effective teamwork.
ControlHippo Black Friday Deal
QR Diffusion
Discover QR Diffusion – where art meets tech with dynamic QR codes! No need to use plain black and white QR Codes. Use eye-catching designs, perfectly crafted by QR Diffusion QR code generator.
QR Diffusion's QR Generator is incredibly user-friendly. Perfect for beginners to edit pre-made templates and create their artistic QR codes in seconds. For tech lovers, the platform offers deep customization options—fine-tune your QR codes to perfection with advanced settings.
QR Diffusion Black Friday and Cyber Monday Deals
50% Discount for the first two months or the entire year when choosing an annual plan
Offer valid from 12 November to 01 December 2023
Coupon Code – BFCM2023
Link to deal – https://qrdiffusion.com
Dorik
Dorik is a no-code and AI website builder that makes it easy for anyone to create a beautiful website in minutes, without any design or coding experience.
Dorik Black Friday and Cyber Monday Deals
SSL2BUY
SSL2BUY is an authorized reseller of the world's leading certification authorities like Digicert, Sectigo, Comodo, GlobalSign, RapidSSL, AlphaSSL, Thawte, and GeoTrust.
SSL certificates are essential for any website. They help provide security while offering credibility to your site. Customers who browse your site will gain your trust even faster.
Key features include:
Protect Personal Data
Increase Visitor's Trust
Boost Search Rankings
PCI Compliance
Avoid Browser's Warnings
SSL2BUY Black Friday and Cyber Monday Deals
ScrollSequence
Scrollsequence allows you to create stunning image sequence animations that are controlled with either the mousewheel or with touch. It makes it easy to deliver a powerful message.
You can take any video and turn it into an immersive website experience. The image will play/animate as you move around the mouse wheel.
Key features include:
Smart image loading
Content animation
Lightweight and fast-loading
Compatible with many WordPress builders
ScrollSequence Black Friday and Cyber Monday Deals
60% Off All Plans
Offer valid from 15 November to 01 December 2023
Coupon Code – BFCM2023
Link to deal – scrollsequence.com
CallHippo
CallHippo is one of the leading Virtual phone number providers in the market which is trusted by 5000 brands globally. They offer products like Business Phone Systems, Speech Analytics, Call Tracking, and Voice Broadcasting.
Numbers can be purchased in 4 simple steps and take only 3 minutes. CallHippo supports more than 85 integrations that include Slack, Zendesk, Outreach, Hubspot, Shopify, and many more.
Key Features Include:
Call center software
Call recording
Intelligent reports and analytics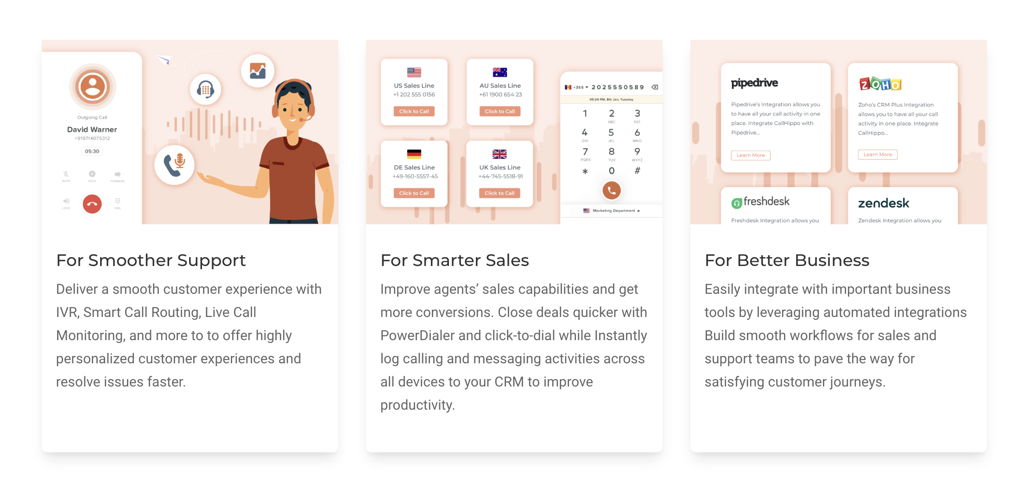 CallHippo Black Friday and Cyber Monday Offer
Save 15% on the "Silver Plan" for the Annual Plan this Black Friday!
Deal coupon code: Reach out to [email protected] for your coupon code
Offer valid from 01 November to 30 November 2022
Link to deal – callhippo.com
SalesBlink
Drag and Drop to create high-performing Automated Sales Outreach Campaigns. SalesBlink helps fill your sales pipeline by simplifying prospecting, outreach & closing all at one place.
Key Features Include:
Visual campaign builder
Image and text personalization options
Automated multi-channel follow up systems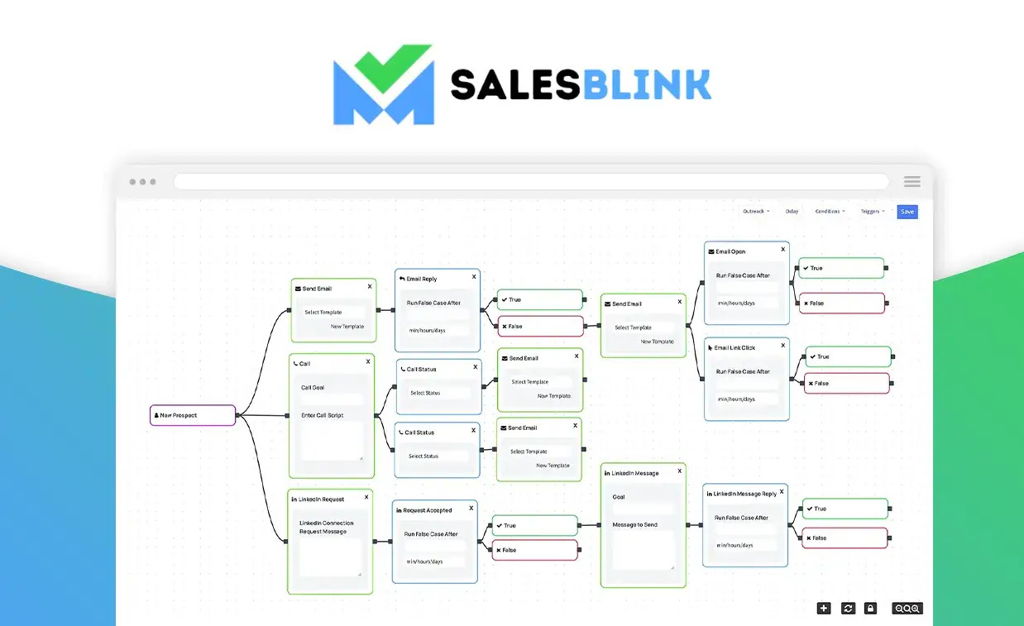 SalesBlink Black Friday and Cyber Monday Offer
50% off on Scale and Business Plans for 1 year
Offer is for both Yearly and Monthly Plans
Offer valid from 01 to 31 December 2023
Coupon code – BlackFriday2023
Link to Deal – salesblink.io/pricing
TemplateMonster
TemplateMonster is a renowned digital marketplace offering a wide range of premium and free products for all web projects and needs. This platform is a treasure trove for web designers and developers, as well as marketing experts and everyone interested in high-quality web design assets.
Offers from TemplateMonster include:
Themes and templates for WordPress, Shopify, Magento, and more
Massive blog with freebies and tutorials
Web design resources that can inspire your next website

TemplateMonster Black Friday and Cyber Monday Deals
MonsterONE
MonsterONE, the subscription service from TemplateMonster, gives you access to an extensive collection of resources. With MonsterONE, you only pay once and enjoy unlimited downloads.
With this subscription, you gain access to:
Website and e-commerce themes
Graphic design assets
Video and audio assets
Presentation templates
MonsterONE Black Friday and Cyber Monday Deals
Save $310 on the MonsterONE Lifetime Plan
Discount on the MonsterONE subscription plan
Offers are valid for November 2023
Link to deal – monsterone.com
ContactPigeon
ContactPigeon is an omnichannel customer engagement platform for retailers in Europe. Their service enables retailers to create personalized and automated marketing campaigns across different channels to increase customer retention.
ContactPigeon Black Friday and Cyber Monday Deals
20% OFF on our annual subscriptions for one year
Deal valid from 01 – 27 November 2023
Link to deal – ContactPigeon.com
OSI Affiliate Software
OSI Affiliate Software can help you achieve the success you want. It is easy to use and offers a variety of features. Once you have your team of customers and affiliates using it, they can easily promote your products across social media platforms and online.
Customer efforts will be tracked and managed through a user-friendly administrative panel where you can reward them for their promotional efforts.
You must implement a referral program to get your customers to promote your business. This year, get 20% off of OSI Affiliate Software for Black Friday and Cyber Monday!
OSI Affiliate Software Black Friday and Cyber Monday Offer
Envato
Envato is a global marketplace for digital assets (themes, templates, images, fonts, and more). Creative people can download or sell digital assets to build websites, edit videos, and for graphic design.
Envato is perfect for people that need a specific theme for their website. Or a particular template/video asset to help inspire their next project.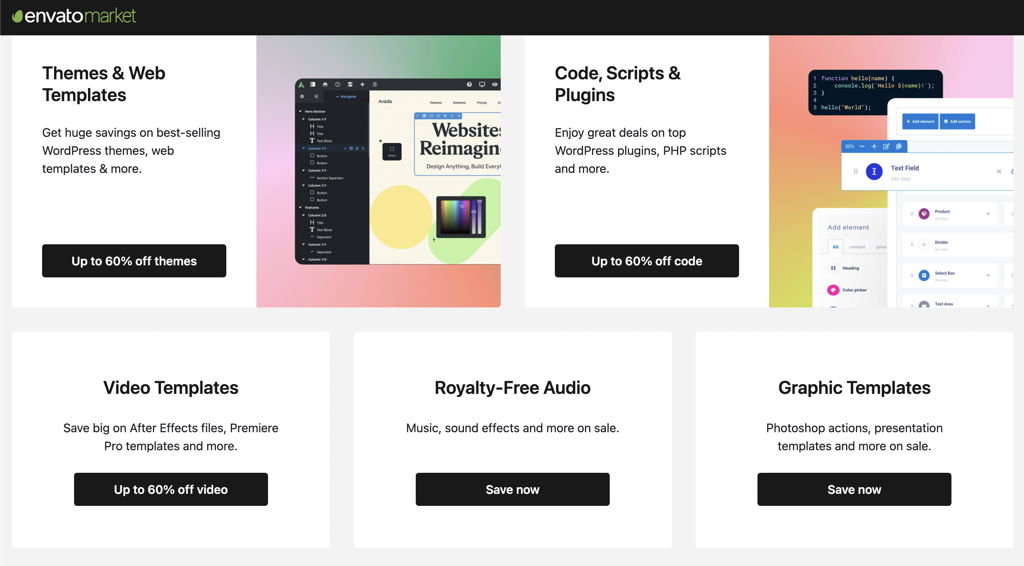 Envato Black Friday and Cyber Monday Offer

Envato Elements
Envato Elements is the home to millions of creative assets. This service is ideal for creative people that consistently require digital assets for their work.
A monthly subscription fee will allow you to access millions of video templates, music, graphics, and more.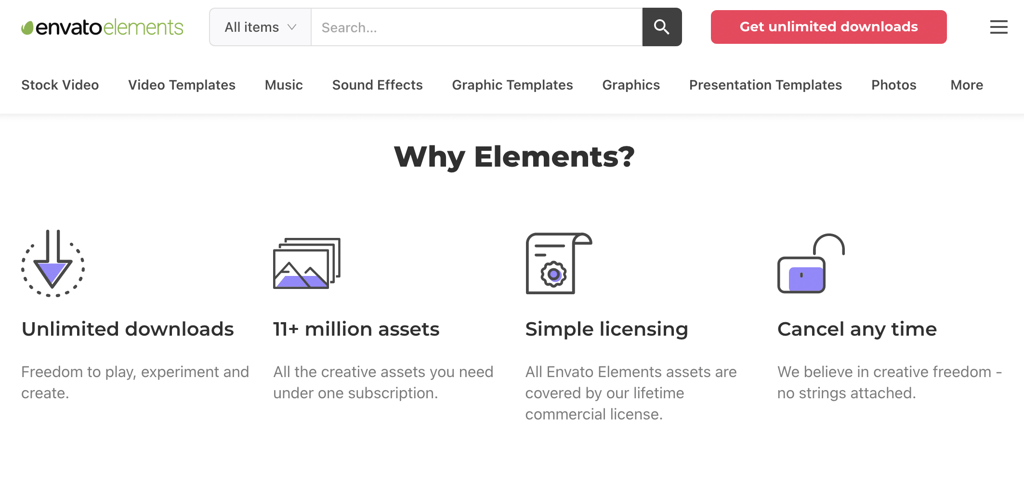 Envato Elements Black Friday and Cyber Monday Offer
Cloudways
Cloudways offers reliable, scalable, and user-friendly hosting solutions designed for various needs. Whether you're launching a personal blog or scaling an e-commerce business, our platform ensures optimal performance.
Enjoy seamless web experiences backed by robust infrastructure and intuitive tools.
Key Features:
Managed Cloud Hosting
Performance Optimization
24/7 Support
Easy-to-use Control Panel
Scalability & Flexibility
Cloudways Black Friday and Cyber Monday Offer
40% Off Cloudways this Black Friday Cyber Monday
40% OFF for 4 Months on all hosting plans + Upto 40 Free Migrations
Promo Code – BFCM4040
Offer Valid from 13 November to 01 December 2023
SendBuzz
SendBuzz is a multi-channel sales engagement platform to run scalable and revenue-generating cold outreach campaigns.
Add your prospects and personalize your sequences to gain the most effective results. Sync your data with your CRM solution and achieve maximum deliverability for your campaigns.
SendBuzz Black Friday and Cyber Monday Offer
Up to 40% Off SendBuzz
Offer Valid from 15 – 30 November 2023
Link to deal – sendbuzz.io
LinkedFusion
LinkedFusion is the safest, cloud-based LinkedIn automation tool. Automate your LinkedIn outreach and achieve your sales goals with LinkedFusion.
Run prospecting campaigns, fill your sales pipelines with fresh prospects, or hire the right talent from LinkedIn with automated outreach on LinkedIn.
Software Offerings:
LinkedIn automation for outreach
Smart follow up
Native CRM integrations
Dedicated IP address for safer outreach
LinkedFusion Black Friday and Cyber Monday Offer
Up to 40% Off LinkedFusion
Offer Valid from 15 – 30 November 2023
Link to deal – linkedfusion.io
AdSpyder
AdSpyder is a SAAS-based ad intelligence tool that provides analytical insights into your rival's digital advertising strategy. It lets you monitor advertisements across multiple platforms with super-advanced features.
Some features included in AdSpyder:
The Google ad spy tool
Unparalleled insights with demographics, CTAs
Landing page analysis
URL/domain analysis
Paid keyword analysis
And coming soon – AI-integrated ad generation.
AdSpyder Black Friday and Cyber Monday Offer
Devrims
Devrims is the perfect managed cloud hosting for PHP web apps. It does not matter if you have a busy blog on WordPress or money-making e-commerce on WooCommerce or Magento. Devrims is here to manage all your cloud hosting needs.
Product features include:
Next-Gen Security
99.9% Uptime
One-Click Deployment
Pre-Configured Services
Devrims Black Friday and Cyber Monday Offer
LogicBalls
LogicBalls is an AI-powered copywriting tool that simplifies the content creation process and generates engaging and compelling content. Whether you're a marketer, blogger, or business owner, this cutting-edge tool empowers you to effortlessly craft high-quality copy for a wide range of purposes.
With 150+ tools for content generation, LogicBalls provides a seamless and efficient solution for individuals and businesses looking to enhance their online presence and communication.
Key features of LogicBalls include:
Uses advanced GPT-3.5 AI for content generation
Rich text editor
Supports 50+ languages
Provides 20+ tones of voice
Offers SSO for enterprise businesses
Project and file sharing
Enable easy team management
Comes with long-form blog generator
LogicBalls Black Friday and Cyber Monday Offer
SocialBee
SocialBee is an all-in-one AI-driven social media management solution that helps you easily create, schedule, and share content across all major platforms. It eliminates the need for tedious content creation and manual posting, ultimately saving you hours of work each week.
Key SocialBee features:
AI content generation
AI social media manager
Social media scheduling and publishing
Team collaboration
Social media analytics
Social media inbox
SocialBee Black Friday and Cyber Monday Offer
Save a whopping 70% on your SocialBee monthly tool plan for 3 months or 30% on an annual subscription!
Deal Value – 70% off for 3 months
Offer valid from 24 to 27 November 2023
Coupon Code – Use code SOCIALBEEBF23 at checkout
Link to deal – https://socialbee.io/blackfriday/
Risely
Risely, an AI co-pilot for leadership development, offers managers a new avenue to achieve professional success. With interactive and customized learning journeys, it helps you overcome challenges one nudge at a time while the AI chatbot Merlin supports your growth.
Risely Black Friday and Cyber Monday Offer
50% off on all Annual Plans
Offer valid until 31 December 2023
Coupon code – BLACKFRIDAY2023
Link to deal – https://www.risely.me/
Booknetic
Booknetic is an all-around appointment booking plugin that will eliminate the need for manual booking and endless calls. With Booknetic, you won't get dragged into back-and-forth calls. Customers will choose the best time for themselves.
Booknetic Black Friday and Cyber Monday Offer
50% discount on the plugin and another 30% discount on all add-ons
Deal valid from 20 November to 02 December 2023
Link to deal – booknetic.com
AppstoreSpy
AppstoreSpy turns app data into insights in just a few clicks. Track competitor apps, monitor their performance, and make data-driven decisions to foster the growth of your app. Designed for indie developers, ASO, marketers, and everyone who works with apps.
AppstoreSpy Black Friday and Cyber Monday Offer
40% discount for all plans
Coupon code – BLACKFRIDAY2023
Deal valid from 20 November to 01 December 2023
Link to deal – appstorespy.com
ThemeSelection
ThemeSelection offers premium quality, developer-friendly & easy-to-use Admin Template & UI Kits for web developers & web designers. Using these professionally developed Admin templates, you can develop responsive web apps.
You can create any kind of web app, such as SaaS apps, Fitness Apps, Educational Apps, E-commerce apps, etc., using these fully coded & professionally designed Admin Templates & UI Kits.
ThemeSelection Offers:
Bootstrap Admin Dashboard Templates
React Admin Templates
Vue Admin Panels
NextJS Admin Dashboards
Laravel Admin Panel Templates
Next JS Dashboard Templates
ASP NET Dashboards
Django Admin Templates
Figma UI Kits
Sketch UI Kits
And a Big Bundle that consists of All of the Above at 85% OFF
ThemeSelection Black Friday and Cyber Monday Offer
Beagle Security
Beagle Security is an automated penetration testing solution (DAST) that helps you identify vulnerabilities in your web applications, APIs & GraphQL endpoints and remediate them with actionable insights before hackers harm you in any manner.
Beagle Security allows you to transform your application security process by building automated workflows with your CI/CD tools, bug tracking tools and communication apps.
Beagle Security Black Friday and Cyber Monday Offer
30% off all annual plans for the 1st year
Offer valid from 24 – 27 November 2023
Coupon code – BFCM2023
Link to deal – https://beaglesecurity.com/
StatusGator
StatusGator is a status monitoring software that gives your team a unified status page showing the status of all of your cloud vendors, hosted applications, services, websites, and more.
Key features of StatusGator include:
Status Aggregation: It consolidates the status updates of all your vendors onto a single page, simplifying the monitoring process​.
Built-in Website and Cloud Monitoring: StatusGator's status page includes built-in monitoring capabilities for both websites and cloud services, ensuring real-time updates and proactive management​.
Private Status Page: Teams can utilize a private status page to streamline internal communications and minimize the number of support tickets​.
Cloud and Website Monitoring: The platform allows for monitoring all cloud services from a single dashboard, and also includes uptime monitoring for websites, ensuring constant vigilance over online operations​.
Instant Notifications: StatusGator sends immediate alerts when services experience downtime, providing critical visibility and enabling rapid response to issues​.
Vendor Reliability Analysis: The platform offers features to analyze and understand vendor reliability, including data exports, weekly email summaries of outages, and tools for running reports and analyses. This information is invaluable for holding vendors accountable and for use in contract negotiations.
Incident Management Integration: StatusGator can be integrated with existing incident management tools through integrations or an API, allowing for automatic incident creation and proactive management of high-value services​.
StatusGator Black Friday and Cyber Monday Offer
20% Discount on monthly and annual Starter plans
Deal valid from 11 November to 12 December 2023
Link to deal – statusgator.com
Retainful
Retainful is an all-encompassing email marketing automation platform, empowering Woocommerce and Shopify stores to boost sales through features like abandoned cart recovery, automated emails with dynamic coupons, and a flexible drag-and-drop editor.
Enhanced with real-time analytics, exit-intent popups, a robust referral program, broadcast and segmentation tools, Retainful delivers personalized, strategic communication to optimize customer engagement and increase revenue.
Trusted globally by over 15,000 store owners, it's acclaimed as one of the top tools for Woocommerce and Shopify stores. Retainful now provides a 30% discount, enhancing its value proposition.
Retainful Black Friday and Cyber Monday Offer
Flat 30% off on all Premium Plans
Offer valid from 8 Nov 2023 – 5 Dec 2023
Coupon code – BFCM2023
Link to BFCM Offer – Grab BFCM deal
AroundDeal
AroundDeal stands as the leading platform for sales and marketing intelligence and automation. They offer a comprehensive global business database that houses over 120 million contacts and company information.
AroundDeal Black Friday and Cyber Monday Offer
ActivityTimeline
ActivityTimeline stands as the leading Jira plugin for project managers, offering comprehensive project timeline visibility. Explore its extensive range of features, including capacity planning, individual time tracking, team timesheets, and resource utilization reports.
ActivityTimeline Black Friday and Cyber Monday Offer
Start a free trial of ActivityTimeline between November 24th and December 1st and get a 10% discount for the first-year license + free personalized consultation to answer all questions you may have.
Link to deal – ActivityTimeline
Easy Jobs
Easiest remote hiring SaaS solutions, available in WordPress plugin. It comes with a structured candidate pipeline, insightful analytics, AI feature in candidate selection, and more advanced options to streamline the recruitment process.
Top 4 Features:
Easy Onboarding System
Smart Candidate Selection Features
Insightful Reports From Analytics
Create Employer Brand With Ease
Easy.Jobs Black Friday and Cyber Monday Offer
Nuelink
Nuelink is a social media management and automation tool. Social media managers, podcasters, e-commerce brands, bloggers, and other professionals can easily automate their social media strategy.
Features include:
Schedule months of social media posts
A library of posts already designed and ready to post
Social media automation
Manage content in your library into collections
Nuelink Black Friday and Cyber Monday Offer
75% OFF on Yearly Plans
A Lifetime Deal
Offer valid till the end of November 2023
Link to deal – nuelink.com
Jotform
Jotform is a user-friendly and flexible online tool that makes it easy to create custom forms for a variety of purposes as well as surveys, apps, dashboards, e-signature documents, and more.
Jotform's drag-and-drop interface and extensive automation features allow users to easily collect, manage and analyze data.
Key features include:
Drag-and-drop customization
Wide range of templates
Conditional logic and calculations
Multiple embed options
Mobile-responsive design
Gather feedback with live reports
Email notifications and autoresponders
Hundreds of integrations
Jotform Black Friday and Cyber Monday Offer
Reply
Reply is your all-in-one sales engagement platform to create new opportunities at scale while keeping every touchpoint personal.
Reply automates outreach across multiple channels and comes with an email finder, deliverability suite, AI assistant, CRM integrations, and analytics – everything you need to grow a small business into a big brand!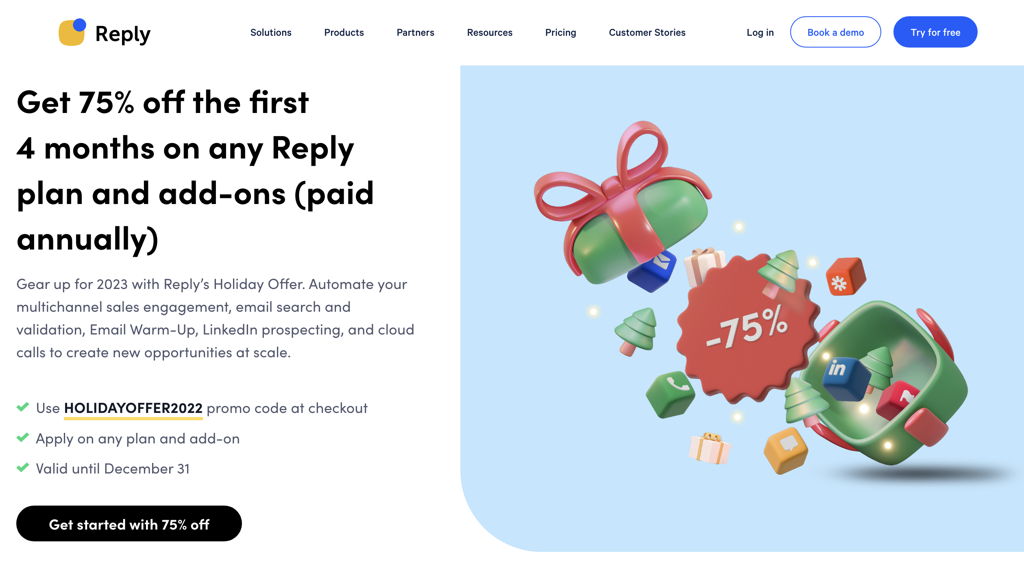 Reply Holiday Deal
Get 75% off the first 4 months on any Reply plan
Gear up your sales for 2023 with full access to all of Reply's core features!
Deal coupon code: HOLIDAYOFFER2022
Offer valid from 31 December 2022
Link to deal – https://reply.io/holiday-offer/
TriviaGate
TriviaGate.com is a unique platform for finding various types of trivia to play with. It is a free resource site where you can play trivia for free. However, they also offer paid quiz event plans to play live virtual quizzes.
You can always try their free quiz pages to explore trivia games, and if you like it, you can opt for payment.
TriviaGate Black Friday and Cyber Monday Offer
Engagebay
Engagebay is an integrated all-in-one marketing, sales and support platform with a free CRM built for startups and growing companies.
Key features include:
All-in-one marketing, CRM, and sales software
Help desk and live chat
Email marketing templates
Web pop-ups
Engagebay Black Friday and Cyber Monday Offer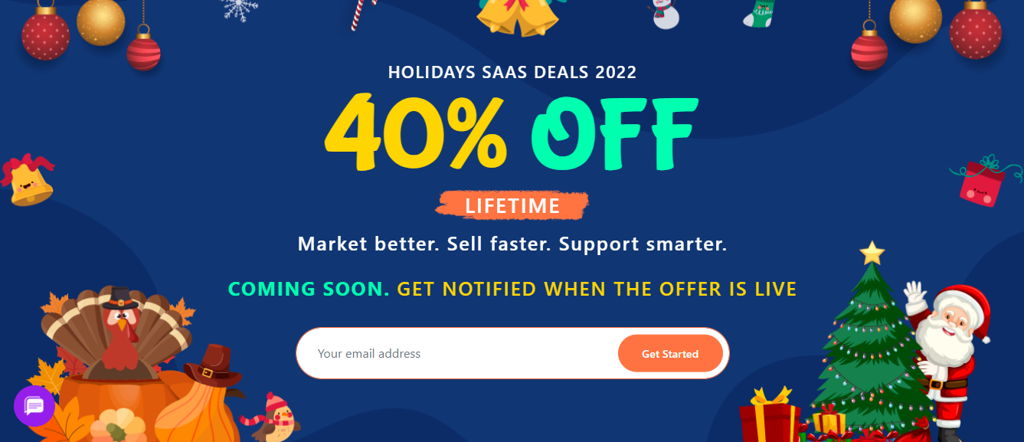 PDFLiner
PDFLiner — a cloud-based no-installation-needed PDF reader, editor, form filler, and form designer.
Simply put, you can access PDFLiner from any device and drag and drop a PDF into your browser to start editing it.
Create, edit, convert PDFs, collaborate, sign, and fax files, as well as store documents.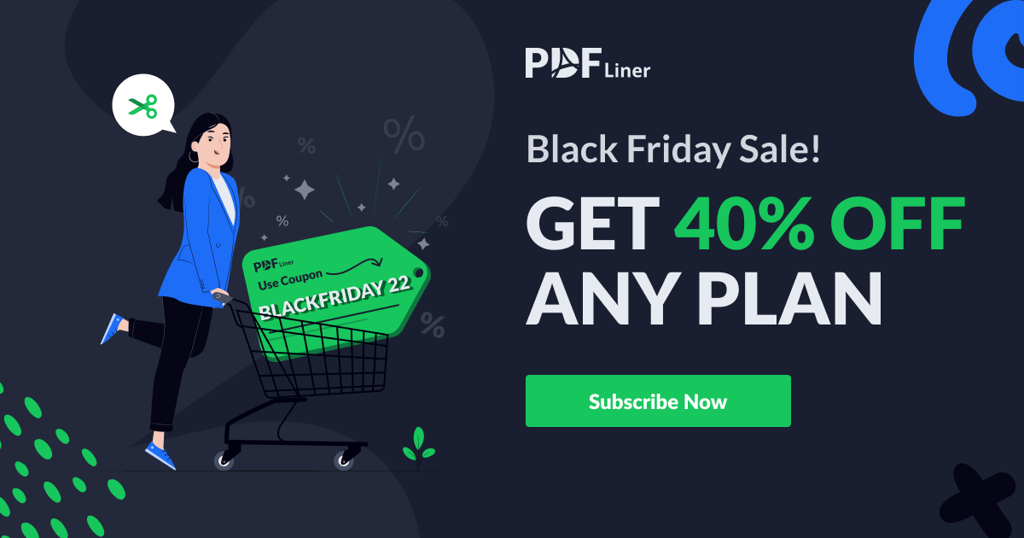 PDFLiner Black Friday and Cyber Monday Offer
40% OFF any plan
Offer valid from 10 November to 30 November 2022
Promo Code –  BLACKFRIDAY22
Link to deal – https://pdfliner.com/
Emitto
Emitto is a powerful no-code business messaging tool that allows businesses to send ultra-personalized campaigns with just a few clicks.
Features include:
Send real-time notifications
Audience management features (segment audience, import contacts, etc.)
Calculate your campaign costs before launch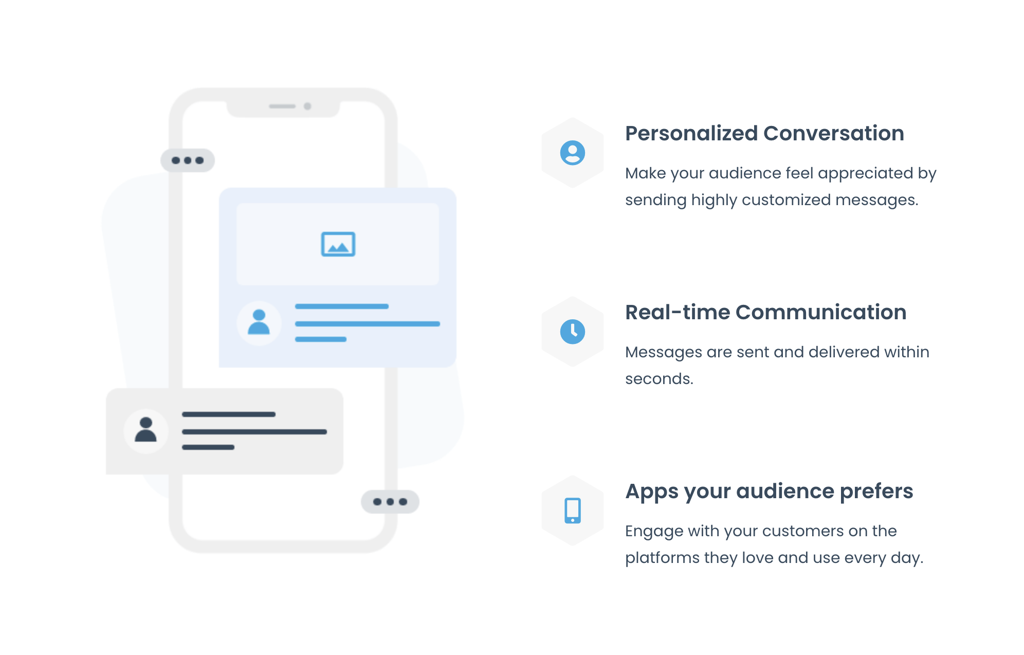 Emitto Black Friday and Cyber Monday Offer
Emitto subscription for 19$ for the first month + extra credits for SMS.
Signup to send 1 million emails (free!)
Offer valid from 25 November to 28 November 2022
Link to deal – https://emitto.io/black-friday/
Sendinblue
Sendinblue is a complete all-in-one marketing software for businesses. Reach more customers and take your marketing to the next level with email, SMS, chat, CRM, marketing automation, and landing pages.
Unlike most ESPs, Sendinblue lets you store an unlimited number of contacts so you can grow your email list without having to worry about increasing costs.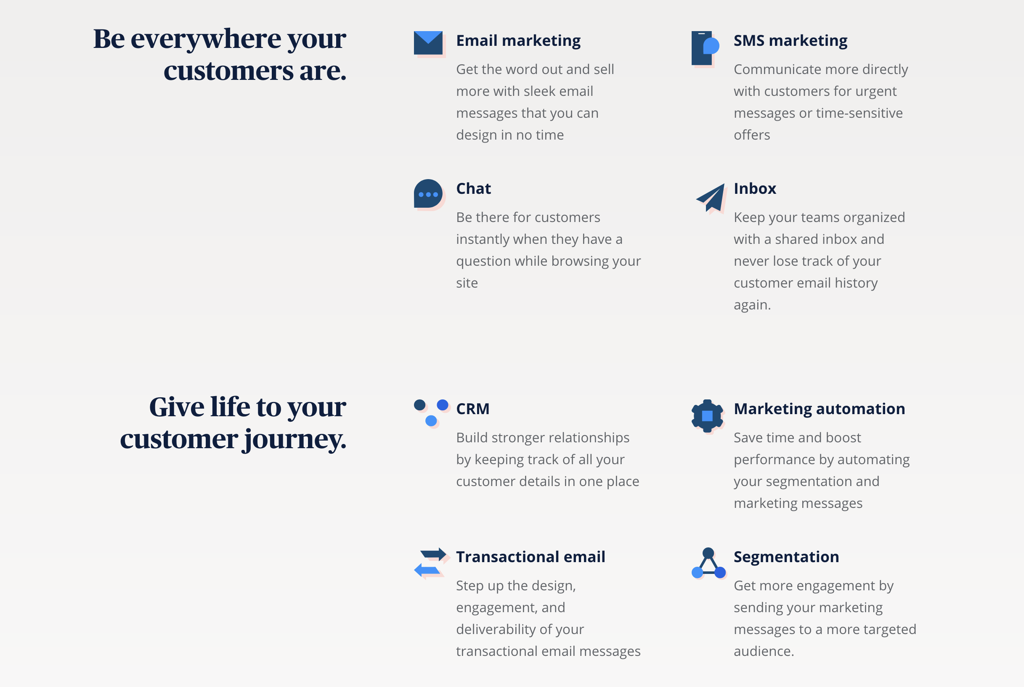 Sendinblue Black Friday and Cyber Monday Offer
50% off annual marketing plans for new users
Offer valid from 21 November to 28 November 2022
Coupon Code – BLUEFRIDAY2022
Link to deal – https://www.sendinblue.com/
FindThatLead
FindThatLead is an all-in-one lead-generation tool that allows you to contact people, local businesses and companies in a given industry. The platform provides you with contact information from public sources with its search and prospecting tools and helps you run email campaigns to contact leads – all in one tool.
Scrab.in helps you automate your LinkedIn profile sending invitations and messages in order to generate new clients.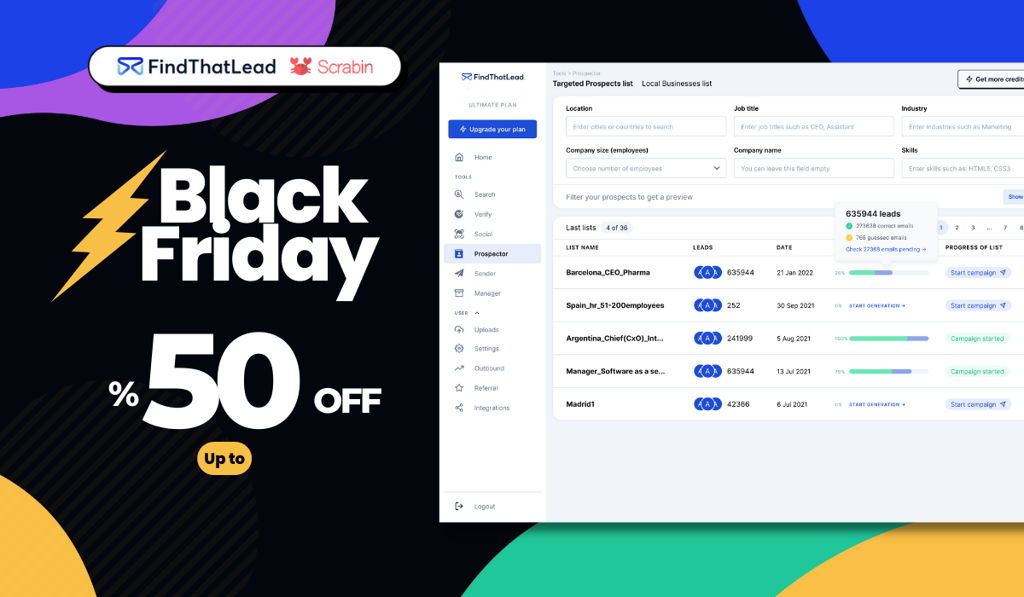 FindThatLead Black Friday and Cyber Monday Offer
MojoAuth
MojoAuth is an authentication platform that allows you to improve the user experience with easy-to-use passwordless authentication methods. As a result, users can authenticate themselves easily and faster when compared to traditional password-based login.
Feature Highlights: Web/Mobile Authentication, Social Login, Biometrics, Compliance Management, Self Service Portal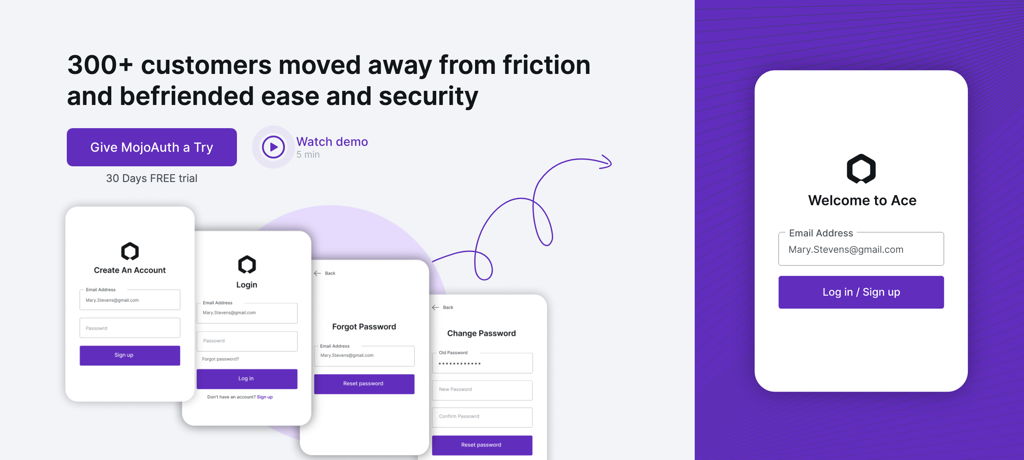 MojoAuth Black Friday and Cyber Monday Offer
50% discount on all annual plans
Offer valid from 01 November to 30 November 2022
Coupon Code – BLACKFRIDAY2022
Link to deal – https://mojoauth.com/
TL;DR
We really hope that you enjoyed our list and scored an awesome deal. We will be adding more offers to the list during our Black Friday & Cyber Monday SaaS Deals 2022 campaign.
If you know of any noteworthy deals that we left out of our list, please feel free to let us know. You can do so by emailing us – [email protected]
Jack Paxton
Jack Paxton is the co-founder of VYPER, a marketing tool that helps brands build email lists, social followings, and revenue using viral giveaways, referral, and reward programs. After millions of dollars spent testing different marketing strategies at his marketing agency. He then also co-founded Hyax a fast, conversion & design-focused course and funnel builder for creators.