A Black Friday Giveaway is an ideal campaign for retailers to run during the most crucial month of the year.
Hosting a giveaway in November will make your brand stand out in a sea of incredible offers from competitors. More users will discover your offers, which means more leads, more traffic, and more sales over the Black Friday weekend.
All of this is why giveaways are excellent for promoting your brand's Black Friday offers.
We know this because we analyzed past Black Friday giveaways to find some interesting results. These brands successfully promoted their Black Friday specials, increased website traffic, and more by hosting a giveaway before Black Friday.
We have these case studies, giveaway examples, and giveaway ideas here for you to explore and learn more about hosting your own Black Friday giveaway.
But first, let's take a closer look at the benefits of Black Friday Giveaways.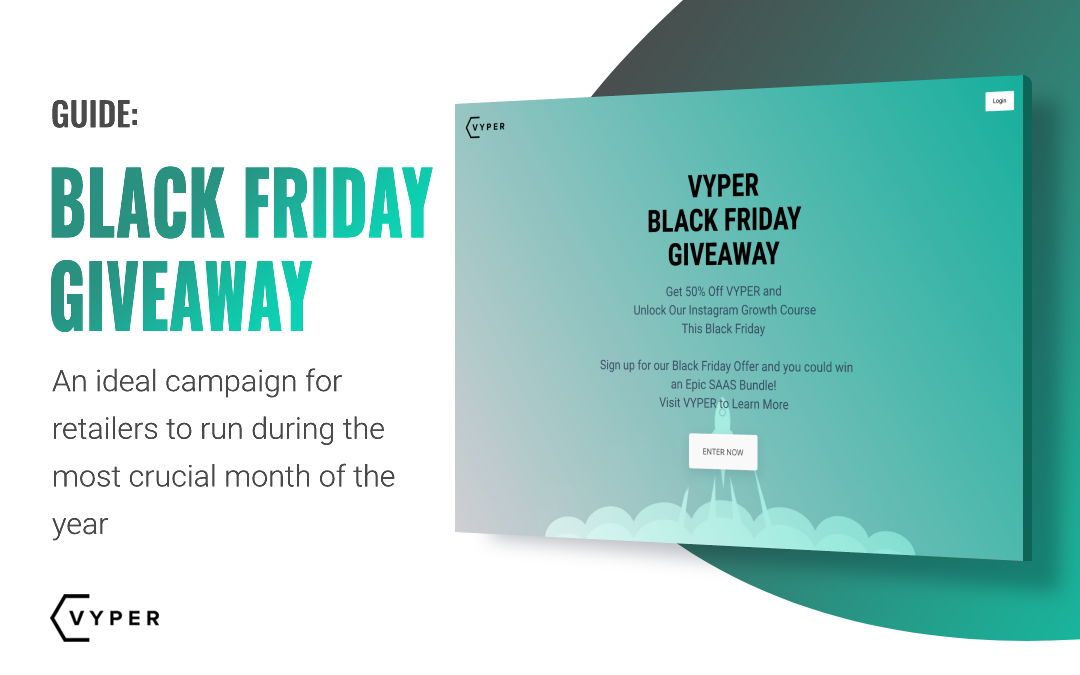 FREE DOWNLOAD: Get all Our Contest & Giveaway Marketing Guides, Checklists, and tutorials that have helped 100's of brands collect 15k+ emails in under 21 days!
Black Friday 2022 Update
"Black Friday isn't what it used to be."

The average consumer
Due to volatile economies globally and businesses consistently improving their marketing strategies, Black Friday is no longer what it used to be in the good ol' days.
This may seem discouraging. However, all is not lost! Many brands are still competing to deliver the best specials that are great value for money.
We have updated this post with this year's Black Friday trends to help you stay ahead and on top of your marketing game. We also included some key predictions. Enjoy!
Black Friday 2022 Trends and Marketing Strategies
Email Marketing
Send Warm Up Emails in the weeks leading to BF. Brands usually start mid-October.
Reconcile your abandoned carts. Send out emails to recover income from abandoned carts in the weeks prior to BF. List BF Promos in those emails. You could inform those users if the items in their cart are going on sale.
Sincerely thank customers who have participated in your BF promotions.
Social Media Marketing
Tell a unique story by building social media threads and sequences that are in line with your 2022 BF promotions.
People surf social media with a constant eye on BF specials. Don't be generic. Create posts that will grab your audience's attention.
SMS Marketing
SMS has an insane open rate of 99% as compared to email open rate of 18%.
Limited Time Offers work well with SMS as users can instantly open the offer on their phone and make a purchase.
Cross Sell Discounts
Online shoppers love "one-stop shopping." For example, a customer will purchase a smartphone, case, charger, and car accessory. However, the decision to make the purchase isn't an easy one. Which is why discounted accessories can help motivate the customer to purchase the main item – The Smartphone.
Heavily discounting complimentary products can entice customers to buy the more expensive main product.
Black Friday Predictions
Here's a quick rundown of Black Friday 2022 predictions from the web:
Last year's deals may not have been the best, but this year's deal might be better!
Sales may last longer. So, look out for deals that extend past Cyber Monday.
There are reports that consumer spending and BF Sales are expected to be lower this year.
Trust and user experience will be a deal breaker. if your product is priced similarly to your competitor, customers will buy from you if they trust you more and believe you to be more reliable.
People will look for larger, more sustainable products. Customers in need of fridges, TVs, and other expensive products will wait a few more months for Black Friday. Make it worth their while.
Remember to always keep an eye out for Black Friday Lists that include the essential products and services that you have an interest in.
Who Should Host Black Friday Giveaways?
The easy answer to this is Every brand that offers Black Friday deals!
However, not all brands and retail industries are created equal. This is why you should research giveaways more to find out if giveaways will be the right solution for your brand.
The good news is that we have already researched Black Friday giveaways for you by analyzing real-world Black Friday giveaways and designing a few Black Friday giveaways ourselves. You can find all this in the sections below.
Before we go through some examples of brands that should host Black Friday giveaways, let us take a look at some Black Friday stats:
93.2 million people made purchases on Black Friday in 2019
Average Black Friday savings are 37%
40% of shoppers make their purchases online
36% of consumers will do most of their holiday shopping over Black Friday
The best selling products over Black Friday are Clothing and Electronics. Furniture is also popular, but shoppers do prefer to make their purchases in-store.
So to sum up, Black Friday Giveaways are great for these brands:
SaaS
Clothing, fashion, and accessories
Electronics
Gaming
Furniture
E-commerce/online stores
If your industry is not mentioned above and you are interested in hosting a Black Friday giveaway, contact us for more info and guidance.

How Does a Black Friday Giveaway Benefit My Brand?
Giveaways in general come with tons of benefits such as:
Driving traffic to your website
Building email lists
Boosting engagement and fans on socials
Increase in software or app downloads
Waiakea hosted a successful giveaway and achieved incredible results (see image below).
Visit the Waiakea Giveaway Case Study to learn more.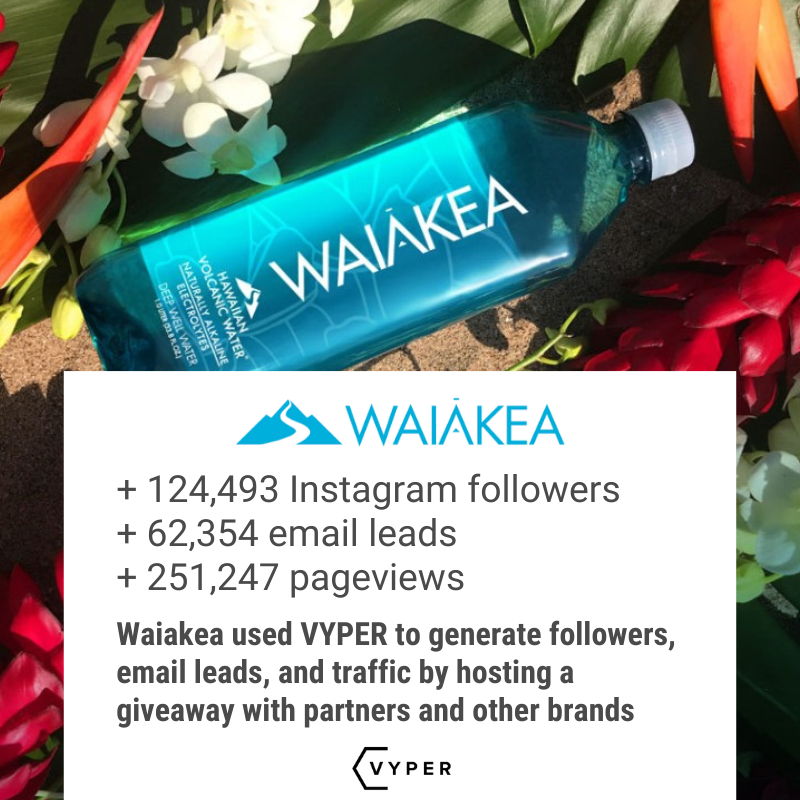 While Black Friday can be the busiest day of the year for many, your brand can still easily be overlooked by eager consumers. It's actually common for people to discover great deals only after Black Friday weekend!
People online are attracted to giveaways. You can use your giveaway to get more people to discover your Black Friday offers. This is why it's best to host the giveaway before Black Friday.
More benefits to Black Friday giveaways:
Traffic boost – Hosting a Black Friday giveaway on your website will motivate online users to visit your website. New users that just discovered your brand will want to look around your website to find out more about your brand.
Target audience – Choosing a relevant prize that your audience desires will attract those users to your giveaway. Attracting your target audience and driving that traffic to your website can boost Black Friday sales.
BFCM deal previews – Many brands don't disclose their Black Friday deals until the last minute. Your brand can allow your giveaway entrants to preview your BFCM promos. This strategy will get more users, that are intrigued by your preview offers, to enter the giveaway, thus increasing the results of the campaign.
Solid email campaign – Your Black Friday giveaway can effectively build your email list early on in November. You can then mail those new leads your BFCM offers over the course of Black Friday weekend.
Black Friday Giveaway Examples
We analyzed 3 Black Friday Giveaways to find out why these campaigns were successful on the most popular retail weekend of the year.
We hope that our findings will help you to discover a deeper understanding of how to host a Black Friday giveaway.
2 Game Black Friday Giveaway – E-commerce
Entry Method: Visit 2 Game website to enter (submit your email to enter)
Prize: Winners can select a game of their choice
Ideal for: Online stores looking to boost website traffic and Black Friday sales
2 Game is an online PC gaming marketplace. They sell games specifically for PC gaming platforms like Steam and Origin.
Getting more users to discover their platform over Black Friday was 2 Game's goal. They achieved this with their successful Black Friday giveaway.
Users had to visit the website, select a game from the Black Friday promotion list and submit their details to enter the giveaway.
The giveaway drove a large targeted audience of gamers to the 2 Game platform over their Black Friday weekend.
Only a select amount of games were on promotion (and could be won in the giveaway). This led giveaway entrants, that only discovered 2 Game, to go on and make other purchases on the website.
The only missed opportunity here was social media engagement. 2 Game could have allowed users to submit bonus entries by engaging with the brand on social media (likes, comments, shares).
Key Takeaways:
This campaign is an excellent example of how an e-commerce brand can use a giveaway during a promotion to drive traffic and Black Friday sales.
Winners could choose their prize from a selection of games. 2 Game was smart in only offering a limited selection as opposed to any game on their platform. This strategy drove entrants to purchase games that were not included in the giveaway. So, if you are offering your own products as a prize, don't offer all of your products.
The prize, being PC games, is an ideal prize to attract 2 Game's ideal audience of PC gamers. Offering a general prize like a smartphone will get more entries, but most of those entries might not car for 2 Game's services in the future.
The Diamond Guy Black Friday Giveaway – Instagram
Entry Method: Engage with the brand on social media
Prize: Bride and Groom outfits, jewelry, and makeup
Ideal for: Niche brands that have a small number of social followers
The Diamond Guy is a business run by jewelry designer, Darren Phillips. Darren has a decent following online on social media with over 18k followers.
Darren hosted a giveaway to boost engagement on his social media profile and to acquire more followers. The intriguing part about his giveaway is that he didn't go about it alone. He had help from other brands.
This campaign is actually a partner giveaway. A giveaway that has multiple brands promoting it to achieve a larger collective result that can be shared with each other. Partners can each chip in to create a larger prize.
The Diamond Guy niched down into the wedding niche by partnering with bridal brands to form a massive prize that will attract a target audience of eager brides.
An excellent strategy to build a large following of potential brides that will need jewelry from The Diamond Guy.
Key Takeaways:
An excellent example of how to host a partner giveaway.
With a partner giveaway, your brand can team up with other brands to build a larger, more desirable prize that will attract more people. This means better results for all brands to share (more followers and engagement.
The Diamond guy can appeal to a broad audience of jewelry lovers. Instead, he chose to niche down to couples looking to get married (bridal niche). This is an excellent audience for him to tap into. He attracted this audience by teaming up with brands that specialize in bridal wear, suits, and other wedding accessories.
Pink Blush Black Friday Giveaway – YouTube
Entry Method: Subscribe to enter
Prize: Pink Blush Gift Card Giveaway – $100
Ideal for: Ideal for YouTube Influencers (and Micro-influencers)
Ashley Sarvak is a YouTube Influencer that creates content that is focused on fashion and beauty.
She hosted a giveaway over Black Friday to promote clothing that she bought from ShopPinkBlush.com. The prize was a $100 Pink Blush gift card (also sponsored by the Pink Blush store).
Users are required to subscribe to Ashley's channel to enter. You can also follow her on Instagram to increase your chances of winning.
We see a great collaboration here with Pink Blush and Ashley. Pink Blush sponsors a prize to Ashley and she promotes their brand and products in return.
Ashley also gets to boost her subscribers by giving away the sponsored prize.
Key Takeaways:
This campaign is an excellent example of how a brand and influencer can collab with each other to host a giveaway on YouTube. Both parties stand to benefit from a single giveaway.
If you have an online store and need help hosting a giveaway, then you can simply sponsor a prize to an influencer and watch them promote your brand and products.
Hosting the giveaway over Black Friday allows the Influencer to drum up as much hype possible to her channel/video. This leads to a larger audience over the Black Friday promo weekend, which can be directed to the sponsor's website.
Stone Glow Candles Black Friday Giveaway – Instagram
Entry Method: Follow Stoneglow and Scentit to enter
Prize: Fragrance Goodie Box for 2 winners (includes perfumes and scented candles)
Ideal for: Makeup brands, influencers, and online stores
Stoneglow Candles is an online store that specialises in scented candles, diffusers, and more. They have an impressive Instagram profile and regularly post content to promote their store.
A Black Friday Giveaway is an amazing campaign for Stoneglow to host. Especially if they wish to promote their site and stand out during November.
Giving away scented candles may not seem extravagant for most, which is why Stoneglow teamed up with ScentitUK to create a bigger prize bundle that also included perfumes.
Key Takeaways:
The giveaway post is clear and concise, with an easy entry method. 
Products are well displayed and have a black-and-white theme in line with Black Friday
Teaming up with another brand to create a bigger prize will potentially draw a larger audience to the giveaway.

Black Friday Giveaway Ideas with VYPER
The team here at VYPER is never short of awesome ideas for giveaways. We took two of our favorite Black Friday giveaway ideas and created concept landing pages.
We hope you enjoy our ideas and designs. You are free to use or ideas as you wish.
NB. The giveaways below are all demo campaigns created using our service. You can signup for free here and create your own designs using VYPER – https://vyper.io/user/register?redirect=freeaccount
Fashion Nova Black Friday Giveaway (E-comm/Online Store)
Entry Method – Visit our website to enter
Prize – $600 Fashion Nova gift cards (1st place $300, 2nd place $200, 3rd place $100)
Goal – Boost website traffic and promote Black Friday Deals
Fashion Nova is a popular online fashion store that ships exclusive clothing lines globally. Black Friday is an excellent opportunity for the brand to clear old stock out of its massive inventories.
E-commerce brands that giveaway gift cards are guaranteed to get users to visit their websites and view products. People want to see what they can potentially buy if they win those gift cards.
Using gift cards as a prize is a great strategy for getting new users to discover your brand and its products.
Also, if the gift card is for your own store, then expenses related to your giveaway prize will be at a minimum. The winner might spend the $300 gift card at your store, but the actual expense of the goods can be below $200!
Fashion Nova can run their gift card giveaway and announce winners before Black Friday and Cyber Monday. Users will be reluctant to spend if the giveaway ends afterward.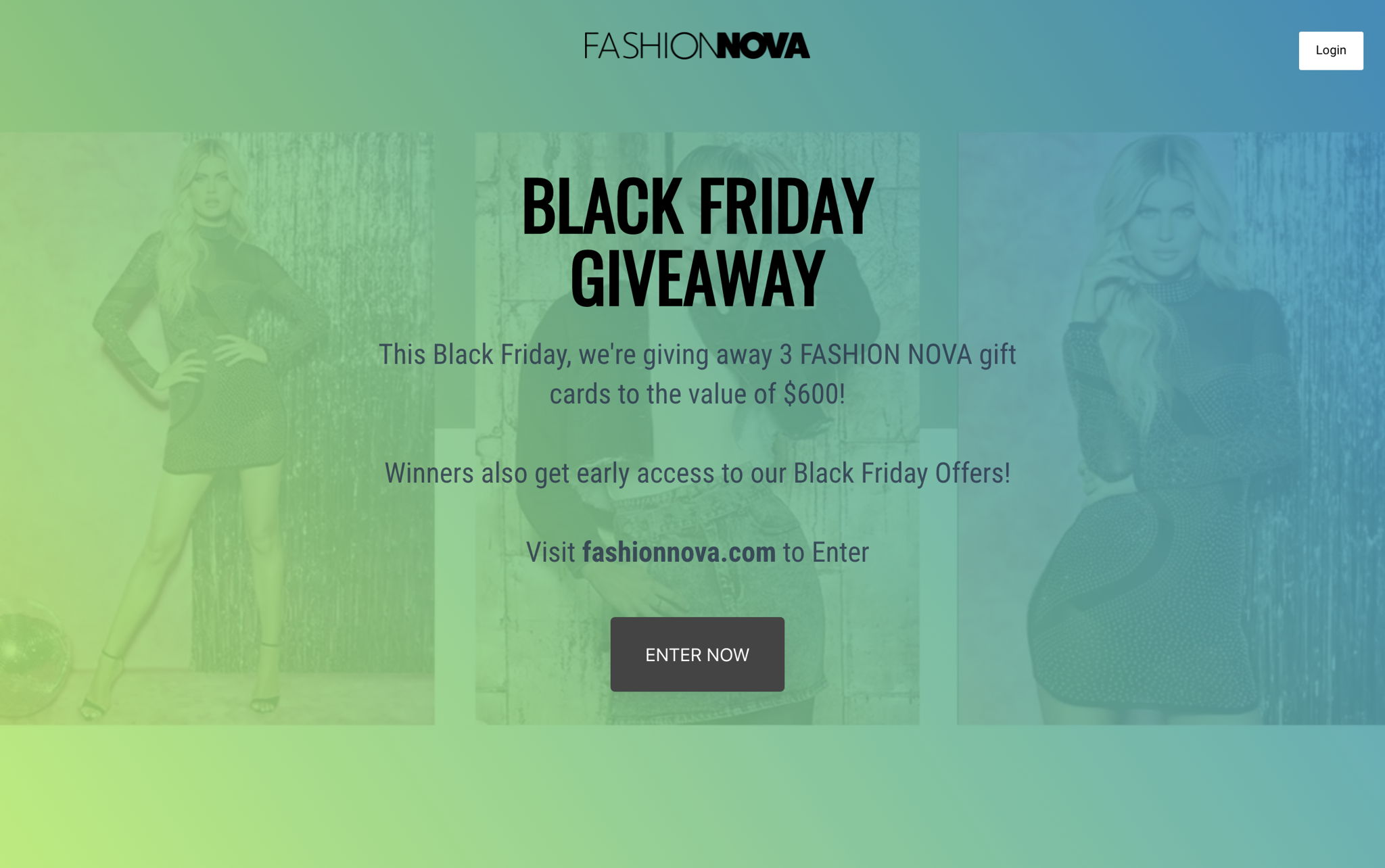 Benefits of this campaign:
An exciting giveaway campaign that can generate new leads, traffic, and massive hype before Black Friday, the busiest day of the year for retailers. This is why hosting the giveaway on the website will be ideal in driving traffic to the website. Users can preview Black Friday promo items.
Fashion Nova can promote the giveaway on their socials and email list. They can lead people from those channels to their website to take part in the giveaway.
Gift cards (for the brand's store) are excellent prizes that are affordable and allow giveaway winners (and entrants) to discover and engage with the online store.
Allowing winners "early access" to Black Friday promos is a simple way to hype up your prize even more without it costing you anything.
VYPER Black Friday Giveaway (SaaS Brands)
Entry Method – Purchase the VYPER BFCM Deal to enter
Prize – SaaS Software Bundle (sponsored by partner brands)
Goal – Black Friday sales and promotion
Here is an excellent idea for our very own SaaS giveaway:
Saas brands like Hyax, Helpcrunch, and SendX offer incredible lifetime (or exclusive) deals over Black Friday and Cyber Monday. VYPER could partner with a few of these brands to give away a massive SaaS Black Friday Deals bundle.
If you want more info on the deals SaaS brands offer during BFCM, you can go over to our Best Black Friday and Cyber Monday Deals post here.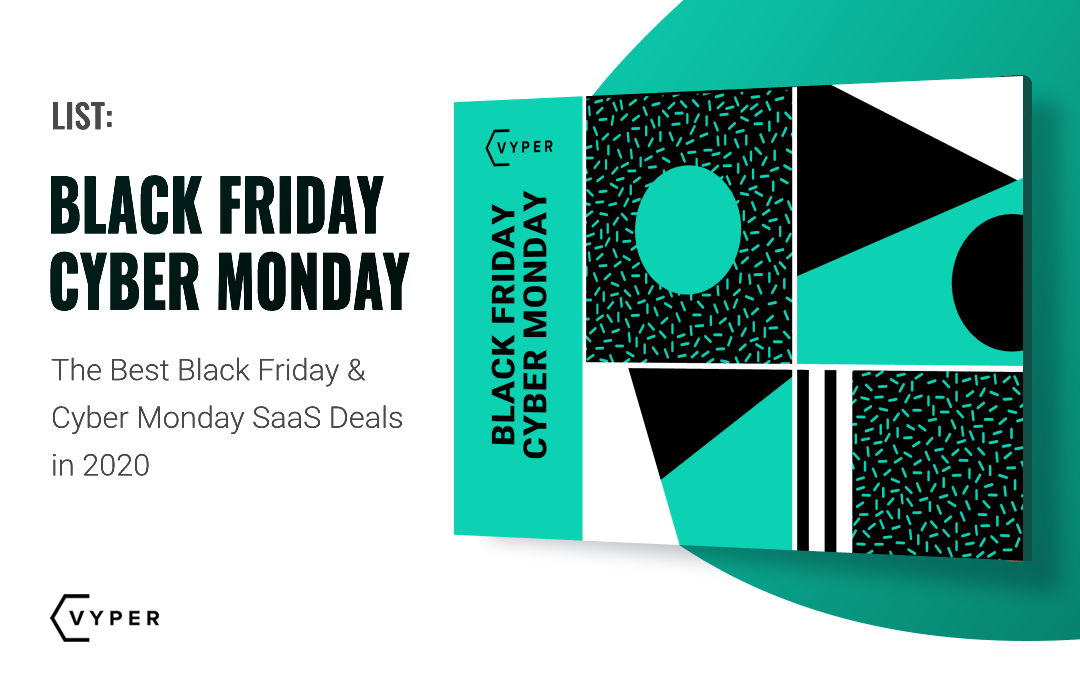 For example, VYPER's SaaS bundle prize can include the following:
VYPER BFCM Deal – 50% Off
Hyax BFCM Deal – 50% Off any plan
Helpcrunch BFCM Deal – Get 25% off your first month or 45% off the first year
SendX BFCM Deal – 40% OFF SendX Annual Plan
Users can visit VYPER to purchase the BFCM offer and enter the giveaway. The giveaway landing page can look like this: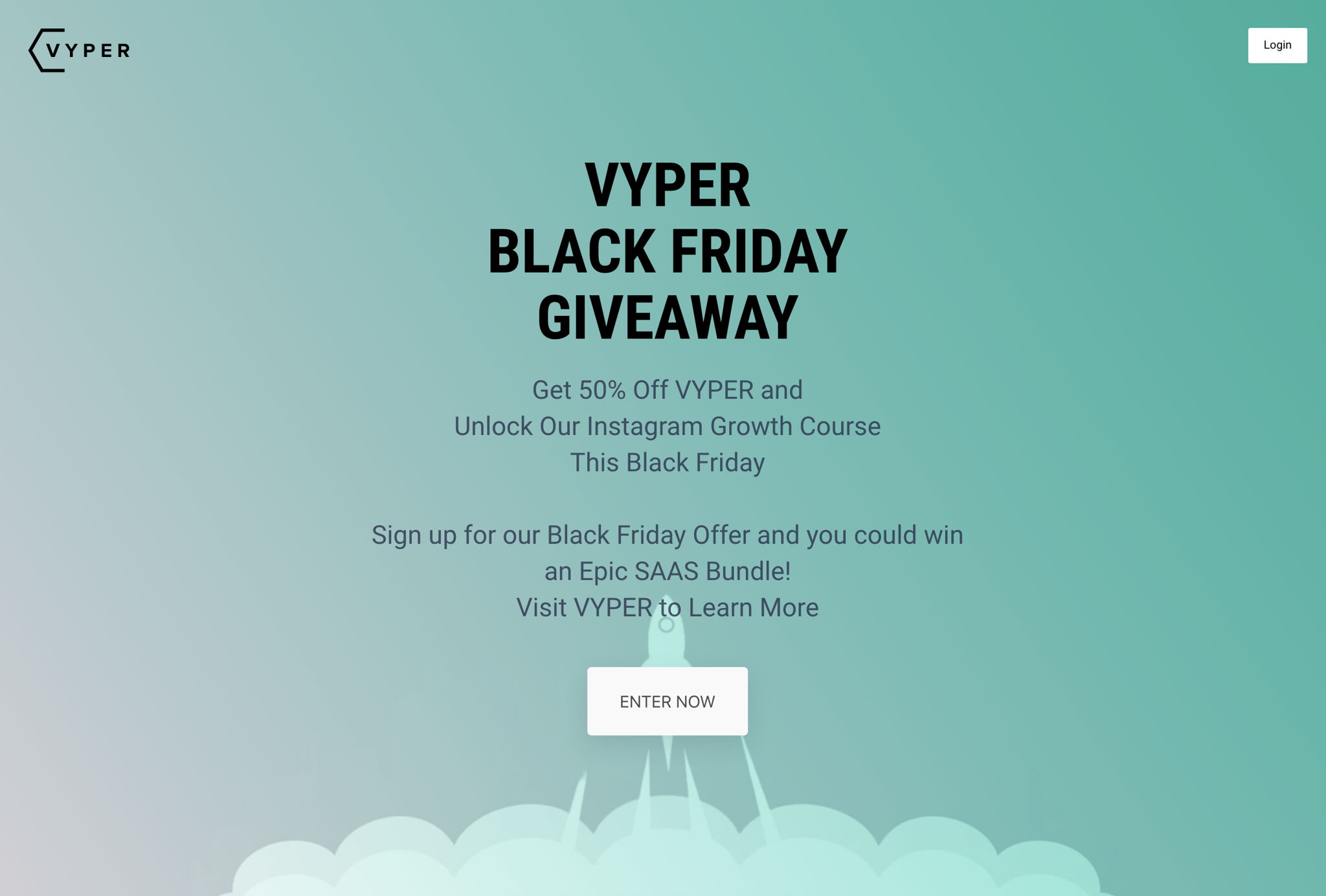 Benefits of this campaign:
Users have to visit the website to inquire or enter the giveaway. This strategy will instantly boost website traffic before Black Friday weekend. You can allow these users to preview your deals.
To enter the giveaway, users will have to opt-in and purchase the service (BFCM offer). This entry method can boost sales or product inquiries. Such a strategy is ideal in getting new users to discover your brand and its products and services.
Instead of just a single prize, you can create a bigger prize by partnering with other brands. These brands can sponsor their own Black Friday deals and can also help to promote the giveaway to their audience. A giveaway with a larger prize and more brands helping out with promo will lead to better results.
Hosting Your Own SaaS Giveaway (SaaS Prize Bundle Ideas)
To get the best results from a SaaS giveaway, your prize must be good enough to attract your brand's target audience. SaaS brands in the B2B space might not get enough people to enter their giveaway if they only offer a single product.
This is why a partner giveaway with other SaaS brands can be the ideal solution. As mentioned above, more brands mean more prizes and more people to help share and promote the giveaway.
If you are considering a SaaS Partner Giveaway, you can go over the SaaS prize bundle ideas below to find inspiration for your campaign:
Email Marketing Bundle Idea
If your brand offers email marketing services similar to Mailchimp, then you can include the following brands in your prize bundle:
Graphic Design Bundle Idea
Adobe already offers an impressive design suite and is willing to partner with brands and influencers like Parker Walbeck.
You could give away an Adobe creative bundle or create your own bundle with these products:
Topaz Labs – AI image editing software
Canva – Graphic design service
Photoshop – Access to a website that offers graphic design resources for Photoshop
Online Courses – Access to image editing and graphic design courses
Black Friday Giveaway Q&A
❓ Are Black Friday giveaways different from other giveaways?
Black Friday giveaways are regular giveaways that are no different from any other giveaway. It's a regular giveaway hosted during or before November, the month when Black Friday occurs. 
❓ Should I offer my own product as a prize for my Black Friday giveaway?
Yes, you can. You can also offer a gift card for your store. However, you must be careful not to put people off from making purchases from your store. 

If a person enters your giveaway during Black Friday, they might not care to buy anything until after the winner of the giveaway is announced. It's because of this, you should conclude your giveaway before Black Friday.
TL;DR
For many retailers, Black Friday is the best time of year (most amount of sales during this time). However, it can be challenging to stand out during Black Friday weekend. A Black Friday giveaway is the answer as it can generate massive hype, leads, and traffic to your website during November.
Black Friday giveaways are ideal for e-commerce brands as well as clothing, fashion, electronics, and furniture brands. However, if your brand does not fall under these categories, you can still host a giveaway during November to promote your offers.
By analyzing our giveaway examples, we found that brands usually host Black Friday giveaways to boost website traffic and generate leads during November (prior to Black Friday). Some brands also cleverly structured their giveaways to boost Black Friday Sales.
What do you think about Black Friday Giveaways? Are they the best option to promote your brand and product offers in November? Let us know in the comments.
Jack Paxton
Jack Paxton is the co-founder of VYPER, a marketing tool that helps brands build email lists, social followings, and revenue using viral giveaways, referral, and reward programs. After millions of dollars spent testing different marketing strategies at his marketing agency. He then also co-founded Hyax a fast, conversion & design-focused course and funnel builder for creators.