Not sure if you have read any of the other VYPER content but we like to get straight to the point.
This post is going to give you the breakdown on how it's never been easier to create an eCommerce store, the key indicators are required for a successful store and how 1 eCommerce store collected over 41,000 emails and over 14,000 social followers from one 15 day contest.
FREE DOWNLOAD: Get all Our Contest & Giveaway Marketing Guides, Checklists, and tutorials that have helped 100's of brands collect 15k+ emails in under 21 days!
In a land of eCommerce stores, how to stand out
Well, I have a good news for you. It's never been easier to get an eCommerce store up and running. All someone needs is a Shopify store, Ali Express account, and the Oberlo plugin. Of course, this is the super simple version of setting up a store but you know what I mean. It's a lot easier than 10 years ago!
Retail e-commerce sales worldwide from 2014 to 2021 (in billion U.S. dollars)
(that's a lot of moola for the 12 million e-commerce stores active online according to lemonstand.com)
It may be easier to create an eCommerce store these days but it's harder than ever to make your store stand out. Whether it be a drop-shipped, handmade or custom manufactured product, the rules of marketing are all the same.
It's fricken hard to win over someone's trust and convince them your product is the best and they should buy it from you.
So why are some eCommerce store successful and others not?
I've been lucky enough to see behind the scenes of dozens of eCommerce stores (successful and not), some doing over $100k in a day others at $100/day. The traits are similar for all the most successful store though.
So, if you're involved with an eCommerce store and looking to scale, improve your ROI or position your store for a huge exit sale, make sure you these fundamentals tick off. There's 1 in particular that I'm going to share some stats and figures on so you can replicate the same success.
Common success factors/metrics in eCommerce stores
A niche that the owner or team understands in depth and is passionate about
A great product (even better one that solves a time consuming or expensive problem)
A website that converts 4-6% (depending on your average order value and product)
Over 60% profit margin (Rev – COGS = Profit)
A strong marketing team executing successful campaigns (people don't just "find" you)
Of course, there's a lot more that goes into this but these are some good places to start and if you can nail these 5 things, you will more than likely have a profitable eCommerce store.
This article is going to focus on number 5 – how to execute successful marketing campaigns to grow your revenue, email list, and customer touchpoints (social media).
eCommerce channels, tactics, and campaigns you should use
Content Marketing
Email Marketing
Paid Advertising
Viral Marketing / Growth Hacking
But I know you're probably going to want the easiest and fastest results so we're going to focus on Viral Contest Marketing.
WTF is that?
A contest is when a brand offers a prize in exchange for the opportunity to contact all the entrants and request actions from them.
Once a person enters the contest, the brand then asks them to complete actions to earn extra entries into the contest. The more entries someone has, the higher the chance of them winning is.
This incentivization includes referring to others, sharing the brand's content and completing any other actions that are important to the brand.

Case study, stats & results!
The case study is going to focus on the company Brevite. Which is a backpack company created specifically for photographers.
The giveaway prize
Mavic Drone
Backpack for Photographers
Remember, the closer aligned your prize is your target markets interests, desires and wants, the more successful your contest will be.
You want people to really want to win your prize so they are willing to share the contest, refer others and complete tasks that the brand sents.
What the brand requested from entrants
Email address
A follow on social media
Share content (retweet, Facebook share, re-gram, etc)
It doesn't seem like a lot but, boy was it a LOT for this eCommerce store!
Brevite viral contest metrics
Investment: $3k (prize, ads, etc.)
Campaign length: 15 days
Sign up conversion rate: ~65%
Email growth
Starting email list: 1,700
Emails gathered: 41,000
Emails harvested: 36,000 (after cleaning list)
Around $0.08 an email address (clean emails)
Social media growth
6,300 followers on Instagram
3,079 followers on Twitter
4,954 page likes on Facebook
These stats do not even take into account the follow-up sales from all of these collected emails.
Not many case studies will go into this amount of depth, so we want to thank Brevite for sharing their numbers.
So now you know what the contest results were but how did they do it?
The next section is going into how you can get similar results.
More Case Studies
Coconut Bowls
Shopify Store, Coconut Bowls, found mega success from a single giveaway.
Their campaign helped them to generate new social media followers and emails. They also saw a massive spike in website traffic and revenue during the same period.
Want to learn how Coconut Bowls achieved this?
Read the full case study here.
Topaz Labs
Topaz Labs is a photo editing software and e-commerce store.
They successfully hosted a social media contest that helped them gain new social media followers, email leads, and social shares. The campaign also helped Topaz Labs to acquire a considerable amount of new trial accounts for their software.
Want to learn how Topaz Labs ran their campaign?
Read the full case study here.
---
How to market and promote a giveaway or contest
---
Basic contest promotion strategies:
Choose a really good prize that aligns with your target audience.
Share the contest constantly on social channels & in groups.
Add the contest to your website. (use a banner or VYPER's CTA chat feature – example)
Email your list multiple times.
Send email updates on the contest (examples below)

Announce the launch of a contest
First week, announce top 5 entrant scores
Halfway, new prizes added
New bonus entry added
Double points on all bonus entries for the next 48 hours
7 days to go, keep sharing & collecting entries
48 hours, time is running out
24 hours, last chance contest ending

Submit to giveaway directories – List Here
Design really good share images so when all the entrants in the contest share it to earn entries others are interested.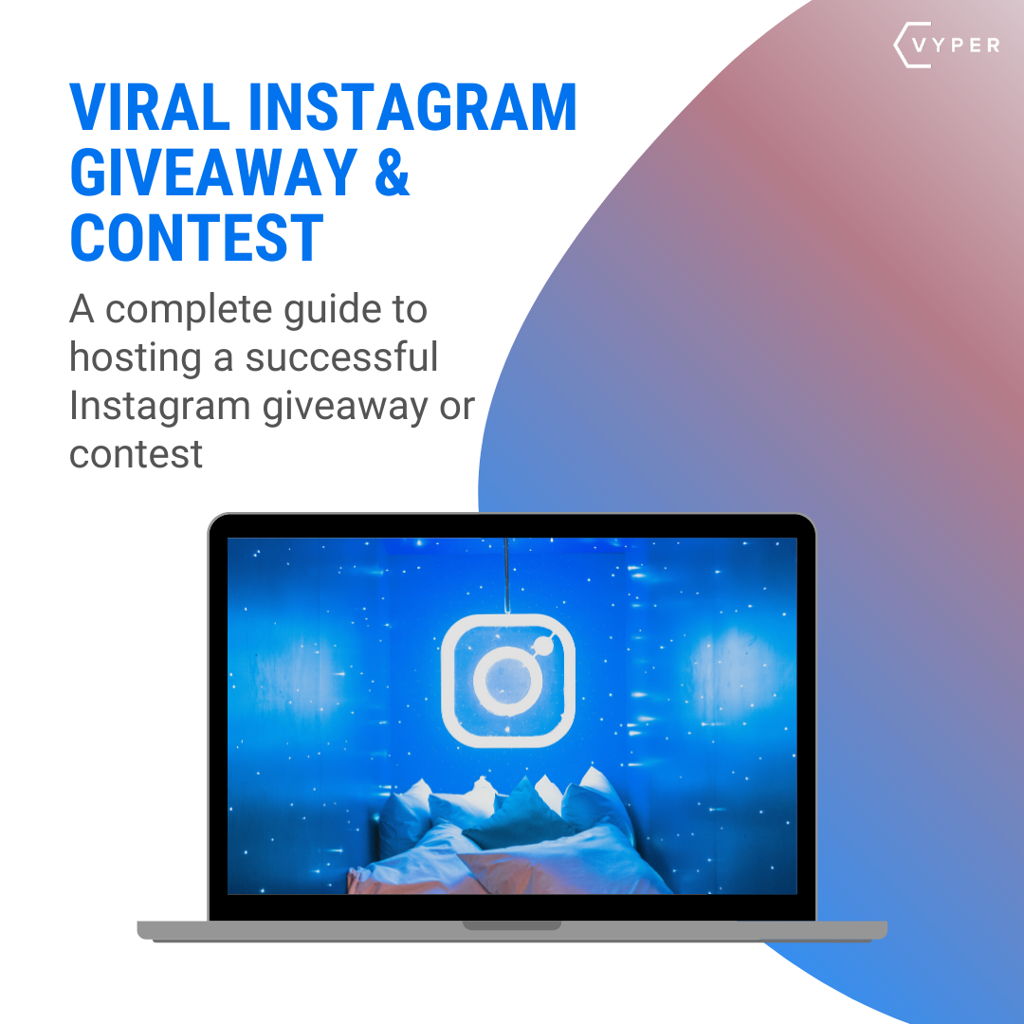 We have an entire blog post on how to host and promote a giveaway and contest.
Advanced contest promotion strategies
If you're partnering up, get the other company to share your contest.

their social media
their social channels
add to their website

Create a YouTube video on how to do something, a product review or unboxing then link to your contest.
Get influences to share the giveaway.

You can purchase a shout out
Call in a favor from friends, family or co-workers
Pitch that they have a high chance to win the contest due to their large audience.

Buy ads on Reddit, Facebook, Instagram, etc

Bonus Tip – Incentivize people who enter your contest by giving them additional contest entries for liking, sharing and commenting on your ads. This increases your ad quality score due to high engagement and will generate better results.

Pay or partner up with a publication or niche authorities. Get them to share your contest with their (usually cost is a CPM, CPC or Cost per lead):

Email list
Facebook group
Slack group
Forum

Answer Quora questions on your niche and link to your contest.

E.g. Brevite could answer questions about drones and link to their contest to win one.
So, What Comes Next?
These strategies for promoting a contest are all optional.
You can choose to do all of them, one of them or even none of them, either way when you start your contest, remember you get out what you put in!
So, the more work you put into promoting a contest the better the results are going to be!
You can run a contest and just tell your direct audience and they will refer their friends, family, and co-workers. The contest will still get some good results but the more people you put your contest in front of, the better your results will be.
So, if you're looking for a new, innovative way to collect emails, get more followers and build your business, head over to VYPER!
Have a contest of your own? Add it in the comments to get it reviewed and critiqued!
Jack Paxton
Jack Paxton is the co-founder of VYPER, a marketing tool that helps brands build email lists, social followings, and revenue using viral giveaways, referral, and reward programs. After millions of dollars spent testing different marketing strategies at his marketing agency. He then also co-founded Hyax a fast, conversion & design-focused course and funnel builder for creators.