Facebook has over 2 billion active monthly users. That means you have access to millions of engagements, thousands of emails, and hundreds of new customers if you leverage the platform properly. We are going to show you how to do that using a viral Facebook contest!
Because of the social share, it's the perfect platform to create viral campaigns, specifically Facebook contests.
Follow our guide on how to easily create and run your own viral contest to take your marketing to the next level. It will help you collect more emails, followers, engagements, and customers.
A viral contest is a function of preparation and good old fashioned luck. This guide prepares you in every way possible to create that next viral sensation on paper, but you will need to put in the work and practice it to make it a viral success.
Along the way, we include the best growth hacking tips and suggestions for using tools and apps to maximize the longevity and effectiveness of your contest.
In short, we are going to show you the best possible way to build a viral Facebook contest.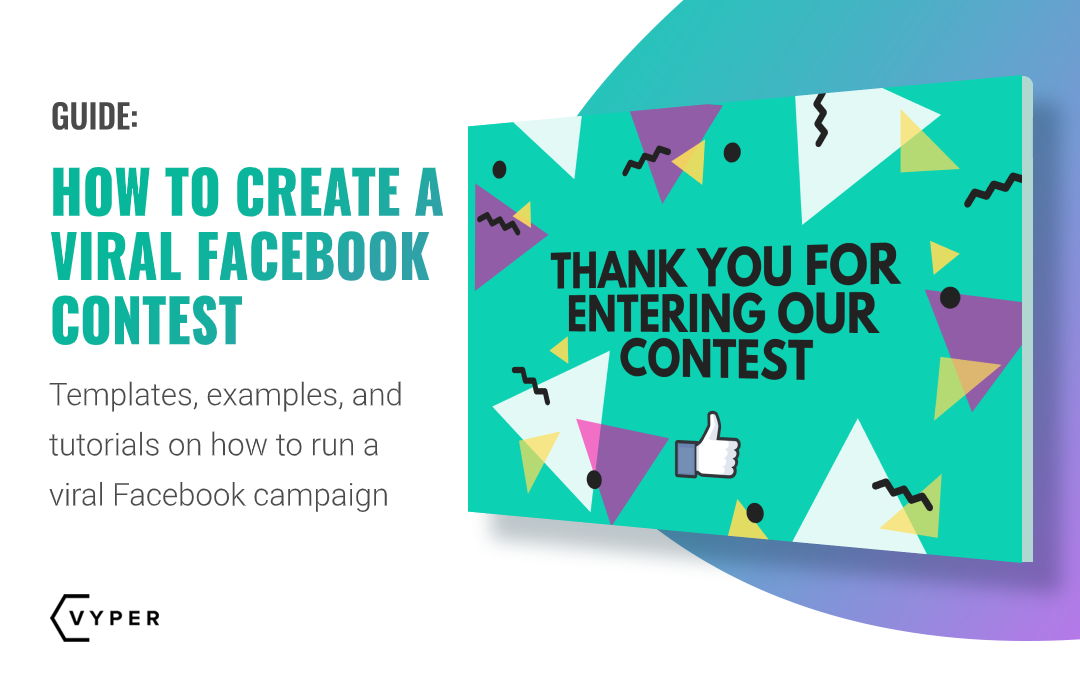 FREE DOWNLOAD 👉 The Facebook Ads Asset Library! All the checklists and guides used to profitably spend $150M+ on Facebook & Google ads.
Why contests are the best way to leverage Facebook
Big businesses and boutique brands are seeing huge results from Facebook contests. You probably see one or two every time you log in to scroll through your Facebook or Instagram feed.
It's clear that contests are popular because they can increase engagement, boost the following, generate leads, and give something valuable to your new users.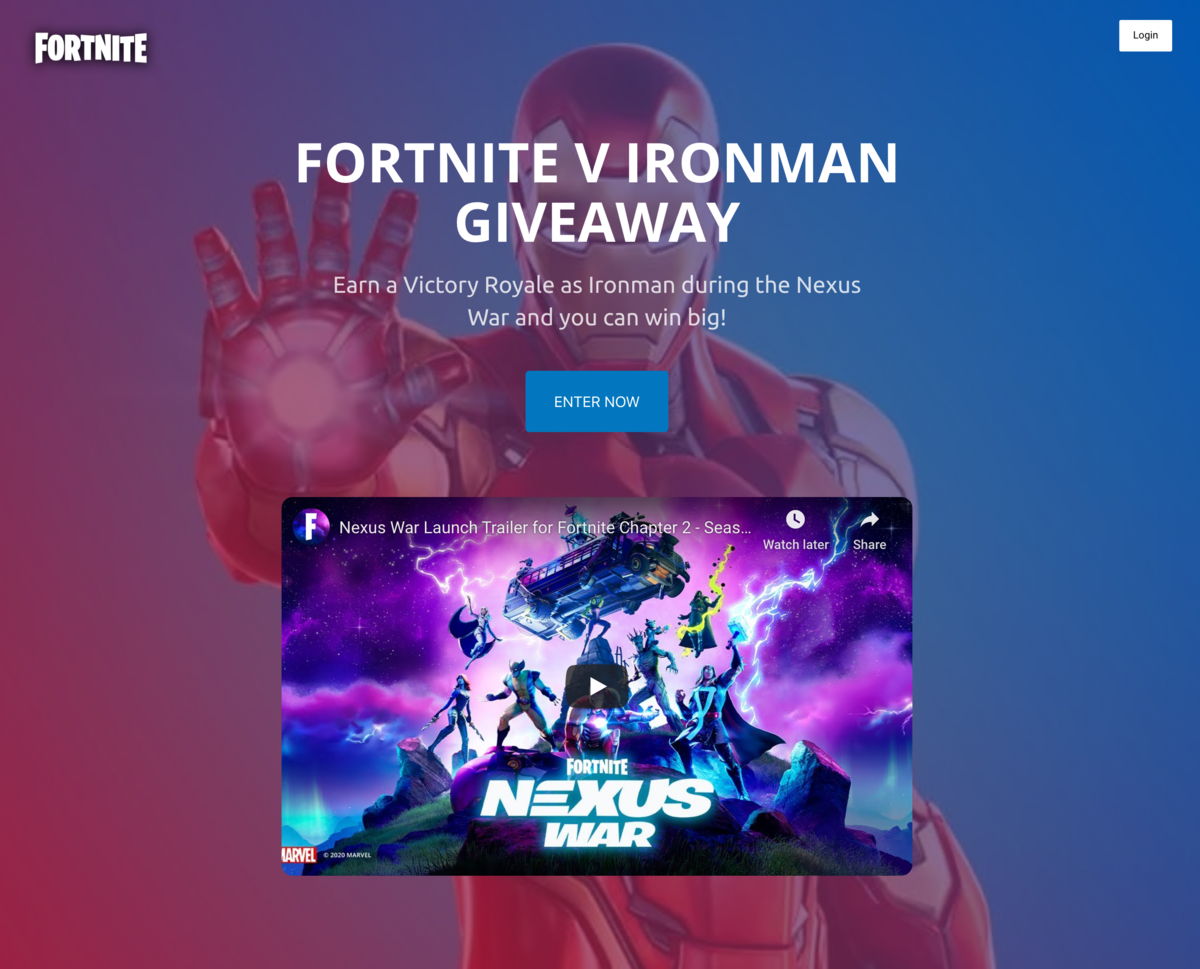 AND, everyone loves free stuff (here's an awesome case study that goes deep into the power of FREE)!
You don't always have to give something away for free, the power of gamification is just as powerful. Ask followers to name a new product or caption a photo to create engagement and content ideas.
That's what Walmart does with its popular picture posts like this: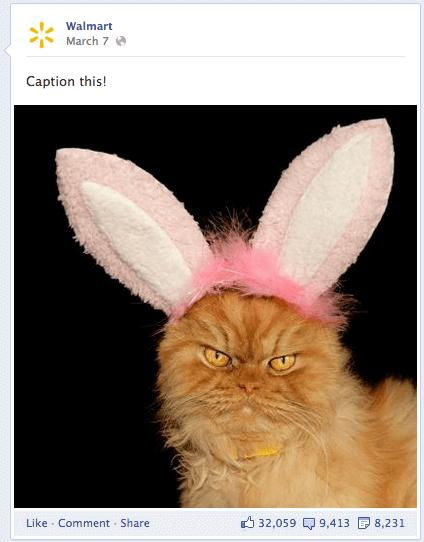 Use a comment/caption contest to boost engagement.
But is it the best way to advertise on Facebook?
Yes! In some cases, Facebook contests are one of the best ways to increase engagement with your brand and bring new business to your page—even if you have to give a little incentive.
However, Facebook contests or giveaways are not right for every business and product, so consider your goals and what can be gained from using this campaign type.
Take a look at some of these examples
Facebook contests can work for a range of companies. You will see a ton of examples as you work your way through this post.
This Indiegogo physical product launch campaign and this digital magazine company are both good examples of completely different niches successfully using contests in different ways.
Feel free to copy any of the examples in this post. 😉
B2C Product Giveaway Example
Contests help brands engage with their audience and build trust at the same time, but it's key that your contest stays within certain guidelines.
That's why we've included some common Facebook rules later in this guide so you can safely scale your business.

Facebook Contest Ideas
Like these other brands, if you figure out what people want and give it to them in a compelling way, you'll have no problem running a successful contest.
It all depends on what your goals are because certain contests—whether giveaways or countdowns—are better for different things. Here are a couple of ideas.
The Facebook Live Contest
Generate buzz about your contest with a mandatory live viewing. Announce the contest in your video description and ask viewers to stay until the end for information on how to enter your spur-of-the-moment contest.

Announce the contest or giveaway winner live. You'll keep fans tuning in for more.
The Caption Contest
Encourage your fans to show a little creativity and have fun. It's also an interesting way to keep content enjoyable on your page. Other people enjoy reading the entries and you can use the winner's words to promote your product or content.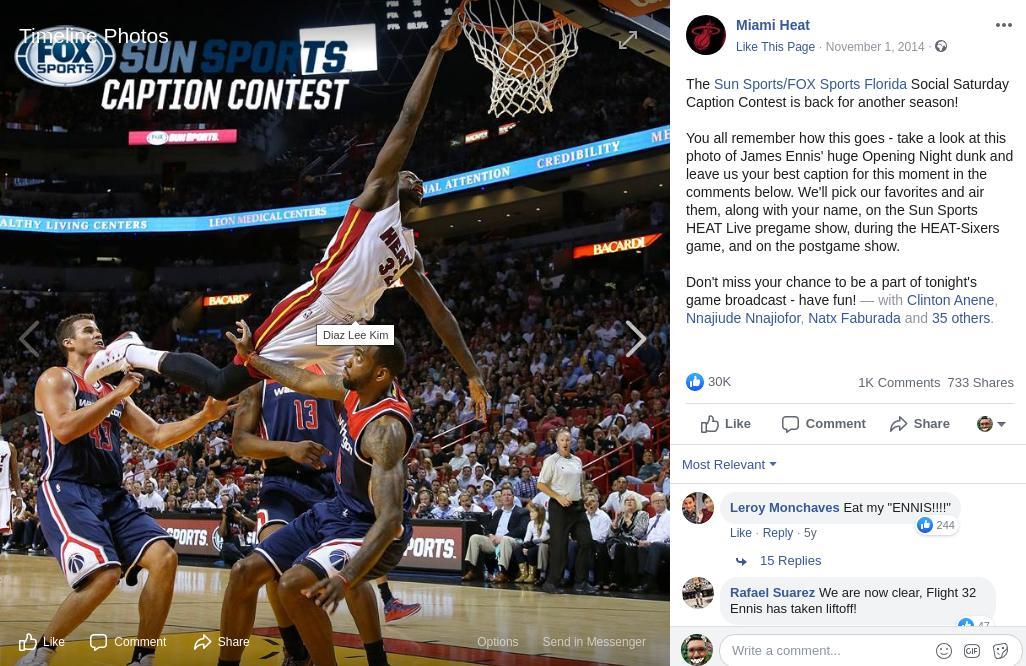 The Fan Contest
Are your fans repping your content and product enough? Ask them to submit photos or videos to your page and the winner gets to be featured for the week.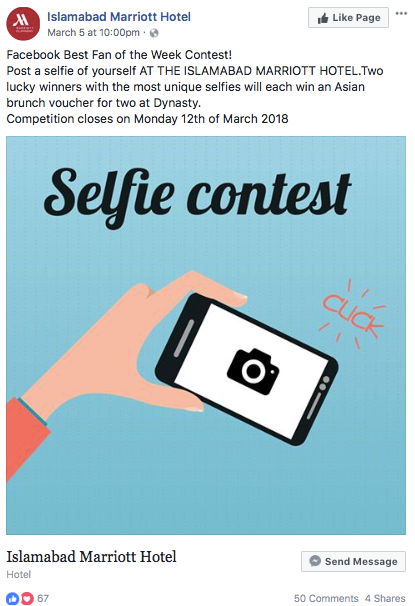 The fan wins exposure and they'll have their content shared with your audience. This is also known as UGC (user-generated content) and can be collected on social platforms or privately using a contest app or tool.
This user-generated content is great to use for social posts, ads, or other marketing material. It will come across as much more organic and save you a ton of money on photoshoots.
The Leaderboard Contest
Leverage the power of competition. It's in our nature to compete with each other and as a brand, you can benefit from this primal instinct.
Use a leaderboard in your Facebook contest to show who is leading with the most points. This contest promotion gets all it's participants to compete against each other for that top stop.
Not only that, but you can hide the top spots and only show the few people a few places ahead of the contestant's placement.
If you can get some influencers or large brands competing against each other. You have contestants referring hundreds, if not thousands, of new people to your brand in order to outrank each other.

Growth Hack: Leveraging Influencers
Keep everyone engaged by posting the leaderboard on Facebook or Instagram. Also, remind people to keep collecting points to climb the leaderboard.
The Milestone Contest
This contest type is for people who do not like competing against others. A milestone contest creates a number of prizes that can be unlocked as the contestants collect more points.
This method has been used by brands like Dropbox, GoPro, and VYPER 😉
You can create milestone rewards for almost anything. The example above is for content. If you click here, you will also see an example of how to use milestone giveaways.
Collect points to unlock PDFs, guides, videos, etc. Or if you're an eCommerce store, free product, discounts ($ or %), or even offers like buy 1 get 1 free code.
eCommerce stores, digital products, affiliates, and saas companies can leverage milestone rewards to encourage users to engage with the brand more to unlock prizes.
The Evergreen Contest (weekly or monthly)
This evergreen method is one of the most common contests and giveaway types for brands.
If you do not want to give away a huge prize, you can opt-in for a smaller prize, but award it more often.
Here's a live example of a hair product using a monthly giveaway/contest to build followers, awareness, leads, and revenue.
There are countless more contest types we could get into that other brands have found real success with, but we'll walk you through designing your own winning contest in the next section by considering your goals.
So hold those creative thoughts for the tutorial. They will help you keep your contest unique.
If you want more case studies and examples on how a contest can fit into your marketing goals, visit our page of viral contest case studies and check out our YouTube channel.

Growth Tip: Get inspiration from others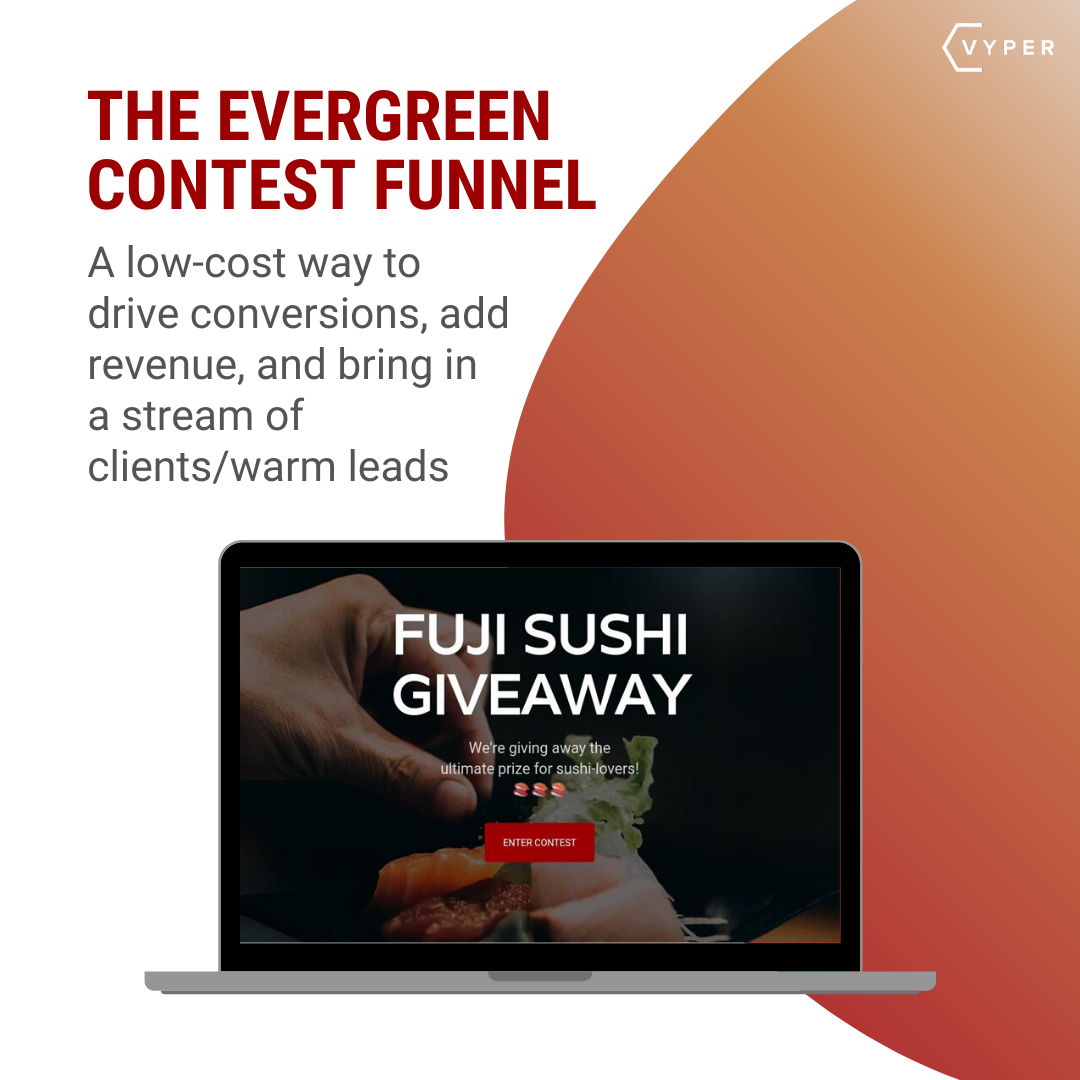 Hosting low-cost contests regularly will help you to consistently grow your business.
Want to learn more? Read the full post here.
Recipe Contest
A recipe contest is an excellent way of running a contest that is fun while allowing entrants to be as creative as possible. Contestants can submit their favorite recipes along with pictures or videos of the delicious meal.
By asking contestants to submit recipes along with images or videos, you will be making room for tons of user-generated content (UGC) that can be shared on your website and social media profiles.
UGC comes directly from your fans/followers, which can lead to posts and contests that are highly engaging. This can translate to even more likes, comments, and shares on posts related to the contest.
Sky's the limit with a recipe contest. You can take a recipe contest to new heights by hosting a 'bake-off' between the top-rated contestants. You can also live stream the show on your Facebook page to keep the content on the platform.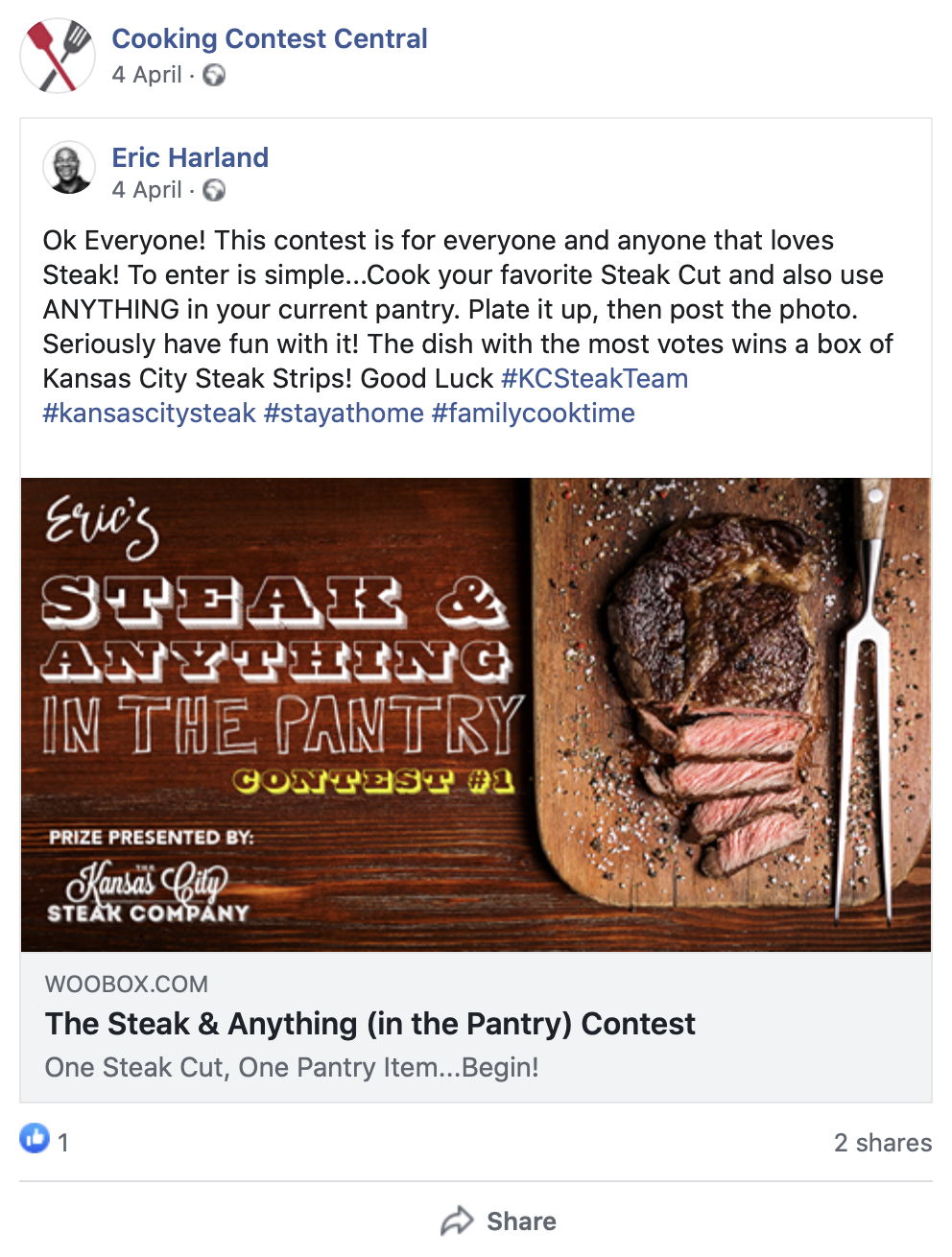 A recipe contest does not have to be restricted to just those who can cook/bake. You can allow users to enter the contest simply to vote for their favorite recipe. A separate giveaway can be held for voters.
If you are looking to boost your email list, then allow all contestants to 'refer a friend' for additional points. This way, everyone involved in your contest will have to supply their email either to enter or vote.

Growth Tip: Create an incentive for everyone to enter your contests. They might not have the skills to take part, but they can still vote. An incentive can be a free gift or a discount on their next purchase from your store.
Back2School Contest
A 'Back2School' contest is ideal for brands that appeal to both kids and parents. Users can enter this contest to stand a chance of winning massive school bundles that include items such as:
Backpacks
Lunch Boxes
Stationary
Books
Educational vouchers
Such a contest will be appealing to almost all parents who have to budget for costly school gear and tuition fees. If set up properly, your contest can potentially receive high volumes of entries.
If you are looking to go big, then you should consider making your contest fun for its entrants. You can have an art (or coloring) competition. Users will have to submit their works of art to enter the contest. This can be an opportunity for user-generated content.
Photography Contest
A Facebook photography contest is yet another opportunity for your brand to host a contest that is filled with user-generated content. Contestants can enter the contest simply by submitting images from their most creative photoshoots.
Apple successfully ran its 'Shot on iPhone Challenge' which had contestants submitting glorious photos that were taken on their iPhones. The contest helped Apple to generate tons of content, while successfully promoting its product.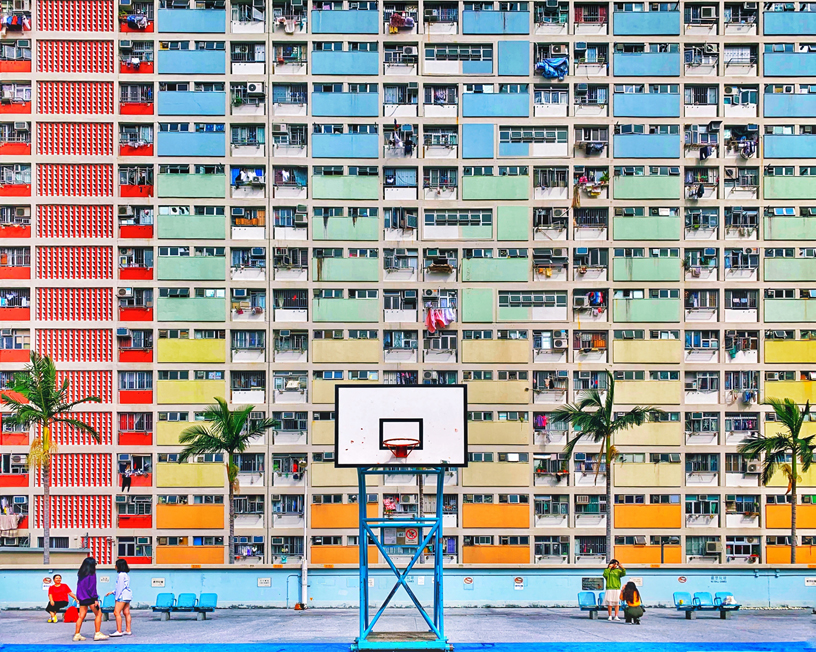 The contest also helped Apple to bring its customers closer to each other. Users with similar devices and interest in photography were able to compete with each other. This allowed Apple to build brand loyalty among its customers, something that Apple excels in.
You can host a Facebook photography contest that allows users to enter by submitting their photos, or they can enter just to vote.

If you have a physical store, you can display the top 10 contestants images in your store in the form of an art gallery. The opening of the gallery can be another event that you and your contestants can promote long after the contest is over.
How to Create a Viral Facebook Contest
If you play your cards right, your social media contest on Facebook could go viral. It can increase visibility for your brand and encourage engagement, exposing new users to your business.
The key to creating a viral success is to follow some simple steps.
You'll want to carefully comb through the reasons that you want to launch a contest, what your users expect and want, and finally, what compelling reasons you can communicate to users about why they should be interested and excited.
Follow these six steps on creating a Facebook contest that will 2-3x your business.
1. Decide on the Goal of your Contest
While a contest is not the right marketing form for every business, there is a huge variation in the structure of contests and giveaways.
You can use these variations to meet different goals for different segments of your market. Ask yourself some questions to help you shape your next contest with a trackable goal.
Do you want to:
Build an audience to sell to?
Collect more email leads? – If you do, check out this case study. We collected thousands of hot email leads with one contest. As you can see from this second example, it's not the first time.
Showcase or launch a new product?
Increase awareness of your brand?
Incentivize comments or reviews?
Increase your followers and boost engagement?
Gather intel on your users through feedback?
Choose a contest structure based on your goal and you'll set yourself up for success. Some contests are better for increasing awareness, showcasing a new product, or increasing followers, so think about what structure and goal you are targeting.
For example, if you are looking to build your email list, run a contest that requires signup (example). If you are trying to increase engagement, run a comment or caption this contest on Facebook.
Using a Points System
Whether you choose signup, comment, photo or video contest structure, make sure that you can track users with a points system, have different reward types, track entries/users, and winners.
You may be wondering how to do a giveaway on Facebook. First, set up a business page for your brand if you haven't already.

Then, choose a third-party app like VYPER, to run your contest, use pre-made templates, measure success, and prevent cheating.

Once your contest or Facebook giveaway has reached your desired term, choose a winner and promote the result. Here's an example giveaway announcement:

Growth Hack: Launch Facebook Giveaways
And here's an example of a contest we ran with our client using VYPER to stage a truly impressive, viral e-commerce giveaway.
2. Create a Contest Entry Type
If you want to choose a 1st place or random winner you are going to need a way to contact them so choosing the right entry format is important.
These are some contest entry types. It starts with easy to do, but small results, all the way up to harder to do, but huge results.
Image post (e.g. caption this image).
Video posts (e.g. introduce your giveaway and choose a winner from comments).
Custom landing page (e.g. build your own landing page and add a signup form, can be MailChimp for example. Choose a winner from the list).
Use a contest tool (e.g. create a landing page in VYPER and promote that page).
Widget (e.g. add a widget to your contest allowing people who visit your site to sign up to your contest).
Allow users to enter a sweepstake or contest with a name and email address for a more private entry format. This also gives you direct communication with them is you want to do milestone rewards as well (e.g. collect 100 points, unlock $5 OFF).
If you'd rather choose a winner from comments left on your post, you can allow comments themselves to serve as the entry format.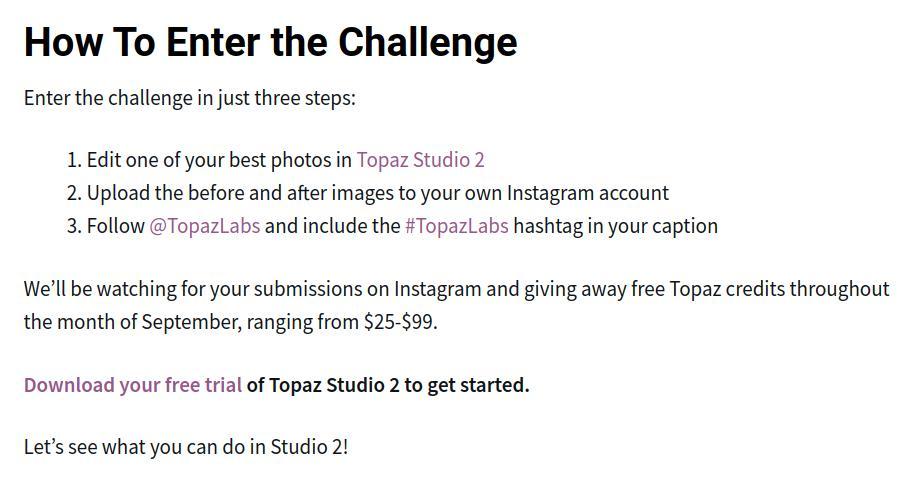 Track and Contact
Whatever entry format you choose, you will want to make sure that you can do two things: track and contact.
You may want to get the same results that a competitor's contest has achieved. Copying contest examples are a great way to learn how to launch a contest and leverage the huge audience that is Facebook. Using a tool that also has pre-built templates can also help.

Growth Hack: replicate Facebook giveaway examples
First, choose your example with care. Then, use a third-party app like VYPER to replicate the contest, set up its contest type, and protect your guidelines.
Once you have copied the structure of the contest with your own content, you can start to enjoy one of the best ways to market on Facebook.
No need to re-invent the wheel, take what works and build on it!
3. Build a Giveaway Landing Page that Converts
Landing pages give a way for you to share contest information, capture traffic/data, generate excitement and fulfill your Facebook guidelines through disclosures. (Remember that these disclosures are part of your duty to Facebook's guidelines, so don't neglect them.)
There are many ways to build a landing page. The most important features of the page are sensible design and attractive copy.
Whatever design you choose, there are some general rules of thumb for creating a landing page that converts:
Use a single call to action and make it stand out by placing it above the fold.
Write compelling headers and supporting copy that is concise and written in the active voice.
Finally, make a valuable offer by focusing on the benefits of entering your contest.
It can be complicated trying to communicate simply (oddly enough). So, here is a checklist for you to make sure you have written an engaging landing page that is clear and compelling enough to convert:
Uses a CTA (call to action)
Stands out with CTA above the fold (fold means the part of the page that is in view without scrolling)
Has scarcity (time or quantity)
Has good images of the prizes
Uses dot points or steps if possible
Has compelling headers (write a few and choose the best one)
Makes a valuable offer focused on benefits
For more help with building a high-converting landing page, take a look at this example and check out this checklist.
4. Make Contest Social Posts For All Channels
Cross-promotion of your contest is key. Cross-promotion gives you the opportunity to show the appeal of your contest to many different social groups across platforms.
Use social platforms like Twitter and Snapchat to make sure that all your followers know about your contest is a good way to get the ball rolling. While some of these followers will get duplicate messages about your contest, many will see it for the first time.
Have videos and images ready to go so that you're posting your contests to all channels with the correct format. Use something like Canva or Snappa to create good looking images.
It's also a good idea to auto-schedule a post for every few days as not all your followers will be online at the same time you post.
Pin Your Posts to the Top of Your Social Feed
Make sure that the traffic you generate from your other social properties to Facebook gets splashed with your pinned post feature for the duration of the contest. It should be the first thing that your new followers should see. You can pin posts like this on Facebook, Twitter, and LinkedIn.
A Facebook giveaway app can help you manage multiple contests and campaigns so that you can focus on building your brand. You may want to get the results that some of our clients have earned through using VYPER.io.

VYPER rewards your loyal fans and incentivizes them to advocate.

If you create a giveaway with VYPER, you can generate more email and social engagement through viral referrals. It can even help you create gorgeous contest landing pages, so you can skip the need to learn code.

Growth Hack: use a giveaway app for a more viral experience
So long story short, leverage social media as much as possible by posting about it to all your channels then driving traffic to those posts. Don't forget to incentivize or encourage sharing as it's a great way to get new eyeballs on your contest.
5. Review the Contest Post
Before you publish your contest, make sure you have a list of follow-up actions ready to go. You might also want to think about hiring a professional to give your contest a look if you are not using an app like VYPER to supercharge its performance. (Or join our Facebook group to get feedback)
Make sure that your message is clear. Nothing will impact submissions to your contest more than clarity. Confusion will turn off your users and block their submissions.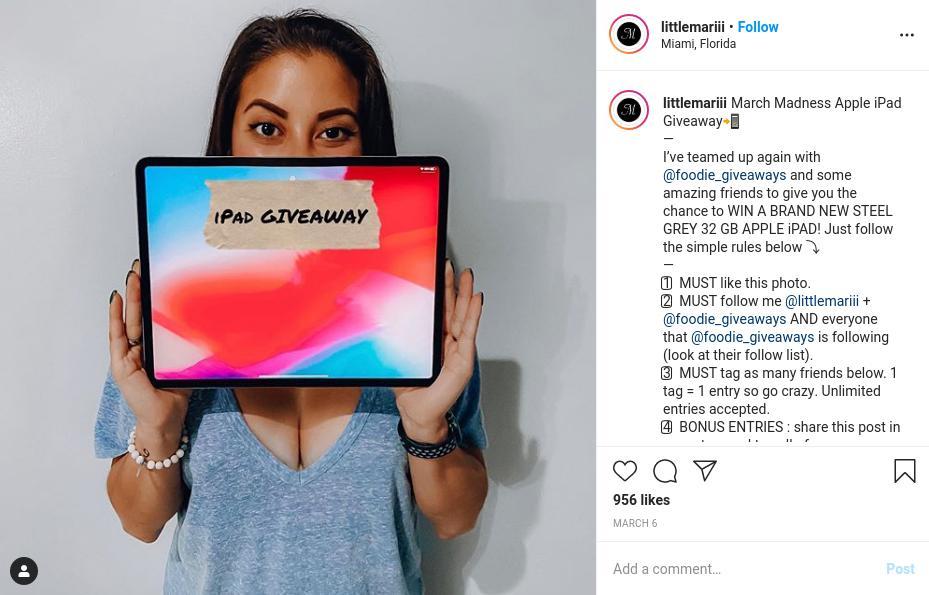 While some of your followers will be willing to try to understand the terms and requirements of your contest no matter what, new users may not be so willing to put in the work.
What's in It for the Contestants?
Always reflect on what's in it for the contest entrant, why should they give you their valuable time?
Is the landing page clear? (Could your grandmother understand it?)
Is the prize unique, compelling?
Are there instructions on the page as to what entrants have to do?
Is the contest "shareable"? (would people be willing to share it to their social pages).
Do you have images, dot points, gifs or videos that make your messaging clearer?
Do you need a signup incentive? e.g. everyone who enters gets $5 OFF
Does your contest look good on mobile?
Is the contest easy to share?
Make sure that the clarity you communicate through your post, landing page, and ready-to-go promotional posts are focused on the incentive and benefits of entering the contest.
The first thing that users want to know is what they get and how to enter, so make sure that your rules do not take center stage. Use small terms and conditions link in your contest, for example, take a look at this contest.
Creativity goes a long way as more and more brands turn to contests to generate engagement. While you can base your structure and terms on other contests, your contest itself should be unique to your brand.

You can copy and take inspiration but build on it to make it your own.

Growth Hack: generate Facebook giveaway ideas
You can generate ideas that are unique to your giveaway by researching other contests and experimenting with your language and copy.
If you create a contest on Facebook, you'll already likely have spent some time entering contests of your own or at least researching them for your success. Leverage that knowledge to create something unique for your fans.
6. Publish The Contest Posts
You have reviewed your contest. You have made it unique. Perhaps you have even enlisted the help of a tool like us (VYPER) to make the process easier. Tools like this also add additional features to help design, sharing, and virality.
You will want to give your post one final read before you publish to make sure that everything is clear (and properly spelled) before it goes live. You might also want to think about opening the post to comments from your team before they are pummeled with submissions and buzz about your viral contest.
However you finalize your post, this stage is all about channeling that inner perfectionist. Nothing could be so detrimental and explosive to your contest as an unlikely loophole or an unintended spelling error.
Many followers may be willing to overlook this slight oversight for the sake of the prize, but some new users may not be so charitable with your message and contest post.
Contest Checklist
Go over this checklist one final time to make sure every comma is in its proper place and that you are ready to promote engagement.
Have you created a contest that will satisfy your organizational goals for your business and brand?
Are the contest dates correct?
Is the contest easy to enter and made so that every entry is definitely trackable?
Does your landing page have all the elements of a high-converting page? (see the checklist above).
Do you have supportive social posts ready to cross-amplify your contest for maximum impact?
Have you reviewed all the terms and copy of your contest with a professional app or service?
Is your contest unique and appealing overall?
Finally, make sure you set the contest live before promoting.
If the answers to all these questions are a resounding "YES!," then you may well be ready to press publish on your next viral contest. Get the prize ready, and say a little prayer to the gods of Facebook success.

Contest Tips from the Experts
Everything on Facebook for businesses is 1 part ingenuity and 99 parts strategy. We've scoured the internet for the most insightful and helpful advice experts shared. Discussing these five key strategic considerations will give you an added boost as you develop a winning contest formula for your business.
Over time, you'll land more submissions and get everyone buzzing.
In general, they fall into agreement about how to create an excellent, highly effective contest. In the following sections, we share shortcuts that will help you save time and hassle if you use expert insight. Read on, and enjoy this video from one of Youtube's Facebook gurus.
Watch this video as an example of how to run a giveaway. It shares a few tips you can apply to your contest no matter the tool.
1. Understanding Contest Guidelines
You're dreaming up your contest, thinking about what an expert would advise for you to get the most engagement from your fans and followers.
Imagine you come up with the perfect campaign that touches just the right corners of the internet so that sales jump and numbers appear green across the board. Then, you find out that you've dreamt up an illegal contest, and it's back to square one.
This is why experts agree that you should get as familiar as possible with the rules that govern contests. The rules are fairly simple, and whether or not the policies are strictly policed, good manners on Facebook never hurt anyone and may even lead to mistrust in your brand if broken.
Carefully Think Over Your Guidelines
We'll just make three broad points here (If you need more detail, please consult the FAQ section at the end of this article):
You must follow the law in your state and country. Facebook is not going to help you run a lottery, so never require people to pay to enter your contest.
You and your contestants agree that Facebook is not responsible for the outcome or entirety of the contest. That means that Facebook will never be held liable for contest trickery.
You should not require users to use their timelines or connections on Facebook as part of the entry method itself. Quite simply, "Personal timelines and friend connections must not be used to administer promotions." Period.
Users that enter your contest will have no option but to follow the guidelines set by you, no matter how unfair they might be. Most contestants will shy away from a contest if they feel that the rules of the contest make no sense to them.
If a contestant is disqualified for something that's out of their reach, then it can impact negatively on your brand. It's for these reasons that you should take careful consideration of the guidelines of your contest. Seek legal advice if you need assistance with this.
2. Measuring your Goal
Like many forms of online marketing, the proof is in the numbers.
You probably plan to use contests as an evergreen source of valuable conversions and amazing content (weekly or monthly giveaways). So you will need a way to measure each contests impact and see how you can improve in future versions.
Experts agree with this practice, but they warn that too much "trackability" can slow down users and decrease engagement as users turn away from lengthy surveys and embedded forms.
Focus on tracking key metrics that will prove to you and your stakeholders that these contests are worth the prize and their time.
If you're not sure what you want to track in your contest campaign, here are a few examples to get you started:
The information that contestants will submit to my contest. (name, email, phone number, etc).
What can I learn about my fans and followers using a contest? This is an especially interesting question for contests with user-generated content because stats and leaderboards can be used to serve engagement goals, like in this example.
The organic actions that have helped growth in the past (social shares, reviews, referrals, etc.)?
What is the goal of the Facebook contest followers, leads, sales, phone numbers, user feedback, awareness, engagement?
What "numbers" will I rely on before, during, and after the contest to show its success?
Contest Data
Answering these questions will get you thinking about the data you need to collect from your contest. Many of these will be available to you through Facebook Analytics, but you may need additional tracking like Google Analytics or process the raw data from your contest in excel depending on your goals.
Take a look at this YouTube series by our Co-Founder Jack Paxton on how to track campaign performance with Google Analytics, the Facebook Attribution tool, and Facebook Analytics.
Facebook and Google Analytic's Attribution tools are built to analyze which channels are driving new visitors and customers. The video below covers the position-based attribution model (40/20/40) and how it more accurately tracks ROI by channel/traffic source.
3. Picking a Relevant Prize
You can give away anything in the world, but a great contest starts with an enticing and magical prize that gets your fans and target market excited enough to enter.
Your choice of the prize should be an investment, it should be relevant and available:
Something unique. It can be a product, service or experience.
You should pick a prize that showcases the quality and even a little prestige. You might be held back by anxiety about giving away such a unique, or even pricey prize, but you must offer something that gets your people excited to take the next step.
Make sure you pick a prize that is relevant to your fans and your niche. Any business can give away a free iPad or a Chromebook, but it takes thought and passion that stirs emotion to offer something that relates viscerally to your brand and target audience.
4. Keeping to your Rules
Things get blown out of proportion online. Engagement hits and everyone swarms for a piece of the excitement.
But don't let the heat of the moment break your commitment to your users to act fairly and responsibly with their time, content, and attention.
You want to exude values that your customers admire and associate with your brand so consider these thought starters:
Am I encouraging a fair and honest contest?
What kinds of conversations do I want to start through my contest?
Will the contest affect anyone negatively?
Am I acting fairly in choosing a winner and respecting the time my fans have taken to enter my contest and contribute?
What kind of contests show who my brand is as a person? Contests that ask for creativity, ingenuity, and passion often perform the best in terms of engagement. That's because they create clusters and communities that bring a sense of excitement to your brand without the troubling signs of being in it just for the prize.
Encouraging passion and excitement through your commentary with fans can serve your goal to act fairly and influence the success of your campaign.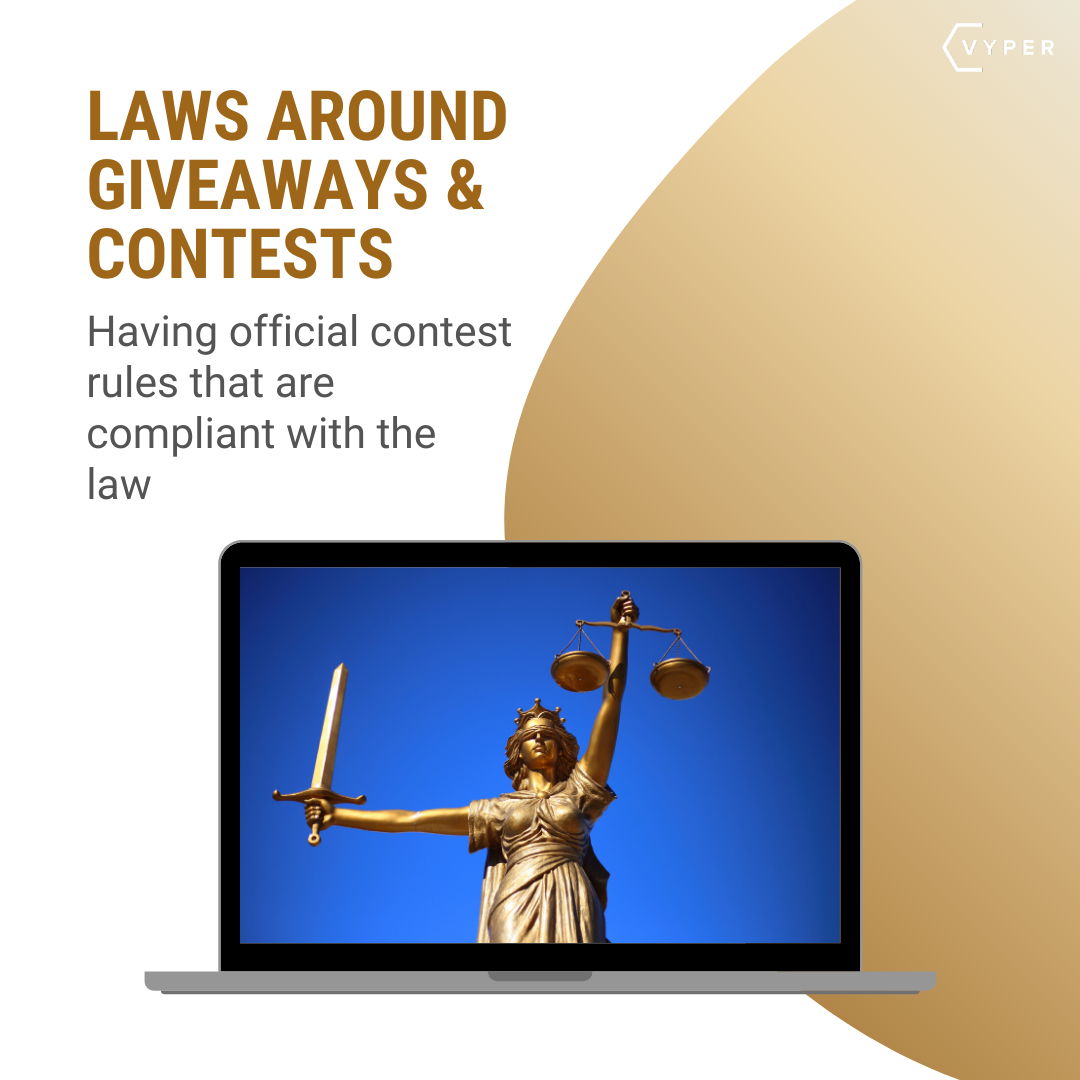 Read our post on the laws around giveaways to get a better understanding of how to host a giveaway that is compliant with the law.
5. Making it Easy and Engaging to Enter
When designing your contest, consider what experts describe as the difficulty a user encounters when trying to engage your contest.
This difficulty could influence your contest to be less successful and ultimately less satisfying for everyone involved if you do not properly consider the "user's flow" during the contest. Some questions to ask in the design process are:
Do page visitors understand what you are offing within 15 seconds?
Am I allowing visitors to enter my contest in under 2 minutes?
Is entering my contest so easy that instructions are hardly needed?
If not, when and where will fans first get instructions on how to enter?
What will happen before, during, and after entry that will prompt the user to stay engaged?
Think about the number of boxes, so to speak, that each user must check in order to enter your contest. If the number of steps is under the magic number three, you may be in luck, especially if someone can join your contest in under 3 minutes.
What kind of contest meets these conditions?
Well, comment-style contests are highly effective because they're easy to enter and they engage the user in the process. A simple call for original photos, designs, and captions can get the creative juices flowing in your community while serving a goal to stockpile user-generated content.
Join our Facebook group to see our co-founder Jack video review/teardown over 30+ user contests to help them with design, conversion rate, offer, and prize selection.
How to Run a Viral Facebook Contest
You've created your contest and now it's time to learn how to run a contest professionally and steer your contest to success.
A successful contest can increase content engagement, brand awareness, email leads and revenue growth in ways that are unexpected, surprising, and extremely helpful for your social presence.
In this tutorial, you'll find key actions that will lead you toward becoming a viral machine in your niche.
1. Promote your Facebook Contest through Video
Infographic: Link
Contests are ways to reach new customers and gain new followers, but it's also an opportunity to engage loyal fans in new and exciting ways. You can help to cross-promote your contest on sites like Youtube where you communicate your contest in a fresh format.
Think about how best to convey an interest in the prize by teasing it in the video or reviewing its features and qualities at length. Then, explain what the contest is all about, set your ground rules, and invite subscribers to enter by following a link in the description.
This may also be a good time to learn how to promote Facebook pages. There are many apps you can use to generate interest in your social post and get it in front of the right eyes.

We recommend tools like ours (VYPER) which are specifically designed for these kinds of promotions. They best leverage social sharing and referral marketing.

Growth Hack: Promote Facebook Pages
2. Encourage Contest Entries through your website
Like this contest, you can generate traffic from a contest, if you run a well-trafficked website and want to leverage your readers. Consider a series of blog posts about your prize, your inspiration for the contest, and of course how readers can enter it on Facebook.
By adding a giveaway or contest to your blog post you can leverage your website traffic and benefit in a number of other ways:
Collect emails from the post (better conversion rate than a popup).
Turn your blog post readers into followers and engagers using the contest bonus actions.
Make the referral link for the giveaway the blog post URL. This builds links and gets shares which are great for SEO.
Provide value by creating interesting content plus giving them the chance to win something.
With the right blog post series carefully written, you can have traffic running from your website to Facebook and from Facebook to your website especially if you've chosen to give away a prize that you make available.
You can also promote your post on Facebook itself. Use the Facebook tools for your business page to target certain markets and kinds of users that you think would be interested in the contest as well as interested in your brand as part of your market niche.

Growth Hack: Promote a Post on Facebook
3. Create a Custom Hashtag for your Contest
Hashtags are essential for helping your users discover your contest, see other contestants' and start discussions about your brand that you can use to learn from your niche and market to them more effectively.
Using a clever hashtag means that you have the power to attract new members to your brand, contest, and content when the whole campaign goes viral. Hashtags can be especially effective if you need to quickly help followers feel excited and engaged in an ending or limited-time contest.
You can use hashtags for two things:
To get exposure – use more general hashtags to make your contest searchable on social networks. For example, these are some common hashtags to use for giveaways or contests.
To engage with people – This is when you want to use the custom hashtags. For example, if your company was named Modern Fizzle you might want to use the hashtag #MFgiveaway, if that is already taken you could use #MFgiveaway19
So put that thinking cap on and brainstorming 5-10 good hashtags. Then ask a few team members which one they like best. The shorter hashtags tend to do better as they are easier to remember.
Few marketers run a contest by themselves, so why would you try unaided when you're aiming for the next big hit on the internet.

Using a contest app can help you prevent contest cheating and other pitfalls like lack of responsiveness that could keep your contest from being the best that it can be.

Growth Hack: Try a Facebook Contest App
4. Collect Entries and Respond to Buzz
Facebook entry is not goodbye. It's an invitation to join a fan in their passion for your product, brand, and lifestyle mission.
This is especially true if you are launching a contest that takes user-generated content like comments and captions.
Always Respond!
Reply to comments on social plus send and reply to emails throughout the campaign.
Many marketers treat their contests as they would treat any other static campaign like a banner ad. This is a misstep because contests are all about engaging with followers, so make sure that you are taking steps to keep the fire alive through retweeting certain entries and doing callouts on your live feed.
Most contest marketers need help running the contest smoothly, especially when it comes to measuring engagement, creating bonus actions, and multiple reward/prize types.

Choose a third-party app like VYPER to run your contest, measure success, and make it a success. Our clients have launched hundreds of successful contests in dozens of niches.

Growth Hack: Use VYPER
5. Choose and Award a Winner
How you choose a winner matters. Every moment in your viral contest is extremely public and the way that you choose and announce a winner could leave people feeling pumped up for the next giveaway or disappointed by your brand.
Depending on the kind of contest you designed, you will pick a winner at random or on the merits of the content they created. For most contests on Facebook, the random winner is effective because it doesn't leave anyone feeling like the contest was unfair or their submission was underappreciated.
At the same time, fans can share in the satisfaction of winning when a contestant is chosen on merit. You can share the winning entry with more force this way, and get people to retweet the winning photo and caption, gaining more exposure for your brand.
Facebook Contest FAQ
1. Are Facebook contests effective?
Contests are increasingly popular for celebrities, boutiques, and big brands. Large and small, businesses have found that a viral contest can boost exposure to the brand organically and, in some cases, exponentially increase the rate of engagement.
The effectiveness of your contest will depend on many factors from the kind of contest that you ultimately choose to the kind of prize you decide to award to the winner.
Some other considerations are whether you are cross-promoting your prize and contest through multiple channels such as video search engines, through blog posts, and on social platforms.
2. What kind of Facebook Contest should my business use?
Do you fit into any of these situations?
Looking for a simple contest. Perhaps a one-off contest is the best option for you.
If you are looking for something long term and weekly or monthly giveaway might be better.
If you have the connections and the resources a join giveaway might work better.
It really all depends on your goals for the contest. Want to increase followers, subscribers, and fans? Do you want to generate excitement about a new product? Do you want to collect fan submissions for fresh, creative marketing collateral?
You might have one or more of these goals and it benefits you to consider your goal before you choose the "right" contest for your particular business. People are usually impressed by an extravagant prize, but something more subtle might be right for your community.
3. How do I promote a Facebook Contest?
Contests are a kind of promotion, but the cycle of applause shouldn't end there.
A few of the most popular contest promotion strategies are:
Creating a Youtube series (or a YouTube Giveaway video/post)
Create multiple blog posts
Custom hashtag on Twitter
Referrals using a contest tool
Run ads
Encourage social sharing using bonus actions
Email your list or pay to have your contest in someone else's list
Announce on podcasts, live streams, etc
In some sense, your contest should promote itself through the elaborate and desirable title or prize-winning that you decide on, but it can be helped through paid promotion as well as using Facebook ads.
This gives you added control over who is seeing and entering your contest for the greatest focus.
4. How do I generate subscribers from my Facebook Contest?
Engage your community through promotion. While contests promote your business and market your brand in an exciting way, sometimes you will need to give your contest a little boost by using paid ad dollars and other free promotional efforts to get your community excited and interested in entering your contest.
Once you have all these people entering your contest, you will want to turn them into subscribers.
If you use a 3rd party contest tool as people sign up using their email and name, you can import them to your email service provider to build your subscriber list.
If you are doing a contest natively on a social channel, you may want to offer a free something in exchange for their email.
5. I ran a successful Facebook contest. Now what?
Congratulations! After you run a successful contest, you will want to choose a winner carefully and fairly. The way you choose a winner matters as you have thousands of hopeful fans eyeing the prize and title of being the winning contestant.
You'll want to do a few things when drawing a winner.
Choose at random using a tool (VYPER for or this random generator for example)
Do some research on the winner (look at their email, social profiles). Make sure they are a legit winner. This is where a tool with cheater detection is handy.
Reach out to them to ask for their personal info, shipping address if you are sending a prize for example. You can also take it one step further and provide them with detailed shipping tracking.
Give them a timeframe to claim the prize. I like to give people 7 days and I follow up 2-3 times during those 7 days.
Once you have a confirmed winner, announce them to your followers and new audience.
Make sure you're ready to respond to the buzz surrounding the outcome of your contest as well.
Beyond that, you will want to also consider the numbers. How successful was the contest according to your metrics? How much more promotion could the campaign have used and to what effect? What will you do differently during your next contest to maintain engagement and increase submission?
6. What are the Facebook rules for contests?
Experts recommend you review your Facebook contest rules and guidelines before you launch an attractive, yet illegal contest. In general, the rules fall broadly into three categories and are advised, but there is not much evidence showing that it is policed.
You are responsible for following applicable laws.
If you illegally run a lottery rather than a contest according to state law, you may be held responsible and Facebook is not going to help you. That being said, a lottery is a contest that requires paid entry so just don't require people to pay to enter your contest.
You release Facebook from responsibility for the contest.
You are required to acquire a "complete release" from all participants and have them acknowledge that Facebook is in no sense responsible for the contest. A landing page is a good place to house this (and more exciting) contest information. This is built into our contests and giveaways so you have this covered in your terms and conditions.
You do not require people to use their timelines or connections.
Forcing users to share and tag a friend was causing issues for Facebook so Facebook decreed that, "personal timelines and friend connections must not be used to administer promotions." You can still make these actions optional or award points for a click or answering a question.
Facebook Giveaway Rules and Regulations
Knowing your Facebook giveaway rules for your next Facebook raffle or Facebook sweepstakes will save you a lot of time and hassle. You will waste less time creating contests that will be suspended for breaking usage terms.
To recap some Facebook contest rules: it is acceptable to ask for likes, comments, and messages while you collect entries for your giveaway. What is not acceptable is asking or demanding that users share on their timeline, share on a friend's timeline, or tag their friends.
Asking for likes remains something of a grey area because it is difficult to track. Experts recommend that you make it easy and fair to enter a contest. Since liking is allowed, but not necessarily trackable (Facebook restricts API access), it is recommended that you ask for giveaway entries in multiple ways.
7. Who has VYPER.io helped launch viral contests on Facebook?
VYPER has helped many clients reach their marketing and contest goals through a technology that is as advanced as it is personalized to your business.
We try to make the process of getting success at capturing emails and leads through contests as easy and straightforward as possible. Our process is super-charged and highly effective for many businesses.
VYPER contest examples:
To get your creative juices doing we have compiled a list of some example contests to copy. They range from Facebook contests to Crypto Bounties and everything in between.
So get out there and start growing your business with viral Facebook contests and giveaways.
Not only can they be used to generate followers, but also engagement, leads, and revenue.
If you want us to review your contest or give you some ideas on what prizes to choose for your contest, post a link to your brand and what sort of contest you have planned.
Jack Paxton
Jack Paxton is the co-founder of VYPER, a marketing tool that helps brands build email lists, social followings, and revenue using viral giveaways, referral, and reward programs. After millions of dollars spent testing different marketing strategies at his marketing agency. He then also co-founded Hyax a fast, conversion & design-focused course and funnel builder for creators.