Instagram is an exciting platform for consumers and brands. And a huge opportunity for you!
Only a few brands leverage this opportunity in the right way.
Are you one of those brands?
Are you doing social media right?
Instagrams a social network with over a billion users that scroll through endless posts of cats, memes, boobs, butts and luxurious lifestyle pictures.
Instagram is amazing as it helps introduce your brand to millions of new potential customers and users. It allows you to capture people's attention FOR FREE, build a brand with followers, then direct users to products to make purchases.
Yes, I know, this all sounds too good to be true.
All too often have brands started their Instagram journey in delight, only to fail after a few months.
The truth is, the road to 10,000 followers can be extremely challenging. Especially if you don't have a plan.
Well, this article is your plan!
It will guide you to your first 1,000 10,000 followers within a few months or for some brands a few weeks.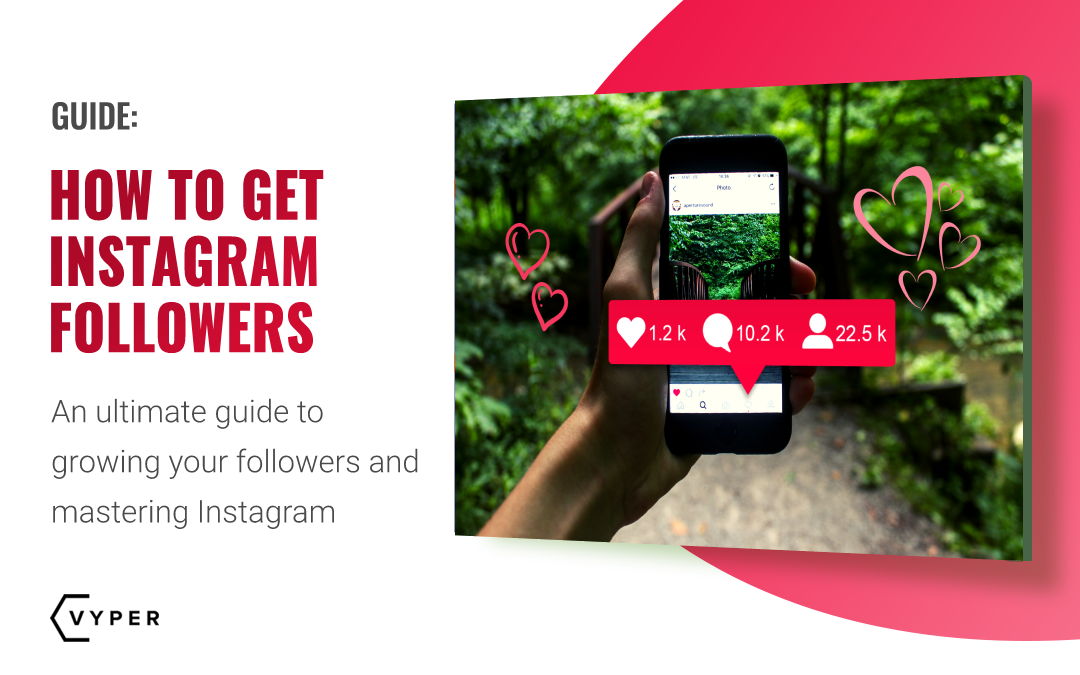 Host a Giveaway
When you host a giveaway, you get a bunch of people to enter for free so that they can potentially win a prize. You sponsor the prize and pick out a winner at random.
Giveaways have become increasingly popular on social media. Especially on platforms like Facebook and Instagram.
With a giveaway, Instagram users can simply supply their email address or follow/engage with your social profile to enter and stand a chance of winning a prize. Option 1 is advised as the 2nd option is definitely in the grey area of Instagram.
It's a good idea to require the email to enter, not force people to like/follow a page, or make a purchase.
Instagram users love to engage in posts that feature a giveaway. This is why giveaway posts on Instagram receive plenty of likes, comments, and reposts.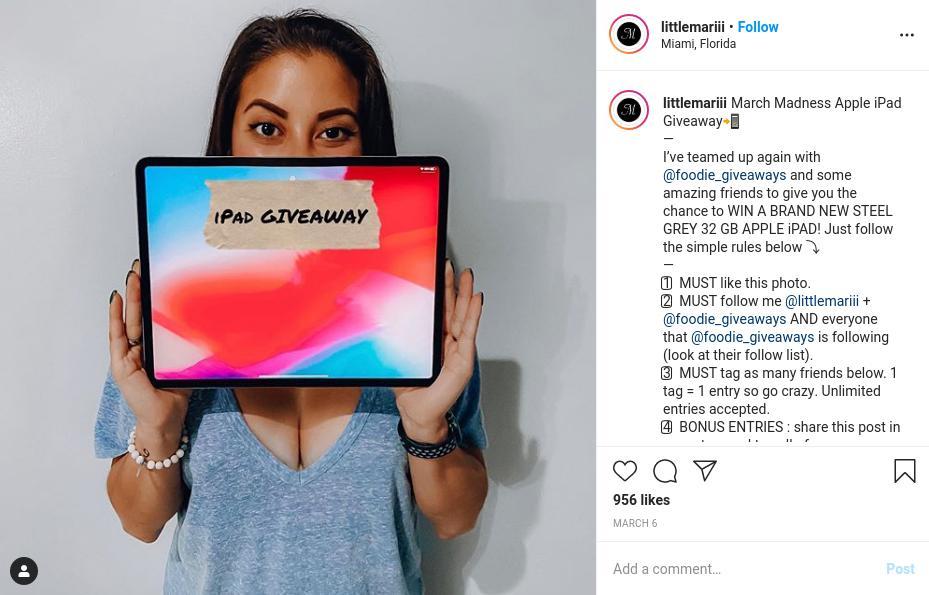 If done correctly, you can also get users to tag friends in your giveaway post. This will extend the reach of your post, ultimately increasing its virality. THIS is a huge part of introducing your brand to new people.
Brands are using Instagram giveaways to achieve multiple goals such as:
Effectively grow their social media followers. 
Build email lists 
Boost website traffic
Increase app downloads
How Waiakea Generated 124k New Instagram Followers By Hosting a Giveaway
Waiakea, an alkaline water company from Hawaii, partnered up with other brands to host one mega giveaway on Instagram. They managed to grow their Instagram followers by 14k+ during the giveaway (All partners received 124,493 new followers in total).
Waiakea also managed to add another 62k people to their email list and boost their website traffic by over 130% which led to increased sales during and after the giveaway.
Hosting an Instagram giveaway is an effective way to build your audience in a short period of time.
Want to know more about how Waiakea successfully hosted their Instagram giveaway?
Read the full case study here.
Pro Tip

Use Instagram giveaways to boost your engagement and reach before or during promotions. Instagram giveaways work great for product launches and sales events.
So, use a giveaway to boost your followers just before your next marketing campaign. The increase in new followers and leads can improve the effectiveness of future campaigns.
The concept behind Instagram giveaways is simple. However, crucial aspects regarding the prize you choose, Instagram promotion, and picking a winner can make or break your giveaway.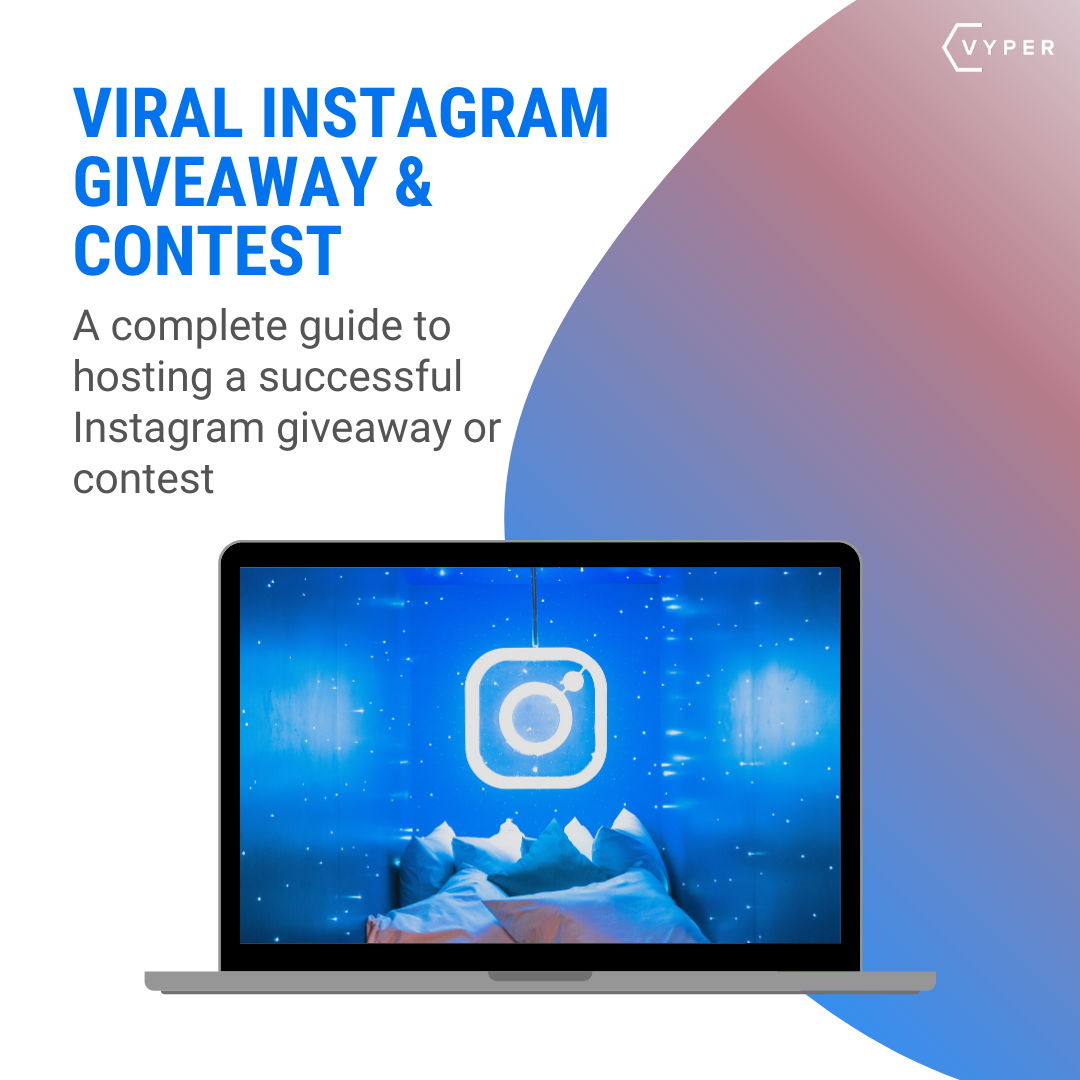 Our guide on hosting an Instagram giveaway has all the essential info you need to host your own giveaway successfully.
Host a Contest
When you host a contest, you get people to enter your contest so they can compete with each other for a prize. You sponsor the prize that gets awarded to the winner (the person in first place or the person with the best entry).
Instagram contests are fun, interactive, and engaging for users on the platform. Because of this, a single contest has the potential to generate tons of hype.
If done correctly…
Contests are similar to giveaways in which you can request users to submit their email addresses (or follow/engage with your social profile) to enter.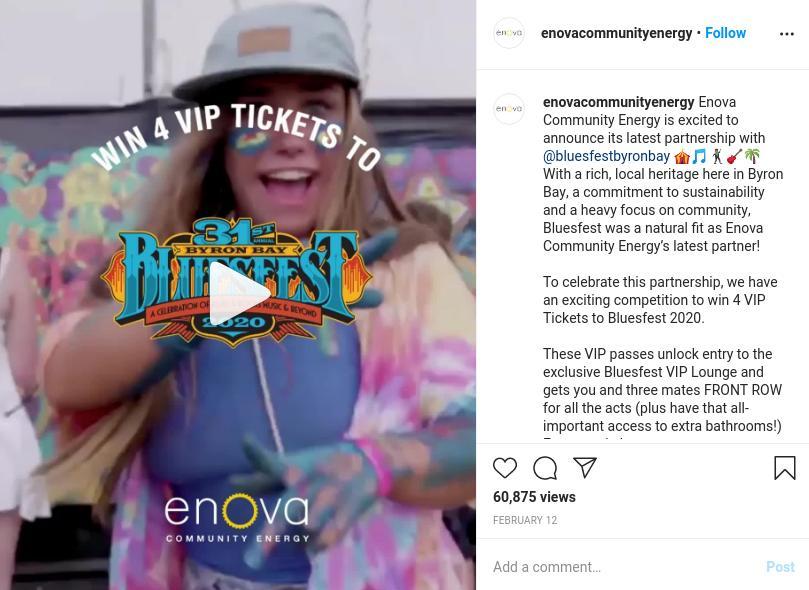 The main difference between a giveaway and a contest. A contest user must compete with each other to win the prize.
A winner can be chosen on merit, skill, creativity, and more.
This, for example, can be a leaderboard, 1st place, winner chosen from top 100, best image submitted, best answer, etc.
Because Instagram is a visual platform, contests that require users to submit/upload an image or video are perfect.
This can be anything from a selfie contest to an art/graphic design contest. You can even request users to design a new logo for your brand or product.
Pro Tip

Use Instagram contests to produce user-generated content. This is content (images or videos) that feature your brand. The best part is that your followers will create it for you.

You can then use the content in future Instagram posts, ads, email, on the website or in stories.
How Topaz Labs Boosted their Instagram Followers with a Contest
Topaz Labs, an image enhancement and editing tool. They managed to generate 14,206 new followers across Facebook and Instagram. They did this with a single social media contest.
Instagram users were requested to edit an image in Topaz Labs' software, then upload it to their own Instagram account.
To ensure that Topaz Labs found contest entries, users were also requested to follow Topaz Labs on Instagram and use the hashtag #TopazLabs and upload via their account.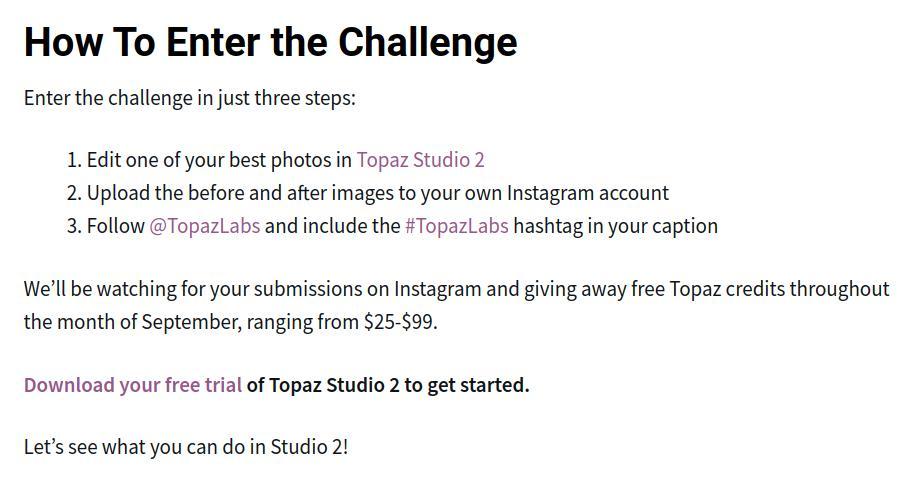 This entry method ensured that all entrants followed Topaz Labs on Instagram. It also helped Topaz Labs to build a hashtag that's related to their name on Instagram.
Want to know more about how Topaz Labs successfully hosted their Instagram contest?
Read the full case study here.
FREE DOWNLOAD: Get all Our Contest & Giveaway Marketing Guides, Checklists, and tutorials that have helped 100's of brands collect 15k+ emails in under 21 days!
Use a Referral Program
Referral Marketing (also known as word of mouth marketing) remains as one of the most potent forms of marketing.
More brands are using referral marketing to grow their business successfully.
The concept is simple. Reward your current customers for referring new customers to your business.
This strategy will grow your client base as long as current clients continue to assist you in adding new clients.
Customers that refer friends, family, and colleagues to you will usually refer a person who they feel will be interested in your product. Say hello to high-quality leads!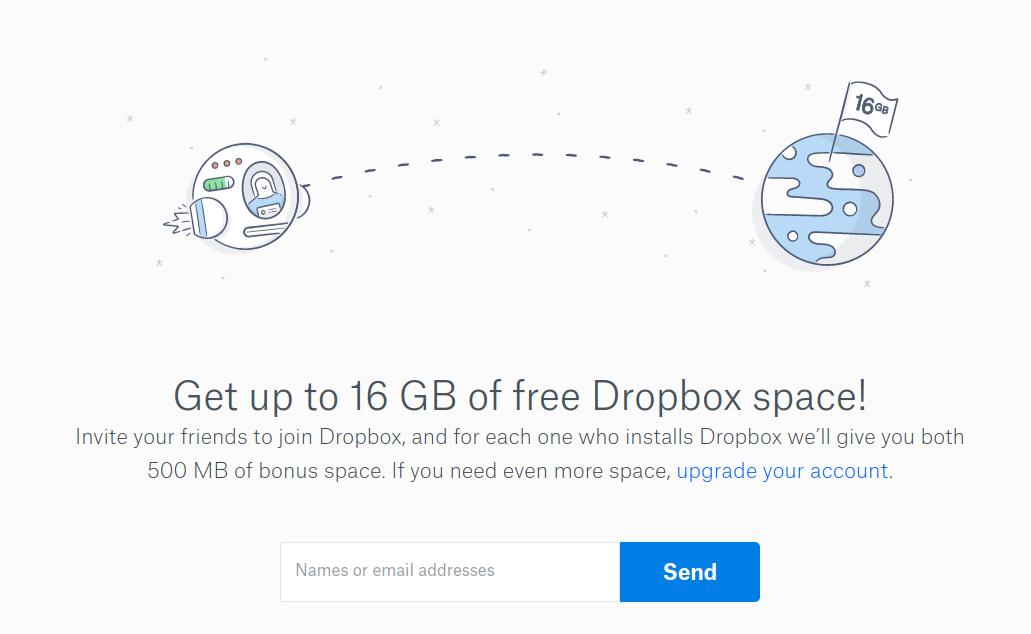 Customers that successfully refer new customers can be rewarded with a store coupon or discount. These discounts can serve as great incentives for customers in your referral program.
Take a look at this vyper referral program example.

Once your referral program is set up, you can set up other tasks/actions for customers to earn points that unlock rewards.
These bonus actions can be anything from liking a social media post, visiting a website, and yes, you guessed it, following you on Instagram.
Use your referral program to reward customers for getting people to follow you on Instagram.
For example, you can state that "for every 10 people you get to follow us on Instagram, you will earn a 20% discount on your next purchase."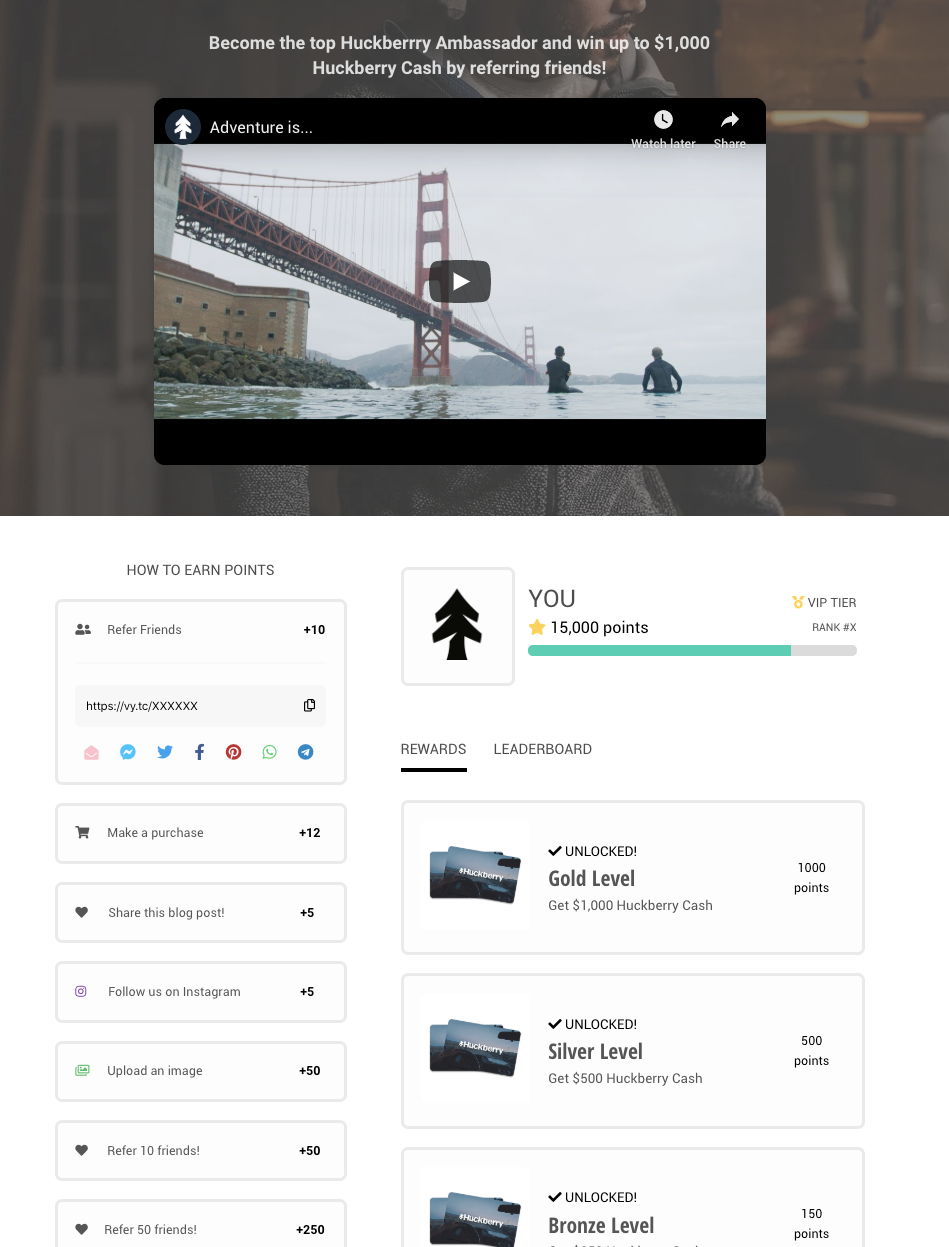 Use Hashtags
Hashtags are an excellent way to get discovered on Instagram.
If an Instagram user searches for "Jordan Sneakers" on Instagram, they will find tons of posts that most likely have the hashtag #jordansneakers in them.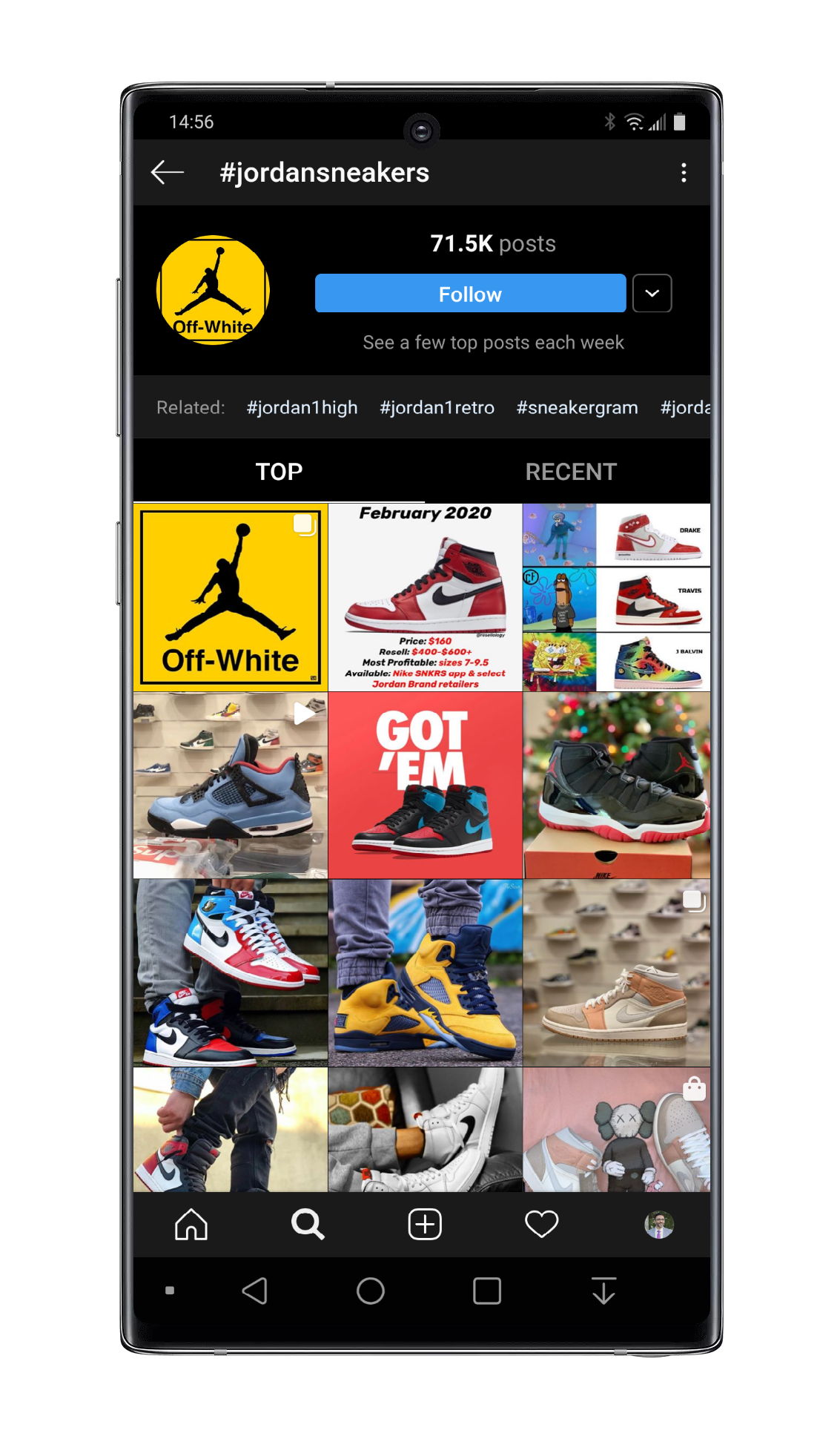 Instagram users even have the option to follow the hashtag, so posts related to that hashtag can appear in their feed.
If your post has #jordansneakers, it will be discoverable under that hashtag and can potentially appear in the feeds of users that follow that hashtag.
Users that discover your post will have the option to follow you (or like or comment on your post) instantly.
Race to the Top
The most discoverable posts are naturally the posts that are at the top of their specific hashtag.
These are posts that have tons of engagement in the form of likes and comments.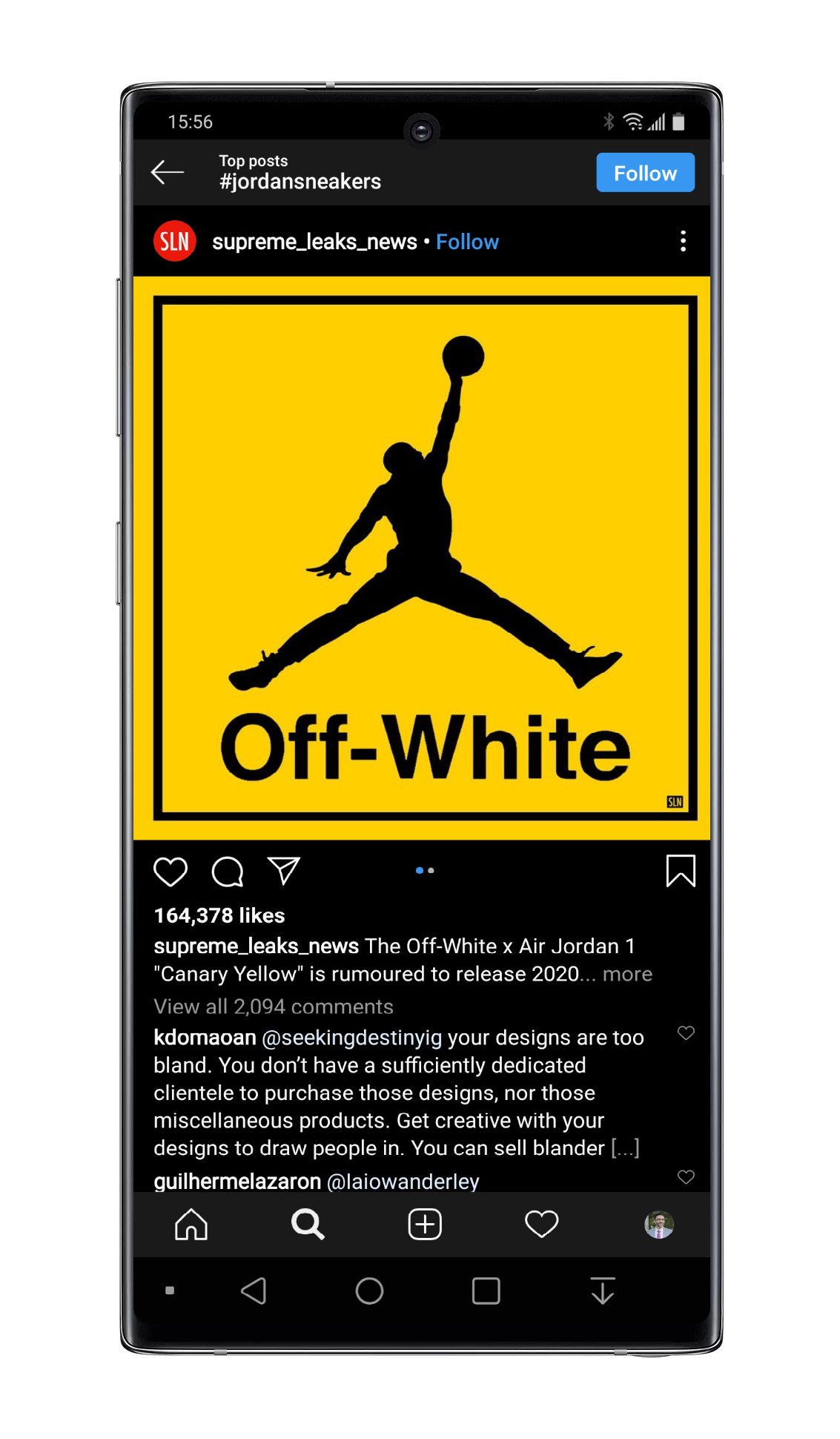 It can be challenging to rise to the top of a hashtag, but not impossible. However, it can be near impossible to get to the top popular hashtags.
Because of this, you should try to use niche specific hashtags. This will increase your chances of being discovered.
The Hashtag #jordansneakers is currently being used in 71,663 posts. This hashtag will fall under 'rare' or uncommon hashtags on Instagram, considering the number of posts that feature it.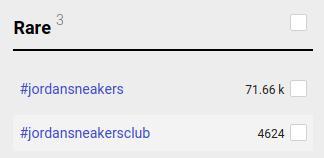 Hashtags that are featured in millions of Instagram posts are difficult to rank in.
It's a similar strategy to website SEO. Focus on your niche and try to make an impact with your niche-specific hashtags.
How Many Hashtags Should You Use?
The maximum hashtags allowed is 30. Instagram has tons of popular posts that have close to 30 hashtags.
The post below makes use of the full 30 hashtag limit. It is considered as a 'top post' on Instagram, probably as a result of the hashtags being used.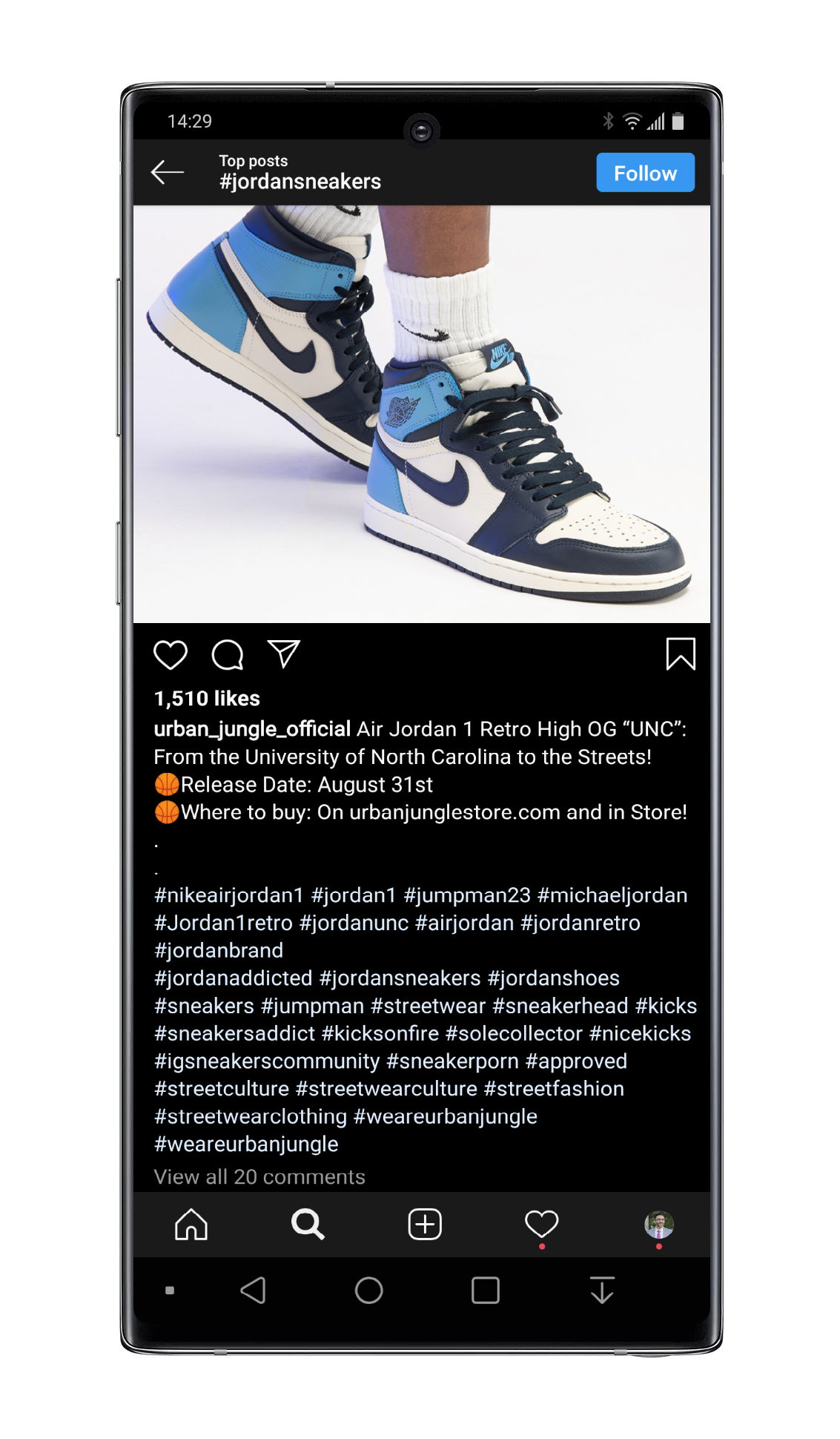 On the other hand, many marketers have mentioned that you should limit your hashtags to 5 or 6.
It's crucial to remember that when it comes to growing your brand on social media, strategies can differ profoundly according to your niche or industry.
Because of this, it's best to research your competitors or your niche before attempting any new strategy.
You can also experiment with hashtags until you find a good set of hashtags that work for you.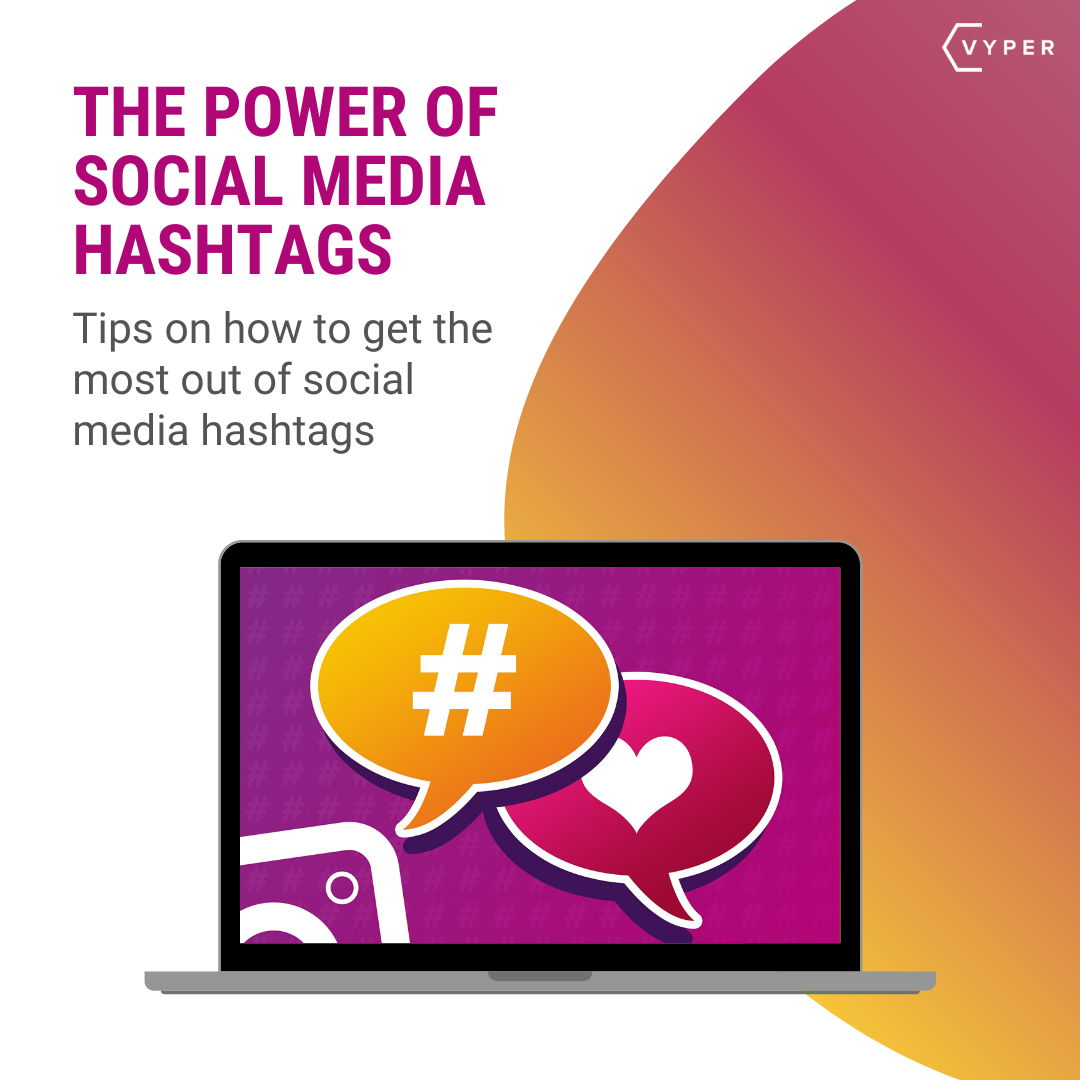 If you want to further explore the power of hashtags, you can learn more here.
Team Up With an Instagram Influencer
Instagram influencers are users that have a substantial following on the platform.
An influencer can introduce your brand to their already established audience with the hope of getting some of them to follow you.
This is an effective strategy, as most influencers have a close connection with their followers.
To partner up with an influencer, you will have to come to some arrangement with them. Some potential influencer deals include:
Monthly cash payment
Cash payment per mention or post
Payment in the form of free merchandise
Mutual agreement
With a mutual agreement, your brand can partner up with an influencer that has a similar amount of followers to you.
You can then cross-promote or tag each other in posts. This will allow both of you to become discoverable by each other's followers.
So basically, your followers will end up following the influencer, and their followers will follow you. An excellent mutual agreement that can boost both party's followers.
This is an ideal strategy for micro-influencers that are looking to team up with up and coming brands. You can also use this strategy to partner up with other brands.
Choosing the Right Instagram Influencer
No Instagram influencer is the same. Because of this, you should not just select an influencer based on the number of followers they have.
Your Instagram influencer should align with your brand. In other words, their voice and content need to appeal to your target market. E.g. you wouldn't
An influencer's persona should be a great match for your brand and not detrimental to it.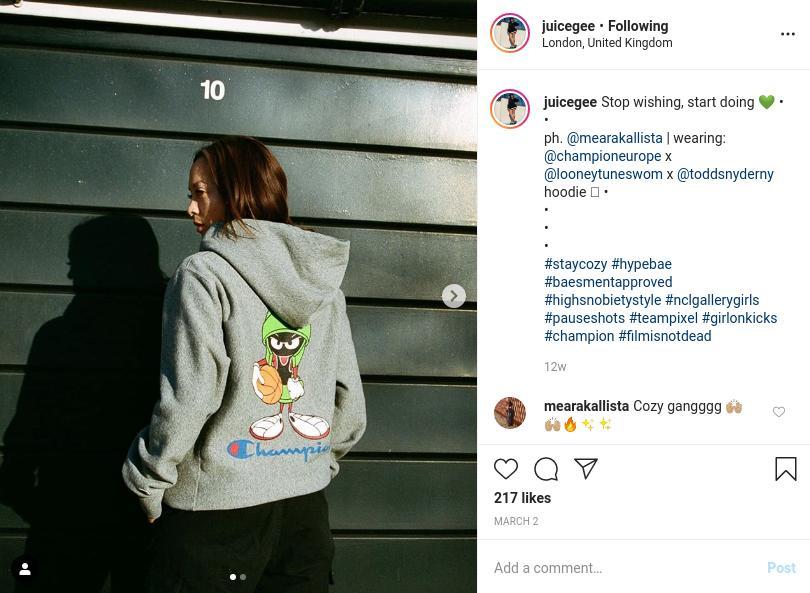 To determine if an influencer is a good match for your brand, you can simply research them by going through their posts and comments.
You also want an influencer that attracts an audience similar to your target audience. You don't want to invest time in an influencer who has tons of followers that are not interested in your brand.
Embed Your Posts On Websites
Most websites allow you to embed social media posts.
If you have a website with an established blog, then perhaps you could embed some of your Instagram posts in your blog posts.
People who read your article will discover your Instagram post. They can then go to the post and follow you.
The Instagram post above is an example of a post that is embedded in a blog post.
If your topics are around a similar niche to the content on your Instagram profile, then you should have plenty of Instagram posts to embed.
No Website, No Problem
If you don't have an active website or blog, you can still reach out to other blogs and request that they embed your posts.

Scan blogs for articles that are related to your Instagram posts. When you find one, send them an email with the image and link attached. Or the embed code, it looks like this 👇

If successful, they will embed your post!
When doing outreach, you will have to ensure that your post brings value to the article you want it to be featured in.
Some websites may want something in return. You could offer to tag them in your next post, pay, return a favor, etc..
How to Get More Instagram Followers: Become a Pro
Constantly obsessing over new followers is a common mistake that a lot of brands make. Checking in every hour to see your follower count will drive you nuts!
Instead of worrying about your new followers, why not maintain your current followers with great content?
Anything goes when it comes to uploading content to Instagram. Well, there are a few rules.
The thing is, if you want to grow your brand on Instagram, then you will have to take a more focused approach (as opposed to just winging it).
Having an excellent profile and posting great content consistently can also lead to more followers.
Research is Key To Getting Started
Brands that start on Instagram usually ask these questions:
So what do I post next?
Should I post content to my feed or stories?
How often must I post content?
What content should I post?
The truth is, there are no straight answers to these questions. You will have to tailor an Instagram strategy for your brand.
Instagram strategies differ according to industry or niche.
Posting memes regularly might work for the gaming industry, but it might not work for the fashion or tech industry.
The quickest way to determine your strategy (and answer the questions above) is to start researching your competitors.
Look into what your competitors or other similar Instagram profiles are doing on the platform. See what works and what doesn't and learn from their mistakes.
Your research can help you determine:
Content – the type of content to post
Frequency – how often and when to post content
Style – Sleek and elegant, or loud and in your face
It's also essential to research consistently to stay on top of trends on Instagram.
You an also potentially take your research even further by looking at already established profiles that want to sell their accounts. Yes you can buy an Instagram Account that already has thousands of followers.
Just make sure their followers and niche is something that you are willing to get into.
Post Relevant Content
If you want to draw a specific audience to your profile, then you will have to post relevant content.
Brands with a target audience post content that appeals to that audience. This way, that target audience will keep coming back for more.
Keep posting content that is relevant to your niche or industry so that you keep on attracting the right audience.
If you have an e-commerce store that sells sneakers, then lifestyle images or videos of people wearing your sneakers are perfect.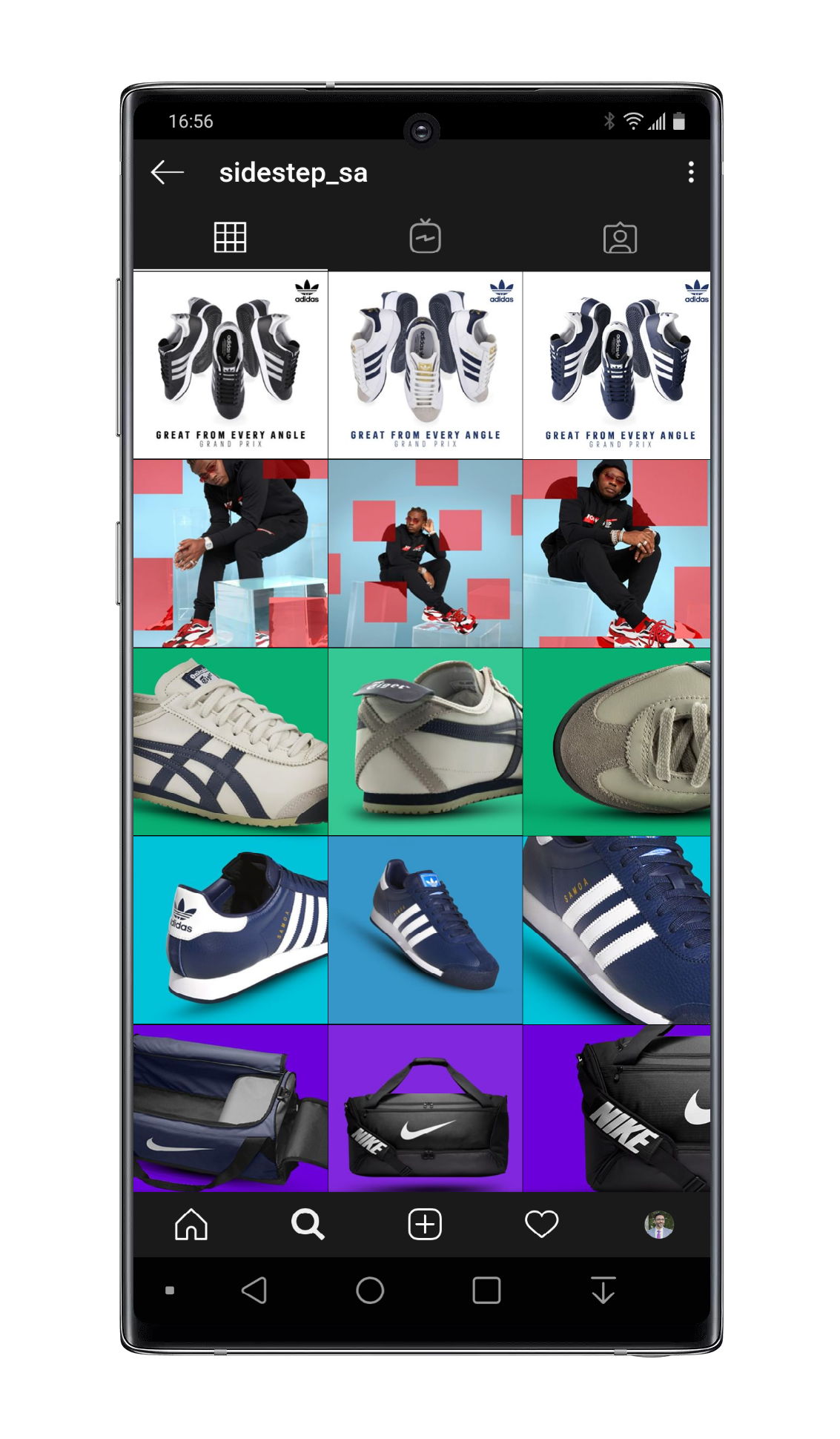 It's also not unheard of to deviate from the above formula.
Take Nike, for instance. They rarely market their products on their Instagram posts.
Instead, Nike posts images and videos of athletes and influencers. Nike allows these athletes to use their Instagram page to share their stories.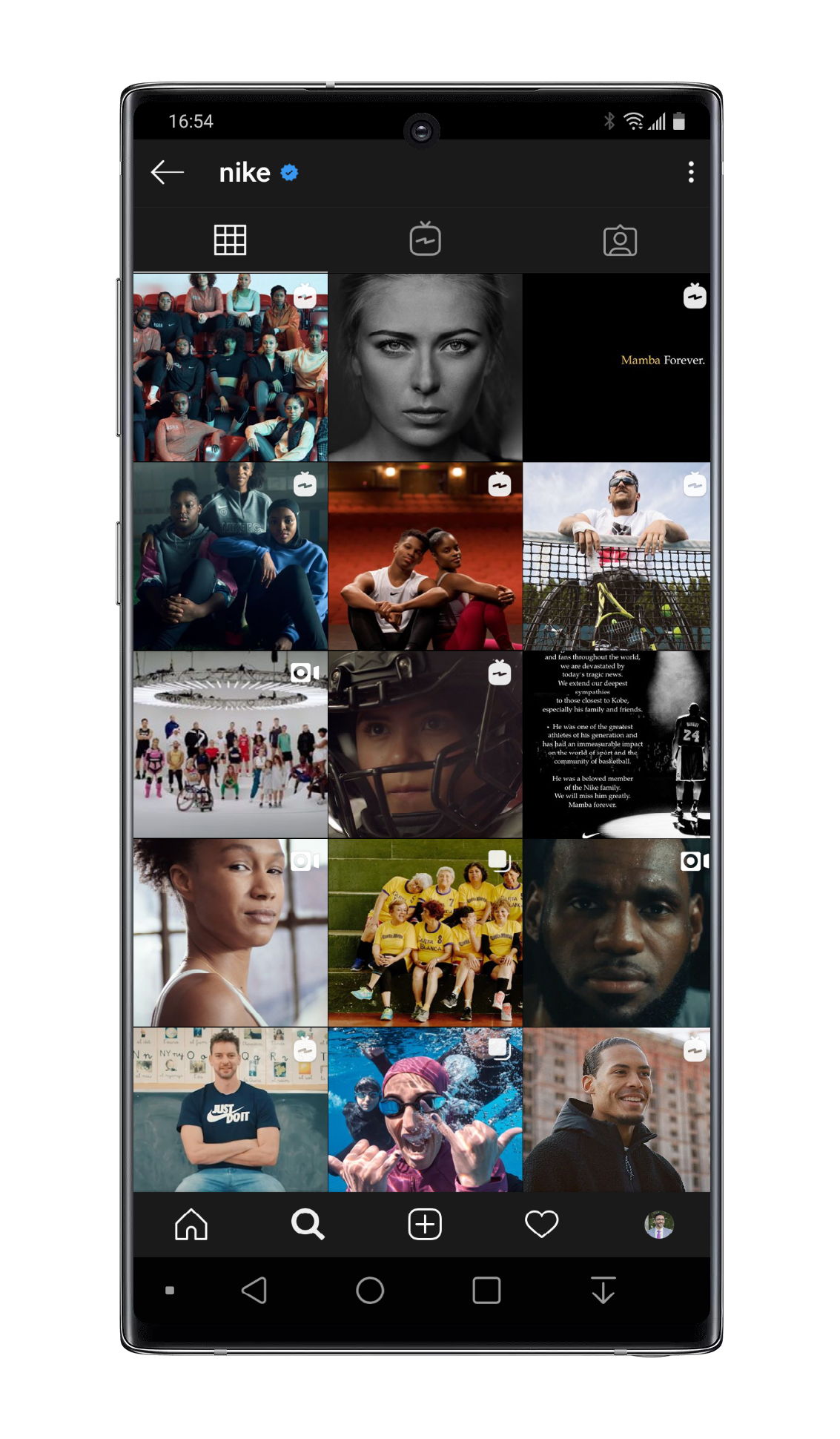 Being featured on Nike's Instagram profile is excellent publicity for these athletes because of Nike's 100 Million+ followers.
So instead of directly marketing their products to Instagram users, Nike uses Instagram to build its brand. Show off a lifestyle and build the engagement within the audience to sell at a later date. They are playing the long game.
Post Consistently
Consistency is key if you wish to stay on top of Instagram's algorithm.
If you post content regularly on specific days of the week, your followers will have an idea of when to expect a post from you.
If a follower likes two or more of your posts, Instagram's algorithm will assume that your content matches that follower's preferences.
So whenever that follower logs into Instagram, your content will show up at the top of their feed.
Posting content regularly will increase your chances of getting likes from followers. This will also increase your chances of getting posts to the top of Instagram users' feeds.
The more popular your post is with your audience, the more likes, and comments you will receive.
Increased likes and comments can potentially make your posts go viral, which can lead to more people discovering your posts and following you.
However, if you truly wish to beat Instagram's algorithm, then high-quality content is essential.
High-Quality Content
Instagram users are spoilt for choice. The moment you upload a post on Instagram, that post will compete with millions of other posts.
The quality of your content will have to be on par or better than the other Instagram profiles that a user follows if you are looking for likes or followers.
That being said, quality is subjective. A high-quality post does not have to be something with high production values.
High-quality posts can be seen as posts that bring value to Instagram users.
Try to work on the message behind your posts. Your message must bring value to your followers.
Consistent Style
Every successful Instagram profile has its own identity. These profiles build their identity by having a consistent style for their posts.
A consistent style is crucial when building your brand on Instagram.
If someone likes your style, they will like your brand.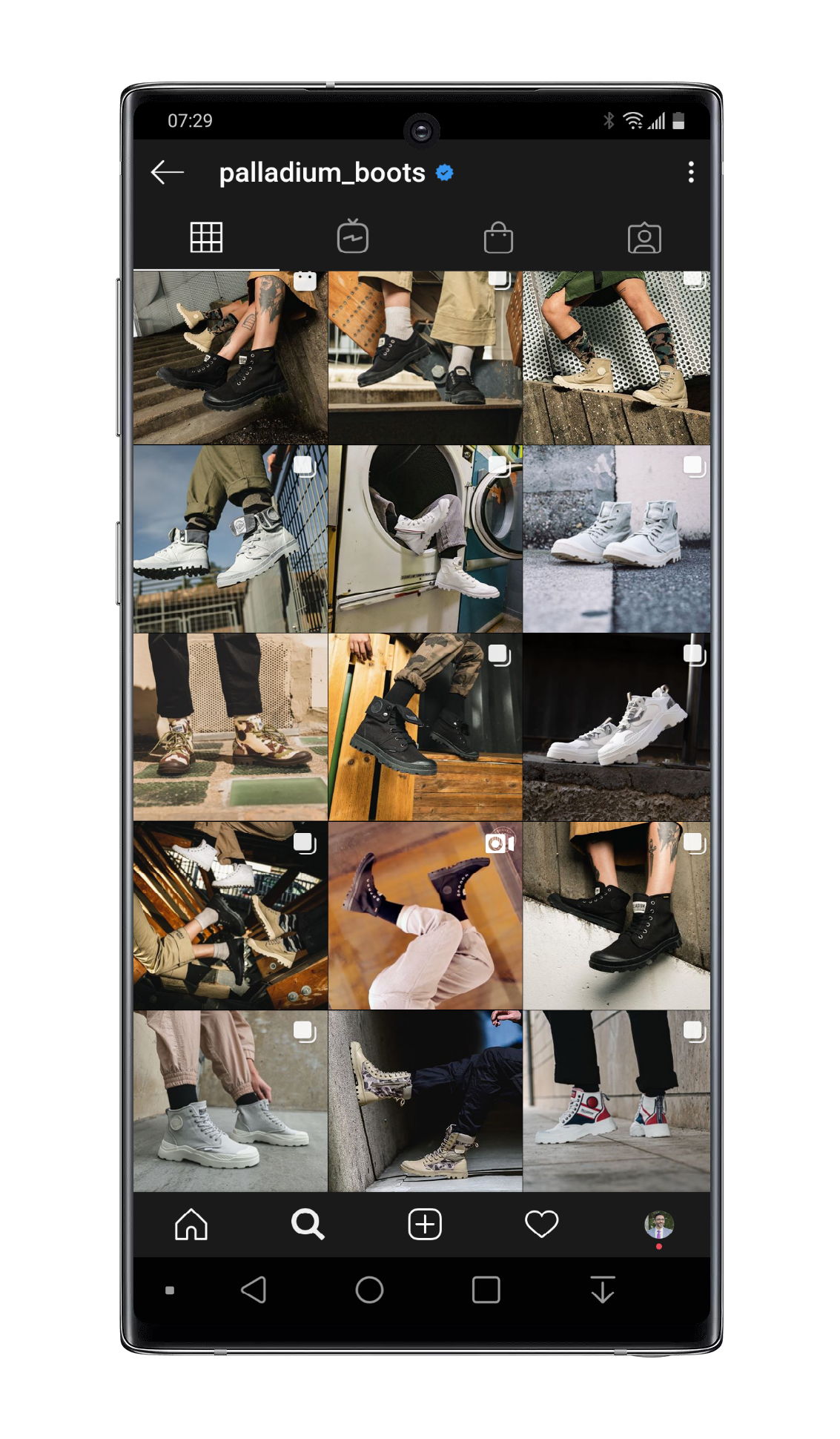 An Instagram profile with posts that are consistent in style is just so much cleaner than one without.
Instagram users appreciate good looking profiles. If someone stumbles onto your chic looking profile, chances are, they will follow you.
Instagram is a visual platform were users double tap to 'like' their posts. So it makes sense that users will tap 'follow' on visually pleasing Instagram profiles.
Engage with Your Audience
Engaging with your audience is essential to the success of your Instagram profile.
Always replying to comments and commenting and liking other posts will allow you to build a community around your brand on Instagram.
BTW, there's also nothing wrong with being part of a community as well.
Ideally, you can stay online for about 20 minutes after posting content so you can immediately reply to comments.
Alternatively, if your posts are not getting enough comments as yet, you can keep checking in to your notifications tab to like and reply to comments there.
Commenting on other posts within your niche can be extremely beneficial. Especially when done the right way.
The $1.80 Strategy by Gary Vaynerchuk is all about leaving comments on the top 9 trending posts for 10 different hashtags.
Implementing this strategy daily on hashtags that are relevant to your brand or niche will allow you to converse and network with people within your niche.
Instagram is a social network. So, of course, networking in your niche will lead to more followers.
TL;DR
As mentioned earlier, the road to your first thousand followers can seem like an endless journey.
Instead of ambitiously winging it, make use of some of the strategies above to develop one that works for you.
Keep researching and experimenting with strategies and new ideas until you find a good rhythm that works for you.
We wish you all the best in your Instagram endeavors. Good luck!
What is your best strategy for building Instagram followers? Please share it with us in the comments below.
Jack Paxton
Jack Paxton is the co-founder of VYPER, a marketing tool that helps brands build email lists, social followings, and revenue using viral giveaways, referral, and reward programs. After millions of dollars spent testing different marketing strategies at his marketing agency. He then also co-founded Hyax a fast, conversion & design-focused course and funnel builder for creators.