The below checklists are going to show you how to run a giveaway and guide you to viral success.
These tactics, tips and growth hacks have been compiled from running over 148 giveaways and 2 years of viral marketing experience.
You can apply all of the suggestions or just one, either way, it will be well worth the 10min read!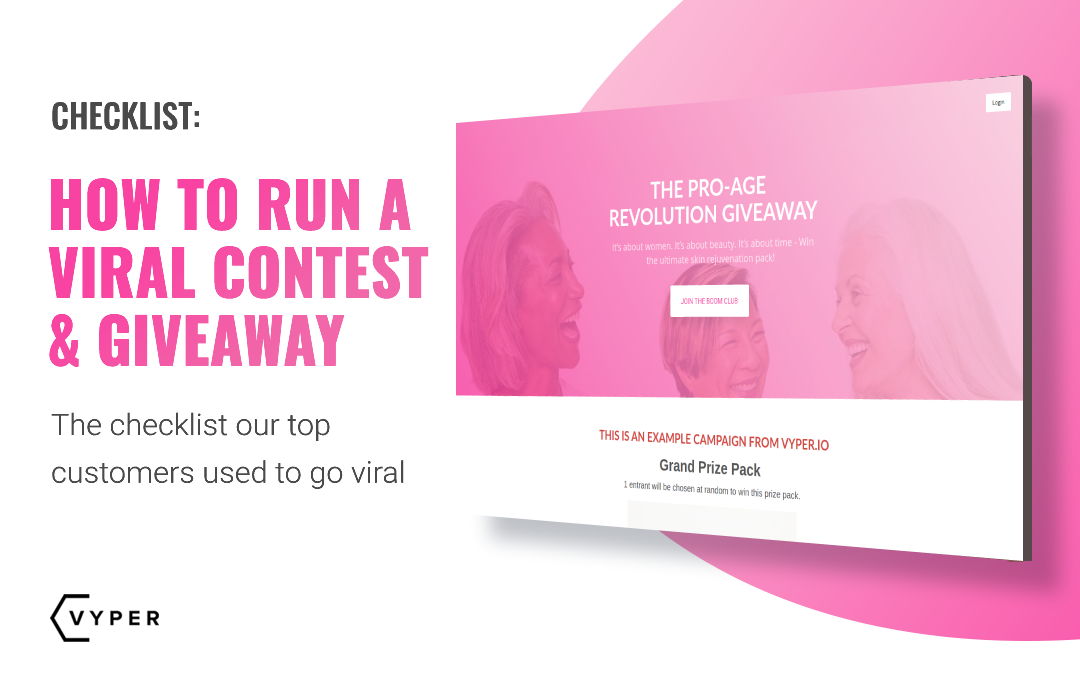 FREE DOWNLOAD: Get all Our Contest & Giveaway Marketing Guides, Checklists, and tutorials that have helped 100's of brands collect 15k+ emails in under 21 days!
I'm sure you have heard the saying "Rome wasn't built in a day"… BUT that's what everyone wants. The silver bullet, the growth hack to take you from 0 to 100. Faster and faster growth, month after month.
Rome wasn't built in a day and neither will your business be. How about we build it in 2 days though ?.
These tips on how to run a viral giveaway will help grow your business a lot faster than the Roman empire. We guarantee it!
A Usual Giveaway or Contest Timeline
It usually takes 20-30 days for the average company to run a giveaway. Below you can see the average timeline for planning, creating, launching and marketing a giveaway.
This may sound like a large project but I'm going to show you how to do it easily and get some huge results.
Most companies can 2-3x their existing list (people in the 2-10k range) or start a list and get to their first 1 or 2k subscribers quickly.
Examples of Successful Giveaways
In the past, brands that used VYPER as a platform for hosting their giveaway have managed to achieve excellent results.
These brands used their giveaways as a means of growing their social media accounts, email lists, and website traffic.
The brands in question are:
Coconut Bowls
Coconut Bowls is an online Shopify store. Their business is selling handcrafted bowls and kitchen accessories on their website.
Coconut Bowls hosted a successful social media giveaway that helped them generate new followers and email leads.
These new followers and email leads were crucial in Coconut Bowls content marketing strategy. Acquiring these new leads during the giveaway allowed the brand to successfully market itself for the months to come.
A huge bonus was the fact that their giveaway was also able to boost website traffic dramatically.
Seeing that Coconut Bowls is an online business, the much needed increase in web traffic helped the brand to increase sales during the giveaway.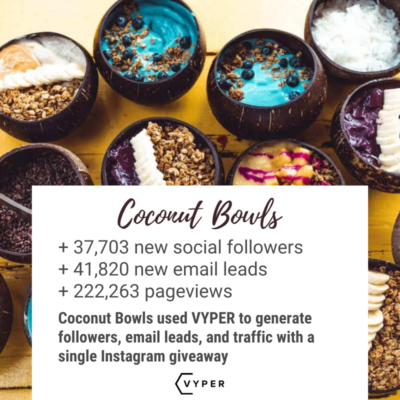 Want an in-depth look into the Coconut Bowls case study?
Topaz Labs
Topaz Labs is an excellent piece of AI powered photo editing software.
They hosted a social media giveaway with the goal of attracting photographers. They accomplished this by offering their software, a photographer backpack, and a drone as the prize.
Their campaign and prize bundle was able to attract thousands of social media followers and email leads. The majority of their new leads shared a similar interest in photography. This was the target audience that Topaz Labs successfully acquired.
The boost in website traffic from their campaign also helped them to land new trial account users.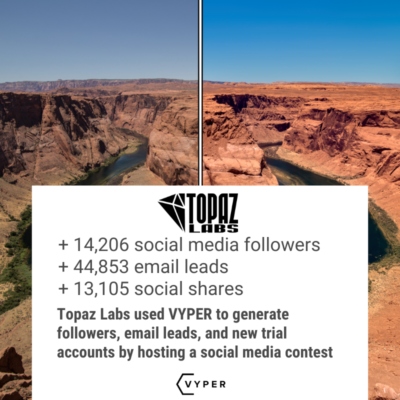 Want an in-depth look into the Topaz Labs case study?
Live Giveaway and Contest Demos
Below are links to live giveaways that are created with VYPER.
These demo giveaways are live examples that are meant to showcase how a giveaway will look like on VYPER's platform.
Click on any of the banners below to launch the demo.



Planning – Checklist
✅ 1. Choose a prize that has the highest perceived value you can afford
This means, what is the best possible thing you could give your ideal customer that would make them feel AMAZING!
Some ideas for increasing the perceived value of a prize.
Services or products you provide. "The starter kit for xxxx"
The industries top XXXX. "WIN PC Magazines top-rated headphones of 2019"
Large quantities. "Win 12 months worth of razors"
The reason you want to offer a prize that's only valuable to only your potential customers is to maintain the lead quality.
If you offer an iPad, everyone and their dog will enter. If you offer something like "12 months subscription to Photoshop" you have a much higher chance of only attract designers or current users of Photoshop.
✅ 2. Decide if you want to team up with a complementary brand
Partnering up with another brand will allow you to split the workload.
How to decide if you need to team up with another brand.
Yes, team up – If you have zero followers and you're just getting started out.
No, you got this – You don't want to share leads, follows, or branding.
✅ 3. What is the end goal?
What do you want to achieve from your giveaway or contest?
Here are some of the most common goals:
Grow your email list
Boost website traffic
Increase sales or app downloads
Grow your social media followers
Get people to watch your latest video or listen to your podcast
When you are building and marketing your giveaway, keep these main goals in mind.
Even though a giveaway allows you to achieve many objectives at once, it's a good idea to still have a "north star" goal.
✅ 4. Create clear instructions for partners
If you plan to use influencers or other people to promote your giveaway, make sure you give them dates, creative and instructions prior to the giveaway launch.
✅ 5. Plan Ahead
Organize PR dates and plans as early as you can. Are you going to launch your giveaway in a forum, on product hunt, via a media buy, or on someone else's website, blog, or email list?
Lock in those plans and set dates so you have deadlines to work towards. PR releases or partnerships are not required at all to run a giveaway it just helps get the word out.
Giveaway Creation – Checklist
✅ 1. Create clear instructions that are easy to understand
Make the prizes and how to enter super clear on the signup page.
People are easily confused and need to be able to understand that you're running a giveaway, what they can win and how to enter within 15 seconds of being on the page.
✅ 2. Use multiple prizes
There's nothing wrong with having just one prize in a giveaway. However, multiple prizes (as pictured above) will help to make your giveaway standout more.
For example, placements (1st, 2nd, etc), random winner draw and milestone rewards (based on the number of entries collected).
✅ 3. Use gifs
Gifs capture attention more than images and text.
You can also say a lot more via images, gifs, and videos than you using text.
This is extremely useful for decreasing the amount of reading people have to do which leads to as faster conversion rate.
✅ 4. Use video embeds
A video can get a lot of information over quickly instead of writing an essay pitch.
We highly suggest you host the video on YouTube or Vimeo then use the embed feature to keep your page load fast.
✅ 5. Use bonus actions
Bonus actions are the most important aspect of your giveaway. Identify 4-5 "things" you want to grow and focus on those for custom actions.
✅ 6. Be creative
There are so many things you can incentivize. Your giveaway will stand out if you are more creative.
Everyone has like my Facebook page or Instagram profile as a bonus action. Try something a little more valuable to your business, check out some of the ideas below.
Like, comment, share on this Facebook post, then turn that post into an ad. (increase relevancy score)
Thumbs up my latest YouTube video. (increase view count)
Comment on my latest blog post and add your top takeaway. (build blog engagement and force people to read your content).
Subscribe to my podcast. (notifies people when you have new content)
Leave a review on my page or product (build reviews)
See these examples in action with this monthly draw giveaway.
✅ 7. Draw up your Ts and Cs
Make sure you have your terms and conditions sorted. Some platforms like VYPER will have a template you can use but also make sure to add any specific requirements for your industry or company.
If you're in the EU and need to be GDRP compliant make sure you have multiple checkboxes to filter out people who opt-out of marketing emails.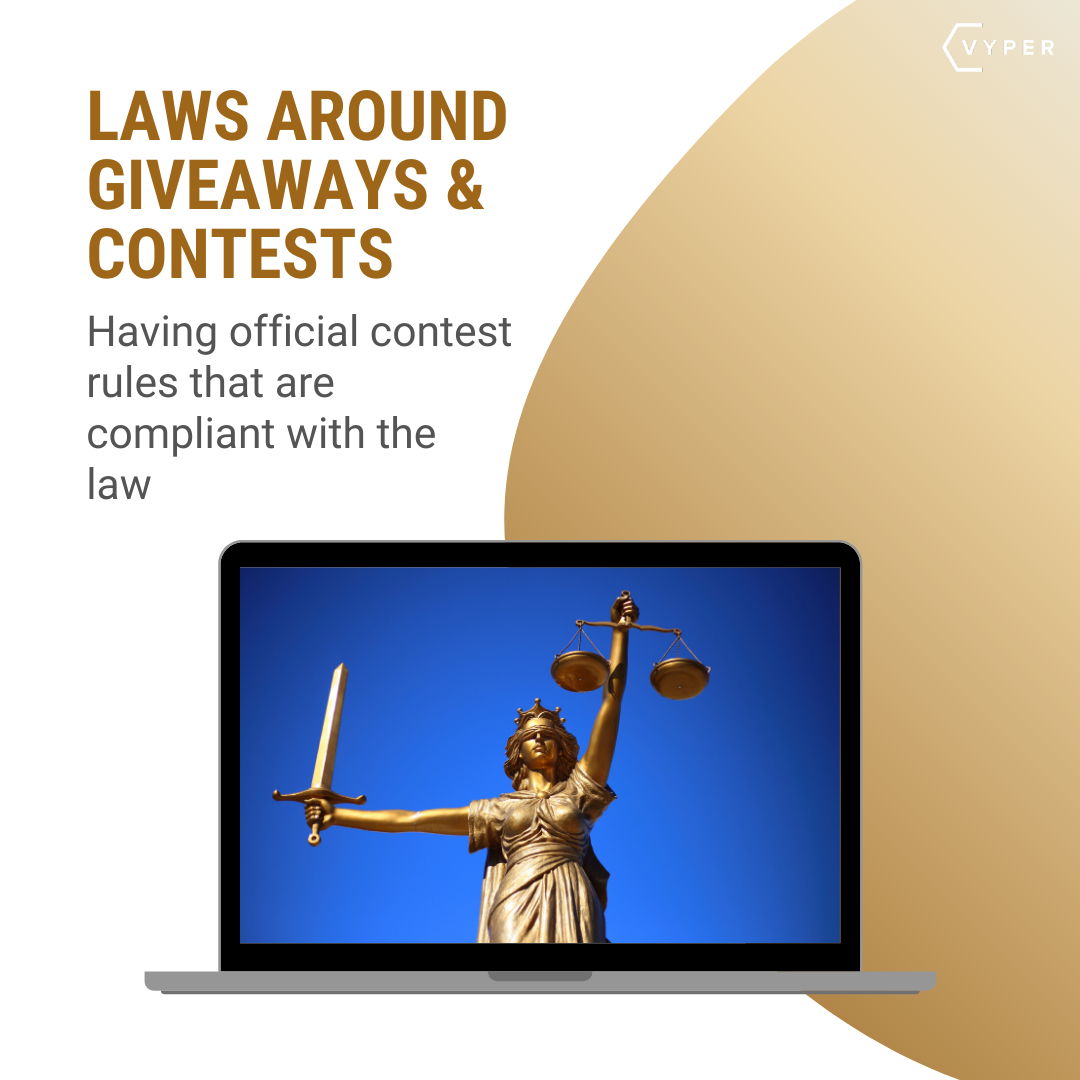 Read our post on the laws around giveaways to get a better understanding of how to host a giveaway that is compliant with the law.
Giveaway Marketing – Checklist
✅ 1. Hit up your direct audiences
They already know who you are so the signup has less friction. You can do this by using your already established marketing network.
It's important to invite your immediate network. You may already have their email, but they can share your giveaway with others to collect entries.
They are likely to share it with people similar to themselves.
Ask your friends, family, coworkers to enter and share
LinkedIn connections
Email your list
Add giveaway to your website
Share on your social channels
Share in any groups or communities your in
✅ 2. Partner up with influencers
Social media influencers can help expand the reach of people who find out about your giveaway.
You can also get influencers to share your giveaway for free if you pitch it like this.
Hi XXX, I'm running this huge giveaway (explain prize) and I think you have a good chance of winning as it's a leaderboard based on entries and you have a network that would be interested in signing up. Check it out.
✅ 3. Send LOTS of emails to giveaway participants
Keep them engaged. Either send them from within your VYPER account or pass all entrants over to your ESP to send from there.
Welcome & congratulations
These are all the ways you can earn bonus entries
Share your referral link to collect more entries
A new bouns entry has been added to the giveaway
Referrals are worth 2x the number of entries for the next 48 hours
Giveaway ends in 48 hours
etc.
✅ 4. Run ads
Since you are offering something for free. These ads have a super high CTR and relevancy score. This makes it a great "lead bait".
Always ensure that you place pixels so you can optimize for signups and run remarketing campaigns.
Make one of your giveaway bonus entries to "like, share and comment on your Facebook post". Make this post about your giveaway. The use that post as an ad.

PRO TIP
✅ 5. Add the giveaway to your website
Use a hello bar, notification bubble, or popup across all pages. This is an easy place to pick up new entrants.
✅ 6. Post your giveaway into communities
Communities such as Reddit, Facebook Groups etc.
Make sure you provide some value first. Post, engage with group and community leading up to your giveaway and connect with the admins. Here's a more in-depth guide on how to do this.
Follow Up – Checklist
✅ 1. Work on your email copy
Most of the selling will be done in your email drips. Nurturing and providing value is the best way to build happy, loyal customers.
Offer multiple prizes in the follow-up. Announce the winners to the entire giveaway list and give everyone a runner-up or random winner prize.
See the example email below that we sent out as soon as the giveaway ended.
✅ 2. Follow up email
Let people know in the first follow up email they can expect awesome content deals and surprises from you.
✅ 3. The first email has the highest open rate out of any email you send
Put any important information in there.
Partnership offers
giveaway entrant only deals
Ask them to reply to improve your deliverability and open rates for the future
✅ 4. Nurture your new leads
Now that you have a huge list of potential customers nurture them until they convert.
Add them to Facebook, Twitter, and LinkedIn audiences so when you have promotions, new content, etc you can reach them on multiple channels, not just email.
Q&A How to Run a Viral Contest & Giveaway
❓️ Is 'Planning' compulsory? Can I just host a giveaway with any random prize?
You can skip the planning phase of your giveaway. However, if you wish to maximize the results of your giveaway, then planning is essential.

There are just too many variables with a giveaway and often things can go wrong. Because of this, it's wise to plan ahead and minimize the risk of things that could go wrong.
❓️ Should I partner up with other people when hosting a contest?
There's no need to, especially if your brand can handle everything on its own. However, it doesn't hurt to partner up with someone who can help you to achieve better results.

A complimentary brand can help you to put up a larger prize. A social media influencer can help you to market your contest effectively on social media.
❓️ Does my giveaway need terms and conditions?
Yes. The Ts and Cs and rules of your giveaway are there to maintain order in you campaign. If an issue does arise, then your Ts and Cs can help you to swiftly resolve that issue.

Ts and Cs are also meant to officially inform people on details related to the giveaway. This can be start and end dates, prize info, and the date the winner will be announced.
TL;DR
Giveaways are not only a good way to build an email list but you can incentivize pretty much any online action. This can be extremely powerful if you get creative with it.
In our over-communicated world standing out takes creativity, uniqueness, incentivization, and gamification. These are the main factors that go into creating viral campaigns.
So make your next marketing campaign count. Try something different and reward people for engaging with you instead of expecting or "hoping" for it!
Create a free account at VYPER to unlock a top converting giveaway template.
Jack Paxton
Jack Paxton is the co-founder of VYPER, a marketing tool that helps brands build email lists, social followings, and revenue using viral giveaways, referral, and reward programs. After millions of dollars spent testing different marketing strategies at his marketing agency. He then also co-founded Hyax a fast, conversion & design-focused course and funnel builder for creators.