A New Year Giveaway is the perfect campaign to end the year with. It pushes your brand to stand out among competitors, lets you end the year on a positive note, and begins the new year with massive exposure to your fans.
Smart online stores use New Year giveaways as a means to engage with a larger audience and reflect on the year that passed. This strategy allows brands to showcase their year's work with the new leads they acquired from the giveaway.
While the concept behind a New Year giveaway might sound simple, there are a few key factors that you should consider before hosting one.
This guide goes into detail about those key factors that will allow you to host a successful New Year giveaway. We have case studies and giveaway examples of brands that totally nailed their New Year giveaway.
Let's get started.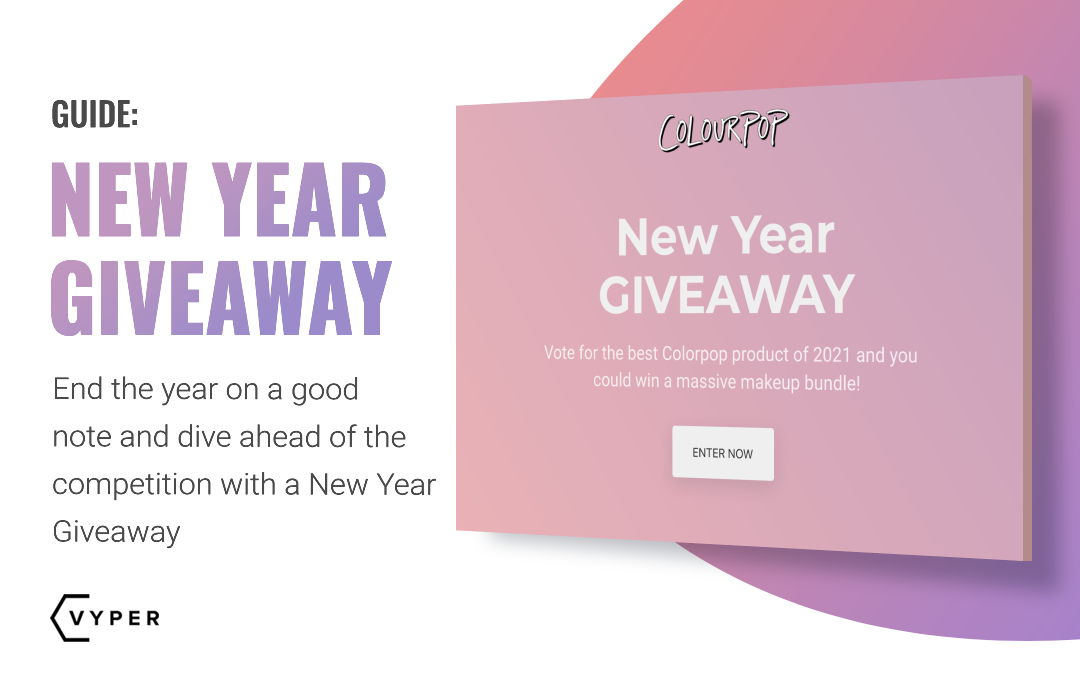 FREE DOWNLOAD: Get all Our Contest & Giveaway Marketing Guides, Checklists, and tutorials that have helped 100's of brands collect 15k+ emails in under 21 days!
Marketing for New Year's Day 2022 Update
The new year is a great opportunity for brands to start fresh and use new year's day as an opportunity to market themselves. This is the perfect time for businesses to create new and exciting content, launch new campaigns, and engage with customers in new ways.
Here are a few ideas:
Publish social media posts wishing followers a happy new year while promoting products or services
Host a virtual party complete with games and giveaways, or send out special new year's e-gifts.
Focus on conveying positive values such as unity, strength, prosperity, and celebration to amplify the message to your audience.
It's important that brands tailor their campaigns according to different audiences and media outlets.
Most of all, be consistent. Start the new year with a good strategy and stick to it. You may only find success later in the year. So don't be discouraged after a few months with little to no progress.
New Year's Day Sales Trends
The new year is an opportunity for retailers to start fresh and capture new customers. This year, new year's day sales trends are expected to be extremely strong as shoppers search for the best deals to kick-start 2021.
Here are a few trends we think you should keep an eye out for:
The most popular items that are predicted to sell big in this new year are electronics, home decor, apparel, and sports gear.
Retailers should consider investing in marketing techniques such as email campaigns to entice new customers who may not have purchased from them before.
Stores should strive to create engaging social media posts highlighting New Year's Day offers and deals to remain competitive.
Mobile is huge – Optimize your store for mobile and make the sales process on your site simple and easy for mobile users.
Social media and online shopping have grown drastically in the last few years. Use marketing campaigns like giveaways to boost social media engagement and presence.
With smart marketing strategies, retailers can look forward to ringing in the new year with positive sales figures.
Why Host a New Year Giveaway?
The end of the year signifies the closing of one chapter and the start of another for most people. It is also the time of year when people are distracted with holidays or spending time with their loved ones.
December is also a busy time for consumers looking to get their Christmas and holiday shopping done. This makes December a competitive season for brands.
So, with consumers having a low attention span during a highly competitive month, your marketing has to be on point. You will need to try out something a bit more drastic to retain consumer attention.
You can host a New Year Giveaway.
What is a New Year Giveaway?
A quick definition: A giveaway that is hosted over New Year's Day.
New Year giveaways are campaigns that allow brands to publicly mark the end of their year while giving something back to their audience. These campaigns are also great for bringing attention to any new plans your brand might have for the new year.
Some brands tend to host New Year giveaways during the last few weeks of the year. These brands end the giveaway (and announce winners) in the first week of the new year (January).
There are, however, brands that also host New Year giveaways during the first two weeks of the year. These brands announce the giveaway on the 1st of January. This is a great strategy to start the year off on a solid note by increasing your audience's perception of your brand.
More Reasons To Host a New Year Giveaway
Here are a few more reasons to host a New Year giveaway:
Bring awareness to the work your brand produced in the year. These can also be the milestones the brand has achieved in the year.
Bringing awareness to any new changes that the brand plans on making in the new year.
To stand out among competitors during a highly competitive time of the year.
Get your brand noticed by consumers that might be distracted by the festive season (going on holidays or preparing family gatherings).
Give something back to your audience at the start of the year. This is a grand gesture to most consumers that have spent most of their paycheck and bonus over the holidays.
New Year Giveaway Examples
Here are 3 excellent New Year Giveaway examples that will give you a better understanding of how you should host your campaign. We analyzed these examples to find key takeaways that you could also implement in your next giveaway.
We hope that these examples will help inspire your next campaign.
Zoughaib & Co. New Year's Giveaway – Instagram
Entry Method: Follow Zoughaib & Co. Like Post. Tag friends in the comments
Prize: Butterfly diamond pendants
Ideal for: Online or physical stores
Zoughaib & Co. is a jewelry designer and manufacturer. They ship custom jewelry globally from their e-commerce website and they have a substantial audience on Instagram with over 110k followers.
To end the year (and start the new year) on a good note, Zoughaib & Co. held a social media giveaway from 20 Dec to 02 Jan. Users were required to follow the brand and engage with the giveaway post to enter.
Hosting a social media giveaway over New Year's is an excellent strategy to increase engagement and followers of the holiday season.
Key Takeaways:
The giveaway is hosted over New Year and ends on 02 January.
Winners are announced on the Facebook page while the giveaway is hosted on Instagram. This strategy allows you to cross-promote your brand over multiple platforms.
The entry method will ensure that the host builds more followers and increases engagement.
Through the Looking Glass Studio Giveaway – Facebook
Entry Method: Like Facebook Page and Engage with the Giveaway Post
Prize: Mini Photoshoot Sessions
Ideal for: Physical Businesses or Services
Through the Looking Glass Studio is a photography studio that specializes in child, adult, and maternity photoshoots. They built a small community on Facebook, which is why hosting a giveaway on their page is an excellent idea.
The goal of this giveaway was to promote the brand's Facebook post. The post was a reflection of the year that passed and included the best images of the year.
Expenses are kept reasonably low for this giveaway with the prize simply being a free photoshoot session. This meant that the low-cost giveaway was an ideal strategy for increasing exposure to the brand and its portfolio.
A similar strategy can be used for other brands, such as:
Video filming businesses
Wedding businesses (filming, DJing, Singing, etc)
Florists
Basically, any business that can offer a portfolio can host a giveaway to promote their portfolio. Hosting the giveaway at the end of the year is the perfect opportunity to showcase your work for the year while starting off the new year on a positive note.
Key Takeaways:
New Year giveaways are great for creating hype towards your portfolio (work completed throughout the year).
A small low-cost giveaway with the prize being a couple of your sessions is an efficient way of drumming up engagement and excitement on socials. This can also work reularly (the evergreen contest funnel).
Tech of Tomorrow New Year Giveaway – YouTube
Entry Method: Subscribe to Channel and Follow on Socials
Prize: Branded prize bundles, motherboards, SSDs, Game Codes, and more
Ideal for: YouTubers, Brands (computer/tech)
Tech of Tomorrow (Elric Phares) is a YouTube channel dedicated to reviewing computer hardware, software, and accessories.
The giveaway was announced on the 1st of January as a way of saying thank you to the channel subscribers. This was an excellent opportunity to encourage loyalty among his fans early on in the year.
Elric also stated that he plans on making a few drastic changes to his studio and video format. So a giveaway on the 1st of January is a great way to show your audience how serious you are about your promises.
Key Takeaways:
Giveaway was announced on the 1st of January as a token of appreciation to fans.
The giveaway was announced alongside other announcements (changes to channel). Announcing a giveaway is an excellent way of adding impact to general announcements.

New Years Giveaway Ideas With VYPER
VYPER allows you to manage giveaways and contests. You can also use our giveaway page builder to build expert landing pages for your campaign.
We created two concepts New Year giveaways to give you ideas and inspiration for your next campaign. Please feel free to use any of the ideas below in your campaigns.
Colourpop New Year Giveaway (Online Store – Makeup Brand)
Entry Method: Complete a specified action to enter (Vote)
Prize: Makeup bundle
Goal: Boost website traffic, sales, and social media engagement
Colourpop is a popular online makeup brand. Their exceptional e-commerce store ships worldwide and has a massive catalog of makeup collections.
A New Year giveaway is an excellent way of getting Colourpop's audience to vote for the product of the year. This will push fans to browse through Colourpop's catalog in search of their favorite product (or collection).
This giveaway can be a good way for the brand to reflect on the year that has passed. They can focus on the most popular styles and innovations of the year.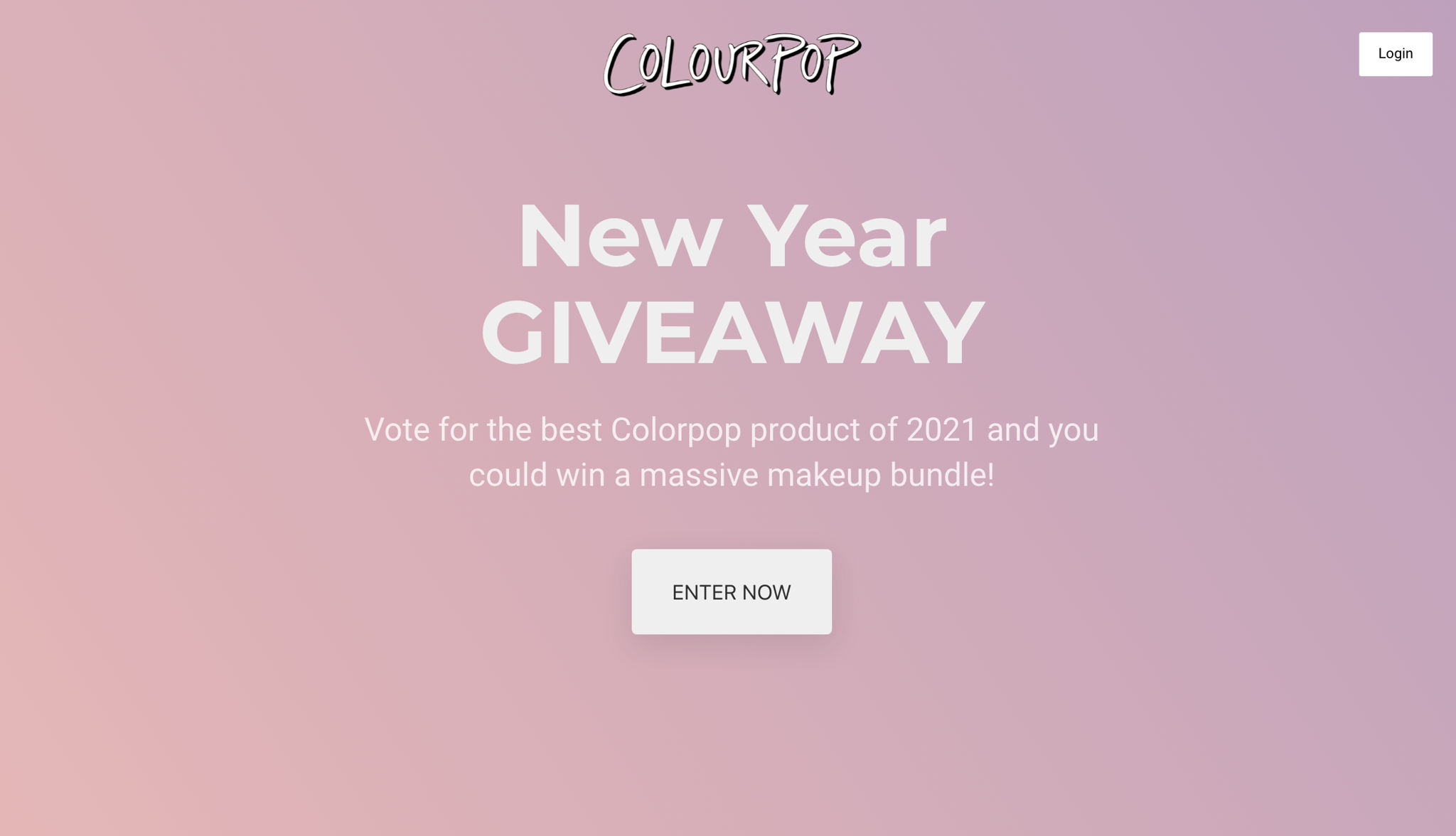 Benefits of this Campaign:
This campaign will encourage people to browse the Colorpop store to find their favorite product of the year.
To increase social media engagement, voting can be done on socials. To increase traffic, voting can be done on the website.
Gymshark New Year Giveaway (Online Store – Fitness Apparel Brand)
Entry Method: Engage with the brand on social media
Prize: Gift card. Redeemable at Gymshark online store
Goal: Boost social media engagement, followers, and brand exposure
Gymshark is a global e-commerce brand that is focused on fitness apparel. The brand is huge with a massive amount of followers on Instagram (over 5 million).
Gymshark can certainly take advantage of that common New Year's resolution – "I will get into shape this year!" They can do so with a New Year giveaway.
To make things exciting (while keeping it simple), users can simply share their New Year's resolutions on Gymshark's socials.
This is the perfect strategy to increase engagement on socials. Especially if it's done at the start of the year when people are most likely to invest in their fitness.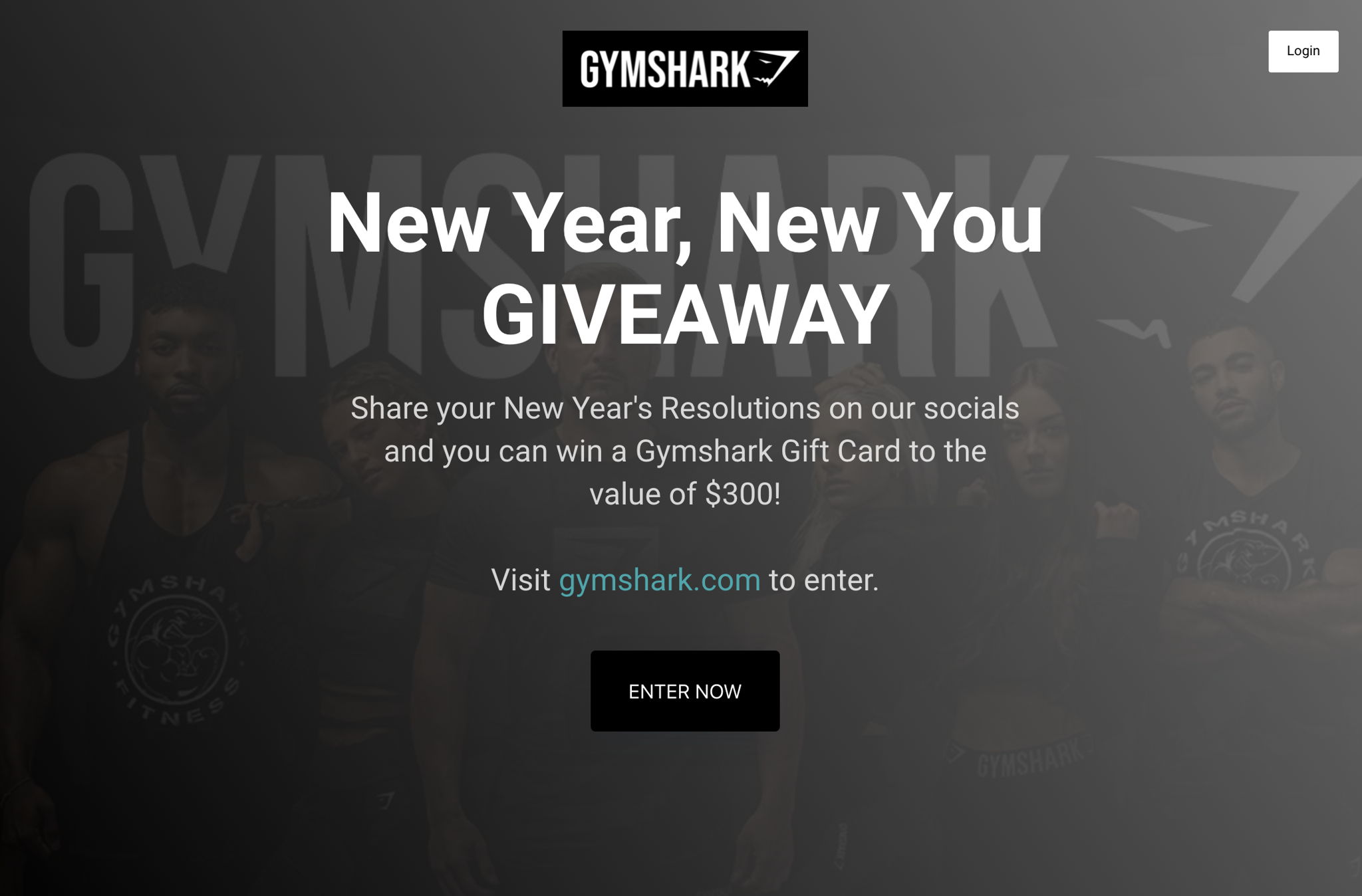 Benefits of this Campaign:
An excellent way to stand out among other fitness brands. Especially during a period when people tend to invest heavily in fitness (at the start of the year).
Expenses are minimal with a gift card giveaway.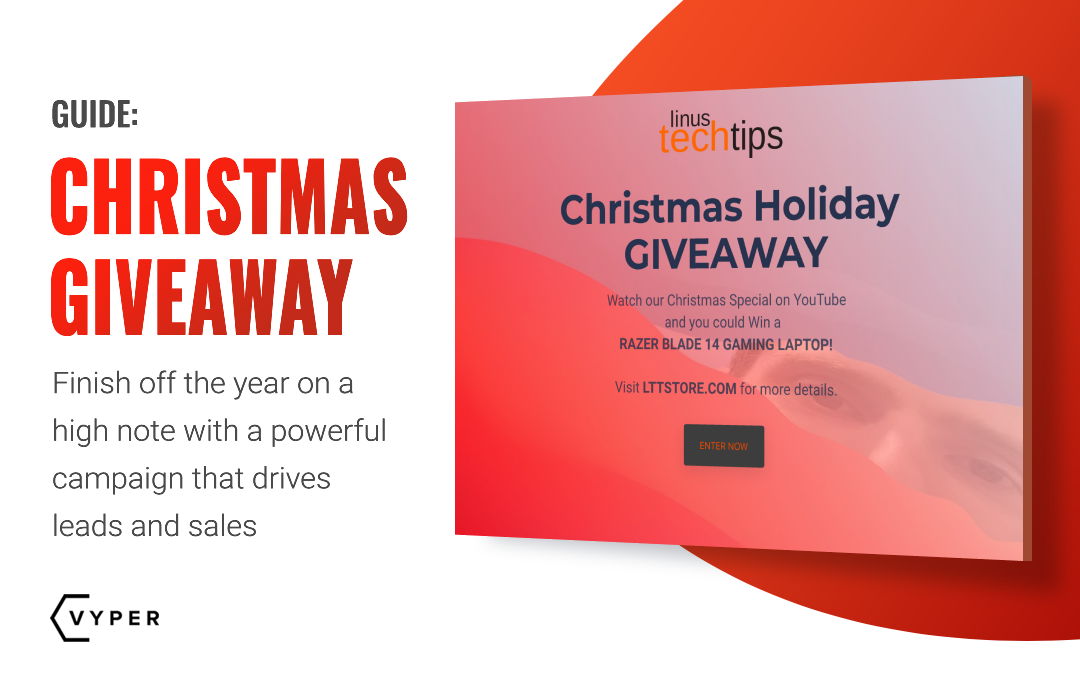 Looking to host your campaign a little earlier? Then perhaps you could try hosting a Christmas Giveaway early in December or at the end of November.
Click here for our guide on Christmas Giveaways.
New Years Giveaway Q&A
❓ When is the best time to host a New Year giveaway?
You can host the giveaway anytime during the last two weeks of December and the first two weeks of January. It's best not to delay the announcement of the winners as entrants will potentially lose interest after the first week of Jan.
❓ For how long should I host the giveaway?
Two weeks is the safest duration for a giveaway. One week isn't enough time to promote the campaign. Three or more weeks can be too long and drawn out.
❓ Why should I host a New Year giveaway?
To stand out from competitors during the busy holiday season. A great way to bring attention to a yearly roundup. Also good to bring attention to any New Year announcements.
TL;DR
New Year giveaways are great campaigns to host at the end of the year. These campaigns generate the much-needed hype your brand needs during the busy holiday season.
New Year giveaways are also perfect for setting the pace for the year. Your brand can build exposure early on, then maintain the momentum for the rest of the year.
From our examples, we noticed that brands host New Year giveaways to showcase their efforts and milestones in the past year. Brands also host these campaigns as a means to bring attention to announcements of crucial events and plans for the new year.
We hope you enjoyed this guide. Please let us know your thoughts on New Year giveaways. Is this something that your brand will host?
Jack Paxton
Jack Paxton is the co-founder of VYPER, a marketing tool that helps brands build email lists, social followings, and revenue using viral giveaways, referral, and reward programs. After millions of dollars spent testing different marketing strategies at his marketing agency. He then also co-founded Hyax a fast, conversion & design-focused course and funnel builder for creators.