The team at VYPER are always dedicated to bringing you the best growth strategies imaginable so that you can implement them into your business.
We discovered these fantastic growth strategies by scanning the case studies of successful global brands.
One marketing strategy that every major startup has used is Referral Marketing.
Billion-dollar companies like PayPal and Airbnb have attributed their growth to successful referral marketing campaigns.
We dissected these successful referral programs to find simple yet effective strategies that you can set up right now.
Are you ready to upscale your business now?
Let's get started!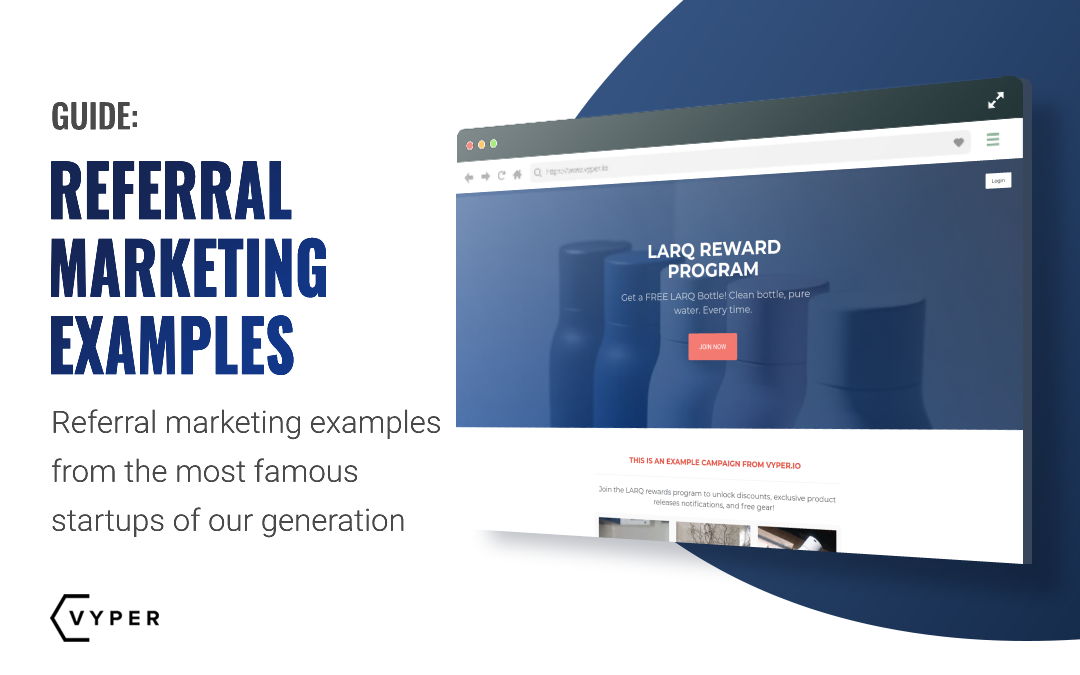 FREE DOWNLOAD: Get all Our Contest & Giveaway Marketing Guides, Checklists, and tutorials that have helped 100's of brands collect 15k+ emails in under 21 days!
Referral Marketing Examples
We researched popular brands (so you don't have to!) to bring you our pick of the best referral marketing examples.
Brands like Tesla, Dropbox, and eBay used their unique referral programs to set their companies apart.
When last did you hear a company like VW or Ford, offering its customers ongoing incentives for referrals?
Without any further delay, here are those referral marketing examples:
Tesla
Uber
Airbnb
Dropbox
PayPal
1. Tesla
Tesla referral programs have always been unique and exciting campaigns.
Users can potentially unlock rare rewards and also stand a chance of winning a Tesla Car.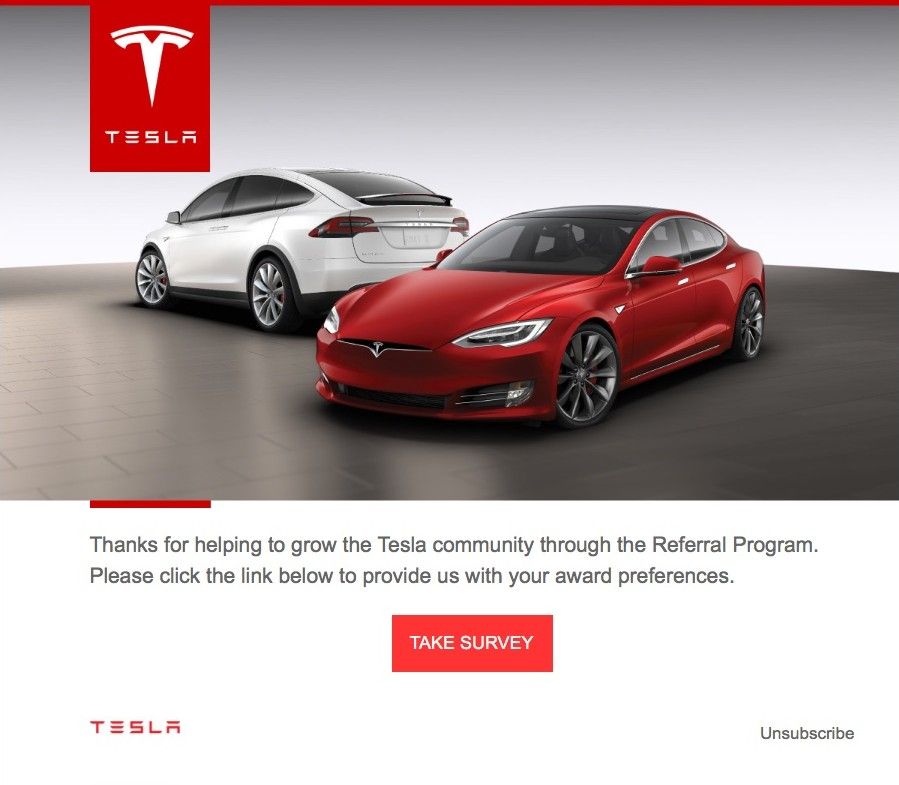 In the past, Tesla offered rewards like "Visit the Tesla Factory" and "Attend a Party with Elon Musk."
These rewards are nothing like conventional discounts and vouchers that most programs offer. Tesla's rewards are exclusive access to their events.
These exclusive rewards satisfy those die-hard Tesla fans that are ready to work hard to refer as many new customers as possible.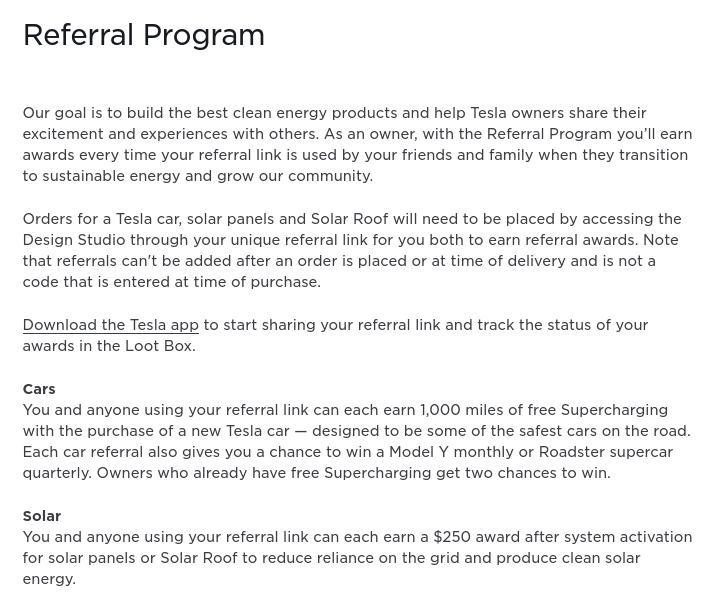 Want a Tesla Roadster for Free?
Tesla announced the production of the infamous Tesla Roadster a few years back.
The hyper electric car should be on the road late in 2020 (or sometime in 2021).
Today, users interested in reserving a roadster can pay $5k now and $45k in 10 days.
Now, Tesla also offered loyal customers a chance to earn 2% off a new Tesla Roadster for every person they refer to Tesla. The person they refer must obviously place an order and pay a deposit.
However, if you successfully refer 50 people to Tesla, you could earn a 100% off a new Tesla Roadster!
Key Takeaways
Rewards include exclusive access to Tesla parties and factories.
High-value rewards – 1k miles of Supercharging for both parties.
Referral giveaway system – Members stand a chance of winning a car.
Suggested Improvements
Tesla's current and previous referral programs are rock solid and offer great prizes.
However, purchasing a car is a massive decision. And converting to an electric car is an even bigger one at that.
So, the chances of customers finding legit leads are very low.
Tesla could introduce smaller rewards to customers who get people to complete a test drive successfully.
This will make their reward milestones achievable to the average consumer.
2. Uber
Uber recently introduced a fantastic rewards program that's integrated with their mobile app.
The more a person spends, the more points they earn. By earning more points, you can move into higher reward categories.
Every time you level up into a new category, you unlock more types of rewards that can be redeemed with points.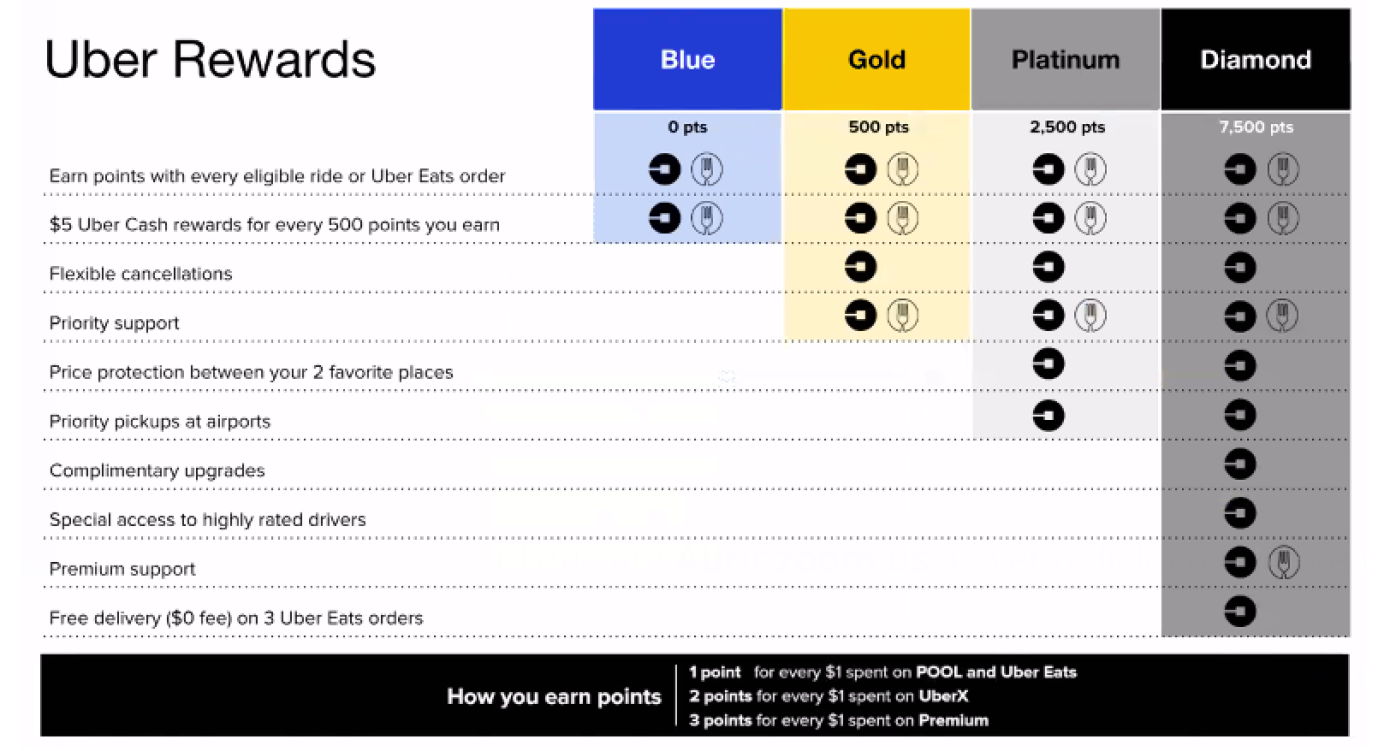 The Uber rewards system isn't a referral program. However, it is a great model that can be used for a referral program.
"The more people you refer to us, the more points you earn to unlock exclusive perks."
Key Takeaways
Category system motivates users to use the app more to unlock more perks
This rewards program model is an excellent incentive for users to continue using Uber as opposed to other apps.
Uber created different support levels. Users can earn points to unlock priority or premium support.
Unlocking "Platinum" lets you set fixed prices on your favorite destinations.
Suggested Improvements
An excellent rewards program that can be improved by integrating a referral system into it.
Allow users to refer new app users and reward each user with a free Uber Eats delivery or a voucher.
Uber can otherwise continue to reward people with points for referrals.
3. Airbnb
Airbnb is well known for its popular referral program.
It's simple. Refer a friend to the Airbnb platform, and both you and your friend will earn credits to use on your next trip.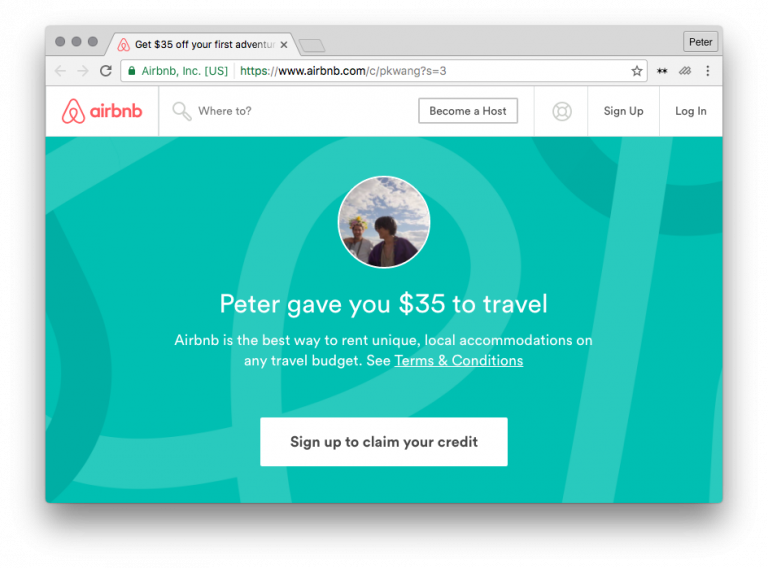 The Airbnb referral program is an excellent example of how to upscale your business with a simple yet effective referral program.
Their referrals were able to increase bookings by 25%. However, it wasn't all smooth sailing for Airbnb.
Hacking Word-of-Mouth
Airbnb's referral program had been in place and underutilized for years. It was nowhere near as efficient as it is today.
Airbnb tweaked their current referral program (which didn't exist on mobile and barely noticeable on the website). As a result, Airbnb saw an increase in signups and bookings by over 300% per day.
So how did they achieve this?
Airbnb re-launched its referral program on its website and mobile platforms.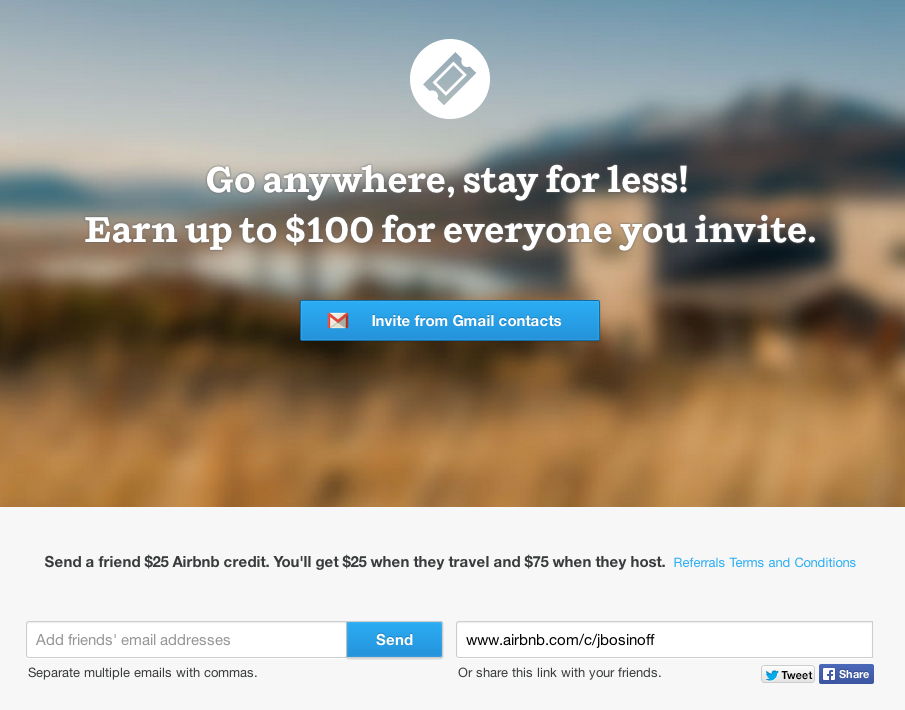 They integrated the referral program into their already popular app. This meant that users could quickly discover the referral program upon using the app.
Another crucial integration is the ability to send or accept referrals on the website and mobile.
A user can seamlessly log into the app on their phone and send the referral link to another phone.
Key Takeaways
The Airbnb referral program is well integrated into their current desktop and mobile apps.
Users can easily send out referral codes with the mobile app. Ease of use is crucial. You won't see the numbers if the program is challenging to use or understand.
Airbnb offers a 'personal' service. People make memories with Airbnb trips. The same people tell friends about their trips, which is also an excellent opportunity to mention the referral program. Airbnb has made it easy for people to share the program along with their personal experiences.
Suggested Improvements
All you get out of the referral program is credit that can be used on your next trip.
But what if you don't plan on traveling anytime soon?
Airbnb can improve their program by offering more reward options (like cashback, Amazon gift vouchers), or a points system (similar to Uber's system mentioned earlier).
4. Dropbox
Dropbox is another brand that has seen a meteoric rise in the past decade.
The company was founded in 2007. By 2014, Dropbox was valued at $10 billion. They went from a million to 4 million users in a year!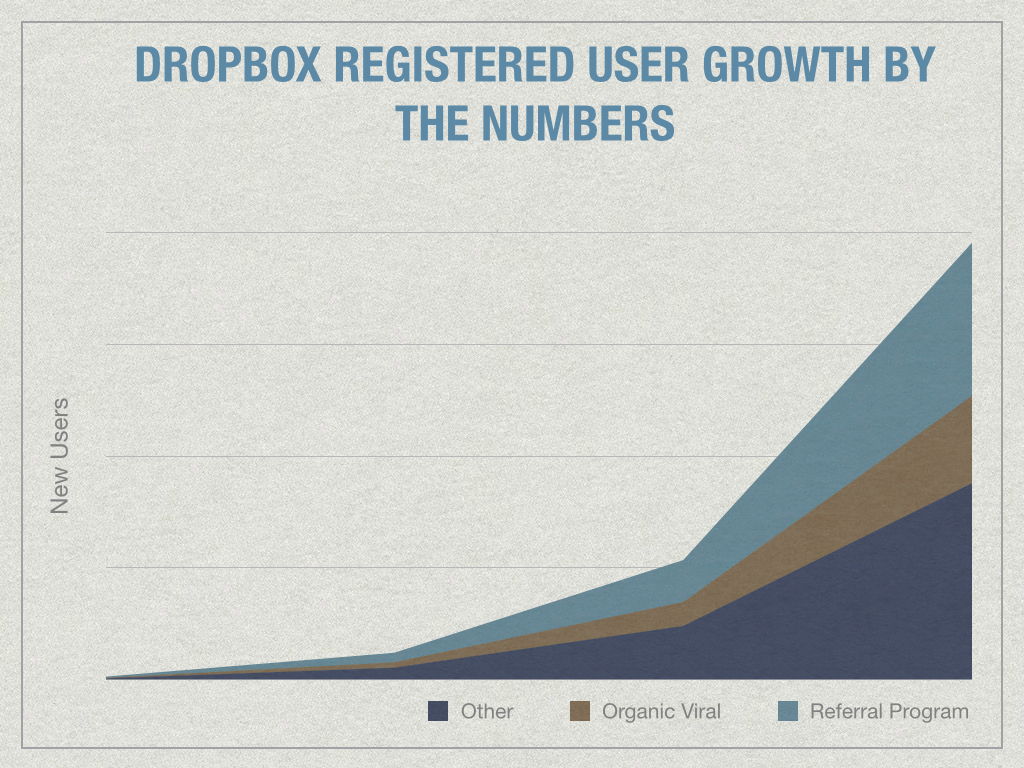 One of the reasons for their growth is their simple, yet effective referral program.
A simple referral program similar to Airbnb. Do you see a pattern here?
Yes, it's the power of referral marketing.
It's how a simple referral program can help turn a startup into a billion-dollar company in just a few years.
Please Give Me Some Space
Dropbox users earn 500MB of additional space for every new user they refer to the platform.
Free space earnings are capped at 16GB. So a user can potentially earn themselves 16GB of additional space for free.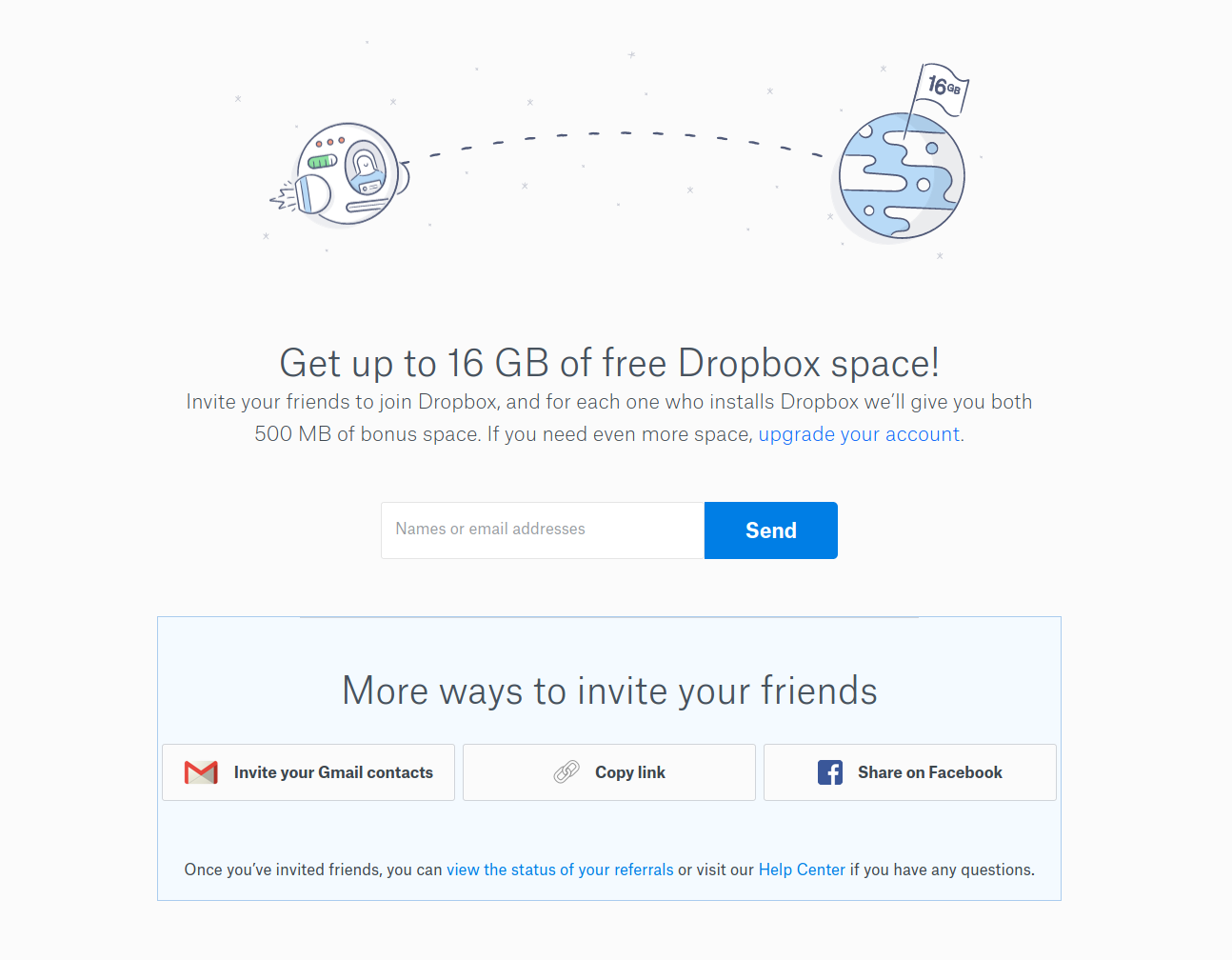 Dropbox Plus accounts earn double. 1GB per referral that's maxed out at 32GB in total.
Just like with Airbnb, Dropbox's referral program is easily accessible on its website and mobile platforms.
Key Takeaways
A simple referral program that's easy for users to understand and earn rewards.
The reward includes additional space to a user's account. This is a reward that has a lifetime value and can be seen as more valuable than regular discounts or vouchers.
The referral program is integrated on all platforms, mobile, and desktop.
Suggested Improvements
Dropbox has many partnerships with other brands, like freelance websites and gaming brands. They could offer users additional rewards from these partners.
The current reward system is ideal. However, more rewards, especially smaller ones, would be a great idea.
This will incentivize users to perform smaller tasks, such as:
Like Dropbox on social media
Comment / like / share this post on social media
Email your friends
At the moment, dropbox does award users with 150MB space for connecting their social media accounts.
The online storage market is extremely saturated with the likes of Google and Apple, offering great packages.
Dropbox could also offer an additional reward on top of 500MB of space to a user that brings someone over from Google Drive.
5. PayPal
PayPal currently has an interesting model for their referral program:
Sign up bonus – $10
Referral – $10
So, if you are new to PayPal, you can sign up and receive $10 into your account. You can also score $10 for every person you refer to PayPal.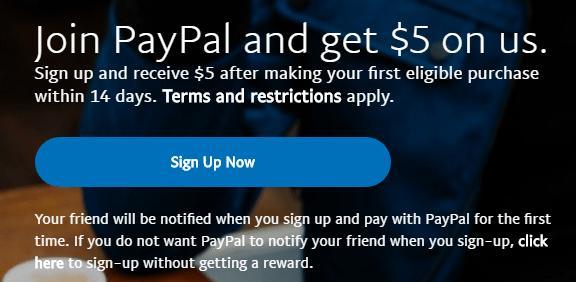 What makes this referral program interesting is the fact that PayPal is paying people to join their platform.
The other interesting fact is that their referral program is only available in select countries.
So, what does this tell us?
PayPal allocates part (or a whole lot!) of their advertising budget to their referral program.
Also, their referral program isn't ongoing. They start and end the campaign when they please while limiting it to certain countries only.
Then why does PayPal do this?
How effective are their referral marketing campaigns?
Look! Free Money!
PayPal was founded in the late '90s. This startup's primary growth strategy was to give people $20 for opening an account and $20 for every referral.
This was real cash that they could withdraw, spend, or send to another person.
PayPal managed to acquire 100,000 users in the first month with this strategy!
They hit a million users early in the year 2000. Then they achieved 5 million users later on during the same year!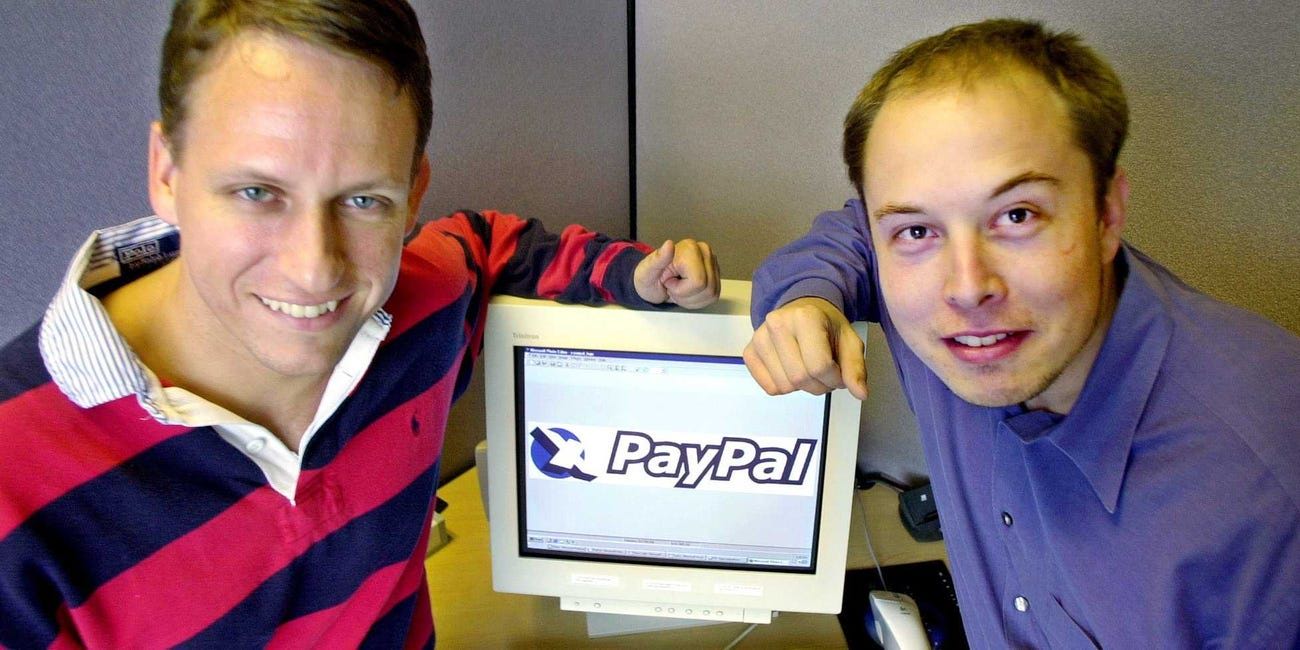 PayPal paid to acquire new members to their platform. As the platform grew, PayPal reduced the sign-up and referral bonus to $10. Then further reduced it to $5.
Now, PayPal uses its temporary referral program to boost their memberships. They do this when they need to increase market share in specific demographics.
For example, PayPal launched its referral program in China. At the time, the campaign was exclusive to that market only.
Key Takeaways
A temporary referral program that is used purely to acquire new users for the platform.
The incentive is simply cash and nothing else.
An excellent growth strategy for startups that have substantial funding in place.
Suggested Improvements
This is an excellent example of a temporary referral program that uses cash as leverage to discover new users.
However, this strategy is only as good as your funding.
So, what if PayPal had a low-cost ongoing referral program in place?
They could offer discounts on fees for performing small marketing tasks like "follow us on social media" or "Like, comment, share this post."
This way, PayPal can have a steady flow of referrals, while also increasing social media followers, email subscribers, and more.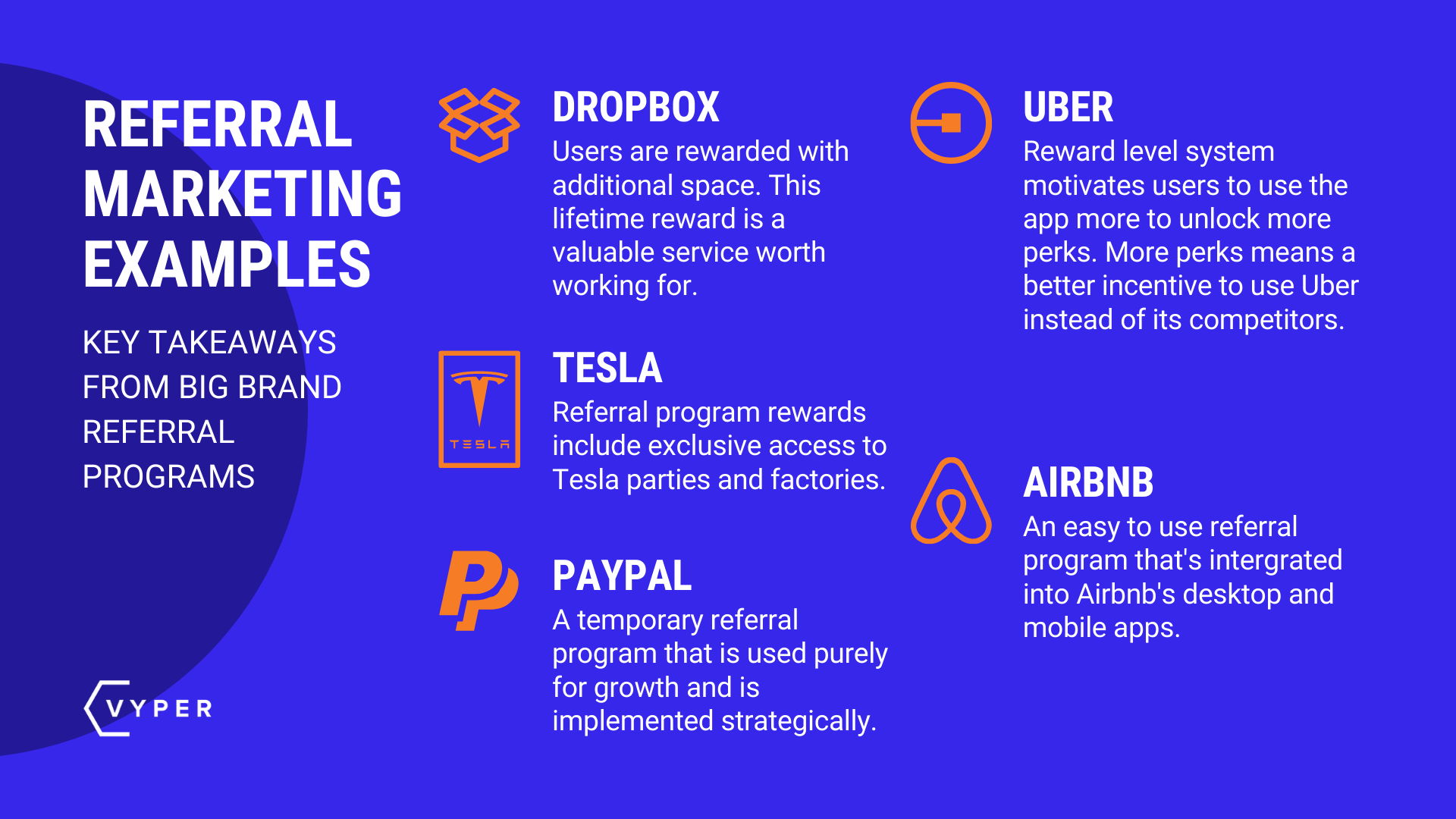 Referral Marketing Ideas
Looking for more ideas or inspiration for your next referral marketing program?
We have 3 excellent ideas for you here:
Fashion Store
SaaS Brand
Music Software brand
Please feel free to use them as your own. Contact us at any time should you need more advice or ideas for running your own referral marketing campaign.
1. Fashion / Clothing Store Referral Program
Marketing in the fashion industry is challenging and competitive. Clothing is subjective, which is why most people will need to be persuaded even further.
Every ounce of marketing matters if you own a clothing store. Physical or online.
Growing an audience on social media is an ideal strategy for getting people to visit your store. You can share new arrivals or sales promotions with your audience.
Now, a referral program can be just the thing you need to grow that audience. The larger your audience is, the better your reach will be.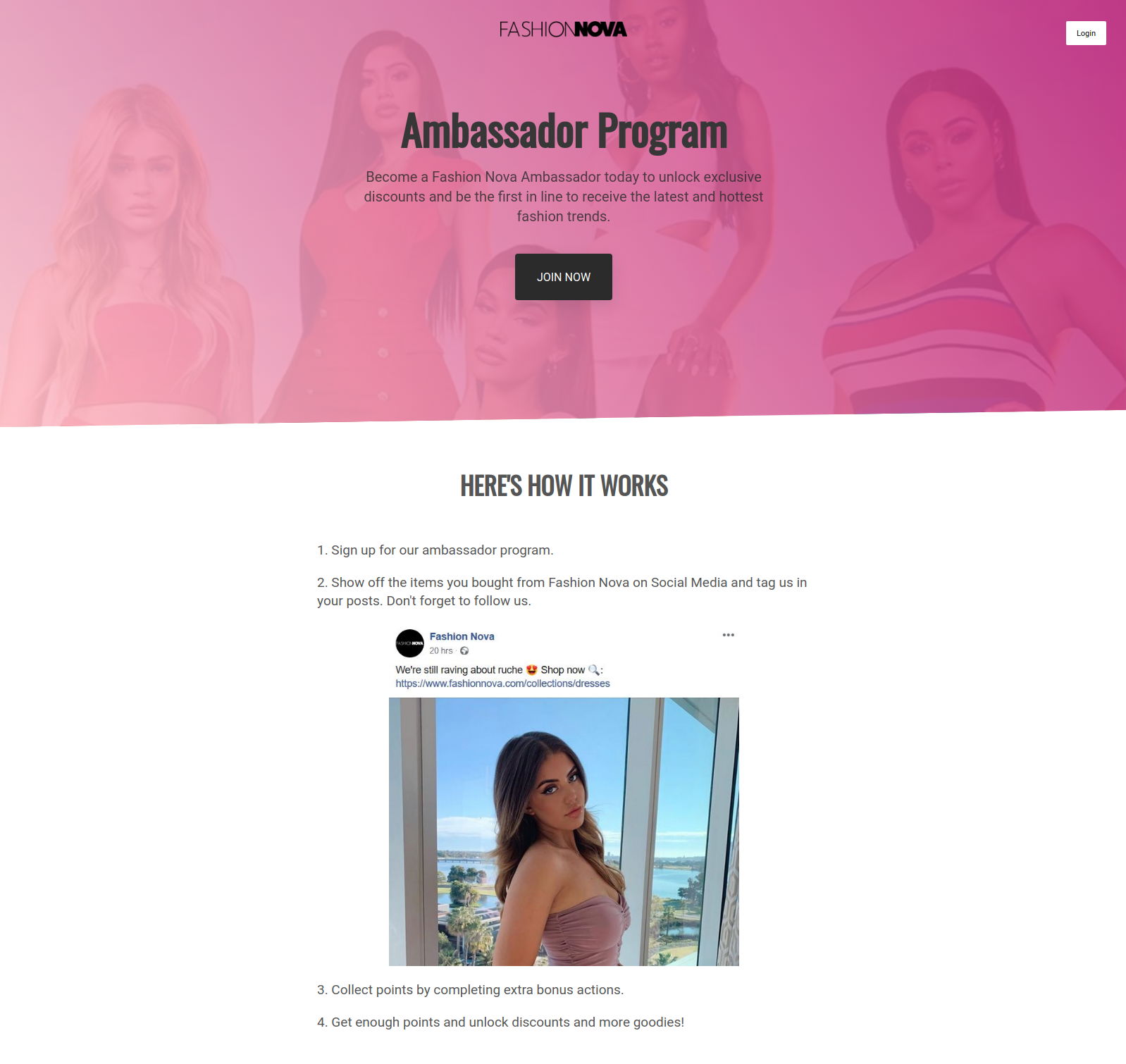 You can reward members with discounts or gift cards for your store. You can even include seasonal prizes that members can compete to win.
Examples
A brick and mortar clothing store with no website that is just getting into social media. They can use an online referral platform (Like VYPER) to administer their program. Users can register online and help the physical store to promote itself online in exchange for rewards.
An online clothing store that is trying to build its online presence and boost website traffic. Their referral program can request users to refer traffic to their website and social media accounts.
Method to Earn Points
Visit and share fashion blog posts
Engage with "New Arrivals" or "Winter Sale" posts on social media
Refer people to the store
Benefits
Grow your online presence
Increase website traffic
Word-of-mouth promotion for new arrivals and other promos

2. SaaS Brand's
If your company offers an online service via its website, then a referral program is essential.
You can integrate the referral program into your service so that it clearly appears in every customer's dashboard.
This is a strategy that is similar to that of Dropbox and PayPal.
If your service is on a month to month basis, you can offer customers a free month of your service for every referral. This strategy is inspired by Dropbox's successful referral program (mentioned earlier in this article).
PayPal's strategy of giving out cash for referrals may have worked wonders for them, but other services might find that strategy hard to implement.
You could perhaps giveaway discounts, vouchers, or gift cards instead.
Examples
A social media management app that allows you to schedule your social media posts for a monthly fee. This brand can offer a month of their service for free with every referral. Or they could hand out coupons for other social media graphic design services.
Method to Earn Points
Visit and share blog posts on social media
Download our app or desktop software
Refer people to the website
Benefits
Grow your online presence
Increase website traffic
Increase sign-ups or app downloads

3. Music Software Brand
Music software, also known as Digital Audio Workstations (DAW), have always been incredibly popular among beginner and pro musicians.
There has never been a true winner out of the hundreds of DAW brands out there.
Why? Because the music software market is highly competitive and complicated.
One possible solution?
A referral program that will reward users who 'convert' other musicians. Reward a user for every musician they get to try out the software.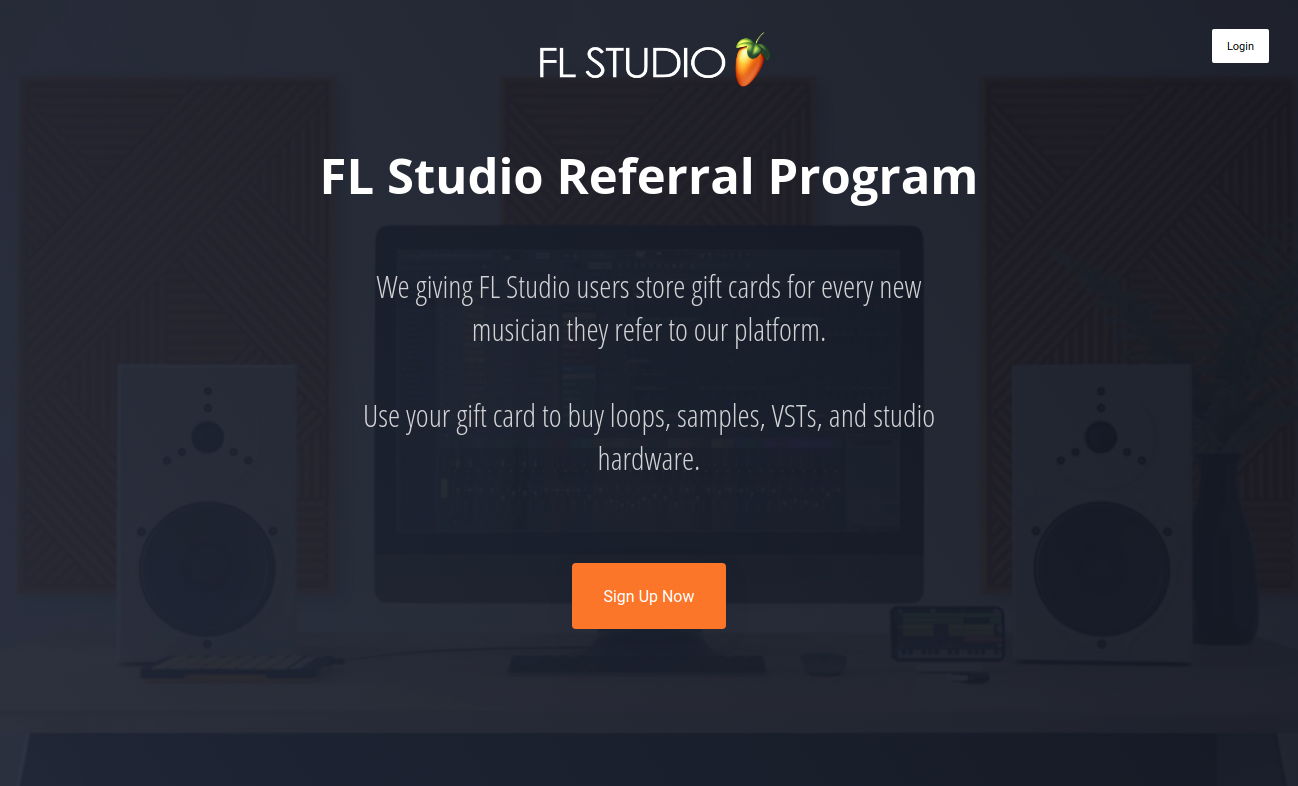 Also, provide additional incentives to users who help you to grow your online presence while promoting your upcoming software releases.
Examples
A brand that offers music software and hardware (Ableton, FL Studio, etc.). Your referral program can allow users to earn points by referring others or completing tasks defined by you. They can then use the points to redeem discounts or gift cards for music hardware thats compatible with your software.
A headphone brand (Skullcandy, Beats, etc.) that offers products through their online store. Users can earn discounts or gift cards for every person they refer to the store and makes a purchase.
Method to Earn Points
Visit and share blog posts on social media
Review our software
Download our free software trial
Refer musicians to the website
Benefits
Grow your online presence
Increase website traffic
Increase sign-ups or app downloads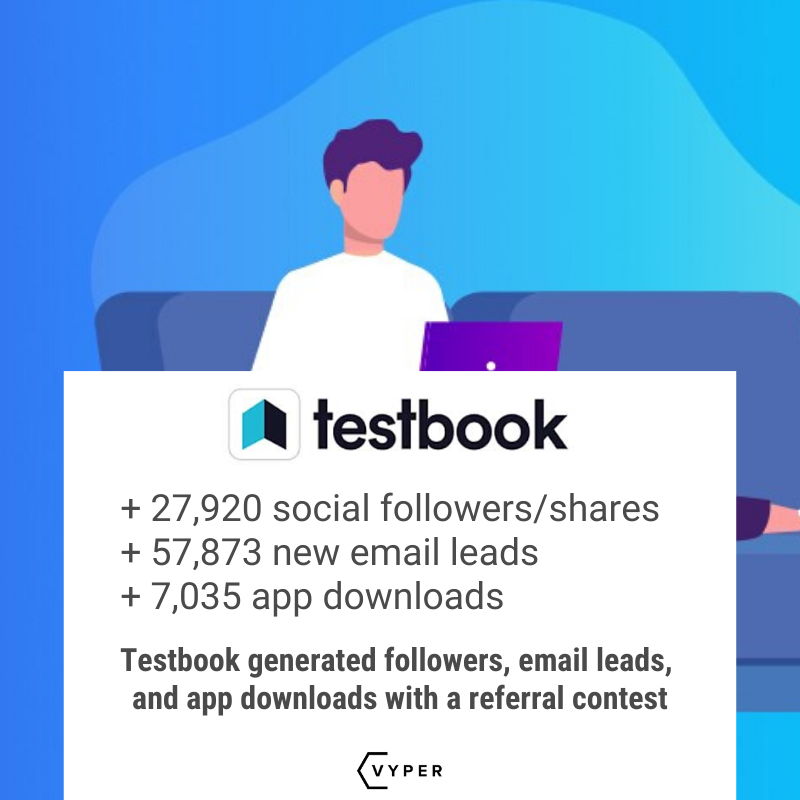 Testbook, an online learning platform, generated 57,873 new emails and 7,035 app downloads from a single referral marketing campaign.
Creating a Referral Program with VYPER
VYPER isn't just a platform to host giveaways and contests. You can also set up your very own referral program with VYPER.
In this tutorial, we will go over some essential edits that you must make when building your referral program.
Let's Start!
First, select 'New Campaign' from your VYPER Dashboard. Then select the template labeled 'Combo Reward / Referral Program.'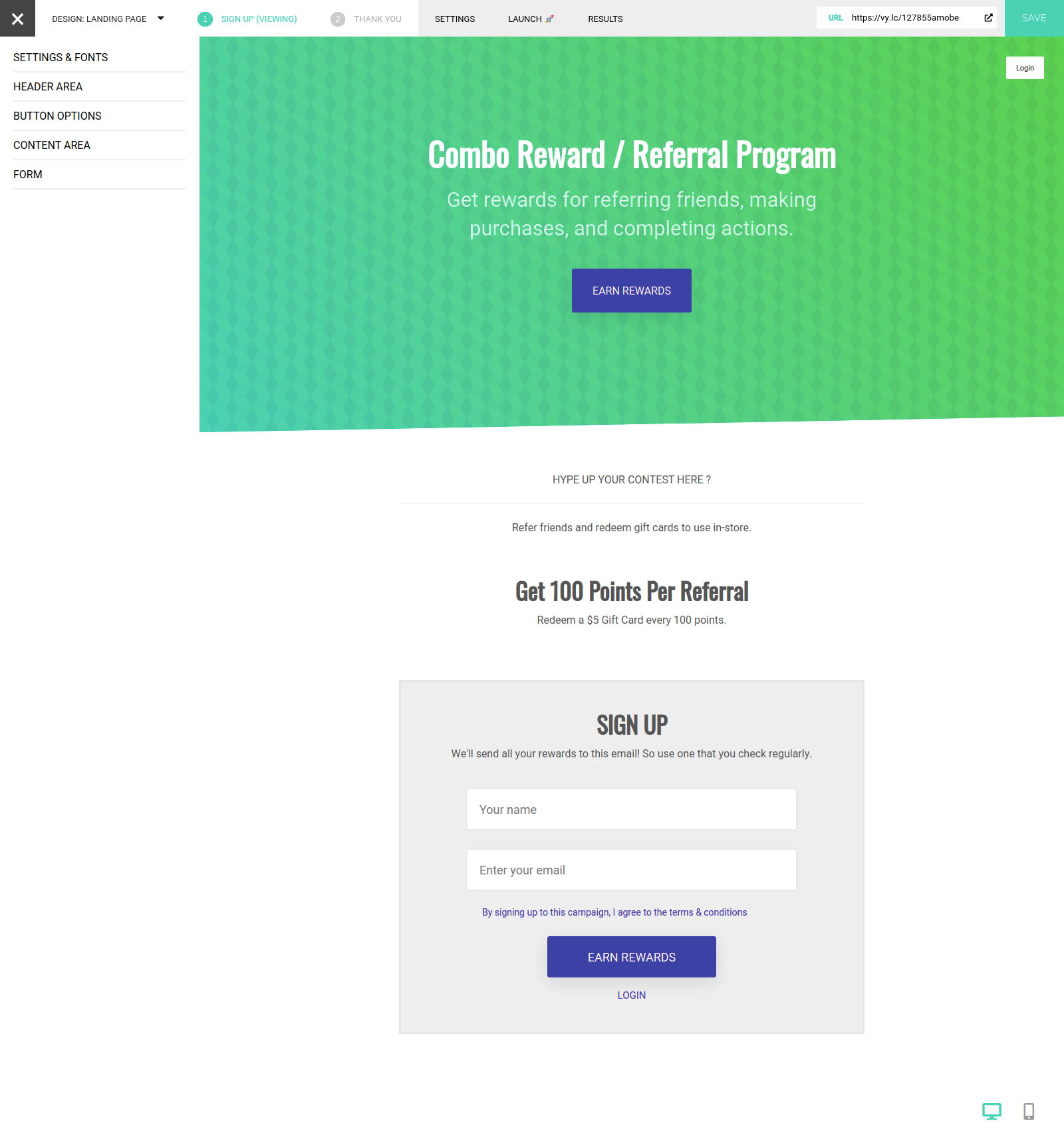 The template has everything you need to build a landing page for your referral program.
There's no need to build your referral program from scratch. You can simply edit the existing text by clicking on it and then replacing it with your copy.
Just by changing the wording to suit your needs, the referral program template will begin to like your own.
However, if you want this landing page to match your brand truly, you will have to edit it further by adding media.
Adding Media
Every part of the referral landing page can be edited to suit your brand's requirements.
You can:
Add a background image to the Header section
Add images in the content section below
Change fonts and their sizes
Change the header and content area background-color
These simple options can indeed make a world of difference to your referral landing page.
Just by making a few simple changes (adding media and changing color), your referral landing page will end up looking like your very own creation.
It really is that easy to create a landing page for your campaign on VYPER.
The process is made to be as simple as possible for any type of user to complete. You don't need to have added expertise in web design to create a landing page on VYPER.
Giveaway Placement Types
Having a separate landing page that is unique to your referral program is an excellent idea.
You can easily direct traffic to this page (from your home page). People can come here (your landing page) to get all the information they need regarding your brand's referral program.
This is ideal for brands that are not looking to invest too much time in designing a dedicated landing page on their website. It's also an excellent option for a physical store that wants to administer their referral program online correctly.
Now, if a brand wants to host its referral program on their own website page, they can simply embed a form from the campaign they just created.
To get started with this, select the display mode for your giveaway. It should be currently set to "VYPER Landing Page."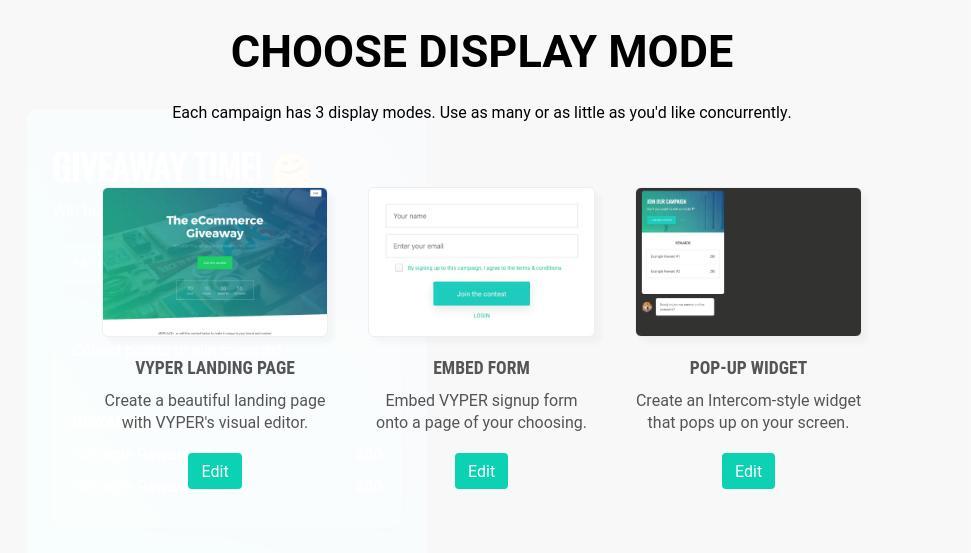 You will then have the option to select an element that you wish to edit.
The first being the "VYPER Landing Page," which we have already edited. Then the second being the 'Embed Form.'
Selecting the "Embed Form" option will allow you to personalize the form that you want to place on your website. You can also grab the embed code from this screen and put it on your website's desired page.
Pop-up Widget
The third option is the "Pop-up Widget." This option will allow you to create a pop-up notification on the bottom left of your website.
It's exactly like what you see on this website. Go ahead, click on the circular image at the bottom left of the screen to interact with our pop-up widget.
This widget allows you to have a chat-style widget with an entry form for your referral program. It's an excellent way of making your referral program accessible on all pages.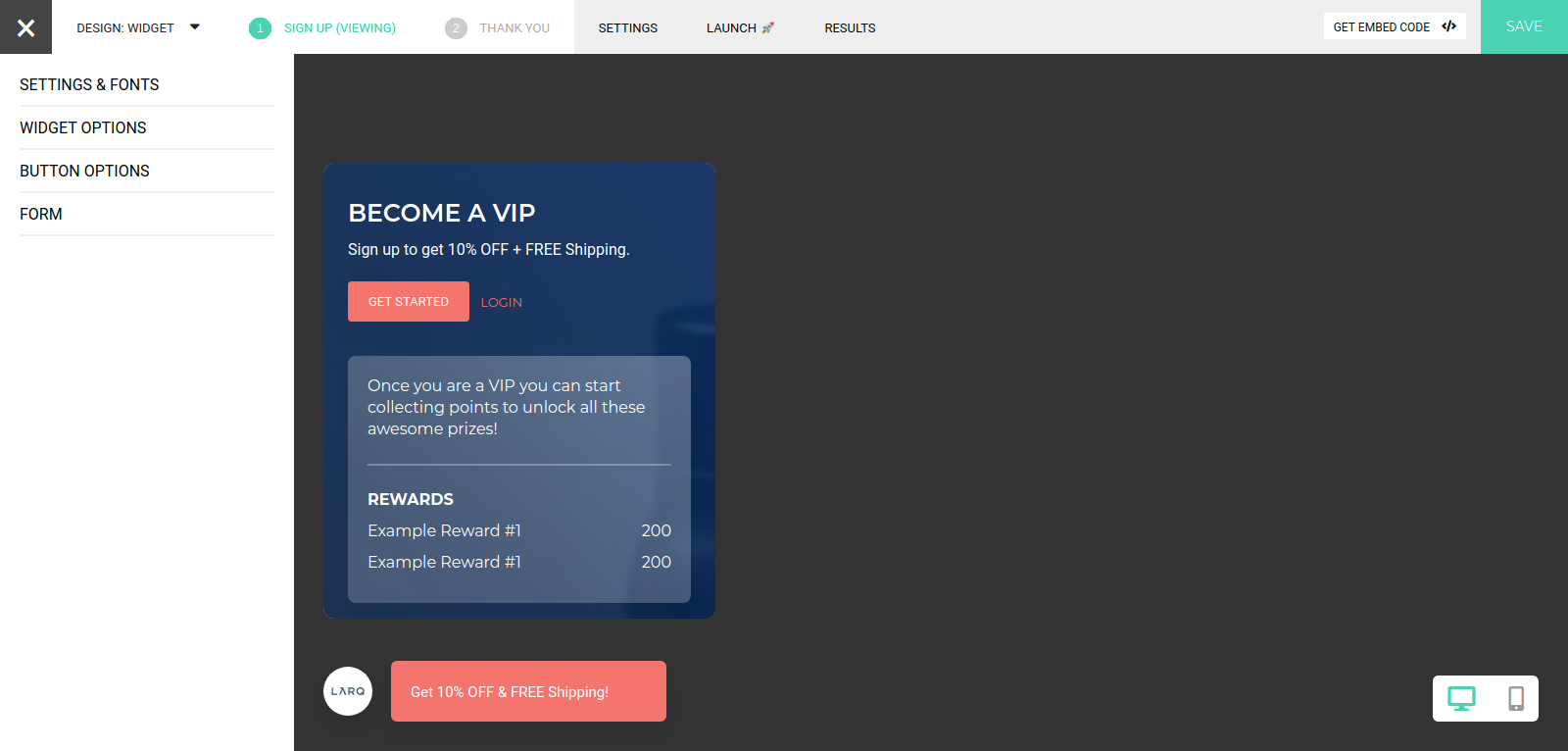 You can use this widget periodically to promote your referral program on your website.
Also, you can embed the standard form into blog posts as well. This is a great way to get blog traffic to opt-in to your referral program.
Thank You Page
The "Thank You" page is where users will be directed once they have completed the referral program form.
This is probably the most crucial part of your referral program. It is the page that will administer a user's progress (actions completed and points/rewards earned)
To begin, click on the "Thank You" page button (2) at the top.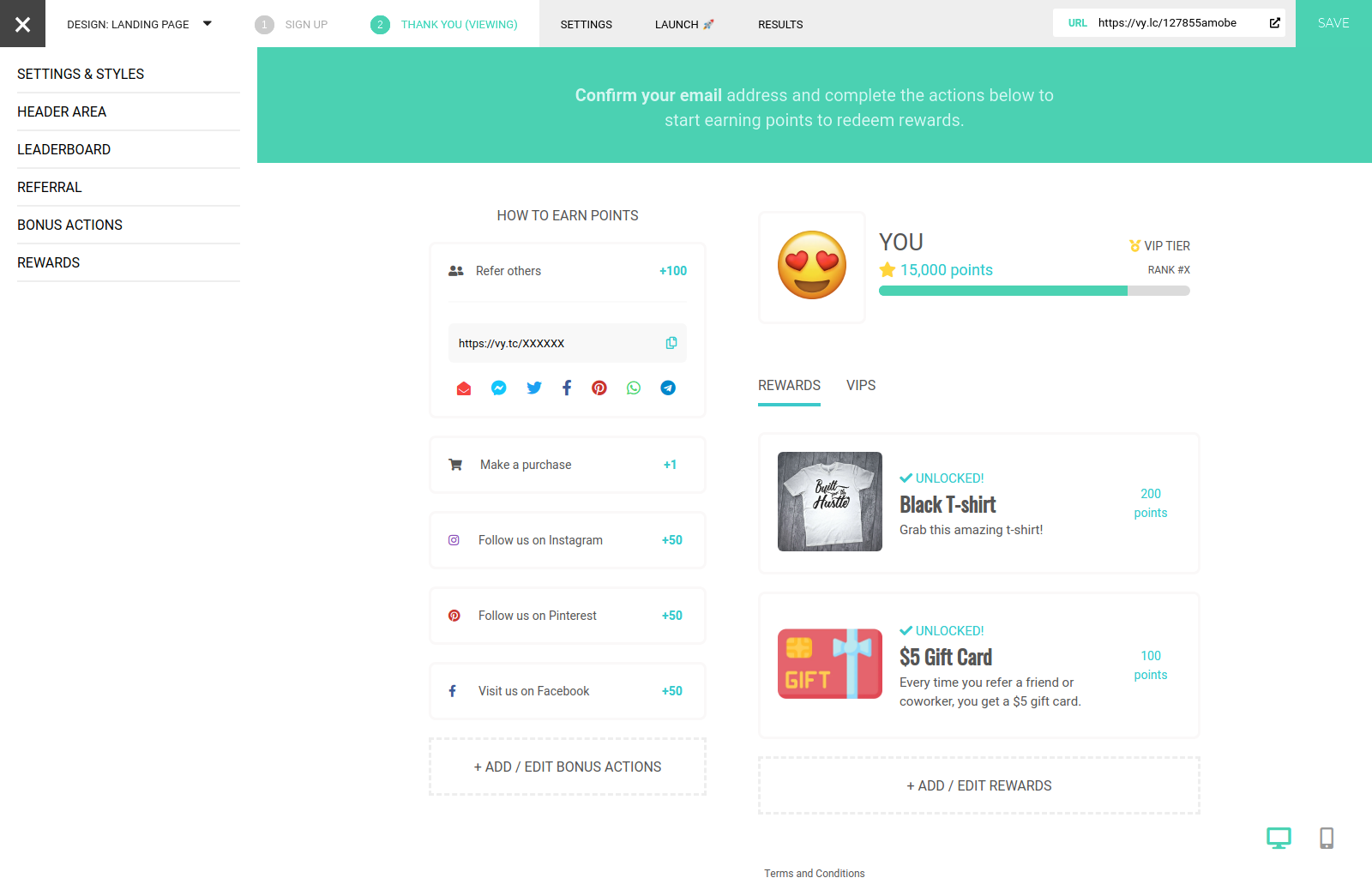 This section defaults to a VYPER Template, just like on the landing page editor.
You can easily click on an item to edit it further. Select the header area to add a background or to change the color scheme.
Click on each individual "reward" block to edit that section further. You can insert a picture of the reward and set the number of points members will require to unlock that reward.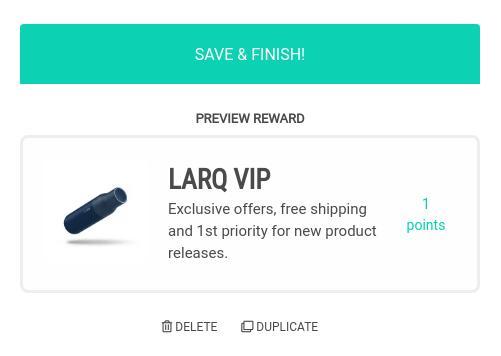 Once you have determined the rewards your users can redeem, you can then set up ways for them to earn points. This is done with the "Bonus Actions" feature.
Bonus Actions / Points System
One of VYPER's truly outstanding growth features is its bonus actions.
With bonus actions, users can complete specific tasks (determined by you) to earn points.
Once they have completed some tasks (bonus actions) and accumulated points, they can then use their points to redeem rewards.
Rewards can be anything from Gift Cards to Free Products. Just make sure you set the rewards correctly by determining the number of points a user requires to redeem that reward.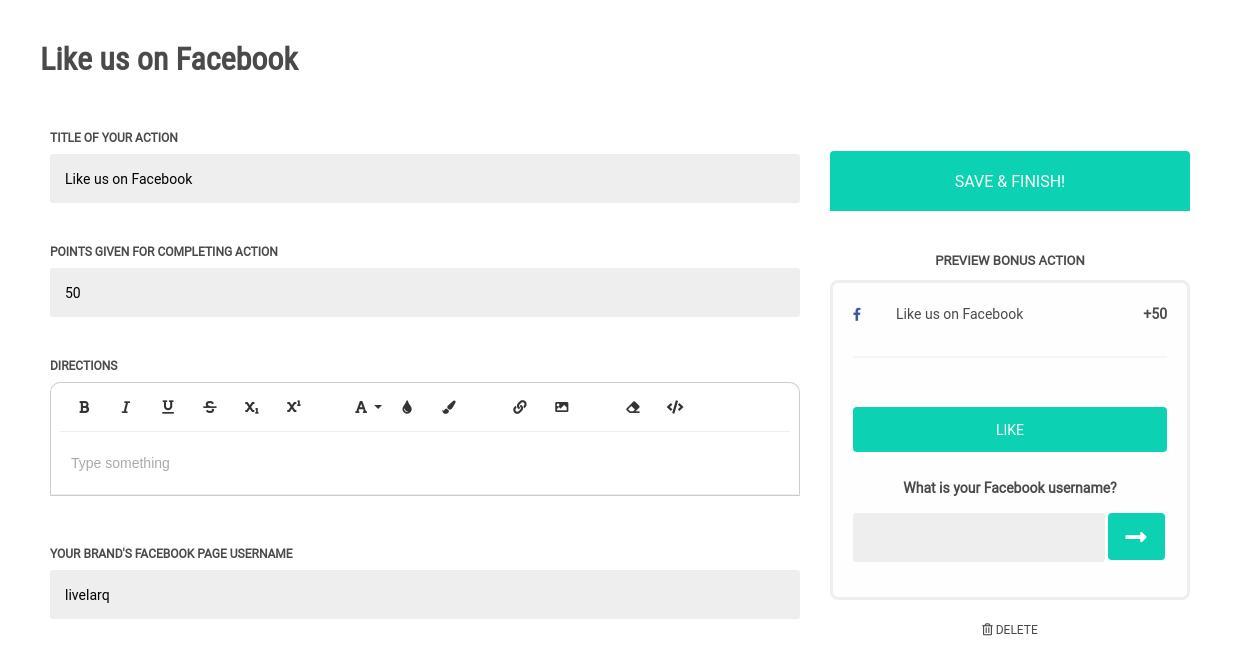 Bonus actions can be any sort of task. It's best to choose tasks that help you achieve your marketing goals wisely.
Some tasks include:
Like us on social media
Watch our video on YouTube
Like this social media post
Review our product
Download our app
After setting your bonus actions, rewards, and design tweaks, your Thank You page should look like the one below.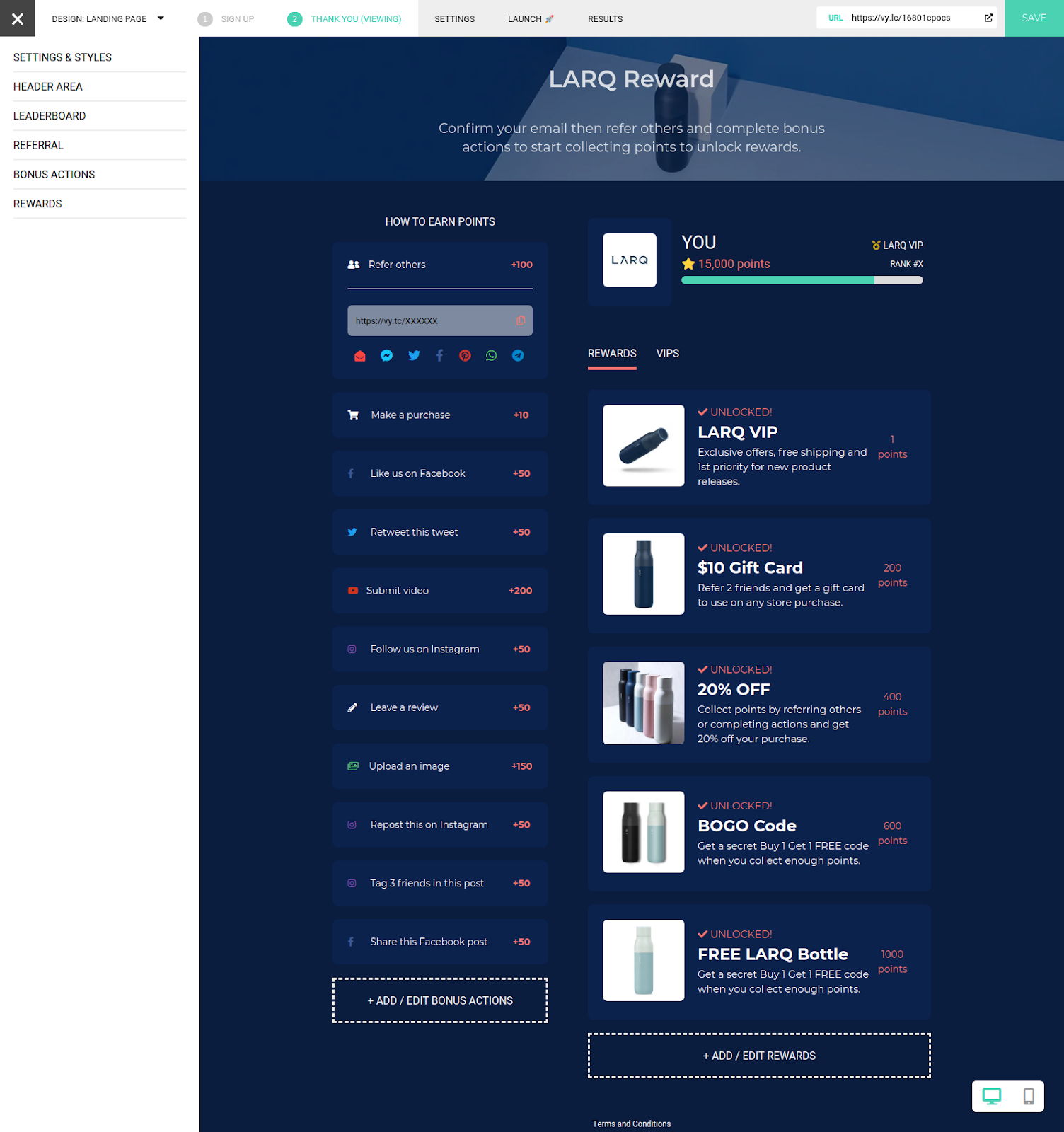 Managing Bonus Actions
Users who register for your referral program can easily manage their progress here. They will be able to seamlessly help you achieve your marketing goals set by you in the bonus actions section.
All this is made possible by the incentives you offer people to complete bonus actions. Try to provide rewards that are achievable and desirable so people will keep playing.
You can always re-define the bonus actions so that they are up to date. E.g., include new videos or blog posts in there to receive a boost of traffic.
This means that you can use your referral program to consistently create engagement on your socials (apart from acquiring new customers).
And that's about it! Save your work and launch your referral program.
If this is your first referral program, you should keep experimenting with different rewards and bonus actions to determine which combination works best for you.
It's also a good idea to research other referral programs (like those mentioned earlier in this post). This way, you will be more prepared when its time to launch your campaign.

Click on the banner above to view a live demo of the referral program that was created with this tutorial.
The Power of Referral Marketing
Referral marketing, also known as Word-of-mouth Marketing, is genuinely one of the most powerful forms of marketing.
Even the old school shop keepers will tell you that the best marketing is word-of-mouth.
By definition, referral marketing is all about getting your current customer base to bring (refer) new customers to you.
Brands achieve this by offering their customers some form of incentive.
Incentives can be additional discounts or rewards that can be unlocked within a referral program.
So, what makes referral marketing so good?
Your Customers Work for You
Can you imagine boosting your sales without any salespeople?
With referral marketing, your customer generates the leads and, in most cases, even completes the sale for you.
All you have to do is receive payment and deliver the goods!
However, the downside to this is that your customers don't technically work for you. There's no contract, and sales are determined in good faith.
So you can't really expect much from a customer, and you cant push them to bring you, new customers, all the time.
What you can do is create an incentive for your customers by rewarding them with discounts and vouchers.
You might end up spending some of your resources on your referral program. But it will be worth it! Just have a look at these stats.
You will generate 16% more profits from Referred Customers.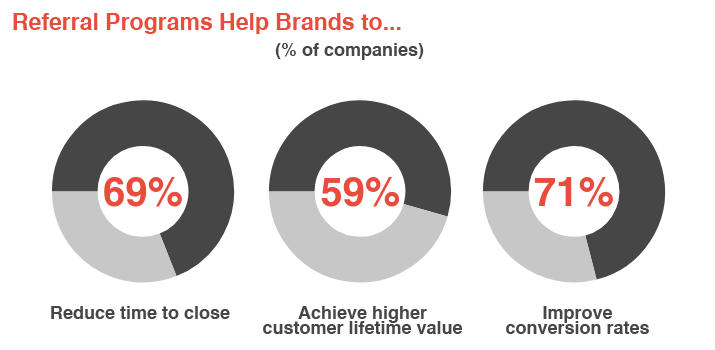 If you are new to referral marketing and are hesitant to invest in it, remember, PayPal, invested millions of dollars into their referral program.
A Highly Targeted Audience
Your customer has already gone through their purchase journey with your brand. They have a good idea of what your brand is all about.
So, knowing this, will a customer just refer anyone to you? Or will they ensure that they refer just the right person to your store?
Remember, your customer doesn't have the time or resources to approach just anyone.
Customers will most likely approach a person that they know for sure will appreciate your brand.
For example, if you sell photo editing software, your customer will share your software with his photographer buddies.
He won't waste his time showing your software to his mom or siblings.
Another example: a customer that refers people to a music app. They will obviously refer someone who is as passionate about music as themselves.
Also, your customer can even go as far as further analyzing the financial position of the person they are referring.
"She definitely likes the product, but will she actually buy it?"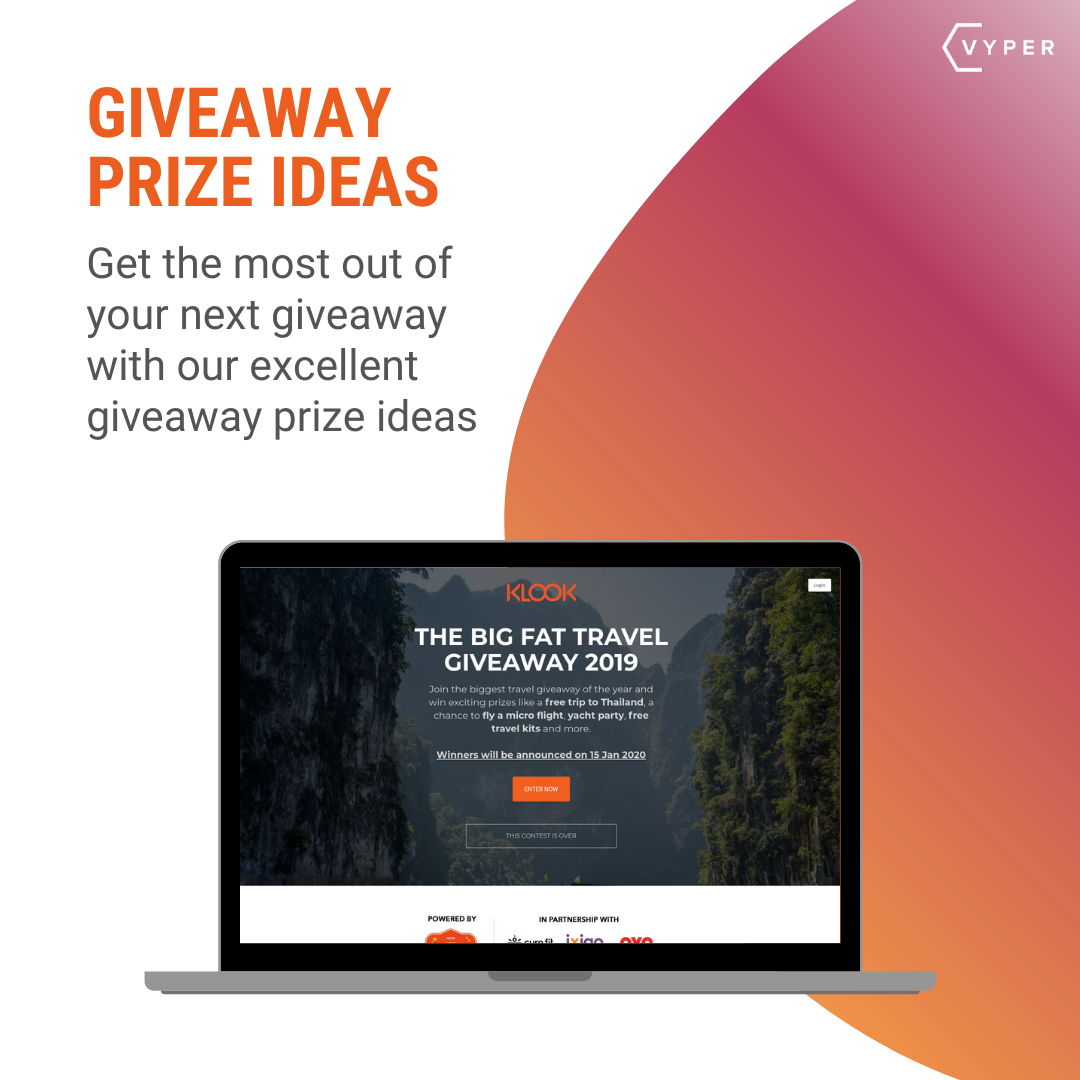 Choosing the right prize for a giveaway will allow you to draw your target audience to your brand.
Builds Trust Faster
A potential customer is more likely to listen to another customer than to you.
No matter how good your advice is, it will most likely seem like a sales pitch to a new customer.
It can take some time and convincing from your end before a new customer will warm up to you.
If that same customer hears from a friend that your brand is fantastic, they will immediately be interested in what you have to offer.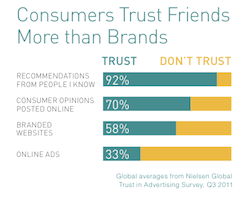 This is because they trust their friends' tastes and opinions. So if their friend says that you're great, then you're great!
Congratulations!
Viral Marketing
Yes, Referral Marketing does fall under the category of Viral Marketing.
Why?
The referral marketing model can grow a business exponentially.
One customer can refer two customers, who will refer another four new customers, etc.
You can double your customer base with a well put together referral program. That means doubling up the size of your business.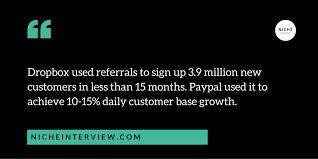 Also, the power of the internet has made it easy for customers to connect with friends and quickly tell them about your business.
A customer can easily share a link to your website on social media, and it will be seen by most of their friends.

Q & A Referral Marketing Examples
❓️ How does referral marketing work?
A brand offers its customers an incentive to generate high-quality leads. The incentive is usually awarded to a customer once their referred lead has made a purchase. 

To keep track of referrals and rewards, brands host ongoing referral programs and request their current customers to become members.
❓️ How does my business qualify for referral marketing?
Any business can implement referral (word-of-mouth) marketing. It can be as simple as asking loyal customers to refer friends and family to your business.

If you have a new startup that's still building trust among consumers, then you could offer an incentive to your new customers who refer leads.

However, the incentives and rewards you provide are dependent on you and your business model. It may not be feasible for you to give away your service, similar to what Dropbox does.
❓️ Can my business rely solely on a referral program for growth?
Referral marketing should be one part of your business' growth strategy and not the sole provider. 

Your business should rely on multiple lead generation strategies to lower risk levels.
TL;DR
Giveaways are excellent campaigns for generating massive amounts of leads within a short time frame. Referral programs can also be a superb source for lead generation.
With a referral program in place, you can consistently generate leads for as long as the program is active. This is an excellent growth strategy that has been used by the top startups of our generation.
Implementing a referral program for your brand can help you grow your online presence while upscaling your business by consistently acquiring new customers.
Have you ever used a referral program in the past? Which referral program is your favorite? Let us know in the comments below.
Jack Paxton
Jack Paxton is the co-founder of VYPER, a marketing tool that helps brands build email lists, social followings, and revenue using viral giveaways, referral, and reward programs. After millions of dollars spent testing different marketing strategies at his marketing agency. He then also co-founded Hyax a fast, conversion & design-focused course and funnel builder for creators.