When it comes to giveaway prize ideas, the right one can make or break your campaign.
You can give away 10 Macbook Pros, but unless your company is called Apple, you're not going to get qualified giveaway participants.
This is because there are TONS of random sources online to find directories of giveaways, and most of these leads are going to be absolute garbage.
If you choose a generic prize, your campaign will only attract freebie seekers that don't care about your main business.
With that being said, it's almost unavoidable to get some freebie seekers, no matter what your prize or niche is.
Here at VYPER, we analyzed a bunch of social media giveaways to show you some giveaway prize ideas.
Here's how to find giveaway prizes that will entice the right people to your campaign and limit the number of spammers that enter your contest.
FREE DOWNLOAD: Get all Our Contest & Giveaway Marketing Guides, Checklists, and tutorials that have helped 100's of brands collect 15k+ emails in under 21 days!
How do you amplify your social media giveaway's reach?
In 2020 and beyond, Instagram and other social platforms are now the best medium to use to promote your giveaway.
A social media giveaway allows brands to draw the attention of thousands of users from the platform where the giveaway is being hosted.
If you are hosting an Instagram giveaway, you're most likely just running a native campaign, where your entire campaign lives on Instagram.
But most companies that are running native Instagram campaigns without using a tool like VYPER are missing out on lots of potential reach.
With a giveaway tool like VYPER, you'll be able to make your giveaways more effective. Here are some major benefits of using VYPER:
Growing multiple social media platforms
Increasing your email list
Boosting engagement on social media
Increasing traffic to your website
Create more brand awareness on multiple channels
BONUS: Check out our case study on Instagram giveaways!
Factors for Choosing the Right Giveaway Prize
After analyzing thousands of campaigns, we've realized that the prize is the single most important aspect of your giveaway.
For most giveaways, there are 3 aspects to finding the right giveaway prize.
#1: Purchase intent
Purchase intent is essentially how relevant the prize is for your target audience. The more targeted the prize, the higher the purchase intent will be. Think, if my ideal customer covets THIS prize, he will definitely also want my product.
Example: Let's say I'm a pet e-commerce store giving away a lifetime supply of dog food.
This probably means the people entering my giveaway are going to be dog owners – my exact target market.
Remember that just because your prize is related to your business, doesn't mean it has high purchase intent.
For example, if you were giving away a trip for 2 to Hawaii and your blog is about travel, you'll end up attracting a lot of people who don't care at all about travel but just want the free trip to Hawaii.
High purchase intent is great for improving the quality of your leads. If your goal is for quality, then choose a prize that has extremely high purchase intent.
#2: Share-ability
In one campaign we analyzed, a sex toy company gave away a bundle of sex toys. While the contest attracted some users, the problem is that sexual products and other taboo products are NOT shareable.
Facebook and other platforms do not like sexual products, and because most people are not comfortable sharing personal things like sex toys, the campaign flopped.
People share things because it makes them look good and it is valuable to their audience.
If your prize is valuable to their audience, then they will share it. Remember that with VYPER, contestants get extra entries when sharing.
#3: Wow Factor
In the early days of AppSumo, they did a campaign for "Dropbox for Life." This was a great prize because it just sounded awesome, even though truthfully, it doesn't even cost AppSumo that much to give out the lifetime account ($99 a year or so).
Awesome prizes like these generate much more buzz and sharing because people are much more desperate to win.
When you're looking to do a giveaway that gets massive results, the wow factor should be one of the most important aspects to look at.
Finding Your Brand's Unique Giveaway Prize
Now that we've looked at the factors that affect your unique giveaway prize, how do we apply that to YOUR business?
#1: Know / Analyze Your Target Audience
"Everyone is a customer!" This common statement is an ideal scenario that every business would love to strive for. Unfortunately, it is extremely difficult for a business to cater for everyone, as people have different preferences and needs.
For most companies, the target audience is obvious, but there are some exceptions.
For example, if you're a general dropshipping store, it might be hard to know at the top of your head what your target audience is. That's when an audience analysis would come in handy.
Here's how to think about your target audience:
Analyzing your current customers – Categorize your current customer base into age, location, and interests. You can also go through your current list of fans on social media
What is your audience's gender?
What's your audience's income level?
What are your audience's interests?
Analyze your competitor's customer base – Look at who is following your competitors on social media.
What problems does my product solve? – People who buy your product are doing so to solve a specific problem or need. If you know the problem that your product is the solution for, then you will have a better idea of the type of person that will buy your product
How do you find this data?
Google Analytics helps you find this demographic data, or for something for granular can simply run a poll using something like Typeform to see what your audience likes.
#2: Do you want to go for quality or quantity?
A high-quality lead can be defined as a person who has an interest in your product, as well as the means to purchase your product.
You can tailor your giveaway to attract high-quality leads by selecting a relevant prize that they find enticing.
For example, a store that sells music instruments would want to attract musicians, DJs, and music producers. A prize such as a music recording and production bundle can appeal to a music retail store's target audience.
Choosing a prize like a guitar can work, however, you will be narrowing down your giveaway to just guitarists.
If the same music store does choose to go with a popular prize like an iPhone, then the giveaway will appeal to a much broader audience. Such a giveaway can possibly have much more entires than a giveaway that has a guitar as a prize. However, this giveaway will attract more poor quality leads.
When does a more general prize work?
If your main brand or product can appeal to a wide variety of people.
Giving away a general product could work if your business appeals to a wide audience.
For example, if you were McDonalds or Starbucks, your customer base basically includes the general population. So giving away almost anything could technically work.
But for most brands, maximizing giveaway entries isn't a good idea if most of those entries are made up of people that are not interested in what you have to offer.
When the giveaway is done, you will have to go through a ton of poor quality leads to find the leads that seem the most promising.
It's best to attract the right crowd with your prize and that crowd is people that are interested in your brand.
The sweet spot is finding something that is both very attractive only to your target audience but will also attract a lot of users.

– Kevin Tang
For example, Shopify's Build a Business campaign gave their entrants access to an unprecedented number of entrepreneur mentors as well as money and other business perks. This both appealed specifically to entrepreneurs AND appealed to a massive amount of people.
#3: Choose a Prize That Aligns with Your Brand's Identity
Your product or service might have a specific target market, but other products may share a similar target market to you.
For example, backpackers who live the outdoor life usually require a multitude of outdoor gear for their travels.
If your target market is outdoor explorers, then you could offer either a Go Pro Camera or a camping tent.
While both the GoPro camera and camping tent are relevant, the GoPro camera could potentially attract people who aren't in your target market, while the camping tent is a much more targeted prize.
The drawback to only choosing the camping tent is the GoPro camera is a lot more enticing, so you'll end up with fewer entrants overall (but more high quality users).
Choosing a prize that isn't related to your brand and niche can confuse your audience.
This can raise doubt in the minds of your customers. It's best to keep things simple and stick to catering to your target audience.
Generic Giveaway Prize Ideas
We have put together a collection of giveaway prize ideas and examples that can help inspire your next giveaway.
#1 – Giveaway Prize Idea: Giving away your own product
In this example, we're looking at a Topaz Labs giveaway, which is a photography software business. They gave away a full suite of tools that appeals primarily to photographers. One of the main prizes of the giveaway is the full suite of Topaz products.
#2 – Giveaway Prize Idea: Giving away complementary products
Along with the Topaz suite, Topaz Labs gave away a DJI drone. This is a complementary product to their main product because it targets photographers. You want to give away products that are related to your main product.
#3 – Coupons / Discounts to your Product
We recommend using this as a secondary or consolation prize for your giveaway. For everyone who doesn't win the grand prize, give them a coupon code to your store.
eCommerce Giveaway Prize ideas
Social media giveaways are an excellent way for an online store to drive traffic from popular social networks to their website. It is also an excellent opportunity for an online store to promote its current offers.
#4 – Giveaway Prize Idea: Gift Card Giveaway
Giving away "gift cards" to your store is a great idea to get people interested in your specific product. This is an easy way to give something very specific to your brand.
#5 – Black Friday / Holiday Giveaway Prizes
A social media giveaway can be just what your business needs to drum up some hype for your Black Friday and Cyber Monday deals. You can use one of the products from your Black Friday deals as the prize (or bundle two or more products).
A great idea would be to run the giveaway early in November and announce the winner before Black Friday. This way, unlucky users who did not win will still have a chance to purchase the prize at the reduced price on Black Friday.
For SaaS companies that offer lifetime deals on their software during Black Friday can run a giveaway with the same offer as the prize. They can use the same strategy as above and end the giveaway before Black Friday.
More Holiday Giveaway Prize Ideas:
One day early access to Black Friday deals
Shopping voucher valid only for Black Friday deals
Free delivery for Black Friday and December purchases
Specific products for a holiday, for example, Valentine's themed colorways
#6 – Free Shipping
Shipping costs are probably one of the most significant expenses for many eCommerce stores. Because of this, it is difficult for these online stores to offer their customers free shipping. Seeing that free shipping is a rarity to customers of a specific store, that store can host a giveaway with free shipping as the prize.
Long-time customers that would have spent a lot of money on shipping costs from previous purchases will appreciate free shipping as a prize. A free shipping giveaway is also a good way of locking entrants into your store's ecosystem.
You can offer something like "Free Shipping for a Year!"
More Giveaway Prize Ideas:
Free shipping and additional discounts on orders over $500
Free express 1-day shipping
#7 – "Influencer Packs"
An influencer giveaway prize is ideal for online fashion stores looking for someone to be the face of the brand or brand ambassador.
A campaign like this will set-up packs of items that influencers would like. Generally it's a curation of beauty products or something similar.
BONUS – Require people to vote for the next face of your brand. Most of these people may not meet the requirements of the contest. You can run a giveaway for users who only wish to vote in your contest, with the prize being a massive fashion voucher from your store.
More Giveaway Prize Ideas:
Makeup set
Body and skincare hamper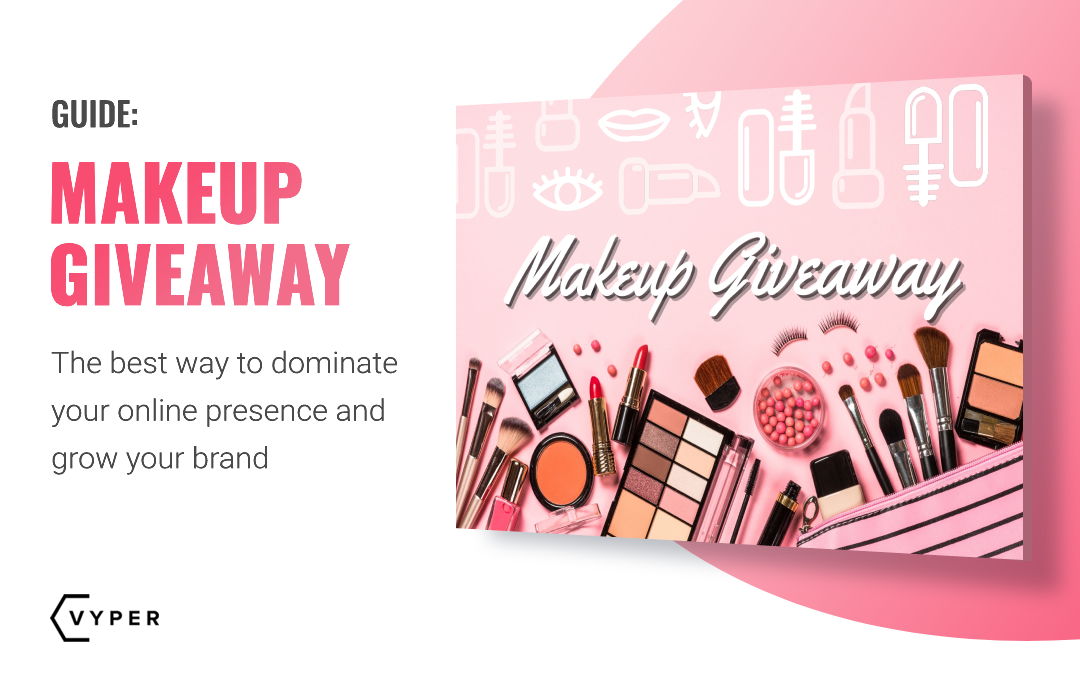 We have a complete guide on hosting makeup giveaways that includes excellent giveaway examples and prize ideas.
SaaS Giveaway Prize Ideas
Companies that sell software as a service also use social media giveaways to drive traffic to their website and create brand awareness. However, most SaaS companies have a specialized B2B audience that exists in corporate and business environments.
Because of this, SaaS, companies will have to be extra careful when selecting a prize that is relevant to their audience. The last thing they want is to choose a general prize that attracts people outside of the B2B circles.
#8 – Free usage of your SaaS platform
An ideal giveaway idea for a SaaS business is to offer a year's usage of their product for free (or six months). This way, only those who require the service will enter the giveaway.
#9 – A SaaS Software Bundle
A software bundle that comprises of three different, yet complementary products can also work great as a giveaway prize.
An example of this can be an entire marketing suite that consists of email marketing, SEO, and social media marketing services. Your company can potentially run a partner giveaway with other companies that have services that compliment yours.
More Saas Giveaway Prize Ideas:
Graphic design bundle that includes image, video, and web design software
A full sales software suite that includes CRM, project management, and communication tools
Retail Store Giveaway Prize Ideas
Physical retail stores have traditionally relied on running giveaways within their stores. They requested people to purchase something first to stand a chance at winning a prize. No, with the power of social media, more physical stores are simply getting people to enter their giveaways through social media.
This allows physical stores to build up their social media profiles so that they can effectively remarket customers that walk into their stores. Because social media marketing has become effective for physical stores, these stores don't always need customers to buy something first to enter.
However, the prize still has to be desirable to those who discover the giveaway on social media.
#10 – Clothing Store Giveaway
One of the most common giveaway prizes for a physical retail store is a fashion voucher. Fashion vouchers are great as everyone who enters the giveaway will be invested in your store. However, a fashion voucher prize isn't unique and enticing to most people because of how often retailers use it in their giveaways.
A unique idea for a giveaway prize can be tickets to a local event like a concert or fashion show. You can also include a restaurant voucher and a free outfit from your store. In other words, the prize can be a night out on the town.
If your store wants to run a giveaway before Valentine's day, then you could sponsor a couple to a date night. The prize can include one outfit, each from your store, and a limousine ride to a fancy restaurant.
The idea of providing the couple with clothes from your store will also be great publicity. You can share images of them on their night out on your socials.
More Giveaway Prize Ideas:
Your favorite team apparel
Brand giveaway (Nike, Adidas, Puma)
Sports lessons (for stores that sell sports apparel). Can be baseball, football, or basketball coaching sessions
#11 – Toy Store Giveaway
Again, a toy store voucher is still a good giveaway prize idea, but it just isn't unique and exciting enough to get people invested in your giveaway. An excellent idea for a toy store giveaway can be a back to school education pack.
The back to school pack can consist of school bags, stationery, lunch boxes, and books. Such a prize will make up a dream giveaway for parents who usually have to pay large sums of cash for their children's education.
The toy store will also be reaching out to the right audience, which is parents and children.
More Giveaway Prize Ideas:
Toy giveaway promoting a new line of toys or movie release (related to toy line)
Kids movie tickets
Theme park tickets
#12 – Gym Membership / Product Giveaway
Gyms are not retail stores, but they are physical businesses that can still benefit from a social media giveaway. An excellent prize for a gym giveaway can be a free membership valid for a specific duration of time.
For example, "The winner gets a 6-month gym membership" or 'use our gym for free over the next six months".
Such a prize can also work for companies within the health and fitness industry. Companies that manufacture supplements or gym apparel can also offer free gym memberships in their giveaways.
If your audience is made up of health enthusiasts, then a gym membership will attract the right crowd to your giveaway.
BPN (Bare Performance Nutrition), a company that manufactures health supplements, recently held a giveaway with VYPER. The first-place prize was a new home gym valued at $5K.
They do not sell or manufacture any items from the home gym prize. However, the prize still attracts its target audience.
More Giveaway Prize Ideas:
Fitness supplements (protein shakes and bars)
Fitness apparel and sneakers
Gym gear (workout gloves, water bottles, towels, or all items bundled into one prize)
Other Giveaway Prize Ideas
#13 – Vlogger Giveaway
Vlogging is the art of creating video blogs that are filmed, directed, and staring at a single ambitious vlogger. Modern social video platforms like YouTube and Facebook are homes to millions of vloggers.
The entry method into a vlogging career is as simple as using a smartphone. However, investing in better cameras, video equipment, and travel gear can be costly. A great idea for a vlogging giveaway prize can be a popular camera that is used by vloggers.
To make things a bit more fun, you can request vloggers to submit a video as the entry method to the contest. This way, your giveaway will also produce tons of user-generated content that can be used on social media.
If your brand does target vloggers and other people who love to travel, then you could host a giveaway to target those people. The prize can be a bundle of items suited for people that are on the move.
The giveaway above is aimed at photographers who use portable tripods. Instead of just giving away Tenikle tripods, the prize also includes a travel backpack, Airpods, and an Amazon gift card. This broadens the audience for the giveaway, allowing Tenikle to gain maximum exposure for their product.
More Giveaway Prize Ideas:
Vlogging camera
Tripod, microphone, and lighting gear
#14 – Travel Bundle Giveaway
Travel giveaways are exciting for social media users. They can simply enter your giveaway to stand a chance at winning a holiday to a fancy destination. You can host a travel giveaway with the prize being airplane tickets and accommodation to an exotic destination.
To spice things up a little bit more, you can add more interesting prizes to your giveaway. In the above giveaway that was hosted by Klook, They included a micro flight, yacht party, and travel kits to their giveaway.
Some giveaway prizes can be expensive and won't make sense when creating a budget for your giveaway. However, it is common for brands to host partner giveaways. This way, you and a few other brands can split the expense of the prizes and promote the giveaway together for maximum exposure.
More Giveaway Prize Ideas:
Real-World Examples of Excellent Giveaway Prizes
We regularly analyze giveaways to discover new ideas and strategies. You can find a ton of our giveaway examples and analysis on The VYPER Blog.
We are going back to a few of those giveaway examples that have chosen excellent prizes for their campaigns. Hopefully, these giveaway prizes will inspire your next prize choice.
Valentine's Day Giveaway – Bogart Beauty
Bogart Beauty is an Instagram Influencer that specializes in makeup, beauty, skincare, and health. They hosted a successful Valentine's Day Giveaway with a prize bundle made up of a bunch of smaller prizes.
The giveaway prize bundle consisted of:
Beauty and makeup gift cards
Hair salon blowout
Makeup application
Manicure and lashes
A large charcuterie board
Bogart Beauty didn't supply every prize. They, in fact, partnered up with other brands to create one massive prize bundle that would appeal to and attract a larger audience.
Key Takeaways
A massive prize bundle like the one above makes the giveaway more appealing to enter. A larger prize will also attract a larger audience.
The prize is relevant to the audience that Bogart Beauty wishes to attract.
Partner giveaways allow multiple brands to create one massive giveaway. Each brand sponsors a prize and helps out with promoting the giveaway. The brands then distribute the leads (acquired from the giveaway) among each other.
New Years Giveaway – Throught the Looking Glass Studio
Through the Looking Glass Studio is a photography studio that regularly promotes itself on Facebook. They hosted a giveaway close to New Years Day to promote their Facebook Page and showcase their work (portfolio).
The giveaway prize was photo shoot sessions. These sessions consisted of:
In studio sessions with backdrops
For a child, adult, or maternity
Wardrobe included
Images and print release included
Giving away a photo shoot as a prize is great because you will develop a list of leads that are interested in doing photo shoots with you. Including the best photos of the year in the giveaway post is the perfect opportunity to promote their work.
Key Takeaways:
The giveaway prize attracted people who would physically be able to attend a photo shoot. The brand's target audience.
Displaying a portfolio of photoshoots is an excellent way to promote the brands work and to add extra value to the prize.
Q&A Giveaway Prize
❓️ Can I use an iPhone or TV to get the most leads from my giveaway?
Yes, you can if you are looking to get the most leads possible. However, you may end up with too many leads that have little to no interest in your brand (low-quality leads).
❓️ How do I get the best quality leads from my giveaway?
Choose a giveaway prize that will attract your target audience.
❓️ My own product does not have a high monetary value. How do I attract a larger audience by increasing the prize value?
You can host a partner giveaway. Partner up with brands that compliment your product and ask them to sponsor a product from their side. This way, your giveaway prize can be a large bundle of products that can attract a larger audience. Your giveaway partners can also help you to promote the giveaway.
TL;DR
Social media giveaways are becoming increasingly popular on large platforms like Facebook and Instagram. The success of a social media giveaway is determined by the actual prize and its ability to draw an audience that's ideally suited to your business.
If you want to stay ahead of all those brands that are currently hosting giveaways, you will have to host a giveaway with a unique and special prize.
Do you have any good ideas for a giveaway prize? Let us know in the comments below.
Jack Paxton
Jack Paxton is the co-founder of VYPER, a marketing tool that helps brands build email lists, social followings, and revenue using viral giveaways, referral, and reward programs. After millions of dollars spent testing different marketing strategies at his marketing agency. He then also co-founded Hyax a fast, conversion & design-focused course and funnel builder for creators.