Social media contests can generate massive amounts of new leads from a single campaign.
Brands love contests because of this and the virality that comes with it.
One of the most viral types of contests is online dog contests.
Everyone, from pet stores to fashion brands, is hosting their very own dog-themed contest.
Why? Because of the cute viral content it produces!
So, If you are looking to get started with your dog contest, then this post is for you.
We compiled a list of excellent dog contest ideas and prizes. There's also a step-by-step guide on how you can set up an online dog contest.
Read on to get started…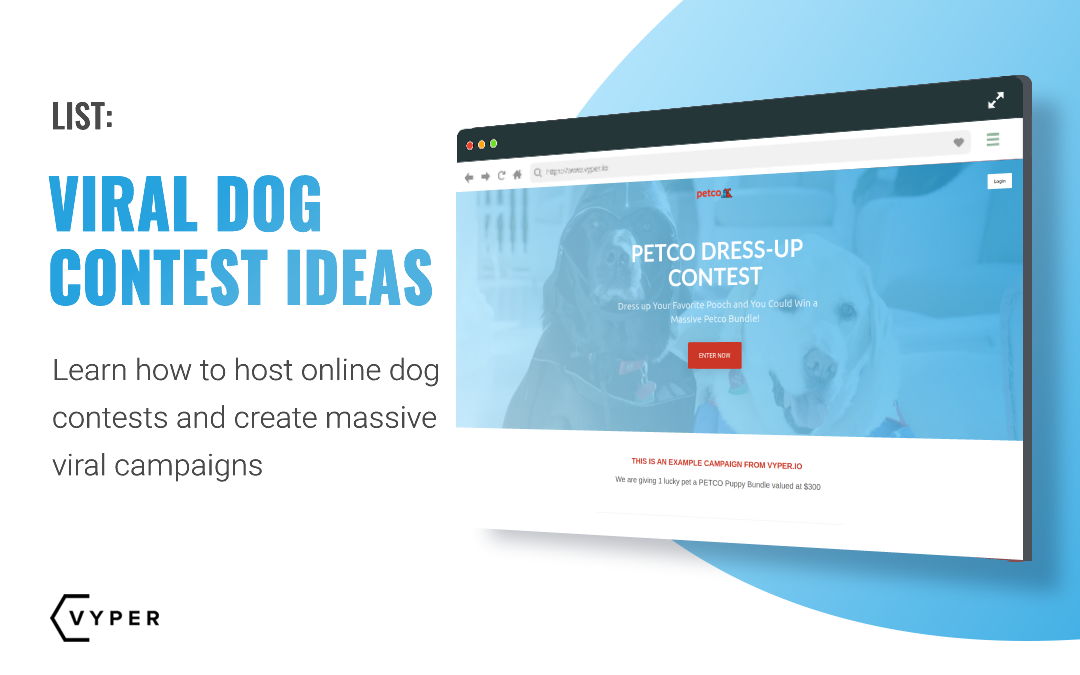 FREE DOWNLOAD: Get all Our Contest & Giveaway Marketing Guides, Checklists, and tutorials that have helped 100's of brands collect 15k+ emails in under 21 days!
Dog Contest Ideas
Dog contests are fun and enjoyable for both the brand and its audience. There's just so much you can do with a dog contest that's hosted on social media.
We worked hard to put together some fantastic dog contest ideas that will hopefully inspire your next contest.
Please feel free to use any of the ideas below.
If you do have ideas of your own, then please share them with us in the comments section below.
1. Dog Photo Contests
Photo contests are incredibly popular on social networks.
The general premise – Ask social media users to submit a picture to enter your photo contest. A winner is then chosen randomly or by vote.
The same concept can apply to a dog photo contest, in which the owner submits a picture of their pet to gain entry.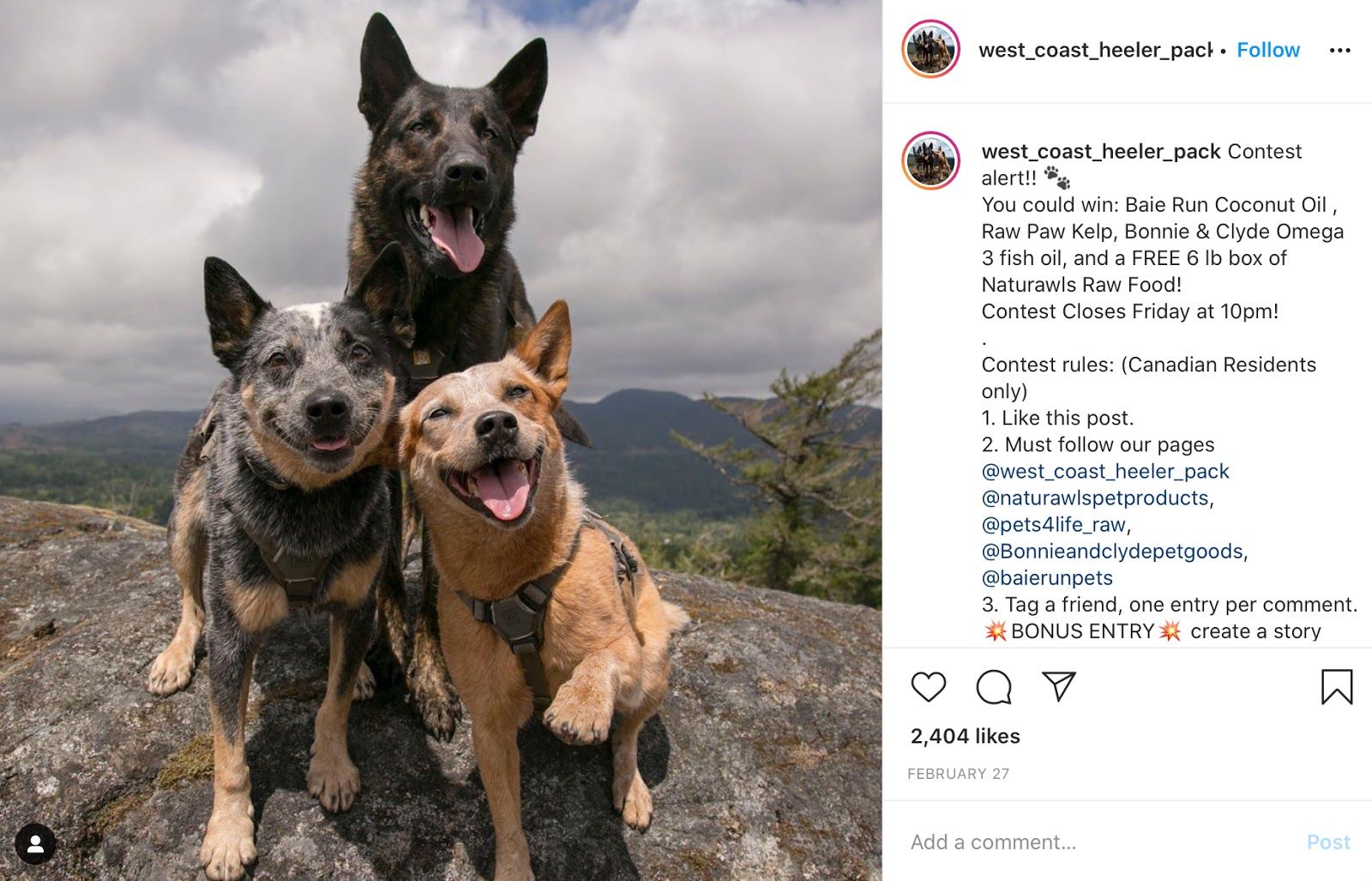 One of the best ways to pick out a winner is to generate one randomly. This way, everyone has a chance of winning, regardless of their skill.
Selfie contests are also popular. You can host a pet selfie contest, in which users submit a picture of themselves holding their dog.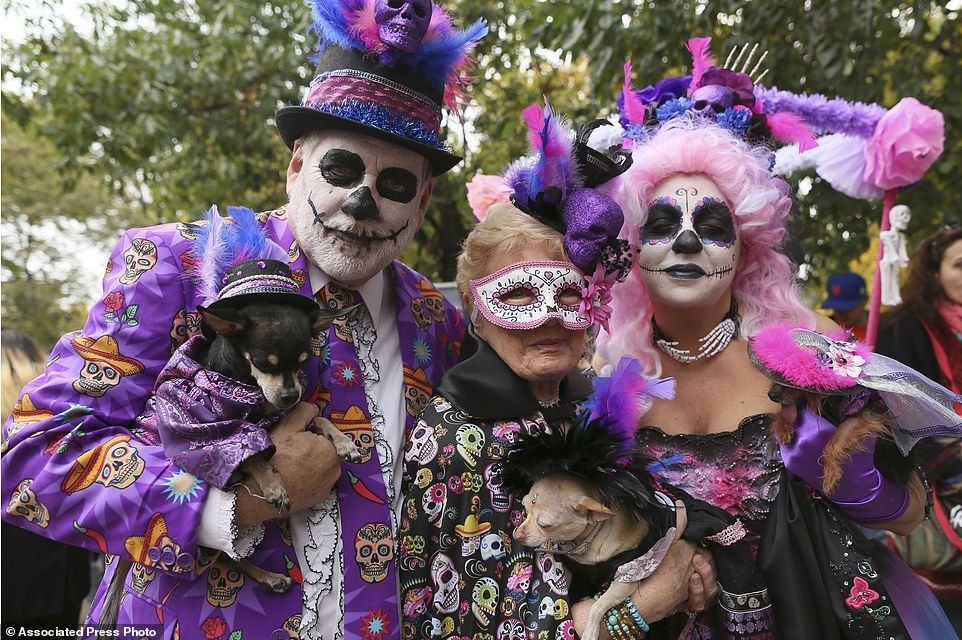 If you want to take your photo contest into cuteness overload territory, then perhaps you could host a puppy photo contest.
Examples and Prizes
Puppy photo contest
Puppy selfie contest – Users must submit a picture of themself and their pet
Dog action photo contest – Users must submit a picture of their dog performing specific actions. This can be a photo of them in full flight when jumping in the air, or a photo of them running at full speed
Prize Ideas – Fun and visual items can make for great prizes. This can be collars, chains, dog grooming kits, and even dog clothing.
Benefits
A fun contest
Can be held with a theme (Easter, Christmas, etc.)
Can produce user-generated content
Brand building opportunity – You can request contestants to place your product in their pictures.
Best For
Pet stores
Pet brands
Grocery stores and supermarkets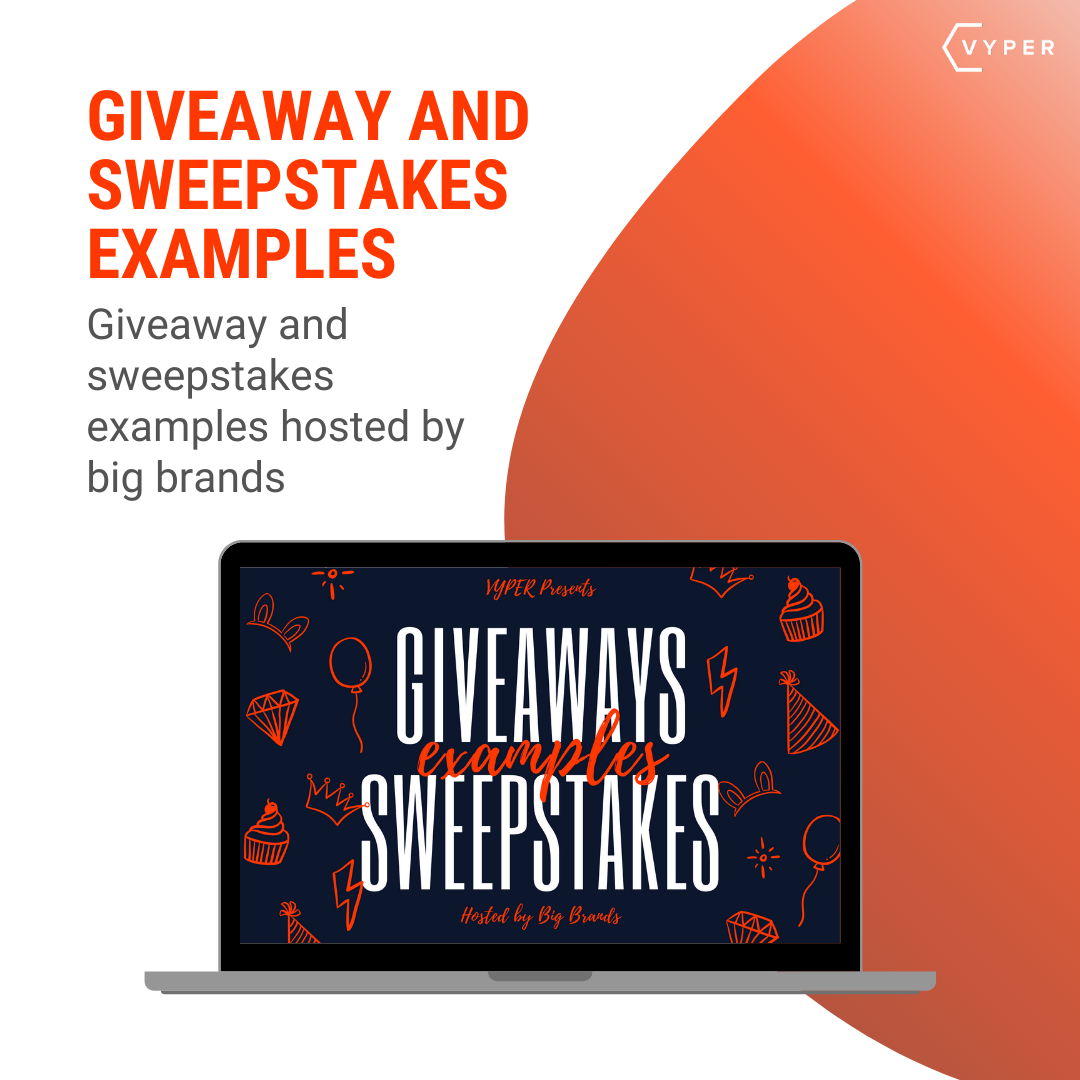 Lay's expertly used an online photo contest to create brand awareness for their newly designed packaging.
Read the full post here to learn more.
2. Guess the Breed Contest
This can be a fun guessing game for you and your audience.
For this contest, you will have to upload a picture of a specific breed of dog. Not the entire pic, just a portion of the image that displays only a part of the dog's body.
This could be the ears, paws, mouth, etc. Social media users can then enter the contest to submit their answers.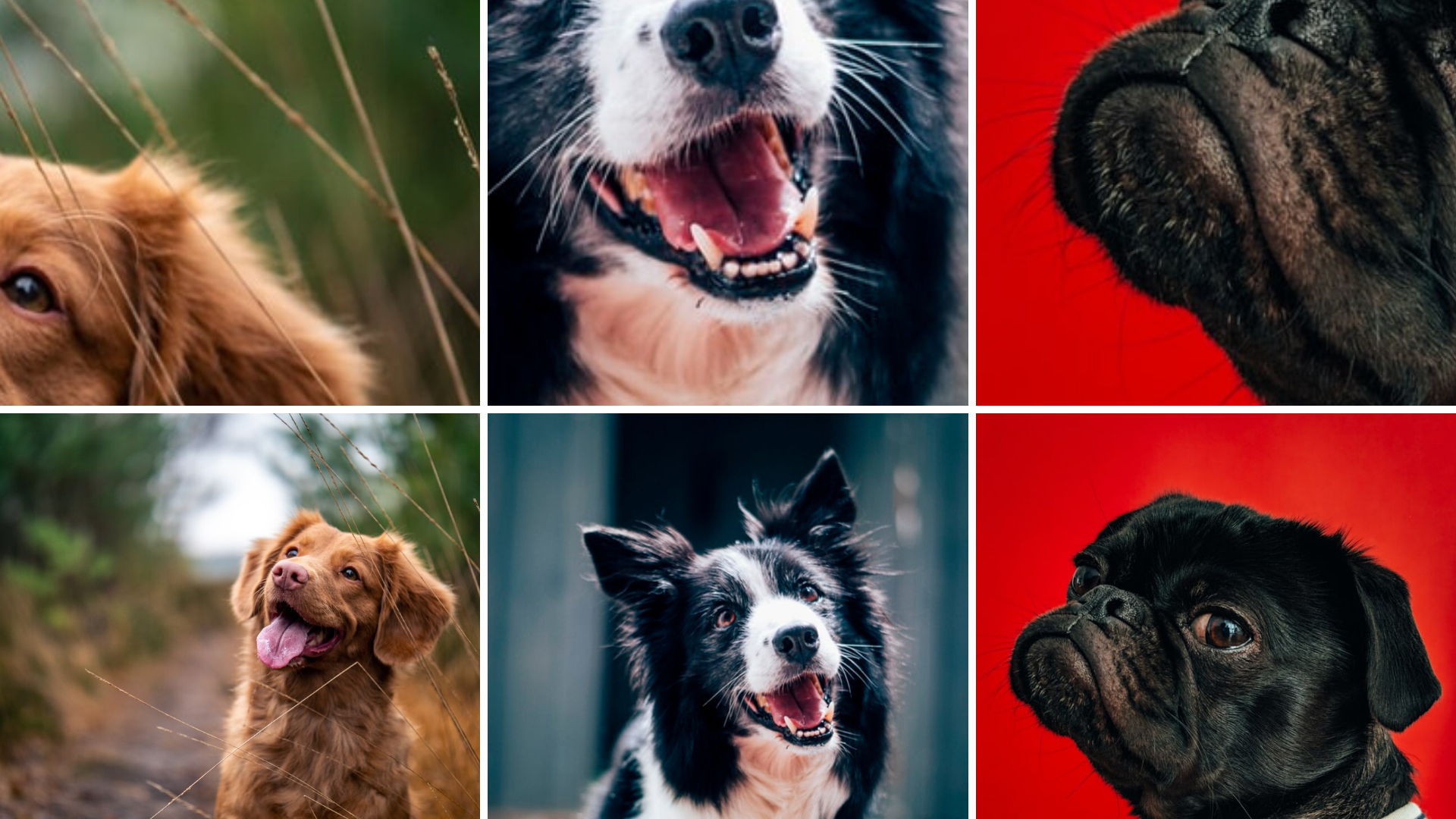 You can share the top row of images (pictured above) on social media, then ask users to guess the breed. Once the contest is over, you can then reveal the bottom row of images along with the respective breed names.
Alternatively, you could also ask users to submit their own pictures for your audience to guess. This is perfect if you are short of ideas.
Asking your audience to submit their pics is also great for producing user-generated content.
Examples and Prizes
Guess the puppy
Guess the purebred
Prize Ideas – Puppy toys, free supply of dog food, or Pet store gift cards and vouchers.
It's important to remember that this contest can potentially attract all kinds of people. Even those that don't own a dog or any other pet.
If this is the case for you, then perhaps you can use a mall gift card as the price. Especially if that mall has a pet store.
This way, people will have the option to get something for their pets and themselves.
Benefits
A fun contest for your followers
Kid-friendly
Can potentially produce user-generated content
Best For
Pet stores
Pet brands
Dog shelters
Dog food and nutrition brands
3. Pet Prom (Dress up) Contest
This can potentially be the cutest contest of them all!
Ask dog owners to dress up their pets as if they were going to a high school prom. Then snap a picture or two and submit the media to gain entry to the contest.
You can also allow contestants to work with themes. This way, they can add cute little backgrounds and other props when taking their dog's picture.
There's no need to stick to a prom theme. You can host a similar dress-up contest with other themes such as:
Adventure theme – Indiana Jones, Lara Croft, Back to the Future
Work theme – Dress your pooch in proper office work attire
Music theme – Make your pet look like Taylor Swift or even Travis Scott!
Political theme – You know where we are going with this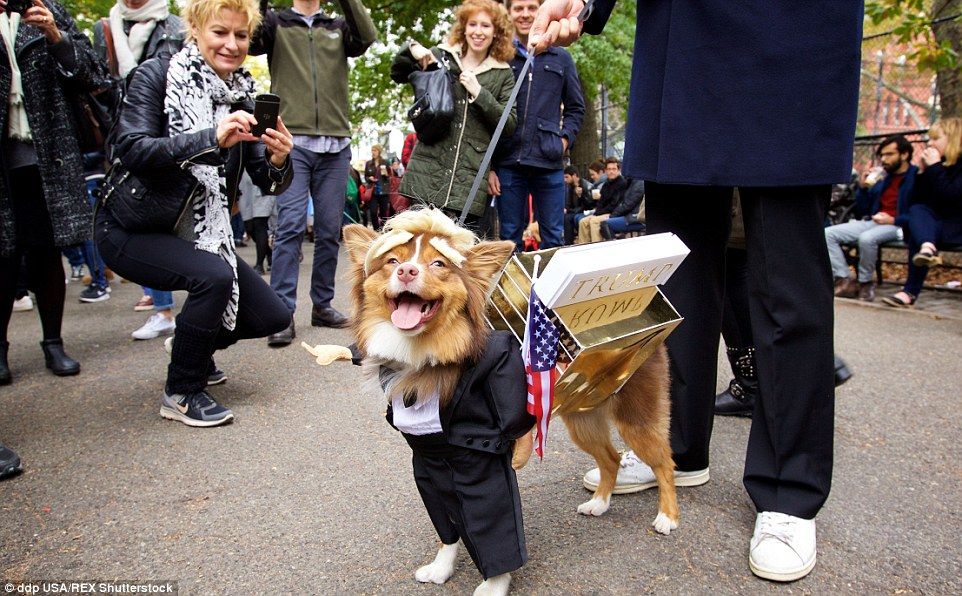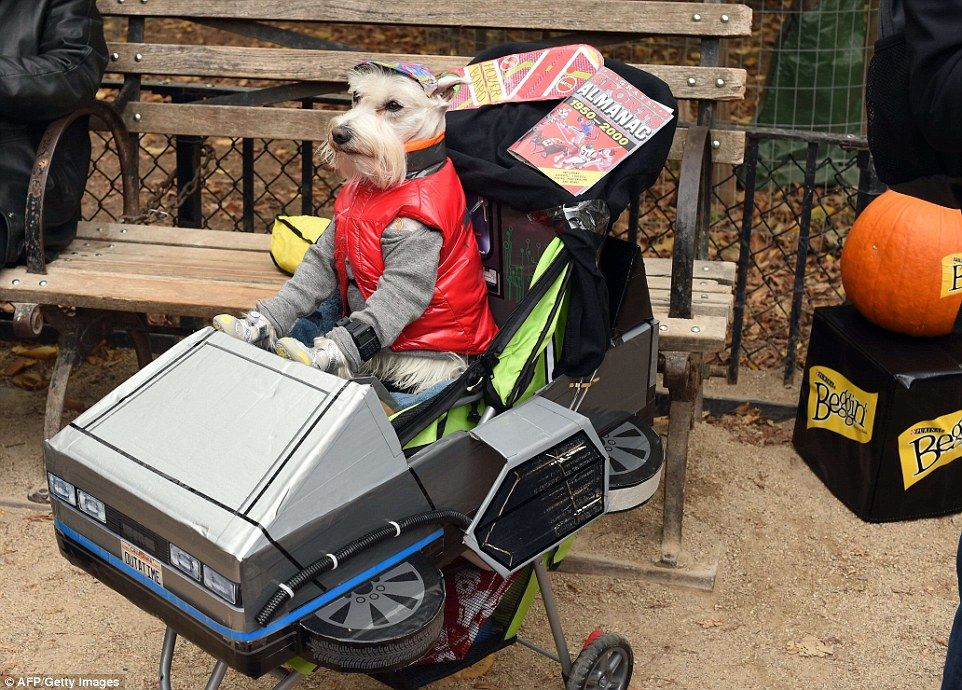 Examples and Prizes
Halloween puppy contest
New years eve dress-up contest
Themed dress-up (see examples above) contest
Prize Ideas – Pet store vouchers, dog training classes, grooming parlor vouchers.
As you can see (in the images above), some owners go all out when dressing up their dogs.
Because of this, you should try to set up a valuable prize for the winner, along with smaller gifts or discounts for everyone else that competes.
A discount for non-winners is a good gesture from your side. Especially to those who put in the effort to take part in your contest.
Benefits
A fun contest for your followers
Can produce user-generated content
A campaign that can generate tons of cute viral content
Potentially viral campaign
Best For
Pet stores
Pet brands
Entertainment retailers that sell movie, music, and gaming content
Grooming parlors
Puppy training services
4. Caption This Dog Contest
In a 'Caption This' contest, users must submit a description of a picture that's supplied by the contest host.
The person with the best description (or funniest or catchiest) wins.
Dogs are smart, witty, and at times, funny creatures. They are also very photogenic, which makes for some great pics that can be used for a caption this contest.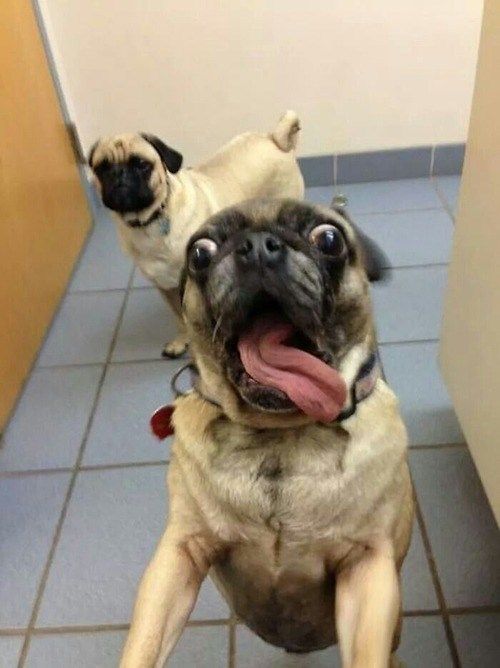 For example, take the above picture. I'm sure you already have a dozen things that you can use to caption that picture.
Now imagine the number of comments, likes, and shares that image will get on social media with a caption contest.
To summarise, if you are looking to boost engagement on your social media shares, then host small caption contests regularly.
Examples and Prizes
Halloween caption contest
Movie caption contest – A contest that requires users to use famous quotes from movies as a caption
Song caption contest – Same as above, but with this one, users must submit popular music lyrics as a caption
Prize Ideas – Pet store vouchers, cash prizes, mall gift cards.
You can use a caption contest to engage your audience on social media. Do this regularly to effectively grow your audience over time.
If this is your strategy, then your prize does not have to be of high monetary value. You can use this strategy to set up an Evergreen Contest Funnel (more on this below).
Pet store gift cards should be fine. You can even give away movie tickets (best for movie-themed caption contest) or restaurant vouchers.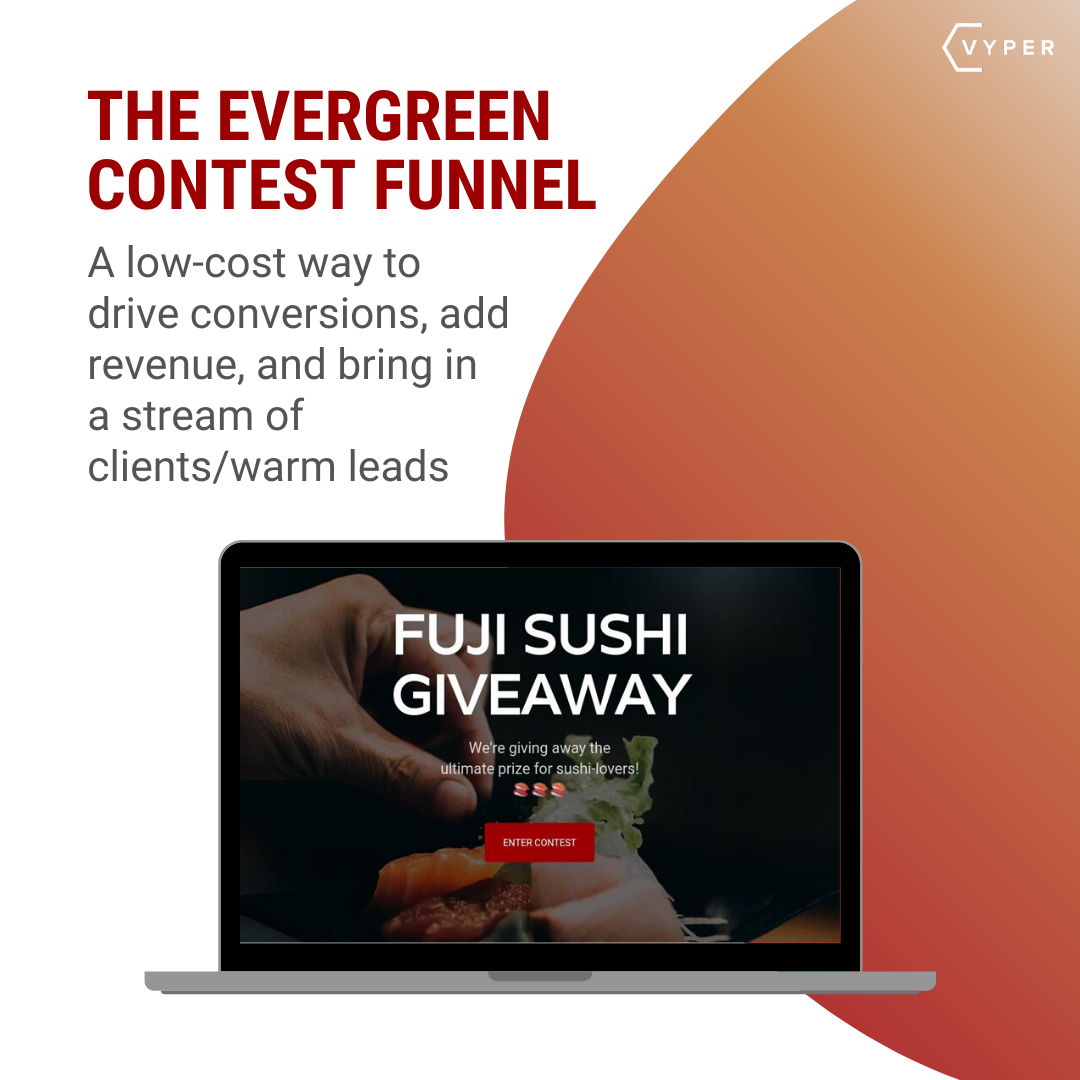 Hosting low-cost contests regularly will help you to consistently grow your business.
Want to learn more? Read the full post here.
Benefits
A fun contest for your followers
Can lead to high engagement on social media posts
Can host this contest on a regular basis
Best For
Pet stores
Pet brands
Entertainment retailers that sell movie, music, and gaming content
Malls and shopping centers
5. Best Trick Contest
This is a challenging contest that will require people to submit a video of their best dog trick.
Contestants can record a short video of the trick, then submit it through the contest website to stand a chance of winning.
An excellent example of this type of contest is America's Best Dog Trick Contest that was hosted by Zoom Room.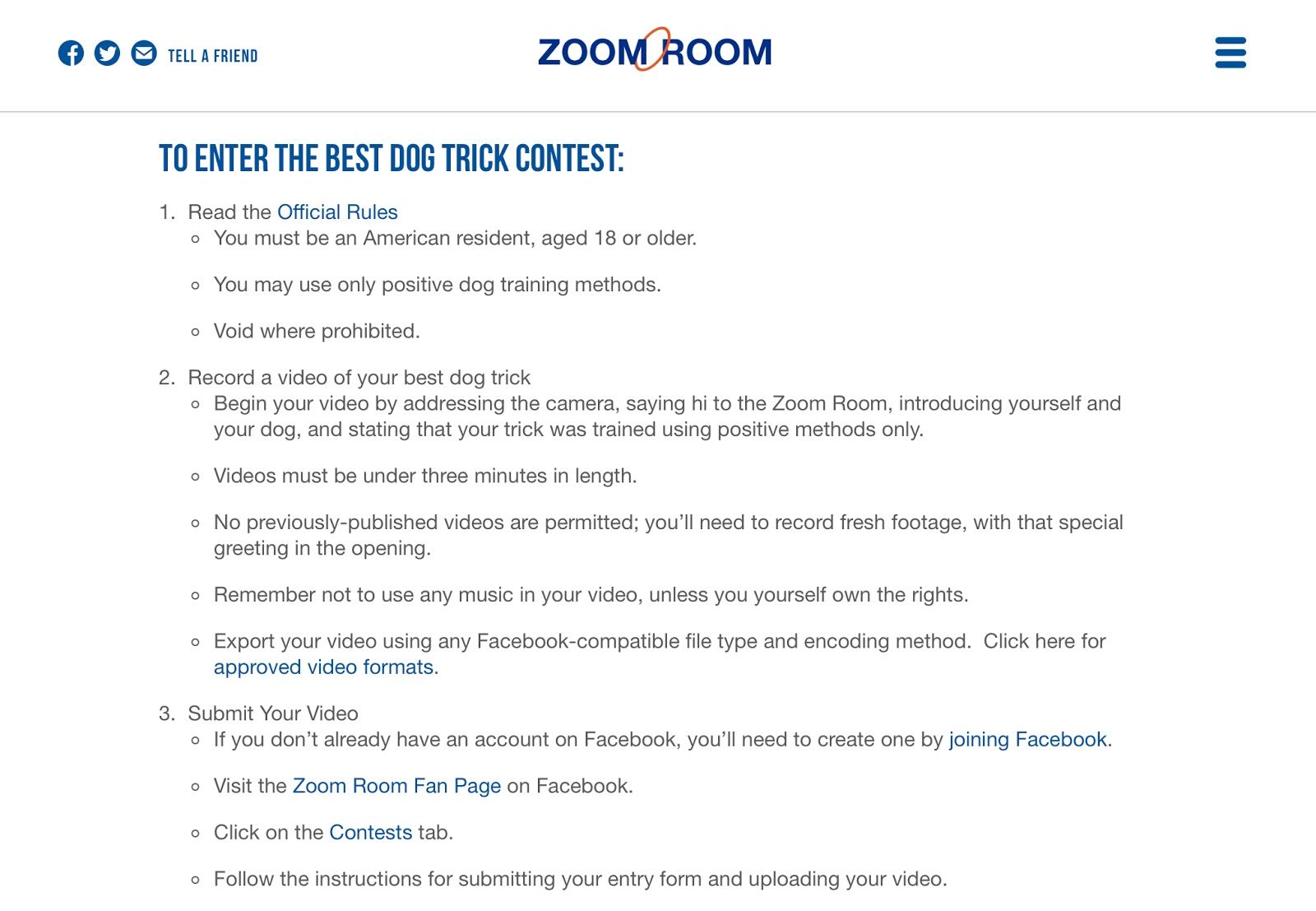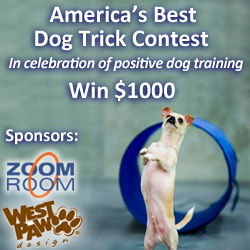 The method of entry for this contest is more advanced than normal, which is why a more substantial prize will be required.
Zoom Room's prize for their contest was $1,000 cash and a collection of toys.
Their prize was certainly worth the trouble that contestants would have gone through to film their dog trick.
However, there was no mention of participation prizes. This is recommended given the nature of the entry method.
Examples and Prizes
Best dog trick contest
Most tricks in 30 seconds contest
Most adorable dog trick contest – Dogs will have to act out scenes from a movie
Prize Ideas – Pet store vouchers, cash prizes, dog training gear, and classes.
This contest will require a grand prize that will be worth the effort that goes into recording and submitting a dog trick video.
It is recommended to have prizes set up for the top 3 contestants. Everyone who did not win should also get something for participating in your contest.
Because of the nature and scale of this contest, it's best to host it annually (or every six months).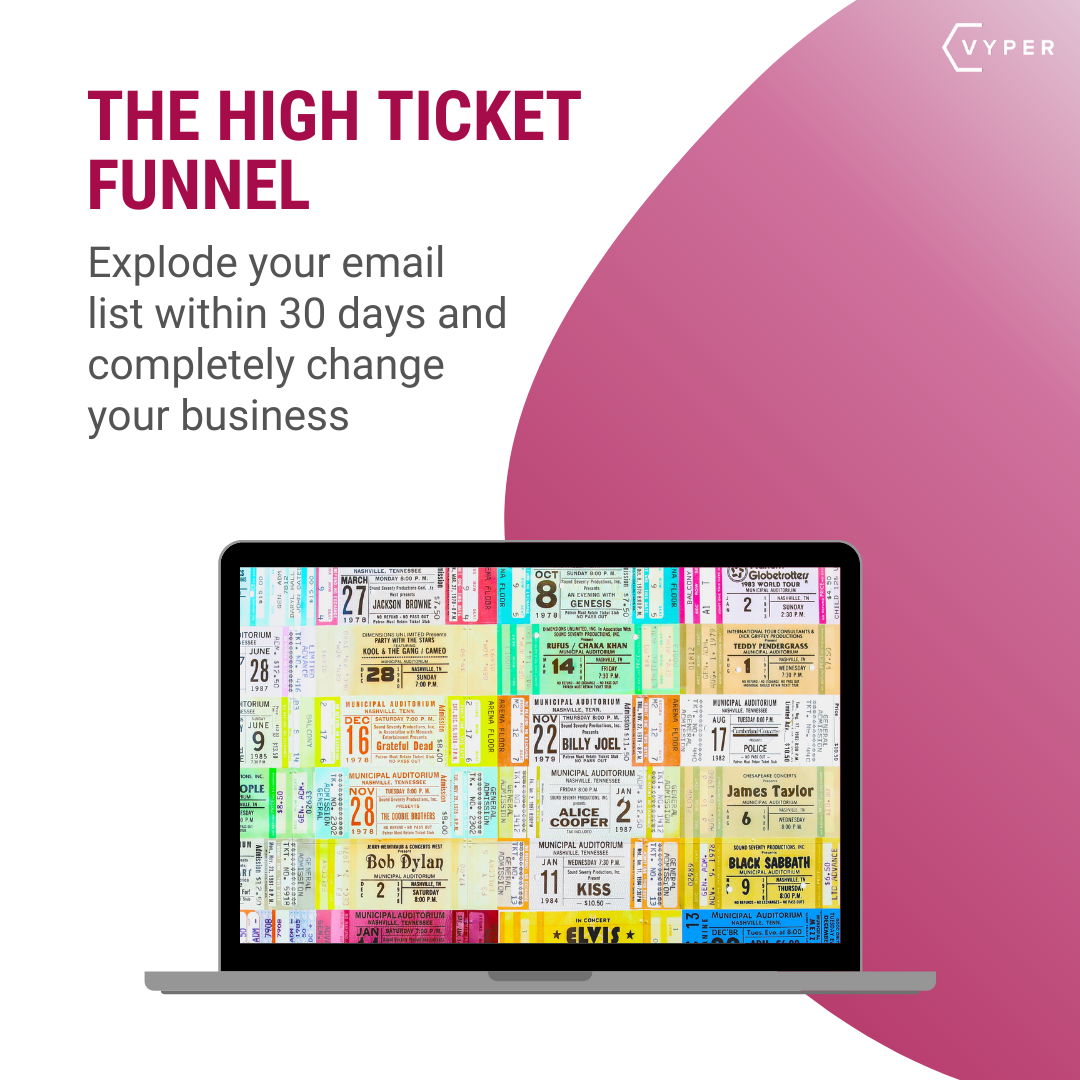 Set Up a single massive campaign that will generate tons of new leads for your business.
Want to learn how? Read the full post here.
Benefits
A competitive contest for a target audience
Can work as a large scale marketing campaign
Best For
Pet stores
Pet brands
Puppy training brands and businesses
Dog parlors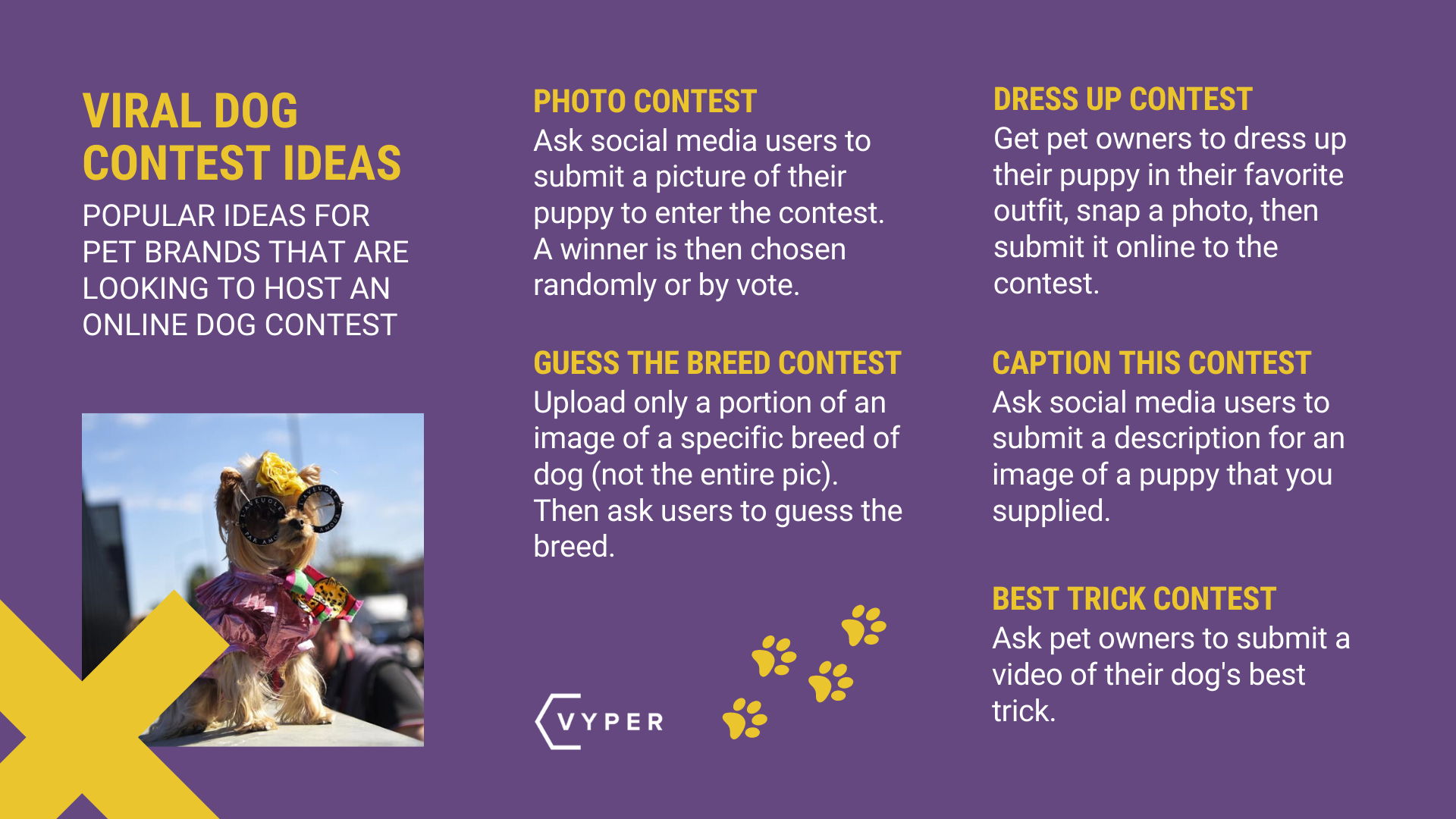 Dog Contest Prize Ideas
Choosing a prize for a dog contest is much more challenging than it seems. Especially if there is some difficulty involved in the entry method.
A simple photo contest will still require a contestant to spend their time trying to get their pet to pose for the picture.
Your prize will have to be worthwhile for the more challenging contests.
If you choose your own product that is of low monetary value as the prize, you can still add more products to create one large prize bundle.
There are some great examples of Dog Contest prize bundles and other prizes below:
Dog Parlour Gift Card
Dog grooming parlors are amazing. They clip nails, bathe, shampoo, and wash your favorite pets.
Everyone should be taking their pets to grooming parlors. However, it's not always feasible for most people.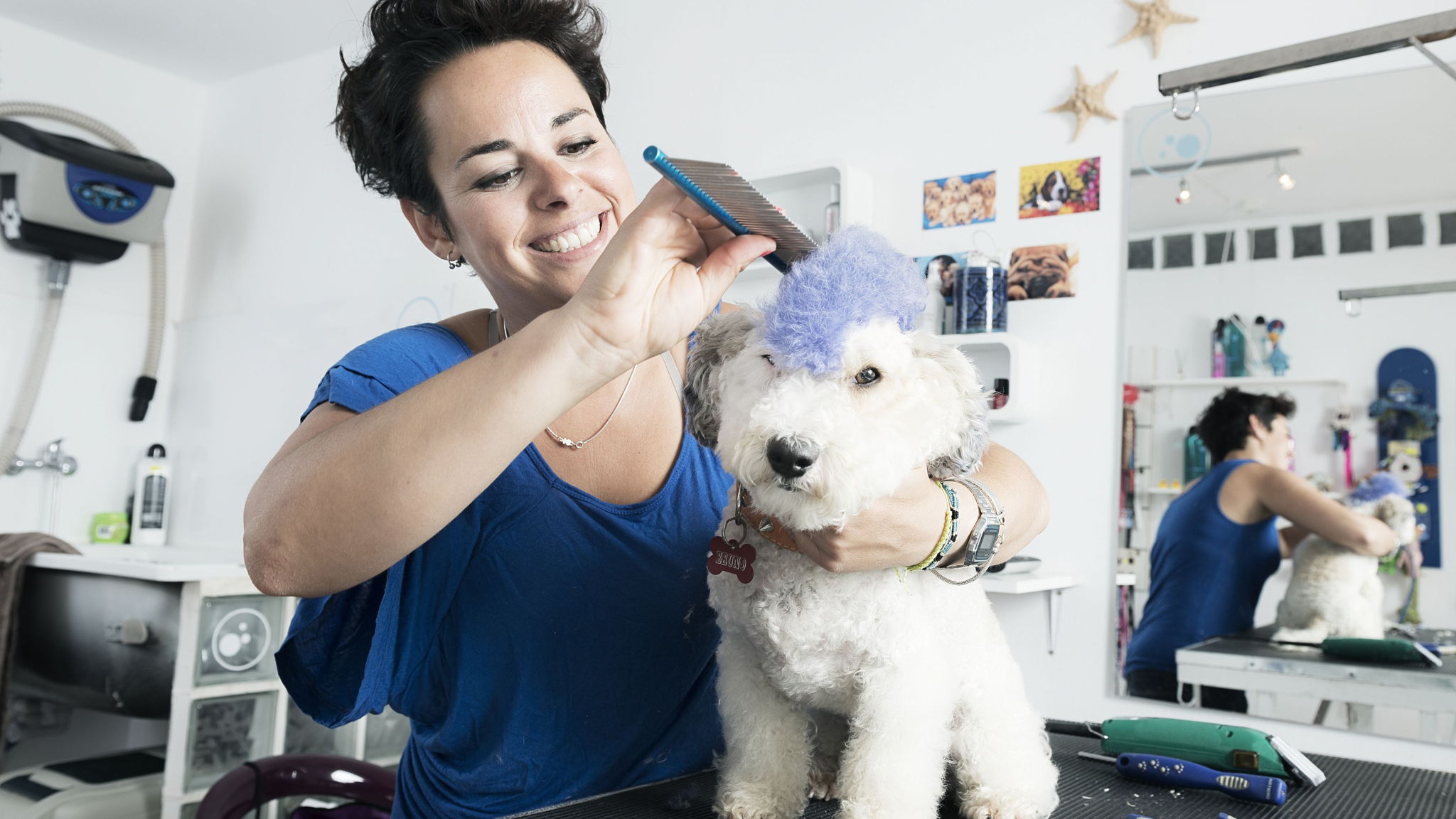 Offering a voucher or gift card for grooming sessions can be an excellent prize for a dog contest.
If you are a dog grooming parlor that is hosting a giveaway, then you could design an exclusive grooming package as the prize.
Puppy Training Course
A puppy training course is an ideal prize for those 'cutest puppy contests.'
Effectively training your puppy early on can help you develop a healthy and well-behaved dog.
Pet owners will love an opportunity to have their puppy trained for free. Most owners put off dog training because of the expenses involved.
Your puppy training prize will undoubtedly attract a bunch of dog owners that are not ready to invest in training.
Puppy Training Gear
This prize includes crucial dog training gear that you will need early on.
From the moment your puppy enters your home, you will need to train him/her to sleep in a designated area and go to the potty. A dog crate and some potty pads are two essential items to this training.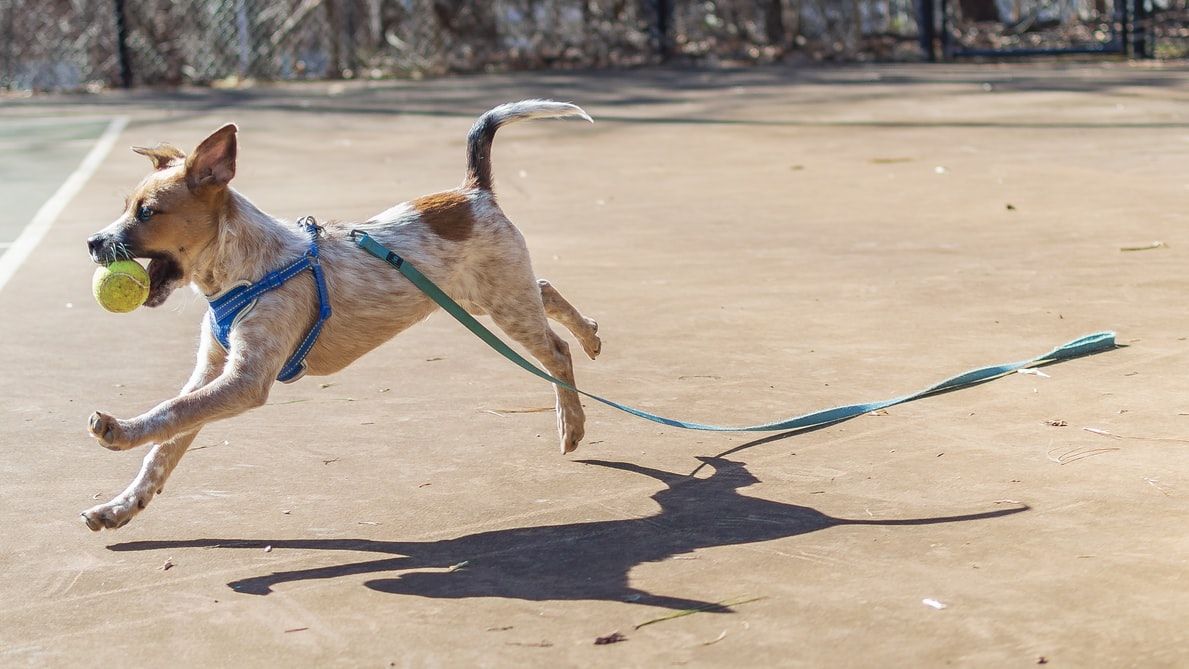 A puppy training bundle prize can consist of:
Crate
Puppy potty pads
Lease with harness
Clicker
Reward treats
Puppy playpen
Barriers, puppy gates
This prize will ideally attract people who are interested in getting a puppy or have just acquired a new puppy.
If these people are your target audience, then you should design your contest accordingly.
Your contest will have to cater to those who have yet to get a puppy.
For example, if you are hosting a cutest puppy contest, you can allow people without pups to enter to vote.
Prize Bundle Example #1
Doggie Lawn (grass potty pad manufacturers) had an excellent prize bundle for their contest.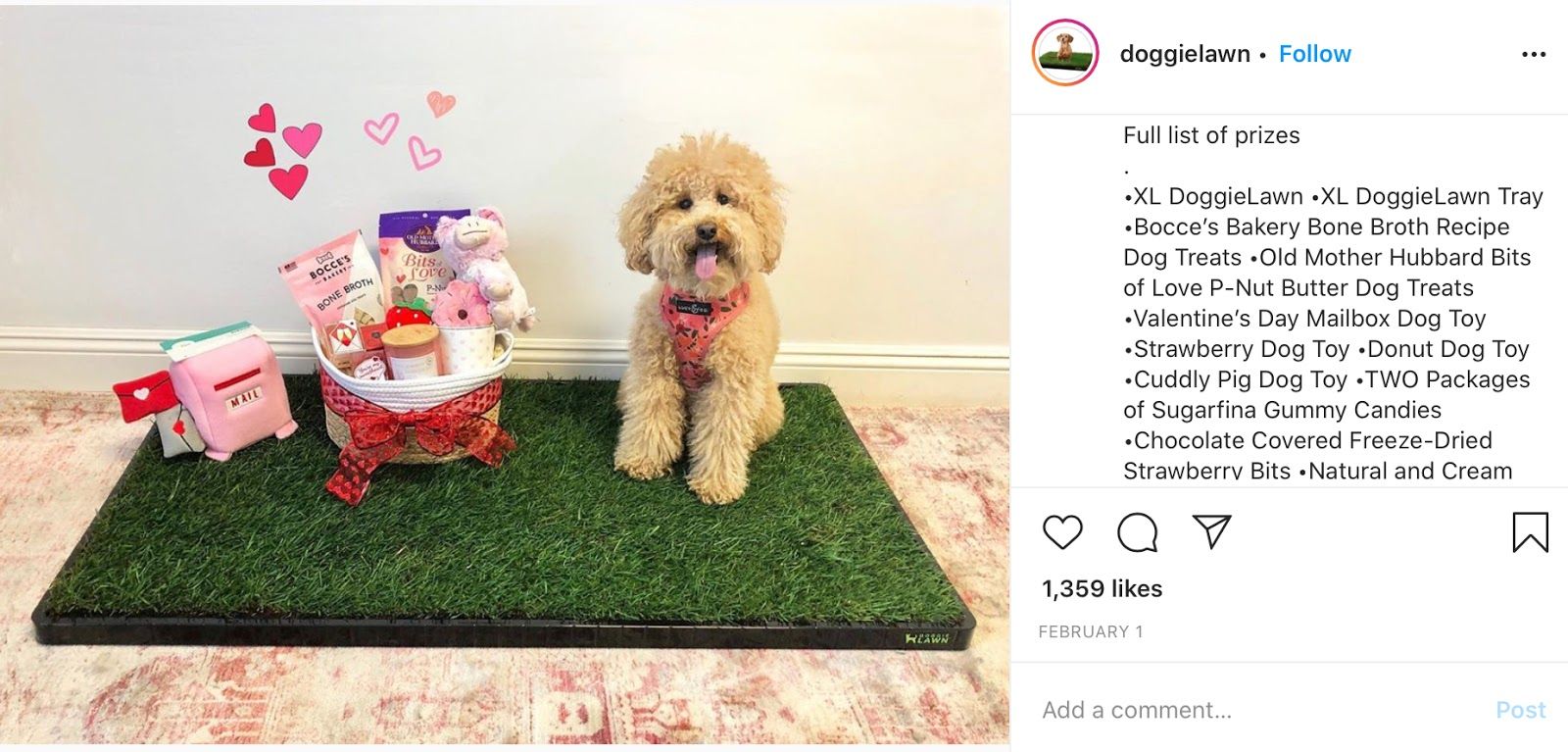 The bundle included:
Doggie Lawn grass potty (their own product)
Various doggie treats
Dog cuddle toys
Doggie Lawn took a good approach to their prize by adding more products to complement their own product.
This made the prize more enticing as opposed to having just a grass potty as the prize.
Prize Bundle Example #2
A puppy starter pack can be another great prize for the cutest puppy contest.
Owners who just received their puppies will love a prize that consists of essential items like:
Collar
Food Bowl
Dog bed
Shampoo
Dog carrier or crate
These essential items can be pricey for dog owners if they acquire them all at once early on.
Puppy owners that can be spared from having to buy these essentials will find your contest enticing.
Creating a Dog Contest with VYPER
Now, you have your contest idea and your contest prize. The next step would be to find a place to host your contest online.
VYPER has all the tools you need to host a successful contest. You can host the contest on VYPER's platform, or you can choose to embed an entry form widget.
To get started, go to your VYPER dashboard and select 'New Campaign.' Then select the 'viral giveaway/contest' template.
The template already has all the elements you need to host a contest.
Your next step would be to replace the text with your text (as shown below).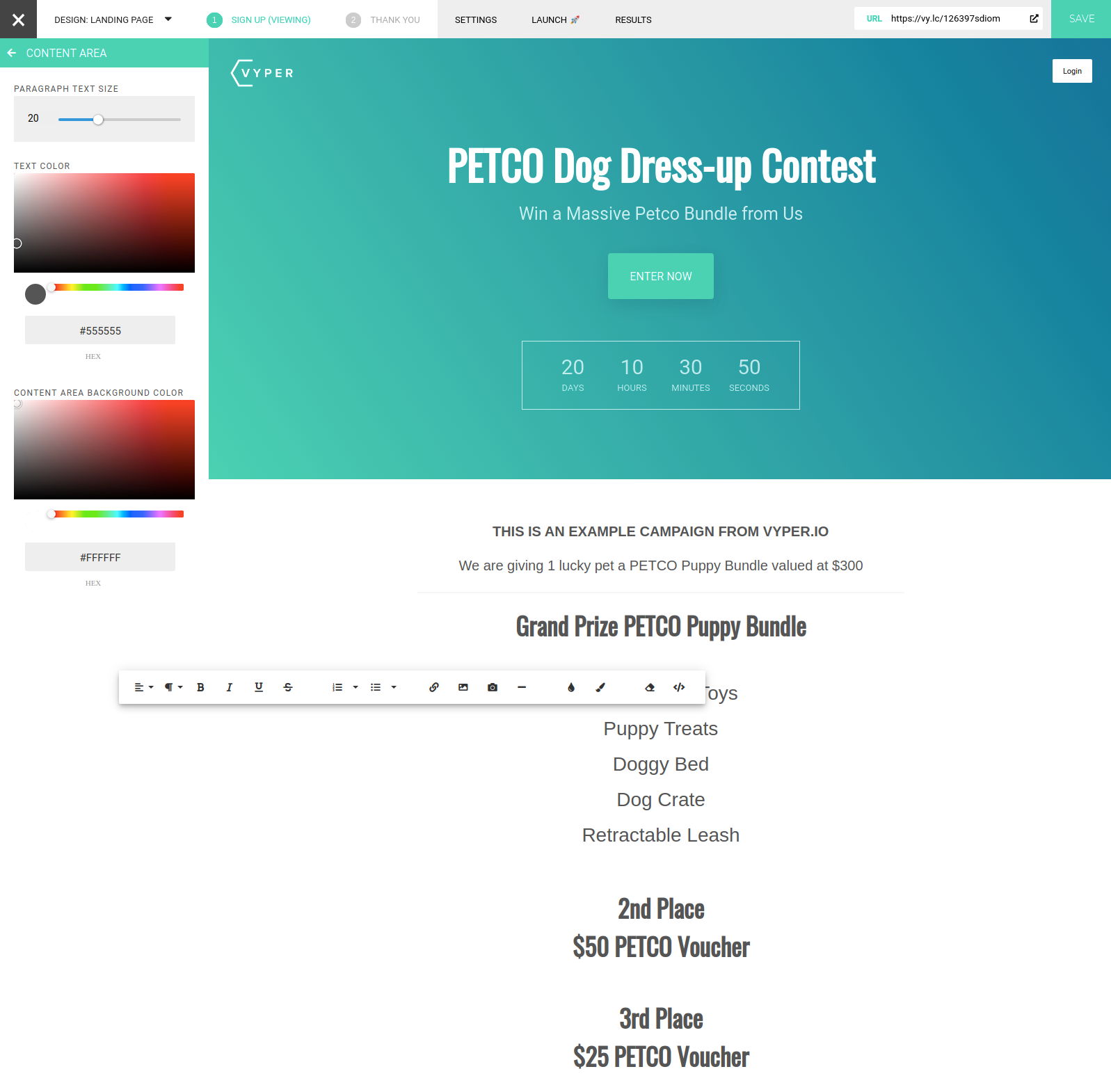 After editing the contest and prize details to match your dog contest, you can now add some images and make minor adjustments.

Adding Media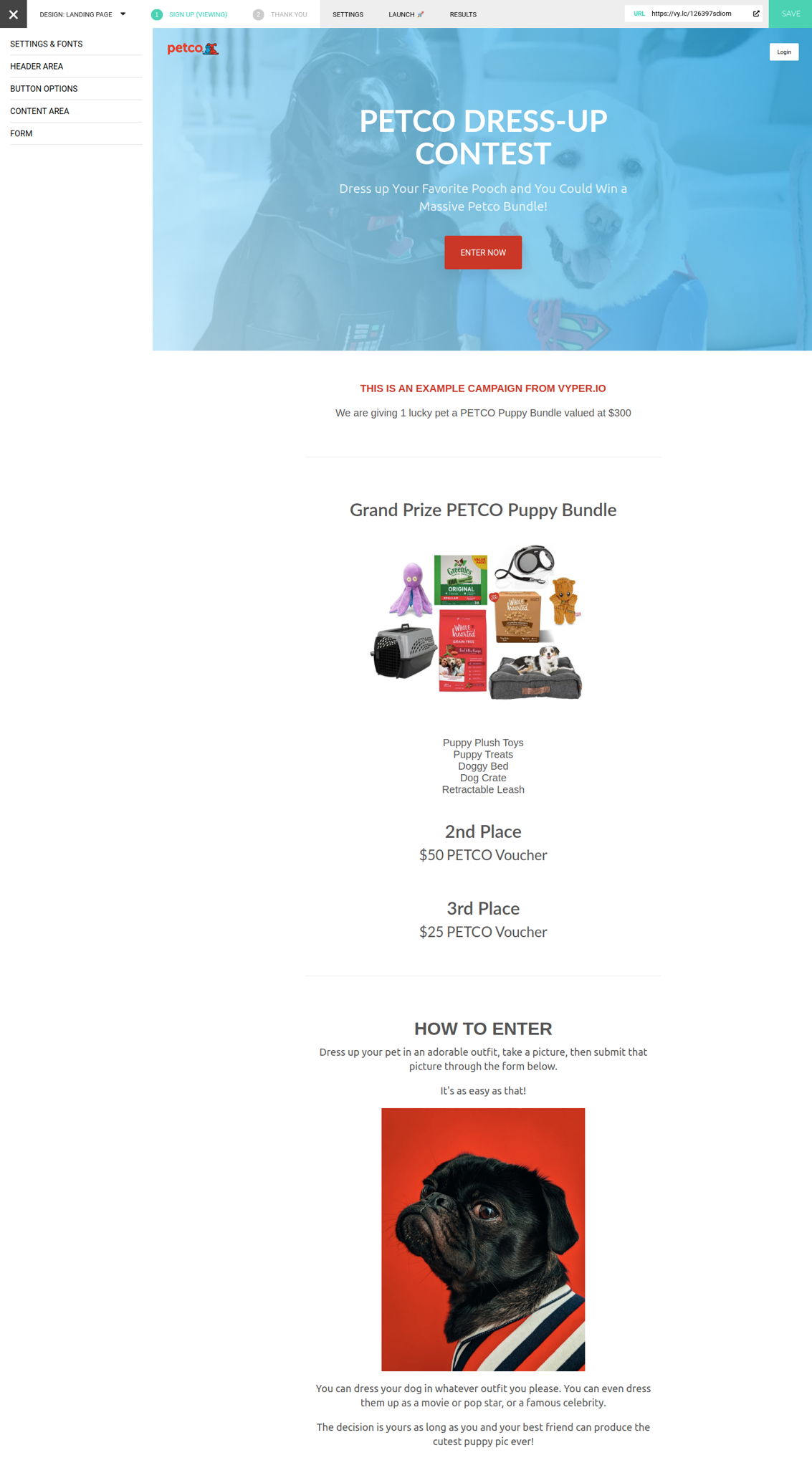 For this example contest, we changed the background header image. A background image isn't compulsory, but it does help to give your contest an identity (and clear intent).
You can also add a short video in the header section. Creating a video for your contest is highly recommended, as it allows you to explain the details of your contest easily.
This comes as opposed to someone having to read the instructions.
Next up was adding an image of the prizes and a contest entry example at the bottom. These images help to quickly describe the prize and what a contest entry should look like.
Giveaway Placement Types
The landing page is ideal for brands that want to host their dog contest online, but not on their website.
Creating a landing page with VYPER is also ideal for pet stores or other brands that do not have an active website.
Now, for those brands that do have active websites, embedding the VYPER contest form or Pop-up widget is an excellent way to host the contest on their website.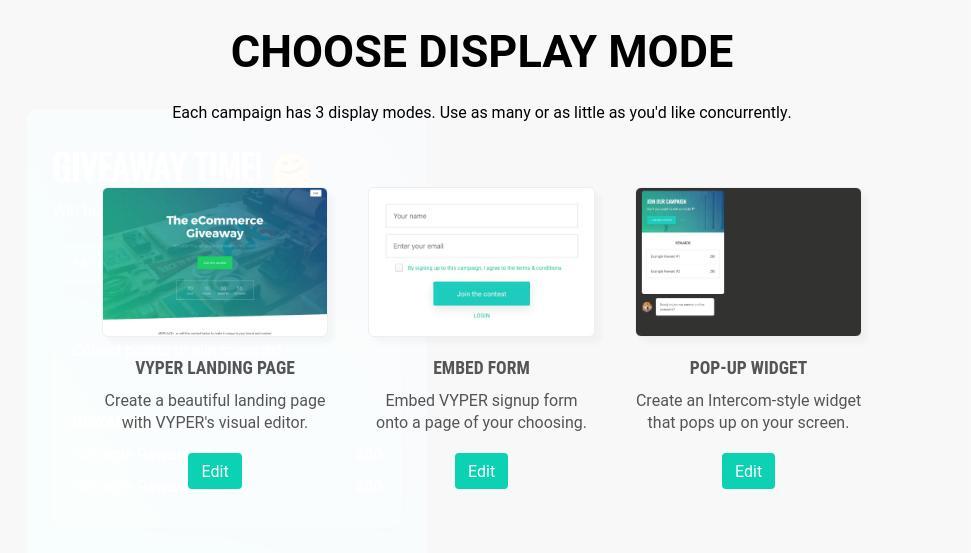 The embed form will allow you to embed your dog contest's from anywhere on your website. It can be in a blog post, your home page, or on a dedicated landing page.
Wherever you do place the widget, you can simply direct people to that page to enter. To start, all you need to do is click on the 'edit' button, then grab the code and paste it on the page you wish to feature the form.
Seeing that the entry form widget is on your website, this strategy will help you boost website traffic through your dog contest.
The pop-up widget is just as impressive. People who visit your website will find a tiny pop-up at the bottom of the screen.
After they click on that widget, it will expand into a contest entry form. This is an excellent way of having a contest entry form available all over your website.
Again, you need to click 'edit' under 'pop-up widget'' (pictured above), grab the code, then paste it on the pages where you want the widget to appear.
Additional Header Elements
The header area of your contest landing page is the most valuable piece of real estate. It is the first thing that a visitor will see when they reach your website.
Because of this, it is recommended that you make the most of the header area.
You can do so by adding a video and a countdown timer.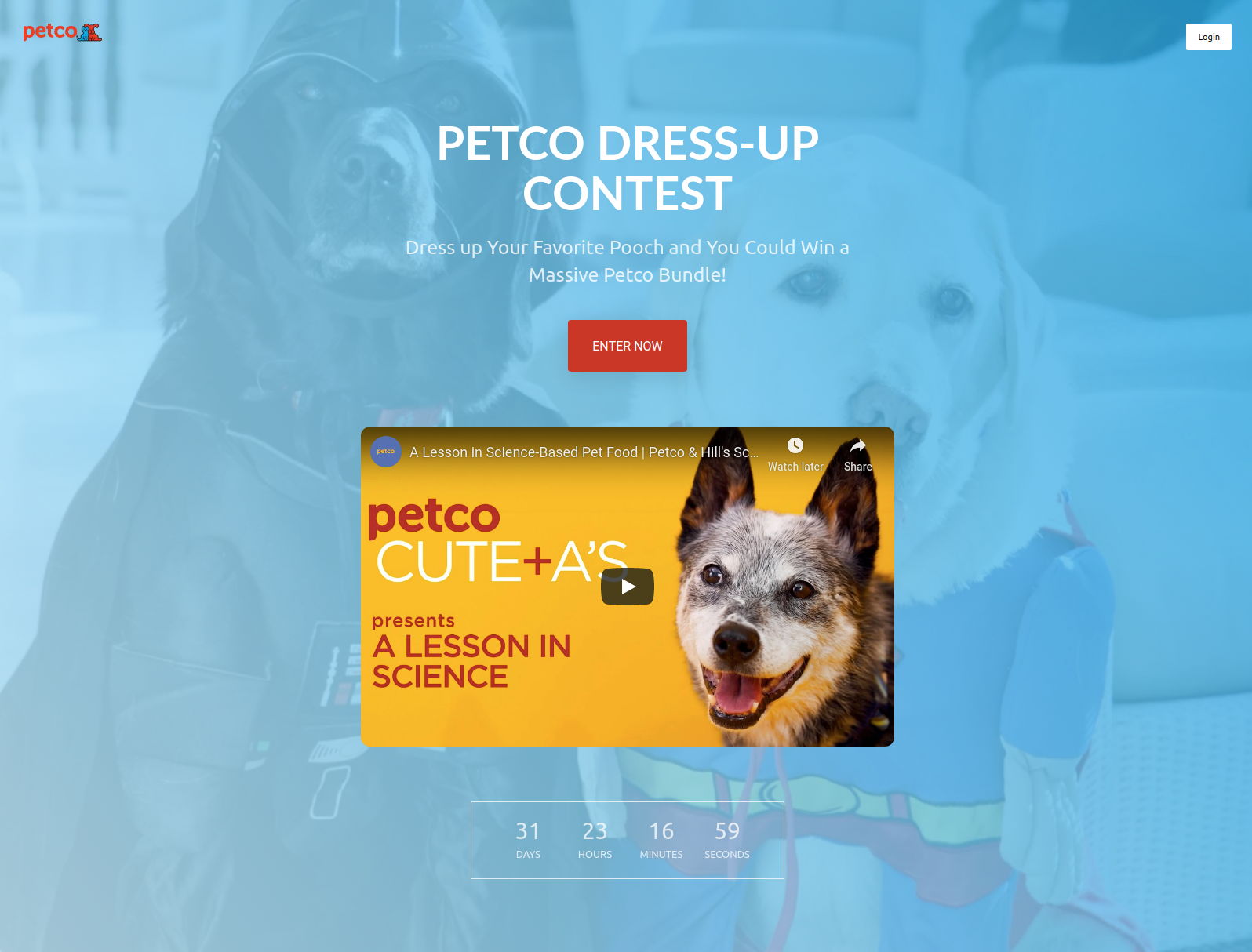 We already went over the importance of having a video for your contest (in the section above).
If you do have a YouTube video, you can simply insert a link to that video under the header settings in the landing page designer.
There's also an option to activate a contest countdown timer in the header settings menu. This is a great way to let people know when the contest ends.
Thank You Page
After designing the landing page (step 1), the next step would be to design the 'Thank You' page.
If you are looking for some help in the design department, check out all these free design courses.
This is the page that contestants will be taken to after they have completed their entry.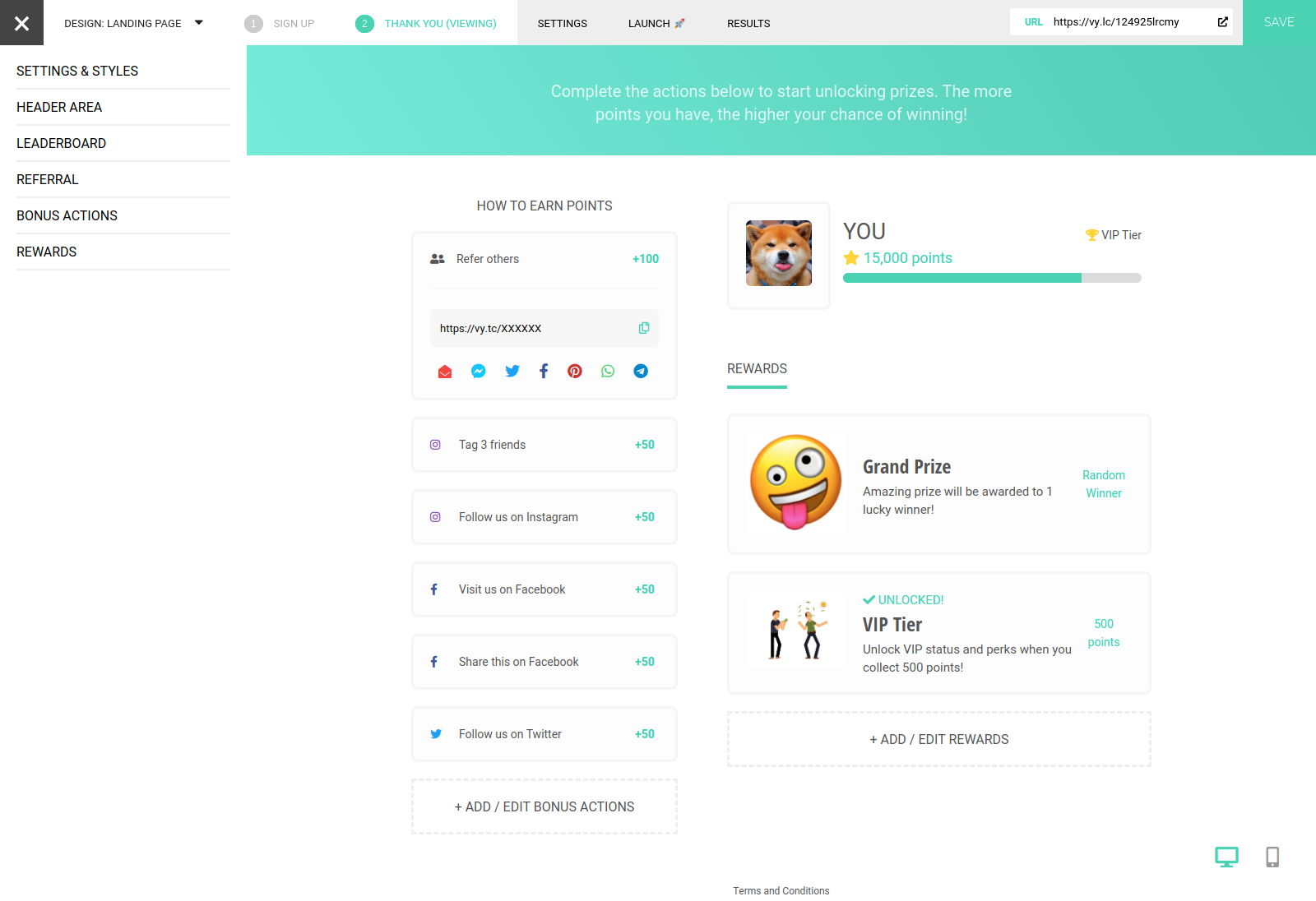 The 'Thank You' page is a crucial part of your contest. This is where you can engage contestants and motivate them to complete additional actions.
These can be simple actions like refer friends, share the contest on social media, or like a post.
The VYPER template already has data and images filled in. You can edit the page template to suit your brand and contest needs.
After you add your images and you adjust the prize (rewards) section, your Thank You page will start to take shape.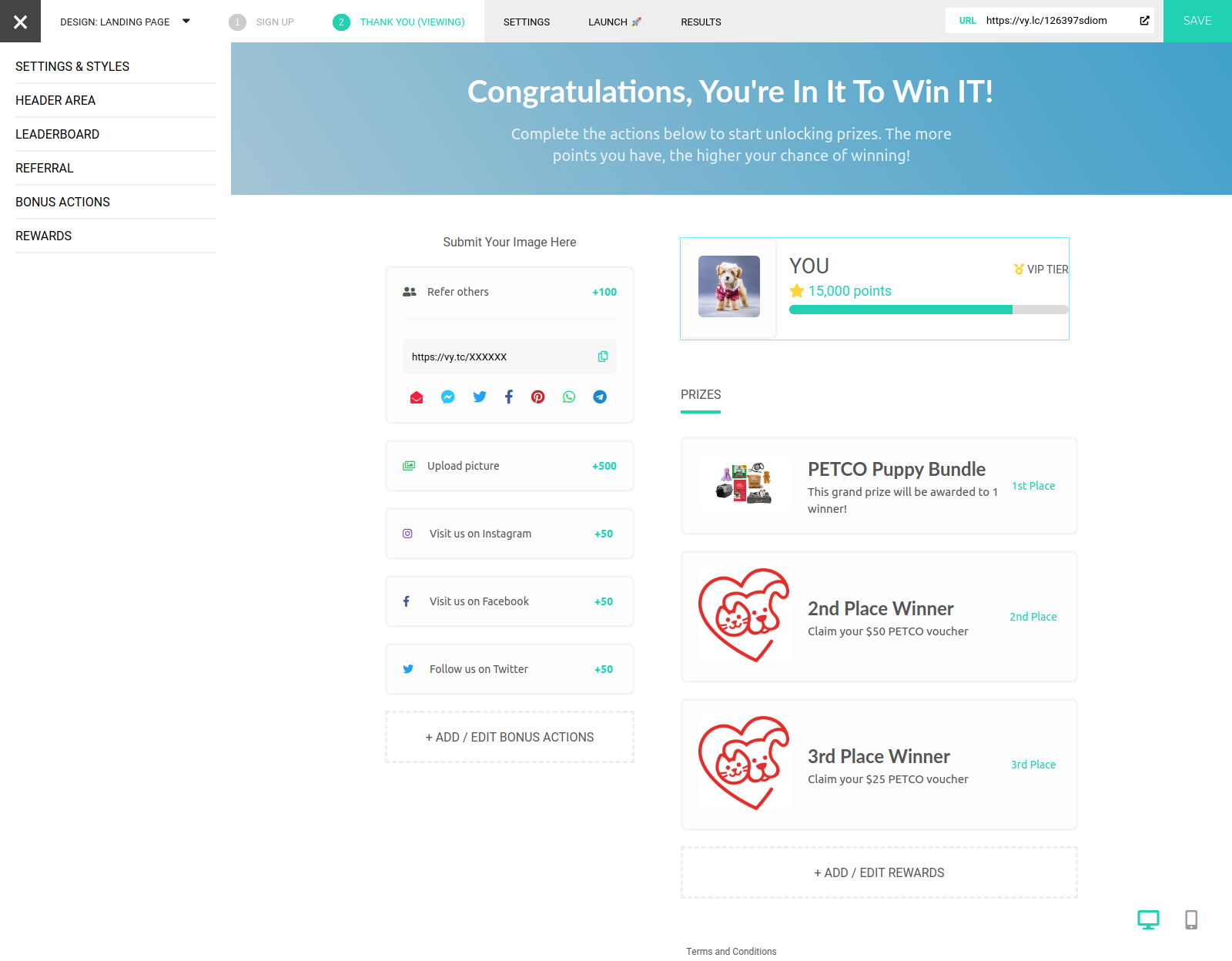 To begin editing the 'Thank You' page, you can start by clicking on the items you wish to update.
Simple Edits
In the example above, we changed the following:
Header background
The rewards section – We renamed it to Prizes and listed the three prizes that are on offer.
Added a Bonus Action – We added the 'Upload picture' bonus action. This will enable contestants to upload a picture of their dressed-up pooch to the contest page.
And there you have it. Your dog contest is ready to go live!
Launch and promote your contest on all of your social media and marketing channels. Let the world know about your contest so you can get as many people to enter.

Click on the banner above to view a live demo of the contest that was created in this tutorial.
You can also go to the blog post below for a full tutorial on creating a giveaway with VYPER.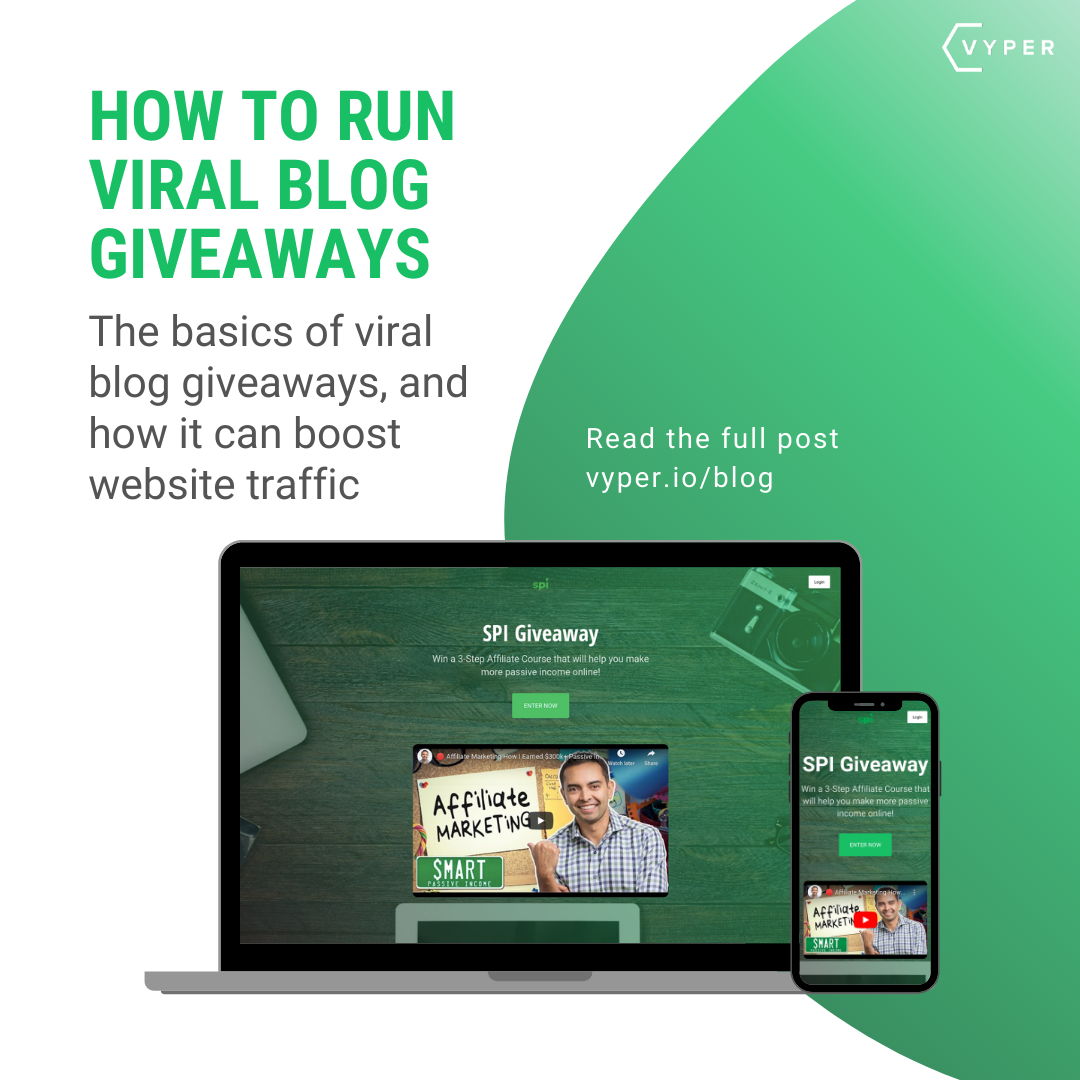 Look for more in-depth VYPER tutorials?
Why Host a Dog Contest?
Dog contests are fun, engaging, and interactive. These are the kind of campaigns your brand should host.
There's always a good chance for a dog contest to go viral. It takes one cute little puppy in a Yoda costume to make a contest go viral.
A dog contest with cute, viral user-generated content can reach a global audience. Having your brand attached to this contest means global exposure, which can lead to more opportunities.
Because of these benefits, more brands are beginning to host dog contests.
You would expect dog contests to be exclusively hosted by pet stores and brands. But more brands outside the pet world (supermarket, entertainment, etc.) are hosting pet-centric contests.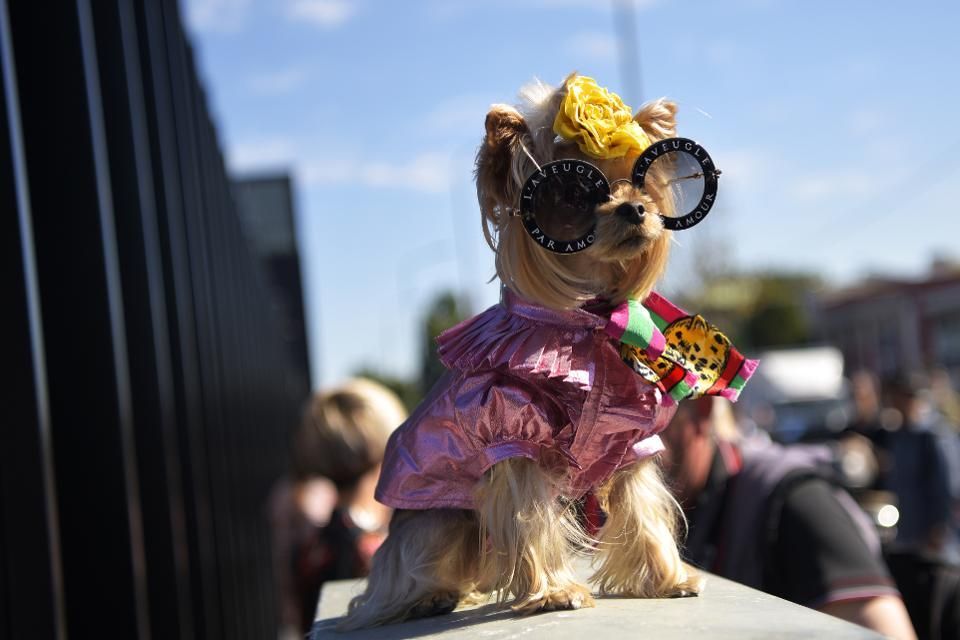 Also, online dog contests produce some of the cutest content on the internet!
Who Should Your Dog Contest Target?
Ideally, a dog contest will attract dog owners. Especially if you host a photo contest. Pet owners will have to submit a picture of their gorgeous pooch.
Because of this, pet stores and brands love hosting dog contests to generate new leads that are made up of dog owners.
However, you can use a dog contest to attract all kinds of animal lovers. This is another reason why non-pet brands like to host dog contests.
Also, if you are targeting puppy owners, some of them will own a pup today that will quickly grow into a full-size adult.
Because of this, it makes sense also to target people who might be interested in getting a pup but just haven't done so.
Q&A Dog Contest
❓️ What is a UGC Contest?
UGC stands for user-generated content. It's content that's produced on your behalf by a fan, follower, or customer. The content usually includes a brand's product or name.

In a UGC contest, users are motivated to create content with the hope of winning a prize.
❓️ Are dog contests reserved only for pet stores and brands?
No. A dog contest can be hosted by almost any kind of brand or company. There are plenty of dog owners out there that would like to take part in a contest. This is why, ideally, pet stores are most successful when hosting these contests, as they can discover an ideal audience with their dog contest.

However, these pet owners still require items like clothing, food, etc. Which is why other brands can still benefit from the leads they generate from a dog contest.
❓️ Should I invest a lot in the contest prize?
It all depends on the kind of contest you host. If you host a contest where you supply the content (e.g., guess the breed contest – See contest ideas above), then you can use an inexpensive prize.

You may want to invest in a contest that requires a lot of skill, time, and effort from contestants. This can be a dress-up contest or a dog trick contest. Having a worthwhile prize will encourage more people to enter your contest.
TL;DR
Dog contests remain as one of the cutest and most viral campaigns your brand can host. You don't have to own a pet store to host one. Your fashion brand can host a dog dress up (or fashion) contest to promote a new line of products. Or to promote an upcoming sale.
Dog contests are versatile. You can engage pet lovers on social media with a 'Guess the Breed' contest, which can be hosted regularly with a small prize. Then you can go all out and host a more advanced dog trick contest that has substantial cash prizes.
Whatever contest you choose, you should try to make it as cute and fun as possible!
Are you ready to host your dog contest? Do you have any ideas in mind? Let us know in the comments below.
Jack Paxton
Jack Paxton is the co-founder of VYPER, a marketing tool that helps brands build email lists, social followings, and revenue using viral giveaways, referral, and reward programs. After millions of dollars spent testing different marketing strategies at his marketing agency. He then also co-founded Hyax a fast, conversion & design-focused course and funnel builder for creators.