To survive in a highly competitive market, your marketing has to be on point!
Health and fitness is a fast-growing industry that has become highly competitive. It's been growing by at least 3 – 4% annually for the last 10 years and 20% of American adults have a fitness club membership.
By health and fitness, we mean gyms, clothing, supplements, equipment, etc.
So, in one of the most competitive markets, how do you get noticed? How do you stand out above the rest? Why are some brands loved and others unknown?
We did a deep dive to discover how to build a brand & loyal following in the fitness space using giveaways and contests!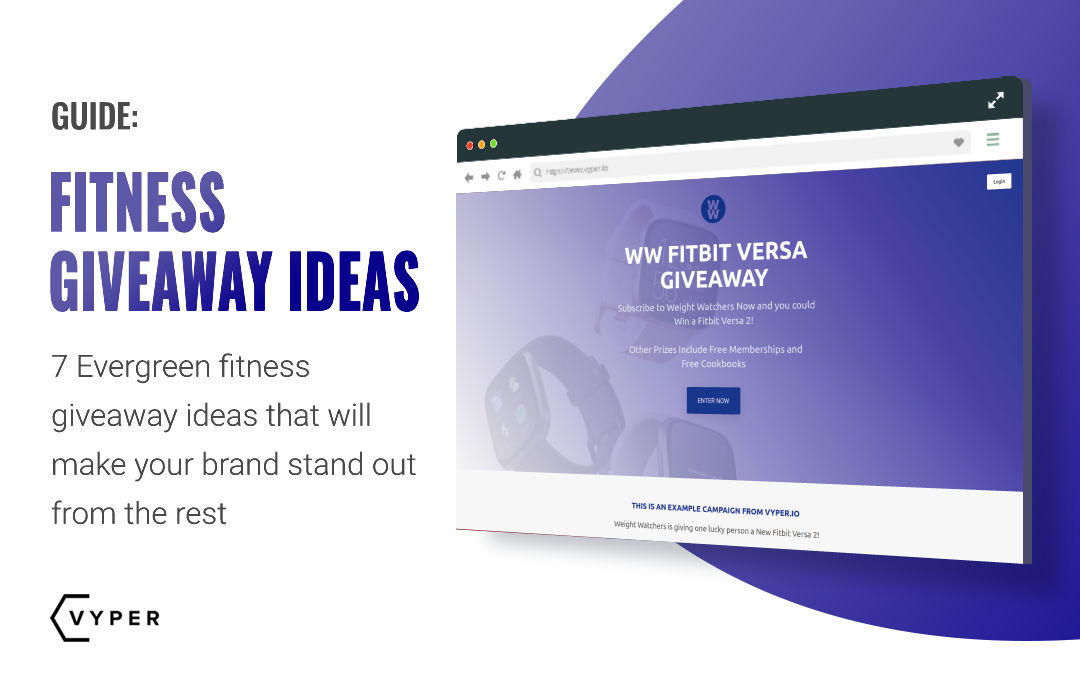 Fitness Giveaway Ideas
We put together 7 excellent Fitness Giveaway Ideas that will hopefully inspire your next giveaway.
Please feel free to use any of the ideas below:
Gym Giveaway
Gym Selfie Giveaway
Runners Giveaway
Wearable Giveaway
Fitness App Giveaway
Fitness Influencer Giveaway
Personal Trainer Referral Giveaway
1. Gym Giveaway
Host a gym giveaway to increase signups to your gym—an excellent strategy for new gyms looking to build its members early on.
Also, an excellent strategy for established gyms looking to get more feet through the doors.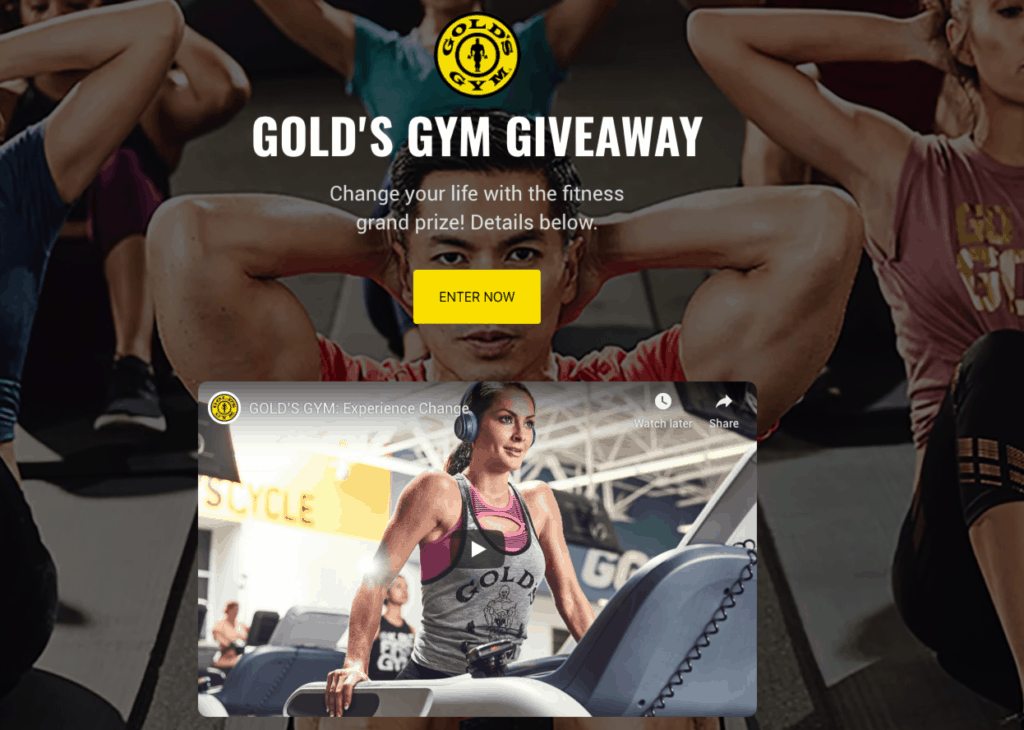 You can host a gym giveaway both online and physically at the gym.
The goal of your giveaway should be to acquire new members. So your chances of being discovered are higher online, especially on social networks.
If you do choose to post ads on physical notice boards, then having an online landing page for your giveaway is essential.
You can create a giveaway landing page with VYPER, no website needed. Then insert the landing page link into your ads.
This strategy is ideal for reaching an audience that isn't on social media.
Examples
Gym Grand Opening Giveaway – a massive giveaway marketing campaign to acquire as many new leads and members in the early stages of the business.
Massive Gym Winter Giveaway – Train hard in the winter to build that summer body! Get as many members in the gym during the quiet winter days.
Prizes
Membership – 3 months free gym membership.
Supplements – 3 months supply of protein shakes and bars.
Equipment – Gym equipment is a bit of a redundant prize, seeing that the goal is to get people into the gym. So you can use complimentary workout equipment like gloves, grips, stopwatch timers, jump rope, fitness trackers, step counters, etc.
Clothing – Workout sneakers, shorts, tees, headgear, etc.
Benefits
Acquire new leads and members for a brand new gym
Boost memberships during quiet periods
Best For
Local gyms in small towns
New gyms
National gyms that offer countrywide memberships
Fitness brands

2. Gym Selfie Giveaway
A selfie giveaway is the ultimate brand awareness marketing campaign.
These campaigns generate tons of content that feature your brand upfront and center.
With a gym selfie giveaway, you can request that users submit a selfie of them in your gym.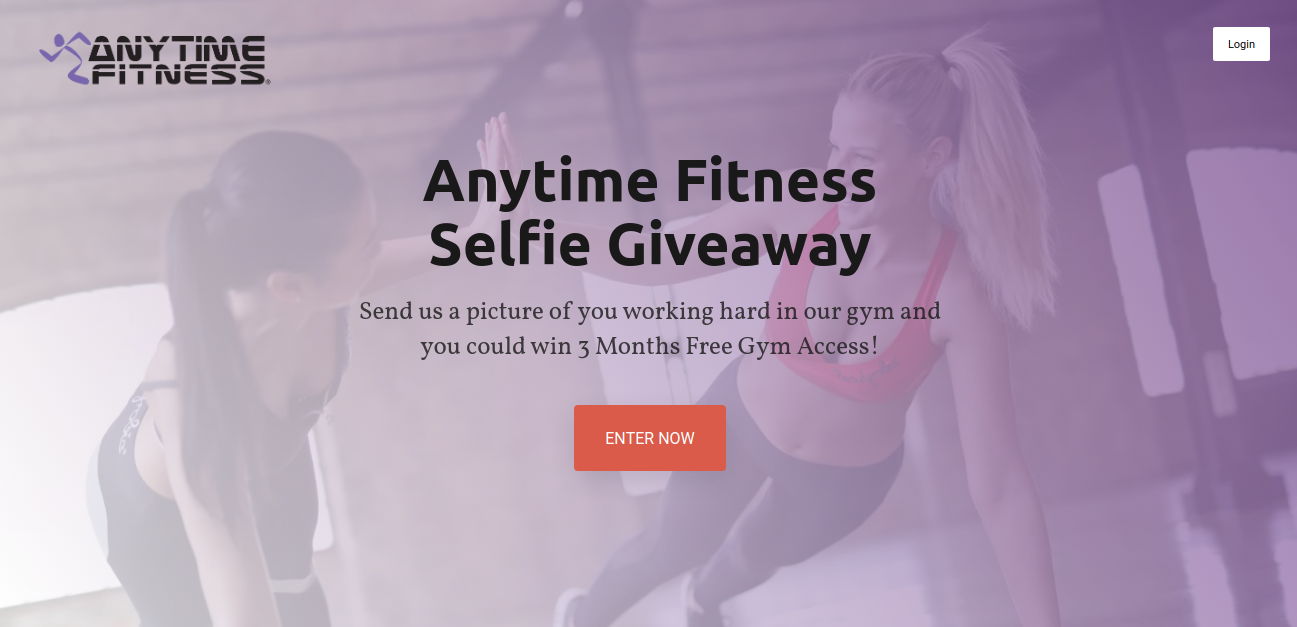 This user-generated content can be great PR for your gym. People on social media will get to see other people having fun inside your gym.
A gym selfie giveaway can also work for people that are not members. You can request that users go to your gym for a free one-day trial and then snap a selfie to enter.
This way, you will use your giveaway to bring people into your gym directly. Brilliant!
Examples
Workout Selfie Giveaway – Submit a picture of you working out. It can be out in the park or your living room—ideal for other fitness brands.
Wearable Selfie Giveaway – Submit a picture of you using our fitness tracker, step counter, or heart rate monitor. Ideal for brands like Polar, Fitbit, Garmin, etc.
Prizes
Membership – 3 months free gym membership.
Gym Supplements – 3 months supply of protein shakes and bars. Ideal for a giveaway that requires users to pose in a picture while downing a protein shake or bar.
Fitness Tracker – Perfect for a Fitbit or Apple Watch giveaway.
Running Sneaker – "Send us a pic of your current pair of sneakers."
Benefits
Can produce plenty of user-generated content (UGC)
Great opportunity to create brand awareness
Can get social media users to go to gyms or other places of business physically
Best For
Gyms
Fitness tracker/equipment brands
Fitness clothing brands

The above demo campaign is a good example of a giveaway that requires a photo as an entry method.
3. Runners Giveaway
Is your target audience into running? Then perhaps you could host a giveaway to attract massive amounts of runners.
With a runner giveaway, you can offer great prizes that will hugely benefit people who love to run to stay in shape or to compete.
A runner's giveaway is ideal for brands that sponsor big running events.
For example, a grocery store (or sports store) that sponsors the local annual marathon could host a runner giveaway. This giveaway can serve as a viral campaign to promote the big running event.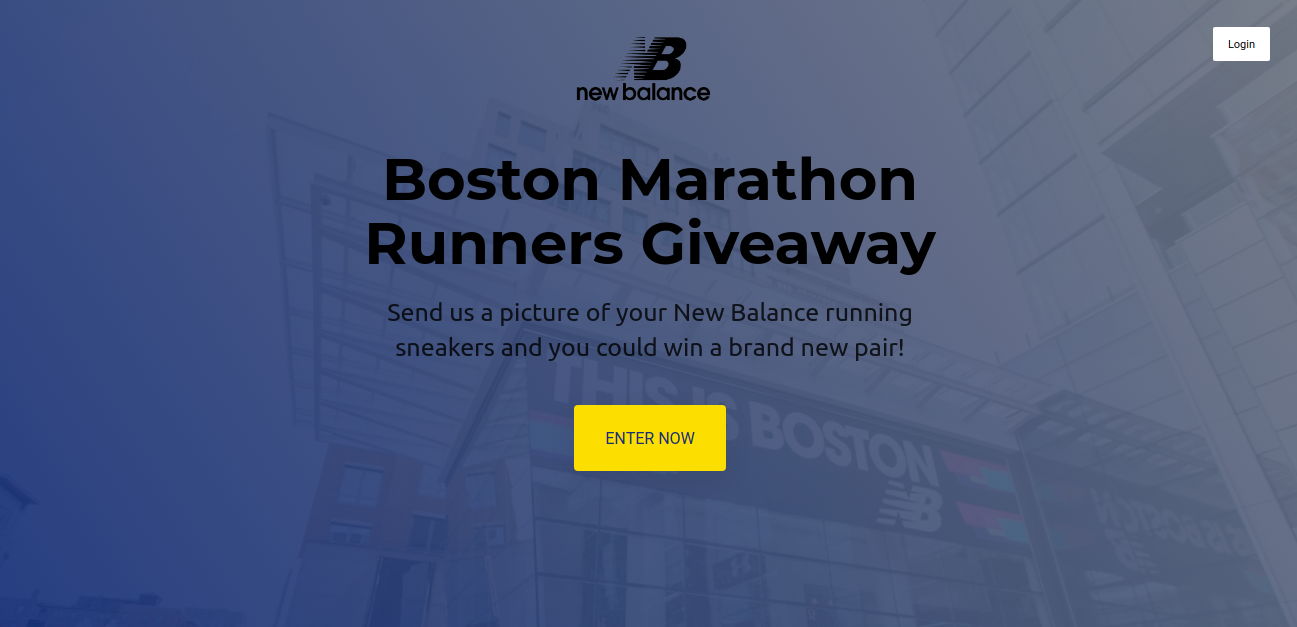 Also, a Runner's Selfie Giveaway is another excellent idea. As mentioned above, users can send pictures of their current running sneakers.
Runners drop in plenty of miles of wear and tear on their sneakers. It can make for an epic picture and testimony to how good the product is.
For Example, Nike Runners Giveaway – Send us a pic of your current Nike running sneakers and win a new pair!
Examples
Boston Marathon Runners Giveaway – Gatorade is a major sponsor. They can host a giveaway to increase brand awareness and stand out from the other marathon sponsors.
Color Run Giveaway – Get Color Run entrants to snap ridiculous selfies of themselves during the event, then submit those entries for a chance to win big! Your brand could host a similar costumed running event and get runners to submit wacky pics.
Prizes
Running sneakers – High-end running sneakers are essential for runners.
Music subscription – A music streaming service that allows you to download your favorite running tunes to listen to offline while running is also essential for runners. Eg. 3-month membership to Spotify or Apple Music.
Headphones – Truly wireless headphones are great for running. They are pricey, which is why they can be precious to giveaway entrants.
Running gear – Shorts, tights, skirts, gloves, water bottle, or sports bras.
Benefits
A great way to attract runners to your brand
Excellent at promoting a running or athletic event
A giveaway can be used to stand out in an event that has multiple sponsors
Best For
Fitness brands associated with running gear
Brands that sponsor sporting events
Stores that sell fitness apparel and running gear
4. Wearable Giveaway
A wearable giveaway is also meant to attract an audience that is interested in fitness.
The type of wearables being:
Fitness trackers and step counters like Fitbit, Apple Watch, Garmin, Polar, etc
Heart rate monitors
GPS trackers
Wireless headphones
Fitbit is a brand that is used primarily by people who want to stay in shape.
Their fitness trackers are accompanied by an excellent app that allows you to socialize with other Fitbit users.
If your brand is all about targeting the health and fitness crowd, then getting into those Fitbit communities is the way to go.
And you can achieve this with a fitness wearables giveaway.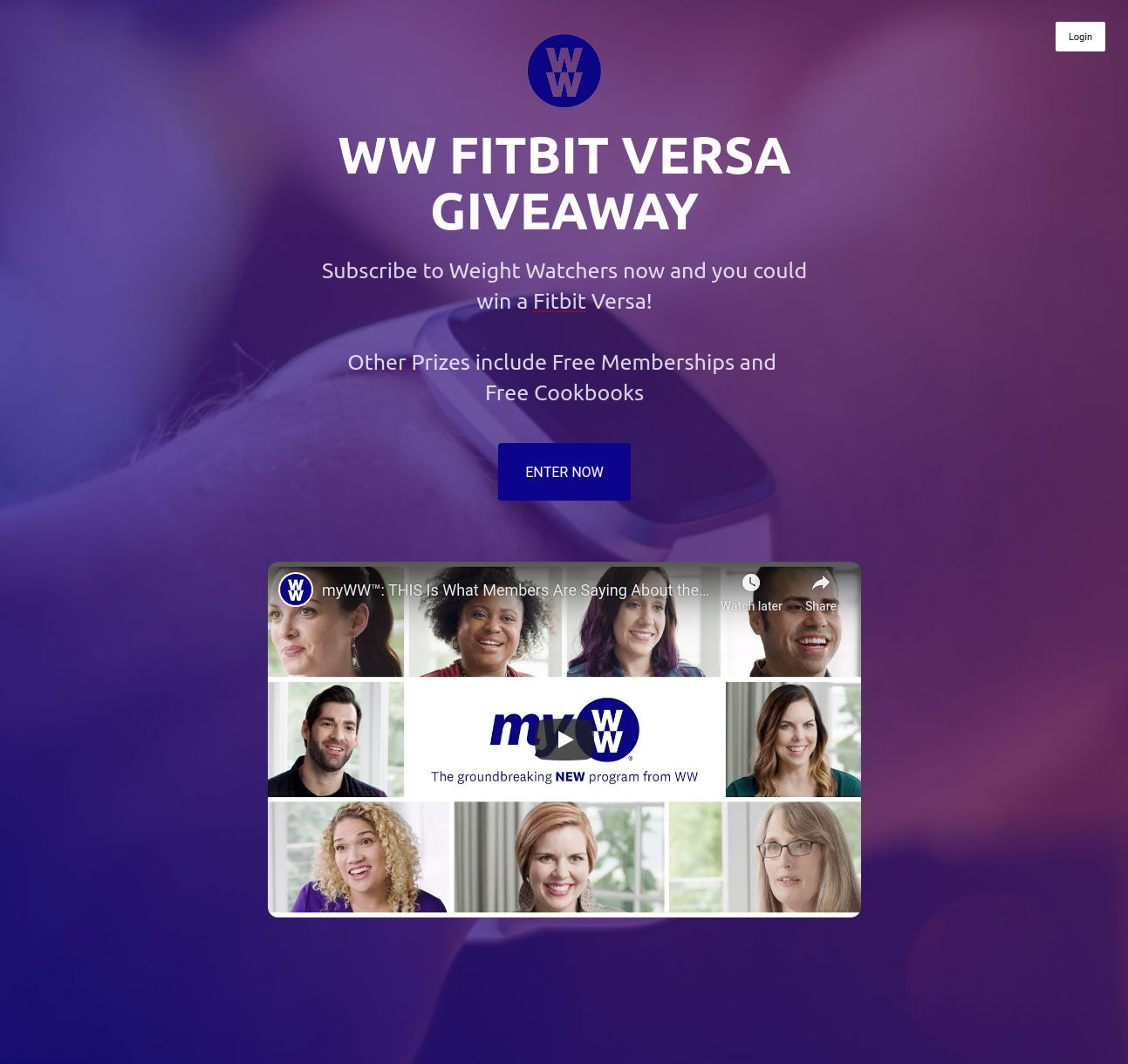 Examples
WW Fitbit Giveaway – "Subscribe to Weight Watchers, and you could win a Fitbit Versa!" Wearable giveaways can be run by all sorts of brands looking to target people that are into healthy lifestyles.
Prizes
Wearables – Fitness trackers, step counters, heart rate monitors, etc.
Headphones – Truly wireless headphones, Powerbeats workout headphones
Gym membership – 3 months free access to a gym
Benefits
A niche giveaway that can target specific audiences that are focused on fitness
Fitness wearables are trendy and pricey, which makes for a great prize
Best For
Supplement and nutrition brands
Weight loss groups and brands
Sports stores
Department stores
5. Fitness App Giveaway
There are hundreds of health and fitness apps on both the Apple App Store and Google Play Store.
Popular fitness apps like Nike Training Plus offer guided workouts. Excellent for those that prefer to exercise at home.
Then there are those meal tracking and planning apps that help you to optimize your diet.
While there are plenty of free apps, some apps require a subscription.
You could offer a limited subscription to one of these apps as your fitness giveaway prize.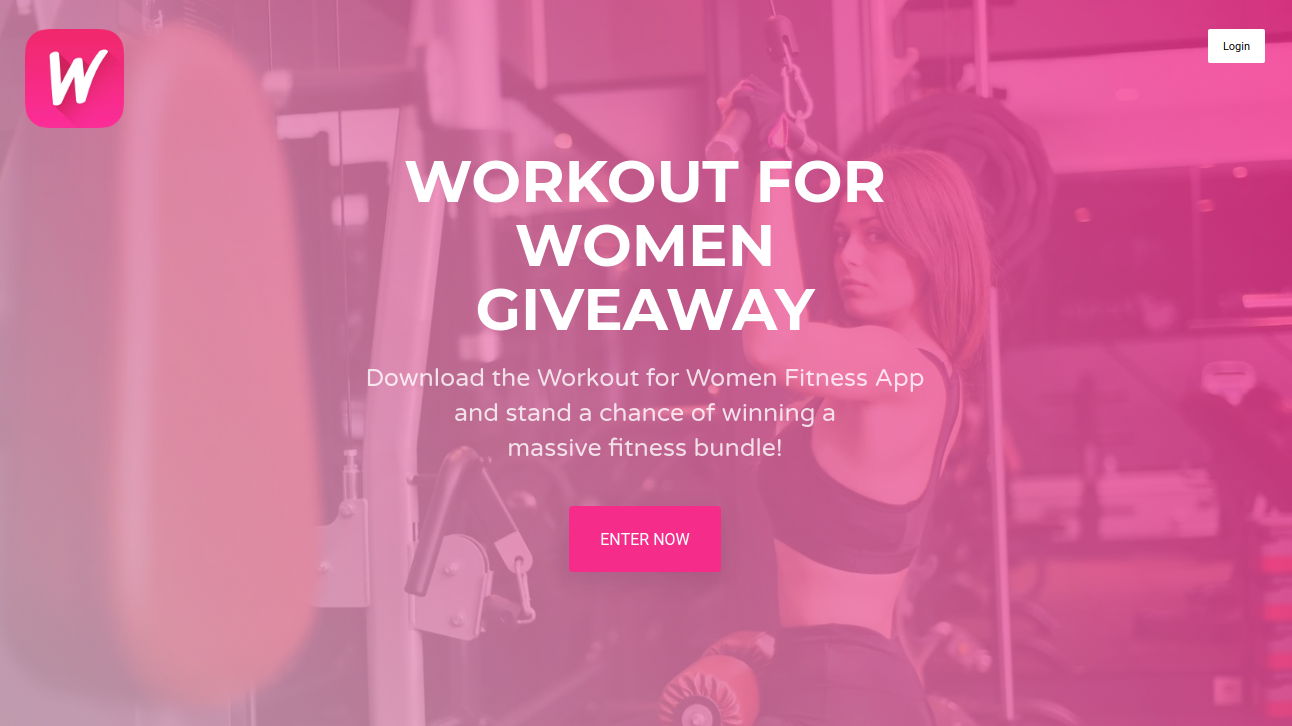 For example, The Fitbit app has an excellent premium membership plan. This plan includes guided workouts and additional meals and sleep plans.
You can offer 3 months of Fitbit premium, alongside a Fitbit tracker as a giveaway prize.
Examples
Workout for Women Giveaway – "Enter now, and you could win an annual subscription to the Workout for Women App!"
BodyFast Giveaway – BodyFast is an intermittent fasting and diet app that offers a coach with diet programs. Your giveaway could offer 6 months free coaching through the BodyFast app.
Prizes
App Subscription – 6 to 12 months free membership to the app subscription
Prize Bundle – App subscription bundled with a device. Eg. Fitbit Charge and Fitbit Premium
Gym Membership – 3 months free access to gym
Workout Supplements – Protein shakes and bars
Fitness Clothing – Tees, sneakers, and other clothing that's worn by trainers featured in the app
Vouchers – Google Play and Apple App Store Vouchers
Benefits
Increase app downloads
Boost new trial accounts
You can offer memberships to multiple winners. This means more users to opt-in after prize membership is over
Can host this giveaway monthly
Best For
Fitness app brands
SaaS and other online brands
6. Fitness Influencer Giveaway
Influencer giveaways are great viral marketing campaigns.
Why? Because you have the help of an experienced and established social media expert.
Your influencer will effectively market your giveaway for you on their socials.
Major YouTube and Instagram stars host giveaways all the time.
Your brand could partner up with a popular fitness influencer to host your next campaign.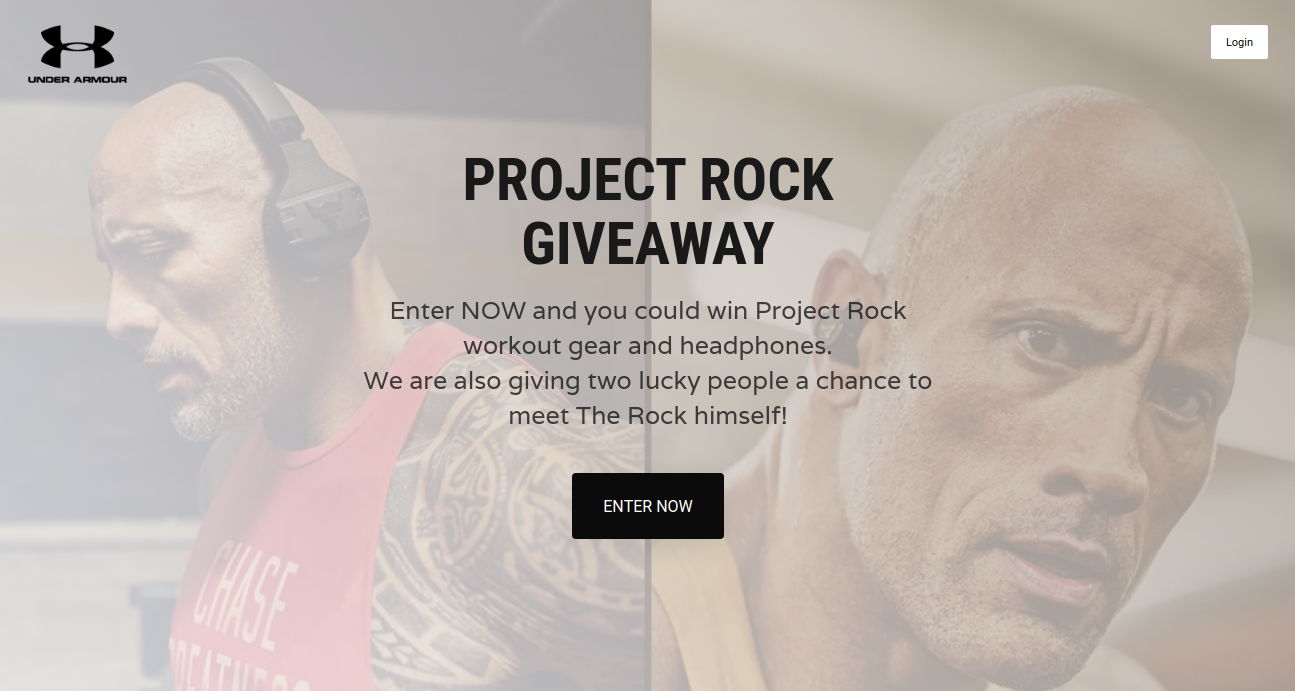 Micro-influencers are extremely popular right now. They are ideal when it comes to targeting a specific area.
This skill will come in handy for physical gyms that are looking for members nearby.
Examples
LA Fitness / Mark Wahlberg Giveaway – "Visit any LA Fitness center to claim a free workout, and you could win a workout session with Mark Wahlberg!"
Ronnie Coleman Supplement Giveaway – "Enter NOW, and you could win Ronnie Coleman Signature Supplements, Workout Gear, and a chance to meet the man himself!"
Pro Tip: You can use the giveaway as an opportunity to grow both yours and the influencer's followers. Eg. "Follow Ronnie Coleman and us on Instagram to enter." This will give the influencer an extra incentive to promote the giveaway.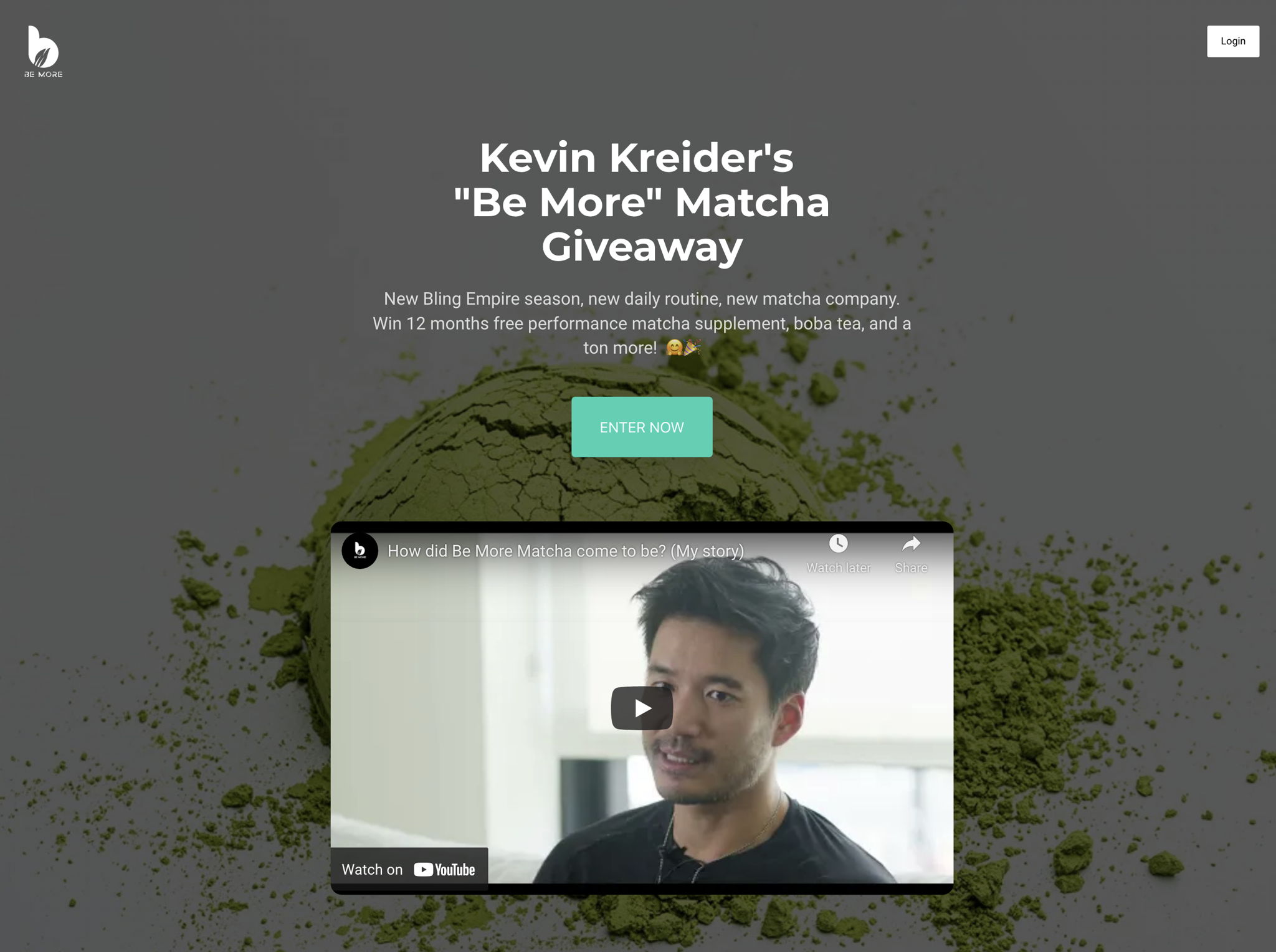 Kevin Kreider is an influencer and star of the hit Netflix show, Bling Empire. He recently hosted a giveaway for his supplement brand Be More Matcha.
Kevin gave away a year's supply of his supplement, plus additional gifts that compliment his matcha brand. This is an excellent example of how an influencer and supplement brand can team up to host a giveaway.
Prizes
Meet and Greet – Get to see your hero in the flesh!
Gym Membership – 3 months free access to gym, Free workout training and tips from the pro (influencer)
Supplements – Protein shakes and bars (preferably the brand that the influencer uses)
Fitness Clothing – Tees, sneakers, and other clothing that's worn by the influencer
Benefits
The influencer will help to market the campaign
Good opportunity to find a new audience within the influencer's established followers
A mutually beneficial campaign that can increase both parties followers/leads
Best For
Gyms
Supplement brands
Fitness clothing brands
Brands that work with influencers

7. Personal Trainer Giveaway
Free personal training sessions are ideal for gym giveaways.
PT sessions can be pricey for some people. So, offering a month's worth of personal training is a dream come true!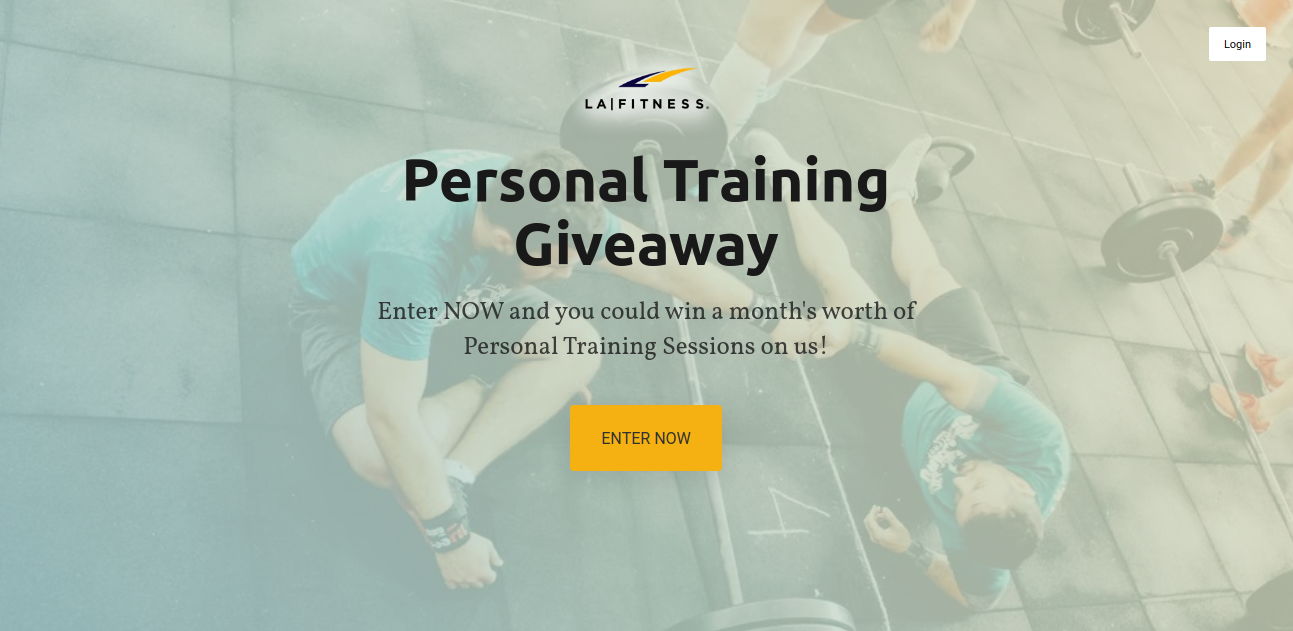 Personal trainers are a group of people that have to rely on their client base to earn a living.
It can be difficult for these trainers to acquire clients early in their careers. A giveaway that offers free sessions is an excellent way to get the ball rolling.
The gym (or the personal trainer) could host monthly giveaways with the prize being a few free training sessions.
This type of giveaway can run according to the evergreen giveaway model – Low-cost monthly giveaway that brings in a consistent stream of leads.
Examples
Runners Club Personal Training Giveaway – "Attention all runners! Enter NOW for a chance to win free personal training sessions."
Sports Store Giveaway – "Improve your performance and game with a personal trainer. Enter our giveaway now to win free personal trainer sessions."
Prizes
Personal Training Sessions – Important to remember that training sessions are time-consuming and not easer for trainers. Don't offer too many sessions, unless the sessions and leads are split between multiple trainers.
Gym Membership – 3 months free access to gym
Benefits
The "Evergreen Model" can deliver a consistent flow of leads
Ideal for new personal trainers looking for clients
Best For
Gyms
Personal trainers
Workout brands
Referrals & Viral Marketing
Viral marketing is a loose term, but something many brands chance. It has definitely gained some traction as a way to grow a brand in a competitive market.
Fitness brands that have famously used viral marketing include:
Nike
Under Armour
Gold's Gym
New Balance
Powerbeats Pro
Hosting a giveaway that generates massive amounts of new leads is exactly what your brand will need to grow in a highly competitive market.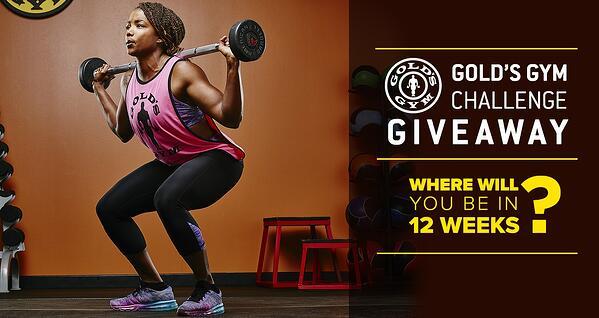 Giveaways are also great for startup brands that are looking for their first wave of new customers. Or to just be discovered for the first time.
This strategy (giveaways) is ideal for a new gym that recently opened its doors in a small town. A giveaway will be just what that gym needs to attract people early on.
Similarly, a new supplement brand or fitness clothing line can benefit from hosting a giveaway during those brands' early stages.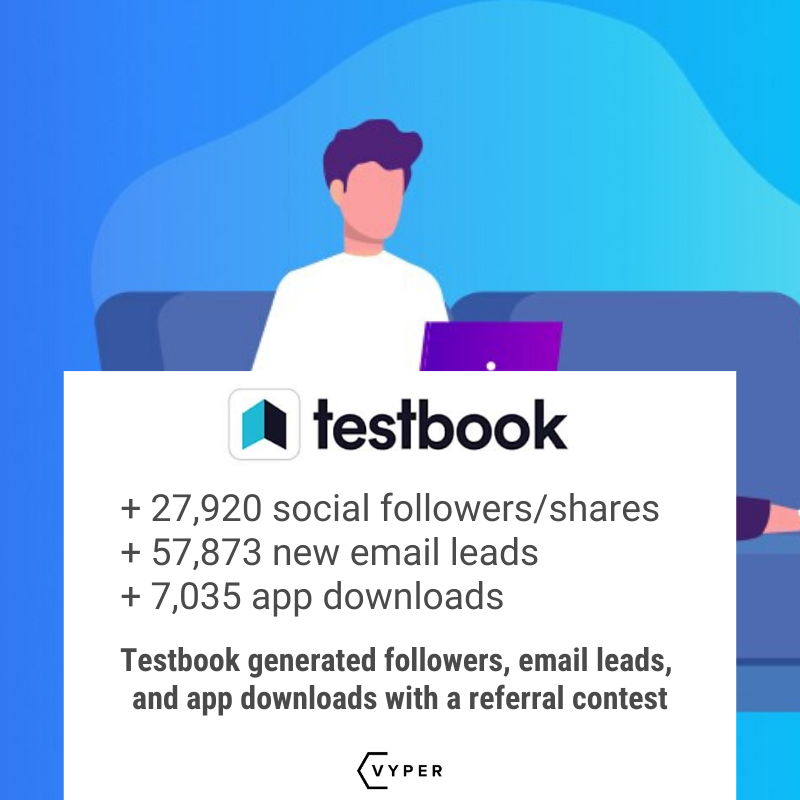 Testbook, an online education platform, used viral marketing to achieve insane results. They ran a referral contest that helped them to acquire new leads and app downloads.
Want to learn more about Testbook's strategy?
Read the full case study here.
Prize Ideas for Fitness Giveaways
The prize you choose for your fitness giveaway is absolutely crucial.
Your prize must be relevant and valuable to your target audience.
If you are looking to attract people with interest in health and fitness, then your prize must be considered valuable to those people.
They should want to enter your fitness giveaway immediately.
So, something like a gym membership or a step counter will attract those people who are into keeping fit. Those people that are not will most likely pass.
This is fine if your brand's goal is to attract runners, bodybuilders, etc. And not couch potatoes! (Just kidding).
Below are more examples of excellent prizes that you can use for your next fitness giveaway:
Gym Membership
This is a common yet excellent prize for any fitness giveaway. A gym membership will mostly attract people that are interested in going to the gym.
If these people are your target audience, you should consider a 3-6 month free gym access as your giveaway prize.
Gym fees are expensive, so free gym access is seen as an enticing prize of high value.
Your brand can also potentially partner up with a gym to host your giveaway.
This will allow you to get maximum exposure for your giveaway as you will now have help in marketing your giveaway.
Home Gym Equipment
A home gym giveaway is an excellent giveaway. Men's Health magazine expertly hosted a home gym giveaway on their website.
Prizes for that giveaway included a multifunction workout bench, dumbbells and barbells, and supplements.
These are perfect prizes for fitness/training apps looking to host a giveaway to increase app downloads.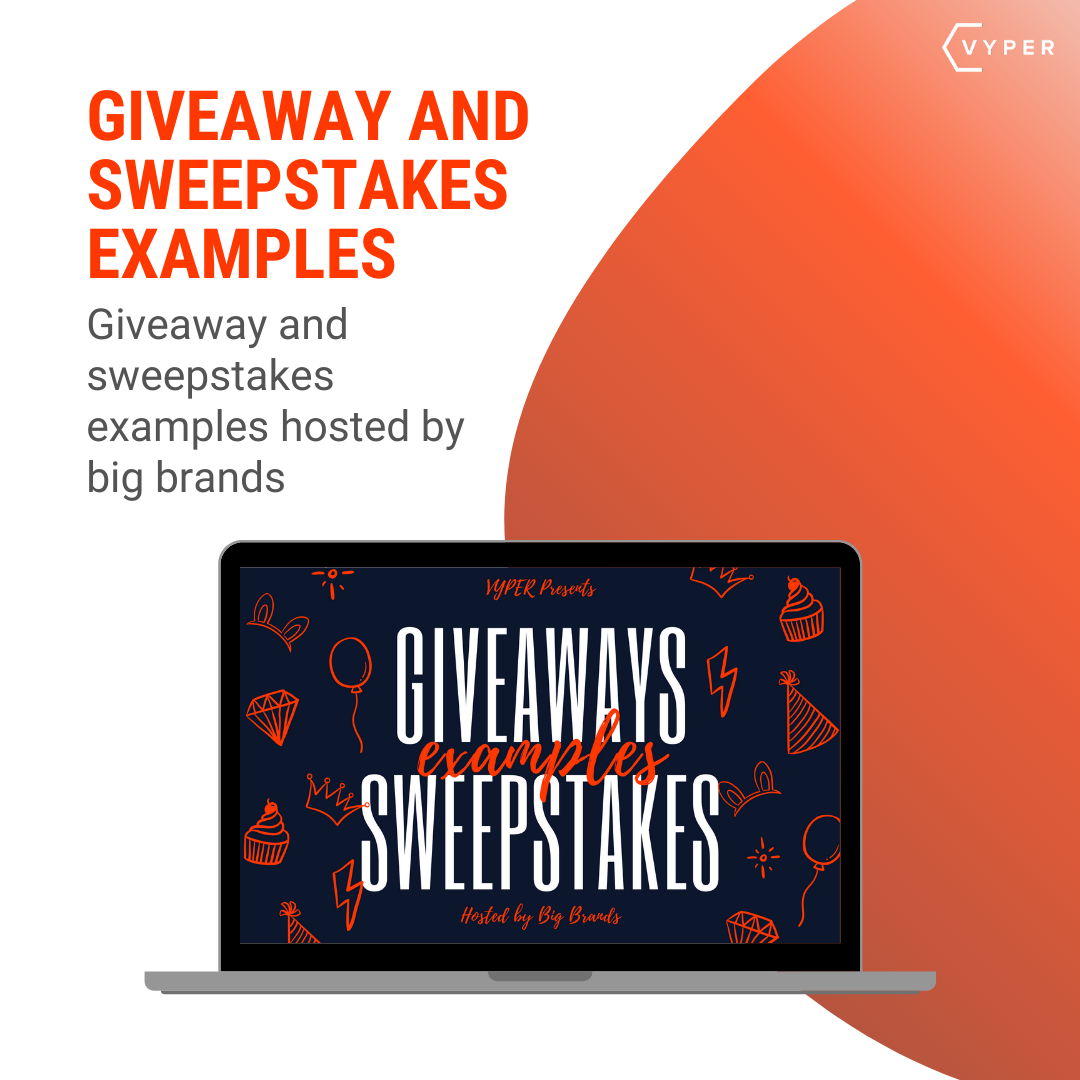 We carefully analyzed the Men's Health Home Gym Giveaway (and other giveaways) in a recent post.
Supplements
Workout Supplements are always a good choice for fitness giveaways. They include protein shakes and bars, meal replacement shakes, and even meal plans.
You can also include the odd shaker or workout belt/gloves to make the prize even more enticing.
Workout Supplements are not that expensive. However, average consumers do feel the pinch when purchasing a large bottle of protein powder.
This makes supplements an enticing giveaway prize for gym-goers. Their low price will allow you to run fitness giveaways more often.
You can even create an evergreen contest that you can run monthly.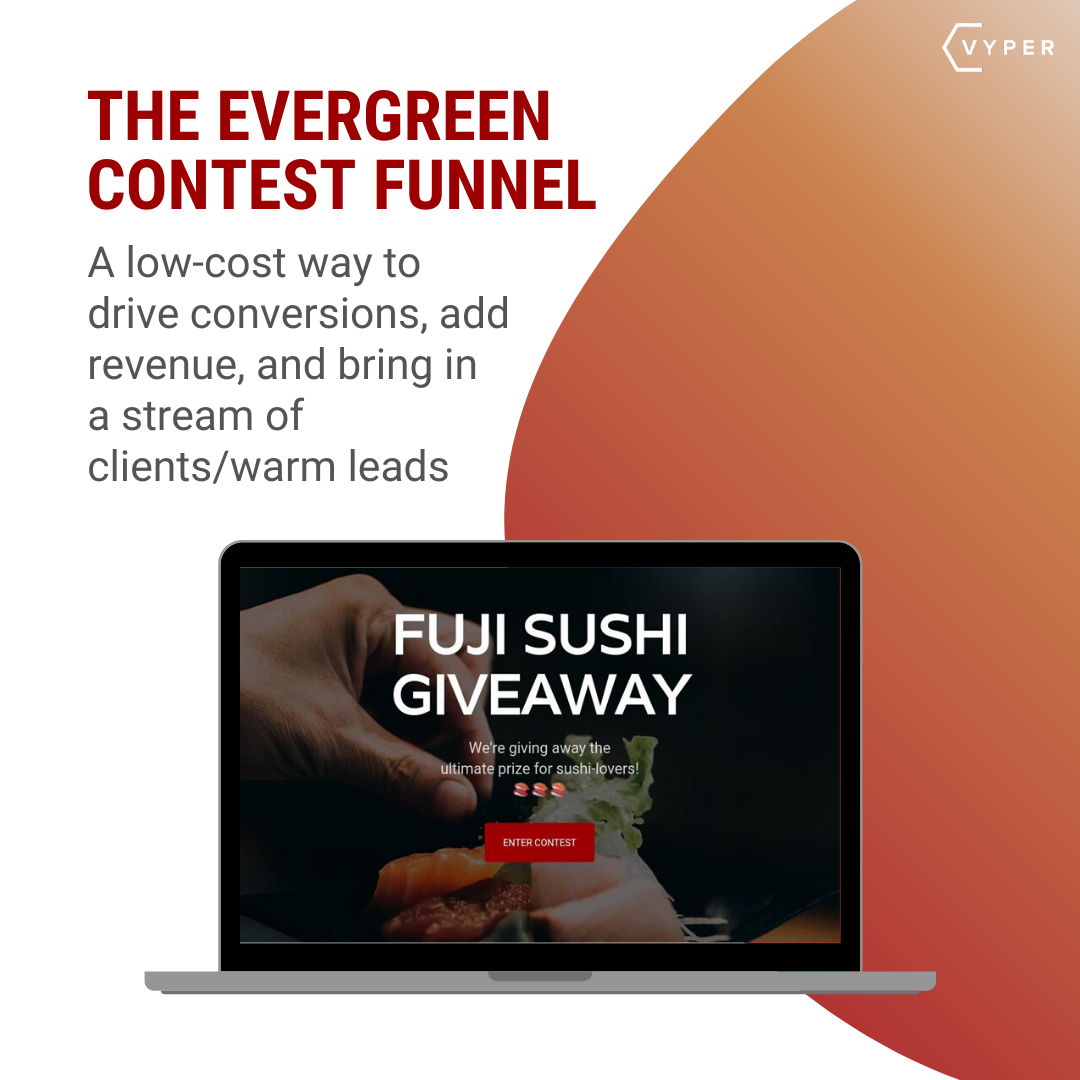 The Evergreen contest is a low-cost giveaway that can be hosted frequently.
You may not generate a lot of leads with this campaign. However, consistently hosting this kind of campaign will ensure a steady flow of leads.
E.g., Give away a bottle of protein powder or a box of protein bars once a month to build up your leads early on in the month.
Read the full post on evergreen contests here.
Music Streaming Service
This prize might seem a bit unconventional. However, more people are beginning to enjoy working out to their own personal music collection.
Music streaming apps like Spotify and Apple Music allow you to stream any song from their massive libraries of music.
These services also allow you to download your favorite tunes to listen offline. This is ideal if you want to listen to your own uninterrupted music in the gym.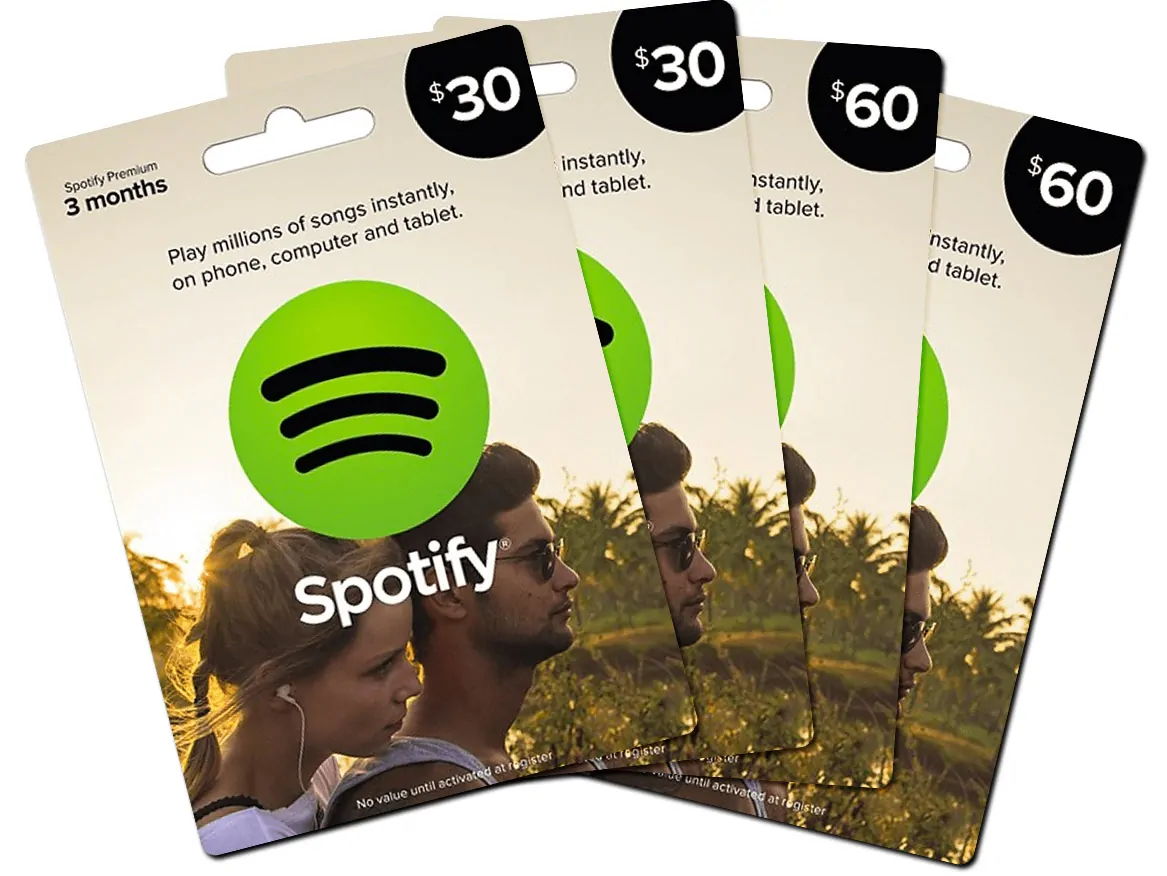 You can put up a few Spotify gift cards as your giveaway prize. "Enter now to win 6 months' access to Spotify!"
Truly Wireless Earbuds
TWS earbuds are those fancy (and expensive) headphones that everyone in the tech world is raving about.
There are various iterations such as Apple Airpods, Powerbeats Pro, and Samsung Galaxy Buds.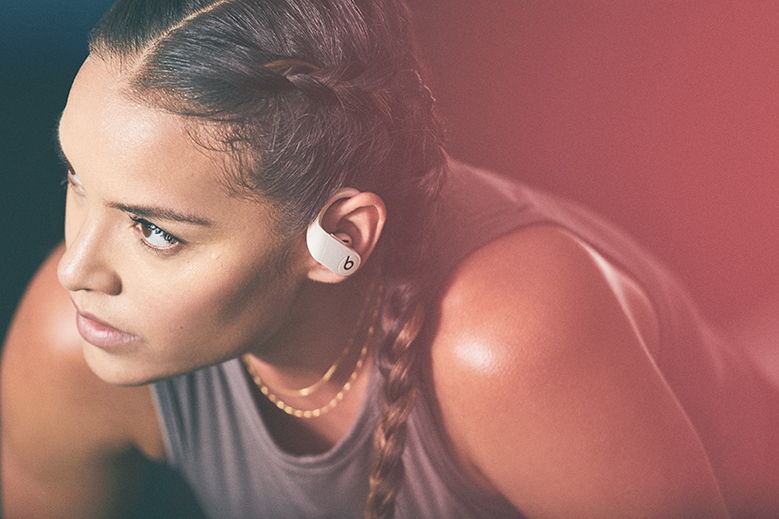 These sports headphones can be a great addition to a fitness giveaway prize bundle. Their high price will make for an attractive prize that will bring in tons of leads.
However, it would be best if you tried not to host a giveaway with TWS earbuds as the sole prize. Such a giveaway will attract a broad audience that might not have any interest in your brand.
Fitness Wearables
Smartwatches, step counters, heart rate monitors, etc. These are excellent fitness giveaway prizes.
Why? Fitness wearables are pricey and attract a niche audience.
So hosting a fitness giveaway that has a Garmin Forerunner as the prize will mostly attract people that are into fitness. Like runners.

Sure, the general public can appreciate a good smartwatch. But only true fitness enthusiasts can appreciate a Polar, Garmin, or Fitbit wearable.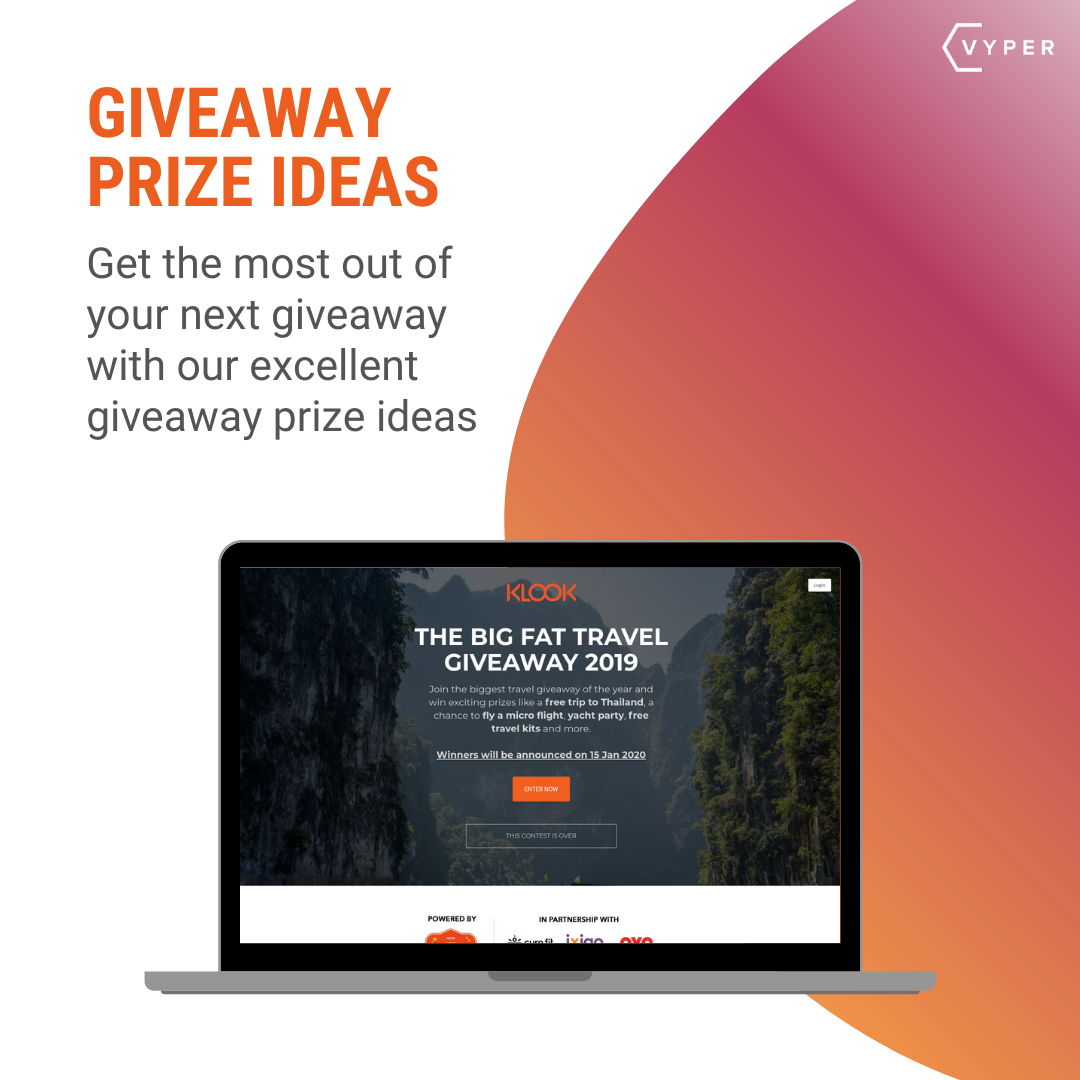 Looking for giveaway prize ideas? We wrote an article that is filled with great examples of giveaway prizes and tips for choosing your next prize.
Examples of Fitness Giveaways
We already covered some excellent fitness giveaway ideas and concepts.
Now, let's look at some exciting fitness giveaways that have previously been hosted by fitness brands.
Lifestyle Fitness Giveaway
Lifestyle Fitness hosted a simple, cost-effective giveaway. The giveaway prize was basic gym essentials like a set of headphones and a water bottle.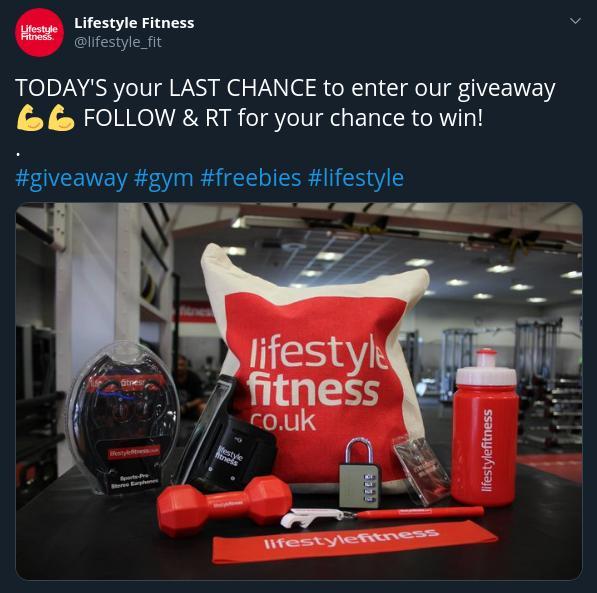 This is in no way an elaborate giveaway. However, the cost-effectiveness of the prizes will allow the gym to run these giveaways regularly.
Hosting a giveaway like this once a month (or once every two months) is an excellent way of consistently creating hype around your gym.
Key Takeaway – A cost-effective "evergreen" giveaway that can be hosted regularly.
ClubFitWear Fitbit Giveaway
ClubFitWear hosted an exciting giveaway on their website. The prize – a Fitbit Versa 2.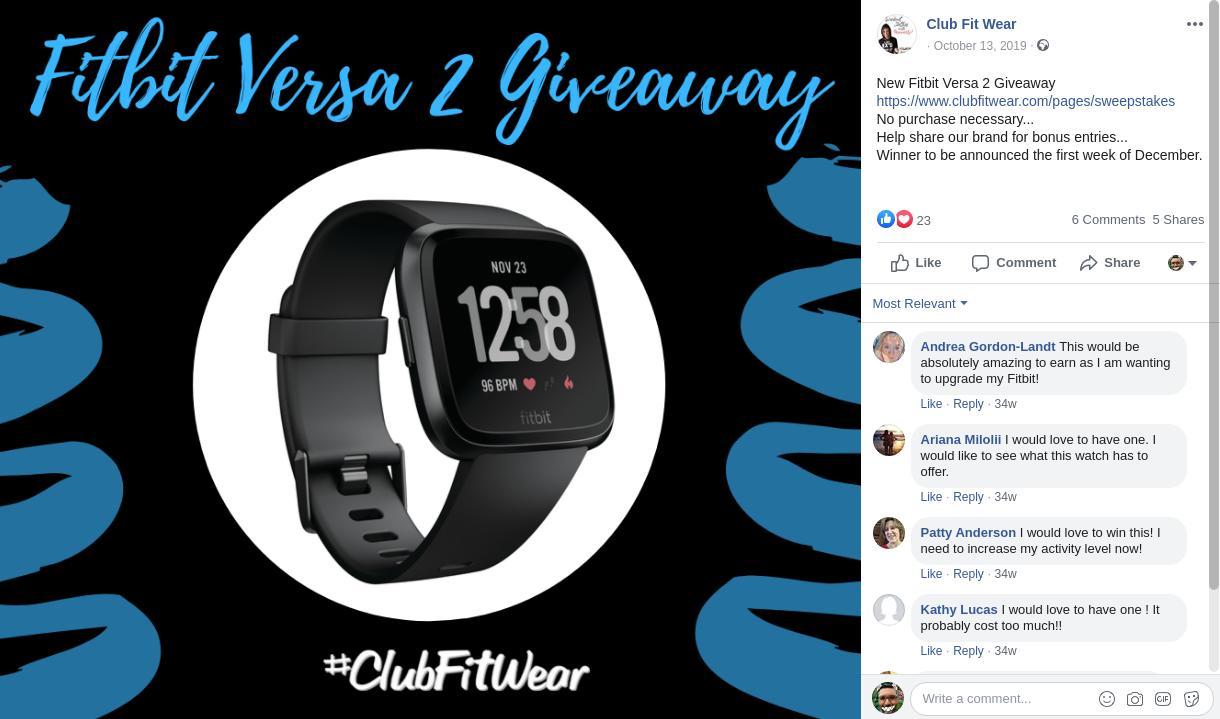 ClubFitWear is an online women's fitness clothing store. Their giveaway featured a Fitbit fitness tracker, a commonly desired device among active women (ClubFitWear's target audience).
The giveaway was hosted on their website and promoted on Facebook. This allowed ClubFitWear to drive social media users to their website.
Key Takeaway – Using an enticing product in a giveaway to drive traffic back to a website.
The Pundits Puma Giveaway
The Pundits is an online sports magazine. They hosted a giveaway in celebration of reaching 5000 followers on Twitter.
The giveaway was hosted on their website, the home of their online magazine. This meant that users had to visit their website to enter, hence boosting website traffic.
The giveaway also had additional entry requirements. Users were asked to follow The Pundits on social media and share the giveaway content on their social media profiles.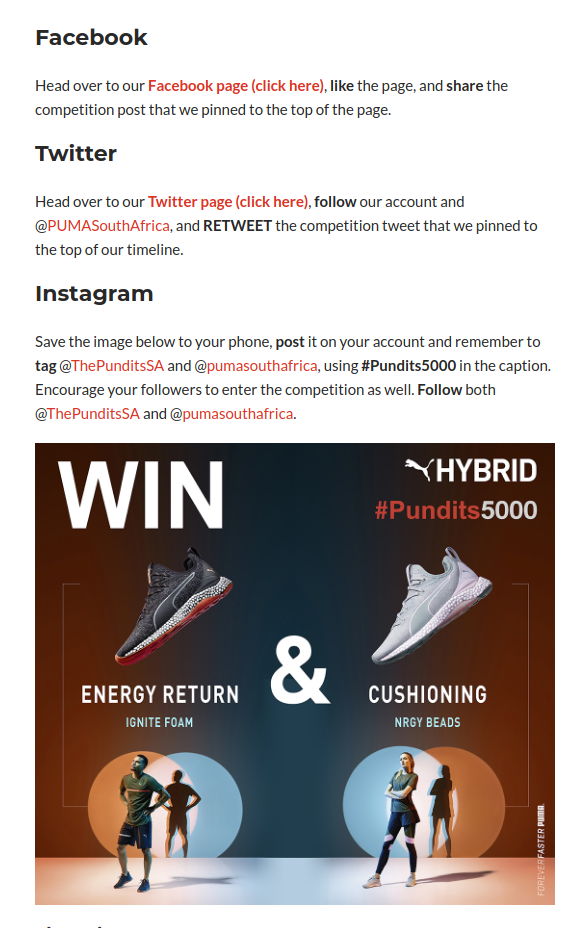 The Pundits' core audience are people with interest in sport and most likely take part in physical activities such as running. Therefore, partnering with Puma to put up running sneakers as the prize was an excellent idea.
Also, these sneakers are stylish enough to wear with casual clothing. This will make room for a larger audience.
Key Takeaway – Requesting entrants to download and share the giveaway post on their socials is an excellent way to get users to promote your giveaway for you.
Totalsports Giveaway
Totalsports is a physical and online fitness and sports clothing store.
They stock men and women's fitness apparel, sports team jerseys, and fitness devices.
Totalsports hosted a giveaway on Instagram that featured the new Fitbit Charge 4 as the grand prize.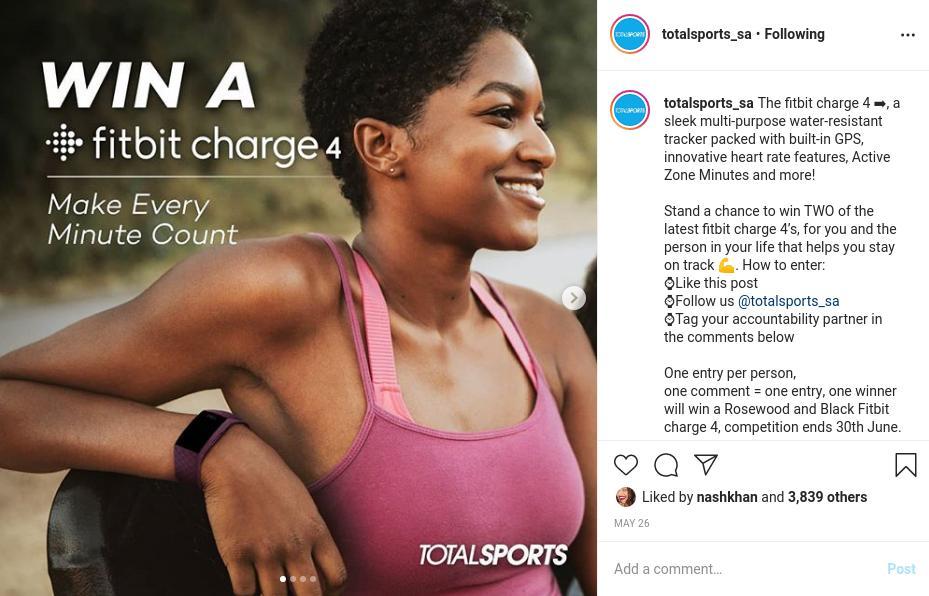 The entry method for the giveaway included 3 steps:
Like the post – This increases social media engagement
Follow Totalsports – Increase in social media followers
Tag a friend in the comments – Again, increases engagement on the post and extend the post's reach to other users.
Key Takeaway – This giveaway is an excellent example of using trendy fitness trackers to promote your store. The entry method is well designed to achieve multiple goals, like increasing followers, engagement, and reach.
FREE DOWNLOAD: Get all Our Contest & Giveaway Marketing Guides, Checklists, and tutorials that have helped 100's of brands collect 15k+ emails in under 21 days!
Creating a Fitness Giveaway with VYPER
With VYPER, you can create a stand-alone fitness giveaway landing page. Or you can simply embed a form or popup widget to your website.
For this tutorial, we will start with creating a fitness giveaway landing page with VYPER.
To begin, select 'New Campaign' in your VYPER Dashboard. Then select the 'viral giveaway/contest' template.
The template (pictured above) has all the text and elements already in place. Your next step would be to edit the text.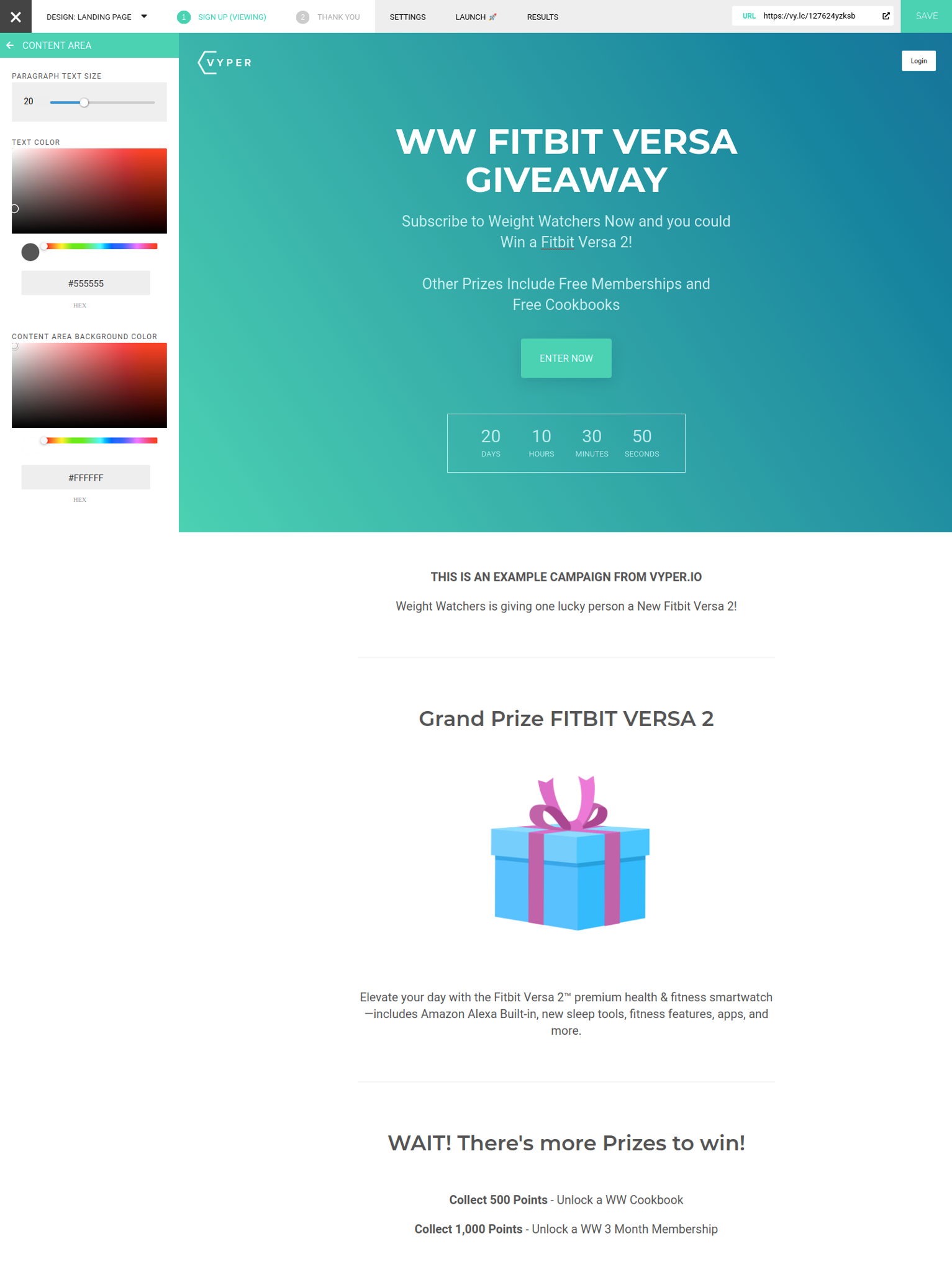 Simply click on the text you wish to change and insert your own copy. Once you have completed this step, you can start adding media.
Adding Media
Every element on the VYPER landing page is customizable. You can change the background image, the color scheme, and the fonts.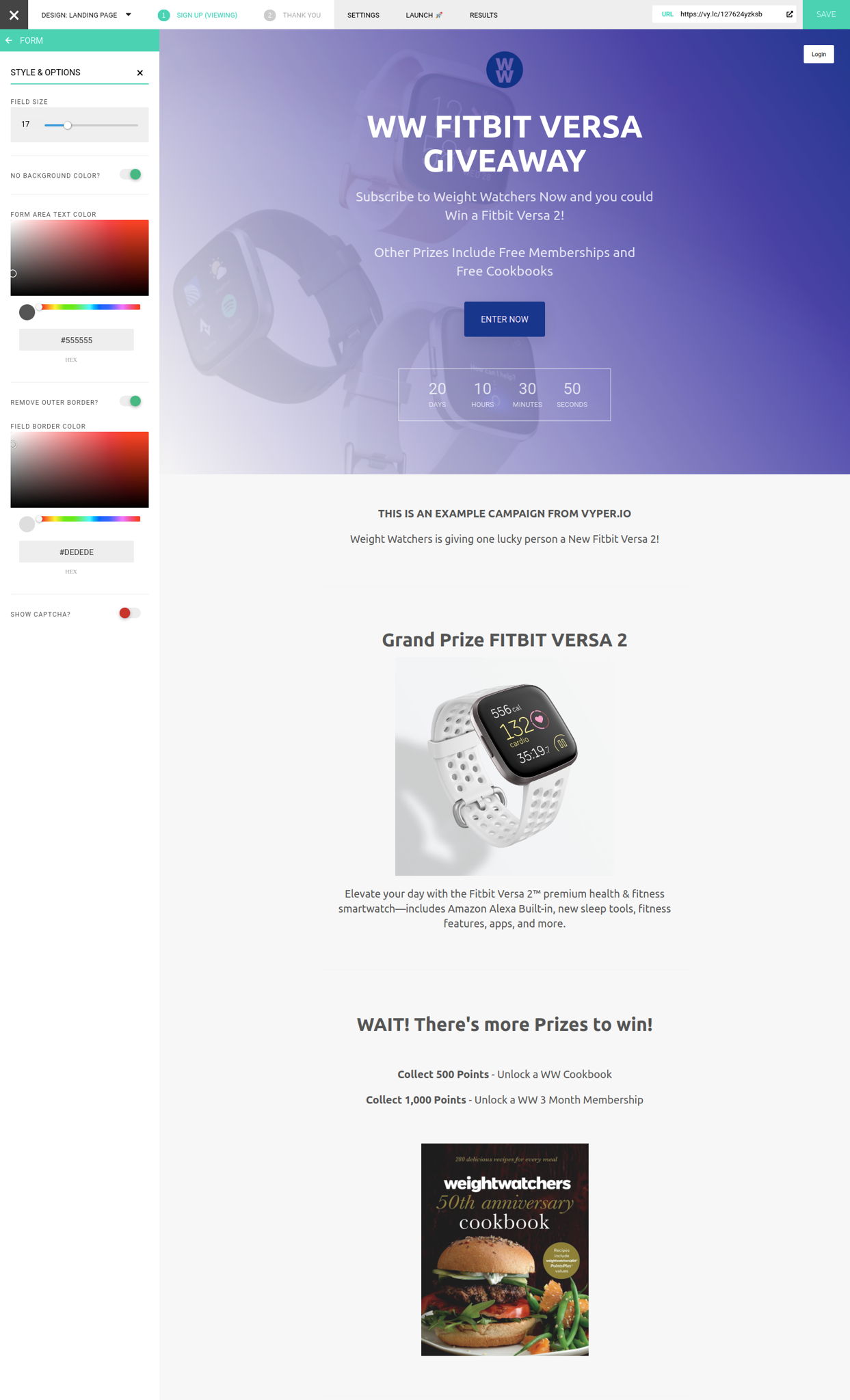 Just by adding a few images and changing the background colors, our giveaway landing page is completely transformed.
We added 2 images in total. One header background image and two images of the prizes in the content area.
The header background colors were changed to match weight watchers' color scheme. The content area background color was also changed to suit WW's color scheme.
We also adjusted the header and paragraph fonts accordingly.
Now, if you want more options to place the giveaway on your website, you can review the different placement types.
Giveaway Placement Types
Having a unique landing page for your fitness giveaway is an excellent idea. You have one central place to host everything that's related to your giveaway.
This is ideal for brands that dont have a website. Or brands that dont want to spend too much time creating a dedicated page on their website for a fitness giveaway.
However, if you do have other websites available and you want to place an entry form for your giveaway on those sites, then you can easily embed a giveaway entry form on those website pages.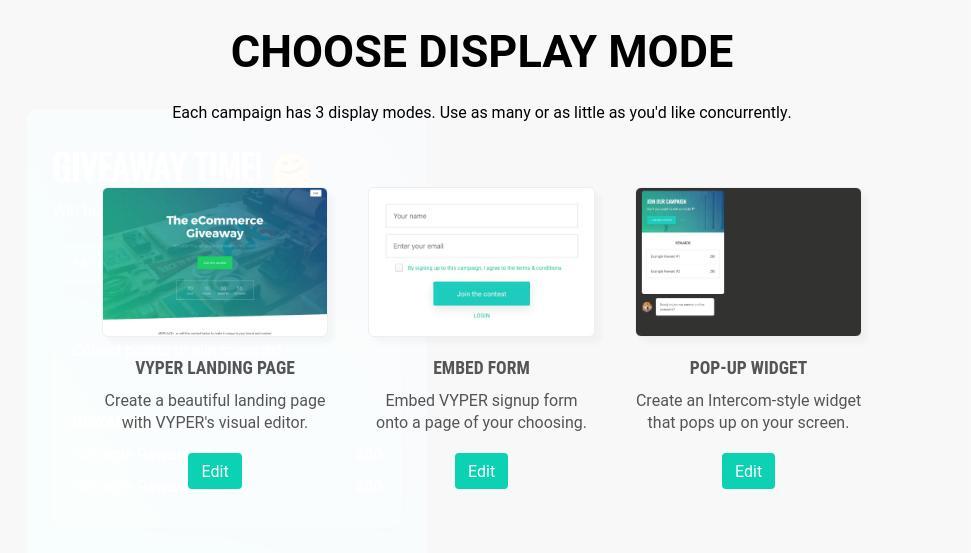 You can select the display mode for your giveaway (its currently set to "Landing Page").
By selecting "Embed Form", you can edit your giveaway form, grab the code, then embed the form to the desired page on your website.
Selecting the "Pop-up Widget" will allow you to make changes to a chat style pop-up widget that can be placed in the corner of your website.
This widget is very similar to Facebook's chatbot messenger widget. This is an excellent option if you want your giveaway form to be easily accessible on all of your websites pages.
The Pop-up Widget is also an excellent option for brands that are looking to host an ongoing evergreen giveaway.
Thank You Page
After a person submits their entry, they will be taken to a "Thank You" page. The Thank You page is meant to confirm a users entry, while also giving them additional options.
Additional options come in the form of "Bonus Actions" which are additional tasks that entrants can complete to earn points.
Points can be used to unlock rewards like discounts or bonus prizes.
This is an excellent way to get giveaway entrants to complete tasks that will help you achieve your goals (More followers, engagement, etc.).
To get started, select the Thank You (2) section at the top.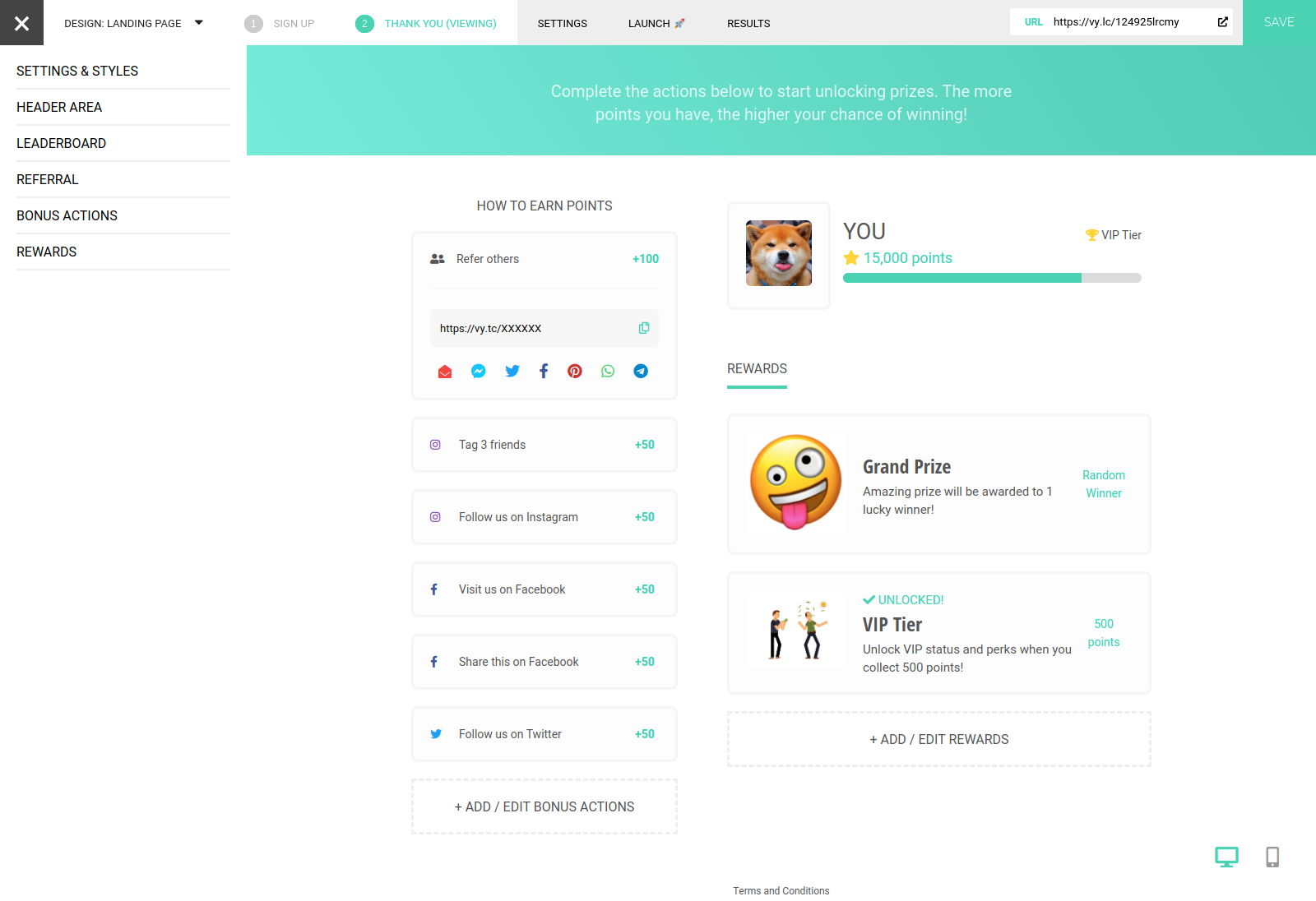 The Thank You page is another pre-made template that can be fully customized. Simply click on an element to make changes to it.
You can make additional design changes by clicking on the settings on the top left corner menu.
We made the following changes to this demo giveaway's Thank You page:
Used the same color scheme from the landing page
Inserted the prizes
Created Bonus Actions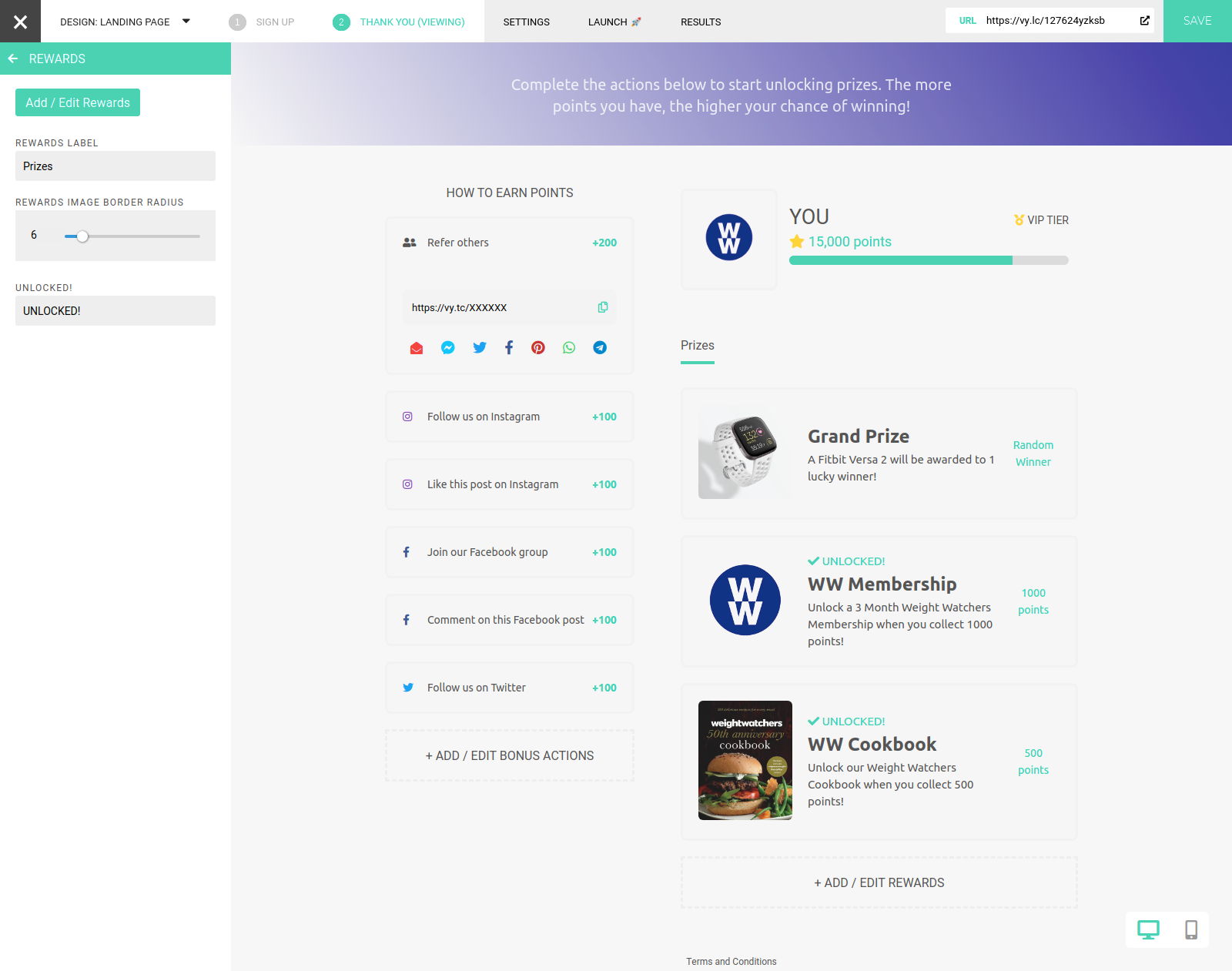 Bonus Actions
Our Grand prize (Fitbit Versa 2) will go to one lucky winner that will be selected at random. The other two prizes will be rewarded to any entrant that manages to acquire enough points to unlock those prizes
For example, entrants must complete bonus actions as defined on the left-hand side to earn points. We edited the bonus actions to suit the needs of the brand that's hosting the giveaway.
For this example, entrants can refer friends, follow WW on social media, and engage with WW's social media posts.
Entrants that complete these bonus actions will indeed boost WW's social media profiles, while also refering more people to the giveaway who will do the same.
This is the recipe for viral marketing!
Next, save your work and launch your campaign.

Click on the banner above to view a live demo of the contest that was created in this tutorial.
Q & A Fitness Giveaway Ideas
Can I use any prize for a fitness giveaway?
The prize you select is left up to you. However, if you want your giveaway to attract high-quality leads, then you will have to select a relevant prize. 

Likewise, In the case of a fitness giveaway, people who are interested in fitness should find your prize desirable.
Where is the best place to host a fitness giveaway?
Hosting a giveaway online is the most efficient way of going about it. Giveaway management platforms like VYPER have made it possible to easily keep track of your giveaway data.

You can host the giveaway exclusively on your website, or on social media.
How do I achieve multiple goals, like generating emails, social media followers, and website traffic, from a single giveaway?
You can use 'bonus actions' to set up additional tasks for entrants to complete. A task can be something like "follow our page" or "visit our website."

You can also allow entrants to earn points after completing tasks. This will encourage them further. Points can be used to unlock rewards and other discounts defined by you.
Bonus: How to Stand out in the Fitness Niche
Our very own Jack Paxton recently interviewed Gregory Dzemaili, a fitness coach that runs the fitness channel Lebe Stark.
The fitness niche in YouTube is extremely competitive, which is why Gregory chose to focus primarily on kettlebell training and build his brand around those kind of workouts. The result was that his brand became synonymous with a training routine that became popular during the pandemic.
Watch the full interview below to learn more:
Audio Only version of this interview below:
Bonus: Starting a Digital & Physical Product in the Fitness Space – Karina Rabin
Karina Rabin is a Fitness Influencer that built a strong following for her brand online. With around 400k followers on TikTok, Karina successfully created a fitness community around her brand and developed products for that community.
Listen to her exceptional advice on launching a digital store in the Fitness Space in her full interview below:
Bonus: Building a Fitness Empire with Jenny J
Jenny J is dedicated to guiding people toward healthier lifestyles. She built an audience that is consistently focused on her meal plans, recipes, exercise programs, and fitness classes.
We recently spoke to Jenny who was more than willing to share with us her secrets to building a niche monetizable fanbase. Listen to the full interview below:
TL;DR: Fitness Giveaway Ideas
Giveaways are viral marketing campaigns that can give a company a much-needed boost in leads. It is the kind of viral marketing strategy your brand needs in the highly competitive fitness industry.
You can host a giveaway to promote your fitness brand or to simply get people to come to your gym (or your sport and fitness store). Similarly, fitness giveaways are great for finding new clients for personal trainers.
We hope that you enjoyed reading our fitness giveaway ideas. Hopefully, they will inspire you to host your own successful giveaway.
Do you have any fitness giveaway ideas of your own? Let us know in the comments below.
Jack Paxton
Jack Paxton is the co-founder of VYPER, a marketing tool that helps brands build email lists, social followings, and revenue using viral giveaways, referral, and reward programs. After millions of dollars spent testing different marketing strategies at his marketing agency. He then also co-founded Hyax a fast, conversion & design-focused course and funnel builder for creators.