Mother's Day is truly a special day for moms all over the world. For a change, all the attention is on them.
Every family member has some sort of gift ready for mom. A gift that they would have spent weeks shopping for.
Because of this, there are so many Mother's Day promotions.
It can be challenging to get your Mother's Day promos to stand out. Unless you host a viral giveaway.
A Mother's Day Giveaway can be just what your business needs this year.
We know that it can be difficult to come up with ideas for giveaways. So, we compiled some excellent Mother's Day Giveaway ideas in this article.
Please feel free to use any of these ideas.
Good luck and have fun with your giveaway.
This post has been updated for 2023 to include new Mother's Day 2023 trends to watch out for this year.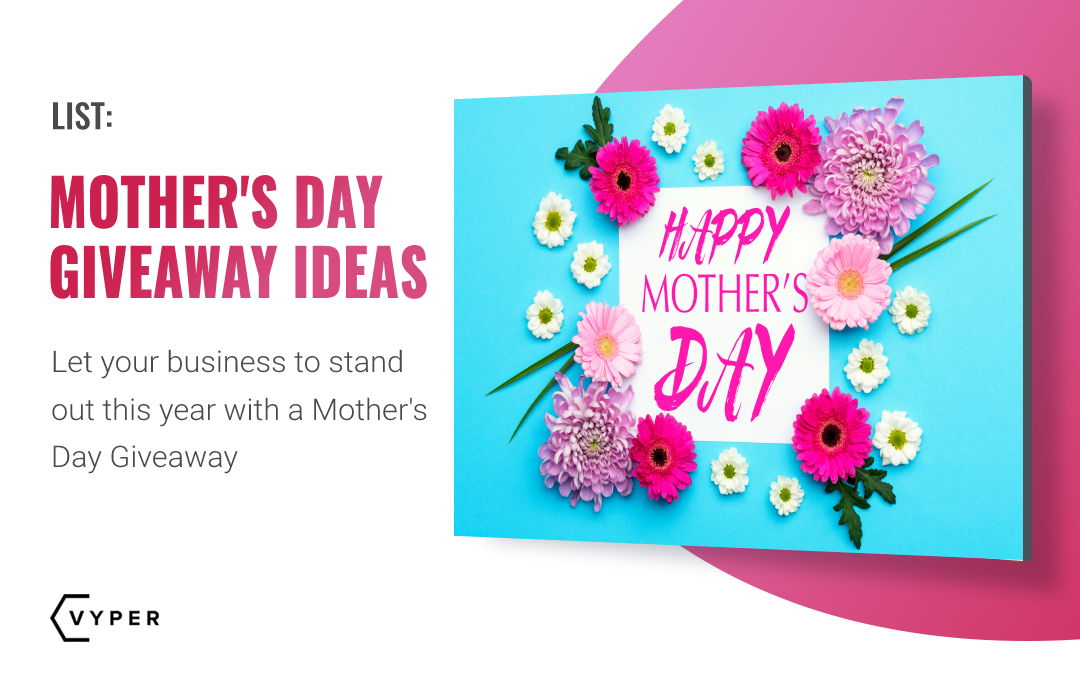 Mother's Day Trends to Watch in 2023
Mother's Day is an ideal time to make Mother's feel special. Of course, one of the best ways of doing so is with gifts and experiences. So if you plan on treating your mom this year with a sweet present, then consider these ideas below.
Here are a few Mother's Day trends to look out for:
Personalized Gifts – Jewelry, mugs, photo frames, and custom-made cards. A gift customized with your message to your mom offers a unique sentimental value that will be greatly appreciated for years to come.
Tech Gifts – Smart speakers, tablets, and e-book readers. The modern mom is a fan of modern tech that can entertain her or improve her lifestyle somehow. A smart speaker with smart home features will undoubtedly delight a modern mom.
Workout Gifts – Sneakers, gym equipment, yoga mats with bag, and fitness trackers. A smartwatch that tracks workouts and steps is the perfect gift for a mom that loves spending her time in the gym.
Home Decor – Scented candles, wall art, and decorative pillows. Mom will certainly think of you every time she walks into her house and sees her beautiful new decor.
Why Host a Mother's Day Giveaway?
Mother's Day promotions have become increasingly popular.
It's in no way the biggest event of the year (for most retailers). Yet, stores and brands are ready to accommodate customers looking for great gifts for their moms.
These stores need to promote these gifts so customers will have an idea of where to find great gifts.
However, the promotion window for Mother's Day is small.
You don't want to start too early. This will make your brand look desperate as if you are trying to rake in every dollar you can.
So how do you run a successful viral campaign just before Mother's Day?
With a Mother's Day Giveaway (Duh).
Benefits of a Giveaway
Ability to generate leads, social media followers, and website traffic
Creates brand awareness
Can extend your reach, making your brand more discoverable online and on social media
Can generate massive hype for other promotions during the same period
So, a giveaway that's hosted during the week leading up to Mother's Day can help a brand gain attention that can be directed to its Mother's Day promos.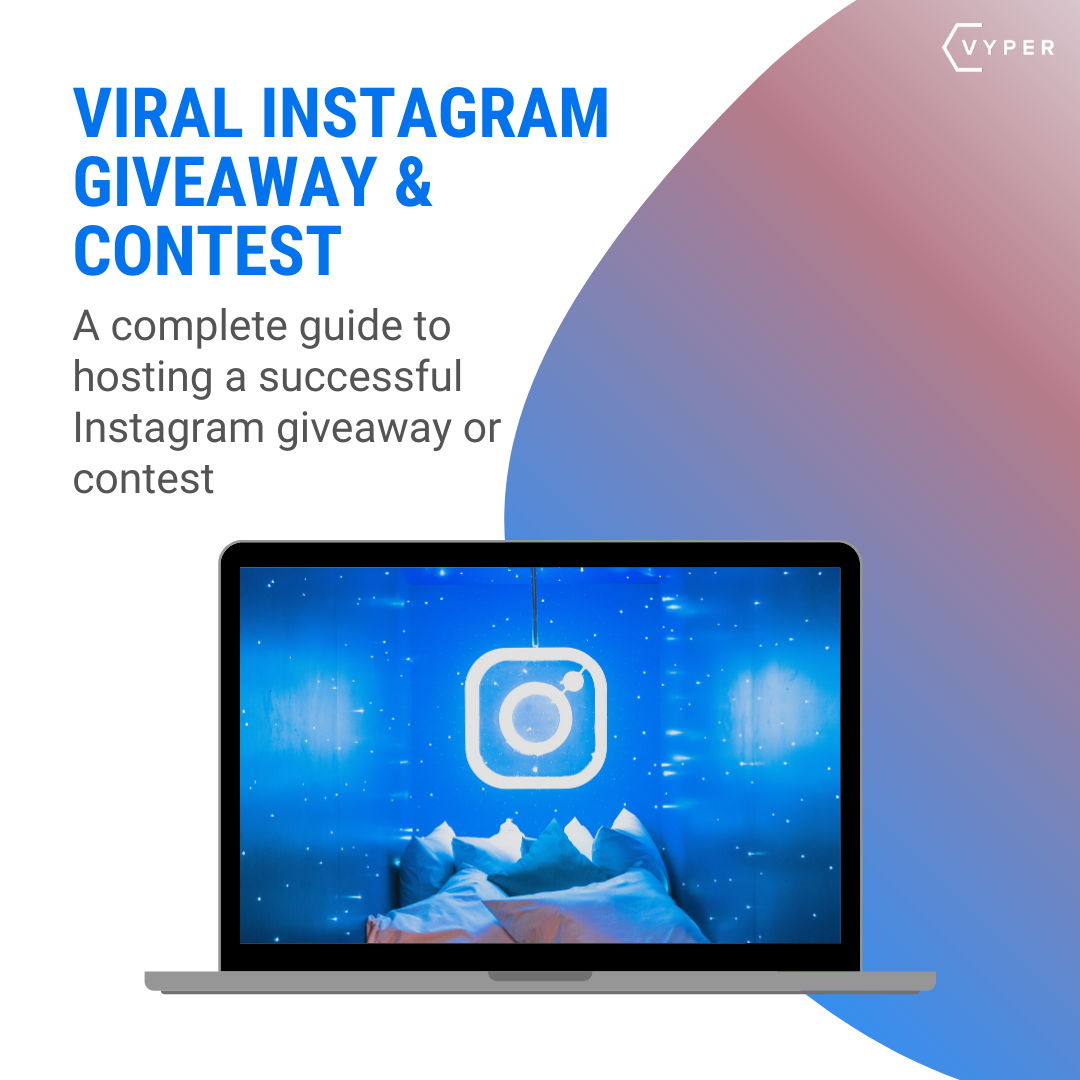 Want to learn how to host your own Instagram giveaway or contest?
Who Do You Target with Your Mother's Day Giveaway?
This is an important question. Do you target the moms? Or do you target the kids (or even the dads)?
If you have an online store, then targeting the person who is going to buy the gift might be the right answer.
Generally, the kid (younger person) would be more inclined to make online purchases. They would also be the one buying the gift.
Acquiring them as leads from your giveaway makes sense. They could also be valuable concerning future purchases.
Especially if your store does cater to them.
Now, if your brand caters mostly for moms, then your giveaway should appeal to moms. In this case, you should not target the person buying the mother's day gift.
If your store only caters to older age groups, then keep your giveaway exclusive to that age group. Use a store voucher or one of your products as the prize.
This way, your giveaway will attract relevant leads that you can market to at a later stage.

Mother's Day Giveaway Examples
Here are a few examples of recent Mother's Day Giveaways hosted by businesses and small creators:
Happily EVEN After UGC Contest – @happilyevenaftercabin (Instagram)
Entry Method: Like and Follow us on Facebook, Instagram, and TikTok
Prize: 2 Night Stay at The Cabin and a surprise giveaway bundle
Ideal for: Hotels, Resorts, or Influencers
Happily EVEN After Cabin is a luxury cabin rental brand that uses Instagram to promote its brand and host Giveaways. They hosted a unique Mother's Day giveaway with a User-Generated Content (UGC) element.
Giveaway entrants were required to share a special story of their mom in the comments section. Happily EVEN After then, selected the best comments and posted them daily during the giveaway.
The strategy above is excellent for these reasons:
The comments boost engagement, adding to the virality of the giveaway post.
Allowing people to share their personal stories in your comments section will add originality and quality to the post. People can scan the giveaway post comments for interesting wholesome stories.
Happily EVEN After re-used the user-generated content in their comments section by creating posts for their social media profiles. UGC allows brands to find unique content ideas from their audience.
Key Takeaways:
Users must follow the brand on all their social networks to enter—one campaign to boost multiple social media accounts.
Allowing users to share their stories makes room for UGC, leading to more engagement, brand exposure, and more.
By converting user comments into posts, the brand quickly developed more content for their socials. The content can be used to promote the giveaway as well.
Hougang Mall Giveaway – @hougangmall (Instagram)
Entry Method: Answer a question in the comments (also like, share, and follow)
Prize: CUCKOO Multicooker
Ideal for: Shopping malls, cooking brands, or food influencers
Hougang Mall is located in Singapore and uses Instagram as a platform of choice for marketing itself and its stores.
They teamed up with CUCKOO Singapore to giveaway a multicooker to one of their Instagram fans.
Users had to answer a question (what dish would they prepare if they had the cooker) to enter. Entrants were also required to follow both Hougang Mall and CUCKOO to enter.
This giveaway is a great example of how a shopping mall and a cooking appliance brand can team up to promote themselves before Mother's Day.
Key Takeaways:
Getting people to mention how they would use the prize is an excellent idea. This strategy will get users to fill the comments section with their answers, which will massively boost engagement.
It's always great to see two brands team up to host one giveaway that each brand can benefit from.
Encouraging users to like and share the post will allow your audience to promote the giveaway for you. This will lead to more people discovering your giveaway.
Mother's Day Giveaway – Rose Cottage Studio (YouTube)
Entry Method: Subscribe to my channel and leave a like and comment to enter
Prize: Devotional Journal by Still Waters
Ideal for: Small niche YouTube channels, personal brands, or micro-influencers
Doris from the Rose Cottage Studio is a Youtuber that creates content on crocheting, quilting, and other creative crafts.
She hosted a small Mother's Day giveaway on her channel to grow her audience and increase engagement. The giveaway was successful in achieving those goals.
Doris gave away inexpensive prizes that appeal to her audience. This allowed her to host a low-cost giveaway that was effective enough to help her reach her goals.
Key Takeaways:
Users that discovered this giveaway and its prize also discovered the host and their channel. This is a great example of how a YouTube giveaway can be used as a tool for getting new users to discover your channel.
A simple and cost-effective giveaway that works for everyone.
The giveaway prize is very niche. However, it will attract a specific audience that is suited to the channel.
Mother's Day Giveaway Ideas
Are you a store owner or brand that's looking to host a Mother's Day campaign?
A Giveaway is an excellent idea for brands looking to do something special on Mother's Day.
We rounded up some fantastic giveaway ideas for Mother's Day below.
Please feel free to make use of any of the ideas listed below.
---
Mother's Day Social Media Giveaway
Brands and stores that are looking to keep things simple with their Mother's Day Campaigns can host a social media giveaway.
A Mother's Day Giveaway that is hosted on Facebook or Instagram is a great way to create hype on social media before your Mother's Day promotions.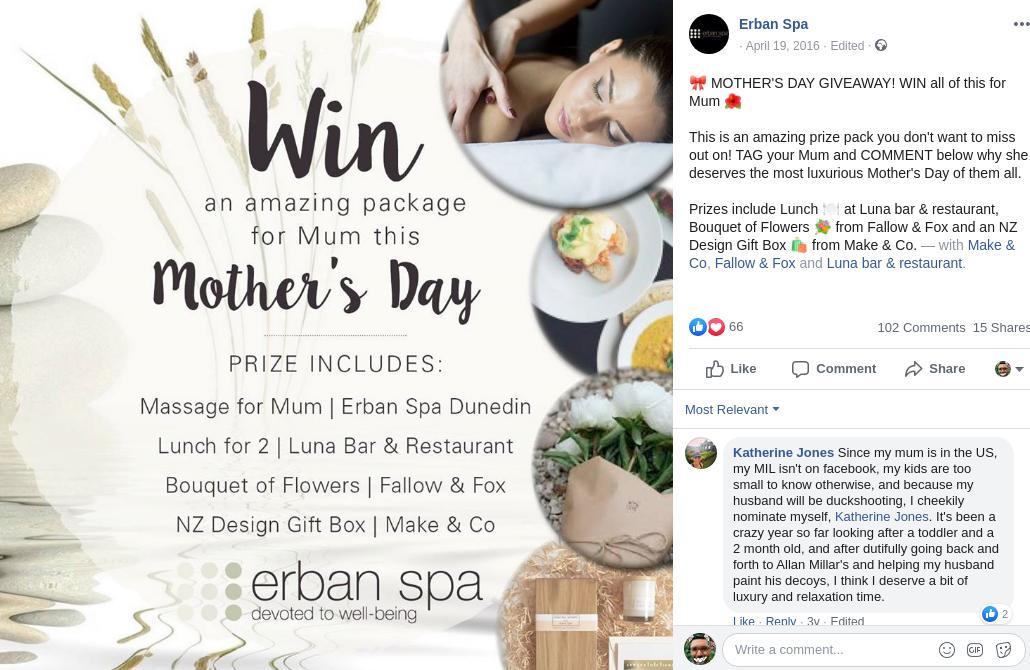 The week before Mother's Day is the perfect time to interact with social media users.
You can target both mother and son/daughter with your giveaway. However, if your target audience falls in an older age group, then you could restrict your giveaway to moms only.
Examples and Prizes
Moms Only Facebook Giveaway – For the moms that spend most of their time on Facebook
Mother's Day Instagram Giveaway – For the kids that want to win an awesome prize for mom
Prize ideas – Coffee maker, bath and beauty products, kitchen appliance, almost any prize that will ideally attract your target audience.
Benefits
Acquire new leads before Mother's Day
Creates attention that's directed towards your brand
Ideal campaign to run alongside other Mother's Day promotions
Best For
Brands that produce Mother's Day gifts
Appliance brands
Beauty and hair brands
---
Mother's Day Bake-Off Contest
Cooking or baking with your mom is such a wholesome activity. A fun, enjoyable, and memorable activity.
A Mother's Day Bake-off Contest that includes this activity can be exciting and engaging for your audience.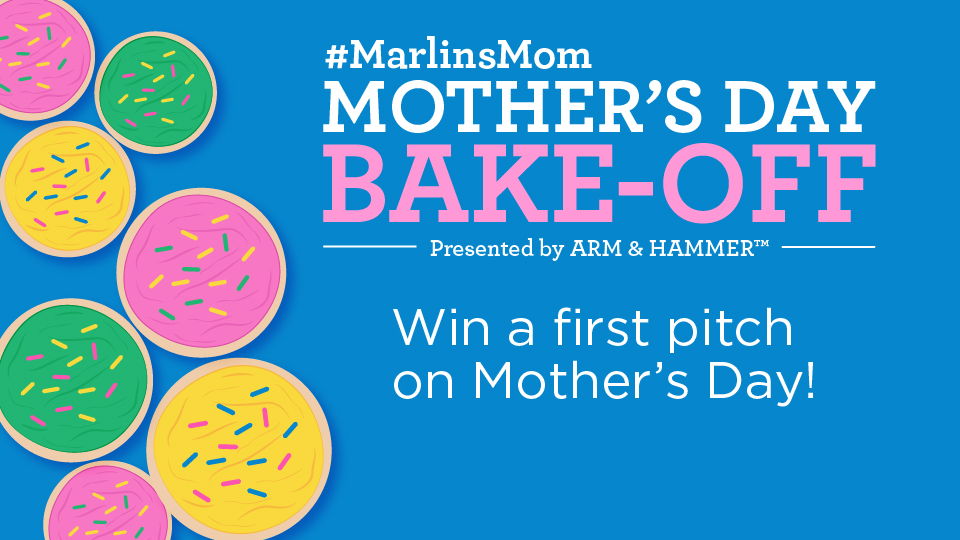 Teams can submit pictures or videos of their cupcakes, biscuits, and other delicious treats.
This can be the beginning of a great UGC contest.
People that are not willing to bake can still take part in the contest by supplying their email to vote. This can lead to tons more referred email leads.
To take things further, the top 10 contestants can battle it out in a bake-off in front of a live audience. The bake-off can be streamed on the same platform the contest was hosted on.
Examples and Prizes
Best Cake Decoration Contest
Cupcake Contest (Make cupcakes with our baking mix)
Best Looking Pastry Contest
Prize ideas – Baking trays, cupcake stand, and food mixer.
Benefits
Creative and fun for the audience
Kid-friendly
User-generated content
Contestants will refer more leads to vote
Best For
Food/baking brands
Supermarkets
Kitchen appliance brands
---
Mother's Day Trivia
Did you hear about those cute little trivia games on Snapchat? The ones were you have to guess the movie. Then you send the same question to a friend to guess.
Your friend will answer, then they will send you a new question. The one with the most correct answers wins.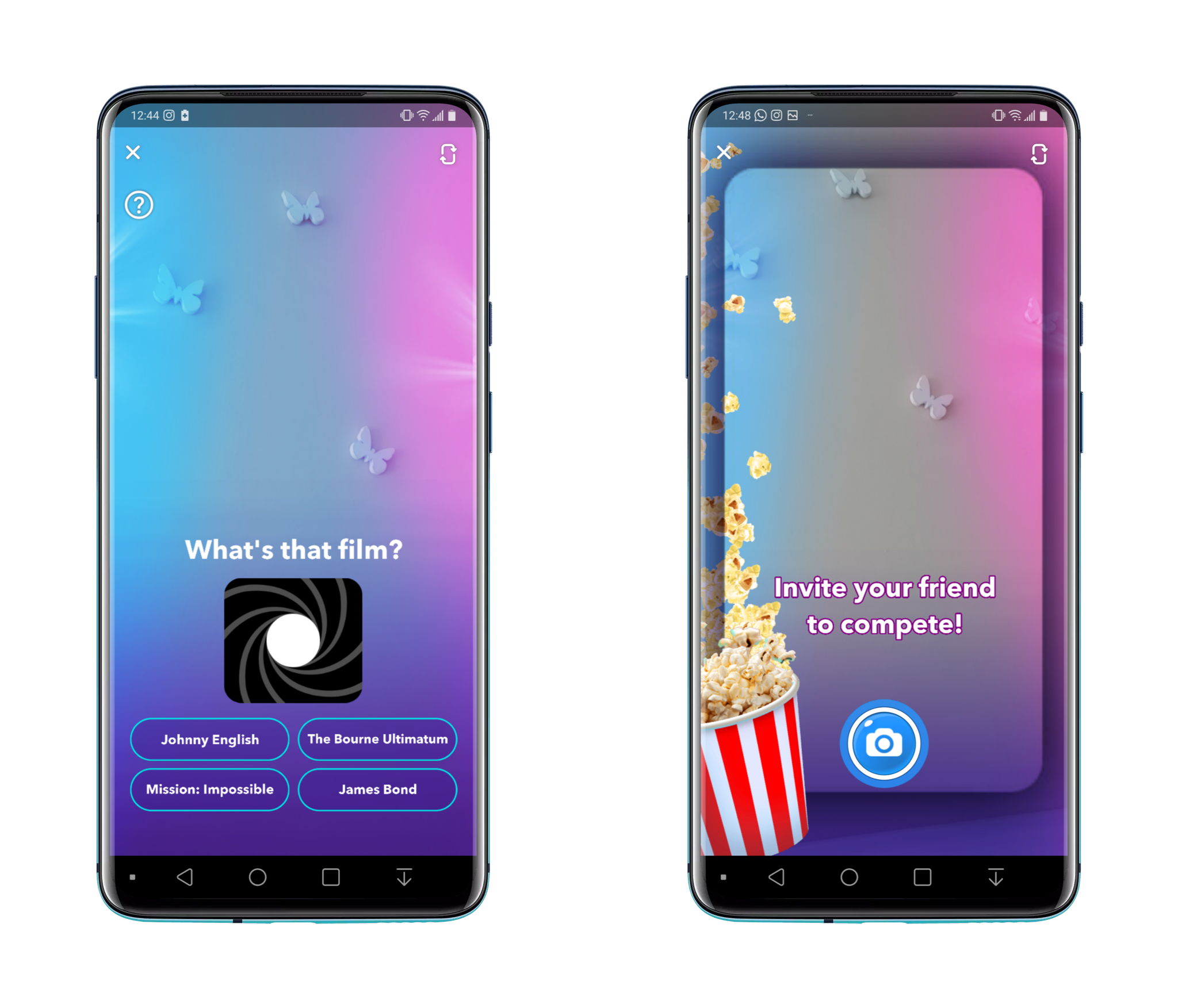 You can host an online Mother's Day Trivia contest were moms answer questions about their kids.
Facebook and Snapchat have great features for hosting these mini-games. Your brand could sponsor a game on one of these platforms.
Playing the game can be part of the entry method of your giveaway.
Examples and Prizes
Mother's Day Trivia
Moms Movie Trivia (Moms favorite movies and actors)
Moms Celebrity Trivia (Guess celebrities from past decades)
Prize ideas – Stores can offer discounts and vouchers. Entertainment products like movies and books.
Benefits
Interactive and fun for the audience
Kid-friendly
Great brand building. Contestants will appreciate brands supply free entertainment for them to pass time
Best For
Entertainment brands
Cinema and movie theaters
Comic book stores
Online stores that sell entertainment products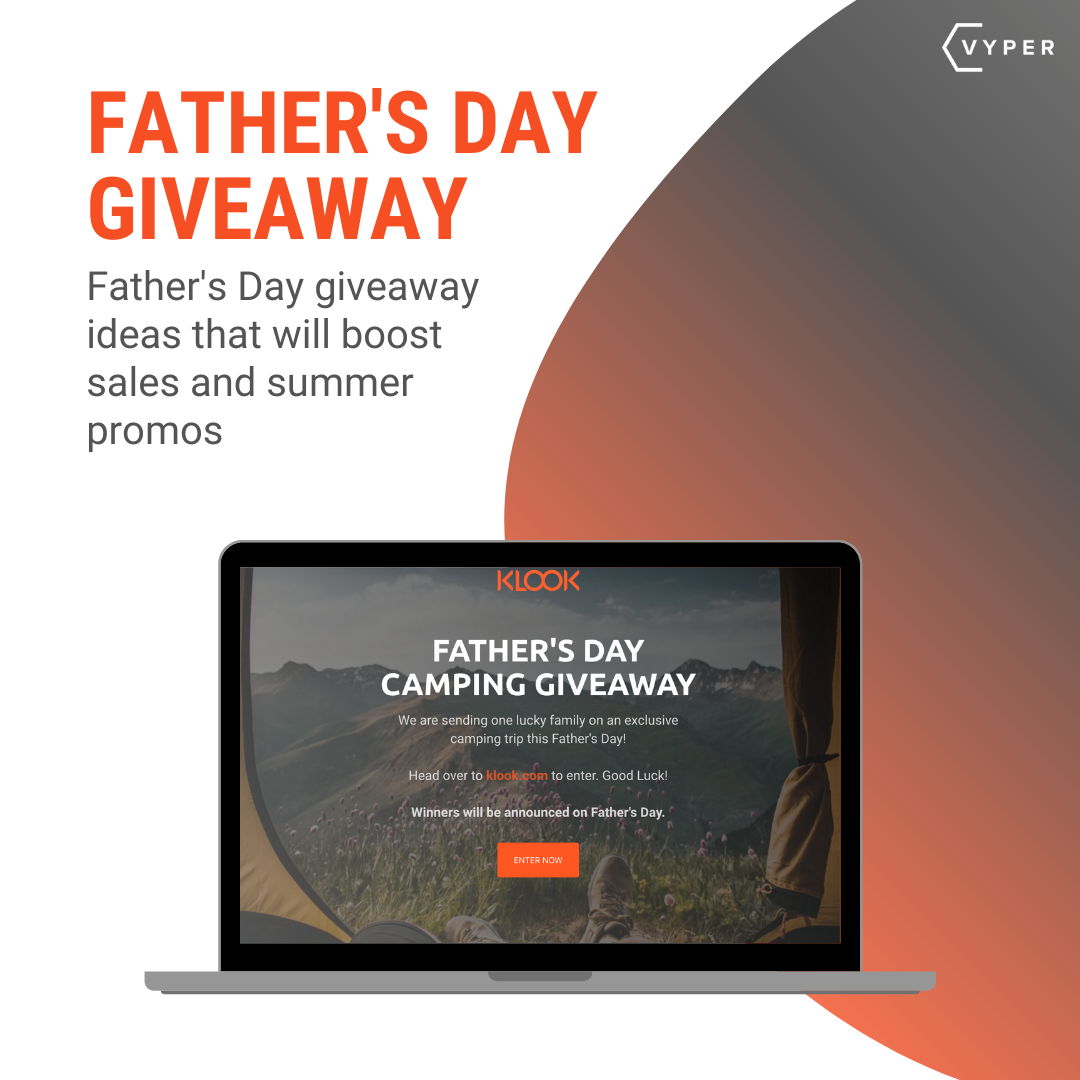 We also have a collection of excellent Father's Day giveaway examples, case studies, and ideas.
Click here to learn more about Father's Day Giveaways.
---
Mother's Day Selfie Contest
Selfie contests are perfect for brands looking to produce user-generated content.
Facebook and Instagram are some of the best places to host these campaigns. The reason being, these are media-friendly platforms.
You can keep this campaign simple by asking users only to submit a picture of themself to enter for a chance to win big.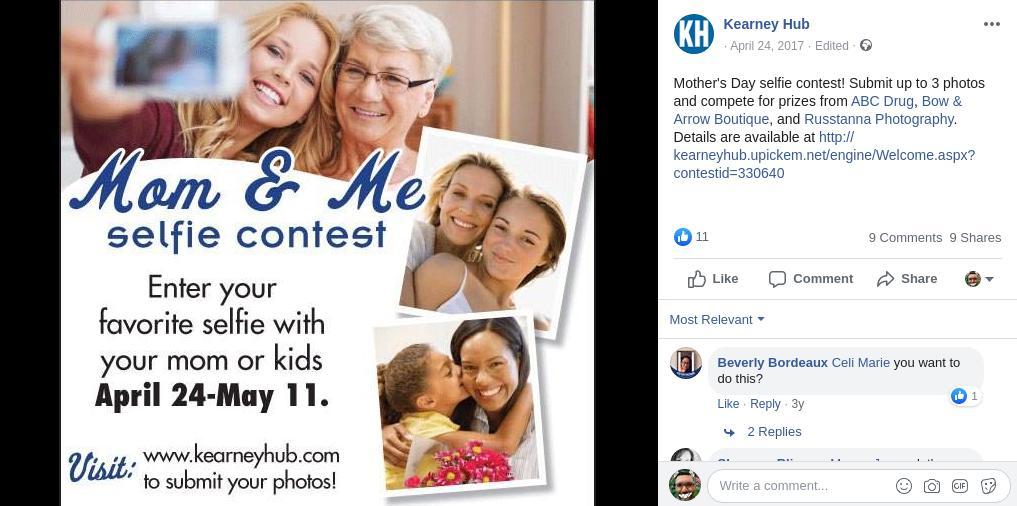 To make things more exciting, you can ask people to send pics of themselves with their mom.
Examples and Prizes
Mother's Day Selfie Contest – Pic of you and mom
Product selfie contest – Pic of mom with a product
10 Year Challenge – A collage of you and mom that includes an image from 10 years ago and a current image
Prize ideas – Beauty products, spa getaways, store vouchers
Benefits
Producing plenty of user-generated content
Great brand building. Your product will be placed in tons of UGC
An excellent way to find a target audience
Best For
Beauty products
Department stores
Spas and Salons
---
Fitness Giveaway
This giveaway is for those health-conscious moms who are frequently in gyms and yoga classes.
A Mother's Day Giveaway is an excellent idea for gyms that are looking to host an event on Mother's Day.
It's also a great giveaway idea for fitness brands that cater to moms.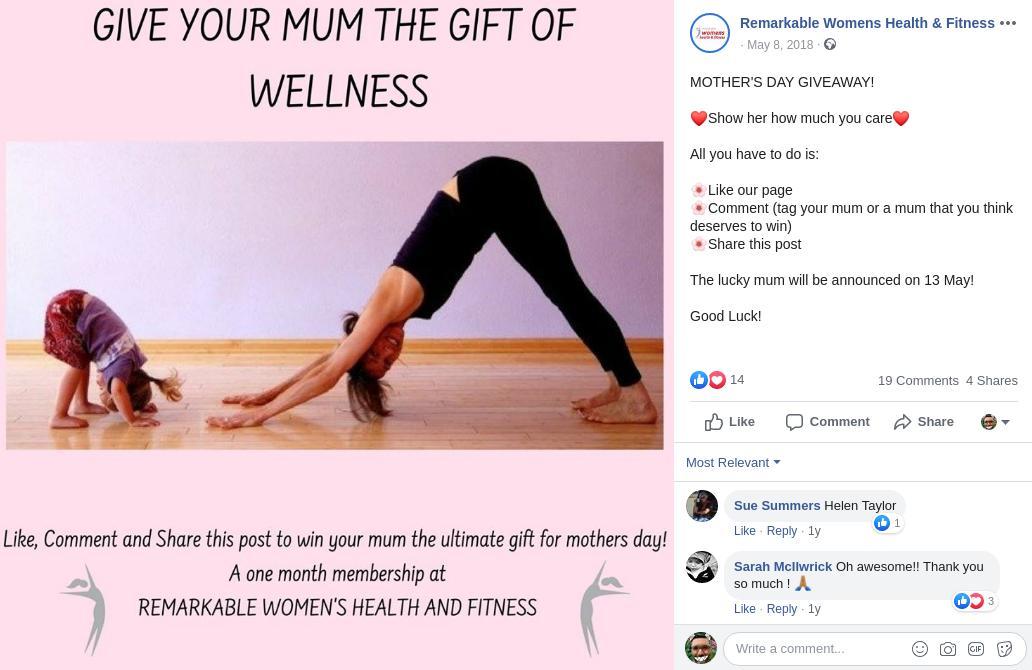 You can host the giveaway on your website or social media.
Choose your prize wisely to ensure that you cater to the right audience.
Examples and Prizes
Gym giveaway – A giveaway that's hosted by a local gym with the prize bring free membership for a limited time
Fitness giveaway – A Mother's Day Fitness Giveaway with prizes ranging from workout apparel to fitness watches and heart rate monitors
Benefits
Excellent campaign to build interest in a fitness brand before Mother's Day
Gyms can potentially find new leads online and on social media with this campaign
An excellent way to find a target audience
Best For
Gyms and other fitness centers
Fitness products (watches, step counters, and heart rate monitors)
Fitness supplement brands
Want to learn how to create your own viral Facebook contest?
Mother's Day Giveaway Prize Ideas
We've listed some of the most popular Mother's Day prizes in this section. These are prizes that are commonly used and work well.
Remember, your prize is the most crucial factor in your giveaway. It's the prize that draws people to your giveaway.
Kitchen Appliances
Blenders, mixers, or food processors are great prizes for a Mother's Day Giveaway. These appliances will make mom's life much more easier in the kitchen.
Gift Card
A store or mall gift card. This is perfect for those moms who dream about shopping sprees.
Online Voucher
Voucher/s or discounts that are redeemable at online stores. This will ideally suit online stores. You can offer a massive voucher as the prize.
Spa Day
A spa getaway. Mom will definitely appreciate having a break from it all with a change of scenery.
Movie Night
Offer free movie tickets. Movie ticket prices are high and off-putting to most moms. Mom will love free tickets to the movies.
Babysitting Service
It's hard for moms with little kids to leave home and go out with friends or with dad. A free night or two of a babysitting service can make it happen.
Mother's Day 2020 Restrictions
Unfortunately, this year's Mother's Day will be affected by restrictions due to the global COVID-19 pandemic.
Most of the prizes or services listed above might not be available in most regions due to necessary lockdowns.
Vouchers, gift cards, and discounts could be a better alternative during this time.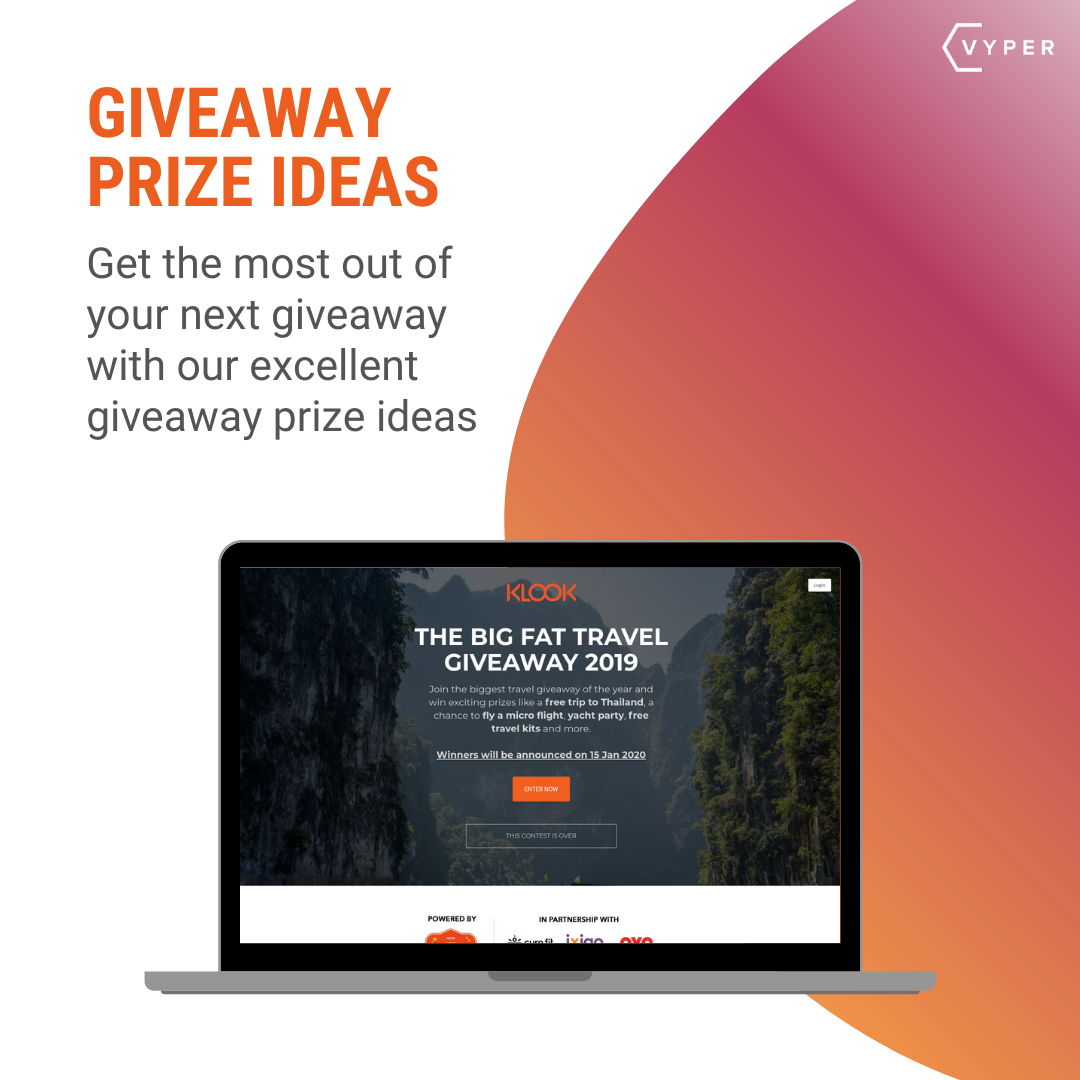 Looking for more giveaway prize ideas? We wrote an article that is filled with great examples of giveaway prizes and tips for choosing your next prize.
Q&A Mother's Day Giveaway
❓️ What is the average duration of a giveaway?
Giveaways, on average, are hosted over two weeks (14 days). You can run them over a longer or shorter time frame.

However, people can lose interest in a giveaway that's hosted for three weeks or more. One week for a giveaway is too short, and it doesn't give you enough time to promote the giveaway properly.

❓️ Which campaign will work better over Mother's Day, a giveaway, or a contest?
Giveaways are an excellent way of generating leads, social media followers, and website traffic just before Mother's Day. If your store sells products that are ideal for Mother's Day, then this will be the right strategy for you.

Contests are great for creating brand awareness and its best for brands that just want to take part in Mother's Day activities.

❓️ How big should my giveaway prize be?
Mother's Day is a special day. However, it might seem overkill to go with an expensive, over the top prize. Stick to a simple prize or a bundle of small products.

TL;DR
Mother's Day is still a special day for a lot of families. Your brand can make this day even more special with a giveaway.
Your Mother's Day Giveaway can be used to target either mom or the people that buy presents for their moms. The giveaway is also an ideal campaign to host alongside other Mother's Day promotions.
Does your brand run giveaways or promos for Mother's Day? Let us know in the comments below.
Jack Paxton
Jack Paxton is the co-founder of VYPER, a marketing tool that helps brands build email lists, social followings, and revenue using viral giveaways, referral, and reward programs. After millions of dollars spent testing different marketing strategies at his marketing agency. He then also co-founded Hyax a fast, conversion & design-focused course and funnel builder for creators.