Owned media vs earned media – Which one is better for your brand? Should you pour all of your resources into Creating Content? Or should you focus on Word-Of-Mouth Marketing? Is Paid Media a better option?
Our clients frequently ask these questions after being overwhelmed with the number of options their brands have for building an online presence.
At VYPER, we personally use all forms of media. Be it Blog Posts, Podcasts, Social Media Content, and Ads. It's how we build our brand online.
If you are not sure what to invest in, don't worry, we have your back! We analyzed both Owned and Paid Media to find out which one is better for growth marketing.
Let's go!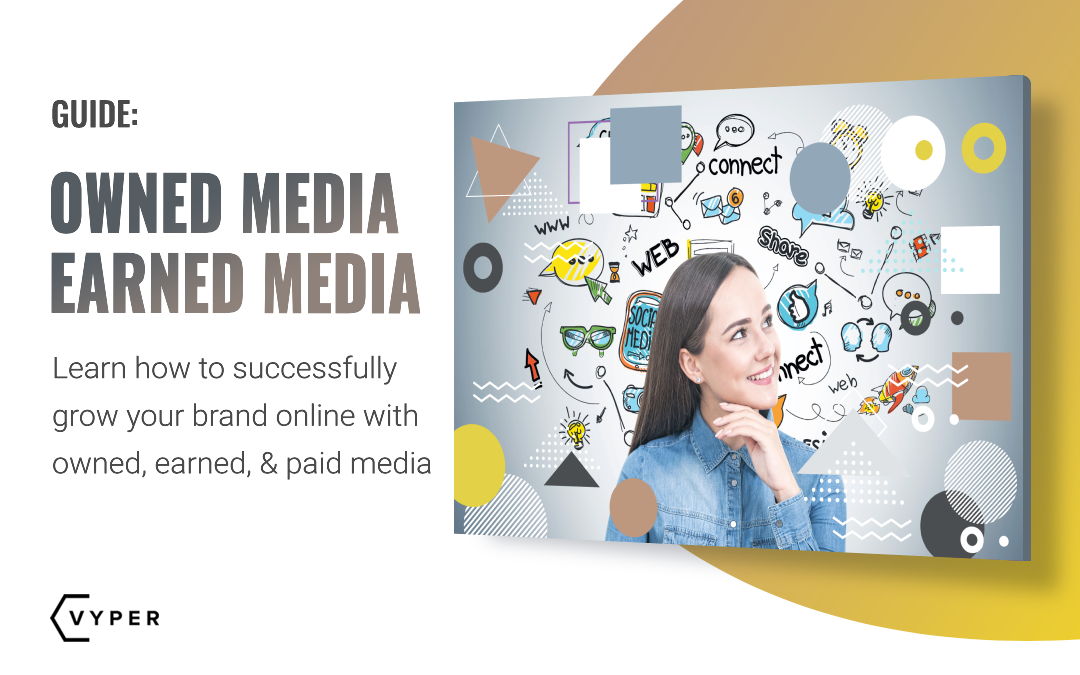 FREE DOWNLOAD: Get all Our Contest & Giveaway Marketing Guides, Checklists, and tutorials that have helped 100's of brands collect 15k+ emails in under 21 days!
Owned Media vs Earned Media
Modern brands can't afford to be inactive on social media platforms such as Instagram, Facebook, and Twitter. Companies are exposing themselves daily to customers and, in turn, gather customer feedback and pay for advertising to support a single marketing strategy.
These various methods of exposure on online channels may seem like vital parts of online marketing. But they all have different names and can sometimes be tricky to differentiate.
Specifically, these components of single marketing strategies are known as owned, paid, and earned media. Each is a powerful and essential tool for businesses that want to create more visibility around their brand.
Earned media and owned media can improve consumer retention and even increase a company's influence in its niche market. All types of media make it easier for businesses to raise brand awareness across various online channels. But it's not always clear which one is best for growth marketing.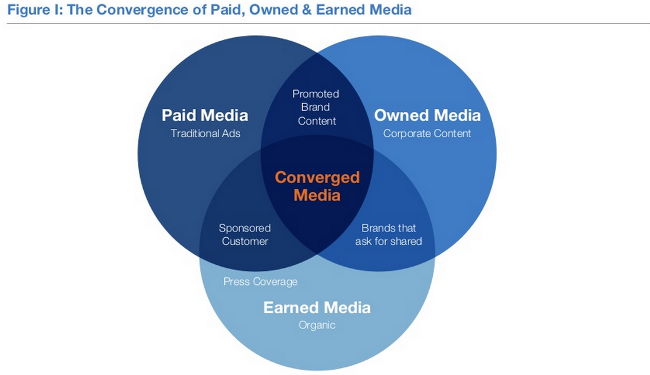 Make your options for growth marketing clearer by understanding the similarities and differences between paid, owned, and earned media.
A solid understanding of paid, owned, and earned media lets you better assess your business's current marketing assets and identify opportunities for improvements to your marketing strategy moving forward.
To start, let's cover paid media and how it affects advertisements on social media and search engine results pages (SERPs).
Intro to Paid Media
You can approach paid media as well as owned and earned media like a triangle. All three points are essential parts of a whole.
In this case, a well-defined online marketing strategy. When it comes to the paid components of your digital marketing – think ads on social media and SERPs – you're talking about paid media.
Brands pay for paid media to promote their content and improve their earned media efforts, which we'll discuss in just a moment.
With paid media, brands can generate greater exposure around their products and their website on social channels like Facebook, Twitter, Instagram, and Linkedin.
Paid media extends to social media influencers whom brands can pay to promote their content using retargeting strategies like Pay Per Click (PPC). With PPC advertising you can expect to earn $0.05 to $0.50 per click on average to direct more visitors to your site and increase your rate or conversions.
At the end of the day, paid media is always a marketing component that brands must pay for to holistically direct search traffic toward their owned media sites.
Ads on Socials
Online brands both new and established should remember to appreciate the thrill of social media advertising to reap the greatest of its benefits.
The thrill of paid advertising on social media lies in the knowledge that companies can transform just about any product or service they offer into a coveted asset in their niche market.
It's important that online businesses use this knowledge to create unique products and content that can cut through the noise of the nearly 83% of businesses that rely on social media to attract customers.
After all, it's impossible to maintain the long-term success of a single marketing strategy without generating some buzz on social media.
Brands need people talking about their content and sharing with their friends, family, and colleagues reasons why it's so great. It's therefore time that we define earned media and its importance within an online marketing strategy.
The Definition of Earned Media
Owned media and paid media often generate a lot of discussion among up-and-coming online brands, and with good reason.
These media types directly and visibly contribute to a business's presence on various social channels. Earned media, however, affects brand awareness a little differently.
Your media sites such as your website and social channels are the places you want more people to go to. Your earned media is what gets them there in the first place.
Earned media, sometimes referred to as "word-of-mouth marketing", refers to anything you want to promote using PR and public reviews of your products and services. Without earned media, your brand can be hard-pressed to create lasting customer loyalty and trust in your business.
Earned media is necessary to prove to future customers that the content your brand shares online is legitimate.
Word of mouth marketing can demonstrate to soon-to-be customers that your brand is worth talking about. This is especially true when popular social media influencers and other brands share your content on their own or through social sharing tools.
Earned media can initially be difficult to implement into a marketing strategy. But it's worth keeping in mind that more than 85% of businesses rely on trusting word-of-mouth referrals to secure local clients over media marketing or paid advertising.
Referral Marketing
Generating word-of-mouth referrals and improving your brand's earned media can admittedly be slow and organic. An online business can thankfully speed up its process of generating word of mouth. This can be done with incentivization and gamification that rewards people for sharing its content.
Incentivization and gamification tools use reward programs and viral contests to engage more people with a brand and encourage them to leave product reviews.
Incentivization and gamification tap into the power of earned media and word-of-mouth referrals. This is by providing every participant in your campaign with a personal dashboard and referral link to share your content whenever, wherever.
Earned media is the publicity and exposure you obtain from non-paid advertising and promotion. This publicity isn't good for much, though, if you don't have somewhere to which you can direct people.
You need owned media to make the most of your website, blog sites, and social media channels to extend your brand to as many people as possible.
The Definition of Owned Media
Owned media relates to all of the content that you publish on your own. Blog posts, press releases, videos on social media, even your email marketing — owned media refers to all of this content.
Owned media is almost always free and provides businesses with the flexibility to control who engages with their owned marketing content.
Owned media is crucial to the success of any content marketing strategy. It's also the single component of the single marketing strategy triangle. It can also flourish without needing a budget behind it.
Brands should feel encouraged to create content with the sole purpose of connecting with a greater number of people organically. A larger amount of owned media content lets you generate more brand visibility across the digital sphere.
Brands however must be careful when investing time and energy into their owned media marketing strategies. It's important to remain consistent without ever publishing unreliable or duplicative content that you've posted in the past.
How Google Perceives Content
Google's search engine checks for fresh content and rewards websites that regularly deliver quality content to their readers. Google values word count as well when crawling blog and article posts on your site.
This trend has been observed in the word count of written content and blogs with more than 2000 words receive the top spot in Google's SERPs.
A basic understanding of owned media and the customer engagement benefits it offers can make it easier for brands to receive more traffic to their media sites through Google searches.
The majority of website pages receive little to no traffic from Google searches and just over 5% of pages get only ten visits each month or fewer.
Understanding the fundamentals behind paid, earned, and owned media is required for any brand that wants to improve its growth marketing.
What, then, are the greatest growth marketing benefits brands can look forward to when using earned and owned media?
The Benefits of Owned Media (for Growth Marketing)
Owned media is important in today's e-commerce sphere that's rife with competition. If used correctly, owned media sites and channels can create trusted customer relationships and long-lasting brand loyalty.
With owned media, businesses have free reign over their social channels and media sites. Additionally, owned media channels make more sense for online businesses with limited budgets to allocate toward their growth marketing.
Brands ultimately control everything they do with their owned media and always have the final say when it comes to the content they disseminate online. Owned media can make or break a growth marketing strategy. This is because of how heavily brands can adjust it to accommodate their changing marketing objectives.
If your business mainly targets B2B buyers, owned media can even become your greatest contributor to organic search rankings.
This is especially true as you nurture and foster customer relationships.
The Benefits of Earned Media (for Growth Marketing)
Earned media doesn't cost brands a thing while also letting those brands share their media across a variety of channels.
Positive earned media is more likely to be shared by your consumers and brand advocates. This can propel your brand into a bigger spotlight.
A positive shoutout or promotion by a well-known social influencer quickly boosts your brand with little effort on your end.
Earned media that's tied to a memorable and well-liked brand can provide significant positive exposure across product reviews, customer testimonials, and likes and shares on social media channels.
Earned media last but not least complements your other media types and strengthens your single marketing strategy.
Satisfied customers who are happy enough to share your earned media are more likely to engage with your paid and owned media, too; don't leave money on the table by overlooking your earned media.

Different Ways To Use Owned and Earned Media
Examples of ways to use owned media typically involve your brand's website as well as its blog posts and social media channels.
Your website is a long-term piece of owned media. Your site allows you to flexibly scale with the rest of your business to create customer relationships.
Social media platforms such as Facebook, Instagram, LinkedIn, and Twitter are considered owned media. They provide the benefit to connect with a large user base.
It's wise to regularly share content on owned media sites to establish a relationship with a large targeted audience.
In general, creating more pieces of owned media increases your chances of connecting with users online. Brands can top Google's SERPs by updating owned media sites as business needs change over time.
Ways to Use Earned Media
Examples of ways to use earned media often begin with media publicity such as public relations. Brands can disseminate concise press releases on social media. 
Or, they can share a story or case study of one of their products to organically generate publicity from media outlets.
SEO counts as earned media and is worth the investment for brands targeting a few specific keywords.
Online businesses should create fresh content targeting keywords to rise to the top of Google's SERPs. Then they can get noticed with rewards such as featured snippets.
Combining Different Types of Media
Brands need paid, earned, and owned media to establish a reliable marketing strategy. To do that, they need methods to combine different media types rather than treat them separately.
Paid, earned, and owned media types all complement each other and comprise a quality marketing strategy.
Some of the best ways to combine different media types and improve your growth marketing include:
Using earned media that's on your owned sites and with paid media
Unifying and combining marketing and PR tasks across your departments
Using predictive analysis to analyze data from paid media campaigns and modulate upcoming owned media
Engaging customers with earned content and creating owned engagement campaigns based on what's successful
TL;DR
These days, it's best for online brands to engage customers with multi-faceted marketing strategies.
Online users have busy lives and short attention spans: they respond best to as diverse a range of media types as possible.
Brands that share their content or featured products across different platforms stand out from the competition and become more memorable to a greater number of people.
If your brand doesn't use paid, owned, and earned media together, then it's not generating as much interest as it could.
Brands with their eyes set on lasting digital marketing success make it easy for people to find them online wherever they look.
How? With paid, owned, and earned media opportunities.
Do you agree that paid, owned, and earned media opportunities are important to digital businesses in 2021?
Or, do you think businesses should spend time on other aspects of their marketing strategies? Leave a comment below to share your thoughts.
Jack Paxton
Jack Paxton is the co-founder of VYPER, a marketing tool that helps brands build email lists, social followings, and revenue using viral giveaways, referral, and reward programs. After millions of dollars spent testing different marketing strategies at his marketing agency. He then also co-founded Hyax a fast, conversion & design-focused course and funnel builder for creators.