Content marketing…
To some it's more frustrating than trying to figure out your dating profile on Tinder.
You can spend hours, weeks, or even months writing a piece, only to get zero views.
We did it all the time here at VYPER at the beginning, and it felt worse than swiping for 2 hours and seeing no return for your time 😂.
So how do you create good content that actually resonates? How do you land that amazing wife amazing traffic from Google?!?
After 2 years of just doing random stuff and writing random content, we finally decided that enough was enough!
Traffic was going nowhere and we had no tangible results from content marketing. It wasn't until 2019 that we decided to really nail down our content marketing strategies.
Here are the main mistakes we did, and we'll show you exactly how you can do the same.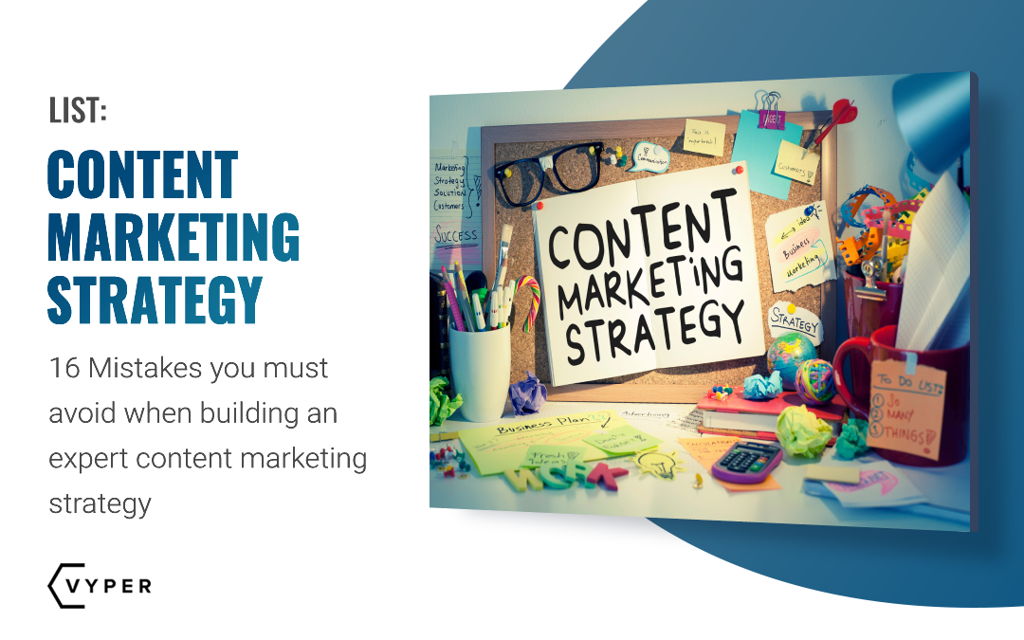 FREE DOWNLOAD: Get all Our Contest & Giveaway Marketing Guides, Checklists, and tutorials that have helped 100's of brands collect 15k+ emails in under 21 days!
Kevin and Jack discuss ways to keep your content fresh and engaging in the podcast episode above. Have a listen if you are looking for some excellent content marketing tips.
16 Mistakes To Avoid When Building a Content Marketing Strategy
A study by Yousmarter suggests that persistent content marketing campaigns flourish aggressively after three years.
Serious results take time!
Like I said earlier, we wasted 2 years without getting much progress. Our strategy was simply to write random stuff and hope the Google Gods would shine upon us and give us traffic.
Now we're in year 1 of really trying and we're already seeing a massive increase in traffic!
Since the start of the year, we're already seeing a 32% increase from the previous period! That's pretty nuts!
In this post, we'll dive into the crazy mistakes we've made while building out our content marketing strategy!
Listed below are the 16 critical mistakes you must avoid for a successful content marketing strategy. We made every single mistake, even the ones that seem so obvious!
1. Don't create content without a plan
Any marketing campaign needs to start with a strong strategy. If you're not sure how your content will be produced, circulated, and promoted, then content marketing is pointless.
How to avoid: Go to the people, figure out what they want!
Ask yourself these questions concerning your target audience;
Who forms your target audience? (seniors, kids, males, etc)
How are they interacting with you? (Groups, support, etc)
How are they finding you now? (Google, social, etc)
What are they doing after reading your posts?
These questions will help you in creating an effective content marketing strategy. With a sound strategy, you will be able to create exceptional content for your blog.
So how do we do that in practical terms?
A basic strategy we follow now would be to outline some of the problems your audience is facing, then create an article that both addresses those issues AND can rank inside the search engines (SEO).
Let's say your blog is about losing weight.
Find terms / relevant that are around losing weight
Check how hard it is to rank for that keyword (we use Ahrefs)
If it's highly competitive, see if we can rank for a keyword that's a longtail version of that keyword
So in this example we might find a term like "Keto."
Then we plug that into Ahrefs to find relevant terms. We might find that the relevant keyword is "Keto Recipes."
We check how competitive that keyword is.
If it's too competitive, we can pivot to "Keto Recipes Under $10."
Rinse and repeat until you have content topics ideas that strike the right balance between too competitive and too little traffic.
Again, here at VYPER, we like using Ahrefs for this purpose!
Keep in mind that you want to get a term that has enough traffic to make it worth it.
2. Don't assume that "if you write it, they will come…"
So while we talked about SEO previously, there's many other avenues for creating content and getting traffic to it.
Are there any FB groups around your topic?
Are there any Reddit groups you can post in?
Do you have any social channels you can share to?
Can you incentivize sharing the piece inside a giveaway?
Do you have any friends / influencers in the industry that can share it?
Can you add the post to Medium.com?
Will you email it to your list?
Can you go door to door begging all your neighbors to read it
Can you tell your grandma to read it and get her friends to share it in the nursing home
And I'm only half joking about the last 2. If your content targets seniors then go hustle that nursing home 🤣!
I'll be honest, the initial stages of getting traction on content is an ABSOLUTE GRIND.
You feel like a guy peddling his latest multi-level marketing scheme.
But it's absolutely necessary, and over time, you'll start building an audience.
And once you have that audience, you can simply upload a video to YouTube like Joe Rogan and get 10m views each video (and turn that into a $100m deal from Spotify.)
Now that we have an email list from VYPER, we got a bunch of eager beavers ready to consume our content. That gives us a base of users that we can now send new content to, get our initial social traction, and hopefully go viral on the Interwebs!
3. Not understanding your content's purpose / intent
Nobody cares what you ate for lunch today (unless you're an Instagram model).
In content creation, the worst mistake you can make is not listening to consumers or looking at feedback.
Whether it's blog writing, YouTube channels, or podcasts, producing content that no one cares about is a common pitfall.. Just because the general public cares what Khloe Kardashian did to her face today doesn't mean anyone cares about your face (harsh but the truth 😅).
With the right intent, you can create quality and shareable content.
Infographics came out as the most distributed content type by a research study done by OkDork. Videos, on the other hand, were the least shared.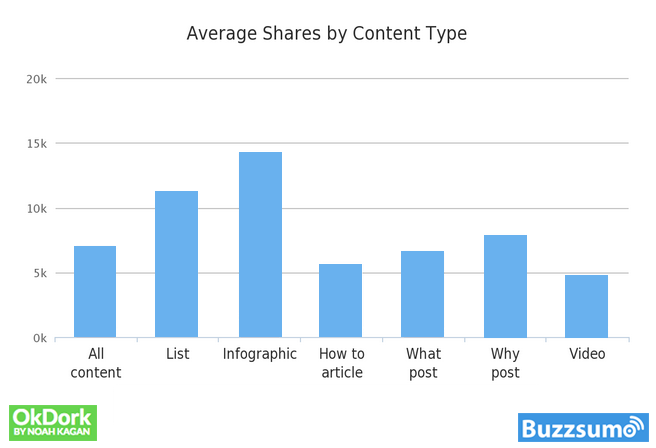 (PS. Seems pretty accurate… I mean look at us we're linking to that infographic)
When you create content with intensive research, your content gets a lot of shares. This way, it reaches a broader set of audiences.
How to avoid: Do not post content for any reason other than to help people fix a problem. When you start solving a problem, you'll find that people will start liking your content. The key is to write for your audience and not for yourself.
PS. When you're big and famous, you can diverge from this paradigm, but for now, make INFORMATIONAL CONTENT!
4. Overloading the same content over and over…
Different content formats include videos, audios, write-ups, infographics, etc. These content formats are further divided into sub-branches that point to long-form content, short-form, and many more.
So when you formulate a content strategy for your business, don't be monotonous with the content type.
A survey from HubSpot reports that 55% of marketers say blog content creation is their top inbound marketing priority. However, videos are the most used form of media across all content marketing strategies.
This gives a clear understanding that sticking to a one-form-of-content strategy is destined to produce results, not worth sharing.
How to avoid: Formulate a content calendar that comprises varied forms of content. The correct approach is to distribute the content across all channels and increase the volume of a particular kind when you get stellar results.
Bottom line – Don't just post those booty pics! We wanna see your biceps too!
5. Not staying consistent
How would you like to watch a show where each episode only comes out once every 3 months?
Keep your content flowing like liquor at a party in Hollywood, and the readers are gonna come rushing in ready to consume.
One of the biggest issues is when you start cutting corners and just rephrasing Wikipedia.
To maintain consistency, you should not produce unreliable or duplicate content.

Many businesses fail to deliver reliable content and find producing valuable content a challenge. You need time to build meaningful and insightful content.
Google search engine looks for fresh content. There are chances of getting rewards in the form of Google rankings if you are delivering quality content to your audience.
How to avoid: You can employ an accomplished content designer who specializes in your niche industry. Do not expect results too soon. Short-term effects such as traffic may be seen in initial stages, but a gradual and steady strategy still yields meaningful and long-term results.
We hire someone to help us with our content strategy. I know we don't all have the same luxury of hiring great writers, but this is such a crucial aspect of your business that it should definitely be one of your first hires.
6. Proofread!
Many times marketers use statistical data and statements without checking their source. Or, worse, their content has a few too many typos.
Proofreading is the final phase of the writing process. But don't just fix errors, make your content roll off the tongue better.
Writing isn't easy, and writing good content is even more difficult. But the final touchups to a piece can turn a boring essay into a fun article.
How to avoid: Always check the source of statistical data, statements, and images before insertion. If the source is reliable and available for reuse, only then should you insert them in your posts.
When editing or scheduling a blog post, and making a social media message, always triple-check it before clicking the publish button.
7. Writing and posting with no substance
These days, longer-form well-researched content does better.
Even though our attention spans seem to be getting shorter, the longer the piece, the better it performs.
Counter-intuitive I know! It's as if Google doesn't realize that Tik Tok videos are now the longest form of content that people consume now.
I mean that's partly why we made this article 16 reasons instead of 10! 😝
Brisk research on word count is also very critical. A trend is observed in the word count of written content; blogs above 2000 words get the number one ranking on the Google Search Engine.
Would you read and share your content if you were a general audience? If not, then you need to invest more time in research. Take your time, understand, and then start writing at a deeper level.
How to avoid: Take time to make sure that the content you are producing and publishing is consistent, and relates to your audience. More research allows for accurate content. You can survey to ensure your content is what your readers want to see. You can create content and make statistics-driven decisions based on the survey.
8. Not using email marketing / giveaways
Marketers have been saying for years that email marketing is dead, but it's actually the opposite. Email today is the most resilient form and best platform for you to grow your audience.
Relying SOLELY on Facebook / Linkedin / Instagram will hurt you when those traffic sources cut you off.
Giveaways, our bread and butter, will help you convert all that lovely content marketing traffic into leads.
What we do is add little embed forms within our content to entice you to join, give us your email, so we can now send you our blog posts.
According to DMA, for every dollar you spend on an Email marketing campaign, you can expect an average return of $42.
How to avoid: Include email capture inside your content, then convert those leads into more leads by using giveaways.
A small gift from your end makes a world of difference to the customer. The trust of your subscribers' skyrockets, and you also get new members via the ongoing giveaway campaign. Therefore, small giveaways should be planned accordingly.
Want to see how big brands host giveaways? We have 7 impressive examples for you.
9. Failing to set content boundaries
You have exciting stuff, but that doesn't mean it needs to be part of your blog. If it has nothing to do with your niche, users will probably be confused. Producing quality content is much harder than creating bulk quantity content.
Quantity may give you the essence of accomplishment, but the real victory in content marketing is providing useful and actionable content. Never try to overwrite or provide excess information.
We have a strict guideline for who can write guest posts for us, and we're constantly making the process better so we can create better content on the blog.
Check out our guide line sheet! – https://docs.google.com/document/d/1n6KhVpyYe41UD-p4KKIQZuPGgTNuLokIoxEN8QhfsxQ/edit?usp=sharing
How to avoid: You can use a detailed work scope or a project management plan to ensure that all people in a project agree on deadlines and schedules. This is complicated and time-consuming but worth the efforts.
10. Not accepting feedback
Customer feedback is critical, and you can't afford to not listen to the customers. It provides you direct areas of improvement, and the clients or customers take your response to the feedback very gracefully.
In a study by Content Marketing Institute, customer feedback was the go-to option for most marketing campaigns.
Marketers divert themselves from negative comments or feedback by considering them as hate posts or unrealistic demands. However, that's not the case. The audience is willing to help you by notifying you about the content that they didn't find engaging or relevant.
How to avoid: According to GetVoIP, make a note of all possible feedback and suggestions from your audience. Analyze them with your team or colleagues, find out the areas of the void, and work upon them to deliver improved content and gather customer's trust again.
What they comment or say about your content is very rarely for their entertainment. Your venture will benefit when you work on customer feedback, and your audience reach will also increase.
11. Don't hard sell your product!
Instead, convincing someone to buy your product should be more like Leonardo Dicaprio in Inception. Or Leonardo Dicaprio in Wolf of Wall Street. Or Leonardo Dicaprio convincing you climate change is real.
Hard selling does not make you a favorite. Explain the benefits of your product and make it a WIN-WIN for both you and the seller.
Don't oversell your product and under-deliver.
I mean look at us here at VYPER. We don't have to tell you we're the best.
No need to tell you about all the amazing features and case studies we have of companies making tons of revenue using giveaways.
We NEVER have to remind you that we're used by the likes of Justin Bieber and Shawn Mendes and Ariana Grande.
Those random thoughts about our greatness just pop into your head by themselves like a dream within a dream.
In all seriousness, 😁 it's nice to have something unique to sell, but no one likes it if you boast about it continuously instead of showing the actual value of the product.
Social media is all about interacting with your audience and being fun. Users dislike straight marketing content and generally loathe advertisements.
When you're spending too much time in promotional content, you'll lose viewers and engagement on social media.
Thus, such content must be strategically added to social media strategy. You can also partner with a reputable social media agency to help you manage your content.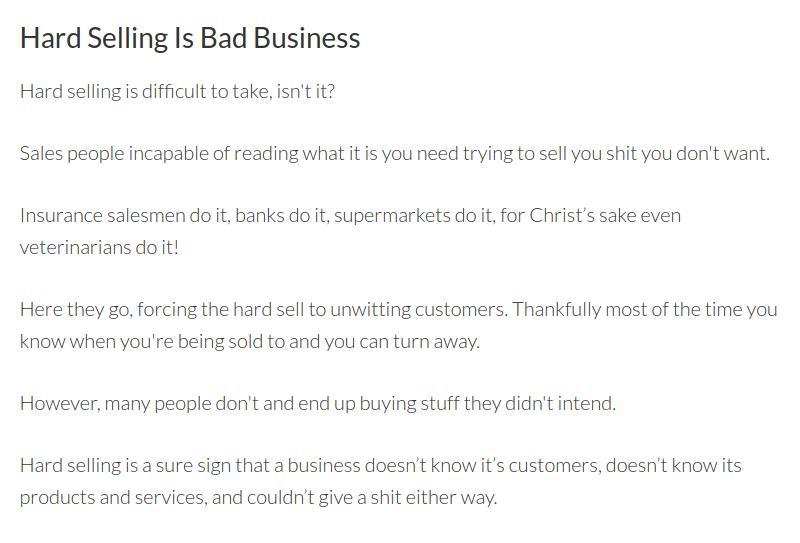 How to avoid: Think of the real value of what you have to sell, and use flat, hard evidence to present. Be friendly. People trust people (friends, family, or known reference) and not advertisers or marketers.
Include your audience in the process and ask them what it is that they love most about you. If they want to be an active member of your community you've built, you've won.
Be funny, be relatable, and try to make someone laugh!
12. Maintain your tone
One of the most common content marketing errors that marketers do but fail to recognize is to assess their style.
"Are you making content or making a difference?"- Jay Baer, Marketing Speaker.
Content creators should not be nervous about easing their language in posts. Rather, you must use the first person to talk to the audience directly.
How to avoid: Determine your language and style before posting it online. Believe in yourself, and be brave about being unique. Do not try to copy it from other posts; you will end up mixing different styles and tones.
13. Overlooking mobile readability
Now, it has become essential that you must emphasize on mobile-friendly content. Mobile visits reflect approximately 50 percent of site visits.
As a result, if your site isn't mobile-friendly, you will lose up to half of your visitors.
We personally use Google Pagespeed Insights to help track how fast our site loads on mobile.
Keep in mind that tablets may demand separately optimized content as well, and you must make sure that your content format is compatible there too.
In the future, if your content isn't mobile-friendly, people would see this content marketing flaw as a critical mistake.
How to avoid: Focus on developing content that is friendly for all access devices. It may take more time, but you will soon reap its benefits.
14. Not Setting KPIs and Ignoring the Buyer's Persona
Without actionable perspectives, there is almost no point in implementing content marketing.
Just as you assess the effectiveness of your SEO and email marketing campaigns with analytics tools, in the same way, your social media output metrics must be monitored and evaluated.
You can use the respective platform's parameters or use third-party tools to get additional data insights.
You have to identify social media KPIs, demographic filters, and factors of engagement. Start by tracking involvement, conversion of customers, and purchase decision patterns.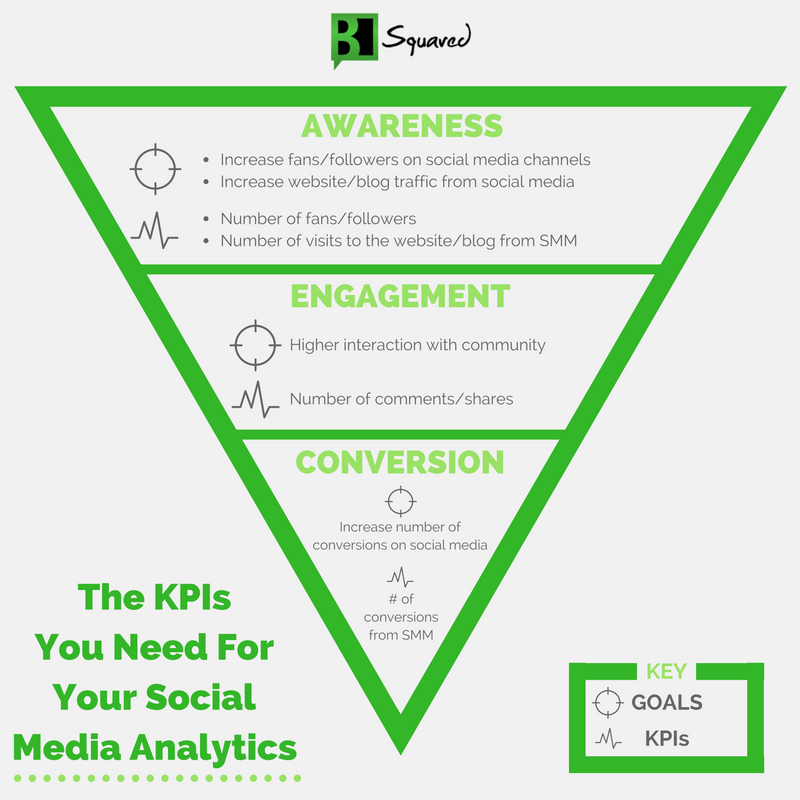 How to avoid: Track the reliability of your followers, the success of your posts, and the degree of your impact in collecting data (this will assist your future efforts in marketing social media.)
If you haven't done so yet, start collecting and decoding your statistics and KPIs on social networks to improve your marketing activities. Knowing Buyer Persona and KPI is essential to get the maximum ROI out of content marketing.
For more advanced analysis, you can also track content marketing in Google Analytics as it will allow you to see how each piece of content performs and if it contributes to the overall conversion of your website.
15. Not giving your content a human touch
Social media marketing platforms are about people getting in touch with new people. A business without a face is out of reach on social media.
You must add a little human touch when you are writing on your social media profile.
If you answer a comment on your profile, don't respond with your corporate "stock" responses.
Answer with a message that concerns the person's question directly and not something that the PR department has provided you.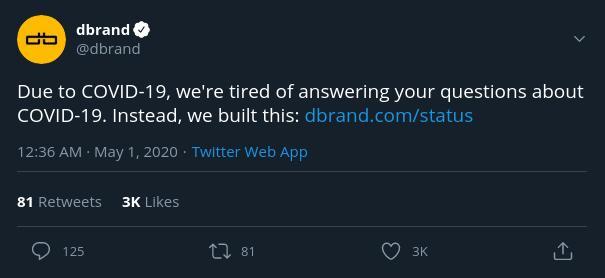 Try to include images and videos to continue the engagement with your leads and portray it as a meaningful conversation.
How to avoid: If you come across an unpleasant situation, keep your feelings under control. Most problems are relatively solvable. Let the other side know you understand how they feel, and you'll fix it.
Never blame others, and instead deal with the problem. Keep the content visual-rich and include statistics and images for sending an authoritative message.
16. Don't buy your followers, that kills your page!
Very little interaction on your content is a result of the lack of real followers. Many people buy followers so they can portray themselves better.
Highly expensive giveaways for the sake of followers that just subscribe to you for the precious offering is not a smart investment in any sense.
An active page with loads of content is bound to gather followers and a loyal reader-base.
But fake followers don't allow you to maintain the correct numbers achieved by your content.
It would be best if you concentrated on building a slow and steady network of real people through meaningful interactions.
How to avoid: The practice of buying fake followers should be avoided. Ten real followers are way better than 100 fake followers.
Try to engage with the audience; there are several ways you can increase the interaction with users. Use features like Commenting, Tagging, or Mentioning and Reposting across social media to engage better.
Bonus: How to Be a Better Content Creator with Justin Johnson
Justin Johnson is a creator economy expert who specializes in leveraging social media to build brands and content monetization.
We were fortunate to talk to Justin who shared advice on content creation, influencer marketing, and monetization. Watch the full interview below:
TL;DR: Content Marketing Strategy
Content marketing makes a world of difference in the growth metrics of any company or agency. With proper implementation of your set content calendar, you can consistently hit your target numbers. However, a lot of roadblocks come along the path to a successful content marketing campaign.
Mistakes that occur during the execution phase are part and parcel of marketing. Nobody can carry out a 100% mistake-free content marketing campaign.
However, now you know the avoidable mistakes that can hinder the success of a well-designed content strategy. So, try to get past them to see the glaring results!
What other mistakes can you think of that a marketer must avoid for a sound content marketing strategy?
Voice your opinions in the comments section and share this post with your fellow marketers to tell them about these mistakes.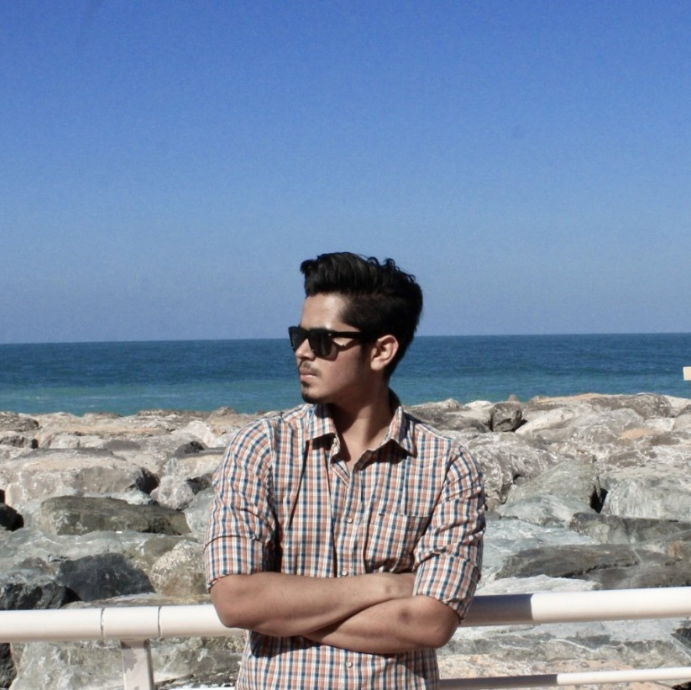 Author

Dhruv is a Digital Marketer. He likes reading up on the latest digital marketing and social media trends. When not sleuthing for tips, he is chiseling his fitness-goals and traveling around the world.
Jack Paxton
Jack Paxton is the co-founder of VYPER, a marketing tool that helps brands build email lists, social followings, and revenue using viral giveaways, referral, and reward programs. After millions of dollars spent testing different marketing strategies at his marketing agency. He then also co-founded Hyax a fast, conversion & design-focused course and funnel builder for creators.