As one of the most influential and cost-efficient social media, Instagram offers robust features as a marketing channel. More and more businesses use the platform to expand brand awareness and increase sales.
One of the ways Instagram can help make sales is by leveraging the Direct Message (DM) feature. It's a valuable tool for sharing new offers, providing customer service, sending follow-up messages, etc.
In this guide, we've compiled the eight ways to use Instagram DMs to increase sales. We've also listed some robust Instagram tools to help you manage your content and messages on the platform.
Before exploring the main discussion, let's discover why the DM feature is worth leveraging.
Keep reading!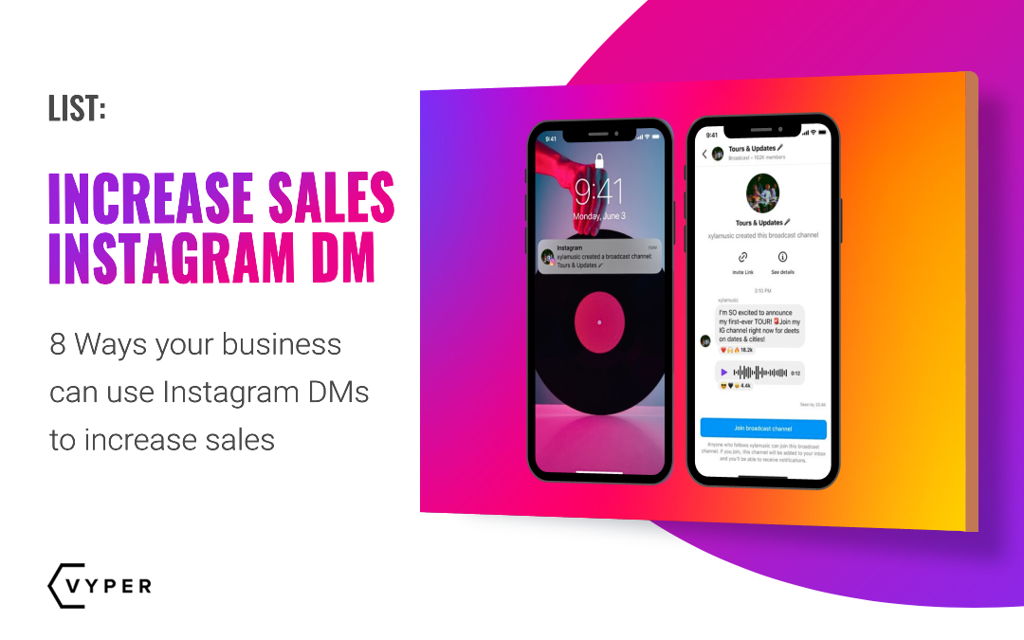 FREE DOWNLOAD: Get all Our Contest & Giveaway Marketing Guides, Checklists, and tutorials that have helped 100's of brands collect 15k+ emails in under 21 days!
Why Use Instagram DMs to Increase Your Sales?
Instagram has a staggering user base, with over one billion active users monthly. Even more remarkable is that 90% of its users leverage the platform to engage with and follow businesses.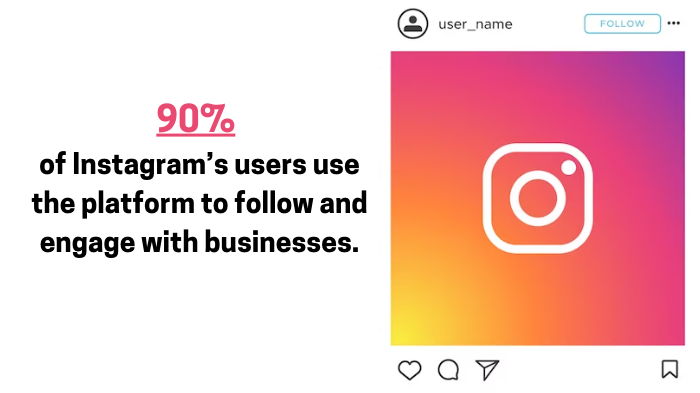 You can build an online presence on Instagram by sharing valuable content. For example, you can post product samples, explainer videos, infographics, tutorial videos, and more. Moreover, you can also engage with customers and potential buyers more meaningfully.
How users engage with brands on Instagram varies on their preferences and needs. Some users are comfortable commenting on your feeds, but others may want a more private space like communicating through Direct Messages (DMs).
However, only a few brands use the DM feature to its fullest potential. Rather than waiting for customer inquiries, you can capitalize on this opportunity to stand out by proactively reaching out, sharing exclusive content, answering questions, and nurturing relationships.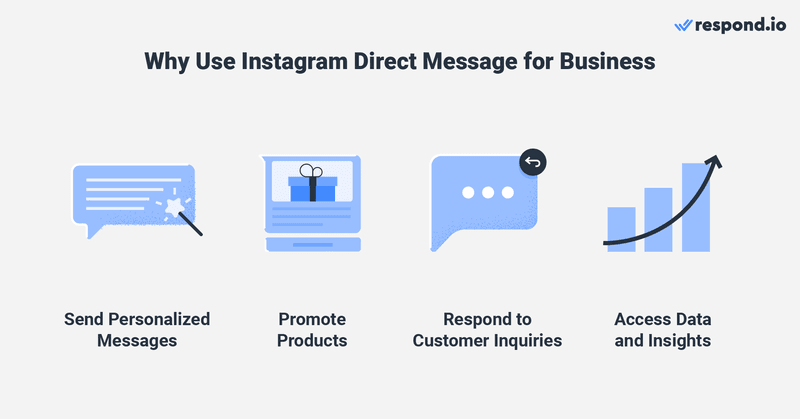 8 Ways to Use Instagram DMs for Sales
If you're looking for ways to use Instagram DMs to increase your sales, the following points are some practices you can strongly consider. From creating a broadcast channel to showcasing user-generated content (UGC), here is the list!
#1. Create a Broadcast Channel
A broadcast channel is one of the most recent features of Instagram. This feature allows content creators and businesses to share and send direct messages to a large group of followers simultaneously.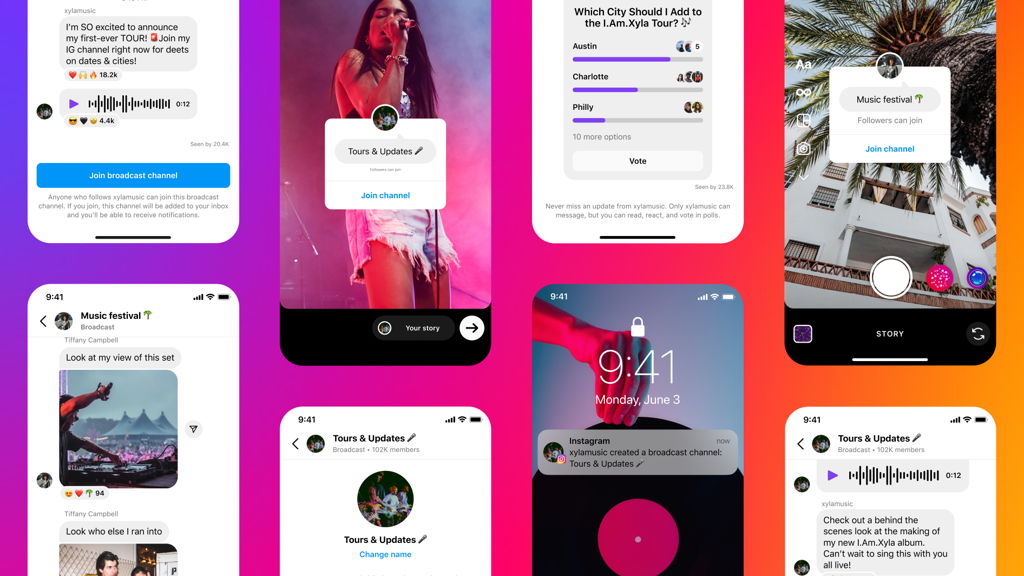 This is a valuable tool for increasing sales, enabling you to reach a broad audience with promotional content, product announcements, or updates. Many influencers have leveraged broadcast channels to share product recommendations and conduct brand giveaways.
Your brand can also do the same. For instance, notify your followers about new product launches, sales, or exclusive offers. Maintaining an active engagement with your audiences helps increase their likelihood of making a purchase.
#2. Use It for Customer Service
Instagram is an excellent platform for providing additional customer service, including DM. In fact, customers can easily access Instagram DM, and you can enhance customer service and experience effectively.
Sometimes, your brand receives complaints and questions. Instagram DMs help you address customer inquiries and concerns promptly. While you give solutions to customers, you also demonstrate your commitment to their satisfaction at the same time.
In fact, resolving issues or complaints privately and efficiently can prevent potential negative publicity. Moreover, offering personalized assistance helps customers make informed decisions. Overall, efficient customer service can lead to customer loyalty and positive word-of-mouth referrals, ultimately boosting sales.

#3. Send Personalized Outreach
Personalized outreach is a highly effective marketing strategy for generating leads, nurturing existing buyers, and increasing sales. This strategy requires you to send customized messages to your potential customers.
Let's take a look at this sample case. If a user is interested in a particular product, you can send them a personalized message offering more details. You may provide a special discount or offer related to that product to drive conversions.
This approach can yield higher conversion rates as customers engage more with content that directly resonates with them. Moreover, personalized outreach may also yield higher customer satisfaction and loyalty.
#4. Provide Automate Responses
Instagram enables you to create a Frequently-Asked-Question page and create automated answers to those questions. This way, you can automate answering customers' and audiences' queries, helping your reps save countless hours.
You have the flexibility to manage your FAQs and automated responses in Instagram Direct, allowing you to add, delete, or edit them as needed. These questions will be visible to users who message your Instagram account directly.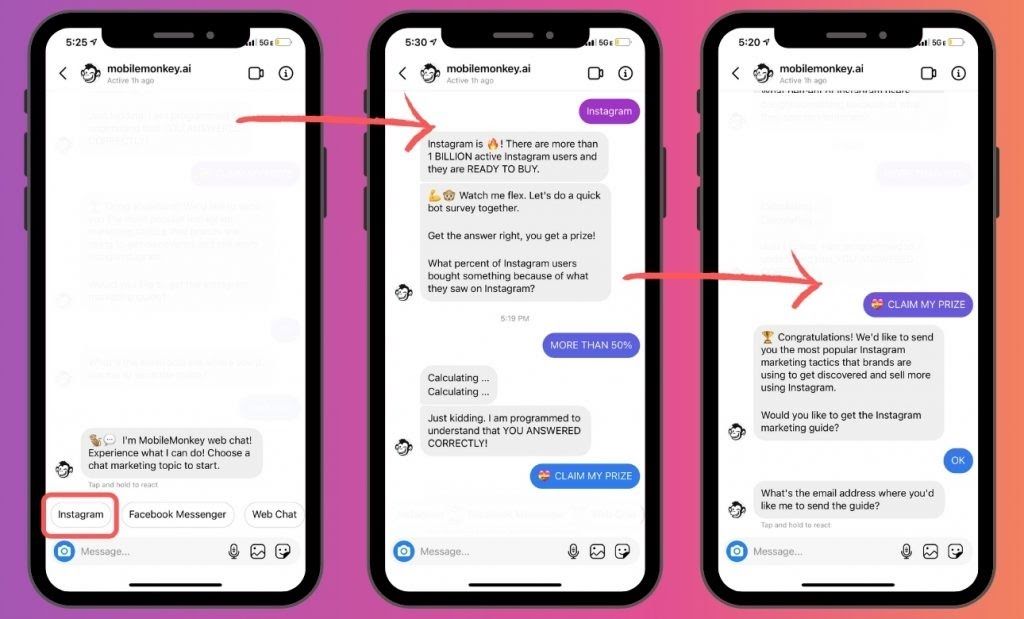 To configure frequently asked questions in Instagram Direct, you can follow these steps:
Open Instagram and go to your home screen.
Locate the Messenger icon in the top right corner of the screen and tap on it.
Under the "Set Up Automated Responses" section, click "Get Started."
Toggle the switch next to "Show Questions" to activate automated responses.
Under the "Questions" section, tap "Add Question."
For each question, you'll be prompted to enter the question itself and have the option to provide an automated response if desired. Once you've filled in the details, tap "Save."
You can add up to four often-asked questions. If you ever need to make changes, tap on the question you wish to edit, adjust both the question and automated response as required, and save your changes.
#5. Share Exclusive Offers
Sharing exclusive offers through Instagram DMs is a direct and effective way to boost sales and improve customer service. Exclusive offers create a sense of urgency and exclusivity, motivating users to take action and make a purchase.
Personalizing your messages, such as addressing recipients' names and mentioning their product preferences, would be best. Sharing exclusive offers through DMs can make customers feel appreciated and valued.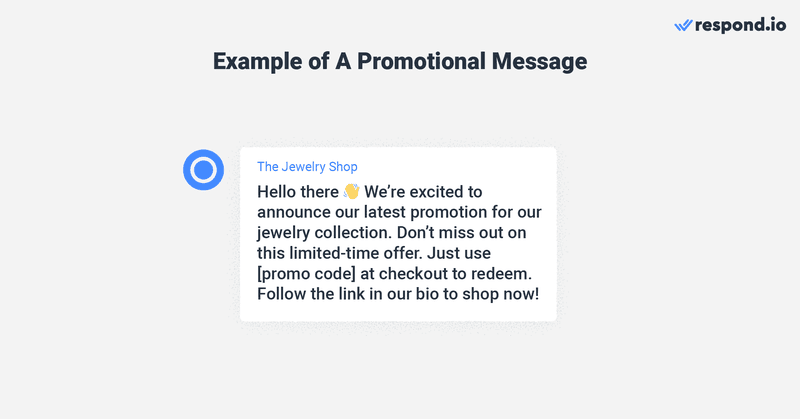 Sending offers through DMs lets you connect with potential customers directly, increasing the chances of conversion. These offers can include discounts, early access to sales, or special promotions that incentivize customers to buy.
However, this practice may be challenging without automation tools. We recommend you automate this process with marketing tools, which you explore later in this article.
#6. Share Product Recommendations
You're showcasing your products to a targeted audience when you share product recommendations through Instagram posts, stories, or direct messages. This can encourage potential customers to explore items they might not have discovered otherwise.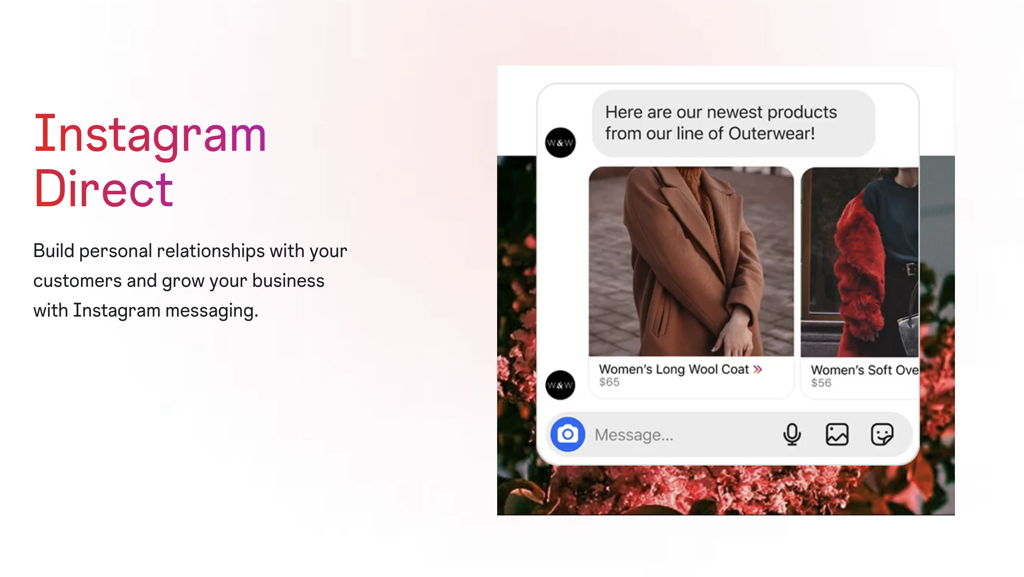 Moreover, using Instagram DM to offer personalized product recommendations demonstrates that you understand your customers' needs and preferences. You can engage in one-on-one conversations and build stronger relationships with potential buyers.
You can also leverage this strategy by sharing a collaboration post with a well-sought influencer. The role of online celebs helps cultivate trust and credibility for your product and promote your brand, leading to higher conversion rates.
#7. Send Follow-up Messages
The digital market today requires brands to make proactive decisions toward customers. The marketing stage doesn't end after customers pay for your product. Instead, you can send post-purchase follow-up messages to ensure their shopping experience with your brand.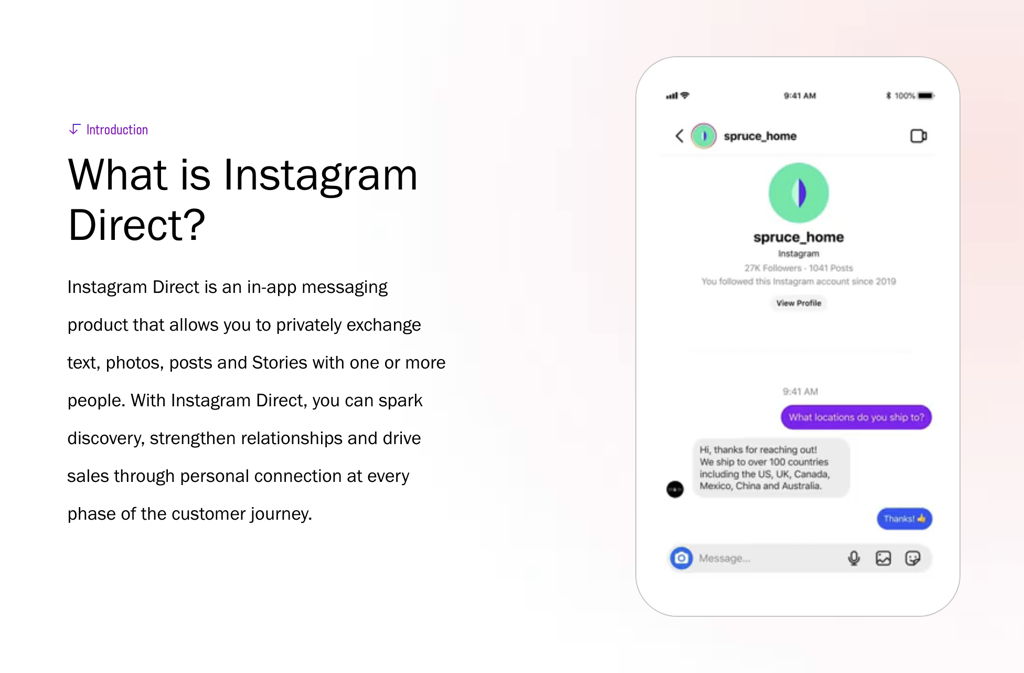 You can express gratitude for their purchase, offer assistance with any questions or concerns, and suggest products that complement their initial purchase. This can increase loyalty, additional sales, upselling, and cross-selling opportunities.
By checking in on customers, you show that you care about their experience and are ready to assist if any issues arise. This enhances the overall customer service experience and may lead to positive reviews, repeat business, and referrals.
#8. Showcase User-Generated Content
User-generated content (UGC) includes reviews and testimonials from your existing buyers. This type of content is crucial as a social proof of your product and brand. It's a powerful tool for influencing audiences, building trust, and driving sales.
When you showcase UGC, you demonstrate that real people enjoy and benefit from your products or services. This builds trust and authenticity, making potential customers more likely to purchase a product.
By featuring UGC in your Instagram content or sharing it through direct messages, you're acknowledging and celebrating your customers' experiences. Moreover, if a customer's content is featured, it can be a pleasant surprise and a form of recognition, leading to increased loyalty.

Online Tools: Use Instagram DMs to Increase Your Sales
89% of consumers want to message your brand, whether to ask for product details or share their experience. Actively engaging with customers through Instagram DMs helps you enhance customer experience, which can lead to increased sales and brand loyalty.
We've curated some tool recommendations to help you manage your Instagram posts and DMs. Here are seven Instagram DM management tools you can try.
#1. Crowdfire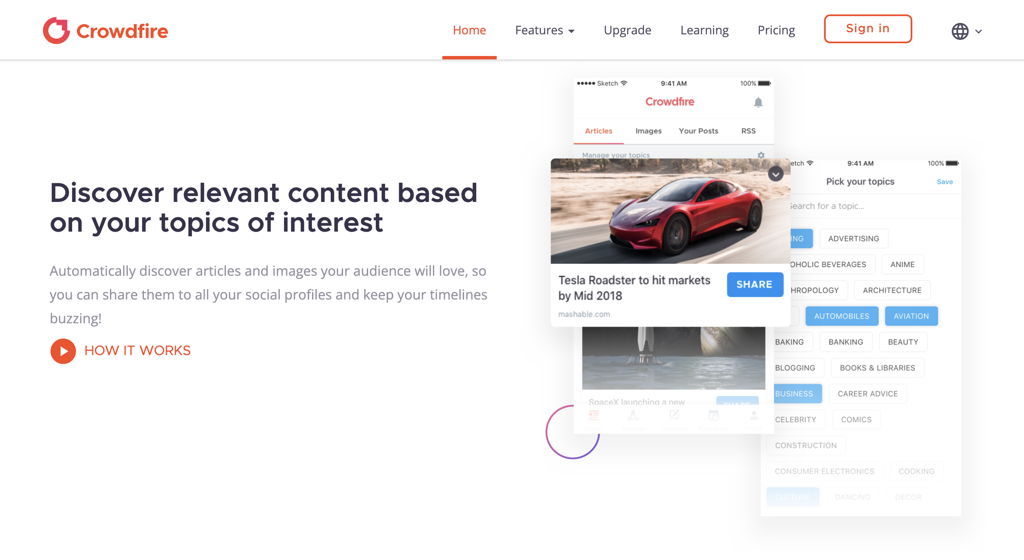 Crowdfire is a versatile social media management platform that empowers businesses to streamline their social media presence. It simplifies tasks such as post scheduling, comment management, retweets, likes, and the creation of custom follow/unfollow lists.
What sets Crowdfire apart is its robust Instagram DM management feature. With Crowdfire, you gain centralized control over your Instagram messages, comments, and mentions, all accessible through a single inbox.
Crowdfire's inbox management empowers you to prioritize messages by importance and establish automation rules for frequently asked questions. This streamlined approach enhances your ability to handle high message volumes efficiently and promptly respond to your customers.
#2. IG: DM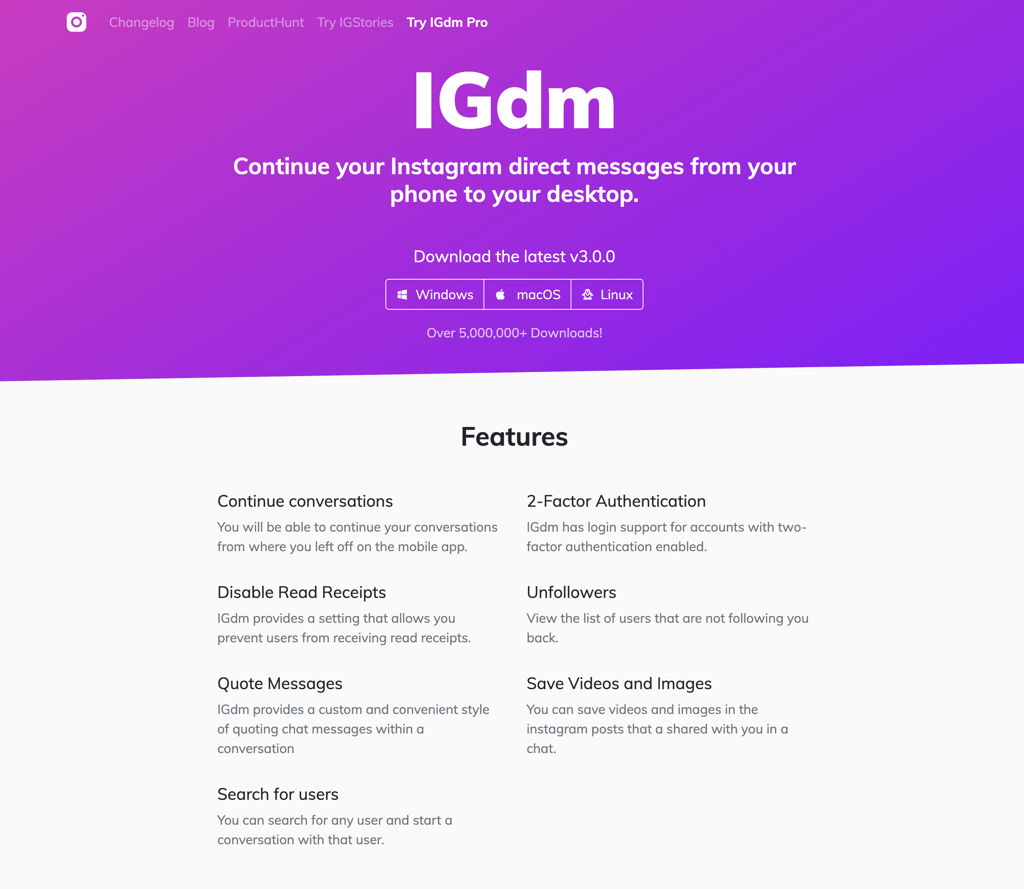 IG: DM stands as a seasoned player in Instagram automation service. But here's a word of caution: to access this app, you'll need to make sure you download Desktop IG: DM exclusively from its official website.
This nifty tool primarily caters to sending Instagram messages from your PC or Mac. While that's its core function, there's more to it than meets the eye, featuring some handy capabilities that can significantly enhance your Instagram experience.
This tool helps you stay organized even amidst a flood of conversations. You can find specific users or messages in your chat history easily, and it lets you un-send messages to erase an accidental text or a hastily composed reply.
The message quoting feature allows you to quote messages. You can reference specific parts of a conversation, clarify discussions, or respond to multiple points. And if you want to keep review photos or videos from customers, IG: DM permits you to do so.
#3. Inflact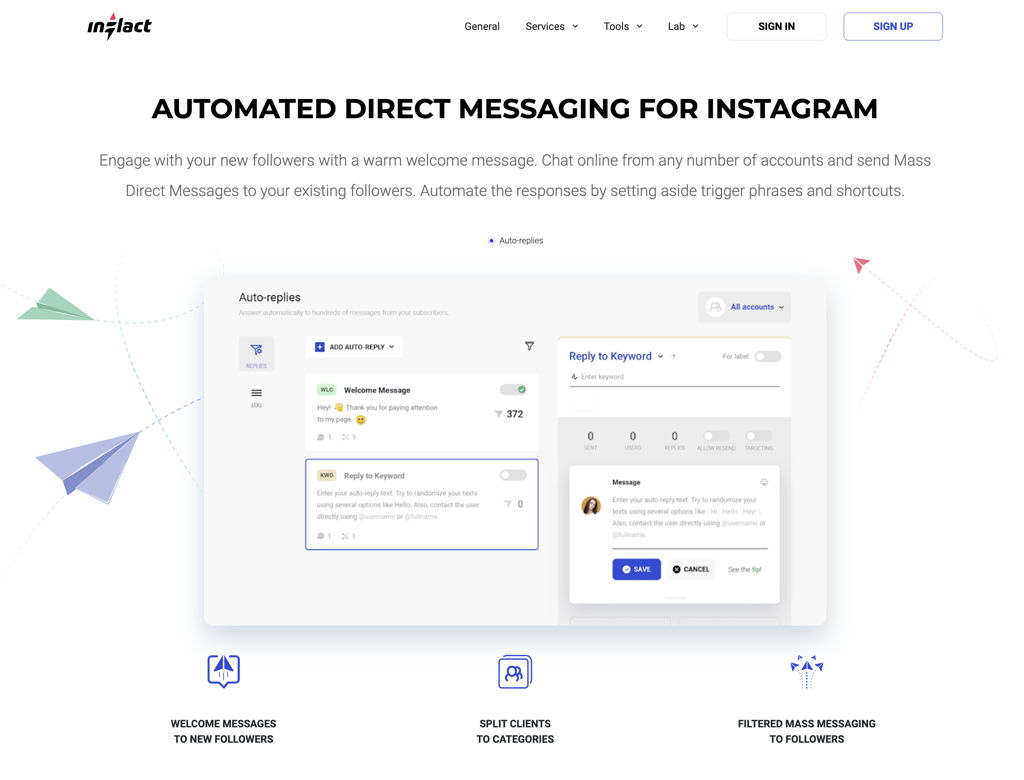 Inflact is another Instagram automation tool for assisting its users in reaching target audiences and boosting followers. Moreover, it also helps streamline message organization, facilitating bulk DMs and enabling content scheduling.
This platform places a strong emphasis on automating Instagram DMs. You can send bulk DMs to your followers and set automated responses to answer frequently asked questions. The paid plan starts from $3 with a seven-day trial.
#4. DMPro
DMpro is a desktop tool designed for sending Instagram messages. This tool stands out by positioning itself as a potent lead generation solution, and a closer look at its feature set may validate that claim.
At its core, DMpro places a significant emphasis on its auto-messaging capabilities. One of its stand-out features is DM to Email, Email to DM, which bridges the gap between Instagram DMs and emails. It allows two-way communication for enhancing engagement and improving outreach efforts.
For those managing multiple Instagram profiles or business accounts, DMpro offers the convenience of handling them all from a single interface. All these features come at a monthly cost of $19, making it an affordable choice for businesses of all sizes.
#5. Simplified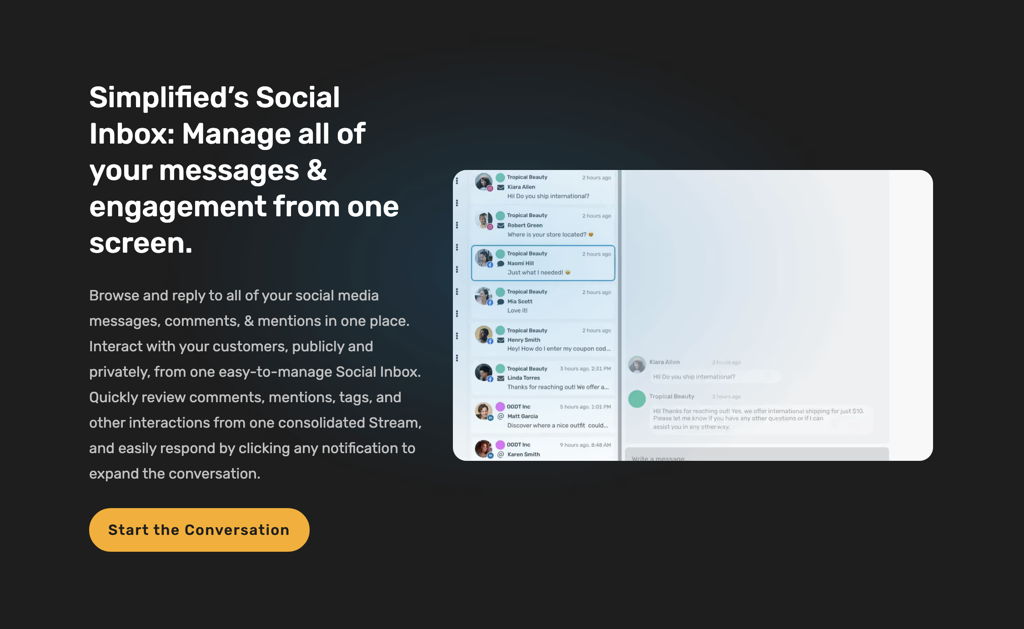 Simplified is one of the top-tier options to optimize and manage Instagram Direct Messages. It has a range of valuable features, such as a unified inbox, advanced filtering options, and automation tools.
The unified inbox streamlines your Instagram management by enabling you to view and respond to all your messages, comments, and mentions from a single dashboard. Its advanced filtering options help you to prioritize messages based on keywords, specific users, or message types.
You can use its features by subscribing to a paid plan starting from $9 monthly. Simplified also offers a free trial that you can use before making a payment.
#6. Hootsuite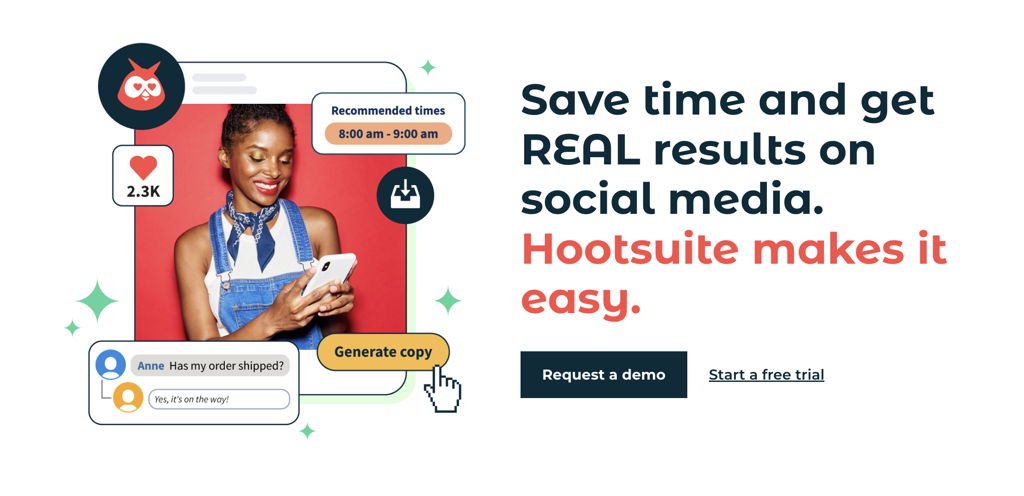 Hootsuite is one of the best options for managing all your social media accounts in one place, including Instagram. It has features such as a unified inbox, advanced filtering capabilities, and the functionality to schedule posts.
You can schedule and monitor Instagram messages from a single dashboard. In addition, you can prioritize messages based on specific categorizations. Moreover, its intuitive interface can help you navigate the platform easily.
You can enjoy its various features for free. But you can also upgrade your free plan starting from $99 monthly. Most importantly, it allows you to access its analytics feature to create monthly reports.
#7. AiGrow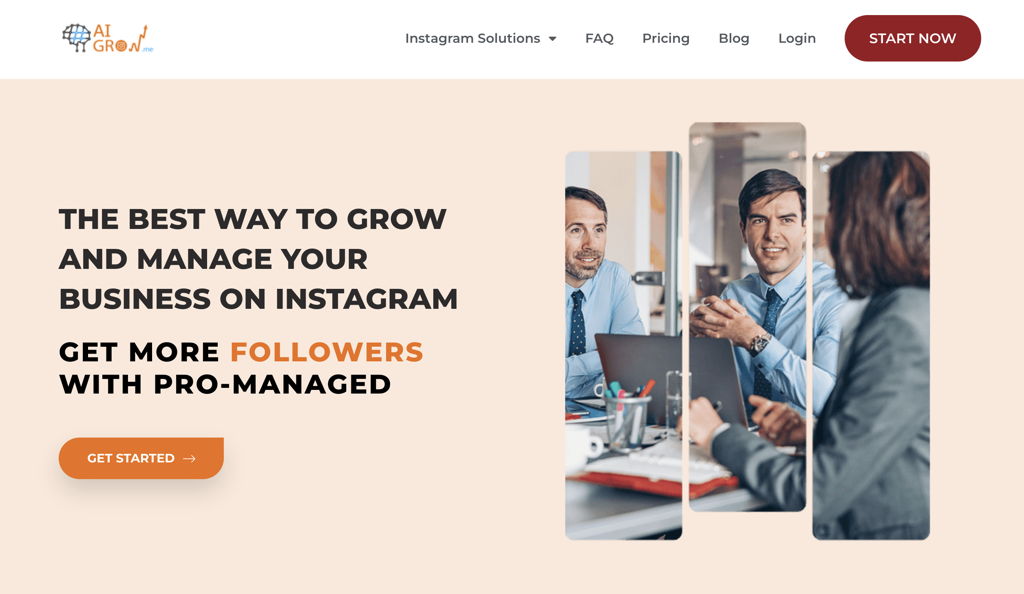 Another reliable option for Instagram messaging is AiGrow, which offers a variety of Instagram plans and provides users with robust DM services. Some notable features of managing Instagram DMs are a dedicated account manager, smart targeting, customized message sending, and message rotation.
The dedicated account manager feature ensures a personalized and efficient experience managing Instagram posts, profiles, and messages. Meanwhile, its smart targeting allows you to reach relevant audiences based on hashtags, location, influencers, and competitors.
You can send 50+ customized messages daily, and rest assured after that. AiGrow claim guaranteed DM delivery and daily report to keep track of your progress.
QnA: Use Instagram DMs to Increase Your Sales
What is the primary benefit of using Instagram DM automation tools for businesses?
Instagram DM automation tools allow businesses to manage and respond to many messages. With an automated system, brands can enhance customer engagement and support while saving time and resources.
How can advanced filtering options in Instagram DM automation tools be advantageous?
Advanced filtering options enable users to prioritize messages based on specific criteria such as keywords, users, or message types. Such features help businesses quickly identify and respond to important messages, ensuring a more efficient and targeted approach to customer communication.
TL;DR: Use Instagram DMs to Increase Your Sales
Instagram Direct Messages (DMs) have become an accessible tool to enhance customer service and experience. With more and more features added throughout the years, you can engage with potential buyers and customers more meaningfully.
From creating a broadcast channel to showcasing user-generated content, Instagram DM effectively communicates your marketing messages. You may maintain and increase sales over time with a more private and personal engagement.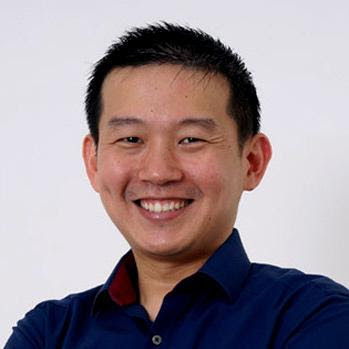 Author Bio

Andre Oentoro is the founder of Breadnbeyond, an award-winning explainer video company. He helps businesses increase conversion rates, close more sales, and get positive ROI from explainer videos (in that order).
Jack Paxton
Jack Paxton is the co-founder of VYPER, a marketing tool that helps brands build email lists, social followings, and revenue using viral giveaways, referral, and reward programs. After millions of dollars spent testing different marketing strategies at his marketing agency. He then also co-founded Hyax a fast, conversion & design-focused course and funnel builder for creators.