A critical objective for any brand would be to form a personal connection with its customers.
Think about the biggest and best brands in the world, they aren't trying to trick customers into buying, they are trying to build long-lasting, valuable relationships with their customers.
Instagram is an excellent platform that allows brands to build relationships while also promoting their products and services.
However, to be successful on the platform, you must produce exceptional content to engage your audience otherwise the algorithms will not show your post in your followers feeds! 😔
This article will give you ideas and examples on what to post and the engaging captions you should be using to dominate Instagram and grow your account.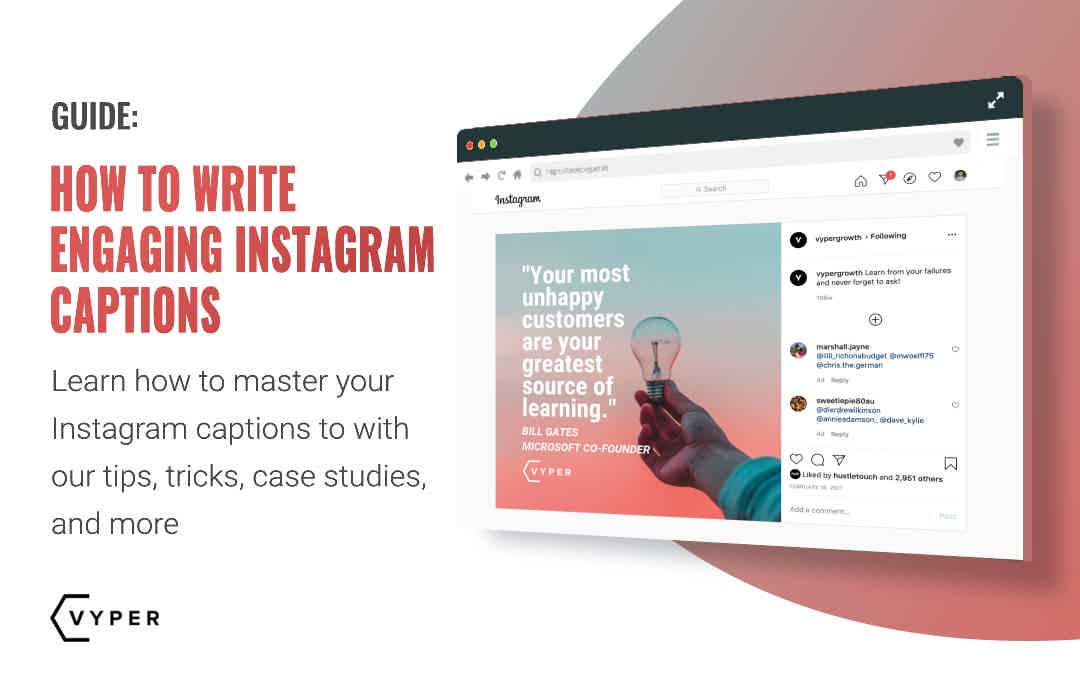 FREE DOWNLOAD: Get all Our Contest & Giveaway Marketing Guides, Checklists, and tutorials that have helped 100's of brands collect 15k+ emails in under 21 days!
Crafting Engaging Instagram Captions
Recent statistics by Hootsuite, state a massive 200 million Instagram users visit at least one business profile every day.
Furthermore, Instagram's potential advertising reach is around 849.4 million users, and one-third of the most viewed stories are from businesses.
Brands post an average of 2.5 stories per week, and 75.3% of businesses in the USA will use Instagram by the end of 2020.
In light of this information, let's take a quick look at some of the ways you can master the use of Instagram captions to engage your customers and targeted audiences.
1. Ask a Question/ Call to Action
Perhaps one of the most intriguing things for humans is always shrouded in mystery. The curiosity almost gets the best of us and this compulsion to find out more is within all of us.
It's also one of the oldest marketing tricks in the book. All you need to do is entice your viewers to the core and make them crave to know the answer.
Below is an excellent example of how Dictionary.com got people to answer their post and reach more than 2k likes.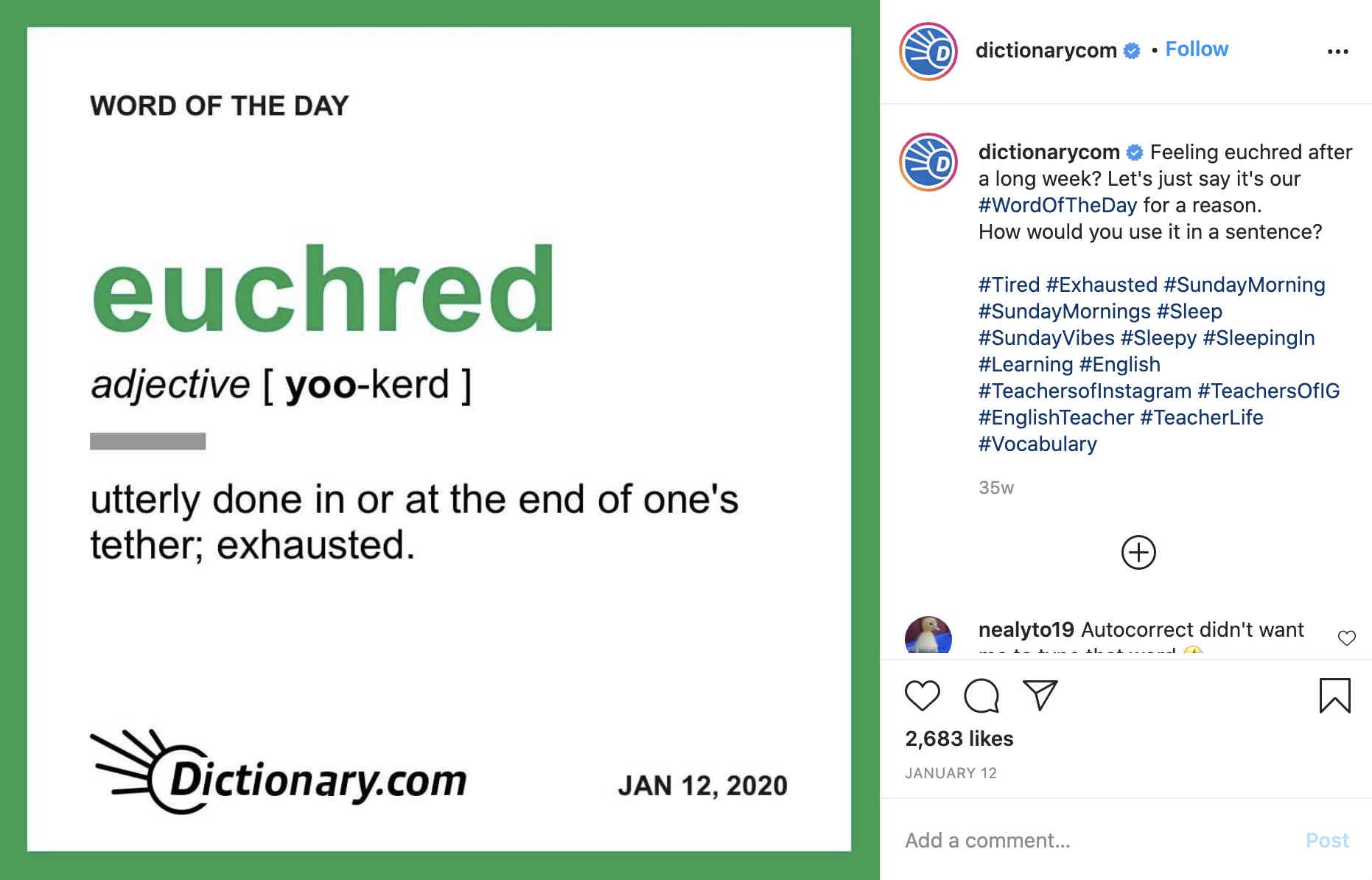 Now I know that many of you would respond, but Clo, that is an extremely typical example. Well, yes, it is, but then it certainly doesn't mean that your brand or business cannot use it as effectively to promote their own products and services.
In fact, here are some great questions that you can include in your next Instagram post within the caption section:
What's one thing on your mind today?
Have you ever been so lost?
Who is going to stop me/you?
Where do you travel next?
When do you think it's time for a change?
However, if asking a question doesn't get your attention, then there is always more than enough room to put a call to action within your post. In fact, you can even start with a call to action, but the beauty lies in how you implement them.
How Lyft Uses CTA's
Look here at how Lyft, the famous ridesharing company, gets by with CTAs upon CTAs: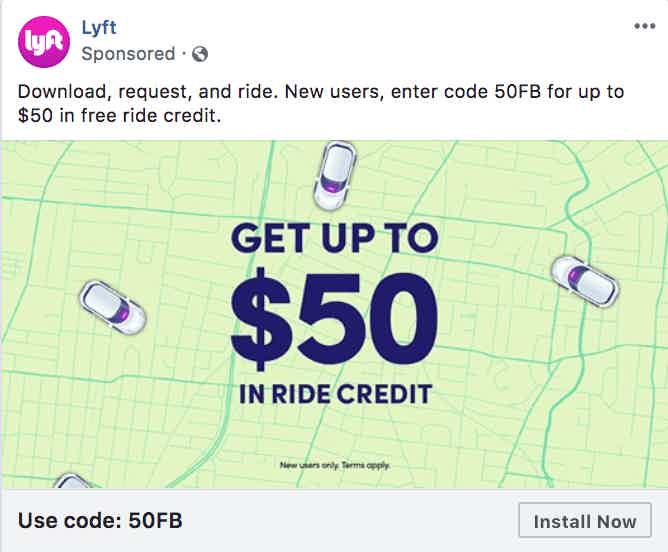 For most of us, the CTA would be "Install Now," and that is true, but just look at how they start the post! They want you to download the app, request a ride, and use the code 50FB, making users earn a $50 free ride credit.
So essentially, from the start to the end of the post, they are not only asking you to take action but also advertising their promotional offer in the most direct and unswerving manner.
Brilliantly done, bravo!!! Here are some quick call-to-actions that you can use for the caption of your Instagram post:
Discover more
Get Started
Sign-Up Today
Visit Shop / Shop Here
Watch Now
2. Best Thing First
For any communication to be effective, instead of dragging out the main point and saving the best for last may not be the best way to go about it. Especially when you consider the present world where people are cramped for time and rushing in and out with a zillion things on their minds.
It is pretty clear that what you need is to be straight forward and upright about what you want to say and what your message entails. Plus, that Instagram caption is no place to write a novel, a blogging space would be more suitable for that matter.
Cut to the chase, and you need to instantly inform your audiences without wasting any time and relay the best part first.
This will save their time, as they will know what they are about to expect and be instantly gratified by reading through your post. Still confused? Here take this example of how Gap Inc., a retail clothing company, wrote their caption for their Everblack jeans: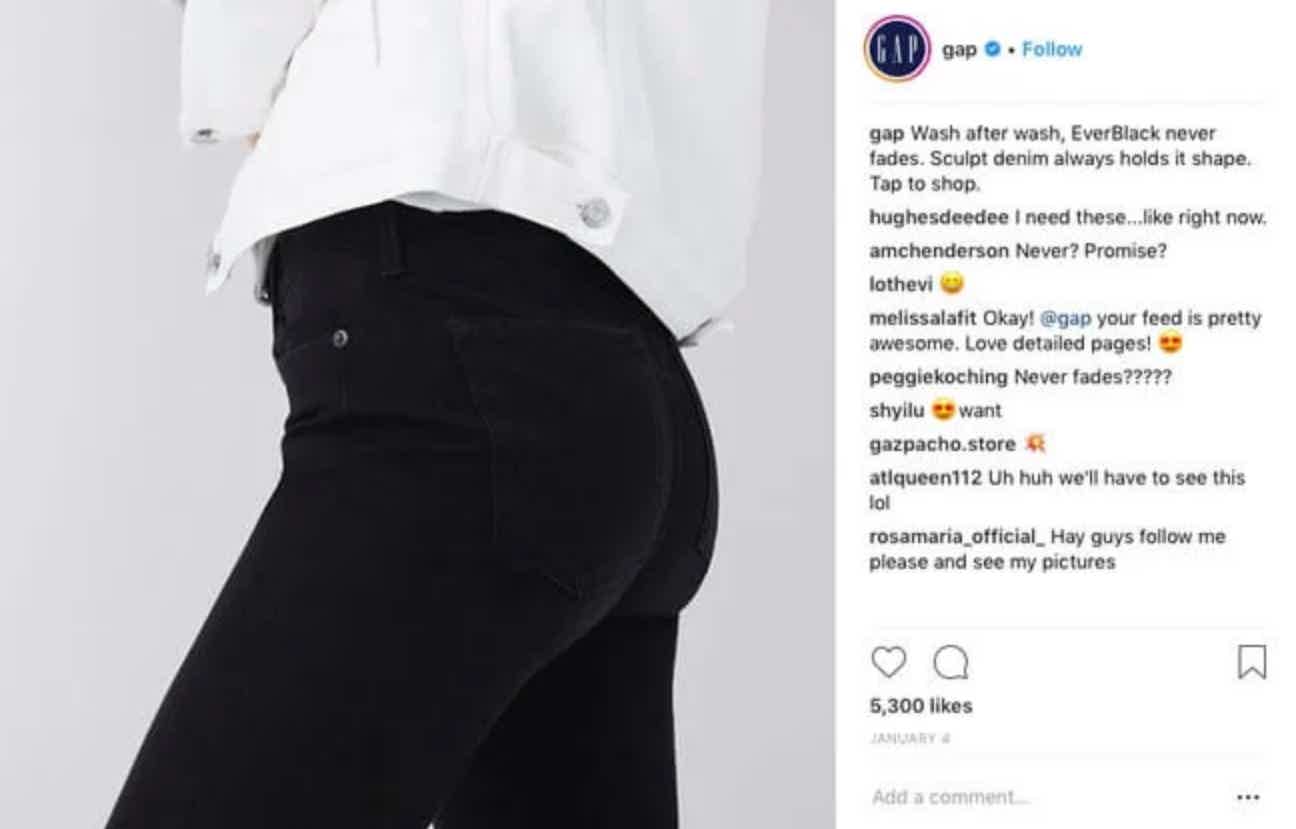 See how they immediately start telling about the best things their product is capable of, by putting the unique traits up first, they instantly let customers know what their Everblack lineup is all about.
Not only does it make the product more appealing, but it also answers a lot of pain points of users along the way.
Gap unquestionably knows how scarce time is and quickly puts their message out there in just 16 words. That is indeed a crisp and snappy post!
3. Cheer People to Tag Their Friends
Now, this is one of the ways you can get more traction for your products and services as it does serve to promote your post. By asking Instagram users to tag their friends, you are essentially driving more traffic to your Instagram post.
This will inevitably increase and augment your brands' visibility, which plays well for your overall marketing strategy. Not only can you possibly create awareness about your brand through such a post, but it may also help you yield potential new clients and customers to chase after in the near future.
Take a look at how Xringstore, run by the prestigious St. Francis Xavier University, holds a competition online: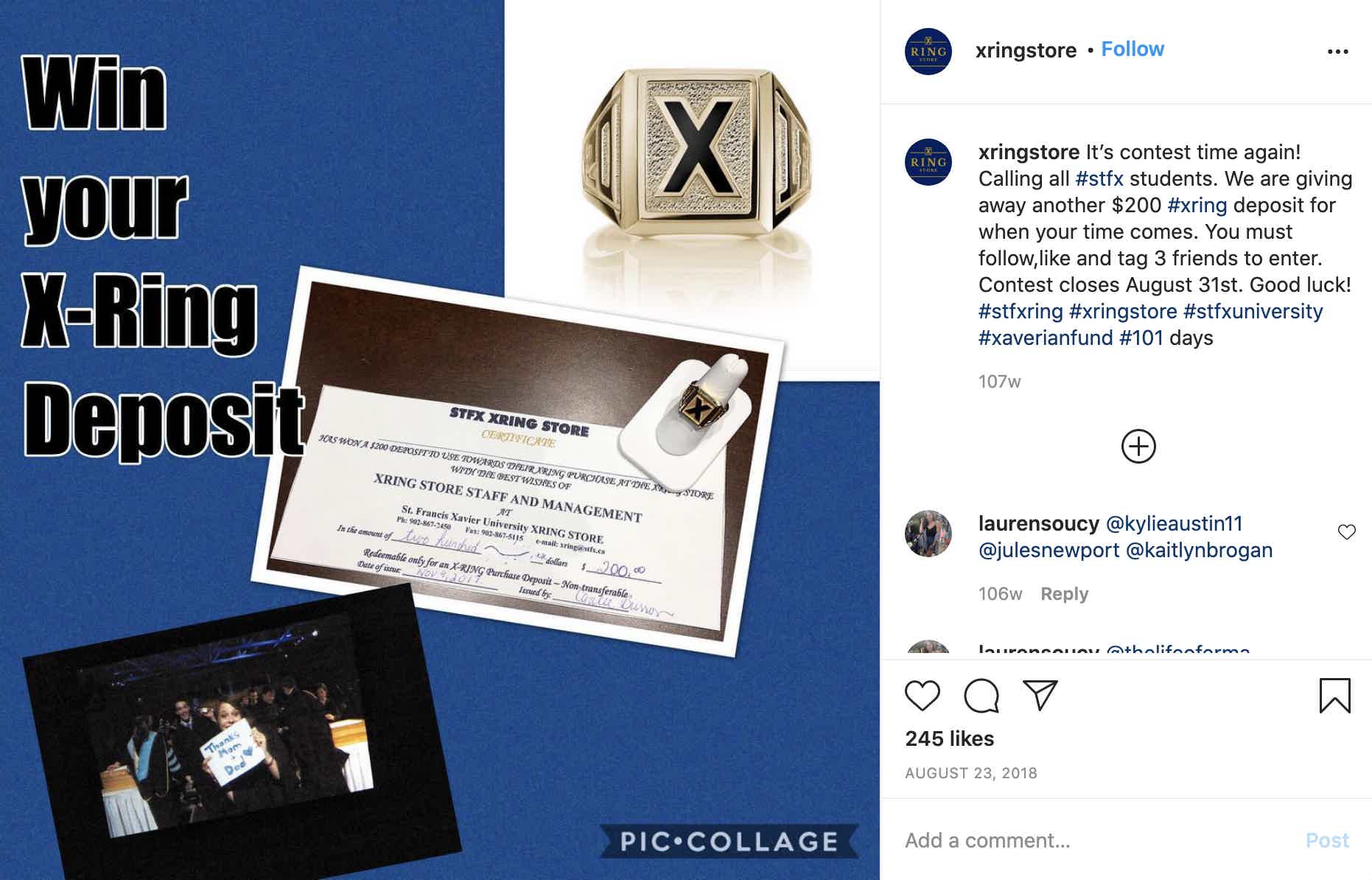 Sure, they are running a contest and offering a $200 deposit, but see how they ask you (the viewers) to tag at least three friends to enter. This would get a lot of community members in on the action and try to win the prize.
However, Xringstore is indefinitely going to promote its culture to people beyond their niche by doing this.
Nevertheless, it doesn't stop there. Here are some examples that you can use to promote your products and services:
TAG a Friend:-
Who will look good in these (could be shoes, apparel, or any other product)
Who deserves this (a state of the art mattress that offers sound sleep can be an example here)
You simply cannot afford to miss (a hotel advertisement or tourist attraction)
You want to share this with (could be fast food or a restaurant meal)
Your better half (a romantic date, an outing for couples, Valentine's day offer, etc.)
Instagram does allow people to tag others in a post or a video. The only reason a post doesn't allow you to tag others in a post is when the 'CREATOR' of the post can change the privacy settings. Since the 'CREATOR' here is a marketing agency, company, business entity, or an individual, they can easily allow others to tag people in their post.
This wouldn't require any additional tools to do so. You can read the community guidelines to know more about this.
4. Deploying Hashtags
Hashtags are a type of metadata tag that can be used on social networks and other micro-blogging services. It allows users to apply dynamic tagging that helps other users find specific and theme-related content easily.
By using hashtags on Instagram, you can make your content or posts more discoverable for audiences.
However, hashtags are best used scarcely; otherwise, they dilute each other out. I personally recommend that you stick as many as four hashtags if you want to go all out. This will allow you to cover ample room while avoiding canceling one hashtag's effect with the other.
Here is a look at how T Magazine got people excited about a Danish style of interior design.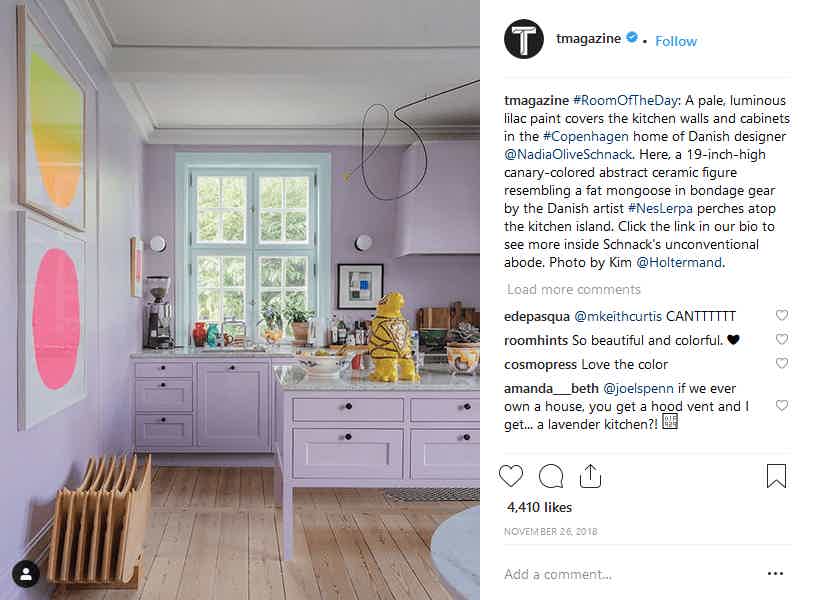 See how all the hashtags used in the post correlate with each other. They are pitching not only a Danish interior design expert and her work but also showcasing what it could mean to bring Copenhagen lifestyle in New York.
Thus anyone out there who feels inspired by the works of Nadia Olive Schnack or Nes Lerpa will find themselves drawn to this post on Instagram.
There are various ways to push the power hashtags further to extend the reach of your posts. Here are some quick pointers to build your hashtags strategy:
Hide your hashtags in the 'show more' section of your caption. They are proven to perform well.
Use popular hashtags that are relevant and relatable to your brand.
Searching hashtags first can give you an idea of who is using them.
A combination of popular hashtags with niche tags works best. Research is a must!
Keep a lookout for ongoing/current trends and an eye out for your competitors.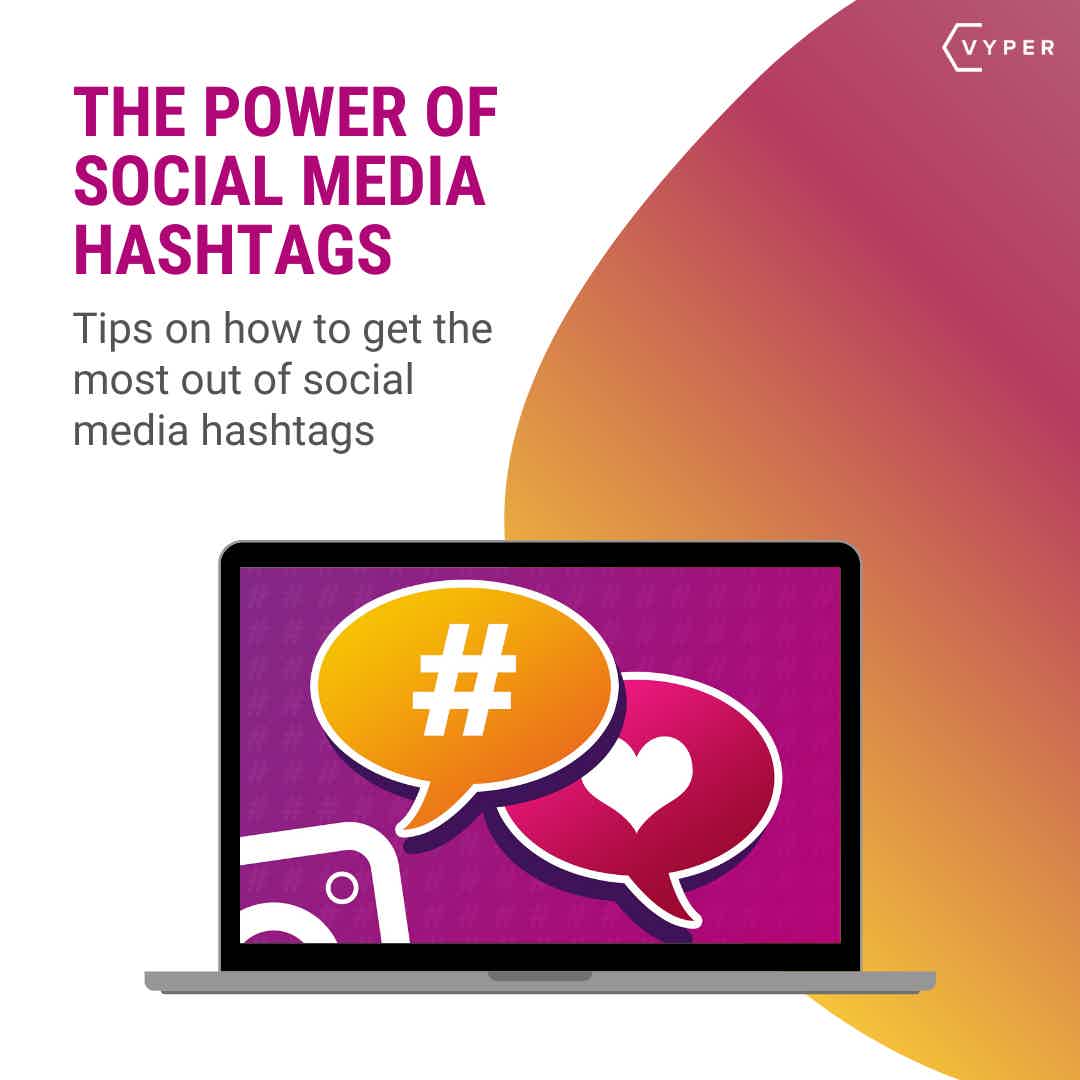 Check out our post with excellent tips on using social media hashtags.
5 Emojis & Having Fun
Emojis are extremely popular as they can convey hidden meanings as well as profound emotions and attached sentiments. However, if you play around with them, you can surely craft brilliant uses for them that can be hard to neglect.
Furthermore, emoji are universal and thus allow you to breach language barriers.
They can entice audiences across the planet and provide more meaning to your message that otherwise, merely using words cannot compare. Here is an example of the Legos Company having a go at it: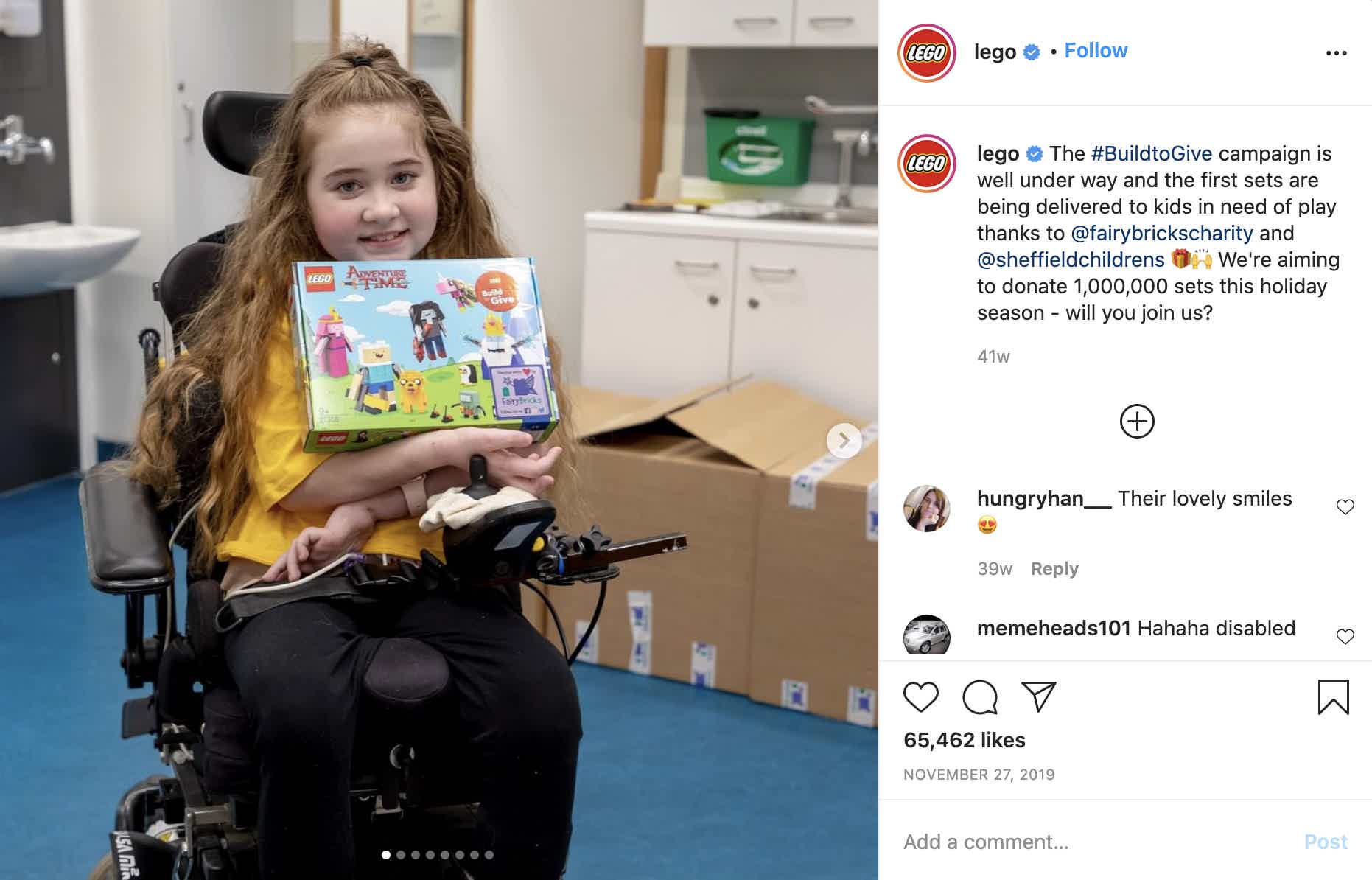 The gift and the high five emoji within the caption showcase personalization and say achievement like nothing else could in a hundred years.
Their Build to Give Campaign turned out to be a smashing hit because they understood their target market well and use appropriate messaging techniques to give off an extremely positive vibe without any shortcomings.
The Lego Group is world-renowned for its manufacture of Lego-brand toys, and while they have been brilliant throughout, it is easy to tarnish a reputation. This Instagram post further solidifies the image of the company as a well-wisher of the community.
Through emojis, Lego can break the ice and make it light-hearted for everyone to read.
6 Fostering Brand Voice
There is a way through which you can relay your brand values through an Instagram post. This allows your viewers to understand that you will always be consistent and stick true to your original traits regardless of whatever channel you may choose.
Instagram is a great way to connect with users online and convey them about your brand and what it's all about.
Some brands strictly follow their branding routines when creating a post; others have fun with leverage and are more open towards sharing experiences. All in all, the idea is to make sure that you can give off your brand ethics and provide your post with a unique voice that relates to your venture.
Here is an example by Califia Farms: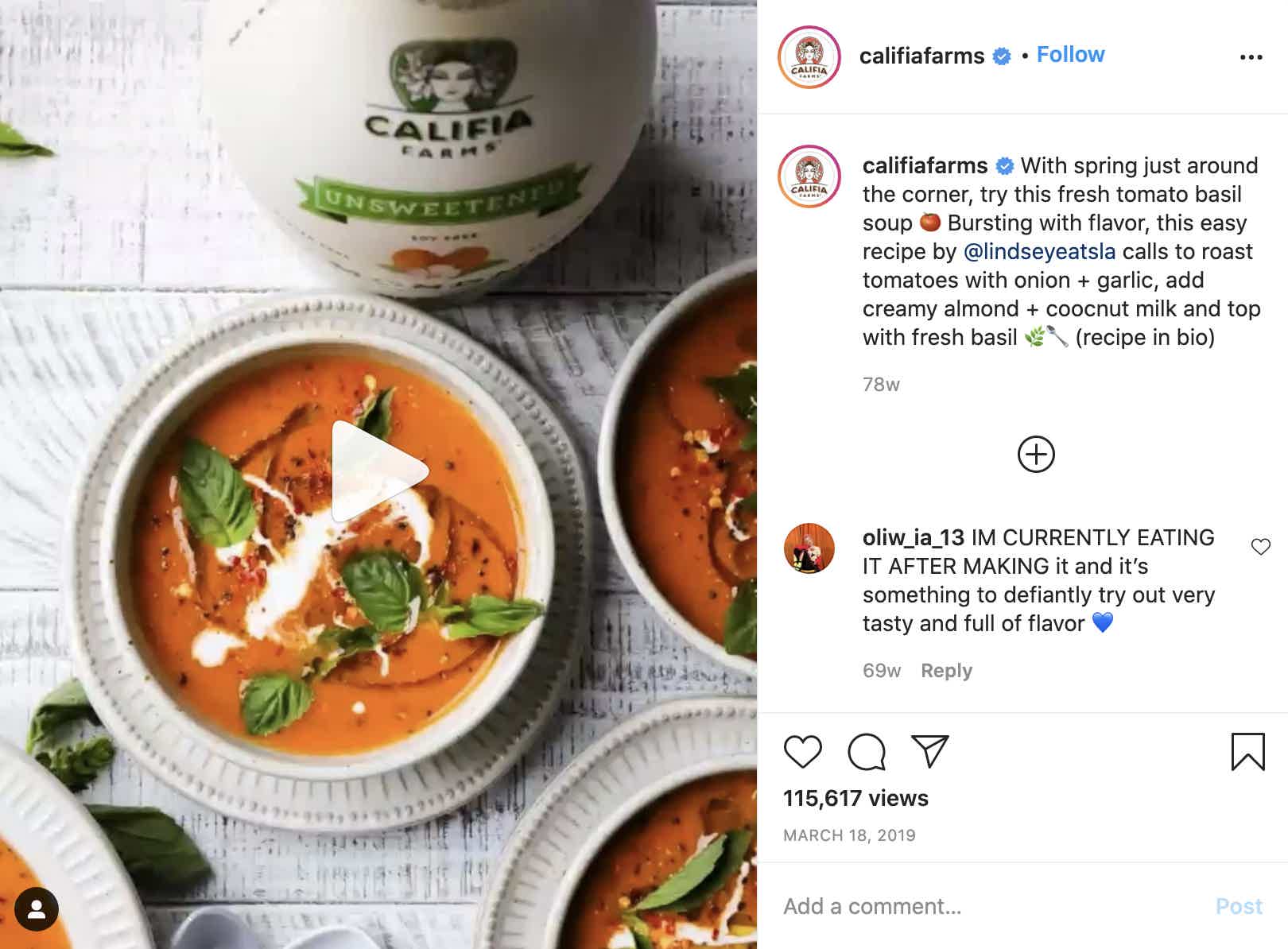 Califia Farms deals with products that are 100% plant-based, carrageenan-free, gluten-free, non-GMO, and made with no artificial ingredients. Their post above signifies a fresh tomato basil soup bursting with natural flavor and their specialty coconut and creamy almond milk.
Even if you are not aware of the company, one look makes you realize where their roots lie. This is called imbuing your post with your brand language.
While there can be thousands of tomato soup recipes, Califia Farms know how to showcase their values by sharing ingredients, and none of them being non-plant based.
7. Implement Storytelling
At times you need to inspire people and get them moving in the right direction. This is why many brands implement storytelling techniques to share success and how the power of will can overcome obstacles.
Storytelling as a form of marketing your products and services has more than often been received in a positive light of understanding by customers.
They are not only able to learn something powerful but also able to relate to the story with their own suffering and shortcomings.
The essence of it all lies in brewing self-confidence and motivating your viewers to go a step beyond necessary to achieve dreams and make the impossible possible. Here is an excellent example by The Income Incubator that offers financial advice to people and viewers regarding becoming a prominent leader within their niche.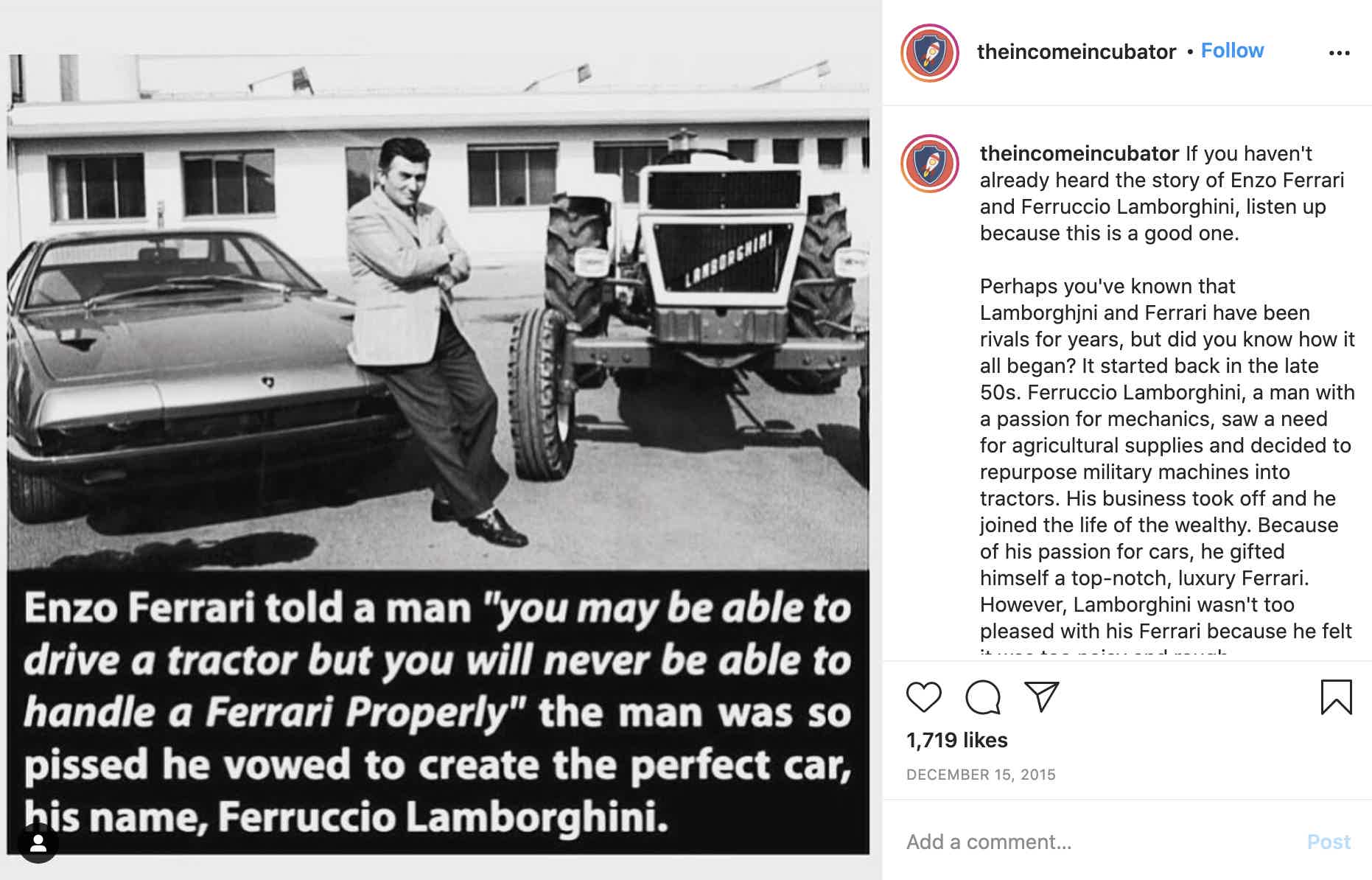 The objective behind relaying the story of Ferruccio Lamborghini is to show people that even when the odds are stacked against you, you have to neglect the naysayers and continue to strive forward. Viewers will understand that our attitude towards life can change our faith and shape our destiny.
With a positive attitude, Ferruccio Lamborghini was able to create his own empire and soon rival Ferrari, who was at the time at the top of the supercar food chain.
8. Make Use of Humor
Humor has a broad audience, and it needs no introduction. However, good humor is always hard to come by, which is why one should make sure that they never end up making fun of others and discriminate against people to the point where they feel insulted.
Nevertheless, humor is a great way to attract your audience's attention, and it can surely lift the spirits of people who need a bit of laughter in their hectic and tiresome day.
Old Spice, an American brand of male grooming products, is known for sharing humorous social media posts. However, their recent Instagram post takes the cake where viewers have fun choosing their own ending through tagged images.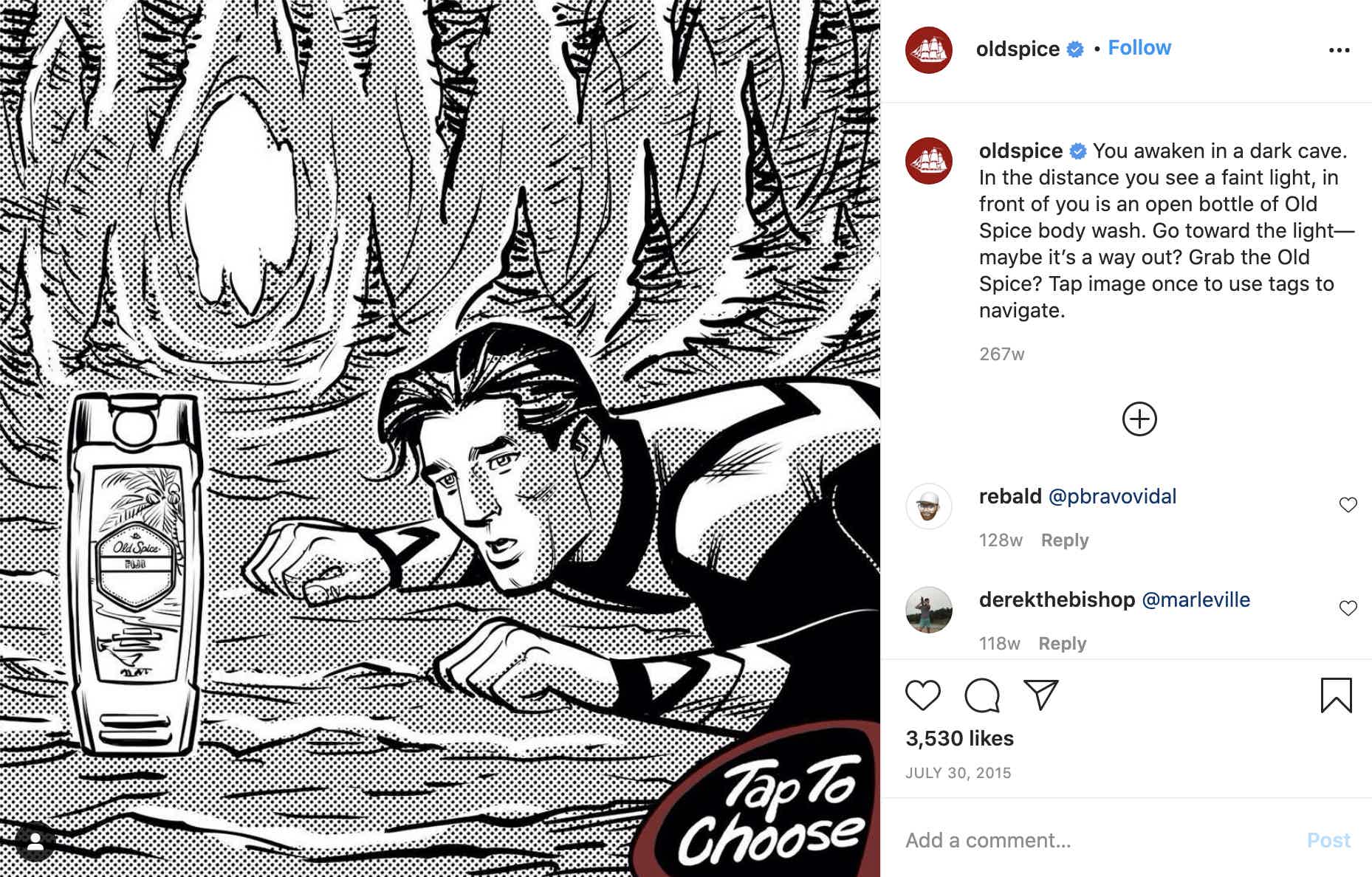 This was indeed a very creative idea where the tagging function was used on Instagram to create a 'Choose Your Own Adventure' for Old Spice. This social game became an instantaneous hit amongst the masses.
Look at how the images are drawn in comic book style, and the captions foretell the story. Not only did they fill this post with tons of robots, Meta jokes, and retro monsters, Old Spice offered you a heap load of wacky humor throughout the journey to keep the audiences amused.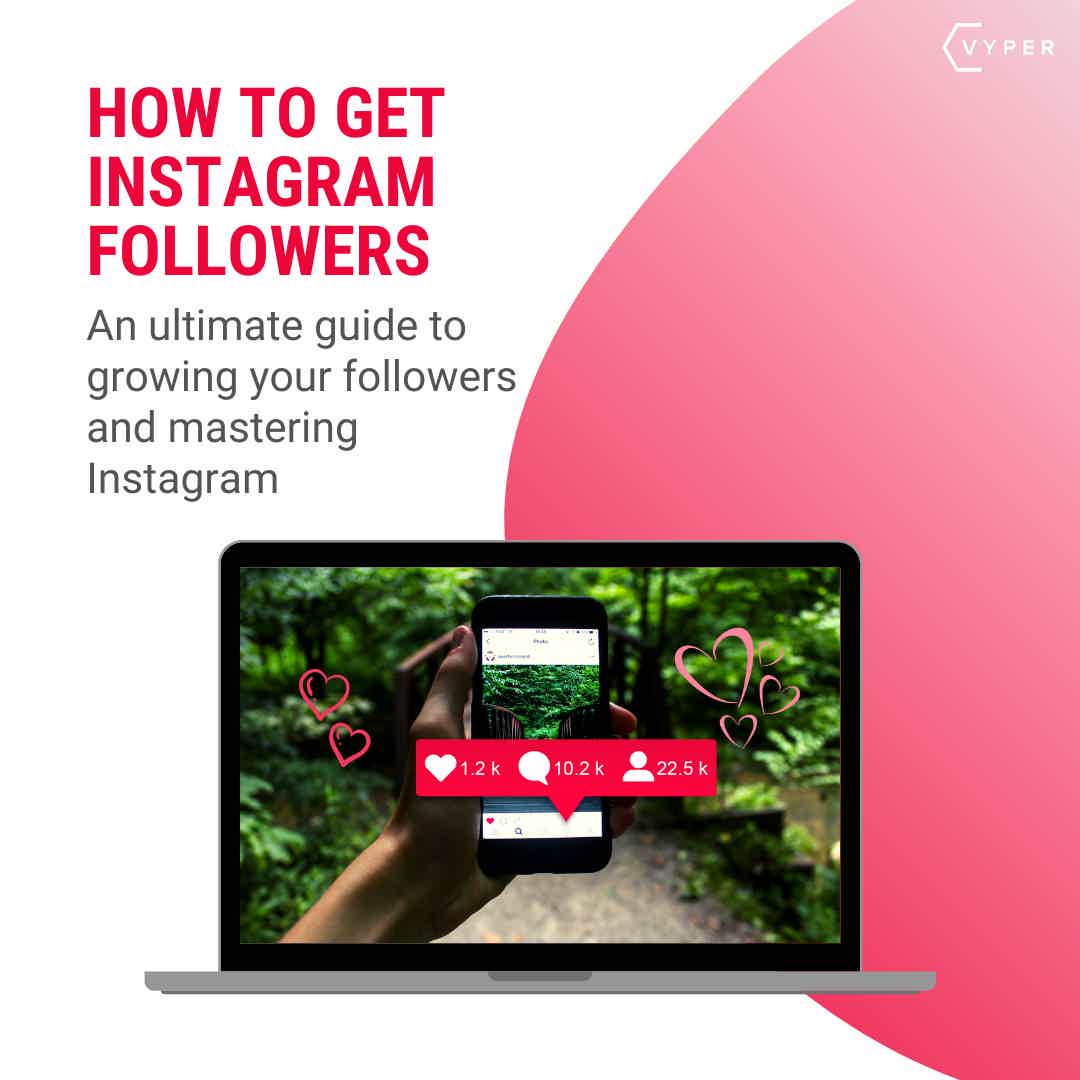 Check out our ultimate guide to growing your Instagram followers
9. Offering Valuable Information
When it comes to promoting your products and services, Instagram offers the perfect platform to dish out a fantastic mix of visuals and wordplay. It seems like your business' Instagram was designed to provide you with a limitless supply of billboards.
Every post can be converted into a considerable advertising stint that simply cannot go wrong because of the platform's already visual style. Here is an example of Onnit that offers health supplements for audiences along with the brain and full-body workouts.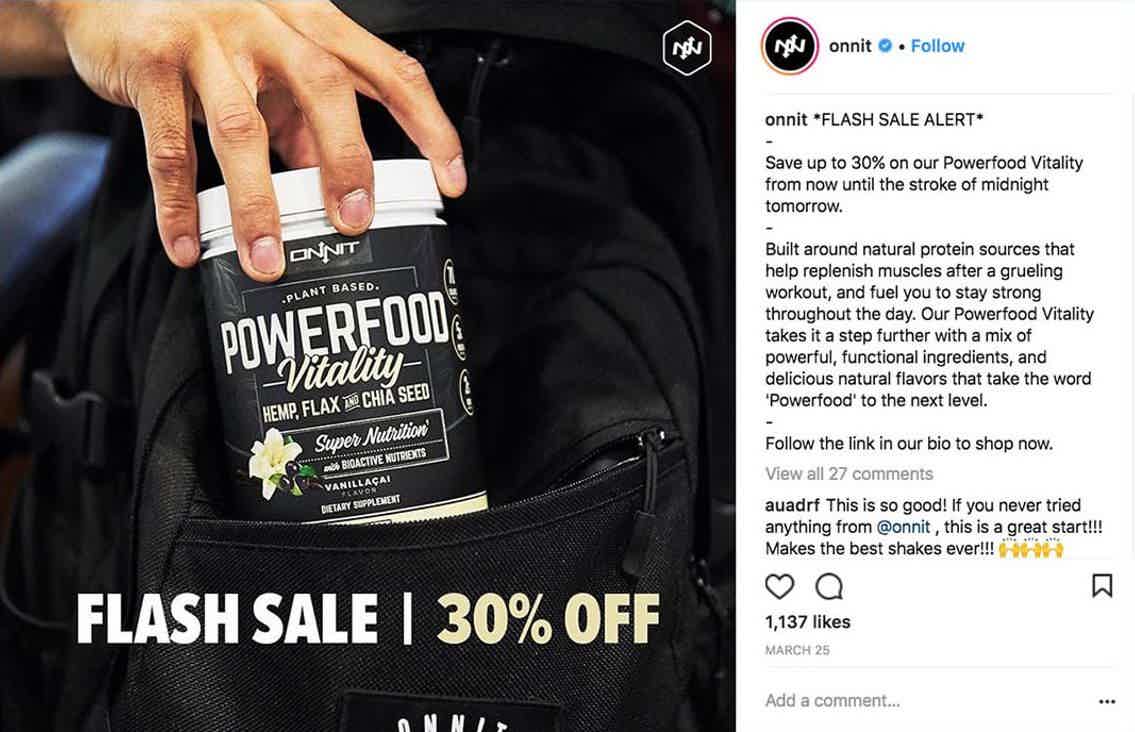 The caption starts with a bang by announcing the Flash Sale Alert and an explanatory description of the ongoing campaign the company is running. It is like they are wasting no space to keep the customer informed and focused on what they have to offer.
With a complete mention of their promotional offer, the end it with a sweet conclusion that centers entirely around their unique selling proposal for their product.
10. Seasonal & Trending
Seasons come and go, which is why you need to delve deep and bring out the best captions that capture the festivity in its full glory. This Starbucks post captures the emotions and feelings of Christmas perfectly.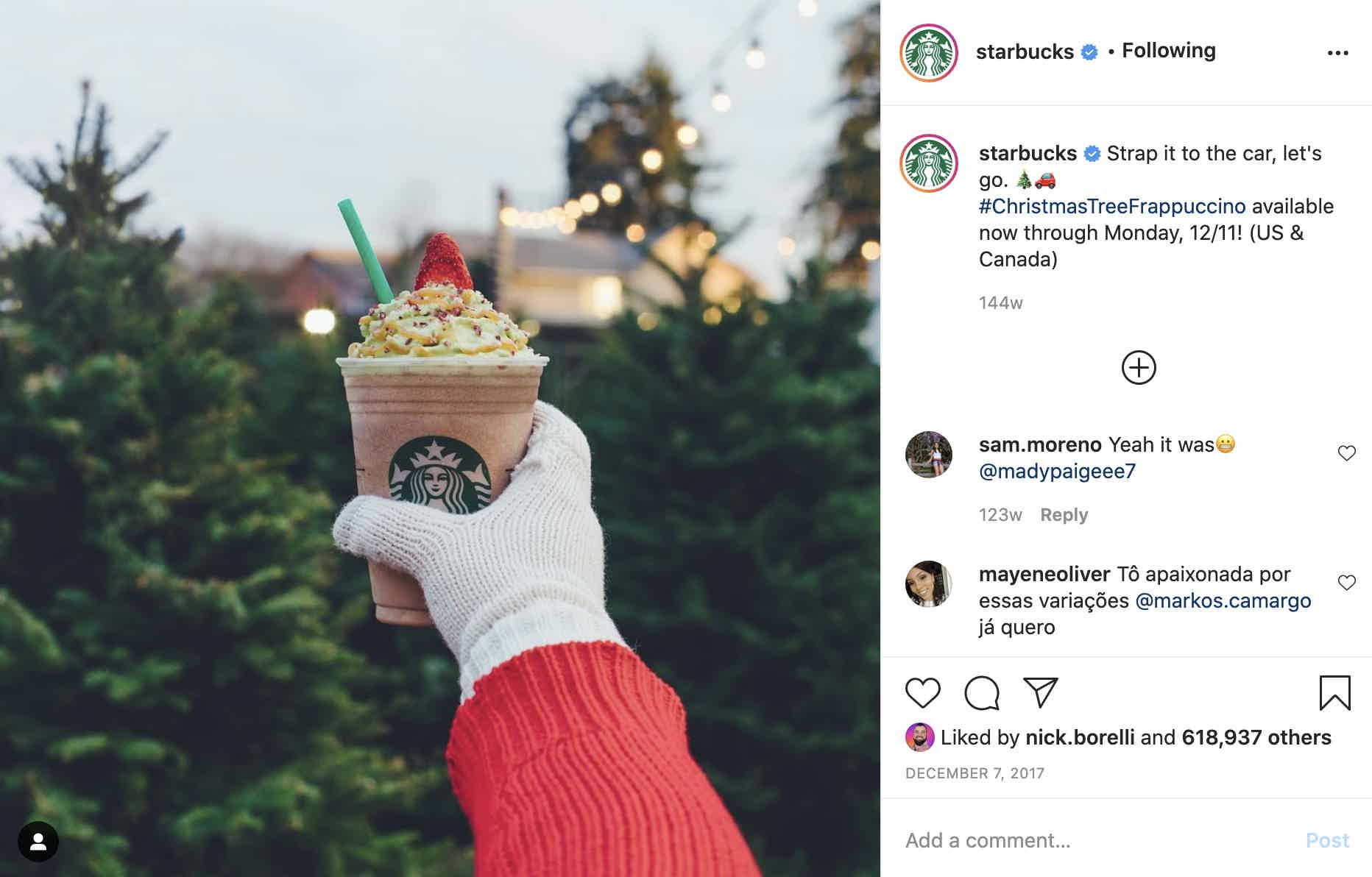 Christmas for well-wishers and event organizers, can be the busiest time of all, and this post clearly shows that at times there isn't even enough time to sit in a café and enjoy your favorite coffee.
No wonder higher education students hire the best dissertation writing service through the holiday season, as who would like to miss out on all the fun and joy the biggest festival of the year has to offer.
Plus, Starbucks also has that #ChristmasTreeFrappuccion going strong for them, which undoubtedly must have transformed into a movement in no time.
Conclusion
As one of the most popular social media platforms out there, Instagram does represent itself as an extremely lucrative platform where you can engage customers, interact with prospects and build up your brand and business' image.
Plus, if you follow through the aforementioned pieces of advice to tweak your Instagram Captions, there is a high possibility that you can stop people from scrolling instantly and grab their attention.
This greatly benefits your business as the more time they spend reading your post and its captions, the higher your post will rank with the Instagram algorithm. I hope that you found this post informative and nudging you in the right direction to master writing Instagram captions like a virtuoso. For more questions about the topic, leave a mention and your feedback in the comment section below.
How much effort do you put into your Instagram captions? Let us know in the comments below.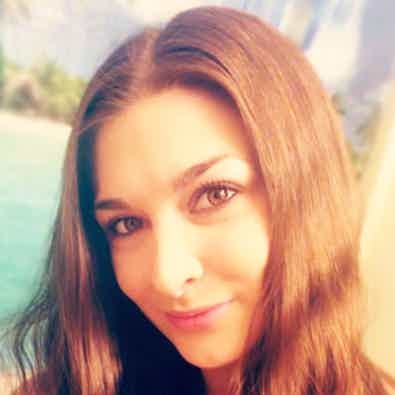 About the Author

Claudia Jeffrey currently works as a Digital Analyst at Crowd Writer, a trusted online platform for hiring best assignment writers at incredibly low prices. During her free time, she likes to visit outdoors and travel through scenic beauty to avoid a sedentary lifestyle.
Jack Paxton
Jack Paxton is the co-founder of VYPER, a marketing tool that helps brands build email lists, social followings, and revenue using viral giveaways, referral, and reward programs. After millions of dollars spent testing different marketing strategies at his marketing agency. He then also co-founded Hyax a fast, conversion & design-focused course and funnel builder for creators.