Influencer marketing is one of the most effective forms of modern-day marketing, but only a few brands get it right. Most are mindlessly spending thousands of dollars on partnerships that drive no tangible results.
Find out how they successfully execute influencer marketing giveaway campaigns in this detailed influencer marketing guide.
It's not just the big brands that are taking advantage of this. Smaller businesses are also creating successful relationships with micro-influencers.
These campaigns are a little more high touch but very high ROI!
These are the kind of relationships that have allowed influencers to earn a living doing what they love best. It has also spawned a new wave of micro-influencers that, in their own way, are able to achieve a decent amount of success with a smaller but more targeted and engaging audience.
One of the most explosive kinds of influencer marketing campaigns is influencer giveaways.
So, how do you get started?
Read on to learn precisely how to use influencer marketing + giveaways to skyrocket your brand.
Enjoy!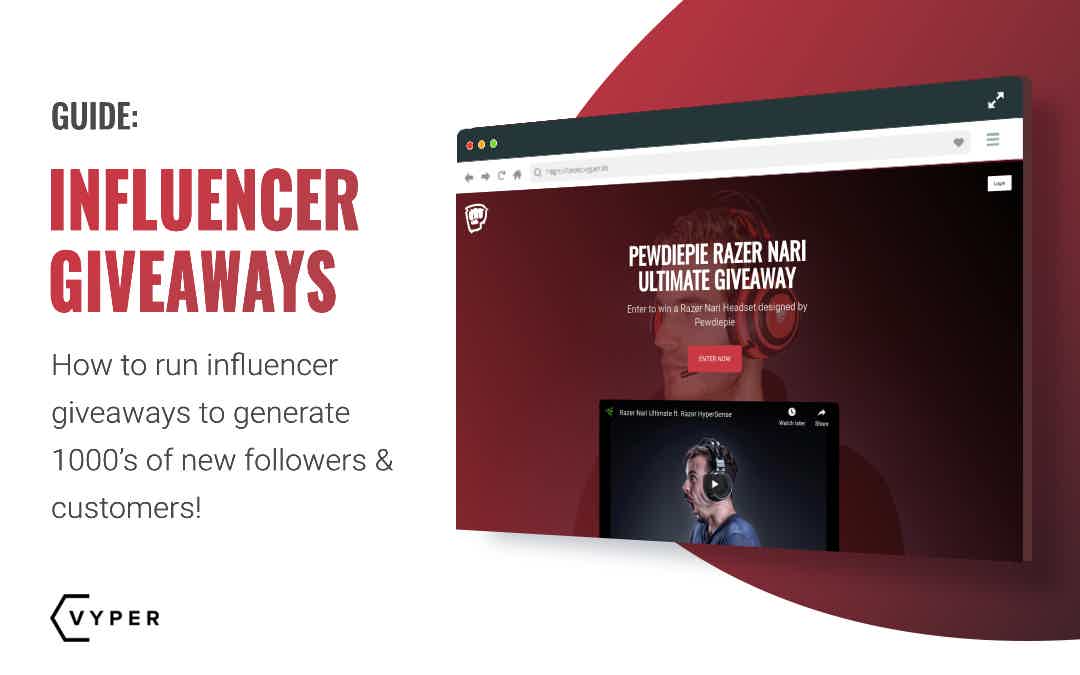 FREE DOWNLOAD: Get all Our Contest & Giveaway Marketing Guides, Checklists, and tutorials that have helped 100's of brands collect 15k+ emails in under 21 days!
What Is Influencer Marketing?
Influencer Marketing – When a company uses a person with expert knowledge or social influence to endorse or promote its brand and products.
The concept of influencer marketing itself isn't new. Remember those massive endorsement deals that Nike handed Michael Jordan?
Nike paid Michael millions in the 90s to wear its merchandise. MJ proudly wore Nike sneakers and apparel on and off the court.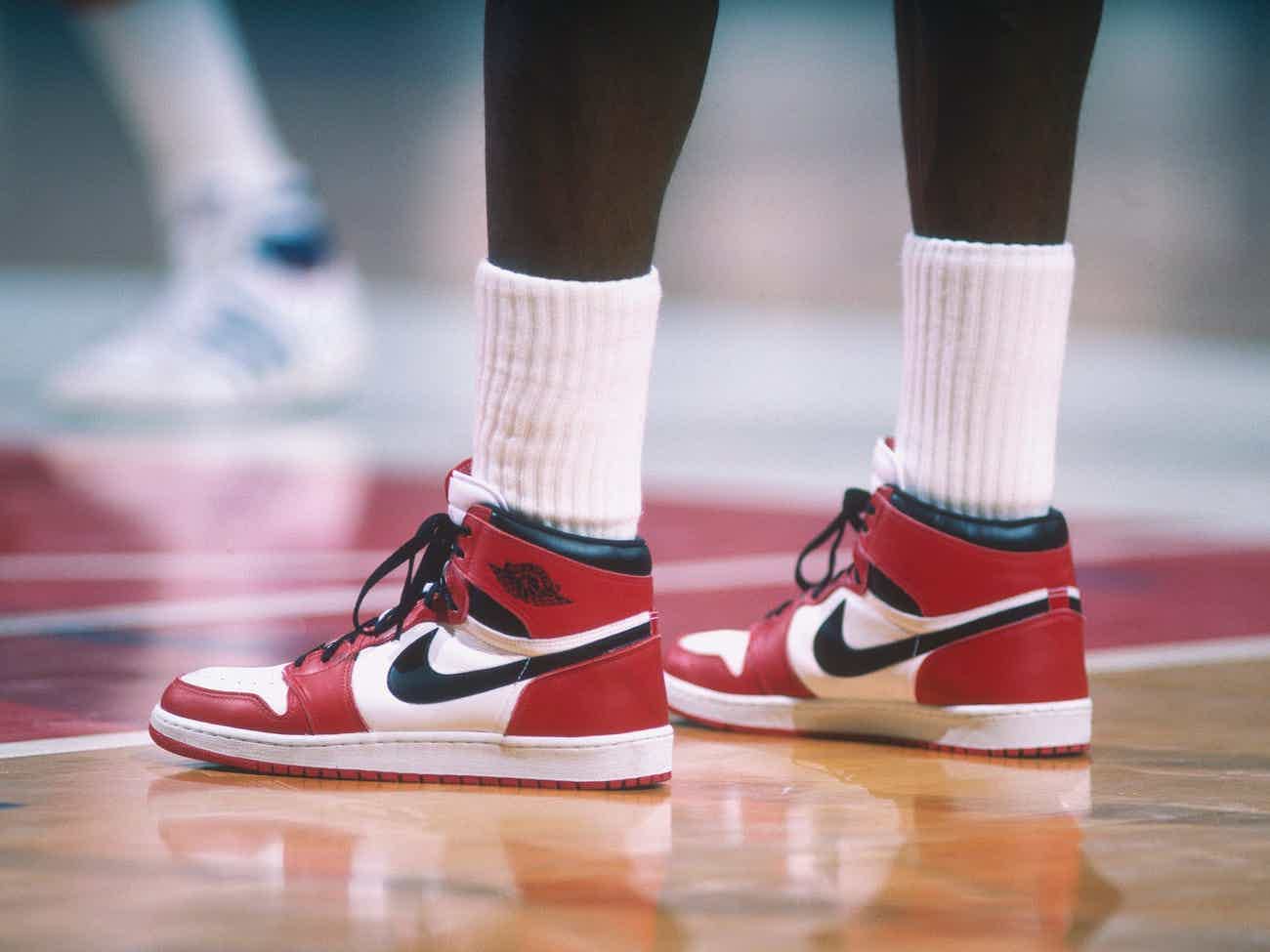 This strategy helped Nike achieve an iconic status for their sneakers. Nike, to this day, profits off that iconic status that was built decades ago.
Now, the modern-day superstars are not just on the court. They are indeed on our social media feeds.
What Makes a Person an Influencer?
Today, anyone has a chance of being like Mike.
A person who gains massive popularity on a social network can become a social media influencer.
This might seem like a vague statement. Surely not just anyone can become a social media influencer?
Well, take the father and son duo from What's Inside, a popular YouTube channel that's nearly approaching 7 million subscribers.
Dan and his son Lincoln created a fun video (what's inside a baseball) for a school project back in 2014.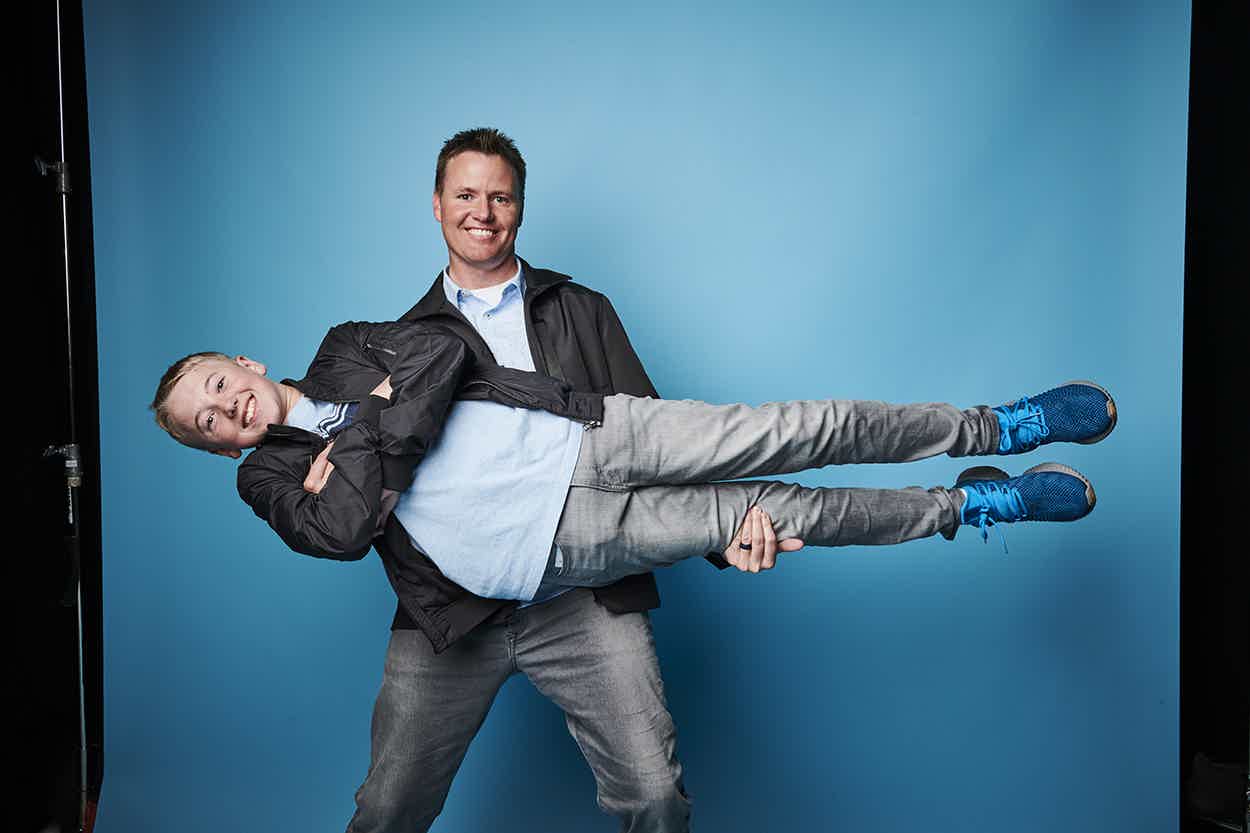 The concept of that video became a full-time career for Dan, earning him many sponsorship deals from major brands like Nike, Star Wars, and Nickelodeon.
These brands know the value of the What's Inside YouTube channel that consistently generates thousands of views daily.
Brands who sponsor What's Inside know that millions will see their name and products of viewers.
This is the power of Influencer marketing.
Benefits of Influencer Marketing
Most influencers have a close connection with their audience. This is because they continuously share every moment of their lives on social media.
It's how they tell a story on social media. A story that keeps their audience engaged.
Influencer marketing allows brands to become part of an influencer's story.
Having your product in the hands of an influencer, as they journey along with their fans, can instantly give your brand the exposure it wants.
If your product is in the right influencer's hands, their fans will take notice.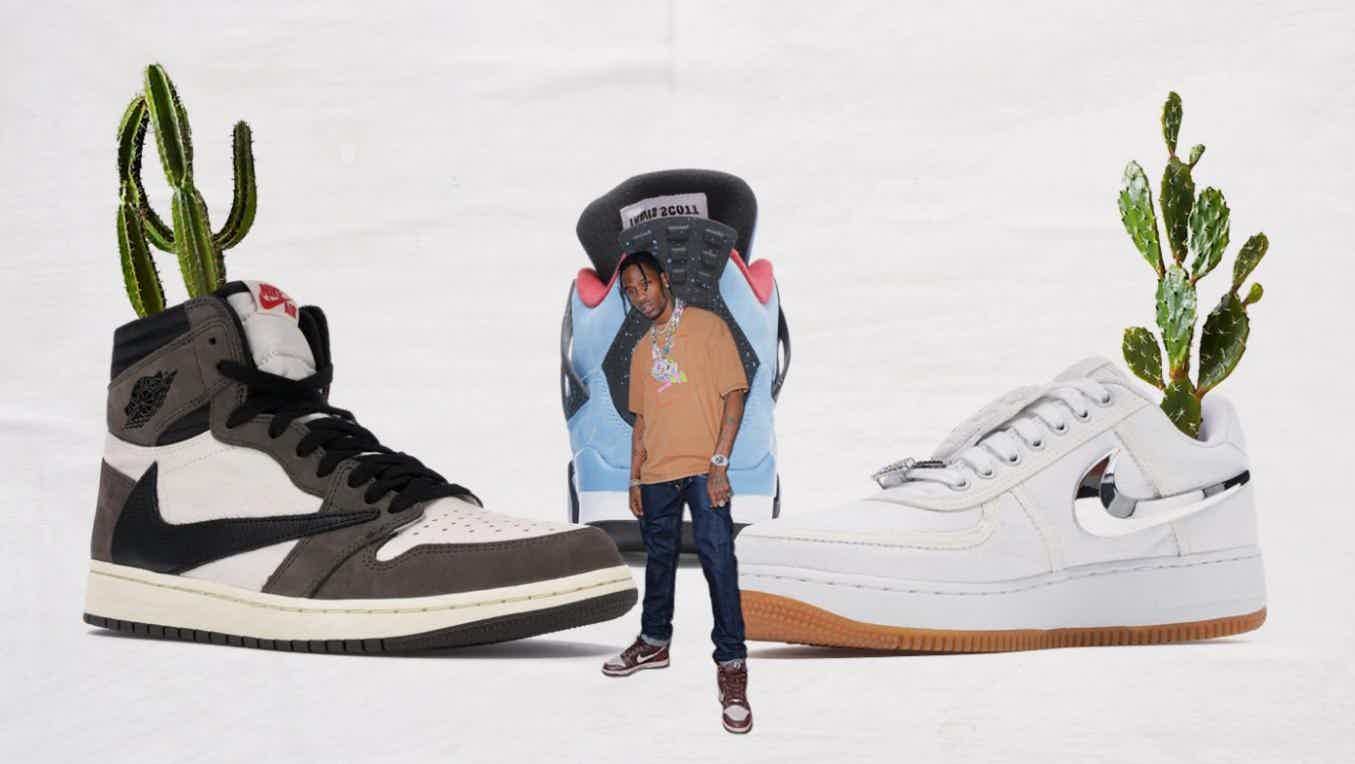 Fans regard influencers as experts. So if they are using your product, then your product has to be legit awesome!
Influencer marketing also allows your brand to advertise organically.
You don't have to use traditional social media ads because your product is within an influencer's content.
This is an ideal workaround for an audience that uses 'Ad-Block'.
For example, a tech-savvy gamer audience will mostly consume content on their computer that has adblocking software.
So if you want to advertise your new pair of gaming headphones to them, your ad might not reach the intended audience efficiently.
However, if you put the headphones into the hands (or on the head) of an influential live streamer, then more gamers will start to take notice.
Downsides to Influencer Marketing
Teaming up with a megastar influencer doesn't guarantee success. Things can still go wrong (as with any marketing campaign).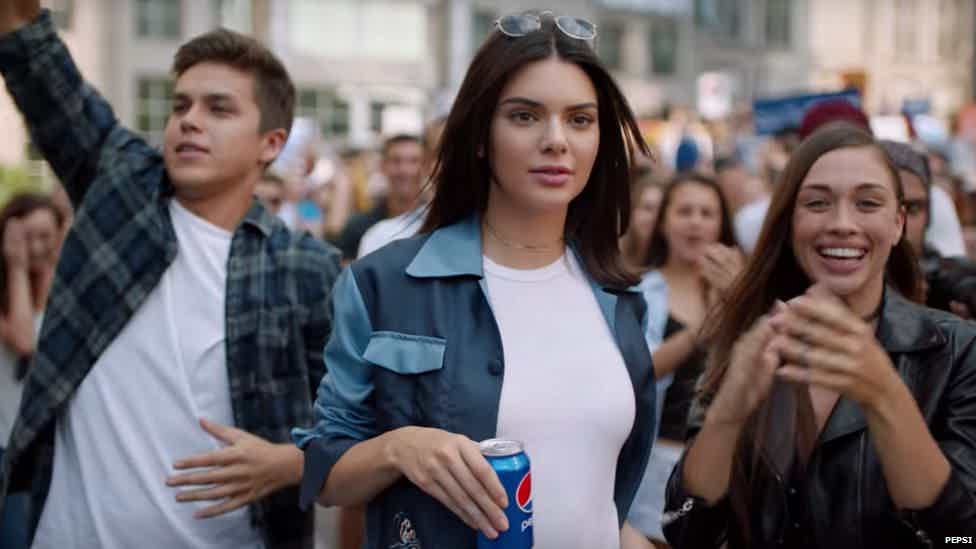 The Kendall Jenner / Pepsi partnership seemed like a dream deal. However, the controversial Pepsi ad received massive backlash from the Black Lives Matter movement.
Because of this, proper planning of your influencer marketing campaign is vital. One of the most significant steps in the planning process is choosing the right influencer for your brand.
One of the most significant downsides to influencer marketing is not connecting with the right influencer.
While the concept of putting your product into the hands of a popular social media influencer is straightforward, things can still go terribly wrong if you choose the wrong person.
You must partner up with an influencer that has the ability to market your brand effectively.
We go into more detail on how to find the right influencer in the next section.

How to Find the Right Influencers for Your Brand
Connecting with the right influencer is essential to the success of any influencer marketing campaign.
In an ideal world, your influencer will be able to market your product or promote their followers effectively.
However, it's not that simple.
Not all influencers are created the same.
To find the right influencer for your brand, you will have to consider the following:
Image
Followers
Interests
Background
1. Image – The Influencer Has to Be an Ideal Match for Your Brand
Influencers also have an image to maintain. It's the same as maintaining a good brand image.
Your influencer's image should be in-line with your brand's image.
You may come into contact with the perfect influencer to partner with. However, if that influencer is too controversial, then their actions can impact negatively on your brand.
The last thing you want is for your brand image to take a hit because of something an influencer did or said.
On the other hand, if your brand does life on the wild side, and being controversial is your thing, then, by all means, try them out.
The influencer you partner with will be the face of your brand. So, choose wisely.
A Trifecta Partnership – The Rock / Under Armour / JBL
Dwayne 'The Rock' Johnson is known for his long-lasting relationship with the fitness apparel brand Under Armour. Both The Rock and Under Armour teamed up with JBL to release high-end wireless headphones.
Wireless headphones are extremely popular at the moment. However, this new product will have to compete with already established brands like Beats, Sennheiser, and AKG.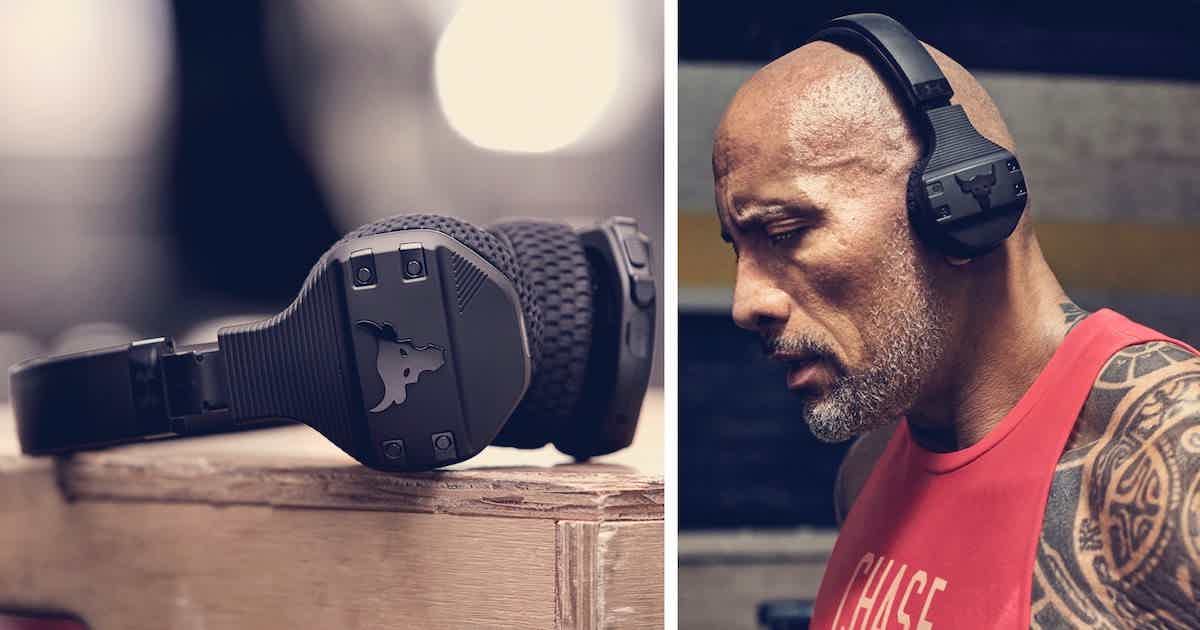 Under Armour and JBL took an interesting direction with their product. They created a rugged pair of gym headphones.
The target market is people who love to workout with headphones. So who better to promote this product than The Rock?
He is an expert in the gym and is often seen working out to music on his socials. A great partnership that targets a niche market.
2. Followers – The Influencer's Followers Match Your Target Audience
Partnering up with an influencer who has the right audience for your brand is crucial.
Social media influencers are just like brands when it comes to having an audience of like-minded people (people with similar interests).
A personal trainer will have an audience that's geared towards health and fitness. A social media chef will have an audience that wants recipes because they love to cook.
If your brand sells fitness supplements and apparel, you would want to partner with a personal trainer with plenty of social media followers.

That influencer (personal trainer) can display your supplements and wear your clothes in their posts. This way, your brand name, and products will be exposed to all those followers.
Now, if your workout supplement brand had to partner with a chef, your brand and products will still gain exposure to followers.
However, not as many followers will be interested in your brand, as a chefs' followers main interest is recipes and cooking tips.
Zero Deaths Influencer Marketing
Superstar YouTube gamer Pewdiepie is famously known for partnering up with Razer, a video game peripheral company.
Pewdiepie has millions of YouTube followers. His core audience is made up of people interested in gaming.
This is an ideal partnership for Razer as they manufacture Game controllers, keyboards, mice, and headphones.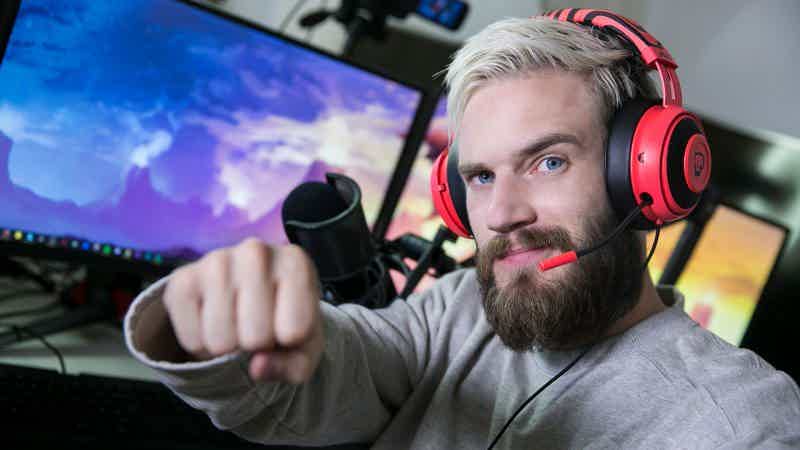 So what was Razer's big move? Well, its something similar to Nike + MJ with the Jordan sneakers.
Razer took an already established product (Kraken Pro V2 headset) and redesigned it to match Pewdiepie's brand image and colors.
This turned out to be a match made in heaven because Pewdiepie always wears a headset in his videos.
So now, the Razer headset that Pewds wears is exposed to millions of viewers daily.
Side Note: Pewdiepie is another example of a regular guy that managed to grow an insanely massive audience and earn sponsorship deals.
3. Interests – The Influencer Is Known for Using Your Product
Your influencer's interests are vital too. This is something that is often overlooked by brands.
The influencer you choose to partner up with must be someone who is already known for using products similar to use.
Pewdiepie has been using a gaming headset from day 1. So, when Razer got their custom headset into his hands, it was a natural transition.
Influencers are also famous for saying, "We only promote products that we would use personally." This statement should be the goal of your partnership.
Let your influencer promote your product or brand if it is something that they would use.
But Why Can't Influencer's Just Promote Anything?
Two big reasons:
Influencer marketing is naturally organic – Getting an influencer to endorse products they never heard of will turn their content into adverts. Influencer and brand partnerships must remain organic to viewers.
Almost every aspect of an influencer's life is exposed – This is the case for most influencers. Their fans know everything about them. So if they start promoting something odd out of the blue, their fans will notice. This can harm both their image and yours.
It's really not unheard of for influencers to market products that they are not known for using.
Take Michael Jordan (again), He's known for appearing in McDonald's and Gatorade ads.
However, it's hard to achieve this today as consumers have become extremely brand conscious. A consumer can easily call out an influencer that is miss-matched with a brand.
4. Background – Research Potential Influencers
Do a proper background check on any influencer that you are interested in.
Research is essential to finding an influencer that you can have a successful partnership with.
Why?
People on social media can have a lot of followers, but with minimum engagement on their posts.
Some influencers just upload content. They don't reply to comments or engage with people on social media.
Some influencers may engage negatively with their audience. Again, if your brand is open to controversy, then any publicity is good publicity, right? However, you should be aware of the risk involved with such a partnership.
How to Get Started with Research?
Take a look at the following to begin researching your influencer:
Followers
Posts
Engagement
Previous campaigns
Followers
Log in to the social network that your target influencer is on and take a look at their followers.
This can be as simple as going to their profile and clicking on their followers to view their profiles.
It's obviously tedious to research every follower of an influencer. Try to select between 5 to 10 followers to analyze first.
By looking at a follower's profile, you will be able to get an idea of what they are interested in. If your brand targets photographers, then look for interests related to photography.
This can be an interest in DSLR cameras, photo editing software, or drone cameras.
If you analyze 10 followers and 4 of them have similar interests in photography, then you are on the right track.
Posts
Take a closer look at the target influencer's most recent posts.
Are they consistently posting exceptional content? Do they tell a story on social media? Is the style of their posts consistent?
Most importantly, will your brand and products seamlessly fit into similar posts in the near future?
If the answer is No for most of these questions, then your influencer might be too much of a risk to work with.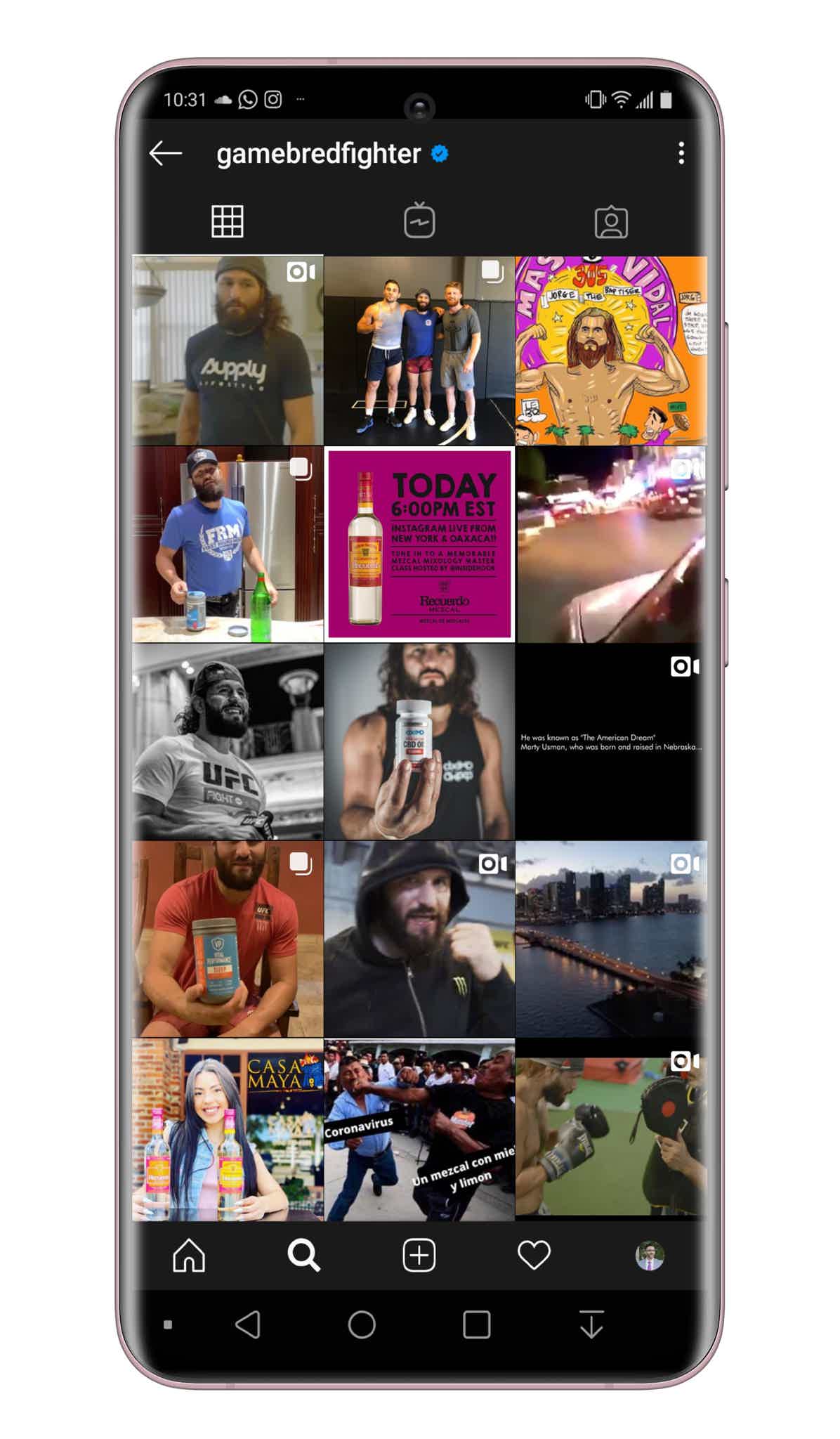 UFC fighter, Jorge Masvidal (@gamebredfighter), is crushing his socials at the moment.
By looking at his last few posts, you can see that he gels well with fitness and supplement brands.
Like Samsung or Motorola, a tech brand will most likely not be a good fit for Masvidal.
Engagement
Some of the best influencers have a close connection with their followers. They regularly respond to comments in a positive way.
Again, analyze the most recent posts and take a look at likes, comments, and shares.
Find out how active the influencer and their followers are. Are they responding to comments positively?
Does the amount of likes and comments on a post seem normal based on the number of followers the influencer has? This is crucial as it is possible to find an influencer with plenty of followers, but little engagement on posts.
If this is the case, then posts that feature your product might not get the exposure you want.
Previous Campaigns
Social media influencers are known to work with multiple brands. Find out which brands they are currently working with.
Will it be ok for your brand to associate with the other brands your influencer works with? Do these brands compliment your brand or compete with it?

If your brand sells photography software, then a brand that sells camera tripods or backpacks can complement your brand.
You can again go through the influencer's posts or ask them to state all the brands they work with when you interview them.
It's also crucial to find out which other brands they may have worked within the past. Try and find out if those partnerships were successful or not.
Knowing as much as you can about your influencer will help you be more prepared to work with them.
Micro-Influencers
This post wouldn't be complete without mentioning 'Micro-Influencers.'
So what are micro-influencers?
Micro-influencers are generally defined as social media influencers with around 1000 to 100,000 followers.
They are your local fashionistas, bloggers, or socialite that's popular with a select community of social media users.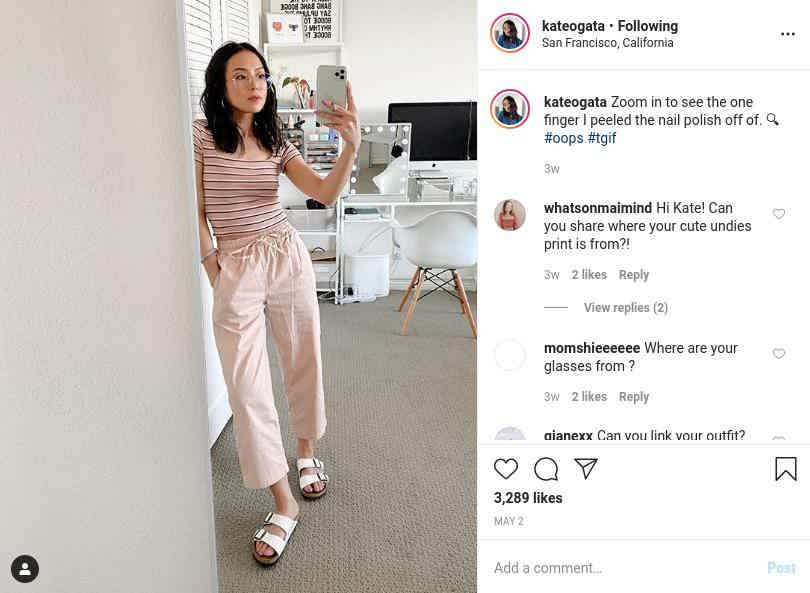 Why Partner Up with a Micro-Influencer?
So why should you team up with a micro-influencer? Why not just go with the big guns who have millions of followers?
Well, here are some valid reasons you should consider:
Affordable – The obvious reason. Most micro-influencers are at the beginning of their journey and will accept low offers to partner with you. However, it would be best if you were cautious with inexperienced influencers. You might not get back what you may have bargained for.
Reliable – Micro-influencers are not yet at the level they want to be. They are in the process of working hard to build a good name. Your partnership can be the start of their first successful campaign, which is all the reason for them to work hard for you.
Relatable – Most micro-influencers come from humble beginnings, similar to your brand when you first started your business. It's a great feeling to partner with someone who's just starting out. Wait till you see the excitement on their face when they are crushing it.
Local audience – Sometimes, you just want to find a quick way to connect with people in your town. Micro-influencers that are popular with the local crowd is the way to go.
High engagement – Megastar social media influencers get tons of messages and likes. Which is why it's difficult for them to reply to all comments. A micro-influencer can handle almost all the comments they receive. This way, there won't be any leads left out.
Micro-influencers Can Work with a lot of Brands
It's easy to see that big or small brands can benefit in some way from using micro-influencers.
Micro-influencers are extremely popular with small clothing stores and brands.
However, larger global brands, like Huawei and Audible, are known to have used micro-influencers.
Huawei often partners with social media influencers with under 100k followers in smaller countries that they wish to target. This allows the brand to quickly gain exposure to a target market by placing their phones in the hands of these micro-influencers.
Audible is famous for sponsoring podcasts and YouTube channels. They target micro-influencers that have built a small community around a niche topic, like sci-fi or romance.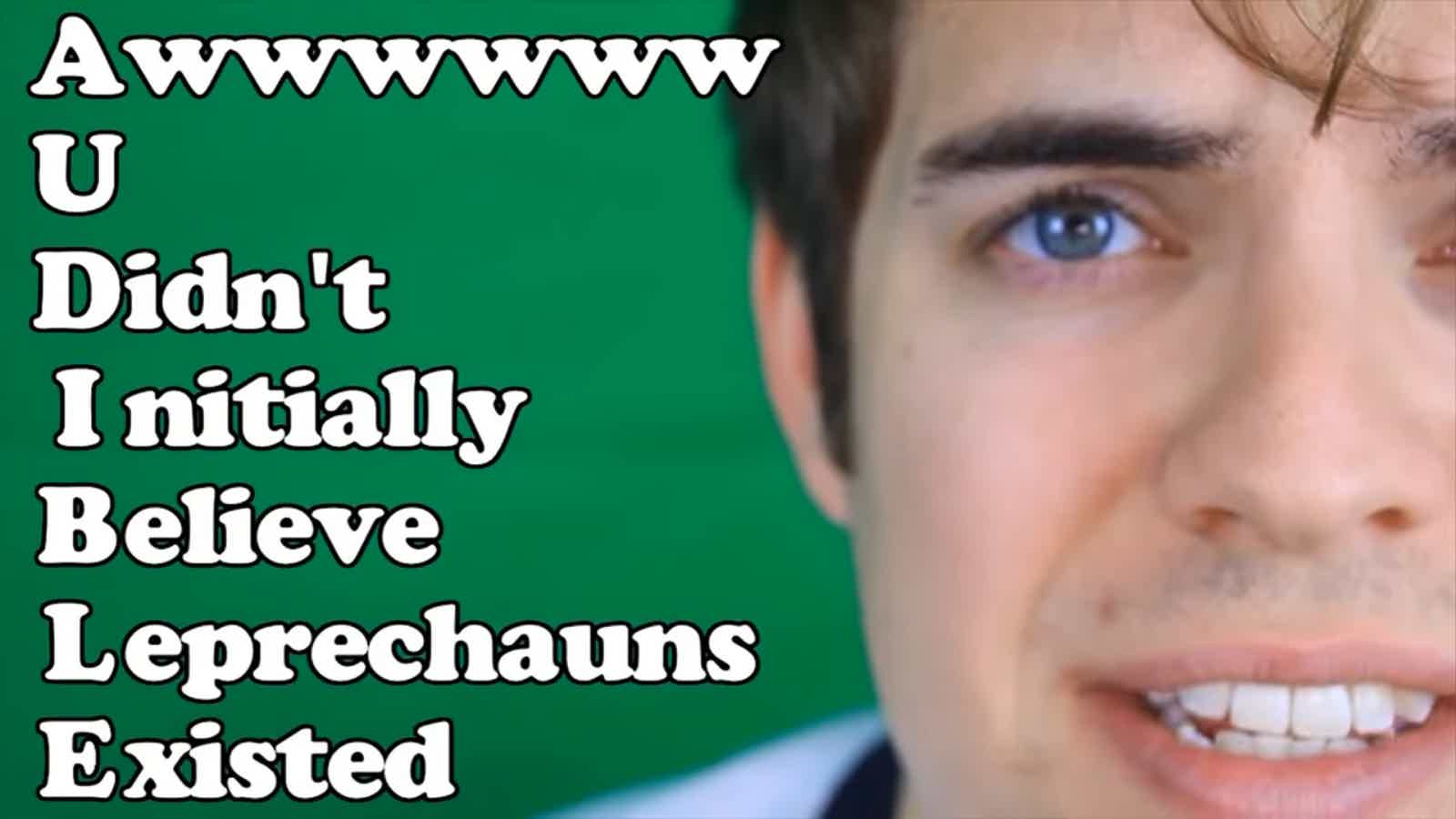 How Influencer Giveaways Work
Influencer giveaways are very much the same as a standard brand giveaway.
The main difference is that the brand hosting the giveaway is in partnership with an influencer.
Co-host a Giveaway with an Influencer
The brand can co-host the giveaway with the influencer. For this to work, the giveaway must be structured around the brand and influencer's image.
Popular YouTube gamer, Ninja, partnered with NZXT (peripheral gaming manufacturer) to host a giveaway.
NZXT used Ninja's Logo and colors to design and build custom gaming PCs. These excellent computers were used as the prize of the giveaway. (More on this giveaway in the section below).
Let an Influencer Market Your Giveaway
Co-hosting a giveaway with an influencer isn't the only way to structure your giveaway. You can use an influencer simply to market your giveaway.
This happens a lot with tech influencers. Companies like Dbrand often get popular tech influencers to host their giveaway on their social media platforms.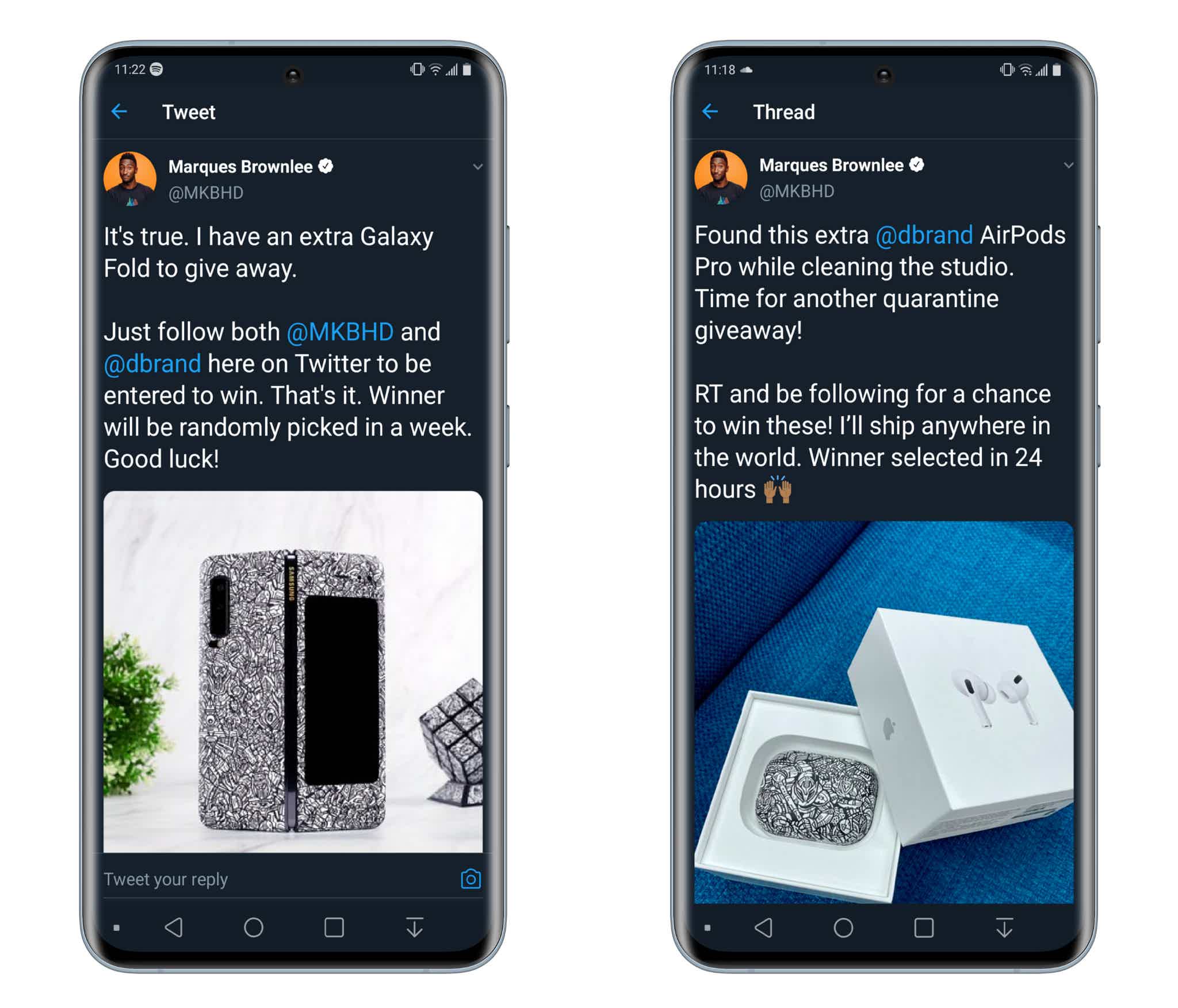 Dbrand has a long relationship with Marques (MKBHD) and often sponsors his videos.
Now, with their latest giveaway, Dbrand used their existing relationship with Marques as a platform to market their giveaway.
Marques mentioned the giveaway in a YouTube video, on Twitter, and Instagram. By doing this, Dbrand's giveaway reached the millions of followers that Marques has on his socials.
Mutual Benefits
With the Dbrand / MKBHD giveaway mentioned above, the entry method required social media users to follow both the influencer and the brand.
This strategy allows both the influencer and the brand to boost their social media followers with a single giveaway.
Because of this, influencers love giveaways, as they are all about building their followers. You can use your giveaway as leverage to negotiate your partnership.
Examples of Influencer Giveaways
Hypebeast / GOAT Giveaway
E-commerce fashion store, GOAT, partnered with Hypebeast, a popular fashion blog to host their giveaway.
GOAT deals in high-end sneakers and Hypebeast is all about representing exclusive kicks on their website and social media.
In this case, Hypebeast, the influencer with almost 9 million followers, shared the giveaway to their followers with the post below.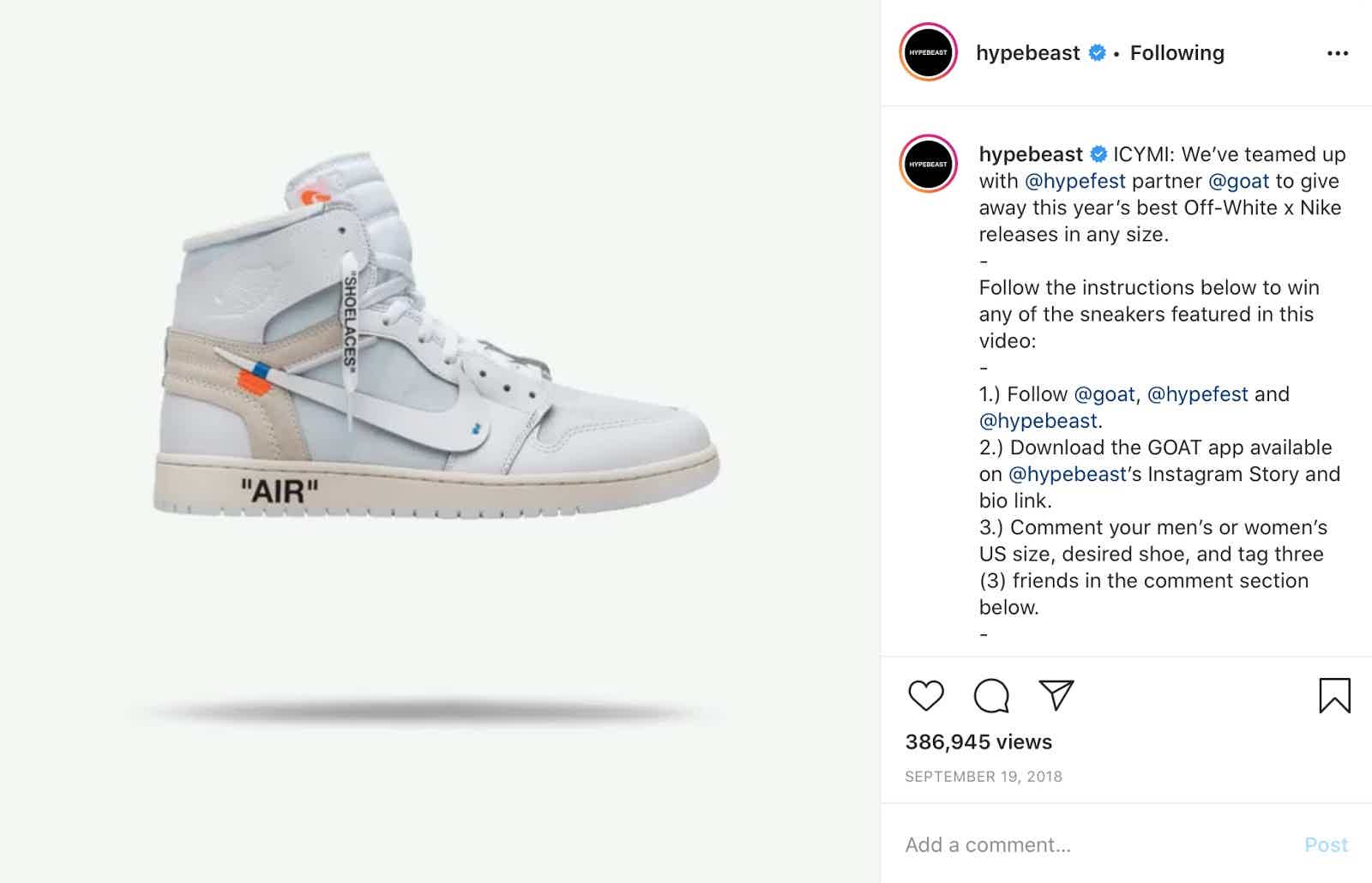 This giveaway was used to increase followers on three social media accounts. @goat and @hypefest were able to enjoy a boost of followers after being mentioned in @hypebeast giveaway post.
The giveaway entry method also required users to:
Download the GOAT app – Increase in app downloads
Leave a comment – Boost social media engagement
Tag a friend – Increase exposure to users that don't follow Hypebeast
MKBHD / OnePlus Giveaway
This giveaway is similar to the Dbrand / MKBHD mentioned earlier. However, this is a once-off partnership between OnePlus and Marques, unlike his long relationship with Dbrand.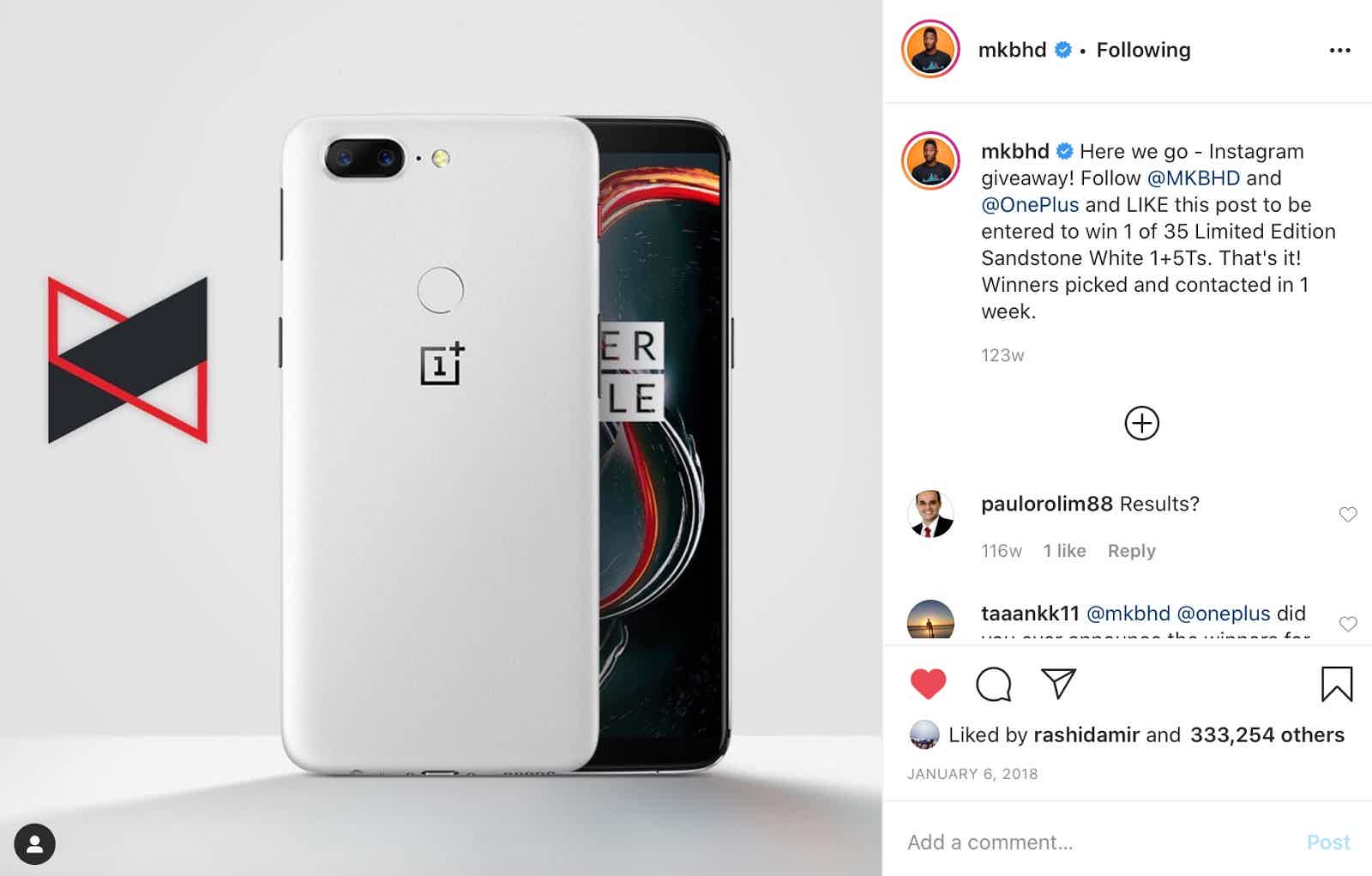 The entry method for this giveaway is straightforward. Simply follow Marques and OnePlus on their socials and like the giveaway post to enter.
The goal of this giveaway is simple, to increase social media followers for both the influencer and the brand.
Increasing your social media followers can open up a ton of opportunities regarding brand building, lead generation, and remarketing.
Influencers with more followers can land better sponsorship deals and gain an increase in popularity.
Ninja / NZXT Giveaway
As mentioned earlier, the peripheral gaming brand, NZXT, and popular streamer, Ninja, partnered to host an exclusive gamer giveaway.
The prize was a custom Ninja gaming PC designed by NZXT.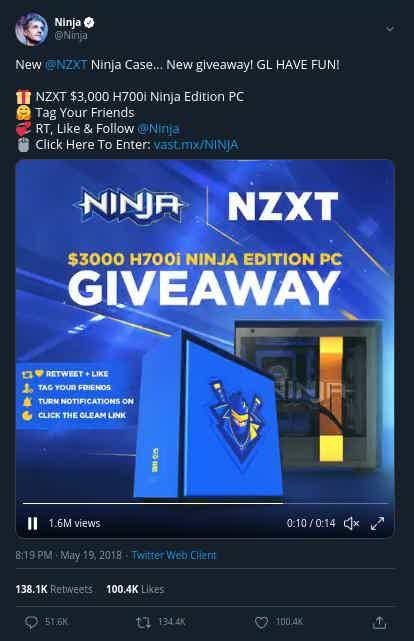 Ninja may have promoted the giveaway on Twitter, but the actual giveaway was hosted on the NZXT website.
This meant that people had to visit the NZXT website to enter, which, as a result, instantly boosted website traffic.
Ninja also requested users to like, tag, retweet, and follow. These are actions that boost social media engagement and followers.
Key Takeaways – Influencer Giveaway Examples
Pairing with the right influencer – All of the brands mentioned above teamed up with the ideal influencer. These influencers have high authority in their respective niche and are considered as experts.
Increase social media engagement – Every influencer always requested users to either like, share, comment, tag, or follow.
Multiple goals – The entry methods for these giveaways required users to complete one or more actions. These actions (supplying an email, or a social media follow) helped the brands to achieve multiple goals with a single giveaway.
Relevant Prizes – Each prize expertly matches their own giveaway. The prize on offer is a product that will ideally draw the intended target audience.
Hosting an Influencer Giveaway
So, how does a brand go about hosting an influencer giveaway?
As with any marketing campaign, there are careful planning and preparation involved. To get started, consider the following:
Goal
Prize
Platform
Influencer
1. Choose a Goal
What is the main reason behind hosting your giveaway?
Is it:
Gain more followers
Increase brand awareness
Collect emails
Boost website traffic
App / Software downloads
Once you determine the goal for your giveaway, you can then work with your influencer to achieve it.
Eg. If you are looking for more followers, your influencer can ask his followers to follow you. Looking for more traffic? Your influencer can guide their followers to your website.
You get the point.
2. Pick a Prize
Choose a prize that will attract your target audience.
Please take a look at the giveaway examples above to see the prizes those brands use to attract their target audience.
The goal should be to have an influencer with followers that match your target audience. Then your prize should be something that will entice those followers.
Most Influencers have a good relationship with their followers and will most likely know what they like. Ask your influencer to recommend a prize.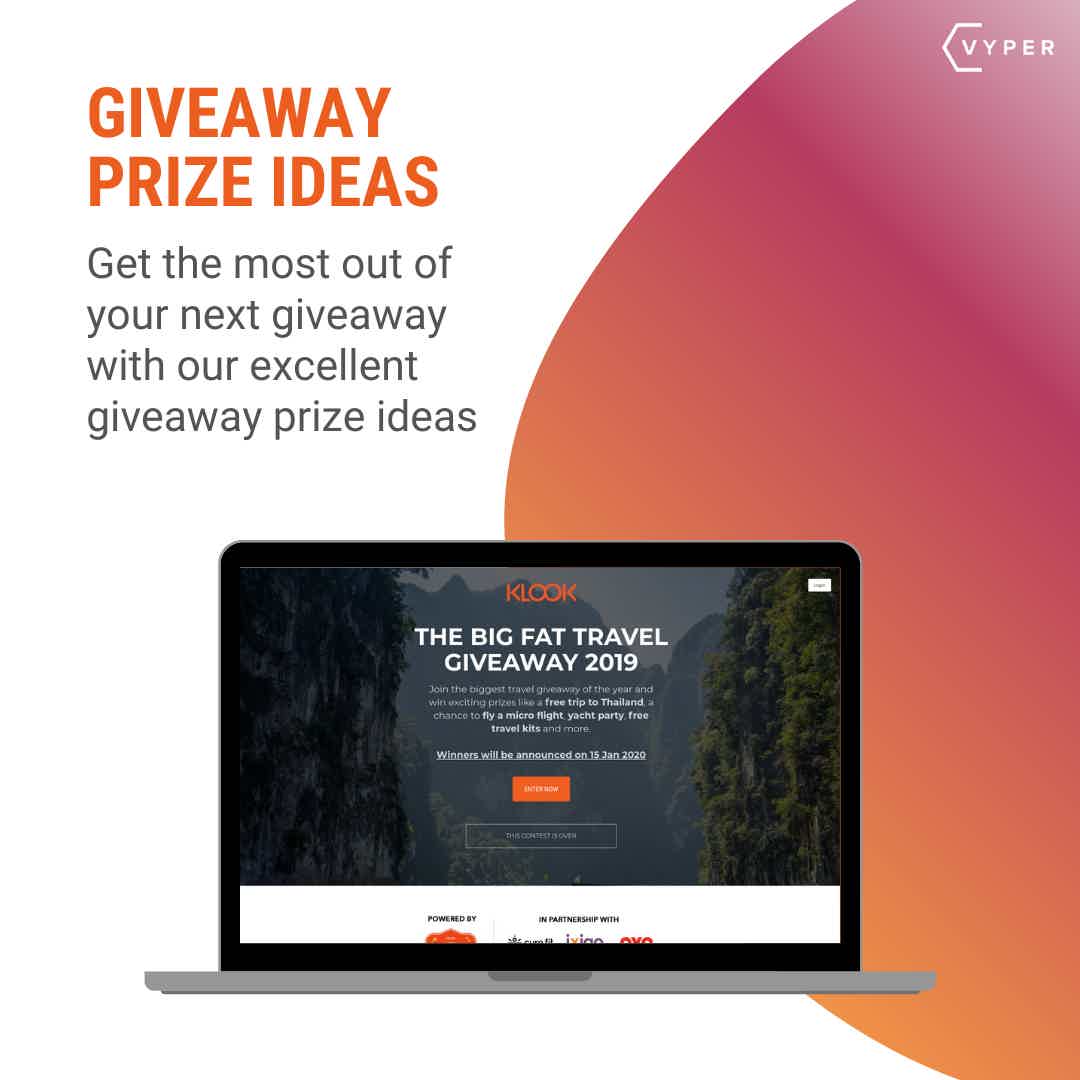 Looking for giveaway prize ideas? We wrote an article that is filled with great examples of giveaway prizes and tips for choosing your next prize.
3. Host Your Giveaway on the Right Platform
Where would you like to host your giveaway? Some options include:
Social media – You can keep everything (entry method, winner announcement, etc.) all in a single post on social media.
Website – By getting users to visit your website to enter, you will receive a significant boost in website traffic. The spike in traffic can lead to an increase in website revenue.
Dedicated landing page – VYPER gives its users the option to host their giveaway on a dedicated landing page that can be designed fast and easy. Ideal for brands without a website or brands not looking to dedicate too much additional time designing the giveaway on their own website.
We have in-depth tutorials on how to design your influencer giveaway using VYPER in the upcoming sections below.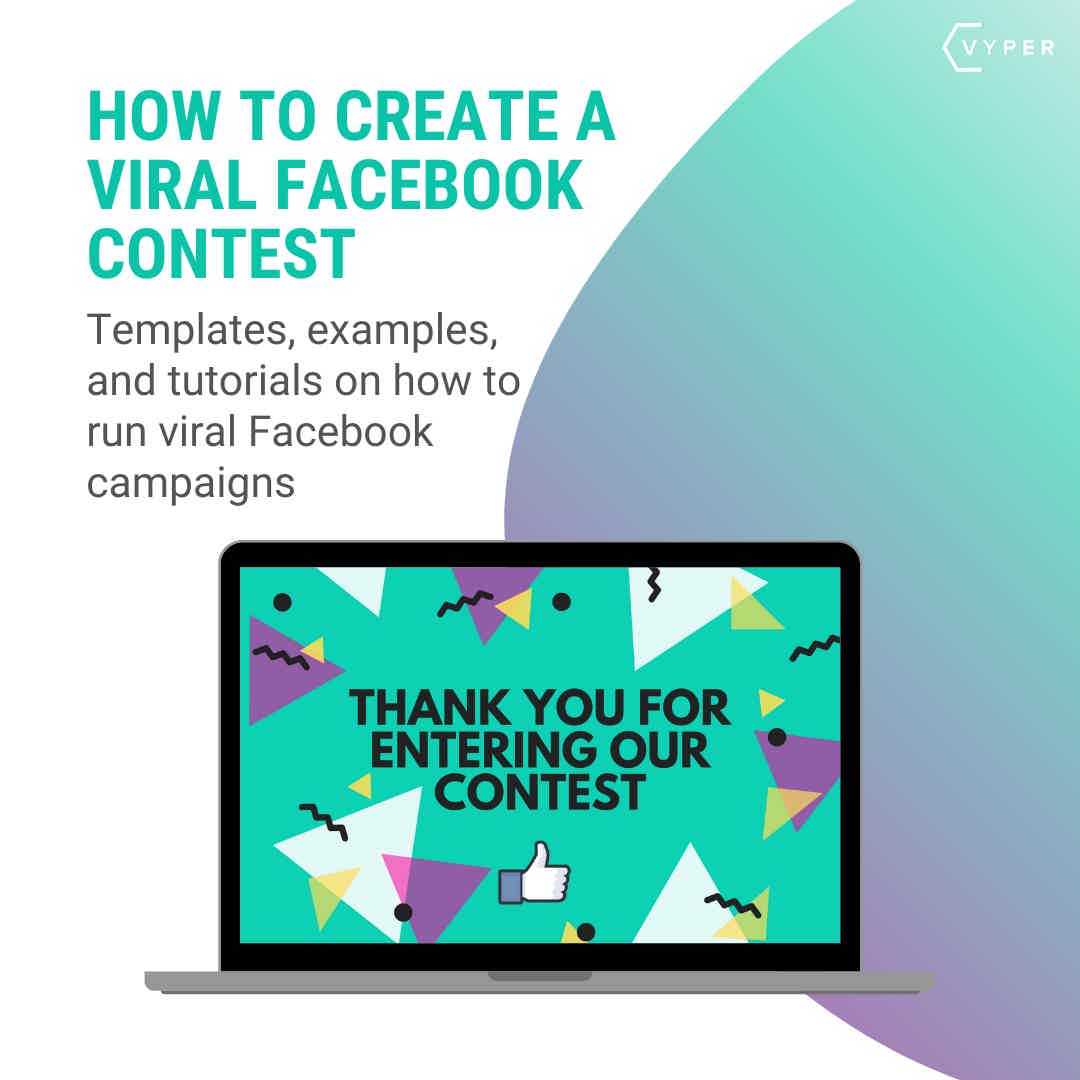 Want to learn how to create your own viral Facebook contest?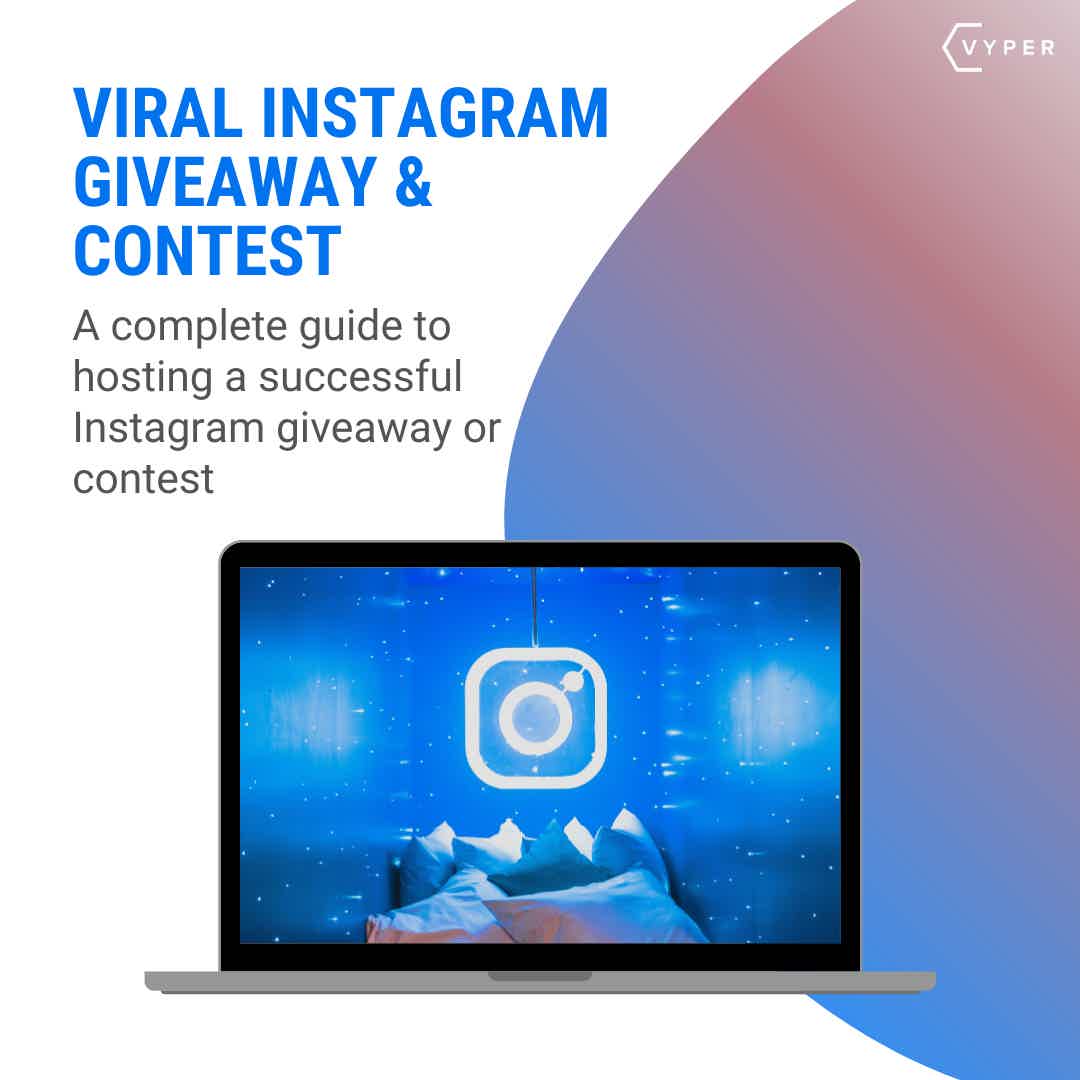 Want to learn how to host your own Instagram giveaway or contest?
4. Choose the Right Influencer
We have already covered this extensively in the sections above.
Selecting an influencer for a giveaway is very similar to choosing an influencer to help you market your brand.
It's just that with a giveaway, your goals may differ, and the way you both approach the campaign will also be different.
Giveaways are run over a short time. Two weeks on average.
Because of this, you and your influencer will have to be a bit more aggressive with your marketing because of the short window of opportunity.
Pushing the giveaway hard to followers and other social media users are necessary to achieve the best results. Especially if you wish to cover the expenses associated with your giveaway and hiring an influencer to market it.
Creating an Influencer Giveaway with Vyper
So, you carefully planned your giveaway, and you chose the perfect influencer to market your giveaway. Now, it's time to prepare your campaign with VYPER.
Vyper has the features you need to host a giveaway. You can design a custom giveaway on VYPER's very own platform.
Or you can simply create a giveaway with VYPER and embed the entry form on your website.
In this tutorial, we will go through all of those features and more.
Let's begin by logging into your VYPER dashboard. Then select 'New Campaign.'
You can then select the 'viral giveaway/contest' template to continue.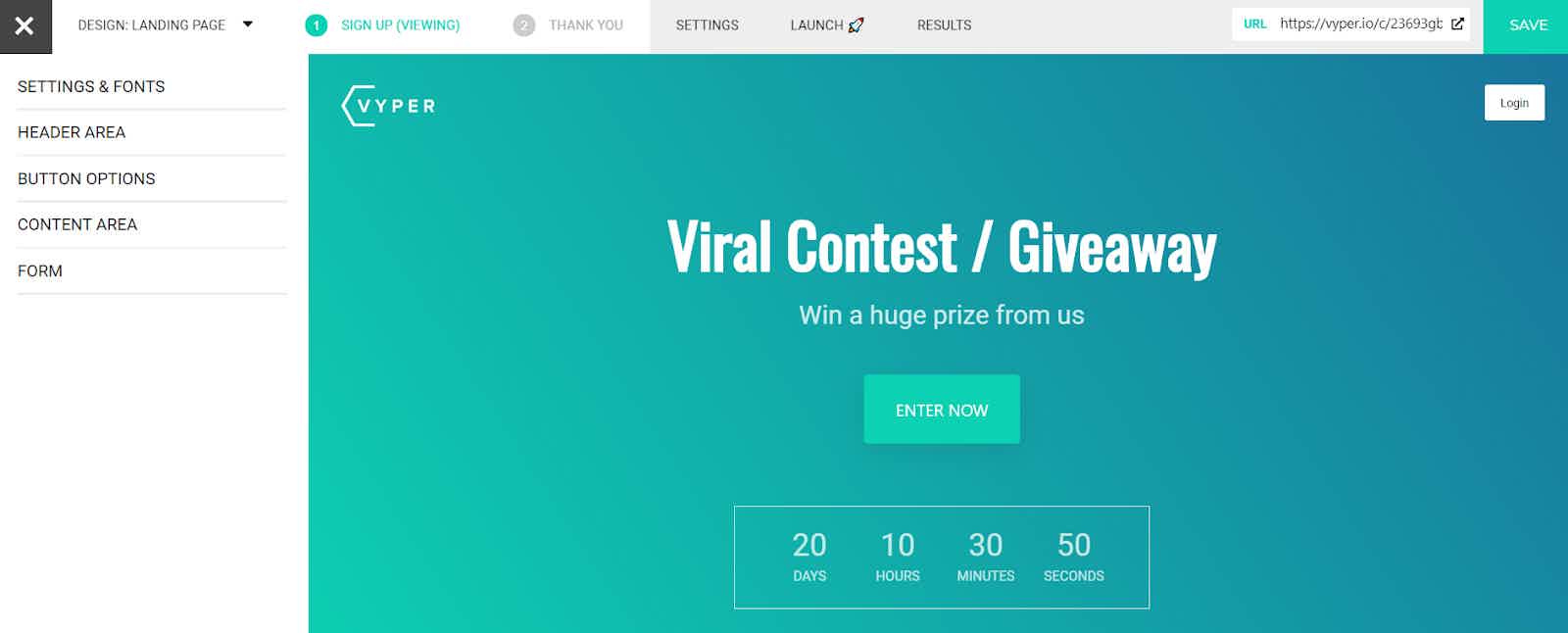 Using such a template is the quickest way to get your giveaway plans and ideas into a landing page.
You can start by replacing the text with the text and copy you will use for your giveaway.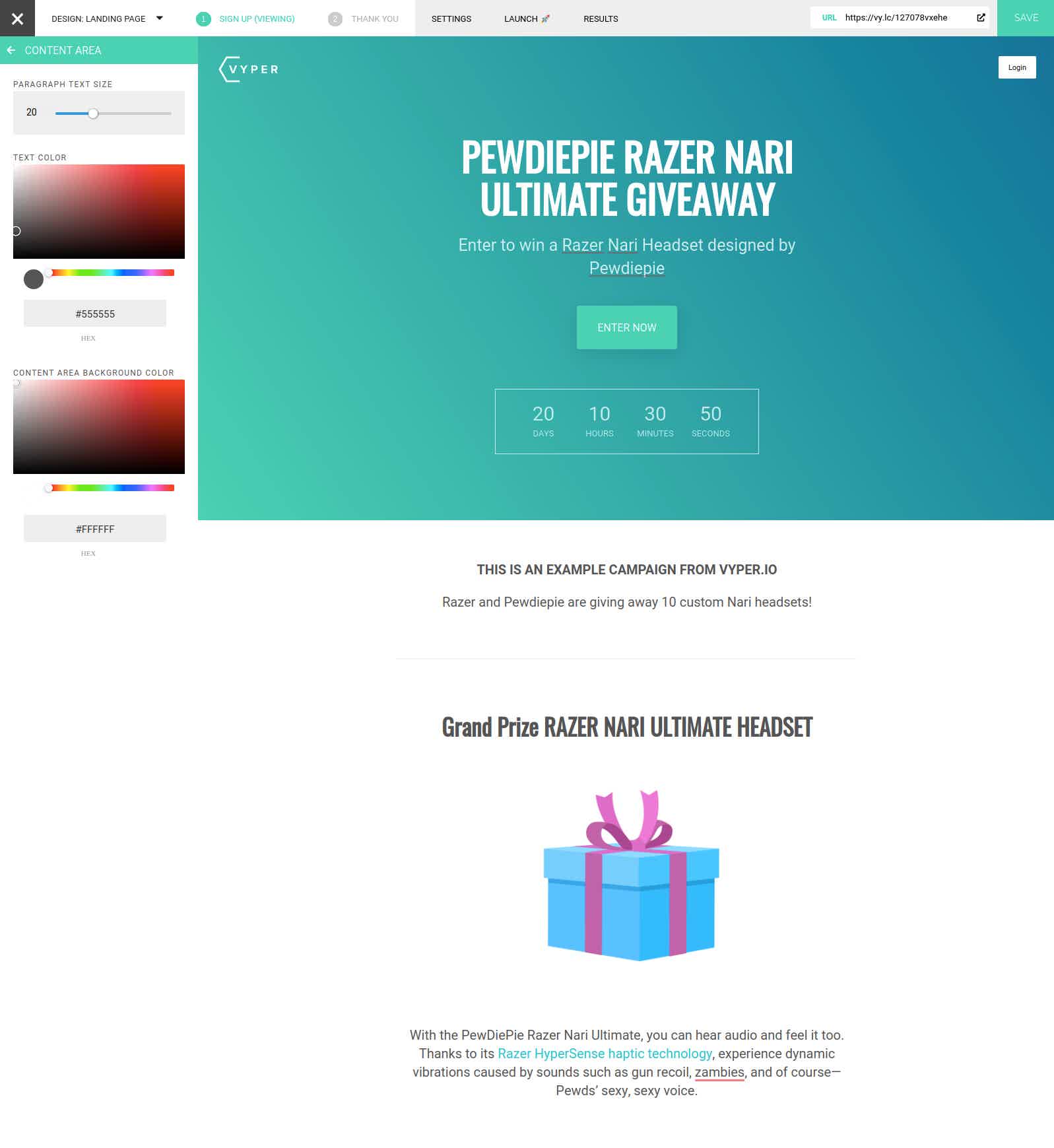 After inserting your copy, the next step would be to insert media and adjust colors and fonts.
Adding Media
You can completely customize your design by adding a few images and changing your background colors.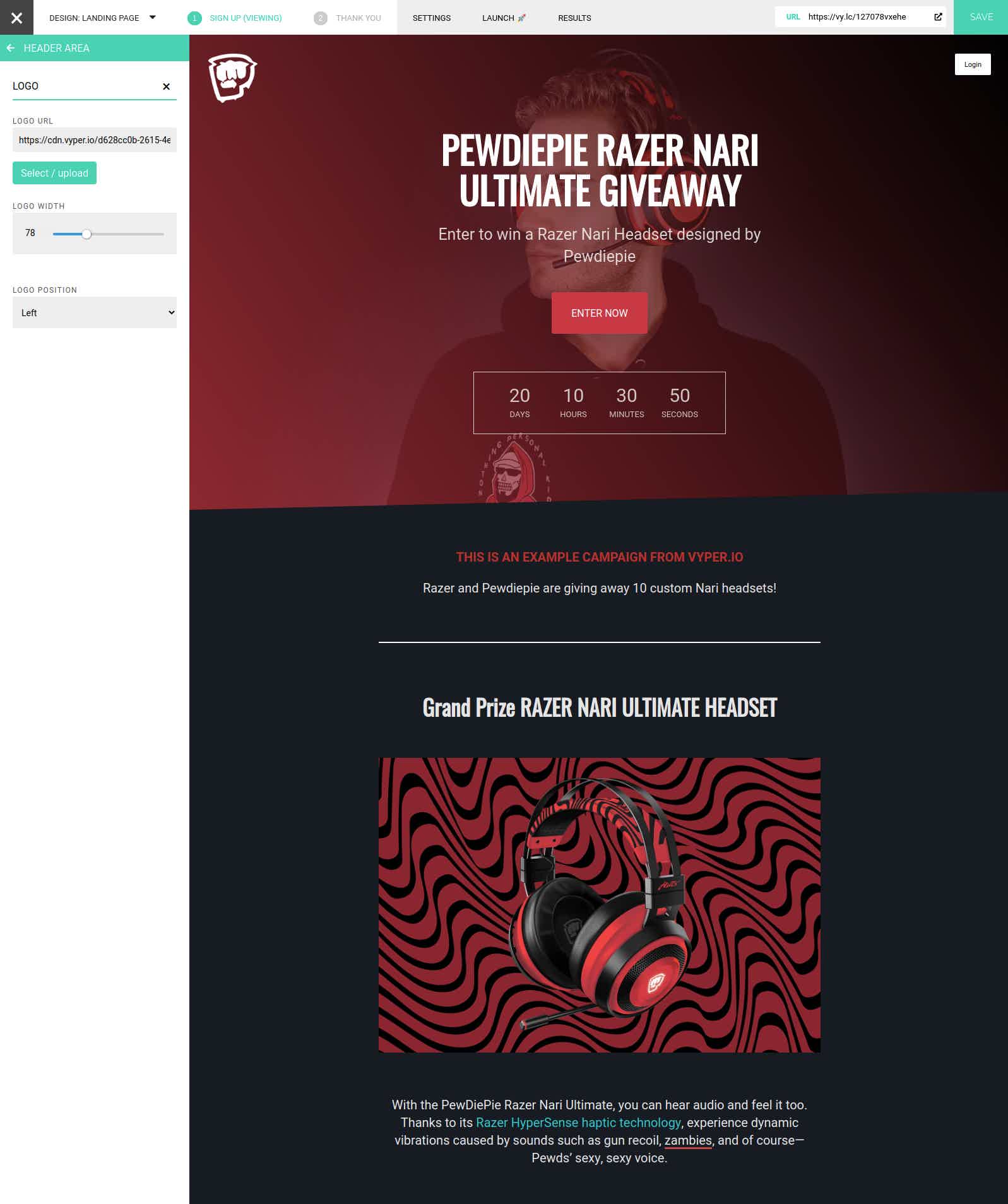 For this example, we simply added a background image and an image of the product. Right away, the page already began to take shape.
To keep with the influencer's theme, we changed the background colors to suit his red and black signature colors.
There is an option to change the font for the headers and the content. The default fonts actually look great.
Giveaway Placement Types
So far, we have managed to build a landing page for our giveaway successfully. This landing page can be the epicenter of our giveaway.
It can serve as an online resource for the giveaway, to inform and guide people toward entering the giveaway.
Your goal should be to direct as much traffic as you can to this landing page. This will increase your chances of running a successful giveaway.
However, VYPER offers different 'placement types' as an option for brands looking to host their giveaway on their website.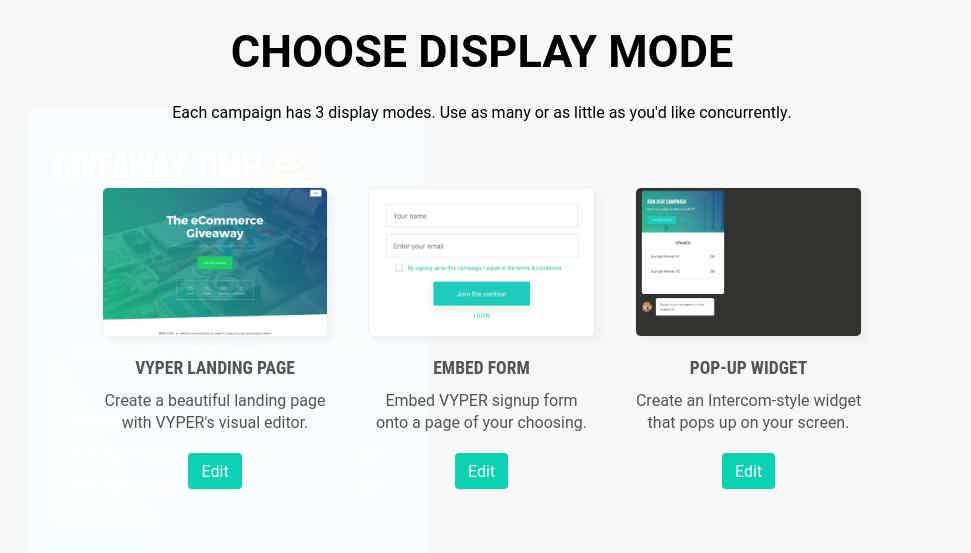 The first placement type option is the landing page that we just edited. The second is the 'Embed Form' option that allows you to drop a signup form for your campaign into your website.
Click on the 'Edit' button below it to make changes to the form and to grab the embed code.
The third placement type is an interesting option that allows you to place a small pop-up widget in your website's bottom corner.
Website visitors will be greeted by this friendly chat-style widget that can be placed anywhere around your website. They can simply click on it to view and fill out the giveaway form.
This is an ideal way of making the giveaway form accessible on any page of your website.
Adding a Video to the Header Area
Video is a recommended form of media to have on your giveaway landing page.
You can quickly deliver a lot of information on your giveaway to people interested in your giveaway but still require some convincing.
To start, click on the 'Header Area' button then on 'Video.'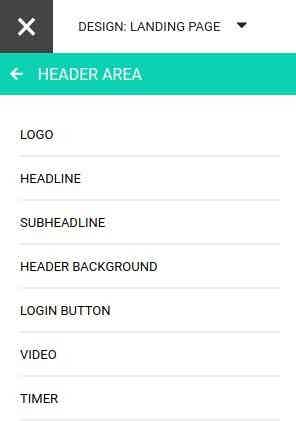 In the video menu, move the slider to activate the header video option, then insert the link for the YouTube video.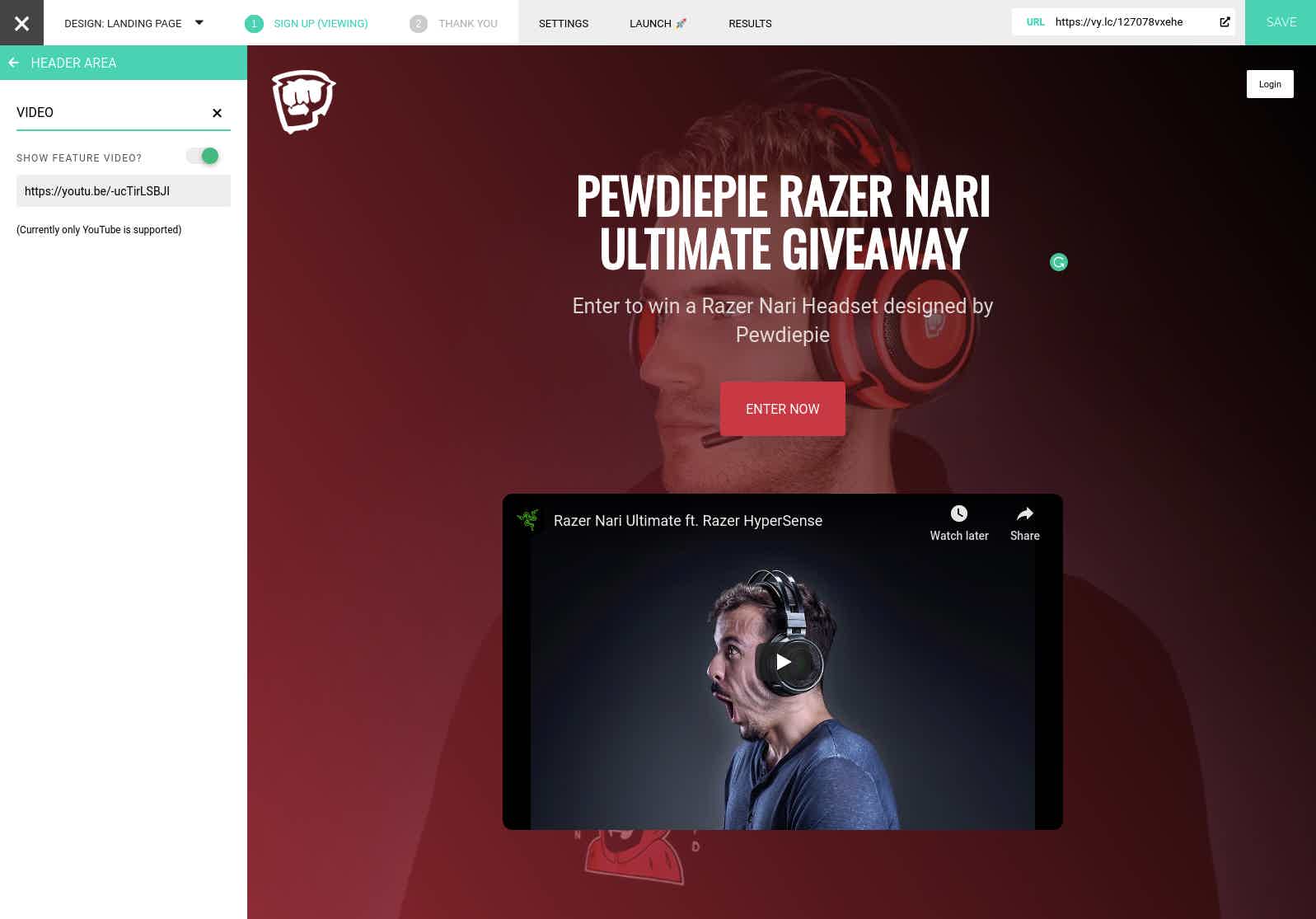 If you scroll back up a few images, you will notice a countdown timer on a previous screenshot of the header area.
We could have kept the timer here to notify users of the giveaway end date simply. However, we went into the timer menu and turned the slider off the deactivate it.
We went for a cleaner look as we already have a video in the header area. Keeping the timer would make the header area too large.
You can leave the timer on if you choose to.
Thank You Page
Once you are happy with your landing page's design, you can then start work on the 'Thank You' page.
This is the page that users will be directed to once they have completed their entry into your giveaway.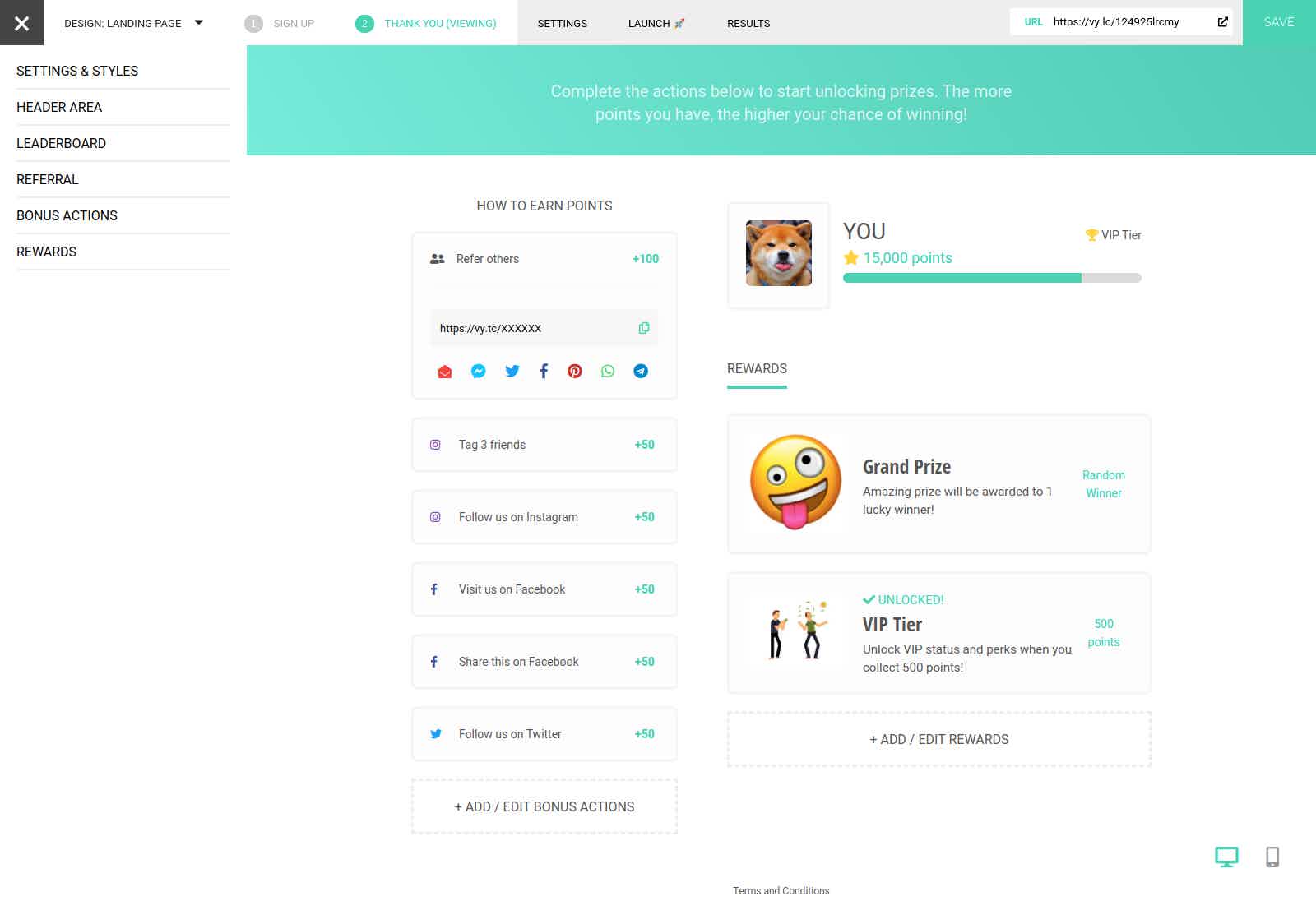 The Thank You page is a pre-made template that you can easily edit and customize to suit the design of your giveaway.
For this example giveaway, we will transfer the color scheme over to our Thank You page. This will help us maintain consistency with our giveaway design.
You can also edit your rewards and bonus actions on the Thank You page. To get started, simply click on an element on the page to edit it.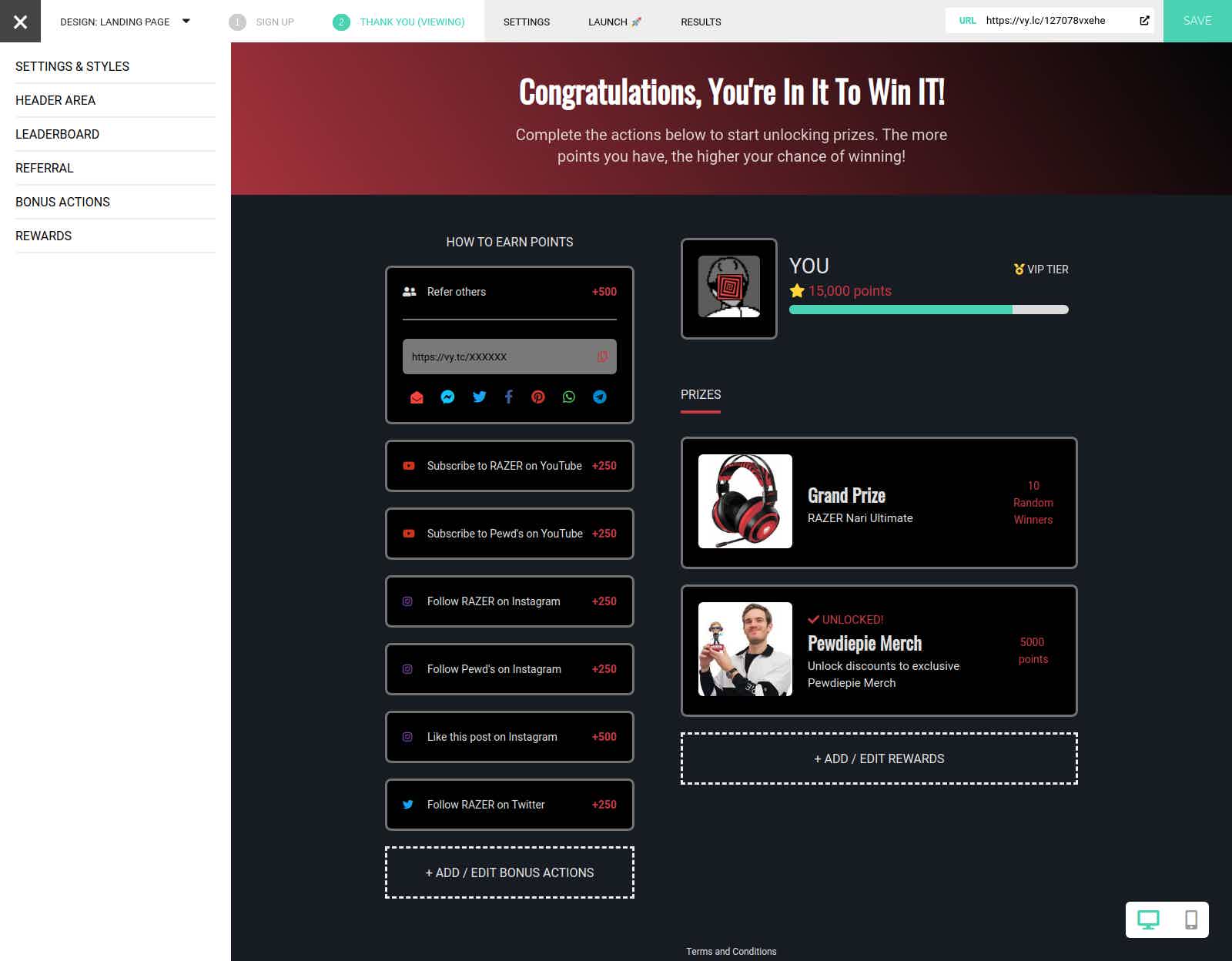 For this campaign, winners will be selected at random. However, we are giving entrants the option to complete bonus actions to unlock more rewards.
Bonus Actions
These bonus actions are listed on the left of the thank you page.
Entrants will be rewarded points for:
Referring friends – Increases the number of people that take part in the giveaway. Also, it increases lead generated or referred leads.
Following RAZER and Pewdiepie on social media – It increases social media followers for both the influencer and the brand.
Liking a post on Instagram – Increases engagement and virality on a social media post.
Entrants can perform these actions until they have a total of 5000 or more points.
They can then use those points to redeem a voucher (discount and free shipping) that can be used at Pewdiepies Merch Store.
This is an excellent way to allow every user an opportunity to gain something from your giveaway. No one likes to miss out, so its a sweet gesture on your part to give people a chance to earn a discount from your influencer's store.
This is good for both the influencer's and your brand's image.
And there you have it! The Pewdiepie Razer giveaway is live!

Click on the banner above to view a live demo of the contest that was created in this tutorial.
Q & A Influencer Giveaways
❓️ What is an Influencer Giveaway?
An influencer giveaway is the same as a regular giveaway. The main difference is that you have someone to help you promote the giveaway more effectively.

Your influencer can either be the focal point of the giveaway (like the demo giveaway listed above), or your influencer can simply help you spread the word to their followers.
❓️ How many followers should a social media influencer have if you wish to hire them?
Follower count does not determine the success of your partnership. It is all about the type of followers an influencer has and their interests. Do their interests align with your brand? Is the influencer's followers made up of your target audience?

Micro-influencers have between 1k to 100k social media followers. They can be just as successful as influencers with a massive following in the millions. 

The same amount of money you would pay a big-name influencer for one campaign could potentially be used to work with a micro-influencer on multiple campaigns over a period of time. This strategy can be a less risky option as opposed to a single expensive campaign.
❓️ Do influencers only accept cash?
Influencers are flexible. You can get into any form of fair mutual agreement with them. You can offer them cash, some of your products or services, or you can offer to pay for the gear they use, like computers, cameras, etc.

For example, you can structure a cashless agreement for an influencer giveaway. You can use a giveaway to generate followers for both you and the influencer. Your brand can sponsor the prize and the influencer can promote the giveaway on social media.
TL;DR
Influencer giveaways are quickly becoming the most explosive form of modern-day marketing. Getting a social media expert like an influencer to promote your giveaway can drastically improve the results you achieve from that giveaway.
Social media influencers love viral campaigns such as giveaways, which is why most influencers are ready to partner up with eager brands.
Your company does not need to qualify for influencer marketing. Small businesses are finding success from working with an influencer.
Also, micro-influencers have proven their worth as effective promoters. Even global brands use micro-influencers in smaller countries.
Have you ever worked with an influencer before? Would you team up with an influencer to host your next giveaway?
Let us know in the comments below.
Jack Paxton
Jack Paxton is the co-founder of VYPER, a marketing tool that helps brands build email lists, social followings, and revenue using viral giveaways, referral, and reward programs. After millions of dollars spent testing different marketing strategies at his marketing agency. He then also co-founded Hyax a fast, conversion & design-focused course and funnel builder for creators.